Vintage Home Decor Advertising
Did you know I'm crazy about all things advertising, especially vintage ads?  Yup!
Outside of being a mommy-blogger-home decor lover, my 'real' (i.e., paying, lol) profession is in the ad world where I've worked as a strategic marketing planner for over a decade.
For me, vintage ads are like little  windows on the past; fun little history lessons, if you will.  Through their  imagery and copy, we can peek back at the consumer trends and pop culture of different eras – the good, the bad, and the ugly!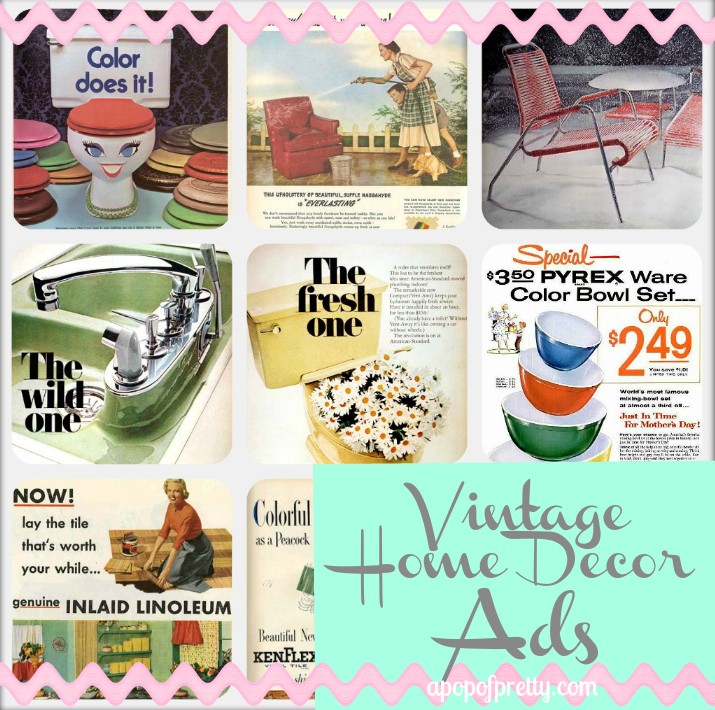 In the case of vintage home decor trends, old ads help to put past decor trends – from colored toilet seats to vinyl recliners – in better context.  For instance, analyzing old ads for mid-century modern furniture helps explain why this style of decor has become so popular again today.
I  decided to write a series about vintage home decor advertising in October 2011 as part of a fun event in the blogosphere called "31 Days".  The idea was  to write one blog post every day for the month on  a topic that you're passionate about.  Since I couldn't decide between advertising and home decor, I married the two!
Here's a sampling of some of the ads I had fun talking about.  Just click the ad, and it will take you straight to the blog post.
Enjoy!
One comment on "
Vintage Home Decor Advertising

"
Welcome to A Pop of Pretty, a Canadian home decorating blog that chronicles my love of home decor and pretty things.  I'm out to prove (mostly to myself!) that a pretty home is still possible amid the circus of 3 young kids, including twin toddlers. {More...}

Archives