I finally had a chance to pull together a little tutorial on how to make a diy photo booth like the one at my daughter's Broadway themed birthday party.
.
It was really quite easy and inexpensive, and Miss G was so happy with how it all turned out.
.
..
Photo booths are pretty trendy right now, so I knew I couldn't be the only one crazy enough to think I could make one on my own! I did some research, and then came up with a plan for creating a diy photo booth that met our particular needs – i.e., one that could withstand the acrobatics of 10 tween-aged girls!
.
.
Here's what I used (the important stuff, anyway):
.
Backdrop material: 3 cute plastic tablecloths from the Dollar Store!
Props: a basket of masks, mustaches, hats, etc.
Camera: my DSLR mounted on a tripod, with a shutter release remote.
Photo booth decor – string lights, cardboard chandelier, etc.
Poster board for the 'Photo Booth Rules'
A bench
.
.
First things first: the backdrop.
.
I decided to set up the diy photo booth in our basement mudroom since it's a long and narrow space. You can get a sense of it in the following photo.  Unfortunately, it meant covering up the door, but it's not our main entrance and was still easily accessible. If you don't have a narrow space like this, I think you could easily just set up a backdrop (without covering the sides) on any wall in your home.  Just make it wide enough that you don't get any wall in the shot, or move your tripod in closer. Covering the side walls here just decreased the chances of getting empty walls in the pictures.
.
.
.
.
I wanted to do this as inexpensively as possible since it was just for a birthday party, so I opted to create the diy photo booth backdrop from 3 large (9ft) plastic table cloths.  They cost $6 total, gotta love it. I doubled them over so that you couldn't see through them, and attached them to the ceiling using painter's tape to make it easy to take it down without ruining the paint.
..
They worked perfectly fine, however the plastic did cast a bit of glare in the photos, so if you have a bigger budget (say, for a wedding), I'd definitely recommend using fabric as your backdrop.
.
I dug the black and white polka dots, but to make the photo booth background even more pretty, I strung some white lights, and hung up a cute little pink holographic chandelier I found at Michaels.
.
...
I also decorated the space with Broadway musical posters since the birthday party had a Broadway theme.
.

.
Next things next: the camera. 
.
OK, so now your diy photo booth is simply gorgeous.  But what about the photos, right? Well, the choice you'll need to make is whether you want the booth to be 'manned' (or womanned, lol) by a photographer, or whether you'll put your camera on a tripod. I decided to use a tripod because (a) I have a tripod (b) I had other things to worry about at the party than playing photographer ;-), and finally: (c) I think participants let their guard down when there's no photographer yelling "say cheese!".  And that means you'll get goofier, funnier photos which is what a photo booth is all about!  Case in point:
.
Whatever route you choose, you'll want to think about lighting, especially if your photo booth doesn't get much natural light. Miss G's party was in the evening and in our basement which gets little natural light at the best of times.  However, I was reluctant to use a flash because I'm really not a fan of the harsh shadows that a flash can cause. So I added some ambient lighting with a little lamp on the prop table, and the string of lights on the backdrop. That was actually enough, and I didn't need to add my flash or spot lighting.  But because every space has it's own variables, I'd recommend testing out different lighting scenarios in advance of your actual event. If you do need to use a flash, I'd definitely use a diffuser to soften up the shadows.
.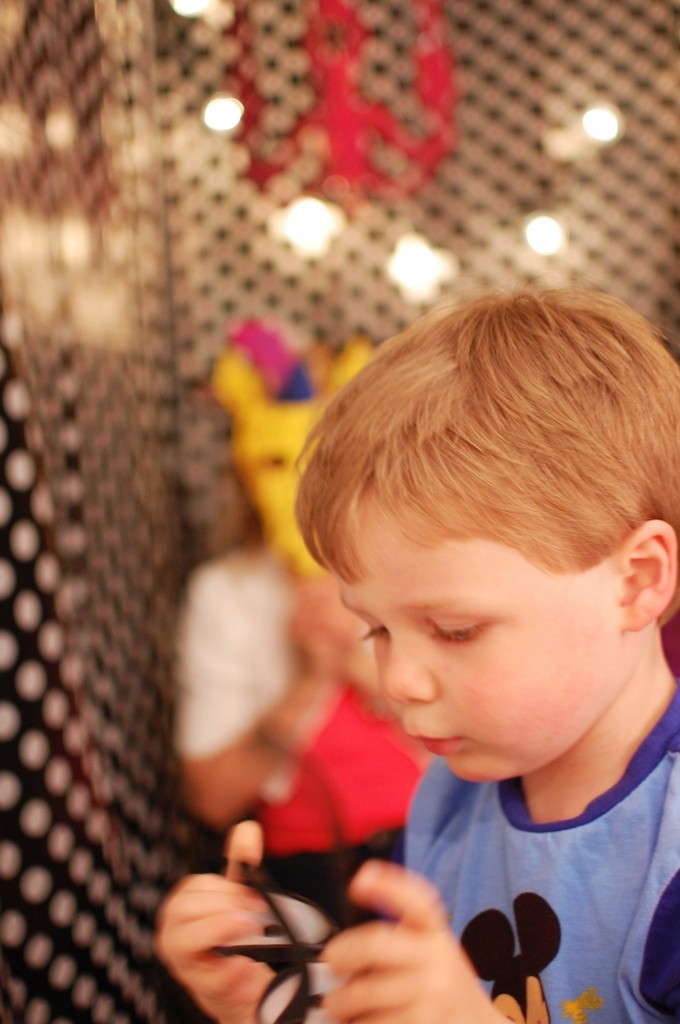 .
If you opt to go the tripod route which is what I did, you'll want to invest in a nifty little $25 accessory for your DSLR that I had no idea about until I started looking into how to make a diy photo booth!  It's a remote control that releases the shutter on your camera, called a remote shutter release.  I mean seriously, I take a gazillion photos…how did I not know about something so utterly fantastical?
.
..
I should mention that this thing is smaller than an Apple TV remote (if that's even possible), so if you don't want to lose it in the midst of all the photo booth fun, I'd recommend doing something like this which worked like a charm…
.
.
To get the remote shutter release to work, once your camera is on the tripod, you'll need to change your DSLR's settings to remote shooting mode.  You're thinking, "Say wha?", aren't ya?  I thought the same thing when I read about it, but it was simple.
.
On my Nikon, I clicked my 'Menu' button, and then selected 'Shooting Mode'.  I scrolled down and then selected Quick Response Mode. This meant that the photo would be captured immediately once a photo booth participant clicked the remote. (I don't know what the settings would be for a Canon, but I'm sure you'd find an answer with a quick Google search.) When photo booth subjects came into to space, they'd grab the remote, get situated on the bench, get goofy, and click when they were ready to take the pic. It seriously was as easy as that.
.
Before you decide on the final spot for the tripod, have somebody be your test participant. Find the perfect height and position for the tripod to get your best shots.  If the subjects are going to sit on a bench, make sure your tripod is at that height. Just sayin'. 'Cause I can't imagine the disappointment of reviewing your diy photo booth pics after the party, only to find that you've over-shot everybody's faces!
.
Also, I highly recommend taping down your tripod to the floor, especially if you are dealing with excited kids.  That's a whole lotta camera sitting atop your tripod, so you'll want to protect it.(OK, so maybe I overdid with the tape, ya think?!?)
.
.
The really fun part: The Props!
.
Once I had all that technical stuff figured out, I got to the super fun stuff: organizing the props!  Since our daughter has been amassing a collection of costumes since she was little, it wasn't hard to find a bunch of great stuff around the house.  But also purchased a few at the Dollar Store and Michaels, and I couldn't resist making some mustaches-on-a-stick. I organized everything on a little table so that you could find a prop you liked without too much searching.
.
.
.
 .
The necessary part: Photo Booth Rules!
.
I wanted the photo booth to be fun, but let's face it, I wanted my camera equipment in one piece after the party. As well, I didn't want any of the girls feeling left out. So I put together a few photo booth rules for the 'rule-follower'-types, and hoped they'd help sheriff the others, lol.
.
.
Last things last: Photo Viewing
.
I racked my brain trying to figure out how I might display or process the photos during the party so that the girls could see them before they went home.  There were certainly a few feasible options, like tethering my laptop to the camera. But ultimately, I decided that I'd have to be superwoman to make that happen with everything else I had on my plate (food, games, etc.).  So instead, I opted for a less stressful alternative.
.
I reviewed the photos over the following few days, and did some light cropping of the ones that were off-center . Then I put them all together in a little slide show using Windows Movie Maker, uploaded it to my Drop Box, and e-mailed the link to the party participants.  It was a fun little party memento that Miss G will surely cherish.  I also plan to put the photos in a little album for her.
.
,To make the photo strips, I simply grouped photos of with the same particpants, and used a photo editing program like PicMonkey to pull them into a collage.
.
So there you have it: everything you need to know about how to make a diy photo booth!  This is such a fun idea for any occasion – birthdays, weddings, family reunions, and more.  I promise you'll end up with truly memorable photos!
.
Did I leave anything out?  If you have questions, I'll try my very best to answer them.  Just shoot me a line in the comments section!
.
.Until next time,
Kerri
Pin It