This post was most recently updated on October 25th, 2020
In this article: Are you wondering how to get that oh-so- cozy cabin or lake house vibe for Christmas? I'm sharing a holiday home tour of our modern lake house cottage (cabin), along with my 5 decor tips for adding more coziness any time of year. You'll also find cabin and lake house cottage interior photos that show you how you can easily do this, while still keeping an open and airy feeling in your space.
Lake House Decorating: Home Tour
Are you decorating a cabin or lake house for the holidays? Or, do you simply want that cozy, woodsy vibe in your city home for Christmas? I hear you. There's nothing quite like the feeling of a cozy cabin in the woods during the holiday season. It's the stuff of Hallmark movies! The good news is that it is easy to replicate this mood in any space Today, I'm sharing a little tour of our lakeside cabin, all decked out for holidays, to give you some great cozy cabin Christmas decorating ideas.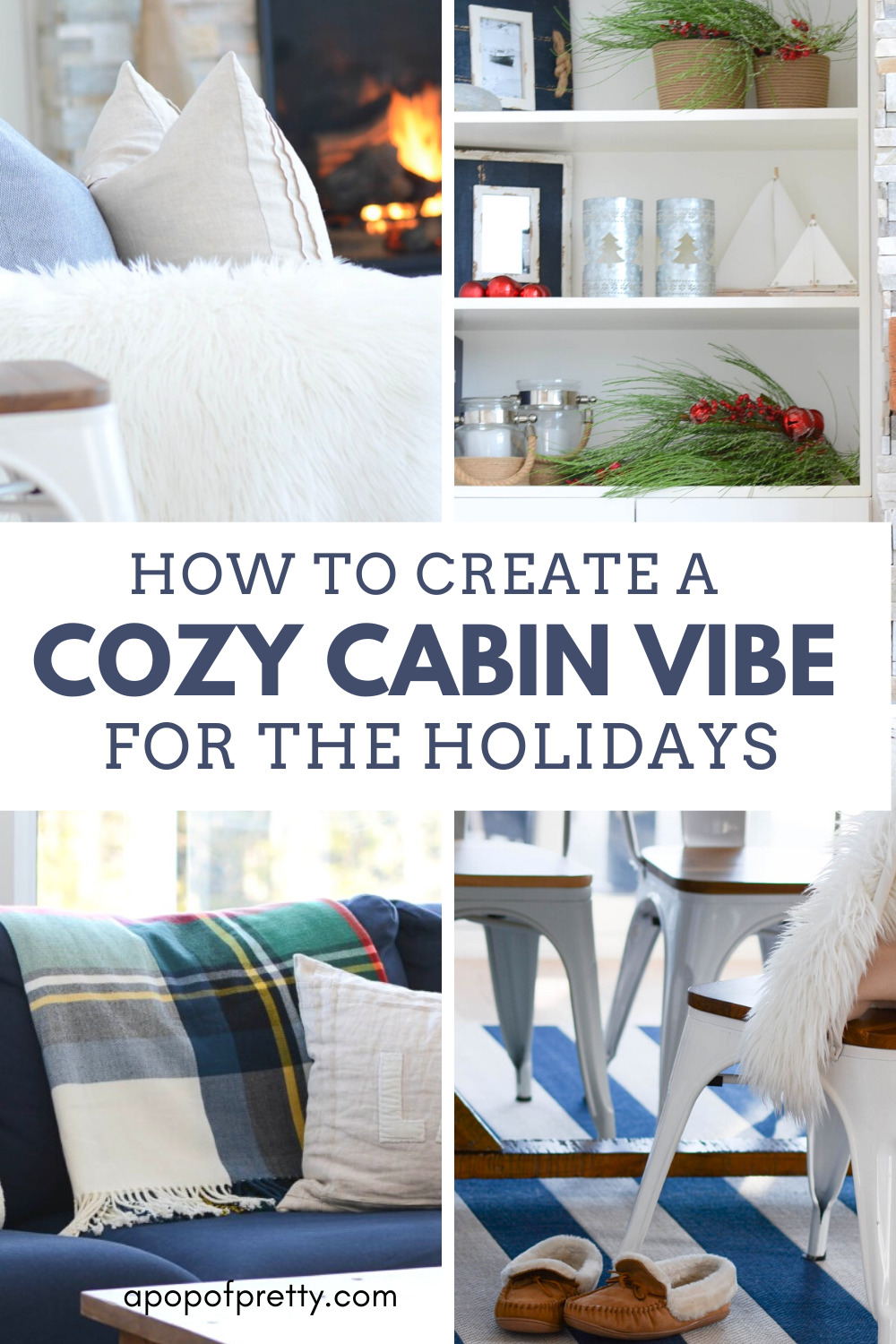 Lake House Decor: Make it Cozy
In fact, you can use the 5 lake house decor tips I'm sharing below any time of year to create a more cozy lake house cottage vibe. And, you can also use them for any space to achieve a cozy mood, whether you are decorating a lake house or a city apartment. After all, lake inspired interior design doesn't have to be limited to the lake!
Cozy Lake House Decorating without the Clutter
When decorating a lake house cottage (simply called a 'cabin' around these parts!), the dilemma is how to make it feel cozy without overdoing it. After all, a lake house is meant to be an escape from the city, and a place to experience the beauty of nature.
That's why I prefer a lake house decorating style that is airy and uncluttered. The lake views and gorgeous natural surroundings are the main attraction. Adding decor items can make a space feel cozy, but can definitely be a visual distraction. No time of year is this truer than the holidays!
For example, when I designed our lakeside cottage interior, I wanted a modern lake house style. In other words, the space is intentionally open, clean-lined and much less cluttered than our home in the city. (And, thank goodness for that!).
I wouldn't call it minimalist by any stretch of the imagination, even though I've tried, lol. But, I've certainly been careful about the amount of extraneous decor I add here. And, let me tell you, that is SO difficult for a decor lover like me!
Decorating a Lake House for the Holidays
I think the best lake house decorating is simple and uncomplicated with a beachy vibe. That's one of the reasons I used a very simple, coastal-inspired navy and white colour scheme in this space. I wanted a calm oasis for our busy family of five.
And, that's also why I found decorating for the holidays here a bit tricky. I want it to feel cozy for Christmas and the cold winter months, but I also don't want to feel like i'm drowning in too much STUFF.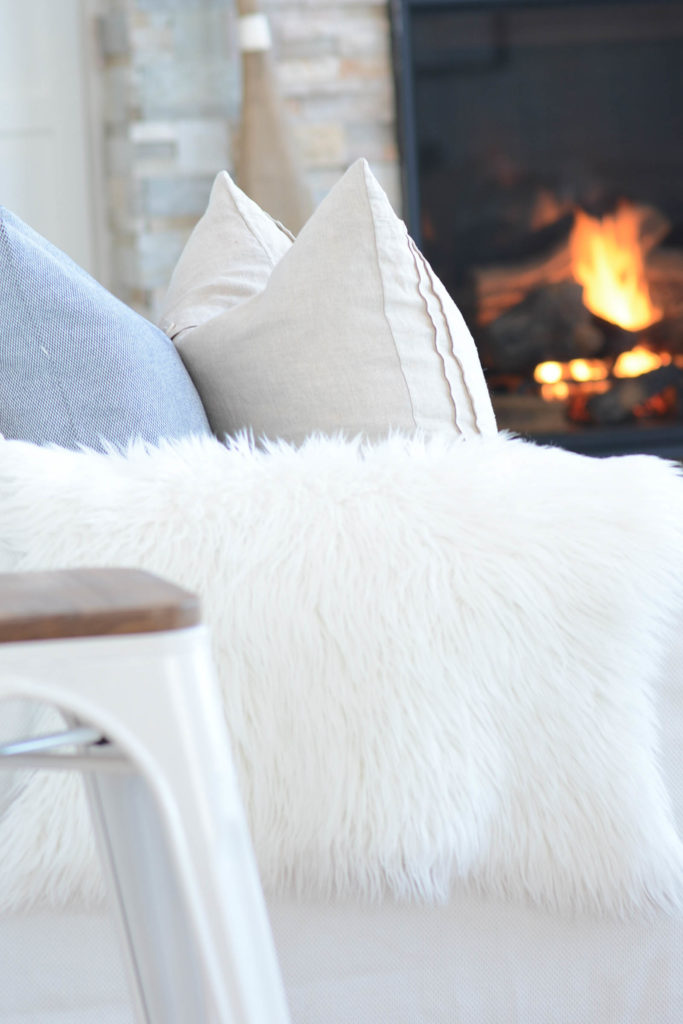 There's definitely a fine line between adding decor to a lake house to make it feel more festive and cozy, but losing the sparseness that makes it special.
But, after a bit of experimenting, I think I finally figured out how decorating a lake house with a cozy vibe can be achieved without it feeling overwhelming.
Decorating a Lake House: 5 Cozy Tips
Here are my five tips for decorating a lake house with a cozy vibe without making it feel cluttered or distracting, any time of year. I'm sharing photos of my space decorated for the holidays, but these tips can easily be used throughout the seasons.
Tip #1: Keep it Simple
My first tip for lake house decorating is to add extra decor strategically! This tip might seem obvious, but it's takes willpower to pull off successfully. Layers of soft texture and warm colours are typically what makes a space feel cozier. But too much decor in your lake house decorating will make the space feel cluttered. So, for example, if you are decorating for Christmas, keep the holiday decor simple and streamlined.
You don't need to add stuff to every surface. For instance, when you have a lot of Christmas decor like I do, it's so dang hard to decide what to leave out. But, when you use your holiday decor sparingly, the end result feels so much less distracting.
Tip #2: Use Plaids
Another tip for decorating a lake house with a cozy vibe is to use pops of plaid throughout the space. For example, for the holidays, I accented our navy and white colour scheme with cozy plaid throws and pillows.
Plaid makes a lake house feel instantly cozy without being overbearing. It also has a woodsy and camp vibe, so it's a perfect accent for a lake house in the woods.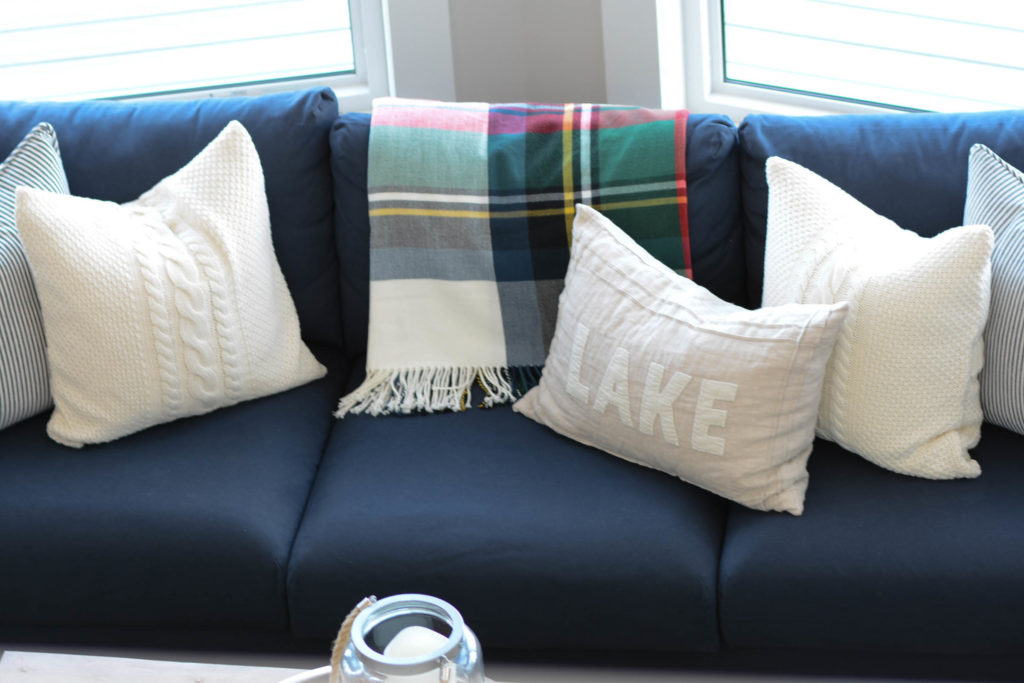 Tip #3: Use Natural and Rustic Texture
My third tip which helped make my lake house decorating cozier is to use natural or rustic textures. When we were building this home, I intentionally chose to use a lot natural texture throughout the space, including in the light fixtures, such as these jute rope chandeliers.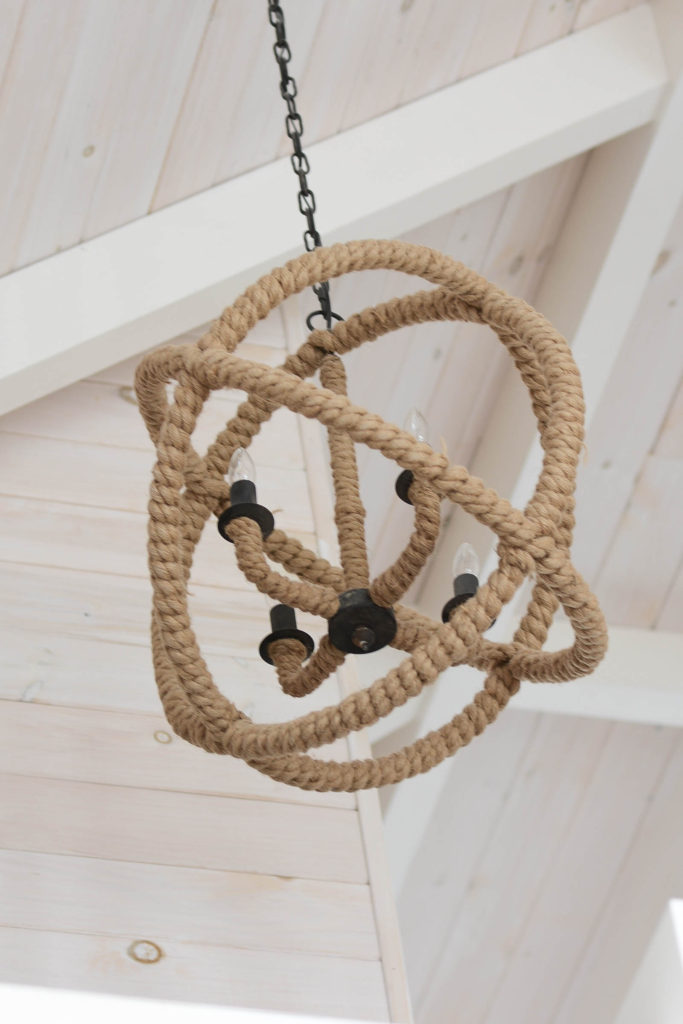 I've also used it in our lake house bedrooms, with textured linen bedding, and rope accented toss pillows.
So, when decorating for the holidays, I decided to use mostly natural wood tones, jute rope, and galvanized metal. Rather than adding decor that was sparkly or glittery, the natural and rustic textures helped create a rustic, cabin vibe.
Furry or knit texture also go a long way to adding warmth to an airy space. In our cabin, I used a lot of furry throws throughout the space to make it feel cozier for the Christmas season. And, I'll definitely leave these out all winter because it just makes the space warmer.
Tip #4: Use Red Accents
My fourth tip might be surprising! Decorating a lake house with red accents will also make it feel cozier. I know, I know. Cool colour schemes are definitely a more popular choice for coastal homes located near a lake or the sea. But, adding a few pops of a warm colour like red will create more warmth to a coastal space for the holiday or winter season, or if you simply want it to feel cozier.
Personally, I'm a big fan of cool colours like blues, greys and white. And, I've used them in our cabin as well as our city home. I rarely use red, except during the Christmas season. Here, I accented our built in shelves around our fireplace with some red for the holidays. And, the result is super warm and cozy.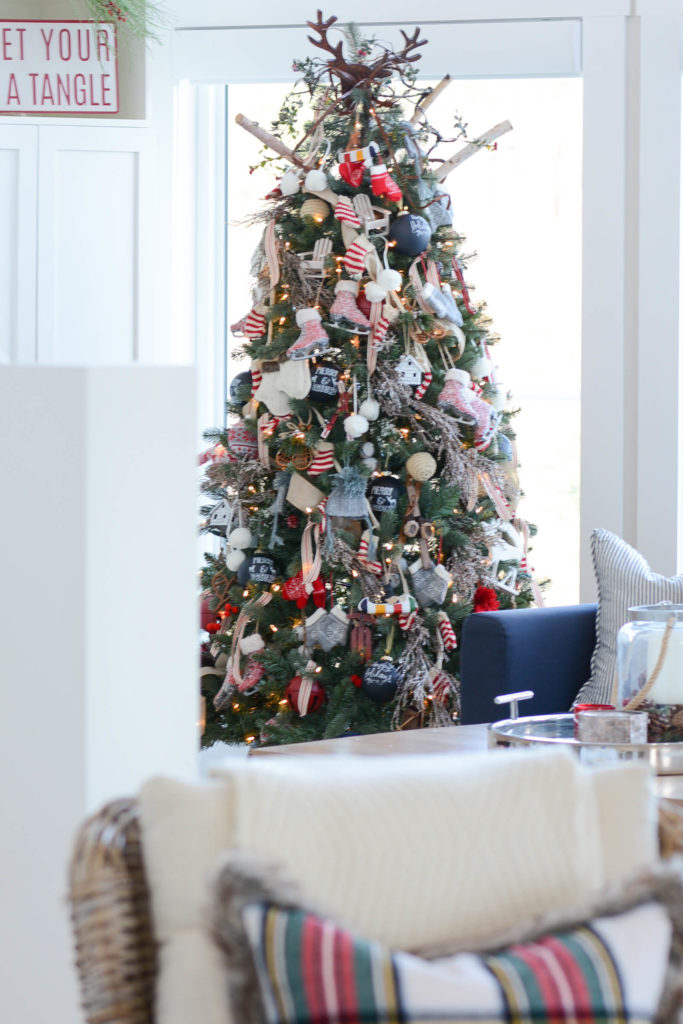 Plus, I also used al lot of traditional red in our Christmas tree. For a closer look, see my post: Our Cabin Themed Tree: Lakehouse Christmas!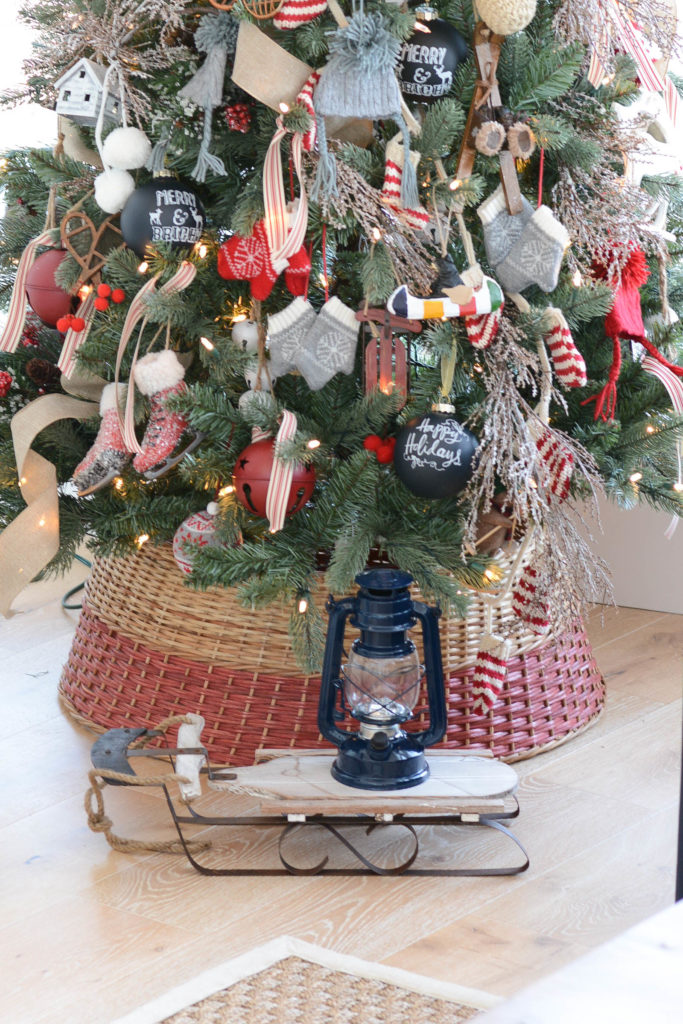 Tip #5: Use Greenery
My fifth and final tip for decorating a lake house with a cozy vibe is to use pops of greenery throughout the space. Greenery can be used year round to add visual interest and coziness to a space without being overly distracting. Greenery is also a great choice for lake house decorating because it blends in with the natural surroundings and the views.
For the holiday season, greenery can take the form of cedar or pine boughs. They add gorgeous texture against a white backdrop of shiplap. You don't need much to make a big impact.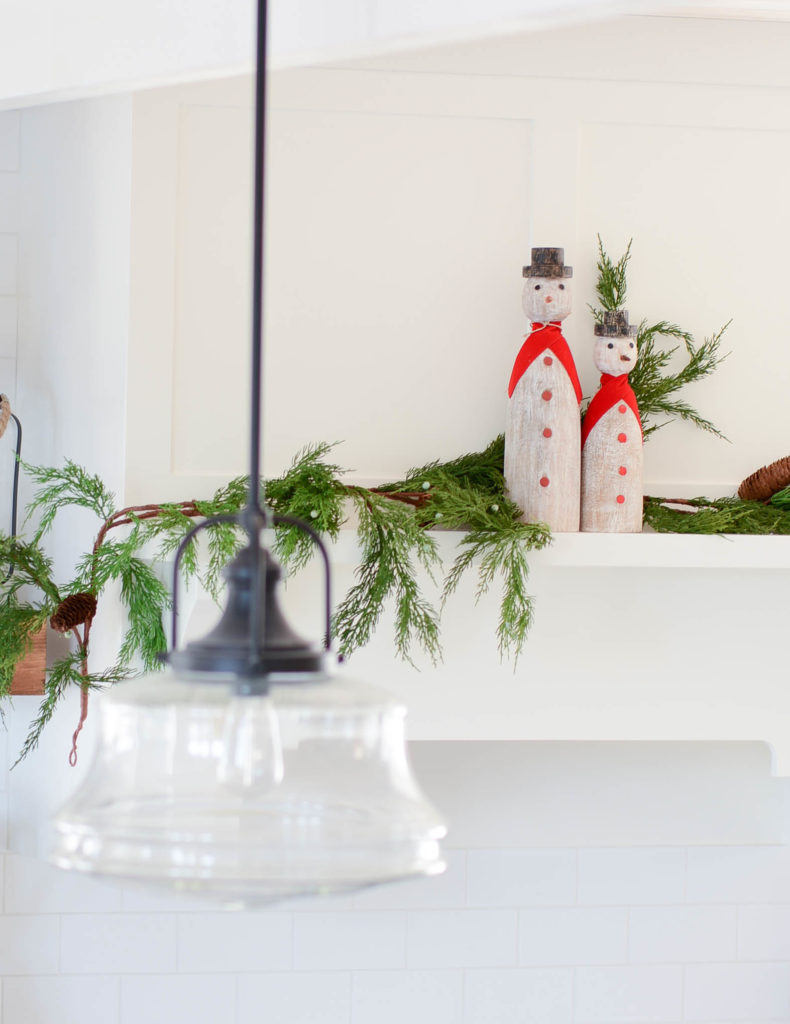 However, greenery can also be added to a lake house space at other times of the year too. You could add potted topiaries, ivy, or even an ever popular fig tree to get the same look. For example, you can see in the photo below how I transition from Christmas on my kitchen range hood with another type of greenery!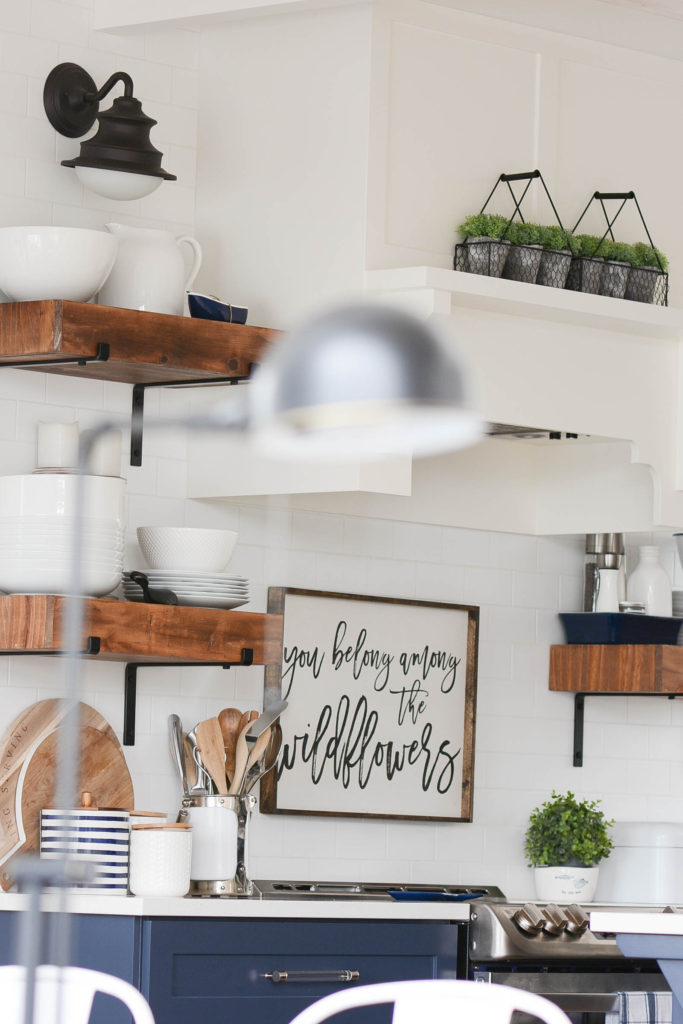 To Sum Up
To sum up, here are my 5 tips to make a lake house cozy:
Keep it simple and streamlined.
Use plaid pillows and throws.
Use natural and rustic texture.
Use red accents.
Use greenery.
Until next time,
K.
Get the Look
Wondering where to find some of the pieces in our lake house cabin? Click below to check it out!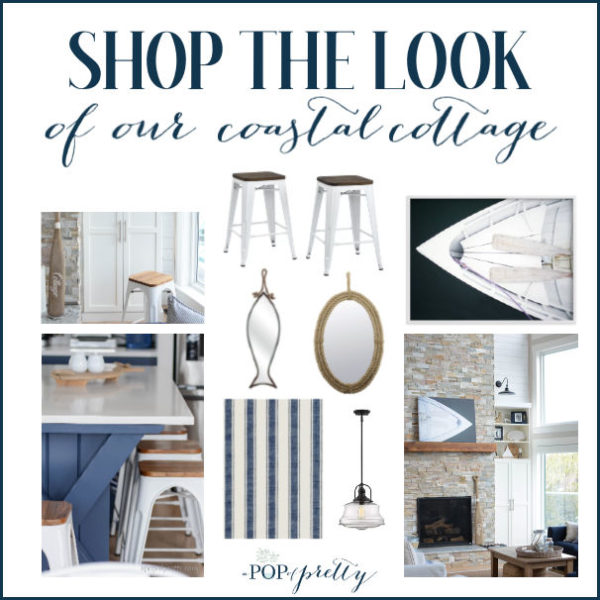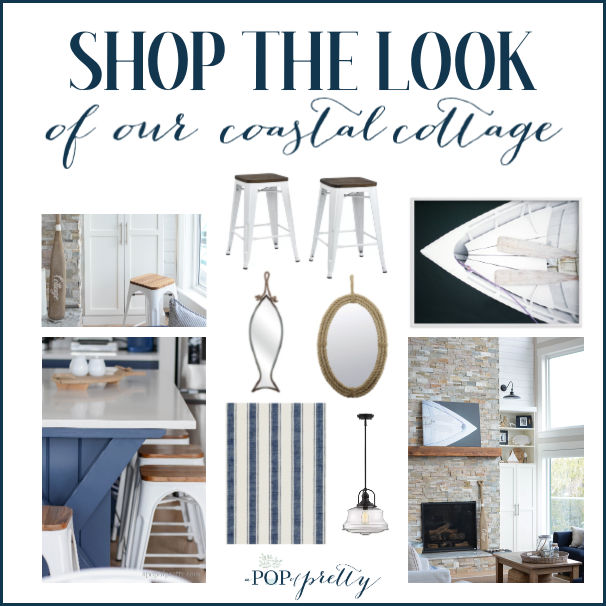 Want More Modern Lake House Coastal Inspiration?
If you love modern lake house style as much as I do, there's a good article here that might also be inspiring. Oh, and you might also like this post: The Blue Striped Pouf Everybody Asks Me About! Finally, here are some of my other articles about lake house decorating: