This post was most recently updated on January 17th, 2022
In this article: You'll find all the reasons why I love quartz countertops. I explain why I chose Caesarstone quartz (Calacatta Nuvo and Ocean Foam) over granite, marble and butcher block for two recent kitchen renovations. If you are considering quartz countertops for your own kitchen or bathroom, read on for all the details!
Quartz countertops vs granite? It's the kitchen design question on everyone's mind these days. (Well, maybe that AND the whole Open Shelving Kitchen Trend!) Personally, I grappled with the whole quartz countertops choice when designing two kitchens in the last couple of years, both in our home and our cottage.
Quartz Countertops: Gaining Popularity
Choosing quartz countertops (vs granite) has been topic of debate whenever I've helped homeowners with a kitchen design. I think we're all conditioned by real estate shows on HGTV to believe that granite is a MUST HAVE for any kitchen. But, the the truth is that there is another great choice for both ROI/resale value and design aesthetics. Quartz countertops are a gorgeous alternative to granite, and are gaining in popularity.
Both of these countertops are considered higher end choices (vs laminate, wood, or other), and both are beautiful and durable choices. But, for both our recent kitchens designs, I chose quartz vs granite.
Counters are a BIG Decision
Today, I'm sharing the reasons why I preferred quartz countertops vs granite for my own kitchens, and, specifically, Caesarstone. But, listen, I'm not a countertop 'expert', and every kitchen design and dream is different. So I recommend consulting a local professional to determine what's right for you and your kitchen vision.
Luckily, I have a fabulous friend in the business who helped me through the process. Because, let's face it, designing a kitchen is overwhelming. There are SO many choices to make, with quartz countertops vs granite being just one of many.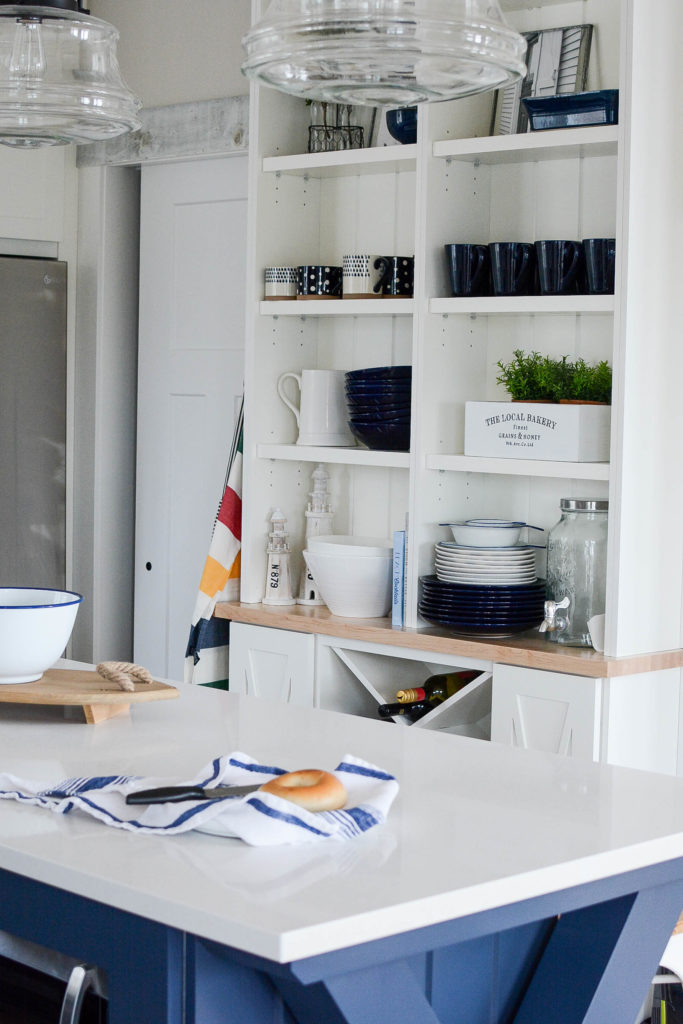 At times, it can feel like one big mashed up whirlwind of measurements and cabinet colours and knob shapes and appliance ratings AND OMG MAKE IT STOP.
You may feel swamped by all the decisions you need to make, but don't skimp on countertop research. One of the most important decisions you can make in your kitchen is the type of countertops you choose. It's one that can really impact the resale value of your home down the road.
Advantages of Quartz Countertops
As mentioned, we recently completed two kitchen designs within a two year span. And, yes, I lived to tell about it! We have a newly renovated kitchen in our (city) home. After about a decade in our home, we upgraded our countertops and cabinet design, and had the cabinets re-painted. (See: 55 Two-Toned Cabinet Ideas).
Within the same year, we also began planning for our a navy and white cottage kitchen for our coastal-inspired summer home.
Both times, Caesarstone quartz countertops and granite countertops were the only choices I considered. I'd been down the laminate countertop road, and was ready for an upgrade. And, while I love the look of butcher block, I wasn't willing to put the work into caring and maintaining it.
I narrowed it down to quartz and granite because both have similar benefits:
Aesthetics: Both quartz and granite have gorgeous aesthetic value, and create a more premium, polished look in a kitchen. Similarly, both are solid surfaces that require few seams and allow an undermount sink.
Durability: Both quartz and granite are hard and durable, which makes them more resistant to heat and scratching than other countertop choices like laminate or butcher block. In fact, both quartz and granite should last a lifetime.
Resale value: Because quartz and granite are considered higher end choices, they both have a great return on investment and (close to 100%) when selling a home.
Why I Chose Caesarstone Quartz, Not Granite
While both quartz and granite have similar benefits, in the end, I chose quartz countertops for both my kitchens.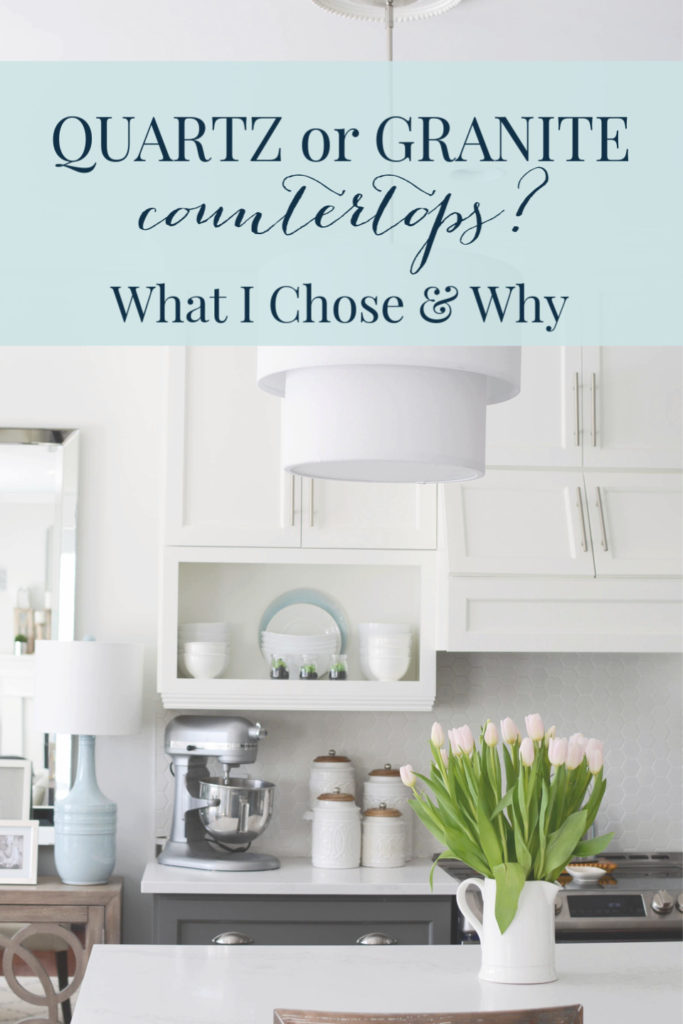 The Aesthetics of Quartz Countertops
There were a bunch of reasons why I chose quartz countertops vs granite. But, if I had to choose the one that sealed the deal, hands down, it would be quartz's aesthetics.
While most granite has dramatic, attention-grabbing pattern, the pattern in quartz tends to be subtler and gentler. The reason I qualified this with 'tends to' is because there are always exceptions.
After looking a lots of different slabs of both granite and Caesarstone quartz, I discovered that not all granite is super loud, and not all quartz is quiet. However, for the most part, this holds true. And, the more subtle patterns found in quartz are just a better design fit for the types of spaces I love.
Quartz is more subtle than granite.
The spaces I love most are decorated with a quiet or crisp colour schemes. I prefer rooms with just a few colours, minimal pattern, and one focal point.
Because each slab of granite is like a unique piece of art, it demands attention. The gorgeous pattern and movement of granite draws the eye, making it hard to ignore. Quartz countertops, on the other hand, seem to blend more harmoniously with the surroundings because the patterns are a little less dramatic. This seems to be a better fit with my personal design preferences.
The different looks of quartz countertops vs granite can be explained by how they are extracted/made. Granite is a 100% natural stone that is extracted from the earth in slabs. The complex veining and pattern are naturally occurring. I guess you could say that Mother Nature is the designer of granite!
By contrast, quartz is an engineered stone. It is made primarily of natural stone (90%+) that is mined from the earth. This stone is then combined with resins and pigments to create the different patterns and colours. Because humans (vs Mother Nature) create and control the design and colour of quartz, the patterns tend to be more uniform and consistent than granite.
Quartz countertops come in pure white.
Another aesthetic feature of quartz countertops (vs granite) that I love is that you can find many quartz options in white.
Personally, I love the look of white countertops in kitchen design. White countertops help create a crisp contrast with dark cabinets, or a soft tone on tone look with white ones. I find that white counters just help bring a clean and bright feeling to a kitchen space.
The brand of quartz I used in both my kitchens , Ceasarstone, had a number of different patterns that I'd consider as true white options. By contrast, I don't think there is any such thing as a pure white granite. If I am wrong, or if you've discovered one, let us know in the comments! From what I've seen, the granites that are labelled as 'white' are a little more beige, tan or gray than the white quartz options.
So, if you are looking for a white, natural stone countertop, and you aren't willing to pay for marble, Caesarstone quartz countertops are a great choice. Which brings me to my next point…
Quartz countertops can resemble marble.
The final reason I love the aesthetics of quartz countertops so much is that there are great options that closely resemble the look of marble.
Marble counters are my favourite. I mean, who doesn't covet the clean and classic look of a glossy marble countertop? But, marble is a luxury and usually comes with a big price tag. Not to mention, it is hard to care for.
But, remember above I mentioned that quartz countertops are engineered? Well, that means that the patterns can be designed and controlled by humans to resemble other natural stones. And, hooray for us, that also means that there are quartz patterns on the market that closely resemble carrara and calacatta marble.
Example: Caesarstone Calacatta Nuvo
For example, in our recent kitchen renovation, we used Caesarstone's Calacatta Nuvo which has delicate, wide grey veins that give the impression of marble. I absolutely love this subtle and sophisticated pattern. The veining is a little hard to see in this photo, but I am posting a close up below. (Please note: Caesarstone did not sponsor this post. I am passing along the brand name simply for informational purposes.)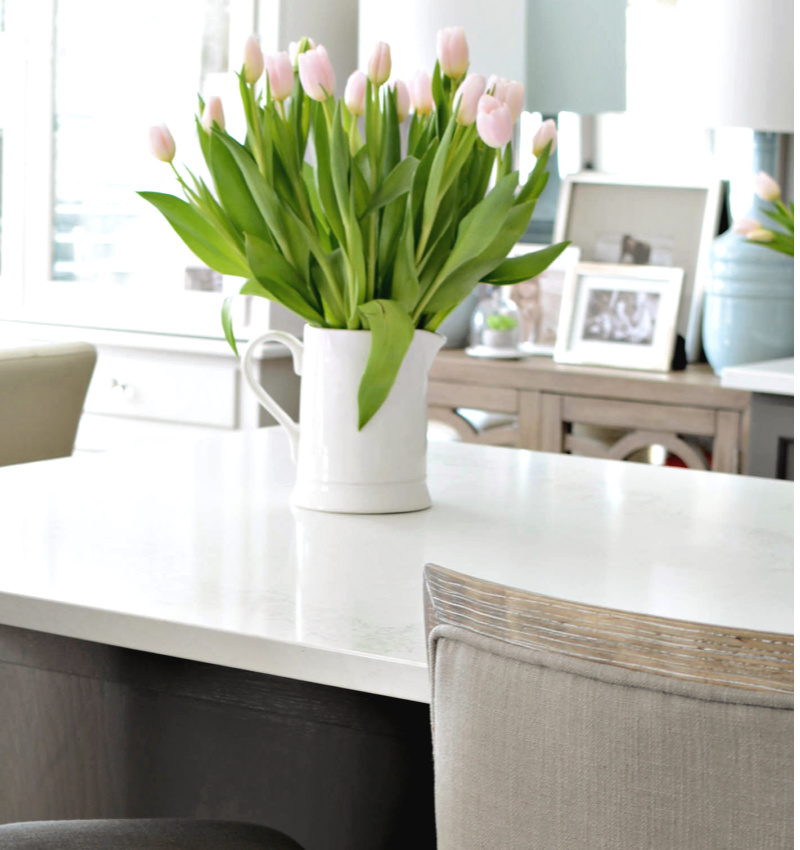 You can find several quartz countertops out there with soft white backgrounds and gorgeous grey veining. The best part? Quartz countertops that looks like marble have similar veining, but are less expensive. It is also more durable than marble (discussed below) and more stain resistant.
Other reasons to love quartz countertops.
Besides aesthetics, there are also are lots of other great reasons to consider quartz vs granite.
More Durable
Quartz countertops are more durable than granite. It is harder than granite which makes it more resistant to scratching, chipping and cracking. It is also non-porous which means that it is highly resistant to staining, bacteria, mold and mildew.
Worry & Maintenance Free
Unlike granite, quartz countertops do not require regular sealing. And, because quartz is engineered as a non-porous surface, spills can be easily wiped up without fear of long term staining. I clean my quartz counters daily with mild dish detergent and water, and occasionally with a recommended polish. If I do notice a 'stain' now and again, it always comes off with a tiny amount of bleach gel and some elbow grease.
Quartz is (Typically) Less Expensive
Both quartz and granite are high end countertops, so you can expect the make an investment if you choose to go either route. The bottom line: neither are cheap. But, typically, quartz countertops will cost you a good deal less than granite. This is icing on the cake considering all the other great features of quartz.
A Final Note
I hope this article has given you some food for thought on the right countertop choice for you. While I chose quartz countertops for both my kitchens, this is not to say that I dislike granite or wouldn't recommend investigating it further.
It all depends on your personal taste and the look you want to achieve in your own kitchen. There are some absolutely GORGEOUS granites on the market that would be the perfect focal point in a space. Just make sure that you truly love whatever you choose. With this kind of investment, it is something you'll need to live with for many years to come.
So, are you loving quartz countertops these days? Have you found a quartz pattern that you love? If no, what kind of countertops do you love? If so, let us all know in the comments below.
Until next time,
Kerri
P.S. If you liked this article, and would like to receive e-mail notifications of my new blog posts, you can sign up for them on the right side of your screen (desktop) or scroll to the bottom (mobile). For a limited time, you'll receive a free art print download!
Are you designing a kitchen or doing a home renovation? If so, you might also like these posts: