This post was most recently updated on February 1st, 2020
In this article: Are you thinking about taking a Disney cruise? In this post, I'm sharing an honest Disney Cruise review, including my thoughts on whether it was worth the price. Since it's the time of year when we all begin dreaming of a vacation, I'm spilling the beans on what we loved about our Disney Cruise Lines vacation, and some things that weren't so magical. If a Disney cruise is on your family's travel list, this is a great article for you!
Disney Cruise Review: My Honest Thoughts
Are you looking for an honest Disney cruise review? I don't blame you there! A Disney cruise is a big investment. And, take it from me, it's easy to get sucked into all that Disney excitement once you begin trip planning! After all, could there be anything more magical than Disney? That said, I decided to write a Disney cruise review because I get lots of questions from friends about our recent vacation. The biggest: Was it worth the money? So, I'm offering a realistic perspective on taking a Disney cruise, and sharing the stuff you should know before booking!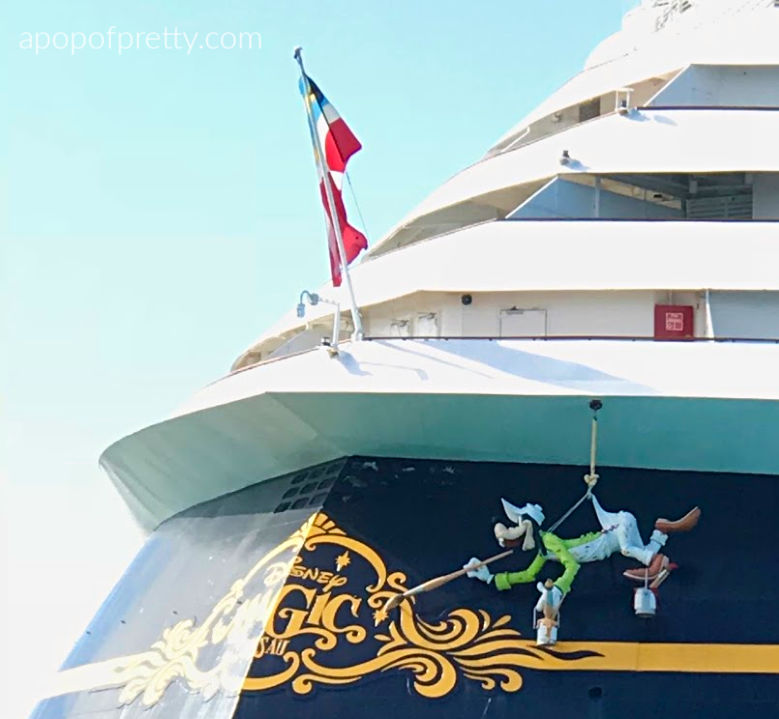 Spoiler Alert: It was Great (But!)
Let's get this spoiler alert out of the way early: I promise that I'm not going to burst your Mickey Mouse ears balloon, lol. I know that some of you already have your heart set on taking a Disney cruise. So, I will tell you up-front that, overall, our Disney cruise was great. The good stuff FAR outweighed the bad. But, it certainly wasn't all glitter and fireworks.
So, in this Disney cruise review, I'll share the good, the bad, and the ugly. OK, so there really wasn't any ugly, lol. This is Disney after all. Say what you want, Disney knows how to do pretty! But, there are definitely a few less magical things to be aware of before deciding if a Disney cruise is for you. So, later in the article, I'll share four disappointments.
Our Disney Cruise: Overall, What to Expect
Let's get this Disney cruise review party started, shall we? If you are wondering what to expect from a Disney cruise, let's just say that, it is everything you imagined and more. A Disney cruise is an all-out, high-energy, celebratory feast, sprinkled with colourful, sparkly confetti on top.
But, before I tell you what we loved, I wanted to clarify that this Disney cruise review isn't ship-specific. I think it will be helpful no matter what ship you are thinking of booking. Disney Cruise Line's ship itineraries are always changing. Therefore, in this review, I've focused primarily on things that apply to most any Disney ship and cruise itinerary .
However, if you are curious about our ship and itinerary, we booked a 5-day cruise on the Disney Magic. This is one of Disney Cruise Line's older ships, and it accommodates 2,700 guests. More specifically, our itinerary sailed out of the Port of Miami. For our excursions, we visited Disney's private island in Bahamas, Castaway Cay, along with Florida's Key West.
Disney Cruise Review:
Our Love List
OK, so what exactly did we love the most about our Disney cruise? Well, in fact, there was so much to love that it's hard to short list our favourite things! But, here is a breakdown of our Love List, including:
Boarding Process
Deck Parties
Main Dining Events
Evening Shows and Entertainment
Excursions
Kids' Club and Activities
Crew and Service
Disney Cruise Review Love List #1:
Boarding Process
Hats off to Disney Cruise Lines. They have certainly mastered the on-loading and off-loading process. OK, I know what you're thinking: Of all the awesome things to say about a Disney cruise, she is starting with the boarding process? Haha, I agree! Wont, wont. Sounds so boring.
But, I feel like a Disney cruise review wouldn't be complete without mentioning it. Any parent with a crew of young kids tagging behind them knows that long line ups can suck the life out of any vacation before it even begins! So, as parents of 3 kids ourselves, we truly appreciated how painless and efficient the boarding process was.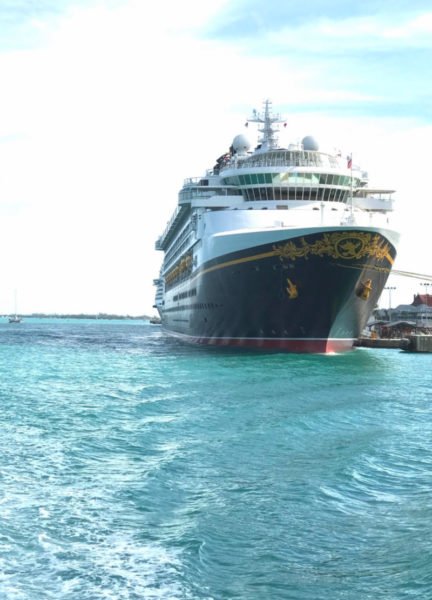 However, that said, you should definitely expect some waiting in the Port facility to get through the whole check in and security procedure. This is to be expected with close to 3,000 people boarding a ship. But, it could have been a lot worse!
And, once we stepped onto the boat, we were immediately transported into the world of Disney! Our kids felt like celebrities as the Disney crew 'formally' announced each family as we entered in the grand foyer of the ship! It was a hoot!
Disney Cruise Review Love List #2:
Deck Parties
Next up, any Disney cruise review will definitely mention the deck parties as a crowd fave! For example, Disney Cruise Lines celebrates their departures with a Sail-a-Wave Party / Bon Voyage Celebration as the ship leaves the port.
After we boarded, we headed to the main deck where the party was in full force. It was the perfect way to start our Disney cruise. There was live entertainment on stage, fun music, dancing and Disney characters. As well, our kids loved the countdown to the ship's farewell horn, and waving as we left Port. To get a sense of the fun, you can see an example of the Disney Dream's Bon Voyage party here.
There are other deck parties throughout the cruise, such Pirate Night with a gorgeous fireworks display. These deck parties are non-stop fun, especially for kids, and are definitely a highlight of a Disney cruise.
Disney Cruise Love List #3:
Main Dining Events
Thirdly, we absolutely loved the Main Dining Events. In fact, they were our favourite part of the trip! Every Disney cruise has rotational dining, and you find out what your particular rotation is once aboard the ship. This means that each night of the cruise, you (AND your wait staff) are assigned to a different main dining room.
Each Disney cruise dining room is themed, and offers a completely different dining experience each night – including the decor, the food, and the entertainment! I'm sure that anybody who has ever taken a Disney cruise vacation has told you just how fabulous these evening meals are! Not only is the food and service to die for, but the entertainment is exactly why you go on a Disney cruise!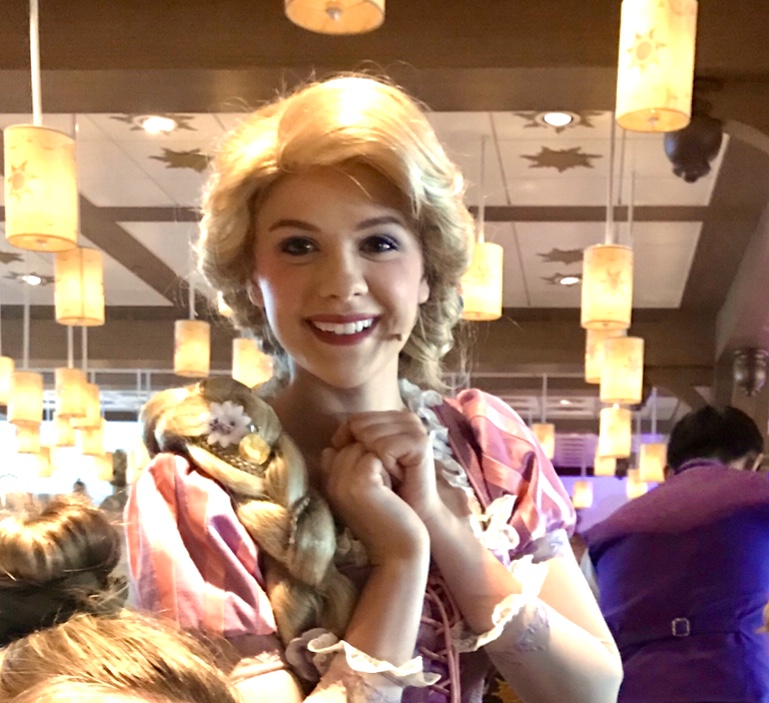 The first night, we ate at Rapunzel's Royal Table which was inspired by the movie, Tangled. We felt like we were in an enchanted fairytale, with the fun and lively musical performances! The cast and crew were in full character, even the wait staff!
Our other themed meals included the famous Disney Cruise Pirate Night, and Lumieres – an ode to Disney's Beauty and the Beast. These are both awesome, but my favourite dining experience was the Animator's Palate. I won't give away what happens during the meal, but it is truly magical.
I could go on and on about these dining events! But, you don't just have to take my Disney cruise review's word for it. I suggest you visit You Tube where you'll find lots of videos of each dining experience.
Disney Cruise Love List #4:
Evening Shows & Entertainment
Fourth, we looked forward to all the evening shows and entertainment on the ship. And, I'm happy to report that it did not disappoint! My daughter is a musical theatre lover, so the musical, Tangled, was a highlight! And, quite honestly, we thought it was a Broadway-quality production. We also saw an amazing magic show in the ship's main theatre. And, as well, we participated in the family game shows happening throughout the ship. There was SO much to do that we had to choose selectively, and sometimes, we even had to divide and conquer! I am sure we missed out on other amazing entertainment!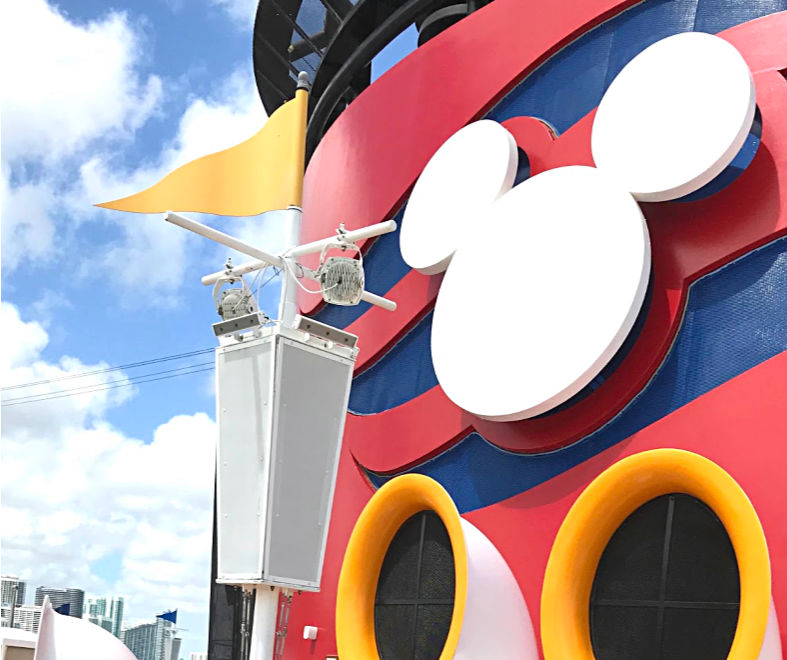 Disney Cruise Love List #5:
Excursions
Fifth, the excursions were top notch! I'm sure that this is true for every Disney cruise itinerary. In our case, the Disney Magic made two stops: first, it stopped at Disney's island, Castaway Cay, in Bahamas, and, second, it stopped in Key West, Florida. In both cases, we loved the opportunity to get off the ship for a new adventure. If you are thinking about booking a different itinerary, you can skip to the next section of my Disney cruise review. But, for those of you who are thinking of doing an itinerary with these particular stops, I'll tell you all about them!
Disney's Private Island: Castaway Cay
Our day on Castaway Cay was AWESOME! Basically, Castaway Cay is Disney's private island in Bahamas. It is reserved exclusively for use by Disney Cruse Lines on Caribbean cruises. Once you disembark the ship, the tram will take you on a short ride to the beach areas. There are several beaches, but we used the Family Beach which is closest to the ship.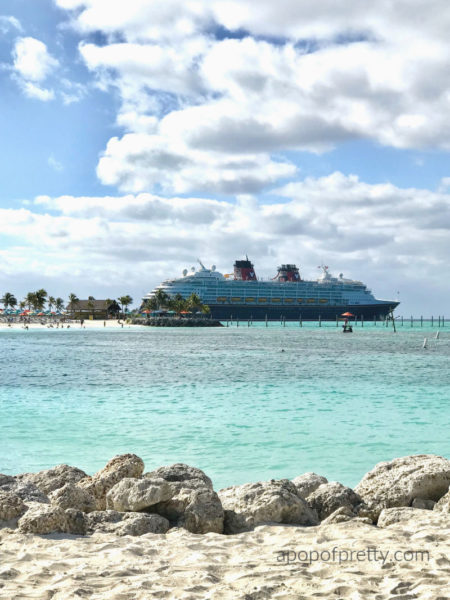 There are lots of fun things you can book on Castaway Cay (like snorkeling, parasailing, and fishing). But, we didn't bother with the planned activities, and simply used this excursion as a beach day. We found a spot to hang out on the beach, threw a football around, and got some sun. The sand is gorgeous, and the beach is filled with ample sun chairs and umbrellas.
There are some concession stands nearby where you can buy snacks like ice cones, as well as a small market where you purchase Bahamian souvenirs. Oh, and if you're wondering about lunch, Disney serves a BBQ lunch in an open air dining area on Castaway Cay.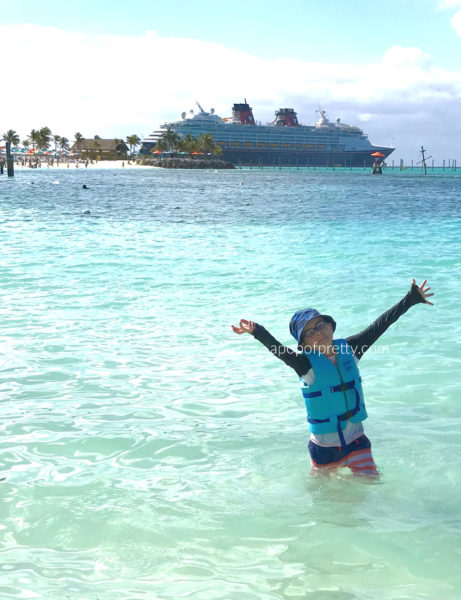 One of our favourite parts of our our day on Castaway Cay was the waterpark called Pelican Plunge! Pelican Plunge is basically a waterslide that floats on the ocean, and you need to swim a short distance out to the platform. (Note: Kids need to be a certain size and must wear a life vest.) My husband and our 8-year old twin boys had a blast there!
Disney Cruise Love List #6:
Oceaneer Club & Kids' Activities
Let's face it, if you're thinking of taking a Disney cruise, you've probably got kids. (Or, you're a kid at heart! lol) A Disney cruise is basically paradise for children! You can find the schedule of daily kids' activities in the ship's newsletter or on their app. Our ship had a Marvel Day at Sea, so our 9-year old twin boys were in their glee to meet their favourite superheroes!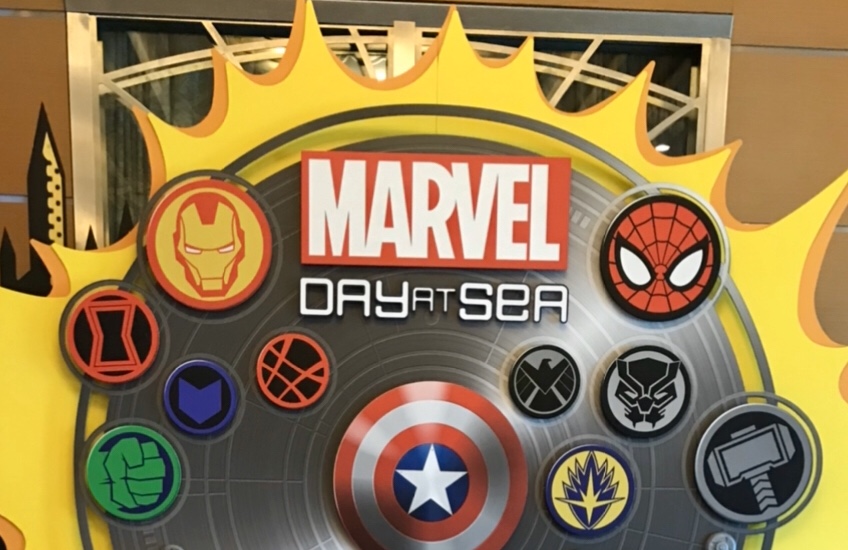 They also loved being dropped at the Oceaneer Club for a couple of hours each day. Disney's Oceaneer Club is open to children 3-12. At first, I was a little hesitant to drop them off (yup, I'm one of those moms, lol), but it didn't take long to get over my anxiety. The supervision was awesome, and there were all kinds of fun activities and character visits. In fact, they were a little disappointed when we picked them up!
Disney Cruise Love List #7:
Cast & Crew
OK, finally, my Disney cruise review 'love list' wouldn't be complete without mentioning the stellar cast and crew! Honestly, we were blown away by the customer service on our Disney cruise. In particular, we LOVED our wait staff. I mentioned earlier that, for the rotational dining, Disney moves your wait staff with you. This is such an awesome idea because your waiters get to know you. By the end of our trip, our waiters knew all of our kids' names and preferences without having to remind them of anything. They were so friendly and funny, and went above and beyond to make everybody happy.
Disney Cruise Review:
Our 4 Disappointments
So, now that you know what we loved, let's talk about some things that weren't so magical. After all, this Disney cruise review wouldn't be honest or helpful without sharing some of the disappointments. Specifically, we had four key disappointments, which were
Crowds and Noise Levels
Staterooms
Pool Areas
Daytime Meals (Breakfast, Lunch and Snacks)
Disney Cruise Disappointment #1
Loud & Crowded
First of all, I didn't love how loud and crowded the ship felt at pretty much ALL times. I hesitate to call this first one a 'disappointment' because it unfairly suggests that Disney Cruise Lines didn't meet our expectations in some way. We fully expected this cruise to be a bit crazy. It is a Disney cruise, after all! (Think: at least 1000 kids, toddlers and babies!) However, I guess I wasn't expecting it to be quite so loud and crowded at all waking hours, lol.
If you don't mind crowds and noise and general craziness, then this won't impact you at all. In fact, you might even thrive on it! I'm only mentioning it here in my Disney cruise review in case you (or any of your kids) find noise less tolerable. As a person who enjoys a little solitude now and again, I did get worn out by it. There weren't really many retreats from the daily madness. (You can read a little more about this side of a Disney cruise in this NYT review: On a Disney Cruise, It's a Stressful World (After All).)
Yes, there is an Adult Only Pool deck. But, unfortunately, my husband and I could rarely go there together, even while out 9-year-olds were in the Oceaneers Club. That's because we also have a teen daughter who didn't meet the age limit for the adults only area. But, if that doesn't apply to your family, it might be a great solution.
Disney Cruise Disappointment #2:
The Pools
Secondly, I would say that the pools/pool areas on our Disney cruise were our biggest disappointment. Ugh. First of all, the pools are teensy tiny in size. This means that the maximum capacity gets reached quickly, and the lifeguard is constantly blowing his whistle because there are too many people in there. Honestly, I can't even count how many times that damn whistle was blown in the run of an afternoon.
But also, the pools are super shallow, with a maximum depth of 5 feet. This is great for small kids, but definitely not for parents , teens or older kids who can swim. Consequently, the main pools really aren't used by adults. They felt more like like baby pools, always filled with young kids and toddlers. So, if you are somebody who enjoys sitting in a pool on a hot day, just be aware that it's really not something you are going to do on a Disney cruise.
My final complaint about the pools was the availability of pool chairs. The pool decks are super crowded, and it is close to impossible to find a consecutive set of empty pool chairs to sit as a family. As a result, we would have to take what we could get, which often meant dividing up and sitting apart from my husband. I think Disney had some rules about chair saving, but they didn't seem to be enforced.
Disney Cruise Disappointment #3:
Our Stateroom Size
Thirdly, I hate to say it, but the staterooms aren't at all magical. If you've ever taken a cruise before (as we have) I'm sure you know that the typical cruise ship bedroom is pretty tiny. So, we were fully expecting a small Stateroom, even though Disney Cruise Lines suggests otherwise.
For example, I think they might have used a bit of famous Disney magic when crafting the following statement. For the Oceanview Stateroom with a Verandah (the one we booked), Disney Cruise Lines describes it as "spacious" enough for "3 to 5 guests". Further, they even go so far as saying "your stateroom is your own private retreat – a comfortable, family-size get-away, immaculately appointed and smartly designed to let you stretch out in style and comfort".
"Stretch out in comfort?" Um, the only stretch here is the exaggeration, lol. Please don't be fooled. For a family of 3, they might be adequate. But if you are trying to stuff a family of 4 or 5 (plus suitcases) in one of these staterooms, the space is minimal. Even with a bunk bed folded against the wall during the day, we felt clausterphobic. I'd definitely recommend packing light to avoid the congestion of suitcases in addition to people.
The good news is that, with so much to do elsewhere on the ship, you really don't need to spend much time in your room.
Disney Cruise Disappointment #4:
Daytime Meals
Our fourth and final disappointment was the daytime meals. While we LOVED the main meal events in the evenings, lunch was a little disappointing. Our Disney Cruise offered the daytime meals in a few places, but, Cabanas, a buffet style restaurant, was the most convenient because it was close to the kids' pool area. The food was decent, but the restaurant was always WAY too crowded. The atmosphere was a little chaotic, and there was never enough seating, no matter what time it was in the afternoon. We learned quickly to avoid Cabanas, and to order our food pool-side. (That is, whenever we could find enough pool chairs, lol.)
The Big Question:
Is a Disney Cruise Worth the Money?
OK, so now that my Disney cruise review has covered the big stuff, on to the big question that everyone always asks. Is a Disney cruise worth the money? Everything considered, I would have to say, yes. A Disney cruise is pricey, but it is also an experience that our kids will always remember. Let's face it, nobody does it quite like Disney! The things we loved about our Disney cruise were spectacular. And, even considering the disappointments I outlined, they did not take away from the pure magic of taking a Disney cruise.
Would we Go Again?
The second question is : Would we go again? Hmmm. To be completely honest, I'm not sure if we would! A Disney cruise is definitely something to experience at least once. But, that said, there are so many other wonderful vacations to take! Maybe our kids will ask to go on a Disney cruise again some day, but until then, we'll try to sneak in a few vacations that are a little more zen!
Disney Cruise Review – Questions?
So do you have any questions about my Disney Cruise Review? If so, let me know in the comments. If you are planning to take a Disney cruise, I would definitely encourage you to read others' Disney cruise reviews out there too. You can read thousand of reviews here. And, if you DO take take one of these vacations, I hope you have THE MOST FUN!
Are You a Disney Fan?
Are you a Disney fan? If so, you might like this post on how to decorate a DIY Disney Frozen Themed Christmas Tree, using mostly DIY Disney decorations.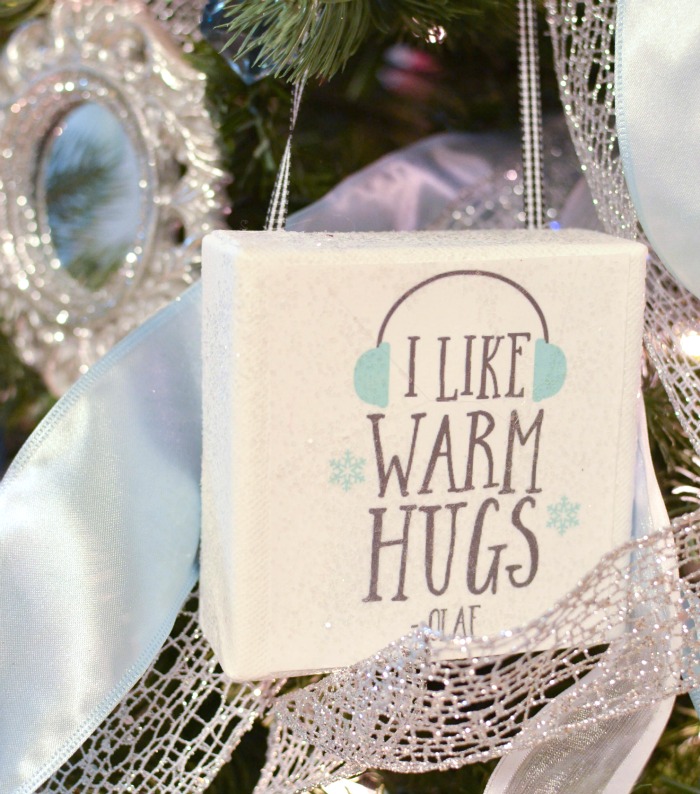 Do You Like to Travel?
Do you like to travel? If so, you might also like these travel articles I've written!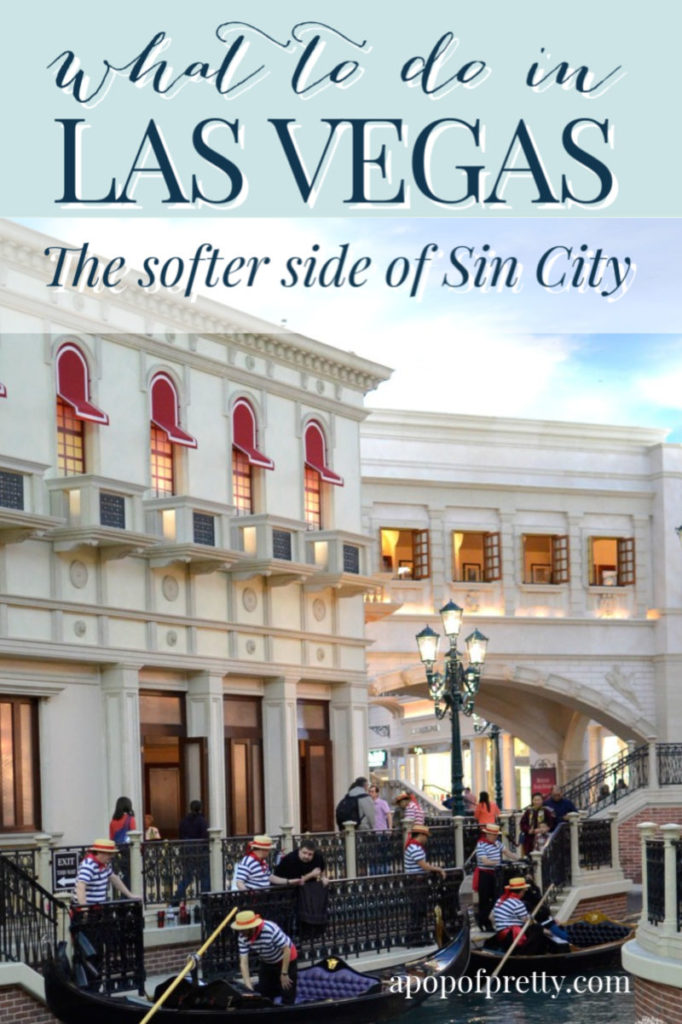 Until next time,
K.