This post was most recently updated on January 1st, 2020
DISCLOSURE: SPONSORED CONTENT
I WAS PROVIDED WITH PRODUCT BY MASONITE FOR THIS BLOG POST, BUT MASONITE DID NOT ASK TO INFLUENCE THE CONTENT OF THIS POST. THE THOUGHTS AND OPINIONS EXPRESSED HERE ARE MY OWN. FOR MORE ON MY BLOG DISCLOSURE POLICY, GO TO THE END OF THIS POST, OR, CLICK HERE.
NOW THAT WE HAVE THAT OUT OF THE WAY, ON TO THE FUN STUFF…
Hello friends, and happy Friday! Awhile back, I talked about my love of Craftsman style homes. I am especially crazy about the charm and curb appeal of a Craftsman front door. In "Get the Look: Craftsman Home from Builder Grade", I  even shared some ideas on how to get the Craftsman 'look' from a builder grade home like ours.
Well, since I posted that article, we went ahead with some of those exterior changes. Oh, happy day. Today, I'm going to tell you a little about the change that has made the biggest difference: a new Craftsman front door from Masonite!
Before we upgraded to our Craftsman front door, our entry had a standard, run-of-the-mill steel door. I had lots of fun playing with its colour over the years in an attempt to create more curb appeal. (For example, see How to Paint a Front Door, Door Color Ideas: 10 Pretty Blue Doors, 10 Fabulous Front Door Colors).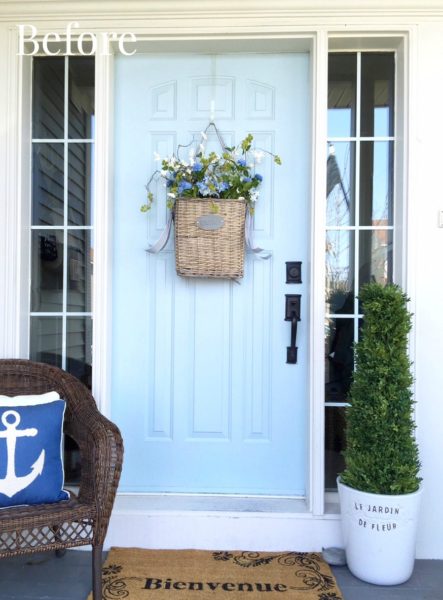 Still, whenever I spotted a Craftsman front door on another home, I had door envy. So, when Masonite approached me about a partnership, it was a match made in heaven.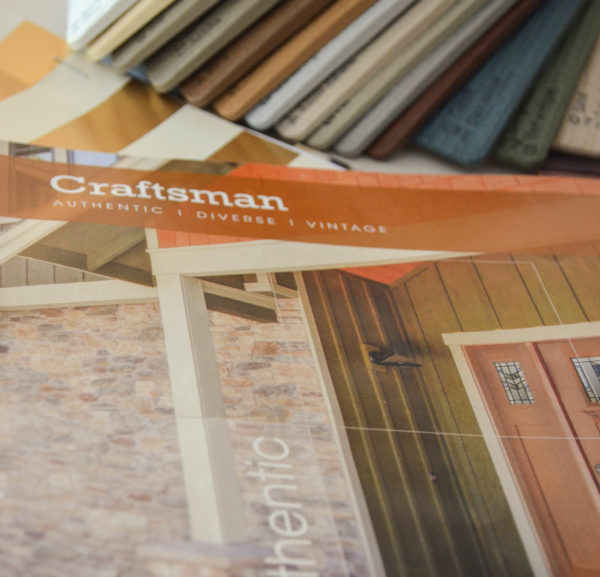 Although Masonite has hundreds of door styles to choose from, I knew exactly what I wanted!  I'd already been dreaming of upgrading to a Craftsman front door for years. I knew I wanted a simple, shaker style recessed-panel door, with a 'dentil shelf'.  But, apparently, an entry door is more than just a pop of pretty. (Pish posh.)  Yep. As it turns out, a front door also does things like keep your family safe and your home warm. Who knew? ;-). So, before I charged forward, I figured it was wise to learn bit more about the door of my dreams!
I discovered that a fibreglass front door is likely a better option than wood if you are looking for long-term durability. This is particularly true in a wet, damp climate like ours. I live in Canada, on an island in the Atlantic Ocean. (It doesn't get much damper than that!) Sadly, a solid wood door can be vulnerable to fading, warping, splitting, cracking, and – eeek – rotting. By contrast, a fibreglass door won't warp or rot, is resistant to wear and tear, and is very energy  efficient. And, just like a wood door, Masonite's fibreglass Craftsman door options include an authentic wood grain finish, and can be painted or stained.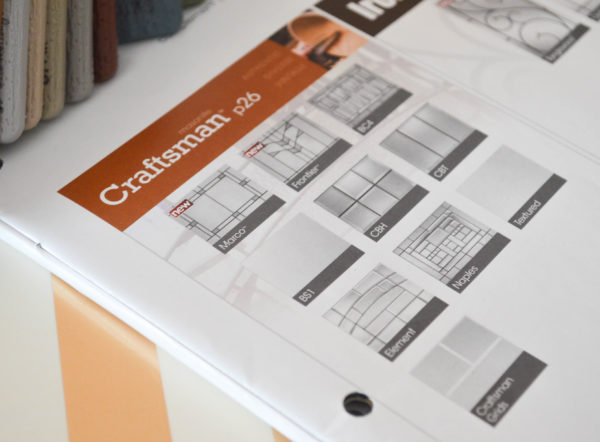 For all those reasons, we chose to go with a fibreglass door from Masonite.  It just seemed like a solid win on both beauty and performance. 
With that worry out of the way, I moved on to picking my dream door.  Of all Masonite's door options, I narrowed it down to the popular Barrington door.  I love the Barrington door from Masonite because it has all the signature trademarks of a classic Craftsman door, with its recessed panels, rectangular window, and the option to add a 'dentil shelf'. 
For the glass, I picked the Naples option.  I loved the privacy and sparkle that all the glass detailing provides. I'm also a big fan of the authentic black caning in the glass.
Once the door arrived, we had it installed professionally by Masonite's local dealer (locally, Eastern Siding). I know some of my readers are avid DIYers. But, listen. This is one project you might want to think twice about weekend warrior-ing.  There are just too many factors that go into a perfect entry door install. Why mess with your investment when you can leave it to the experts?
Within a few hours of hard work by our installers, the ugly hole was transformed to this loveliness…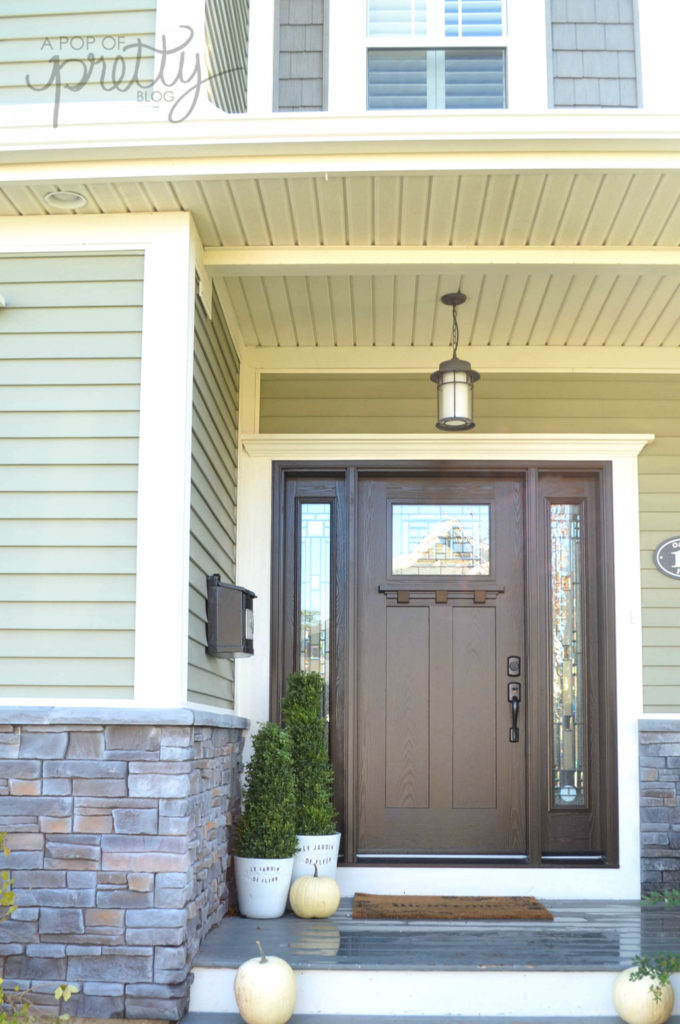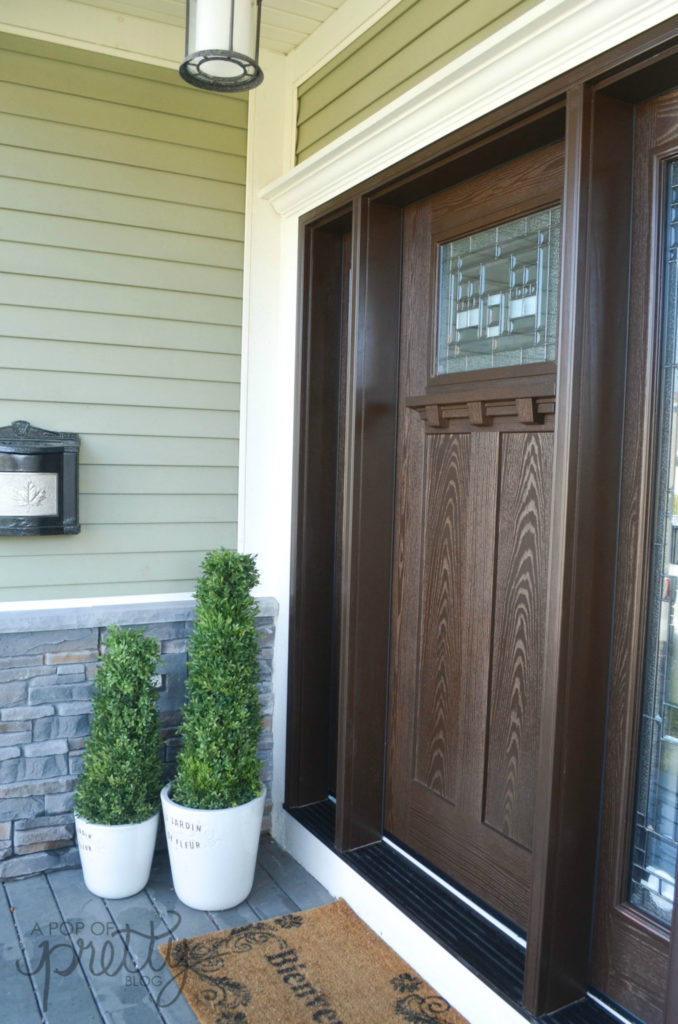 I can't tell you how happy I am with this Craftsman front door from Masonite!  Along with some other Craftsman style changes, it really helped to change the look of our home.
Here's a look at the before and afters…
Before & After:
Upgrading to a Craftsman Front Door from Masonite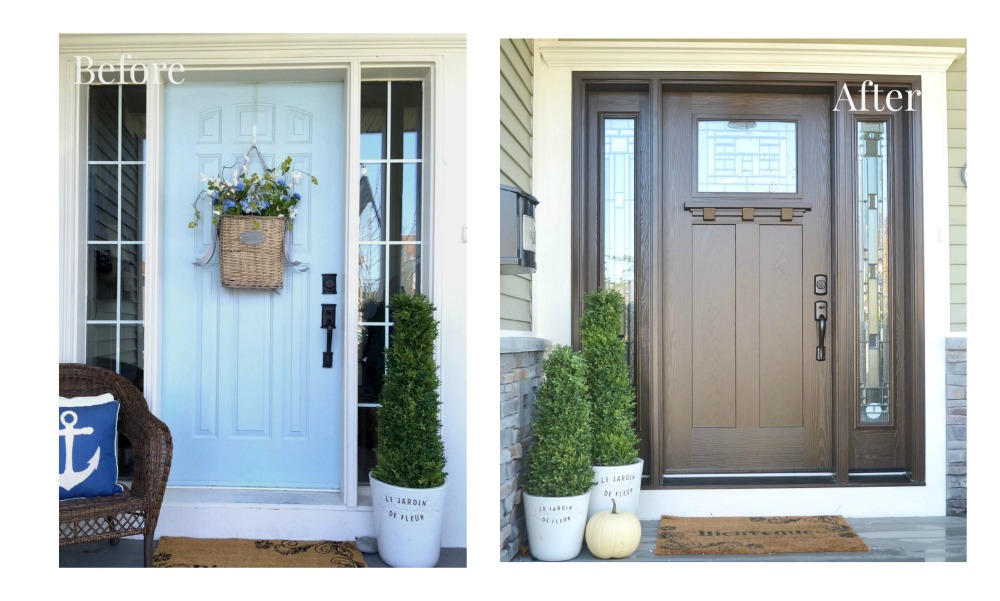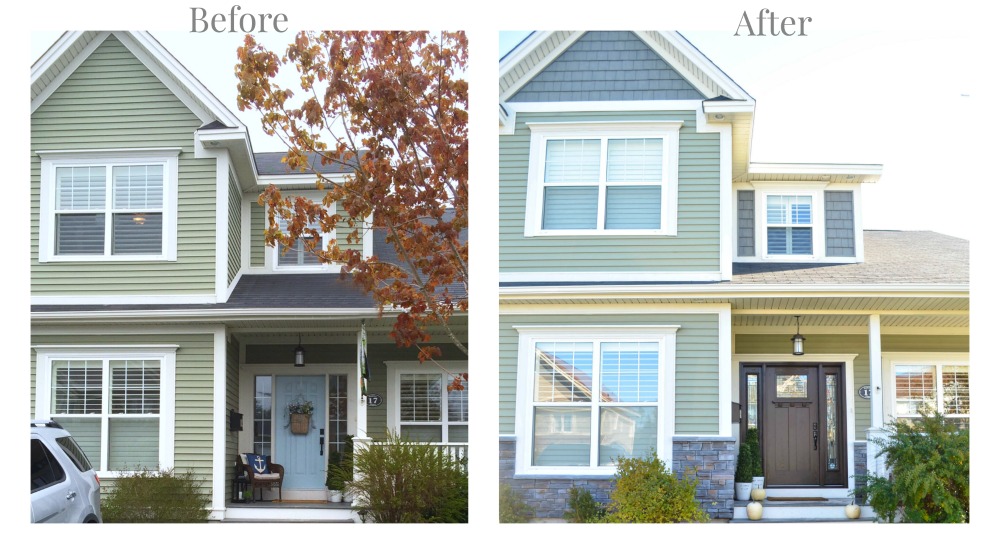 So do you love Craftsman style like me?  If so, maybe the Barrington Craftsman front door from Masonite is a great option for your home.  If you are looking for front door ideas for another style home, not to worry.  I found so many gorgeous styles while reading about Masonite's entry door options.  I plan to do another post here next week where I'll suggest some other doors for other tastes – whether you love modern, traditional, or cottage homes.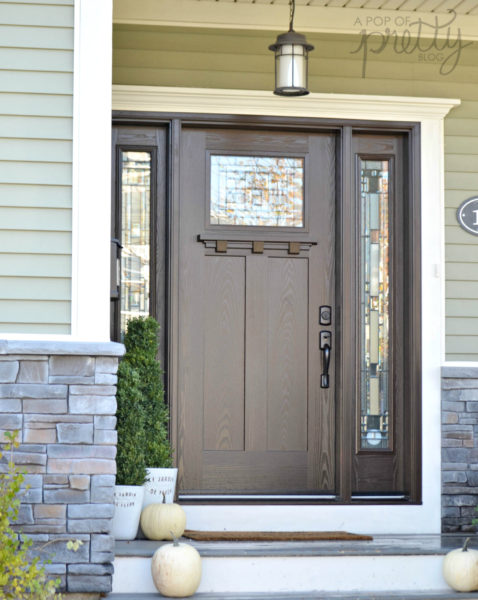 I hope you have a lovely Fall weekend!
See you again next week!
Kerri
Blog Disclosure Policy (Product Reviews / Sponsored Content): From time to time, I blog about products or services that fit within the overall context of my blog. If I've been asked to provide an opinion on those products or services by the brand / manufacturer, that content will always be clearly identified to the reader as "sponsored content". I may accept compensation for product reviews and / or complementary product from the reviewed manufacturer / brand. This compensation is in exchange for exposure and covers the investment of my time to research, review and write about the product / brand, in order to provide an educated point of view for my readers on the product or brand in question. However, even if a blog post contains such "sponsored content", I will always give my honest, uninfluenced opinions, findings, beliefs, or experiences on/with those products or services. In addition, I will never post "sponsored content" about a product or service that I have have not used or experienced myself.