This post was most recently updated on January 1st, 2020
Updated 2018: Cue the loud speaker! I think I've found the ideal mid tone gray! We have used Benjamin Moore Silver Fox (2108-50) in so many spaces in our home since I first wrote about this mid tone gray paint colour here in 2012. When I first introduced it here, we had just painted our kitchen. Six years later, I still love it just as much. It's such a classic.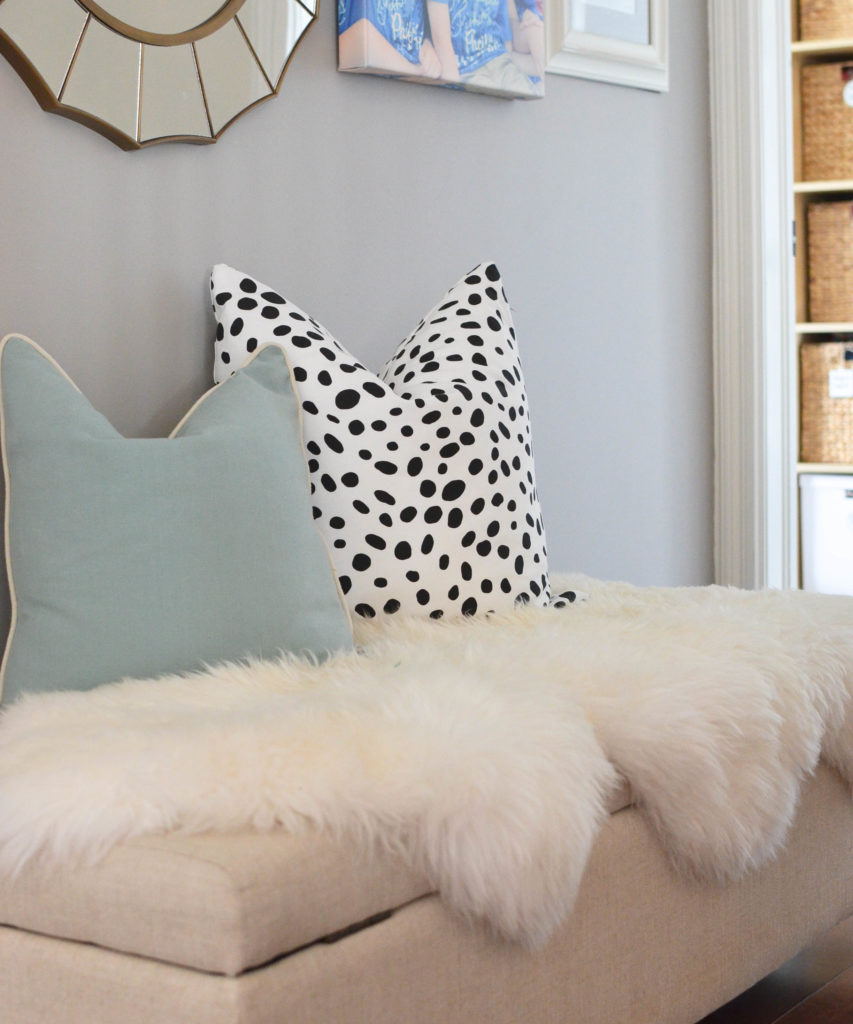 Silver Fox in the Kitchen
Our kitchen has evolved quite a bit since this photo was taken back then!  But you can see how Silver Fox is not too light and not to dark.  It's just a gorgeous mid tone gray with a very soothing personality.
It was a great paint color to help pull this space together. The mid tone gray helped pull the warm grays from the counter, the back splash and the stainless steel appliances together cohesively.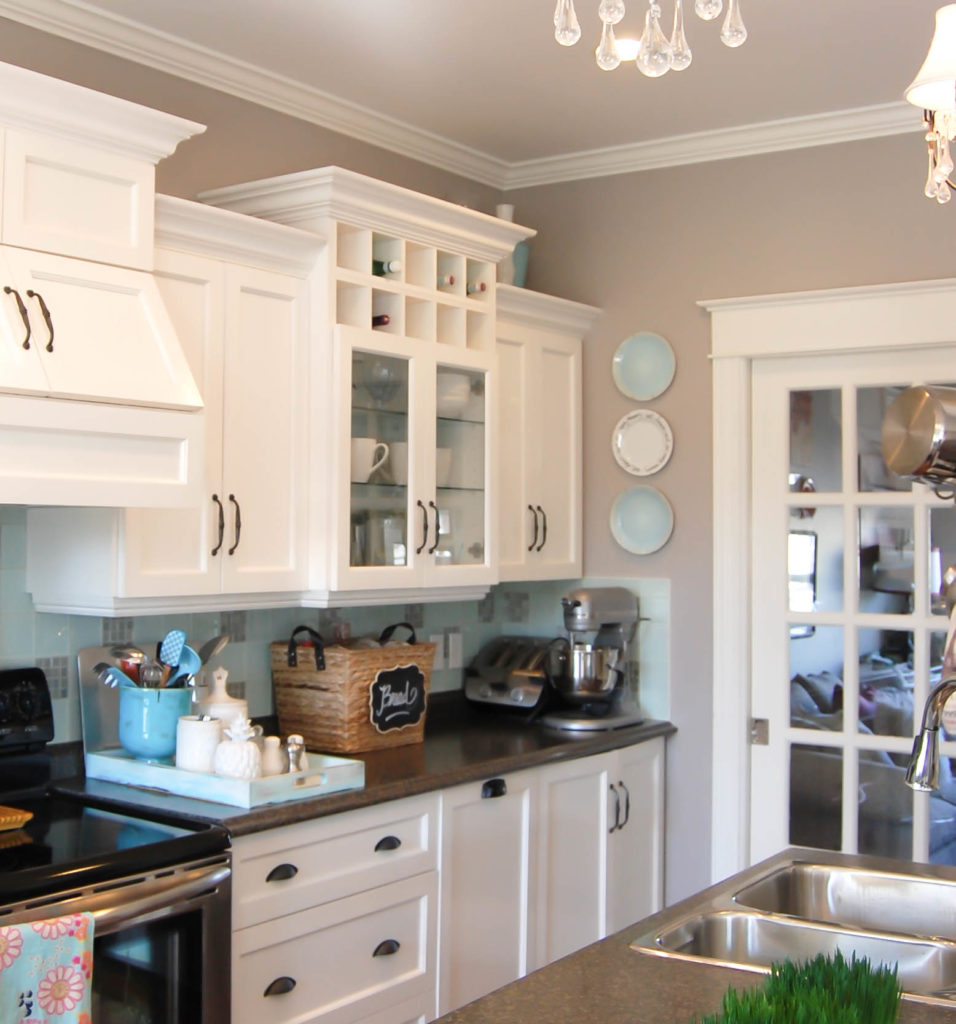 Here's a look at how Benjamin Moore Silver Fox played well with some new kitchen accessories a couple of years later. I love how this gray looks with white cabinetry.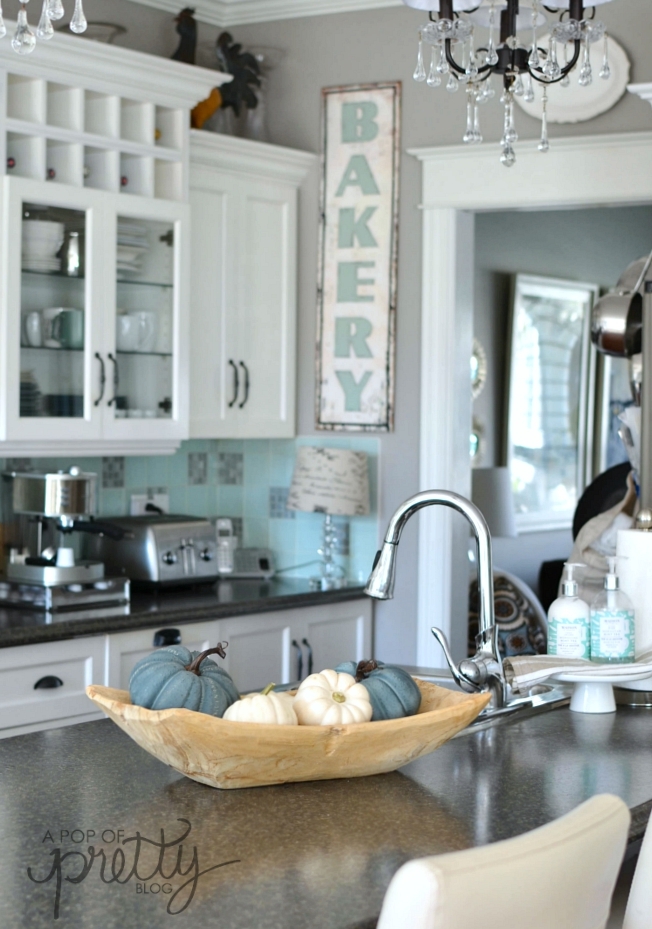 Because it's not too light, it makes the white feel even crisper than other gray paints would. Others have described the colour as having the look of wet cement (in the best way possible lol).  I agree.  It's got a moodiness to it that other gray paints don't measure up to.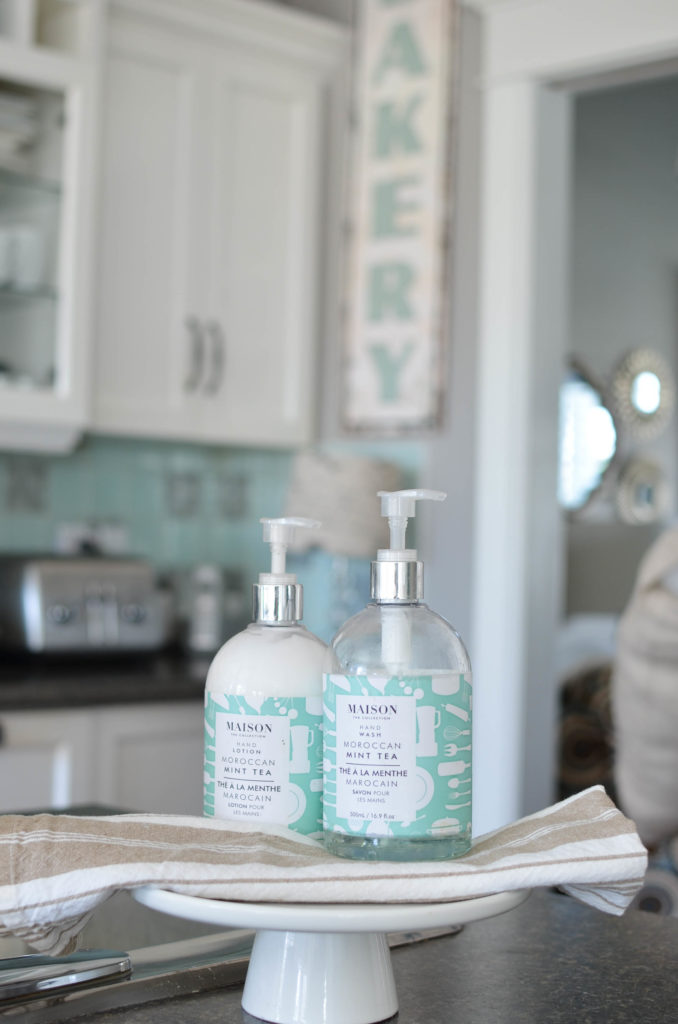 I think it's because of Silver Fox's warm undertone.  In certain light, it reads as a griege or taupe. So it feels warm and cozy.  That said, it's not so warm that it feels brown.  It definitely looks gray no matter what time of day it is.
Silver Fox in the Foyer
Two years ago in 2016, we renovated our kitchen.  We ended up raising the kitchen cabinets to the ceiling, and tiling the entire wall with hex tile.  But, even though we lost our Benjamin Moore Silver Fox painted walls in the kitchen, we still have it in several areas of our home like the foyer, as well as our stairwell wall.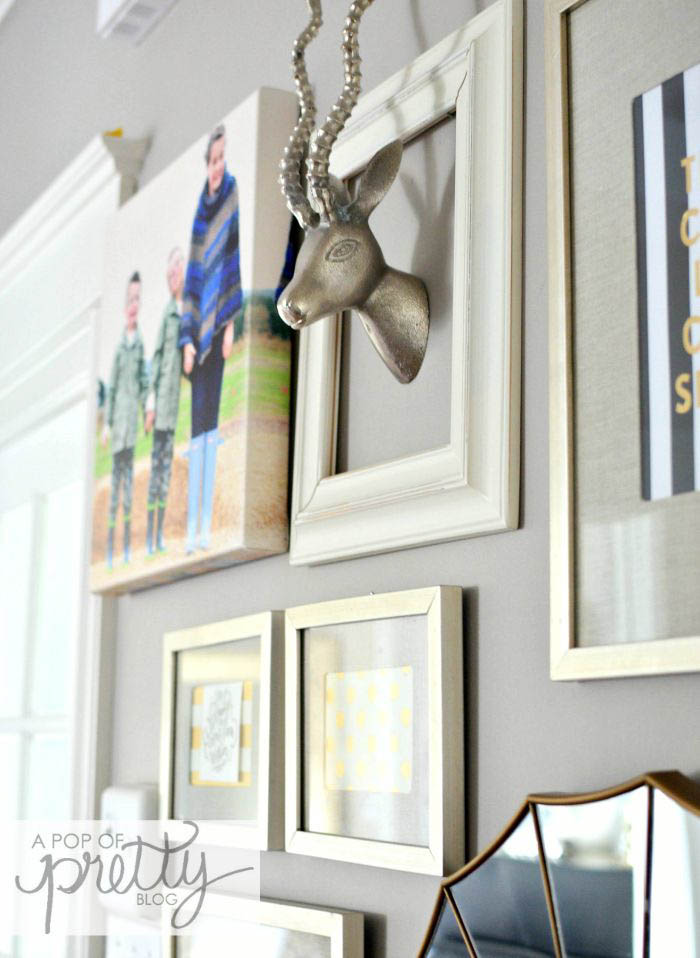 We used it in our foyer to offset a gallery wall with photos of our sweet kids. And, speaking of kids, that's another reason Benjamin Silver Fox is a great choice.  Unlike a lighter, cooler gray, I find that this mid tone gray helps to hide fingerprints and imperfections a whole lot better :-).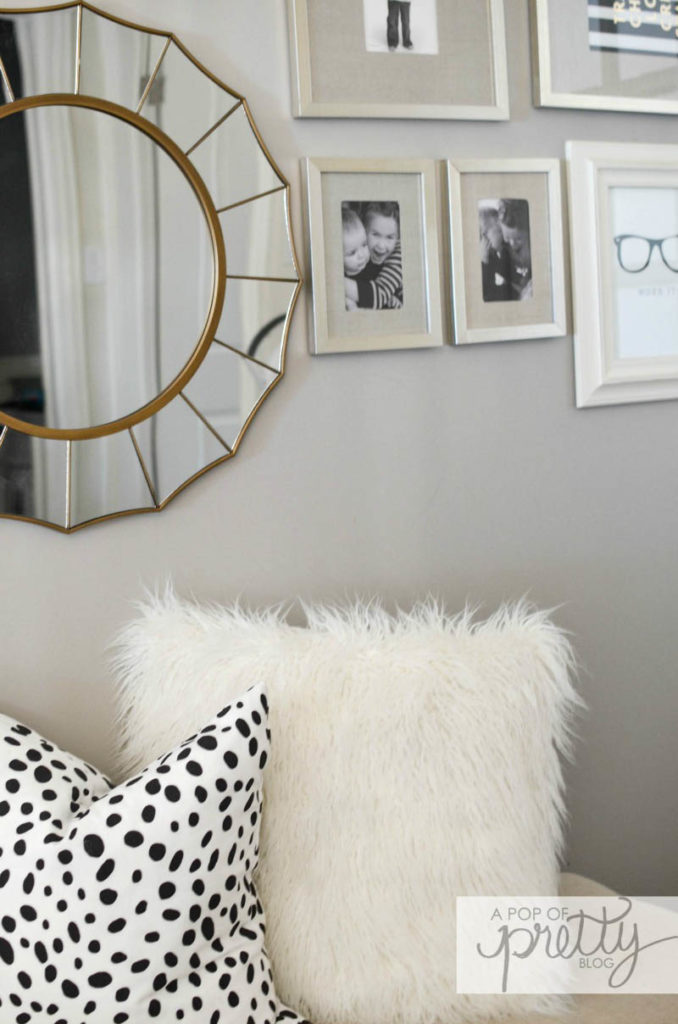 I do have one caution about this gray which you may find in other reviews of this paint colour.  Depending on your light source, you may find a VERY slight purplish cast.
You can pick up on it in this photo below.  That said, I've never noticed this in natural light.  And, it's nothing that can't be fixed with the right light bulb.  So if you are planning to use Silver Fox in a room with mostly artificial light, I'd recommend a sample first.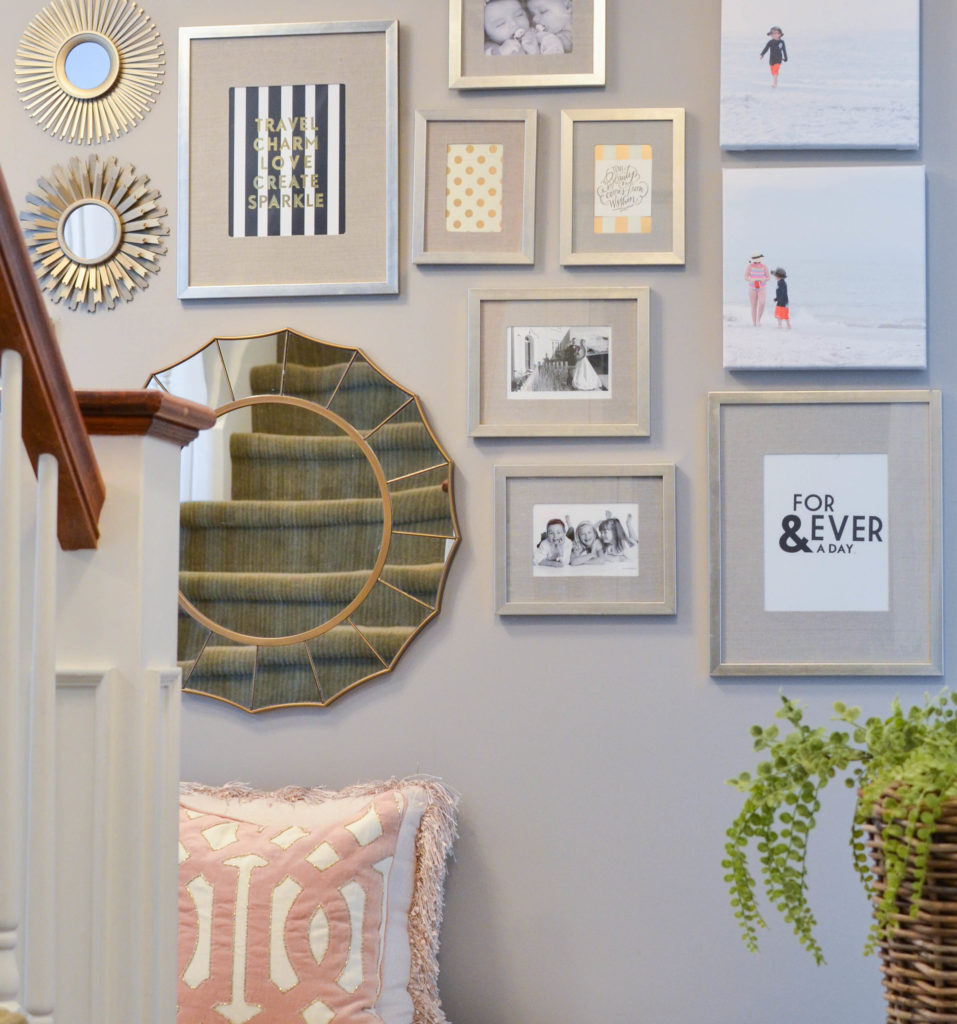 In fact, I always recommend starting a paint job with a sample.  No two rooms are the same, and paint will always look different depending on the light and time of day.  Further, its impossible to represent any paint colour accurately on a computer screen.  So try it out before committing!
Silver Fox: Why I Love It
To sum up, here are 4 reasons why I love Silver Fox:
It is a perfect mid tone gray – not too light and not too dark;
Silver Fox is a warm and cozy gray, without reading as beige or brown;
It has a nice moodiness to it that other grays dont live up to;
Silver Fox is a family friendly colour by masking imperfections like scuffs and fingerprints.
Silver Fox: My 1 Caution
It can cast a little purple in artificial light.  Try a different light bulb or use it in rooms with lots of natural light.
.If you're about to take the plunge with Silver Fox, I hope you'll love it as much as I do.
Until next time,
Post Script: My kitchen was featured at Whisperwood Cottage,the official talent scout for Cottages & Bungalows Magazine. Insert big happy face here ;-).
.
.
Until next time,
.
I'm sharing this post here: