This post was most recently updated on January 1st, 2020
Over the past week, I've been in my Christmas decorating 'Happy Place'.
Yep, it's the time of year when our home has the distinct scent of a hot glue gun and a Balsam & Cedar candle mixed with Starbucks holiday blend.  And, if you need me, you can usually find me sitting on the floor, happily sifting through bins of baubles, garlands and glitter.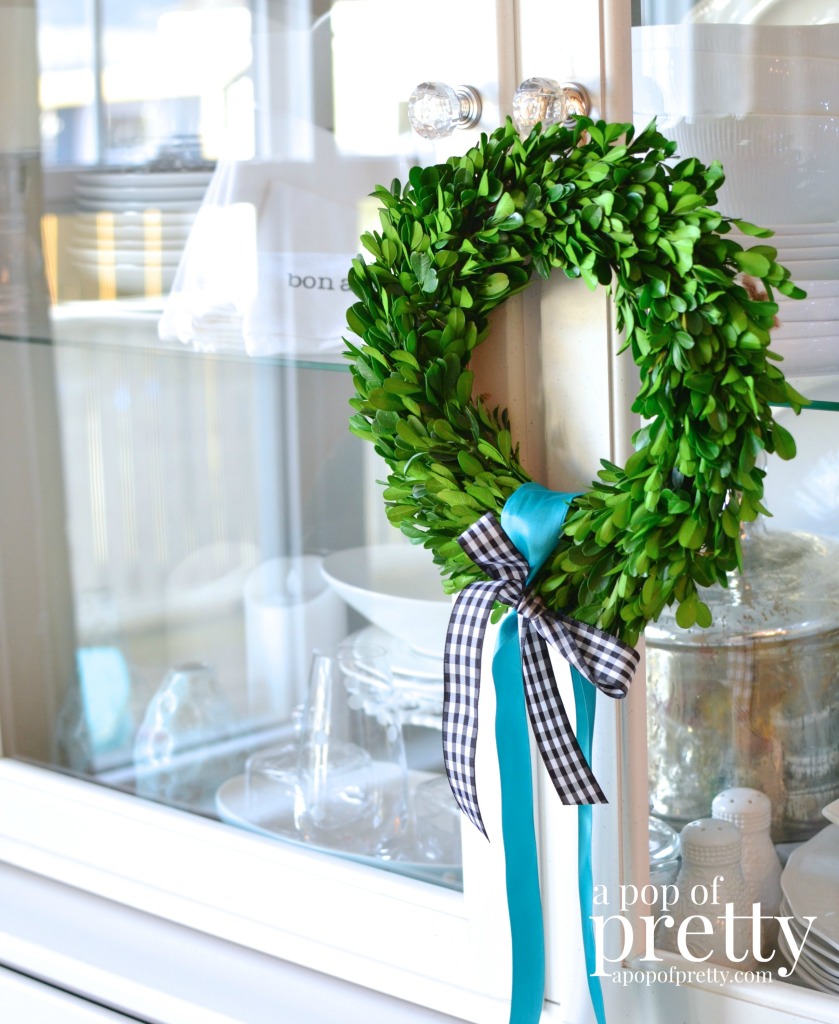 Our home isn't completely decorated for Christmas yet, but I'm excited to share some of my French inspired Christmas decor with you as part of the Canadian Bloggers Christmas Home Tour.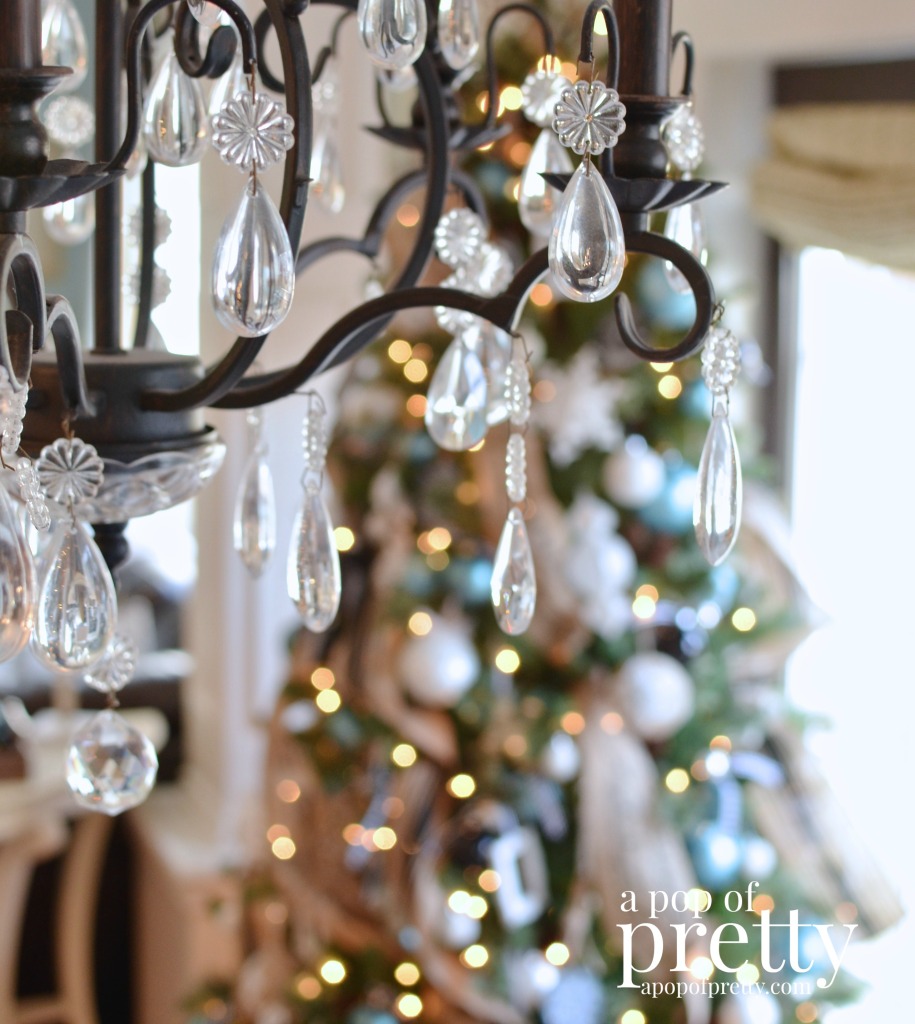 At the end of this post, you'll find links to all the other Christmas home tours from the same group of talented Canadian bloggers who shared their homes with you back in the summer. (See Canadian Bloggers Home Tour).  If you haven't started your Christmas decorating yet, I'm sure these home tours with give you a tonne of inspiration!
Before we start the tour, here's a little overview of how my French inspired Christmas decor is coming together (and if you're on Pinterest, you can hit 'Pin It' to share with others)…

French Inspired Christmas Home Tour
If you've been around here awhile, you probably already know that I love to change up my Christmas decor every year. (See Christmas Tree Decorating Ideas: How to Change Your Color Scheme Affordably) This year, I wanted to keep things simple and a little rustic, with some French inspired touches. I decided to use a colour scheme of black, white and peacock blue.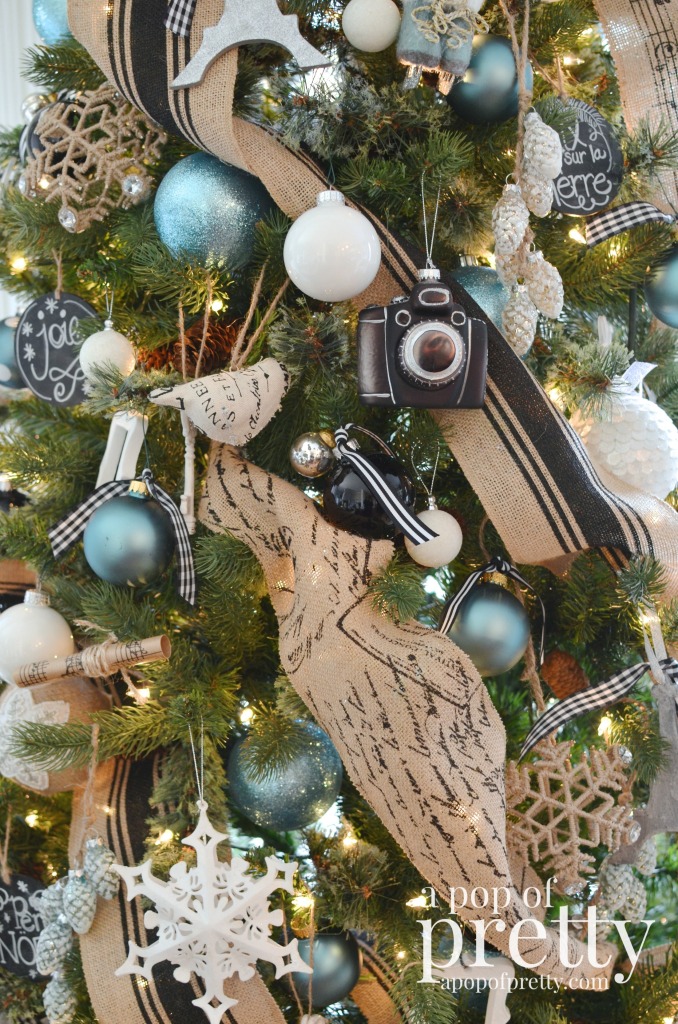 Let's start with the Christmas tree!  I've used lots of different Christmas tree colour schemes over the years (see Gold and White, Champagne and Blue, Red and Turquoise), but this was the first time I've ever used Black and White.  The tree would have been perfectly lovely without the hits of peacock blue. But you know me and blue.  We just can't live apart, no matter how hard we try, lol.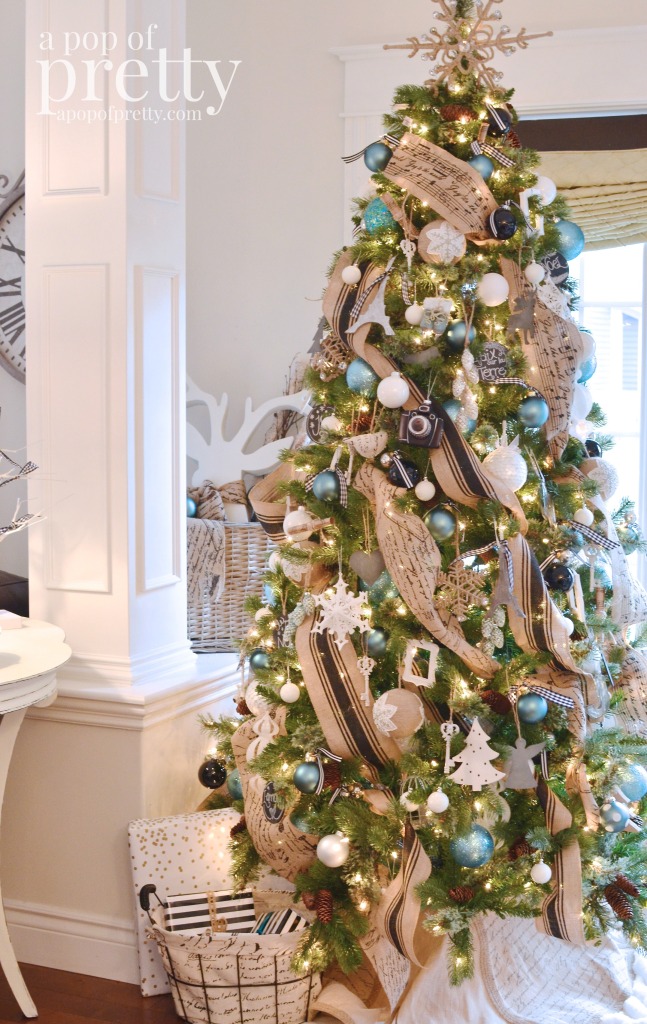 The tree is filled with lots of burlap and black and white ribbon (gingham and stripes), with simple and French inspired decorations.  Even though the look is mostly rustic, the tree still has a little sparkle with some glittered and glass ornaments.  I love to mix things up. When set against some glitter, the natural texture of the burlap and twine is even more delicious.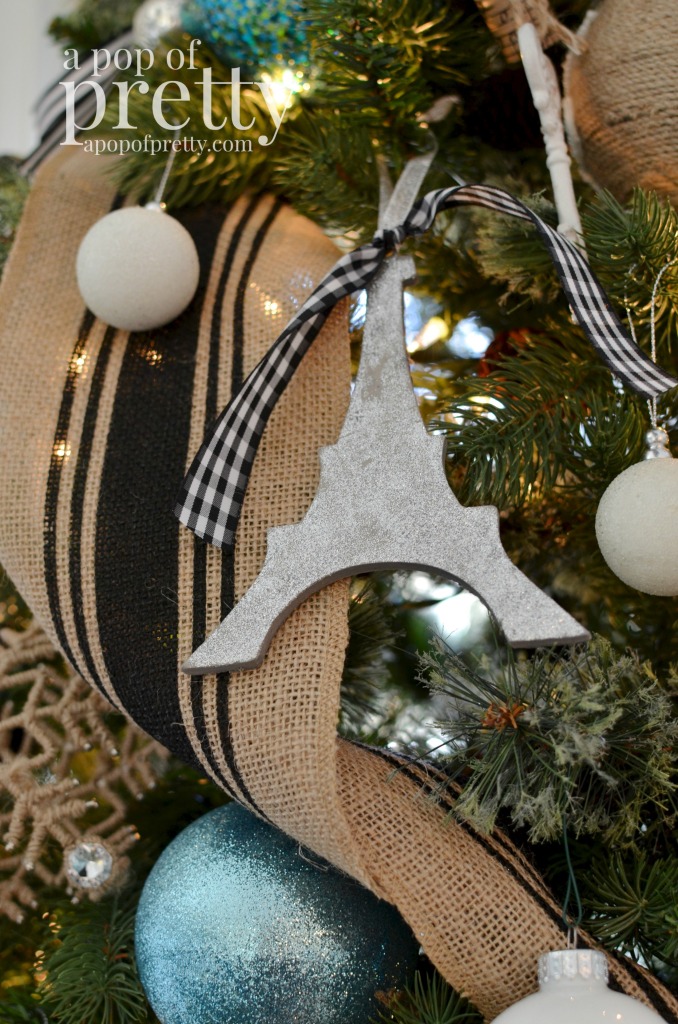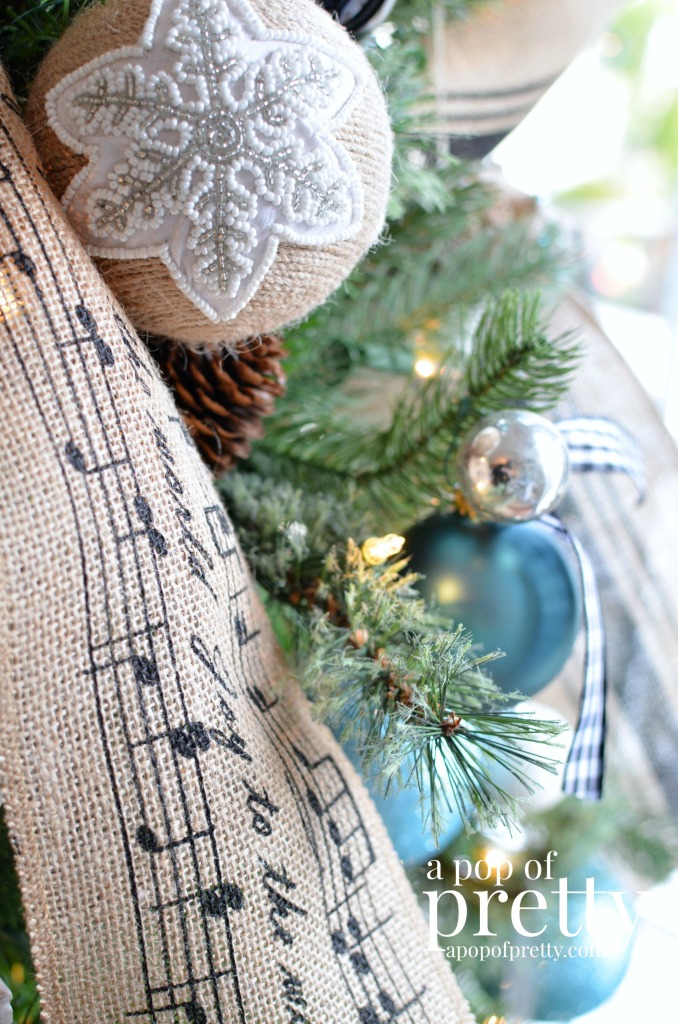 I made some new decorations for the this tree, like the little chalkboard tags with French Christmas words and phrases, as well as the music scripts tied with twine.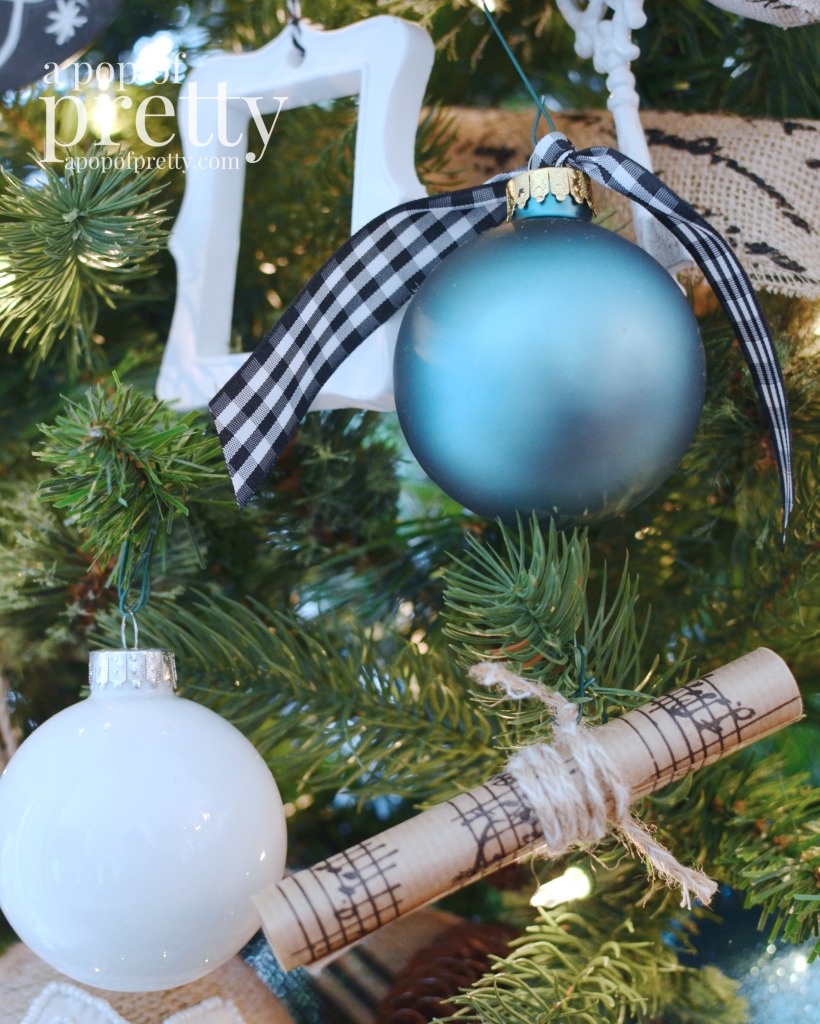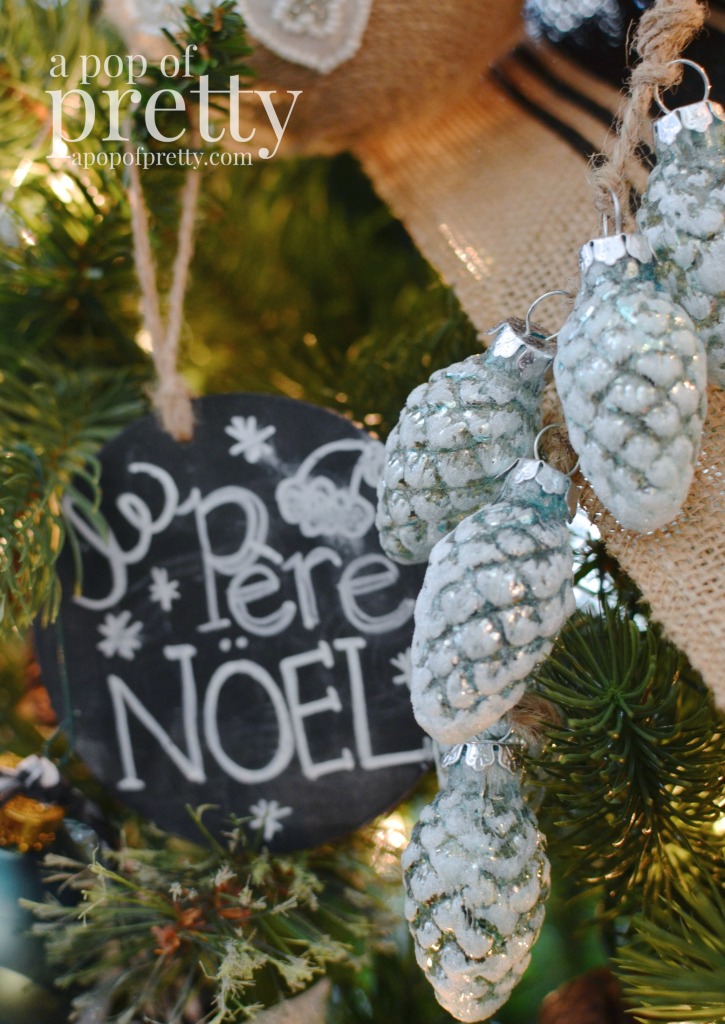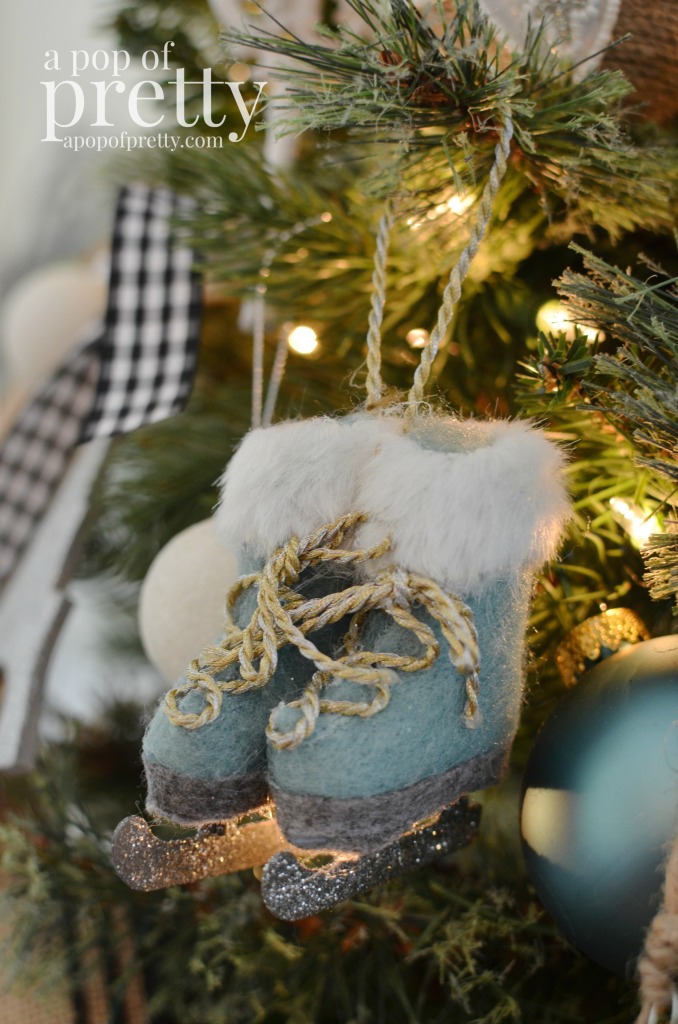 I also wrapped some presents in the same colours our French inspired Christmas decor.  Having a few pretty Christmas gifts on the floor is great way to create more coziness at the bottom of the tree.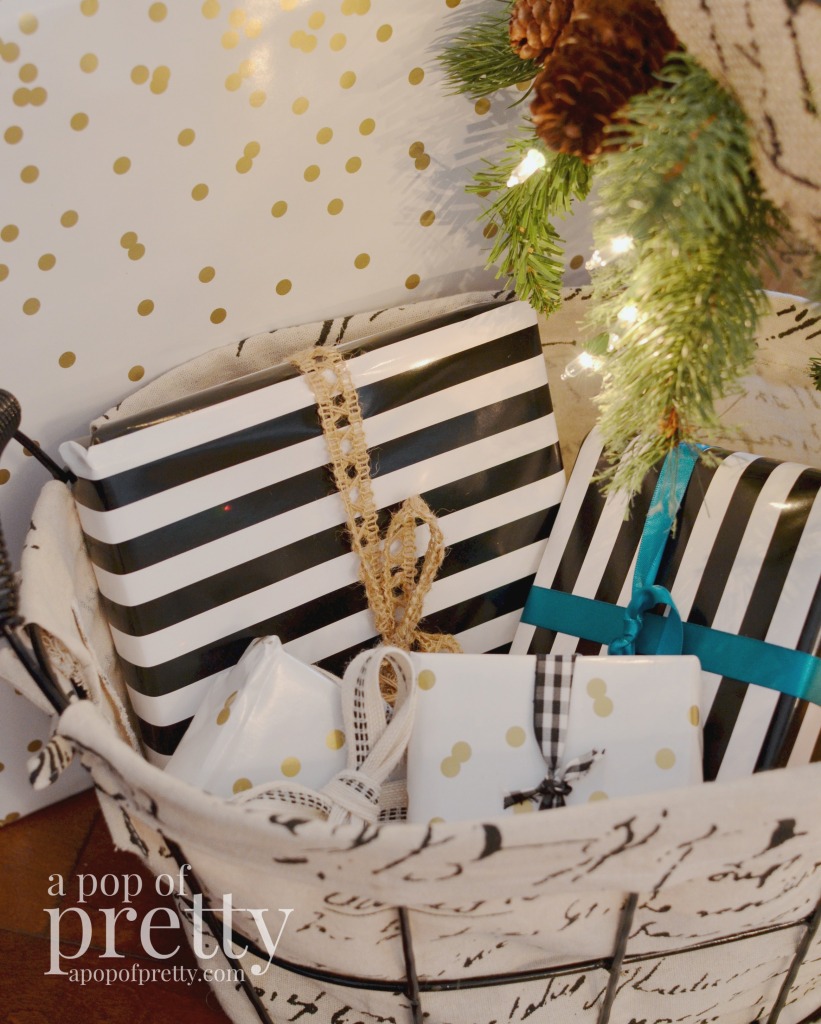 I have an awkward, uncozy-looking corner behind the tree, so, to fill the space, I used a basket with some logs and twigs and an awesome deer head.  I think this guy – and his burlap scarf – might be one of my favourite parts of this year's Christmas decorations.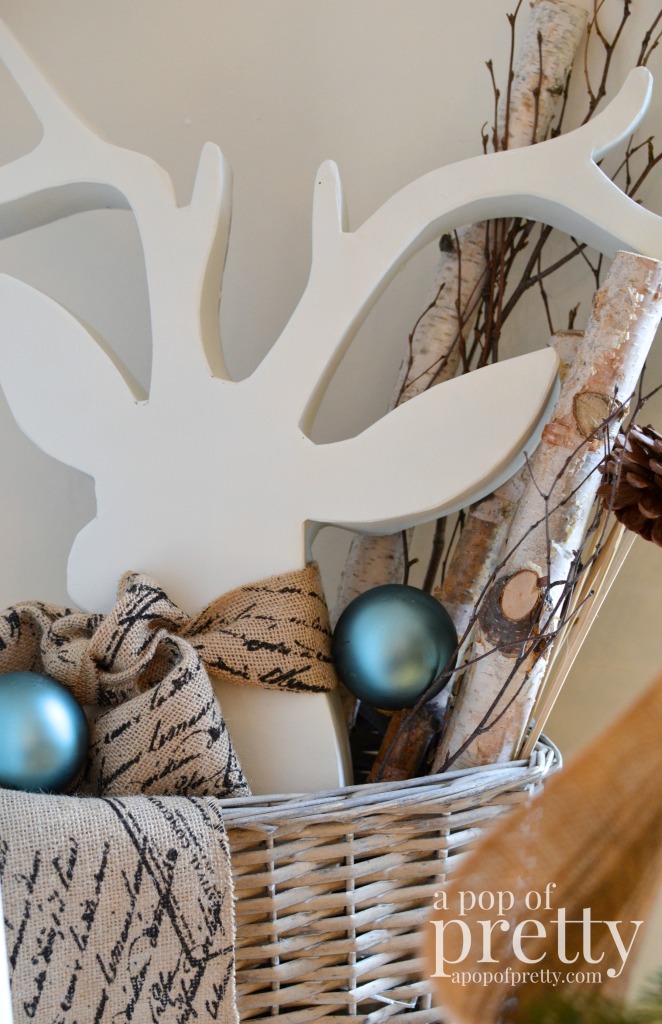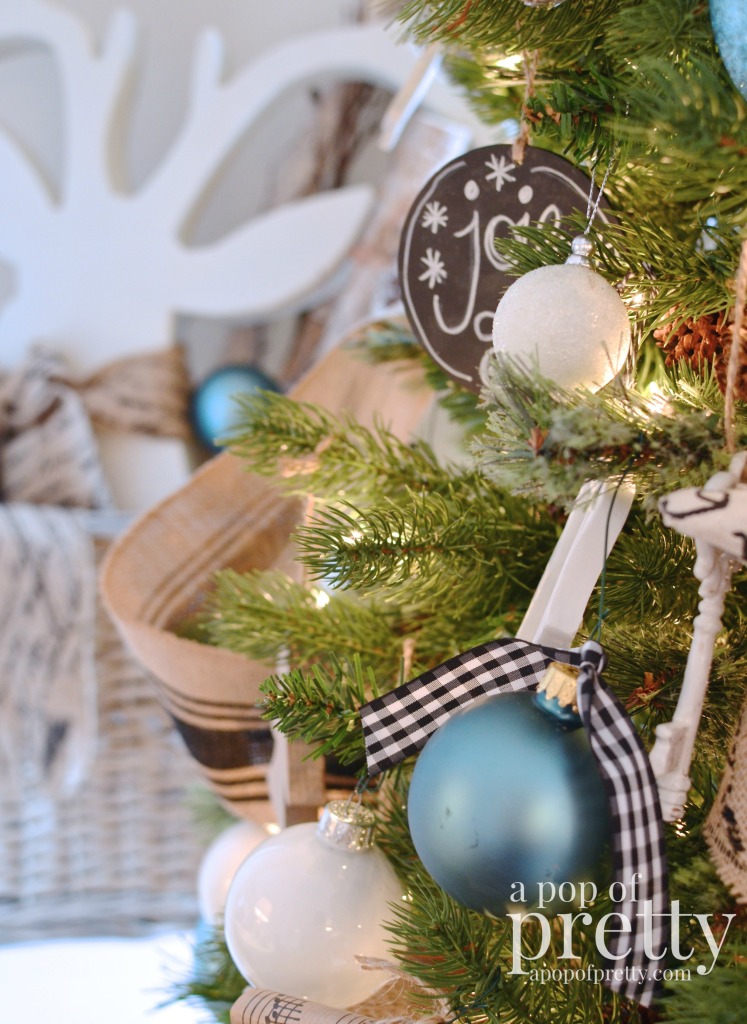 Right behind the tree, you'll find our main floor family room, where our fireplace mantel is also decorated with similar French inspired Christmas decor.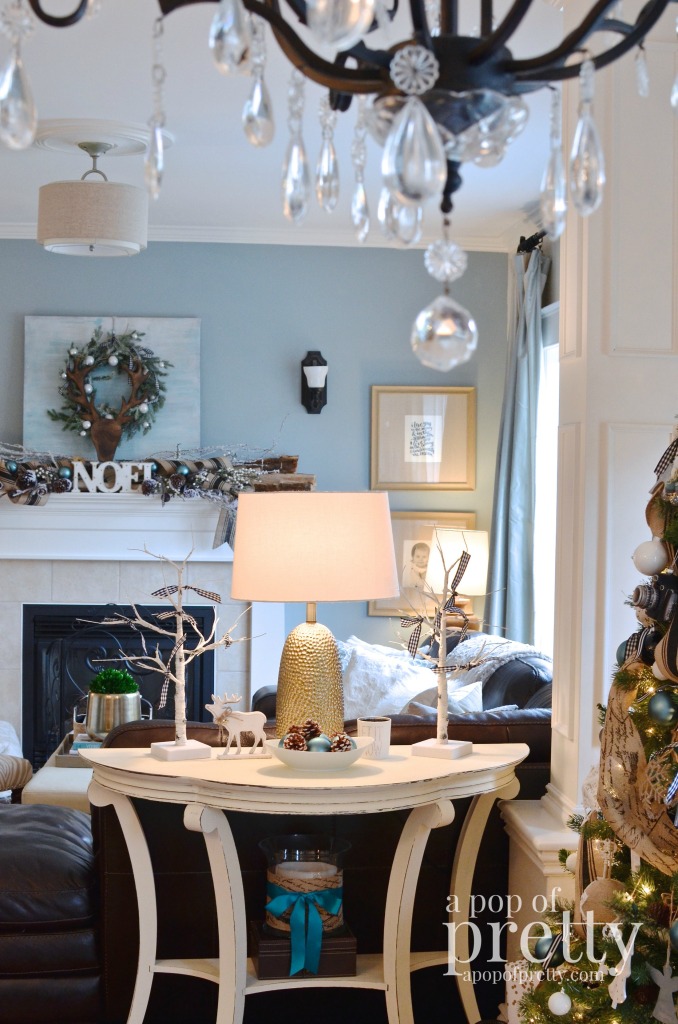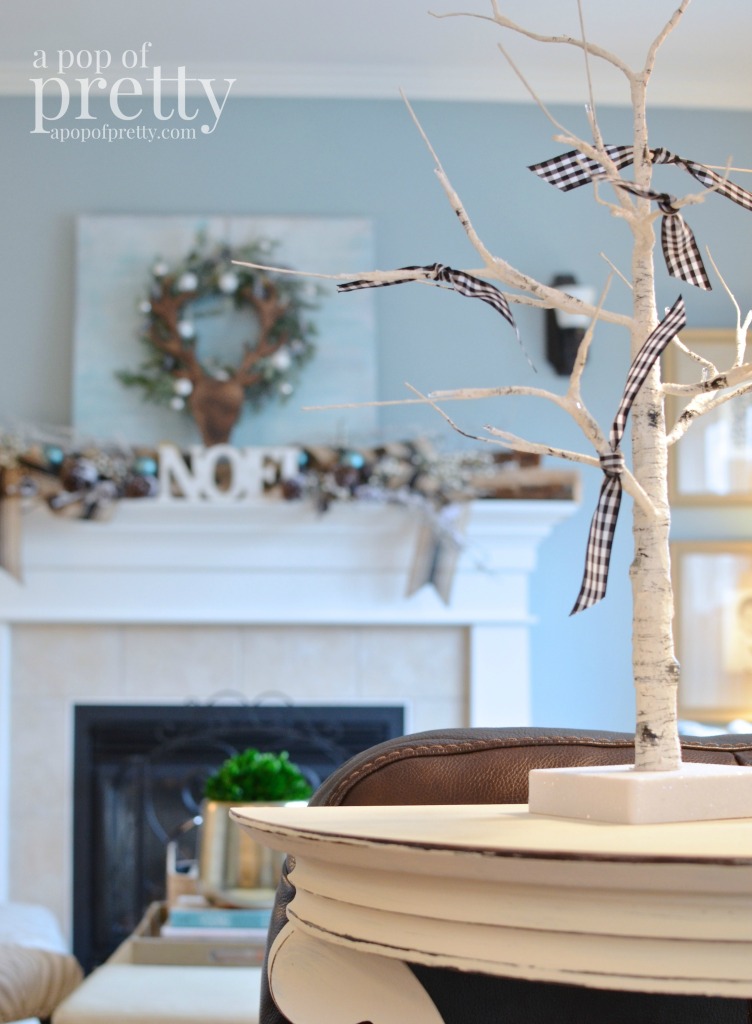 The mantel is definitely more rustic than I'd normally decorate it for Christmas. But I think its raggedy-twiggy-woodsy-vibe and imperfection is the reason I  enjoyed creating it even more than usual. I started with a bag of scrappy firewood, and layered on burlap, pine cones, twigs and rustic bells.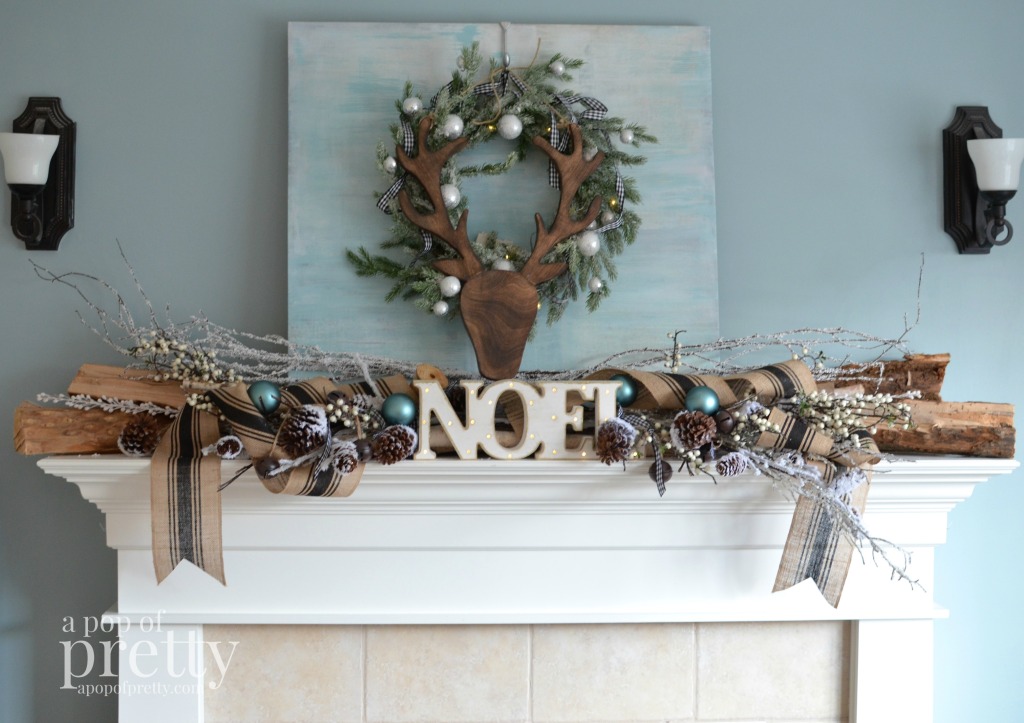 It's a little hard to tell from this photo, but the Noel sign (which I found at Target), lights up.  It's so pretty at night.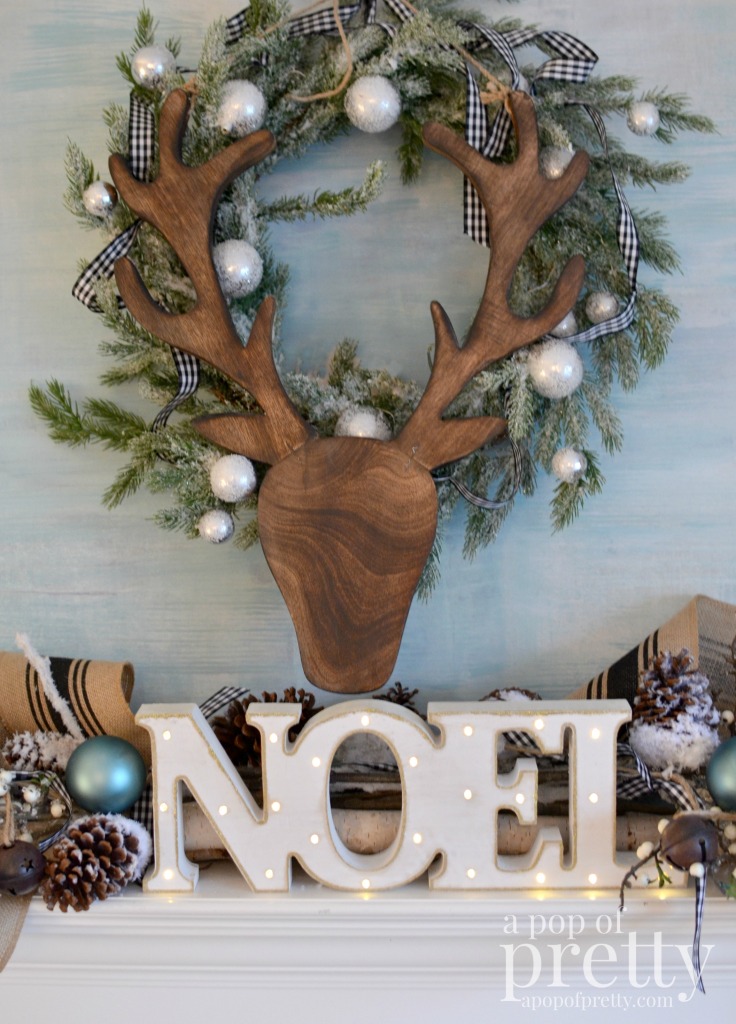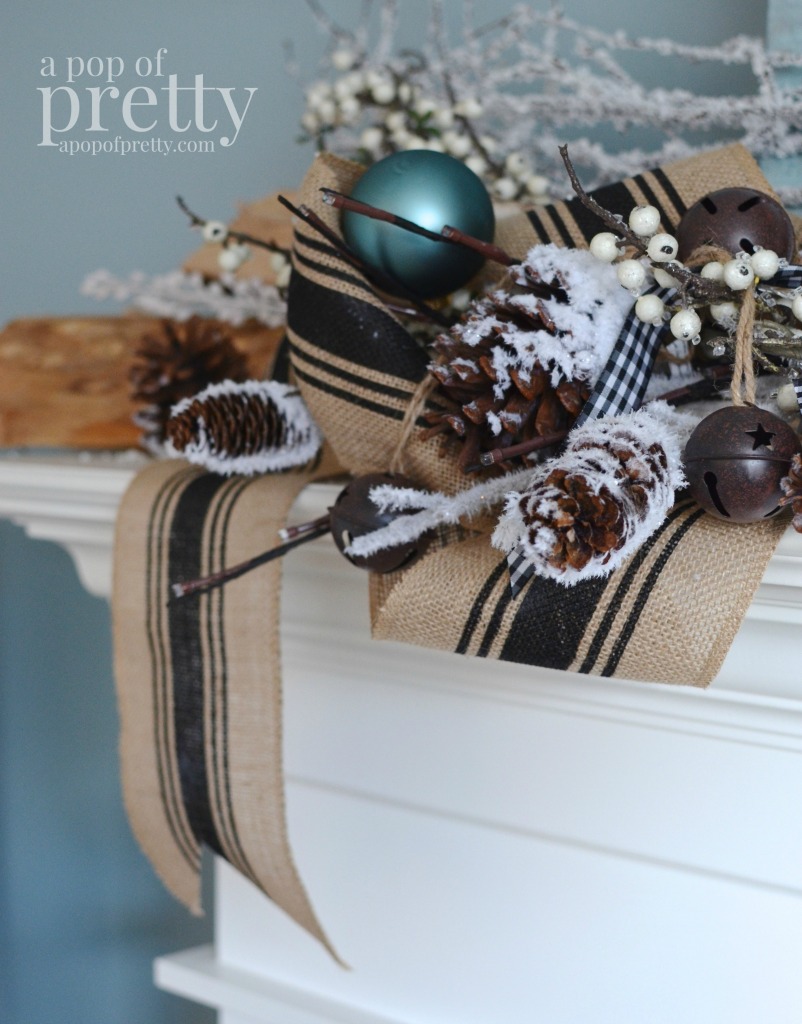 The console table behind the sectional also has some simple and pretty touches, like the little white birch trees (also from Target) tied with gingham ribbon and a bowl filled with peacock blue Christmas balls and pine cones.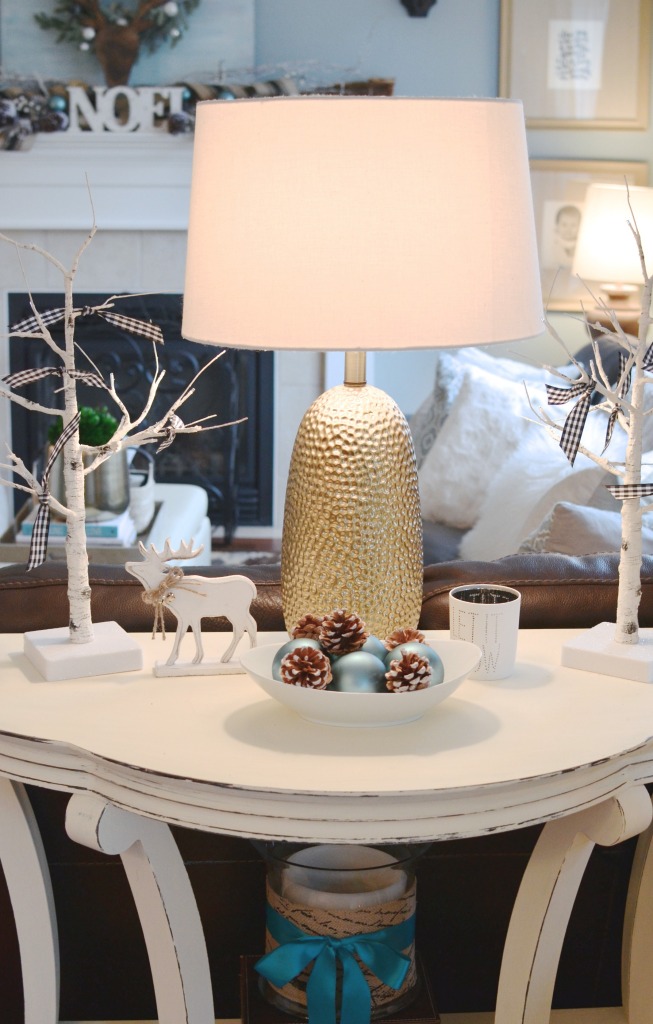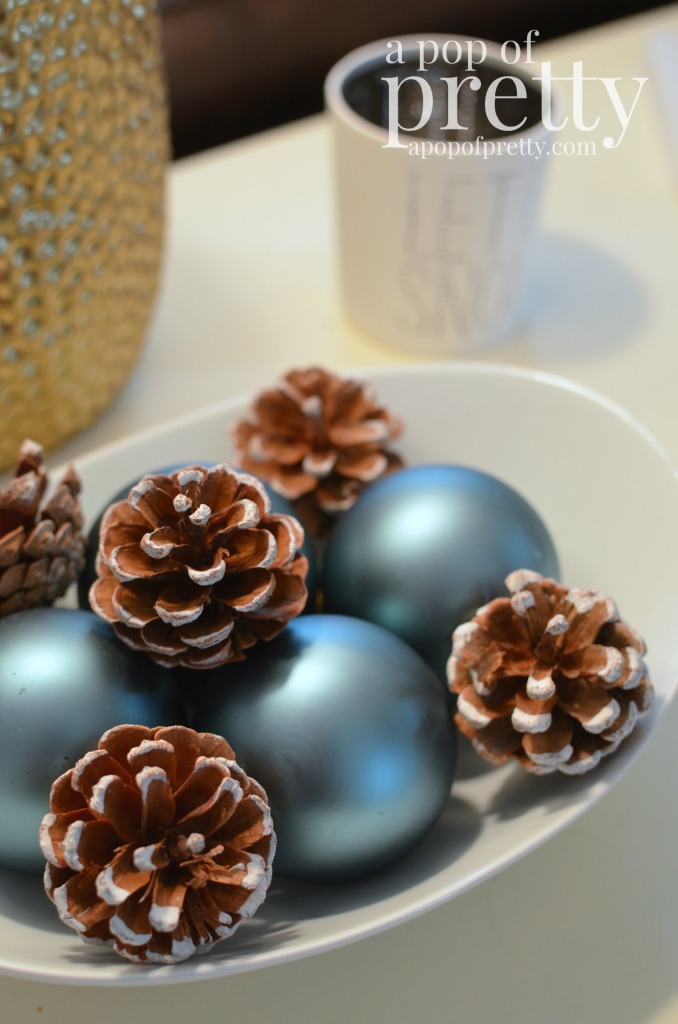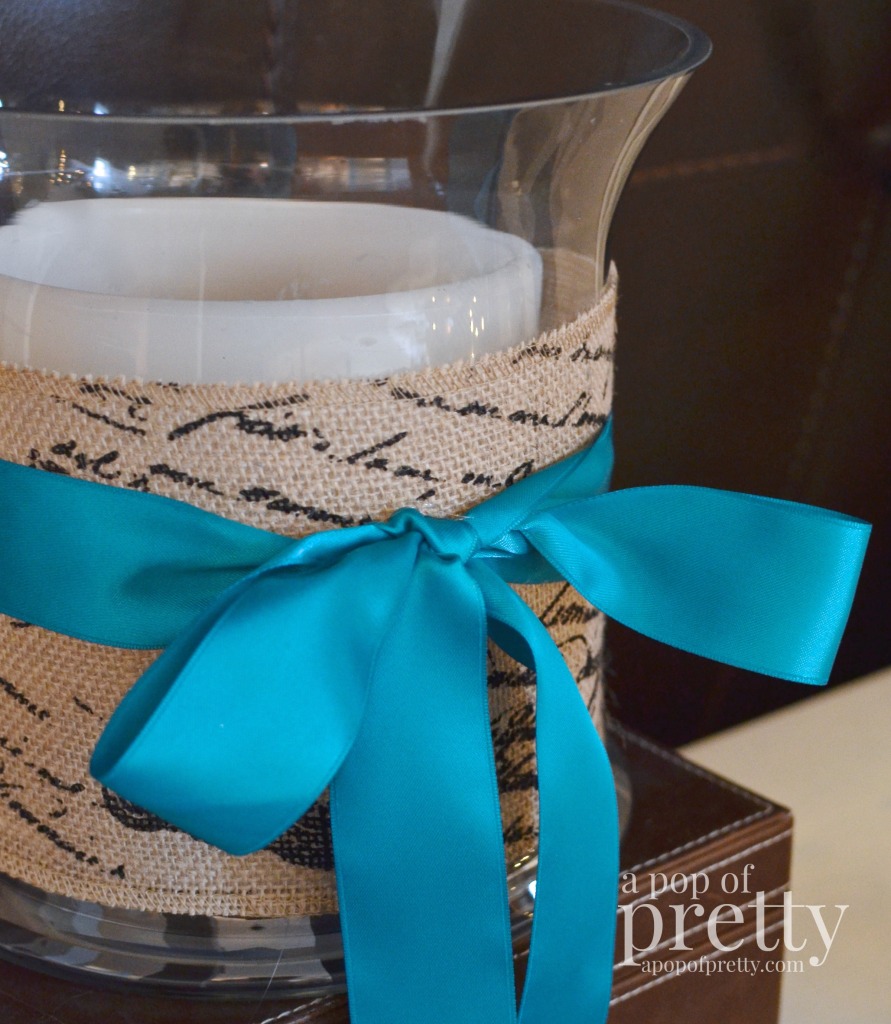 In our foyer, we have another console table with simple burlap trees, and a boxwood wreath with coordinating ribbon.  You can't go wrong with a preserved boxwood wreath.  I use this wreath just about every season with different ribbon, but it looks particularly great at Christmas!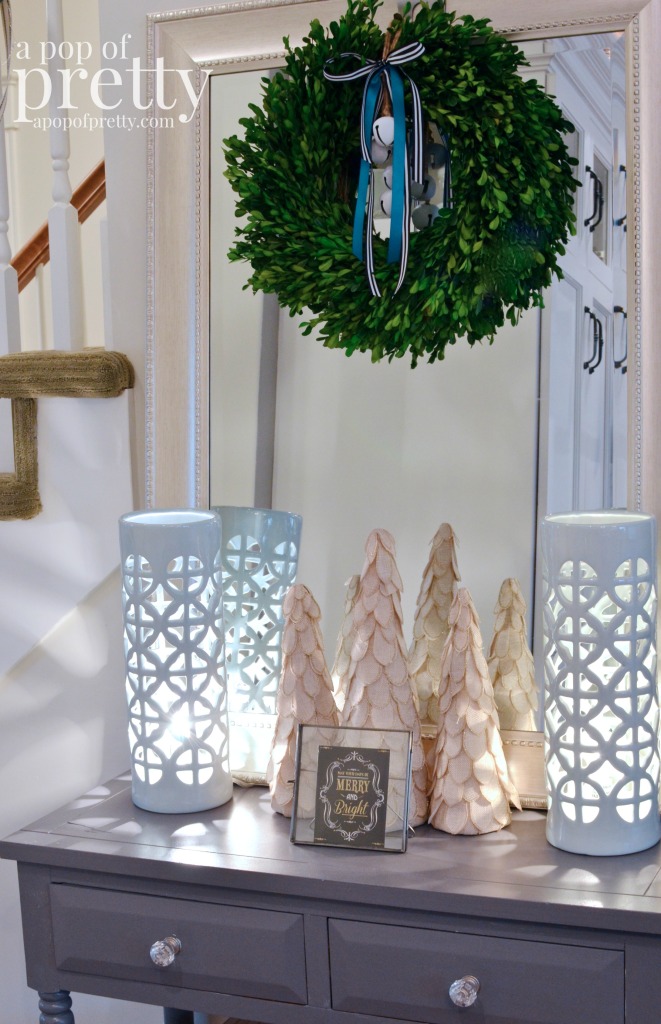 Normally I decorated our staircase bannister with a lit greenery garland, but this year, I decided to keep things simple.  Instead of the garland, I hung 3 large pine cones decorated with French inspired ribbon and a few decorations.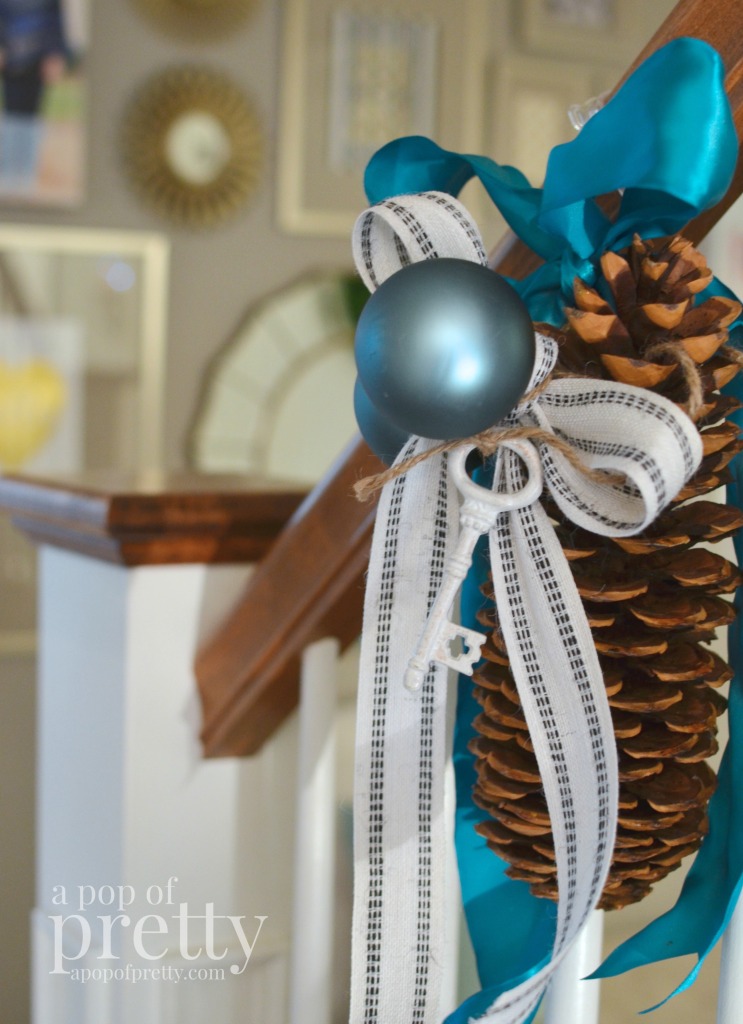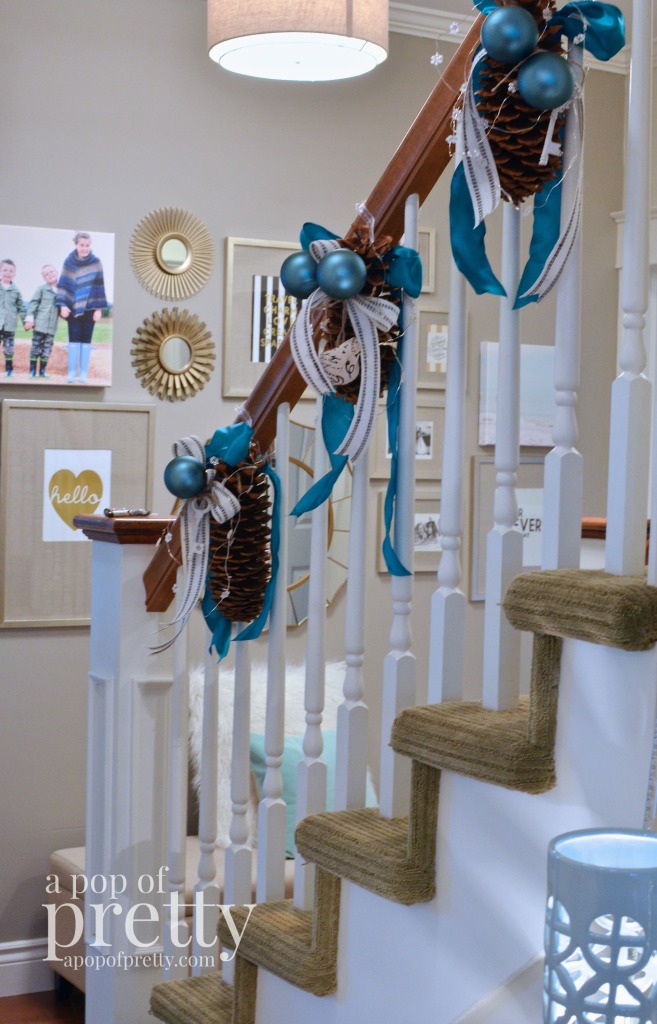 I'm still working on decorating our kitchen and dining area, but here's a look at some of the French inspired  Christmas decor I've already added to that area of the house.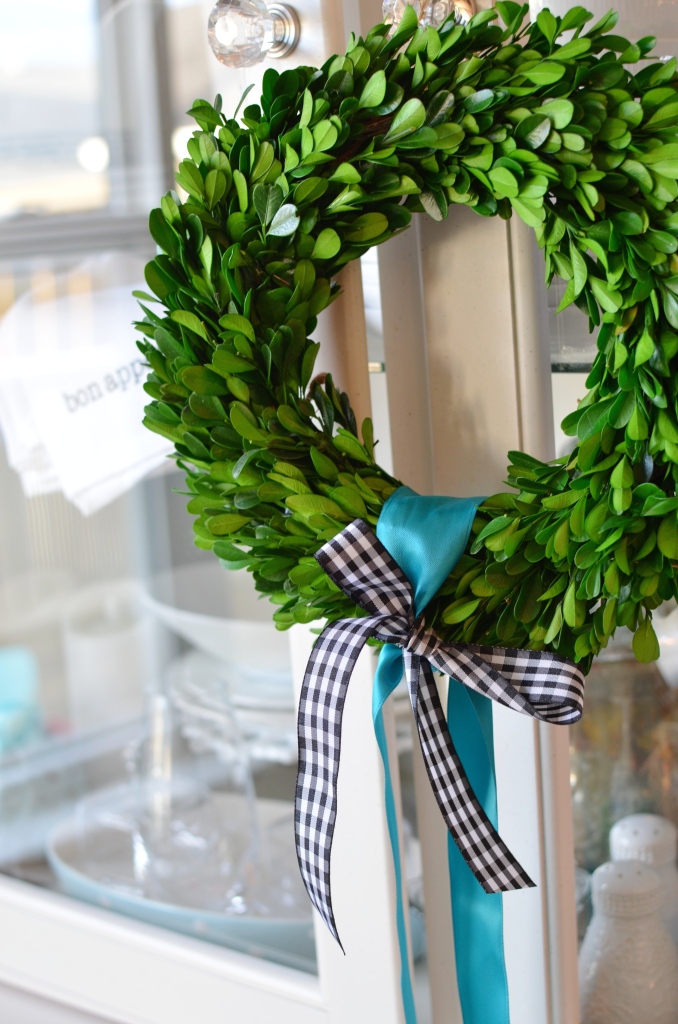 I didn't want to hang another wreath from this mirror (below) because I have so many wreathes elsewhere.  So I created this simple little garland using cinnamon sticks, pine cones and ribbon tied with twine and some peacock blue satin ribbon. I love how delicate and pretty it is!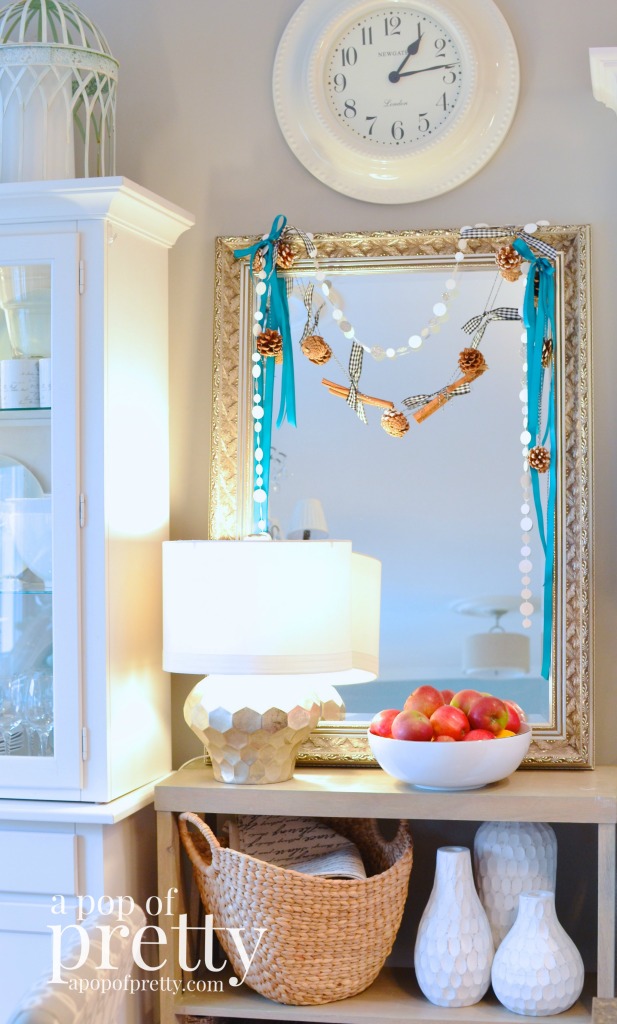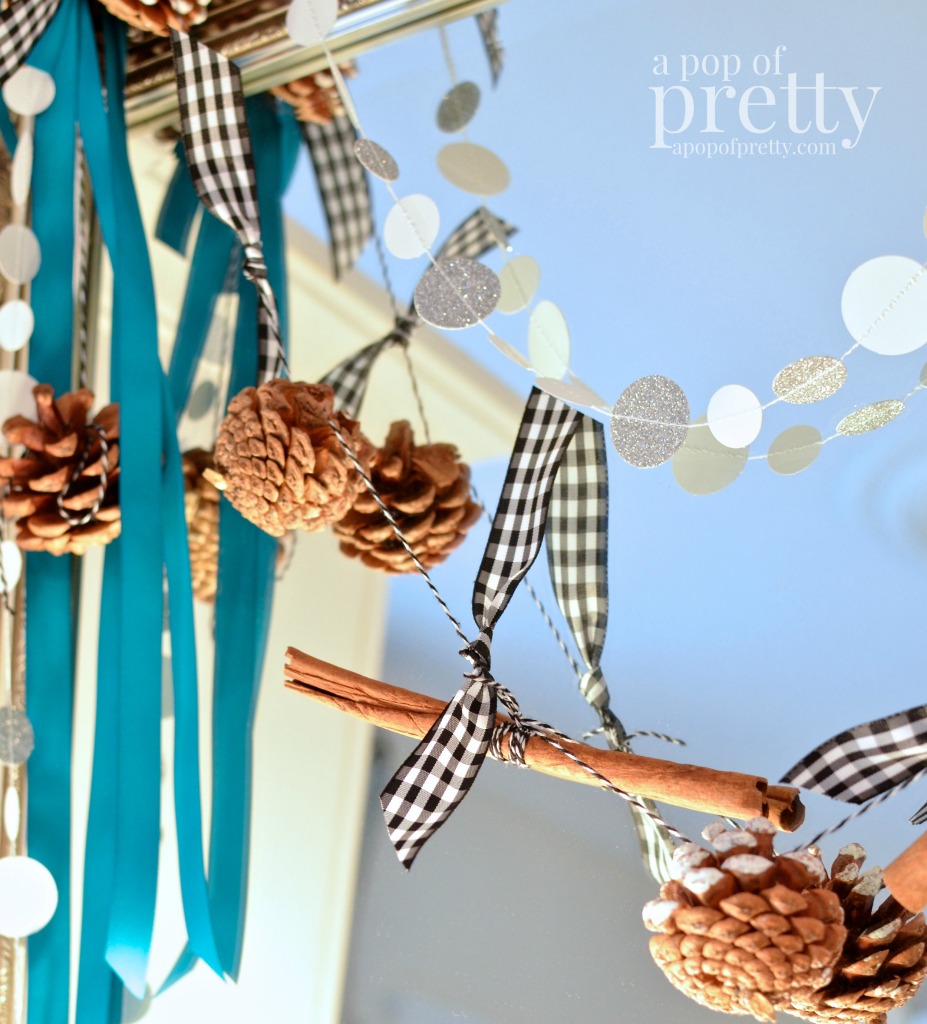 If you follow me on Instagram, then you might have seen the mason jar snow globes I've created this year.  I'm absolutely crazy about them, especially this one with the Eiffel Tower that is sitting inside of hutch in the kitchen.  I added a string of battery-operated lights to make it extra twinkly!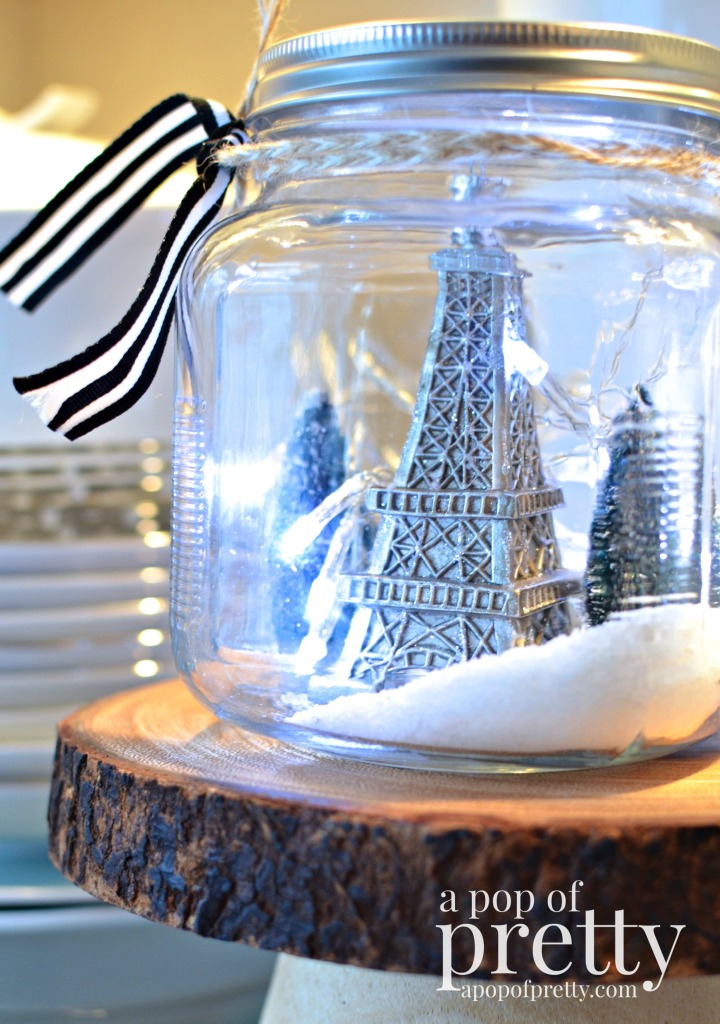 One my kitchen island, you'll find this wooden bowl filled with pine cones, cinnamon sticks and few peacock blue Christmas bulbs.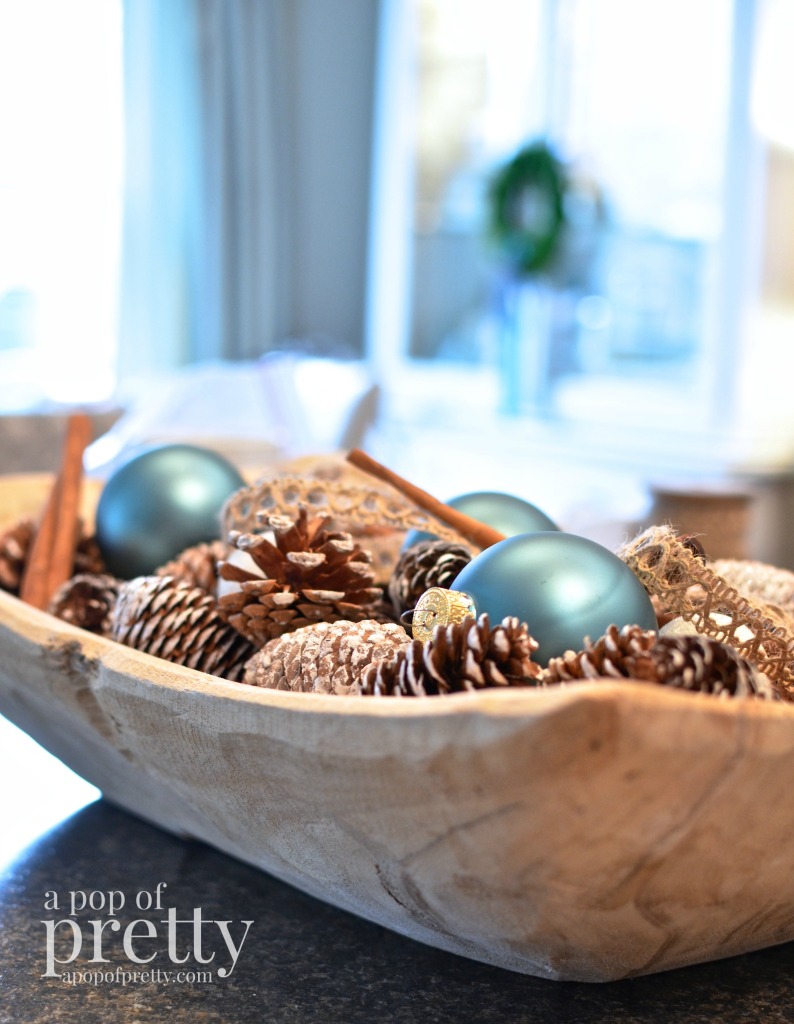 I haven't decorated my front porch yet as it was too cold this weekend to bear it. (Brrrrrrr!) But I plan to use the vintage-inspired  'Joyeux Noel' wooden sign that I created for the Behr Paint Holiday Hues Project Challenge.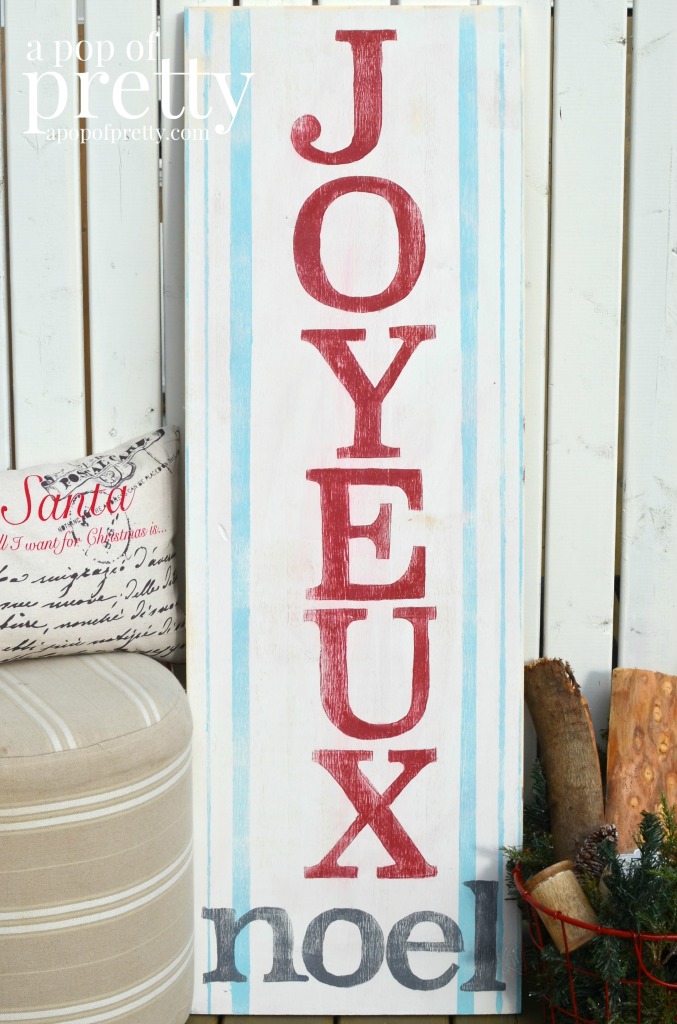 I also made this rustic wreath with French red-striped ribbon for the door.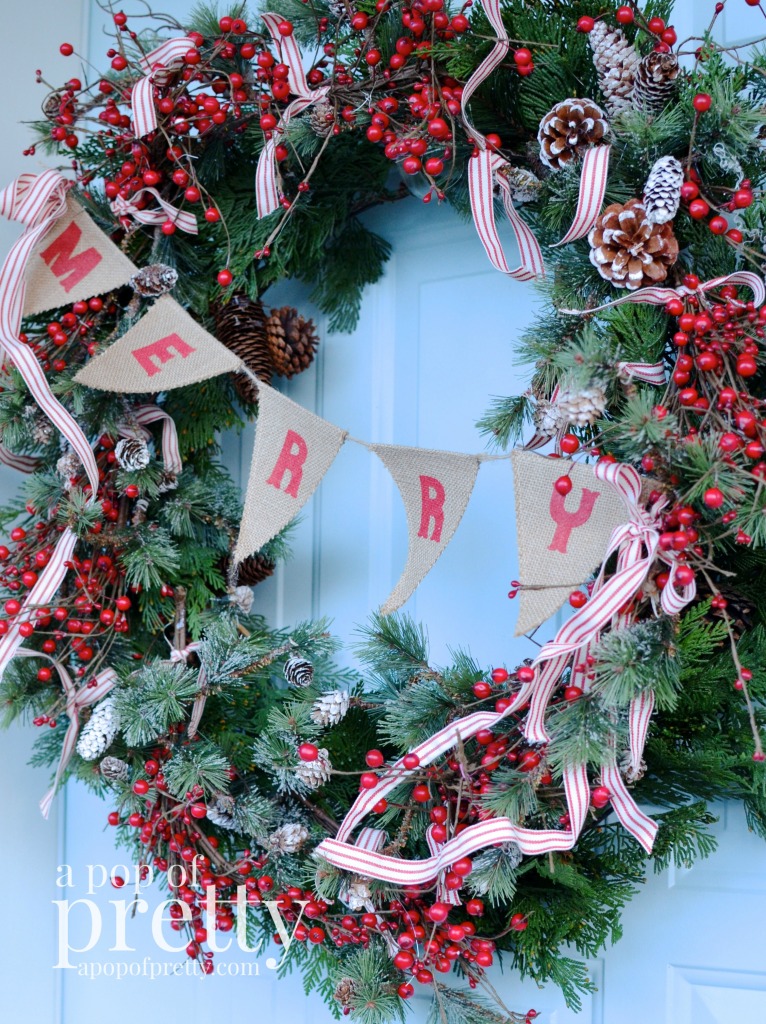 The living room/piano room has the same gold and white Christmas decor as I used last year. I love this colour combination in this room as it's the only room in our home which is a little more formal (although totally not) than the rest of the house.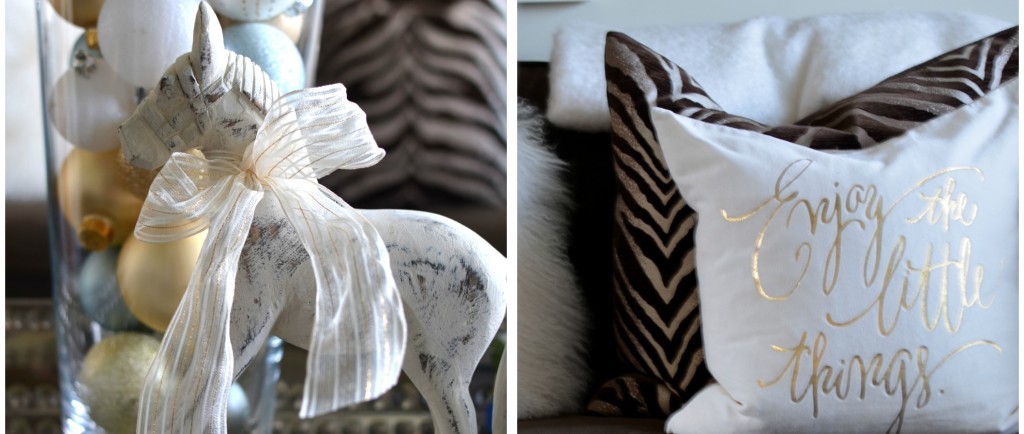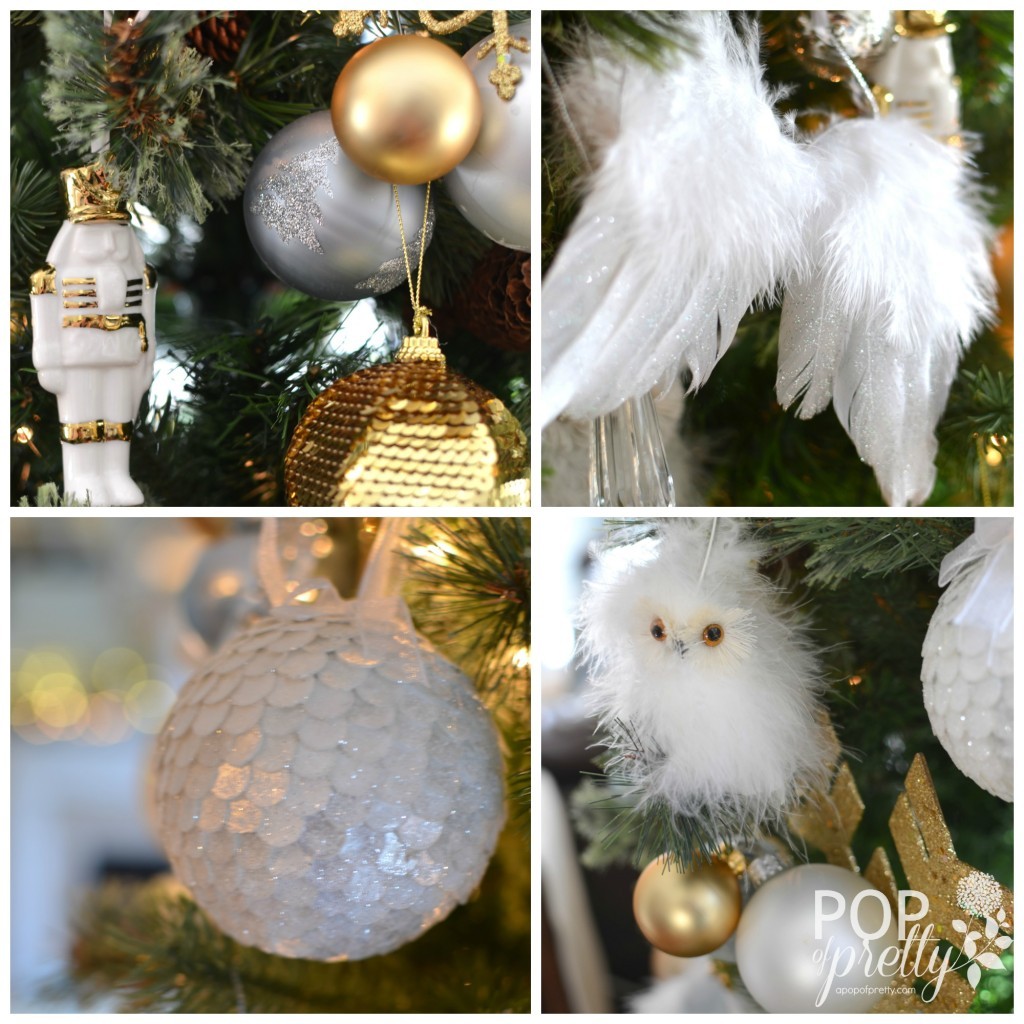 And, finally, I'll be decorating our Dr. Seuss tree in the basement family room in the coming days. This tree has been a joy.  I love making and collecting decorations for it. If you're new here, you can find out more about this tree here: Holiday, Hoobie, Whatty? Our Dr. Seuss Christmas Tree (2013)!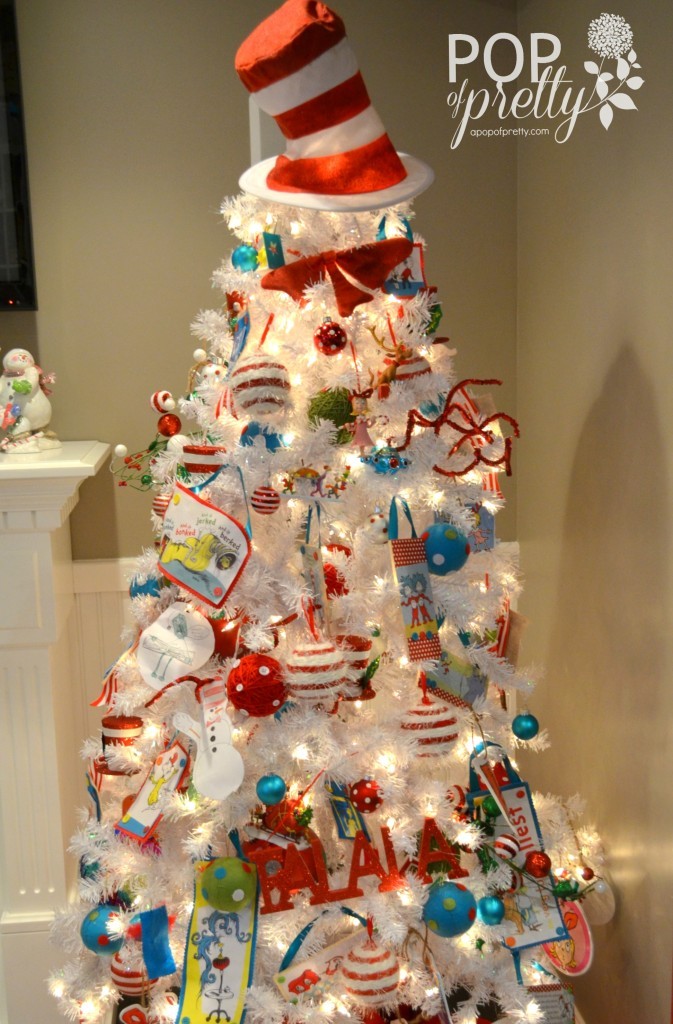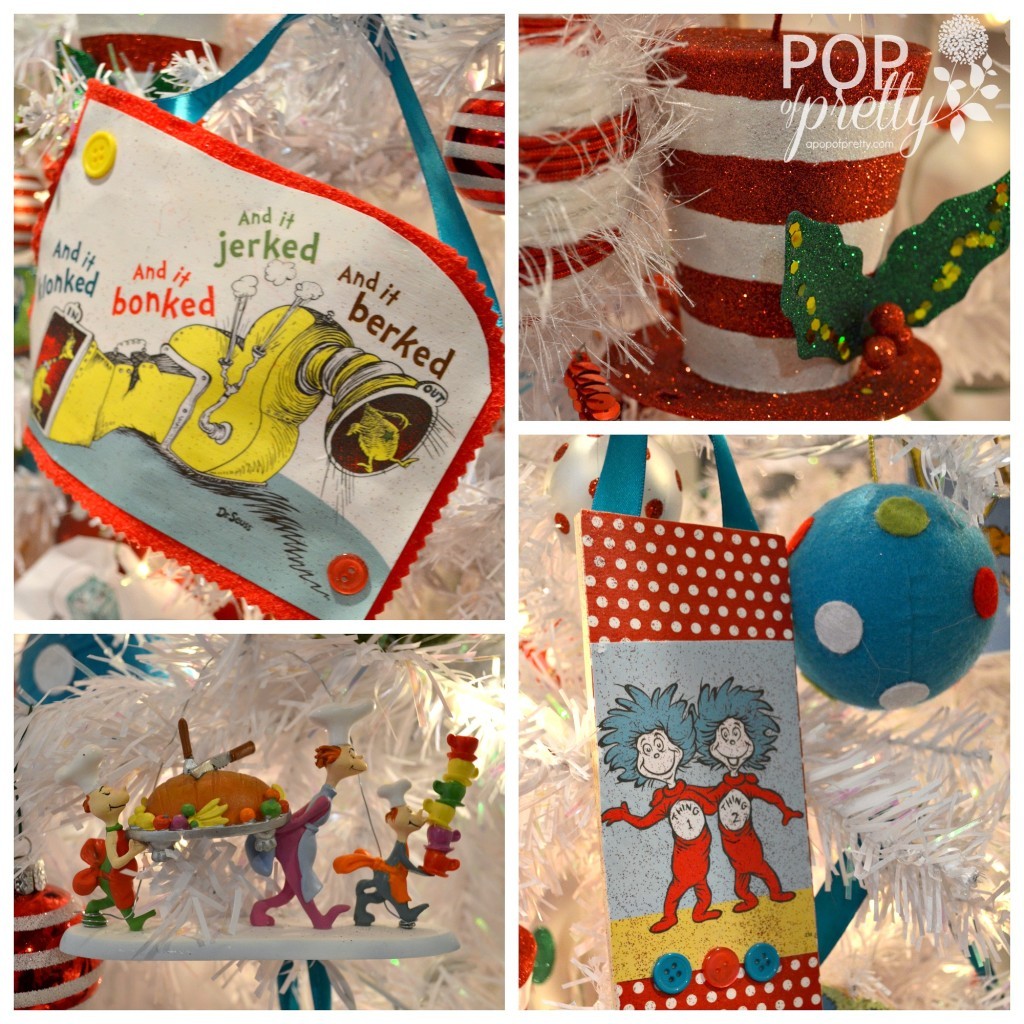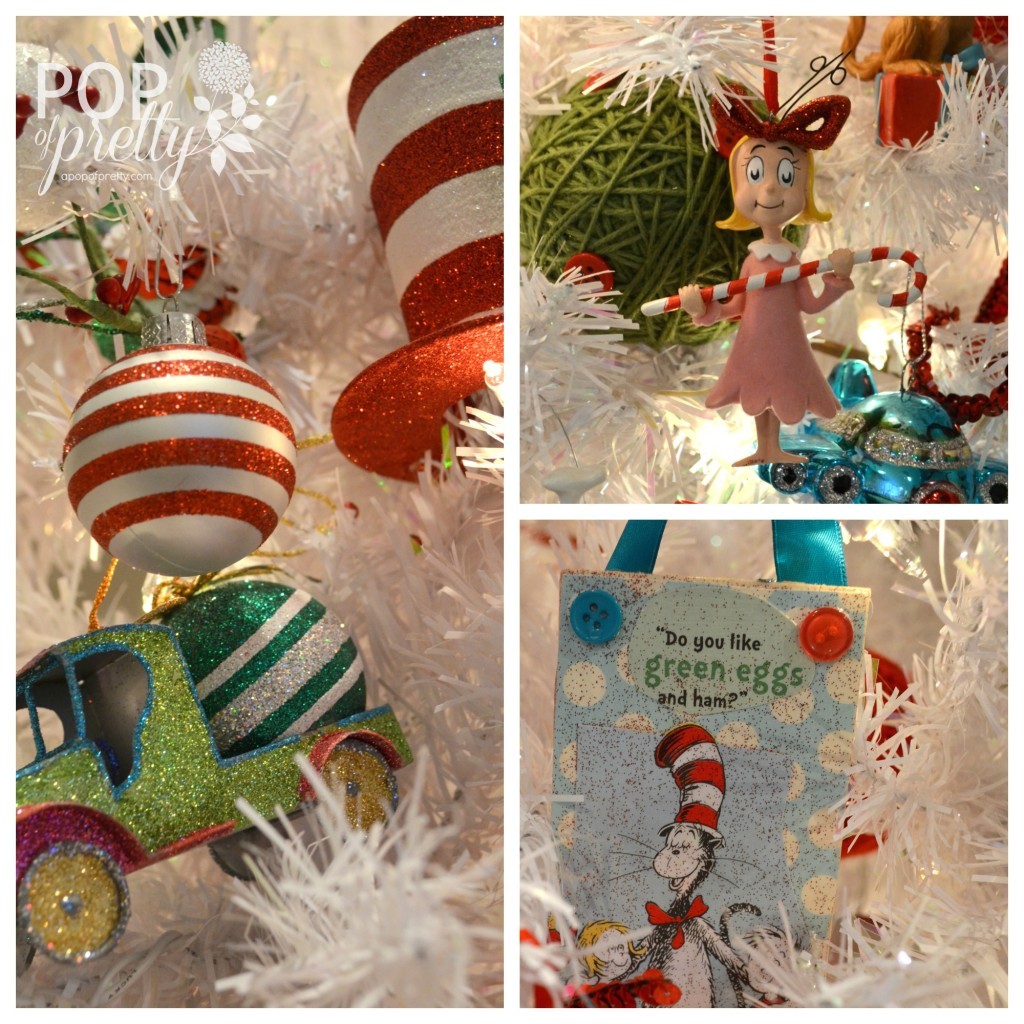 I love to decorate for Christmas, but I'll be happy to put away the bins soon and enjoy it!  That's a nice benefit of decorating for Christmas early.  It's one thing you can check off your list before the month of December!
Now that you've seen my French inspired Christmas home tour, here's the links to the other talented Canadian bloggers participating in the Canadian Bloggers Christmas Home Tour.  I hope you'll find lots of inspiration as you tour their beautiful homes!  You can also link up your very own Canadian Christmas home tour using the linky party link listed at the end of the blogger links.
Monday:
1. AKA Design
Tuesday:
Wednesday:
We invite you to link up your own Canadian Christmas house tour below:
Until next time, happy Christmas decorating!
K.