In this article: I'm sharing cozy living room ideas for Fall as part of the Seasonal Simplicity Home Tours. See how I've added an autumn vibe to our coastal style cottage using warm tones and textures, along with natural Fall decor like wheat and pumpkins. And, you'll find lots of other Fall home decorating ideas from the home tours of 28 other talented home bloggers. I'll share all the tour links at the end of this article!
Hey guys, I have an announcement. It's officially Fall! Not sure how it happened so fast? But Summer has gone away for another year. And you know what that means. Yep, fuzzy pillows and mini pumpkins! I always hate to see Summer go. But I also find it pretty easy to embrace Autumn. I mean, who doesn't love a cozy living room with a glowy fireplace and extra pillows and throws?
If you've followed along here for a few years, you might already know how much I love Fall decorating. But my tastes have definitely changed over the years. I once had a storage room filled with seasonal decorating things, including lots of Fall decor. But, these days, I like to keep things a lot simpler, especially in our coastal style summer home / cottage.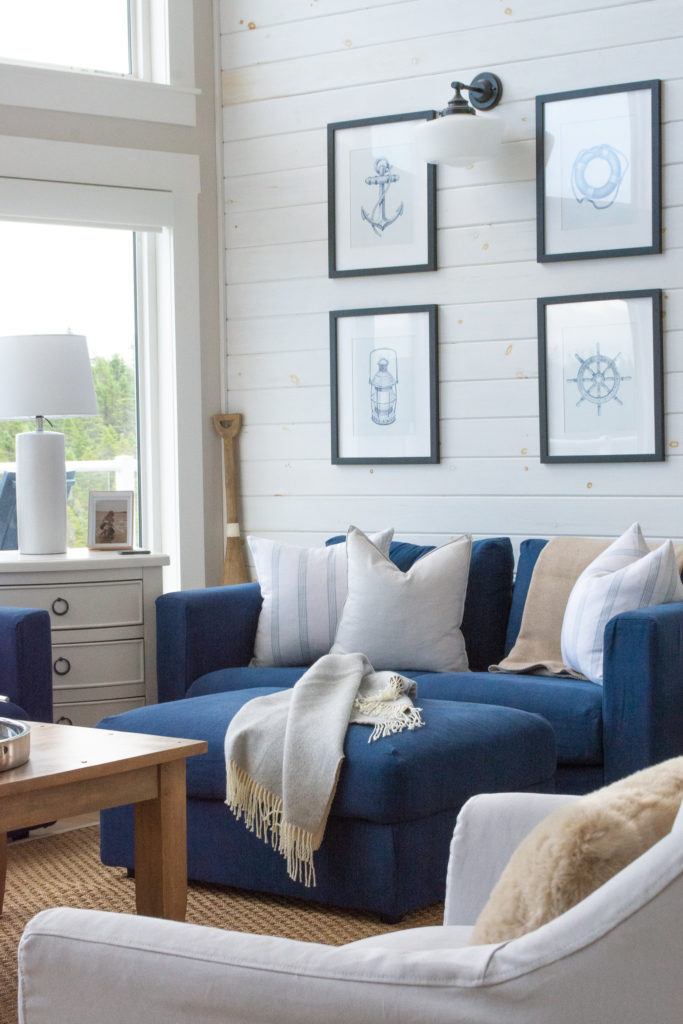 We try and spend lots of time here in the Fall, so I like to create an Autumn vibe, but without overdoing it. The space is decorated in a crisp blue and white colour scheme, so adding warm tones and textures are a pretty easy way to make it feel more cozy.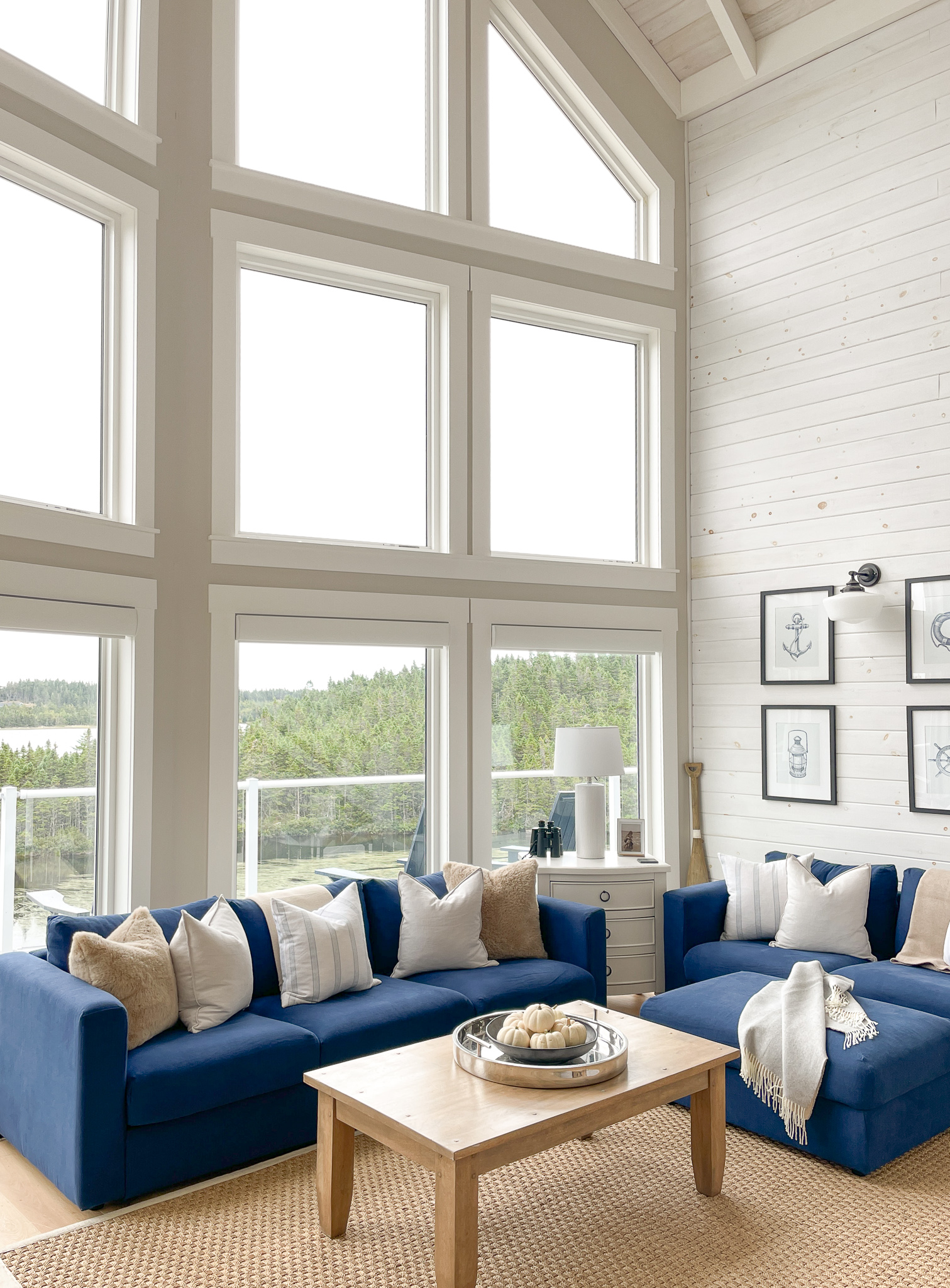 Cozy Living Room for Fall with Pillows + Throws
If you're wondering how to create a cozy living room space for Fall without adding too much extra "stuff", my formula is simple. Change up some of your toss pillows with furry or fuzzy textured covers, and add warmer tones to create a feeling of coziness. And if you are a coastal style lover like me and have a lot of navy blue in your space, a warm accent colour looks great.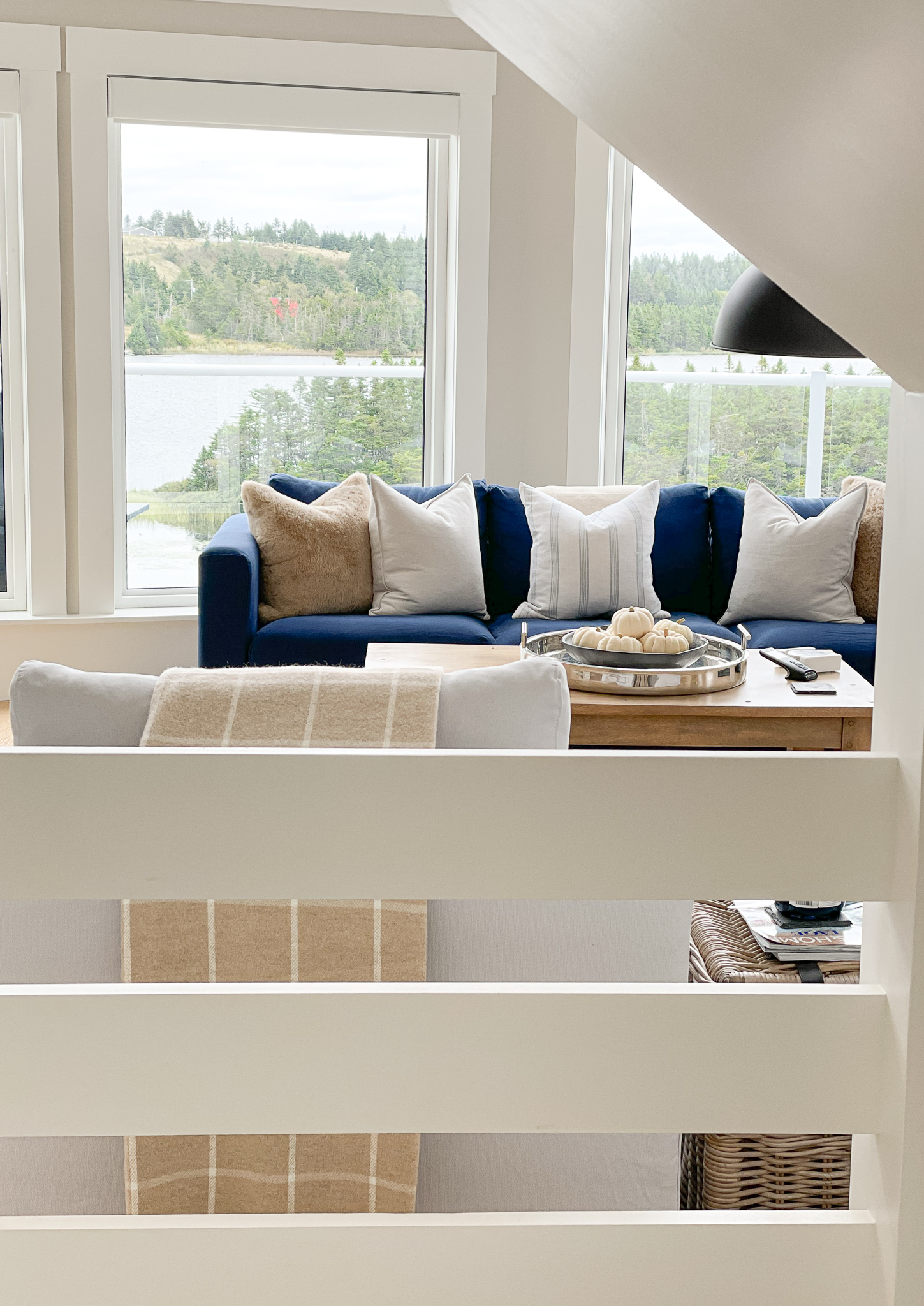 For example, I love the mix of this caramel tone with our navy blue IKEA sofas. I've never tried this combination in this coastal inspired space before. But caramel and navy blue might be one of my new favourite colour combos! I recently changed our white IKEA Farlov chair slipcovers with light grey ones. So the warmth of these pillows also really works well and plays off the tones in our stone fireplace.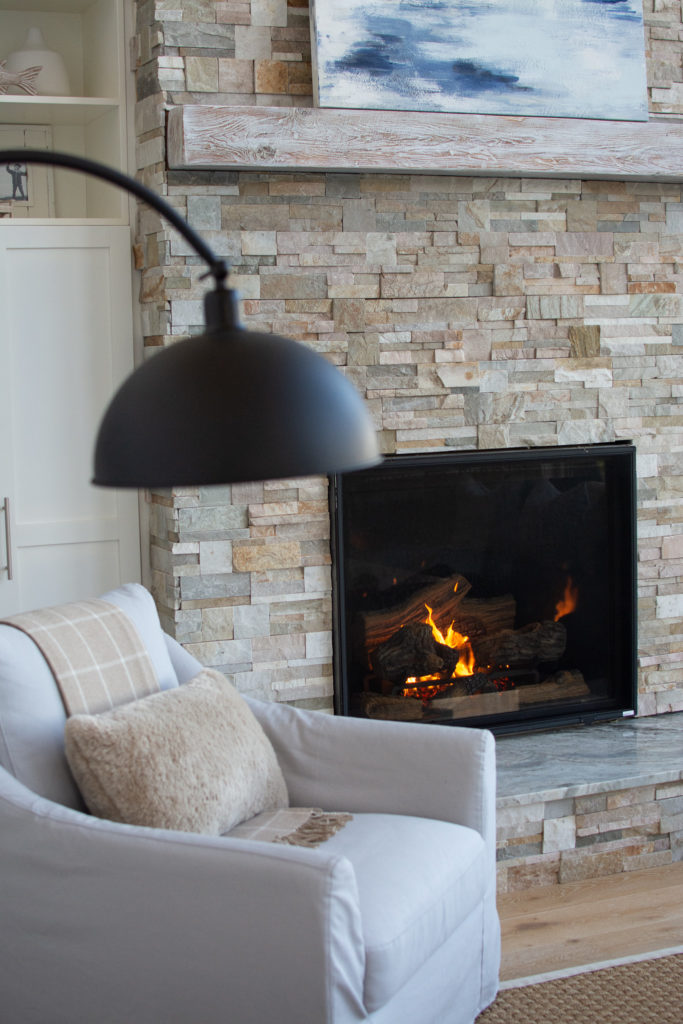 The neutral tones also help the blues in the space to pop, like the abstract artwork on the fireplace mantel. (Want to know how to paint something similar? Follow my How to Paint Abstract Art (DIY Tutorial)!)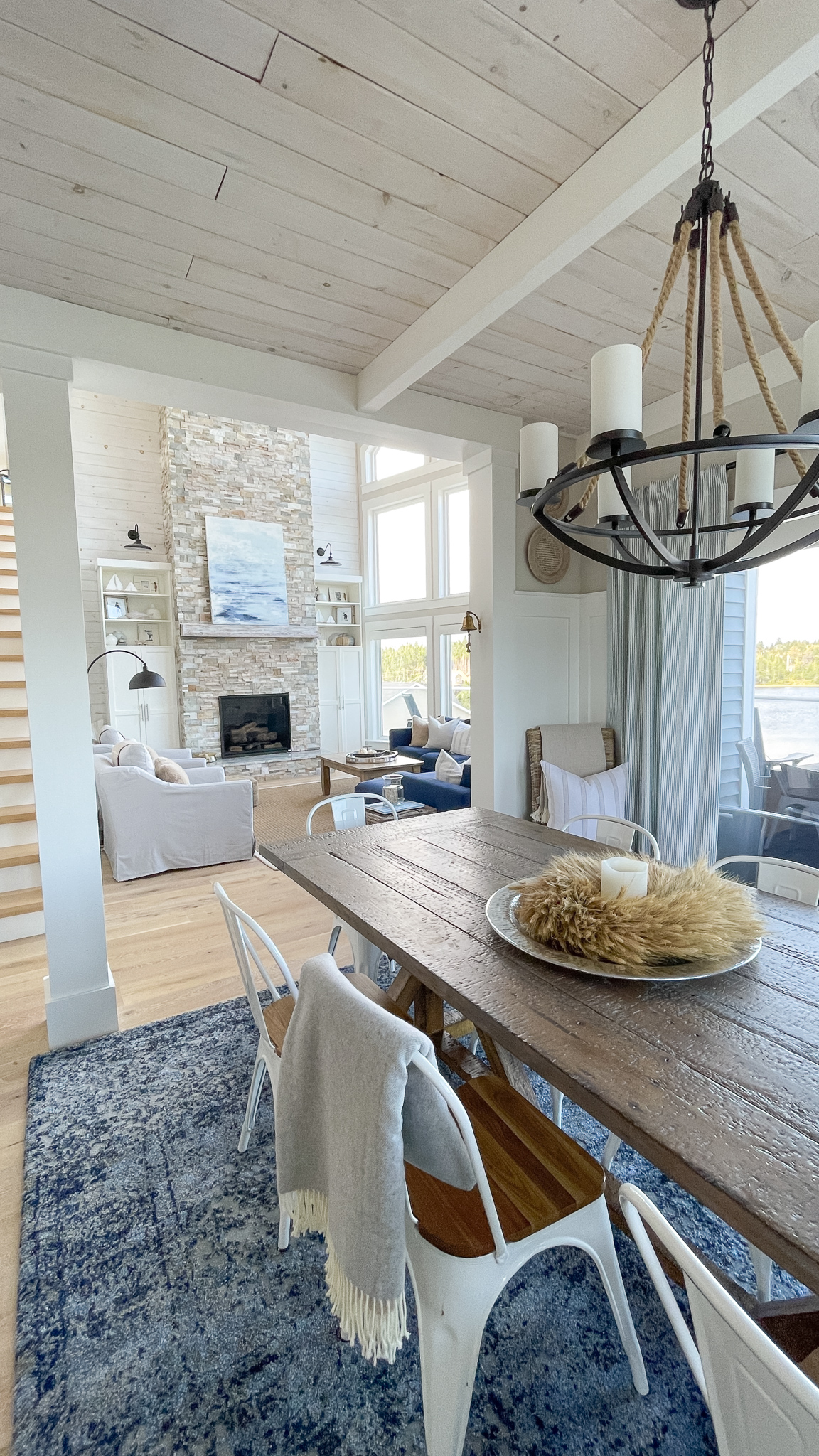 I love having lots of throws handy in our living room for chilly weather. Nothing is too precious in our home to be used! All our throws and pillows get lots of snuggle time. Plaid throws in particular are a great way to create a cozy living room for the Fall season. These 'windowpane' plaid throws on the backs of our chairs are simple and just feel like Fall. As we get closer to Christmas (yup I went there lol) I'll probably replace them with a more traditional tartan plaid. But for now, this pared down plaid gives just enough of a cozy living room vibe.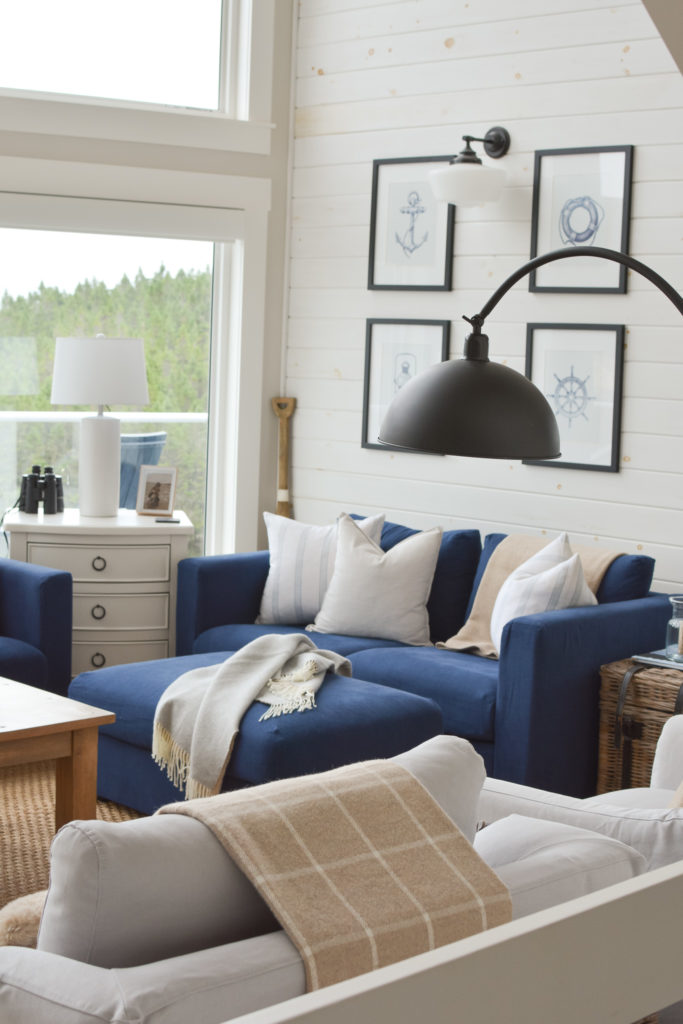 Other Cozy Fall Details
Besides changing up the pillows and throws in this space, there are a few other little details that make it feel like Fall. I also switched out some of my summery, coastal 'coffee table' books for ones that are all about coziness.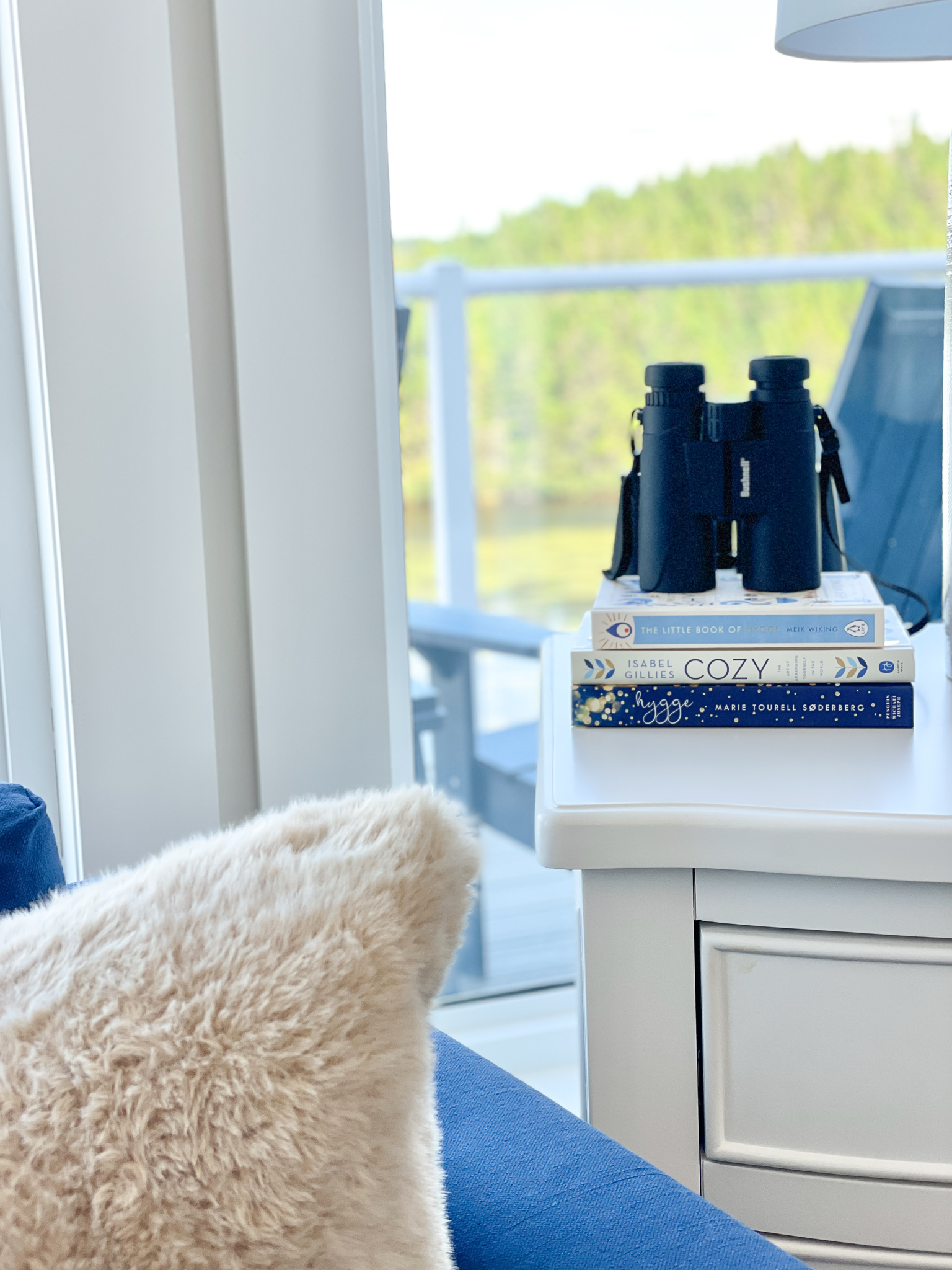 I also put some of our coastal treasures in amber glass bowls like this one that holds our collection of beach rocks. This colour glass just has some added warmth that helps creates a cozy living room space. You can also find candle holders in this tone this time of year, and they have a really pretty glow.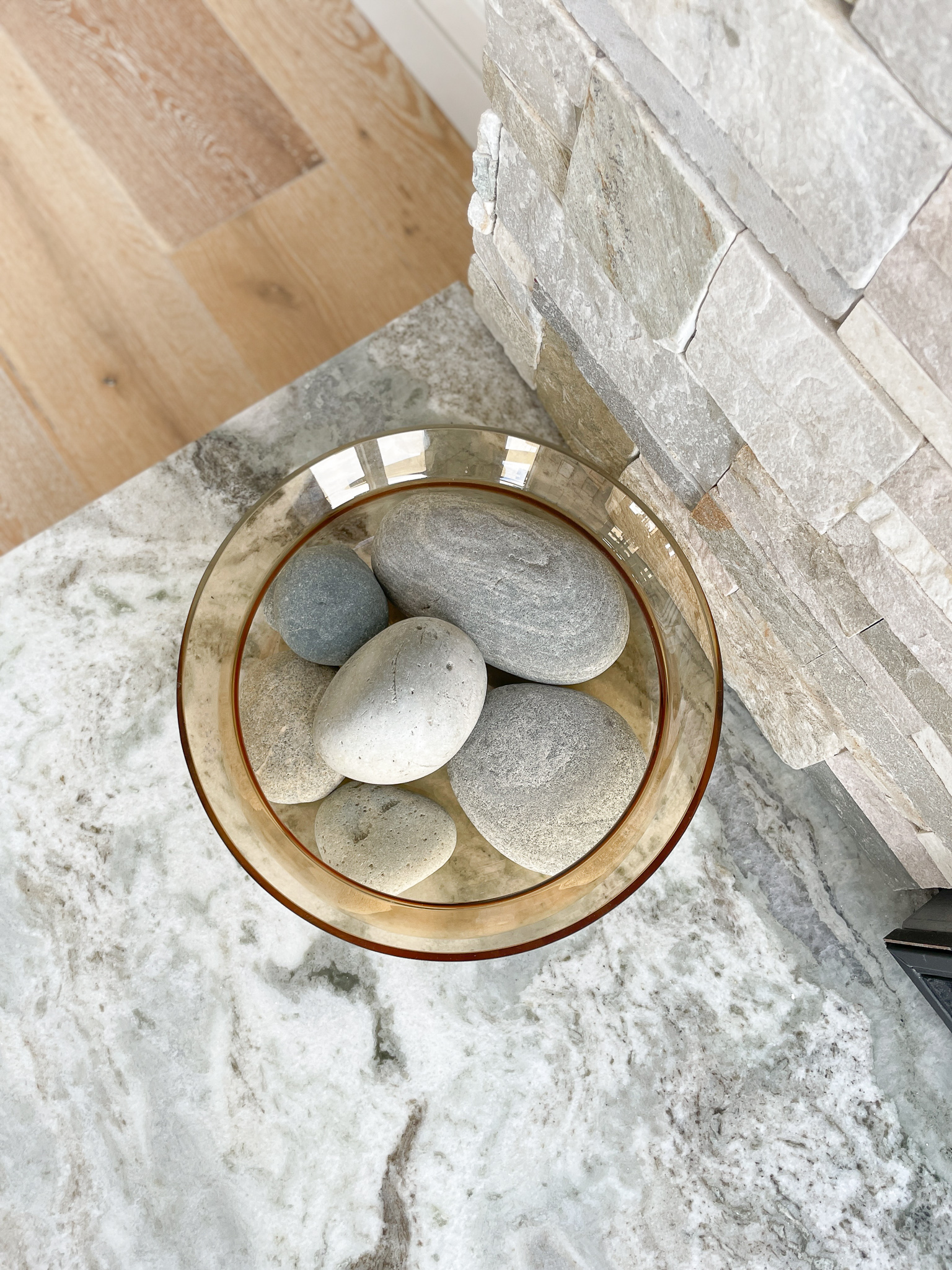 I also have a few of these wheat wreathes stashed away that I use this time of year. I usually hang them, but this year I used one as a centrepiece for a candle on our dining table. If you love decorating with organic elements, they are a great way to create a harvest mood without overdoing it with layers of Fall decor.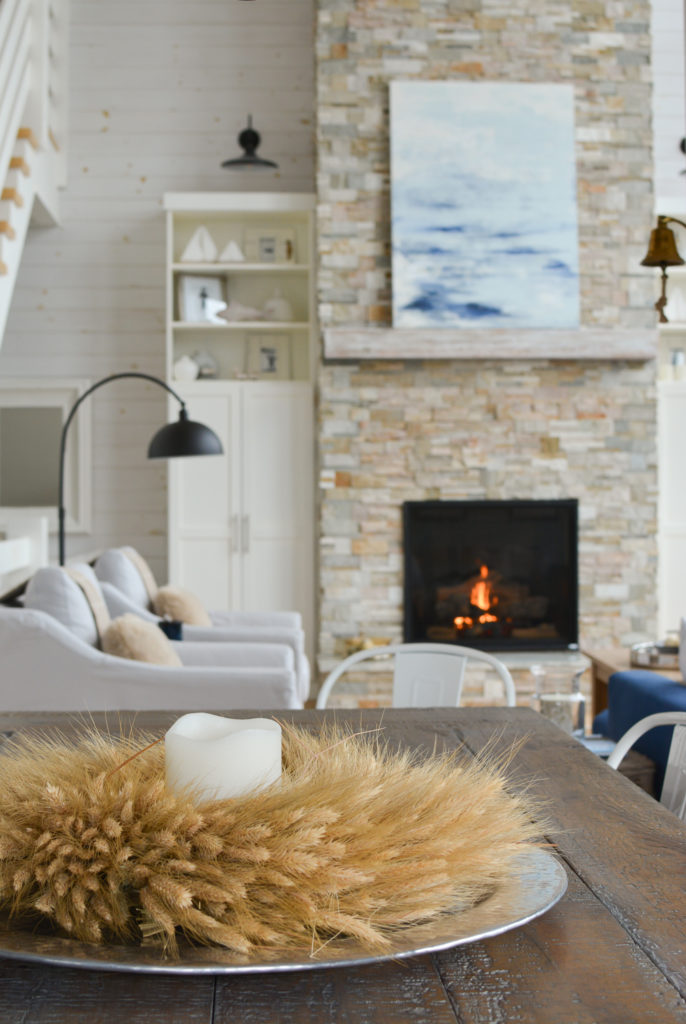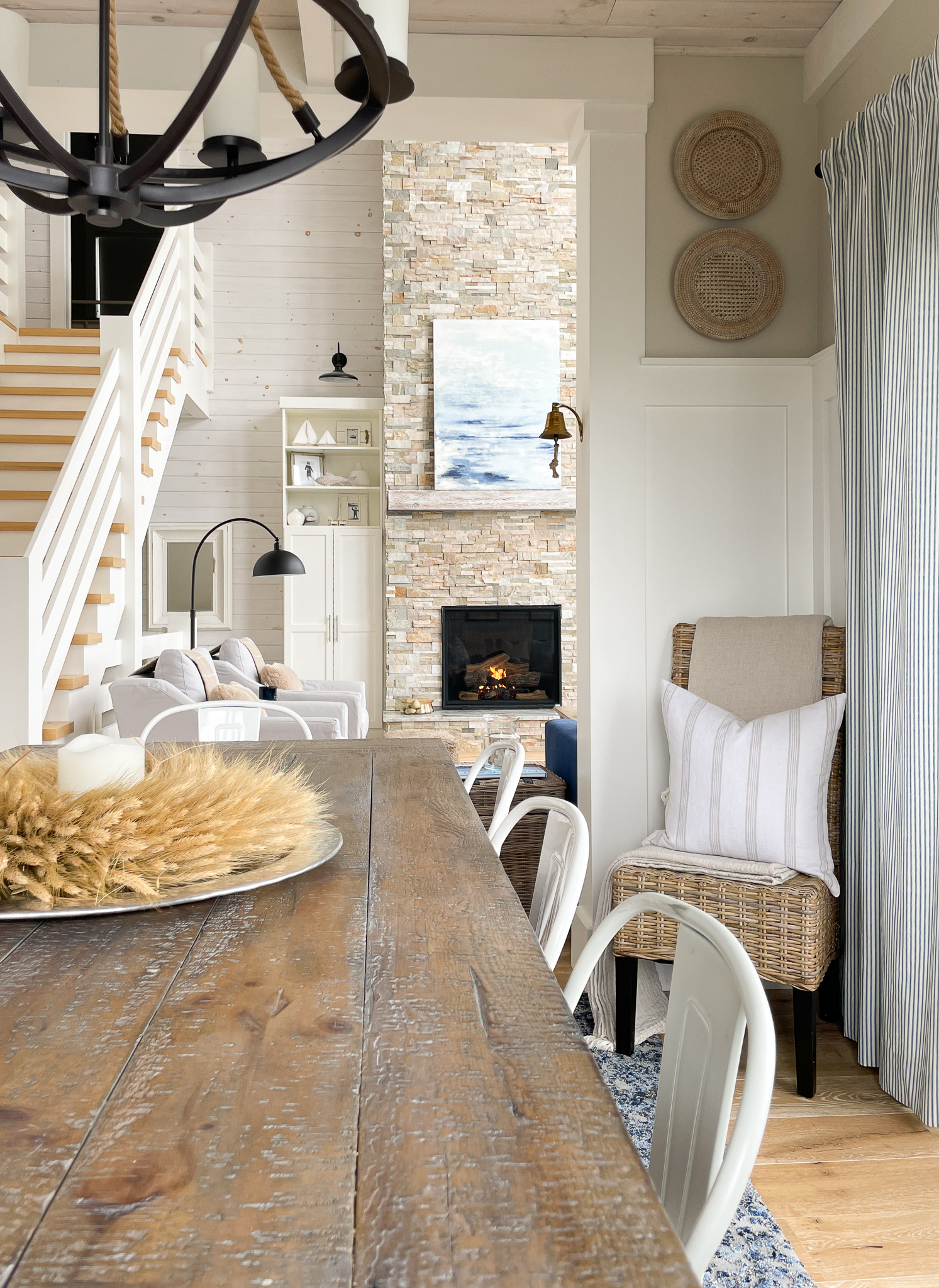 And finally, pumpkins! It's hard to create a cozy living room for Fall without adding a few little pumpkins throughout the space. I love using white pumpkins because they are simple and understated. We usually use orange pumpkins as it gets closer to Halloween. Because Canadian Thanksgiving is in early October, our Fall decor changes a little as Halloween approaches.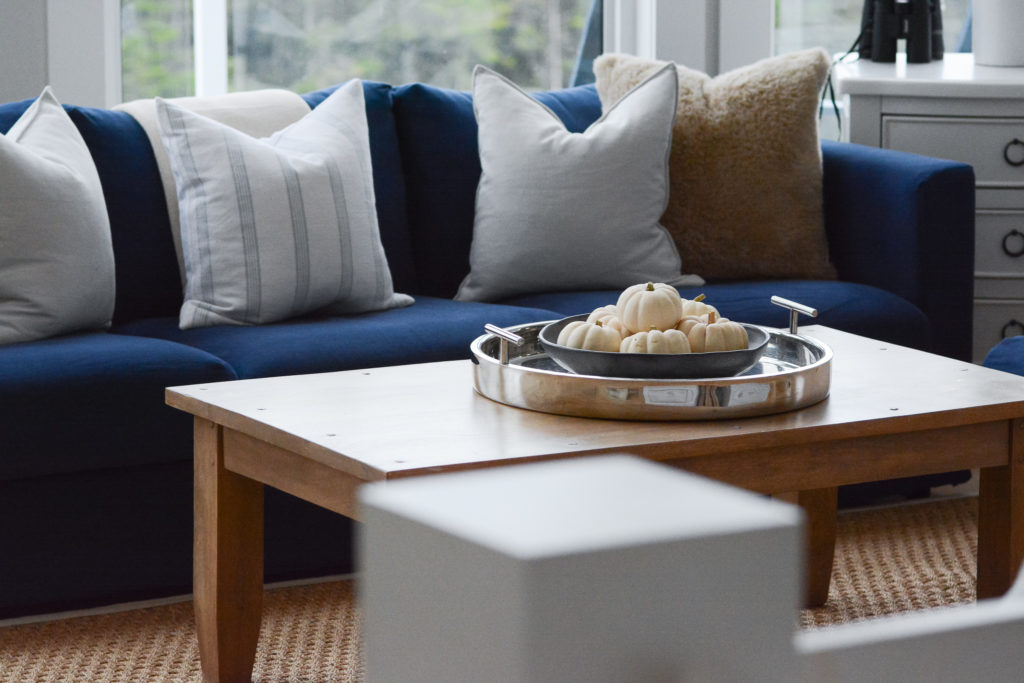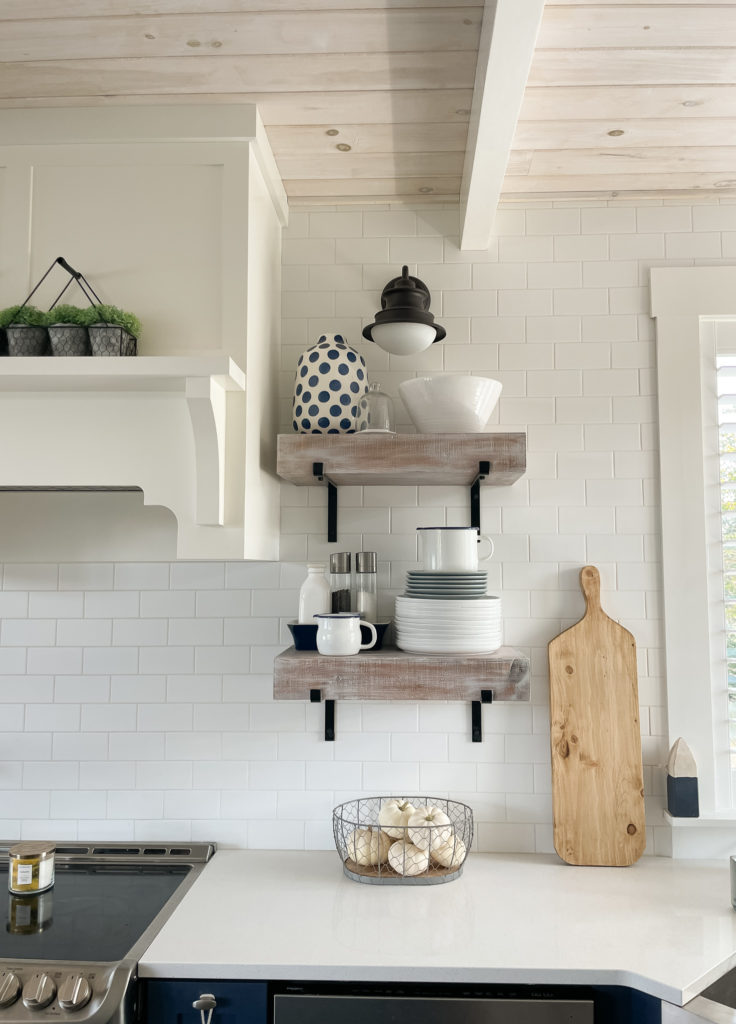 I hope this little tour of this space in our cottage gives you some ideas on how to create a cozy living room for Fall. But, if you're still stumped, there's a lot more Fall decorating ideas the Seasonal Simplicity home tours below! Be sure to check them all out.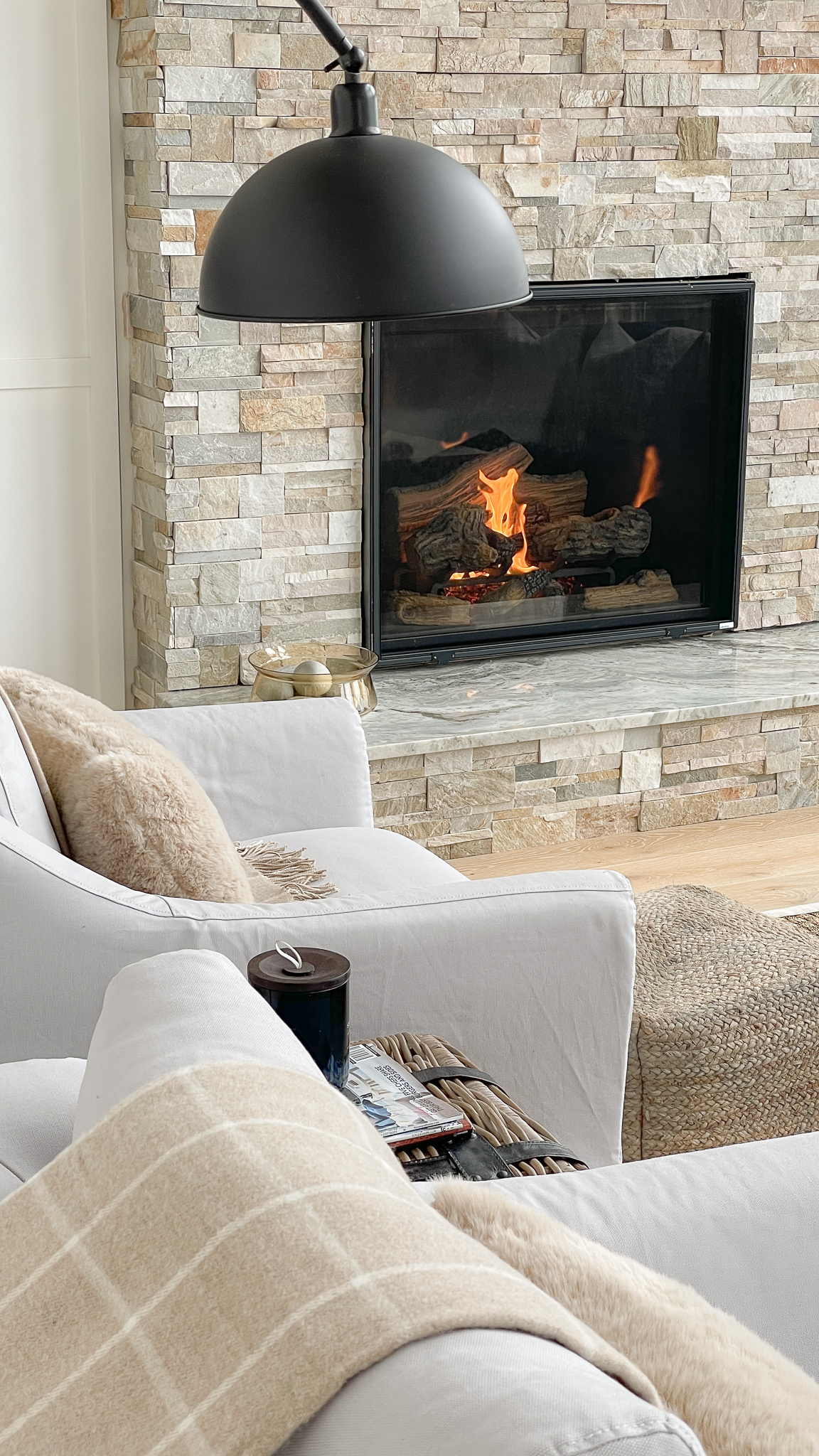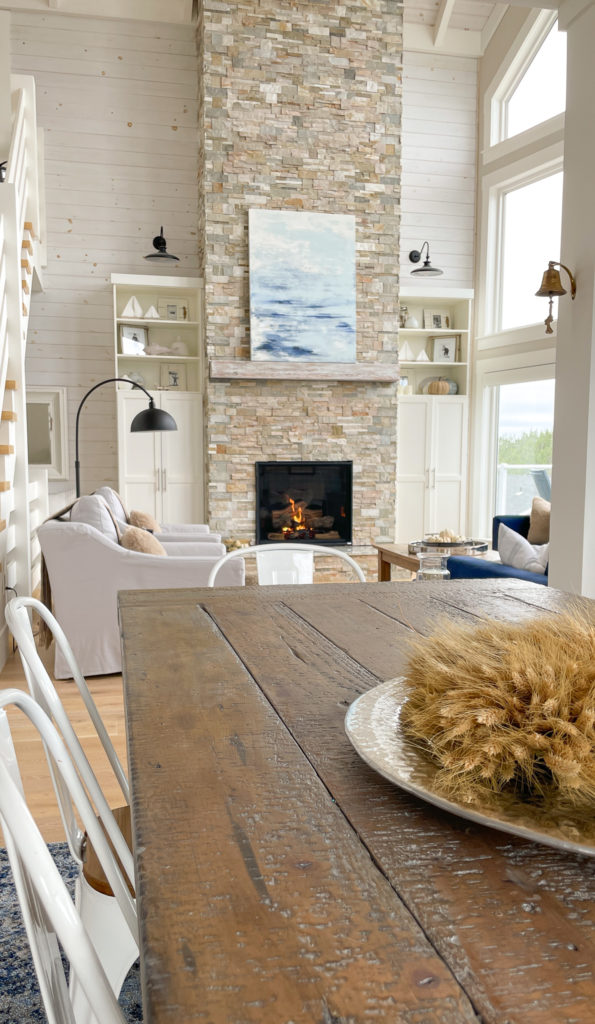 This week I'm joining some of my talented blogging friends for the Fall Seasonal Simplicity Series. All week long we are sharing our homes decorated for Fall. Be sure to check out all of the beautiful inspiration by visiting today's tours, and pop by again during the week to visit everyone else who is sharing!
Sharing with me today…
Wednesday
And sharing the rest of this week…
Monday
Tuesday
Thursday
Friday
Craftberry Bush