This post was most recently updated on January 1st, 2020
Hello friends!  And, yay, it's finally Fall!  This past week, I've been doing some early Fall decorating with hydrangeas.  When September hits, I usually grab my stash of store-bought pumpkins and acorns. But, since there's nothing quite as pretty as decorating with hydrangeas, I headed to the garden.
Funny, I've always been reluctant to cut my hydrangeas off the tree. Perhaps that's because, once they are cut, their beauty is fleeting.  And, that means I'll have to settle on something that's not quite as beautiful to replace them! But I decided that their beauty was worth their temporary presence.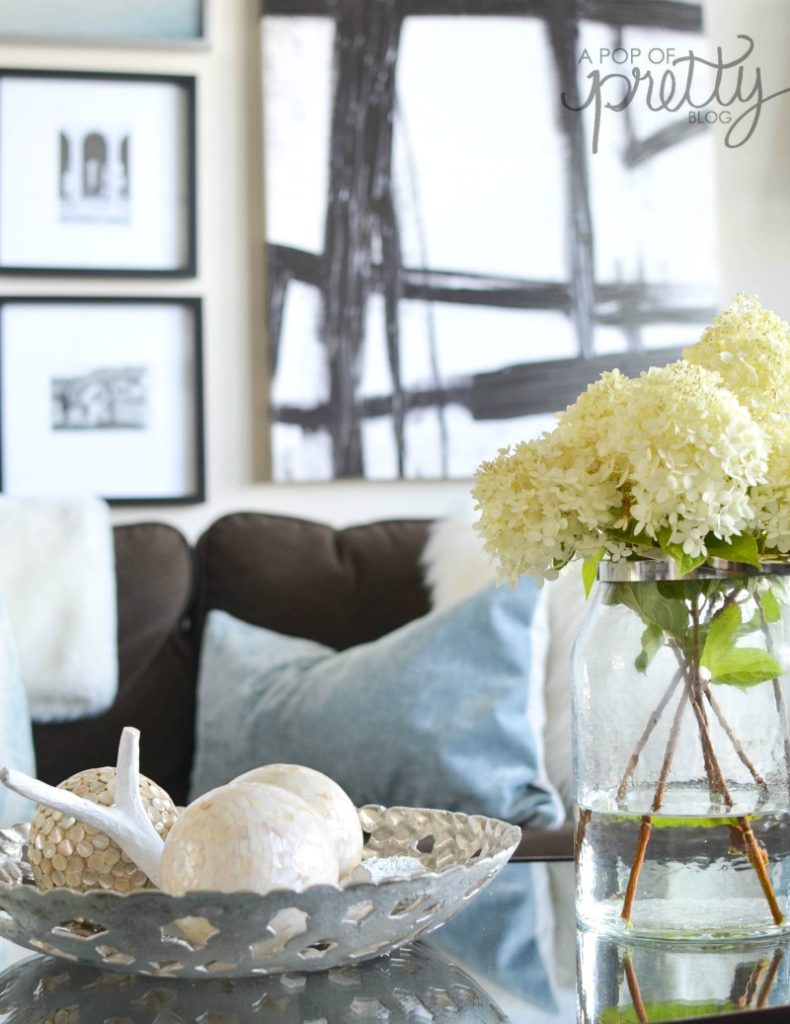 Last week, when the weather started to feel a little colder, I was in need of an instant hit of pretty. So I cut some and threw them in a glass vase.  Before I knew it, I was back and forth to the garden at least four times, filling every vase I could find. I quickly learned that decorating with hydrangeas is addictive!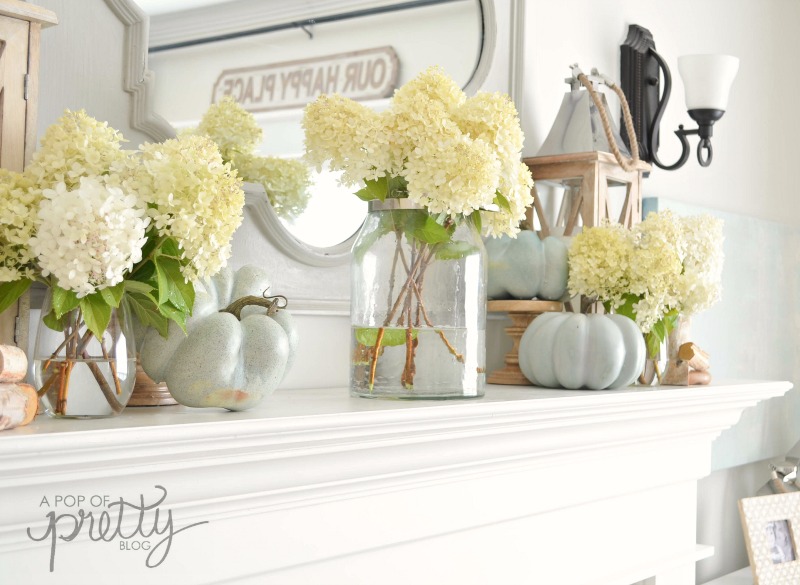 Decorating with hydrangeas isn't quite as simple as it seems, though. (Darn. Isn't that always the way?) Apparently, you need to cut them to ensure you don't ruin your chances of a full tree next year. Depending on the species, there are good and bad times to cut the blooms. Yup, you guessed it. I learned this after I cut mine. I am really hoping that I lucked into doing it right so that I can enjoy decorating with hydrangeas again next September!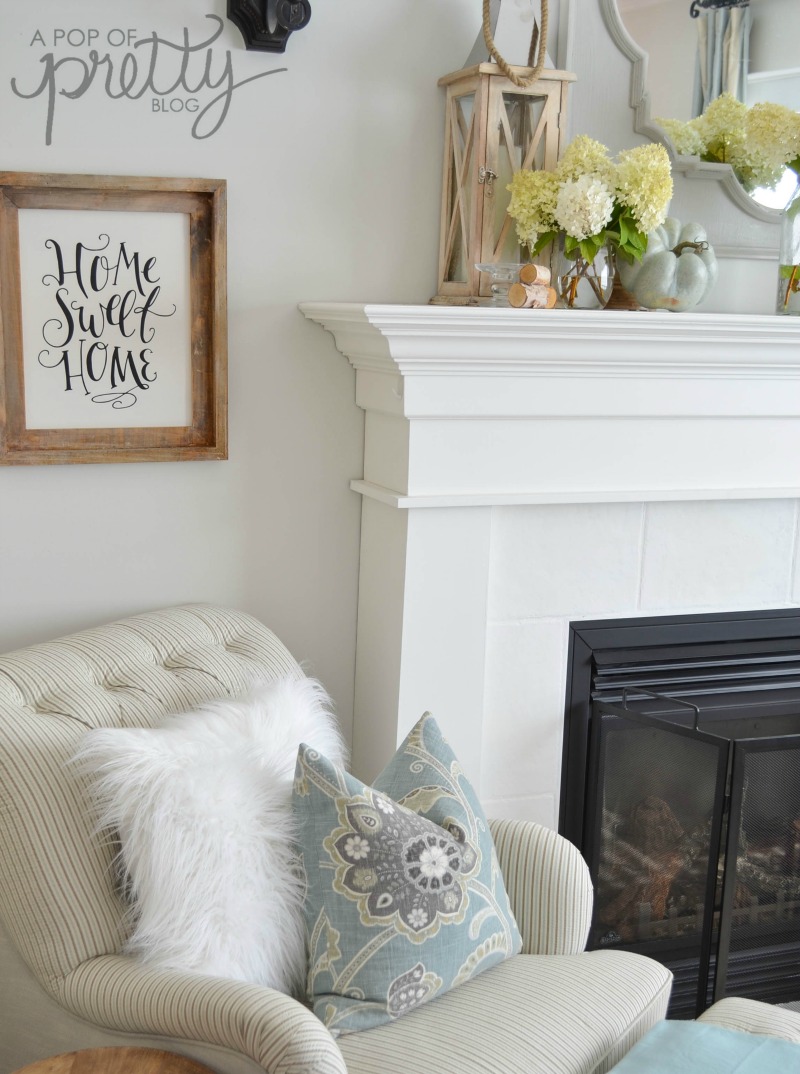 If you want to learn about this, there are a few useful tutorials online.  You'll need to know what kind of hydrangeas you have, and whether they bloom on 'old wood' or 'new wood'.  Mine are peegee hydrangeas. Some hydrangeas are more tolerant than others, so be sure to do a bit of research before you madly fill up your vases like I did.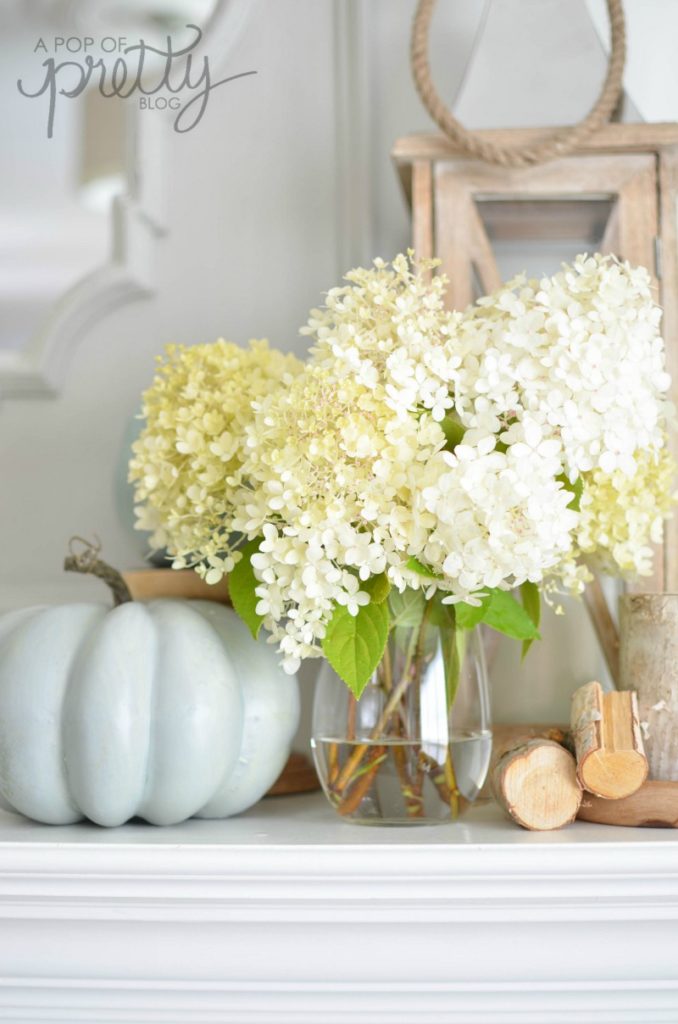 Decorating with hydrangeas is pretty, but if you don't have hydrangeas in your garden, I bet you probably have something else that you could use in your Fall decor. Tree branches, berries, sunflowers and big maple leaves are also awesome ways to welcome Fall into your home.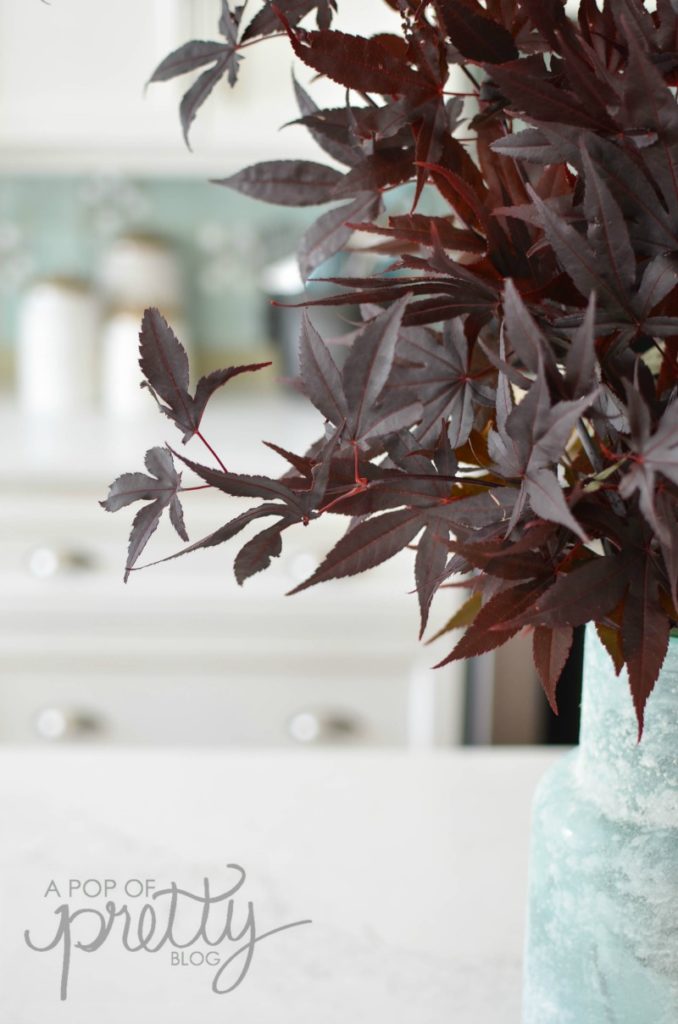 I'll be back here a lot more often now that the busy Fall and Christmas (yes, I said it!) decorating season is upon us.  (Woot woot.) We've also got some home updates and renovations on the horizon, so there'll be lots to talk about!
Next week, I'll be part of a Fall Home Tour Hop with some of my favourite, uber-talented Canadian home bloggers. So please come back and enjoy all the Fall decorating ideas and inspiration.
Have a happy Fall weekend,
K.