This post was most recently updated on April 22nd, 2020
In this article: A free, printable (instant download) art print with the inspirational quote, "We Can Do Hard Things". This quote is from one of my favourite authors, Glennon Doyle. The print has a pretty, watercolour wreath of foliage and blueberries, and it is from my online shop JanieJute. I'll be offering 4 free prints here over the next few days, to spread a little bit of positivity during the Covid-19 pandemic shutdown.
Hello, friends. It's been a little bit since I last posted. Just like you, our family has been getting used to this new routine of social distancing and working from home. I'm not going to lie, it's been an adjustment, as I am sure it has been for your family as well. But, I'm counting our blessings, and we're finally getting into a new groove. And, how are you doing? I hope you are able to stay home. And, that you and your loved ones are staying safe from this Covid-19 pandemic.
Spreading Positivity with Free Art
We could all use a little pick-me-up, right? So I'd like to spread some positivity in a small way. For the next few days, I'm going to share some free, Spring-inspired art prints, with you daily. This is to honour our front line workers, and everyone out there who is missing friends and family during this Easter weekend.
I've selected a few pretty, watercolour prints with inspirational quotes from my print-at-home art shop, JanieJute, that you can download here on the blog, at no cost. Then, just print them from home, and frame them as wall art. Or, you could always stick them up on your refrigerator or in your windows to send positive vibes to others. If you don't have a home printer, download them anyway! You can simply save them to print later once your favourite printer re-opens.
Free Printable:
We Can Do Hard Things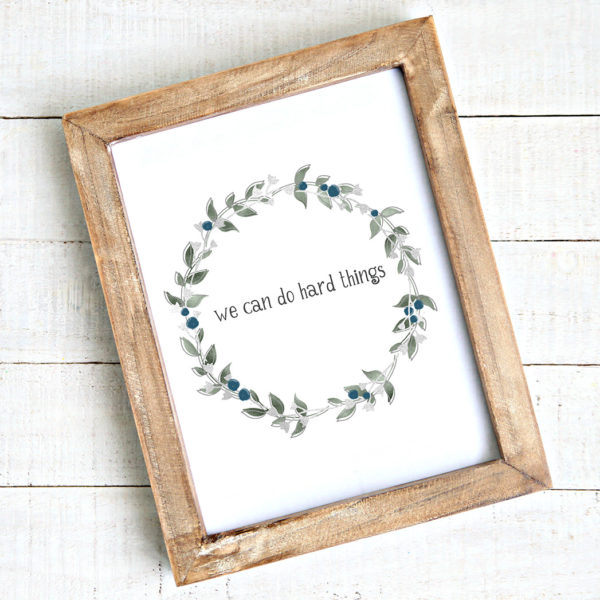 The first in the series is this pretty watercolour art print of a soft green foliage wreath with blueberries, and the words, "We can do hard things". I love this set of words, borrowed from one of my favourite authors, Glennon Doyle. I've been a fan of Glennon's since the early days of her Momastery blog, and I've gobbled up all her bestsellers, including her latest, Untamed. Whenever life gets hard, I always remind my kids that we can do hard things.
Download the free printable, "We Can Do Hard Things", here:
The Other Free Printables
Here's a quick look at some of the other free printables I'll be offering here over the next few days. Pop back and download them!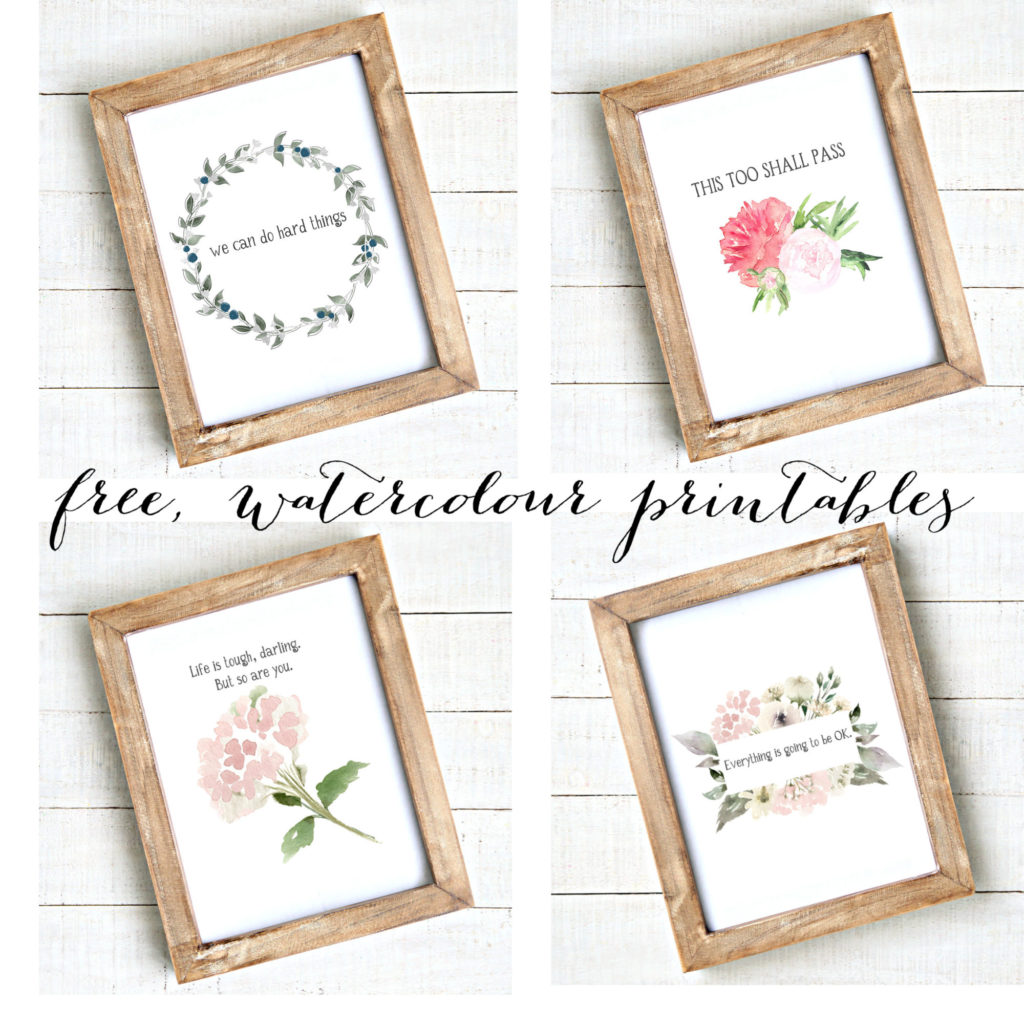 More Printable Art Options
If you're looking to change up some art while you're staying at home, you might also want to take a peek at some of the new printable art in my Print-At-Home Shop at JanieJute! Here's a little sampling.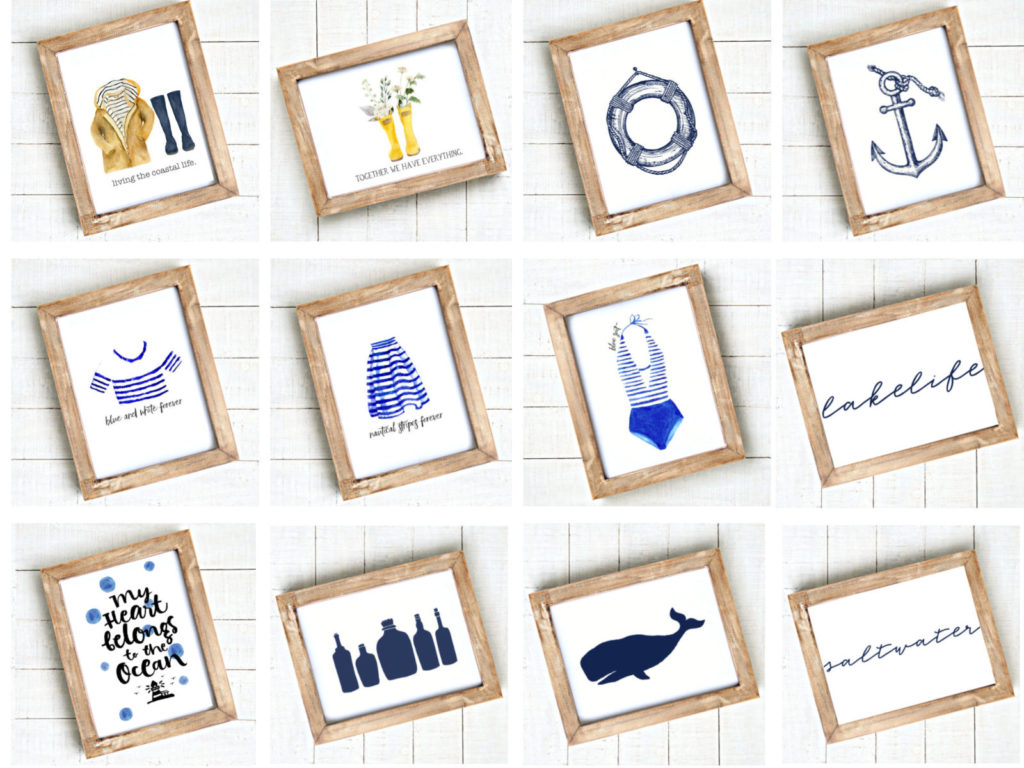 And, in case you missed it…
In case you missed it, I also offered some free printable art back in February for Valentine's Day. But, these prints could be used any time of year…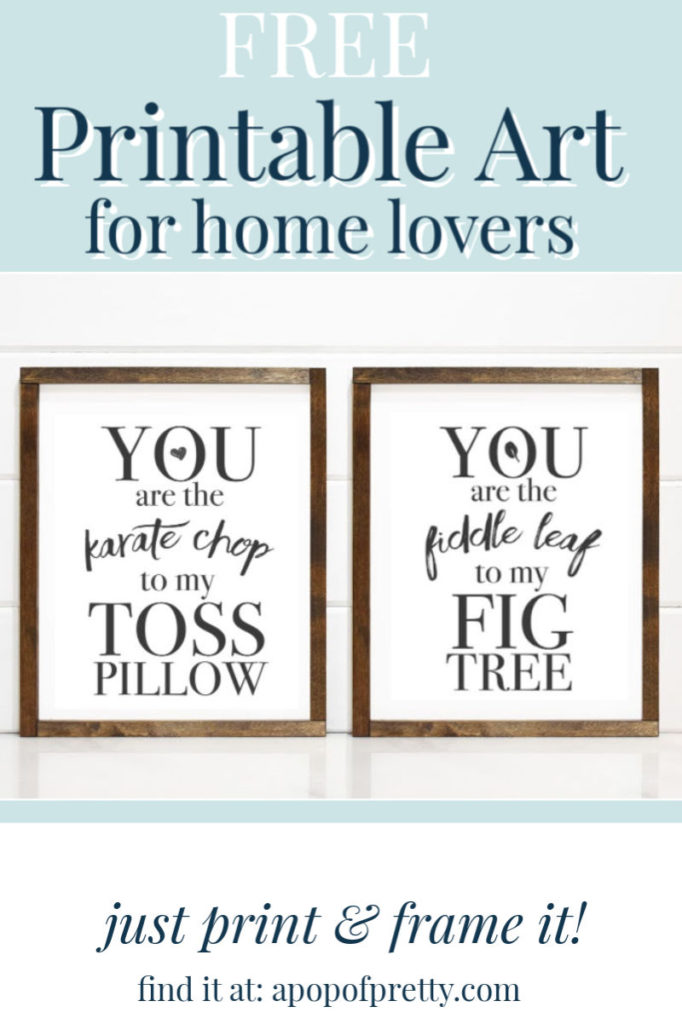 Enjoy your weekend as best you can, friends. Stay home, stay safe.
Until next time,
K.
Share to Pinterest