This post was most recently updated on January 18th, 2022
In this article: I'm sharing a little tour of our coastal cottage style summer home. If you love coastal style decorating as much as I do, I hope you'll get some ideas and inspiration for your own home. And, even it's not your go-to style all year, summer is a great time to infuse some easy, breezy coastal cottage decor into your home.
Hello, friends! Today I'm sharing a little tour of our coastal cottage style summer home. That's because this week I'm joining some friends for the Summer Seasonal Simplicity Home Tour Series! Each day from Monday through Thursday, home bloggers will share part of their homes, decorated for summer. It's a great way to find inspiration for your own summer decorating. I You'll find all the links at the end of this article, including the next stop on the tour. If you're popping over from Home Made Lovely's tour, welcome!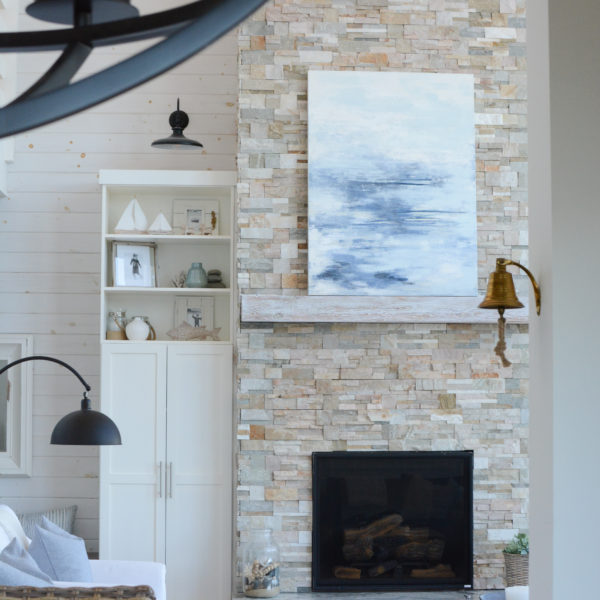 Welcome to our Coastal Cottage Home
If you've been following along for awhile (on Instagram here: popofprettystyle), you might already know that our summer home is decorated in coastal cottage style. And, if 'coastal style' immediately conjures up images of blue and white hues, shiplap walls, striped pillows, and little nautical decor details – well, you're in the right boat. Excuse the pun, lol. Our summer home has all of these signature coastal details, complete with an antique ship's bell.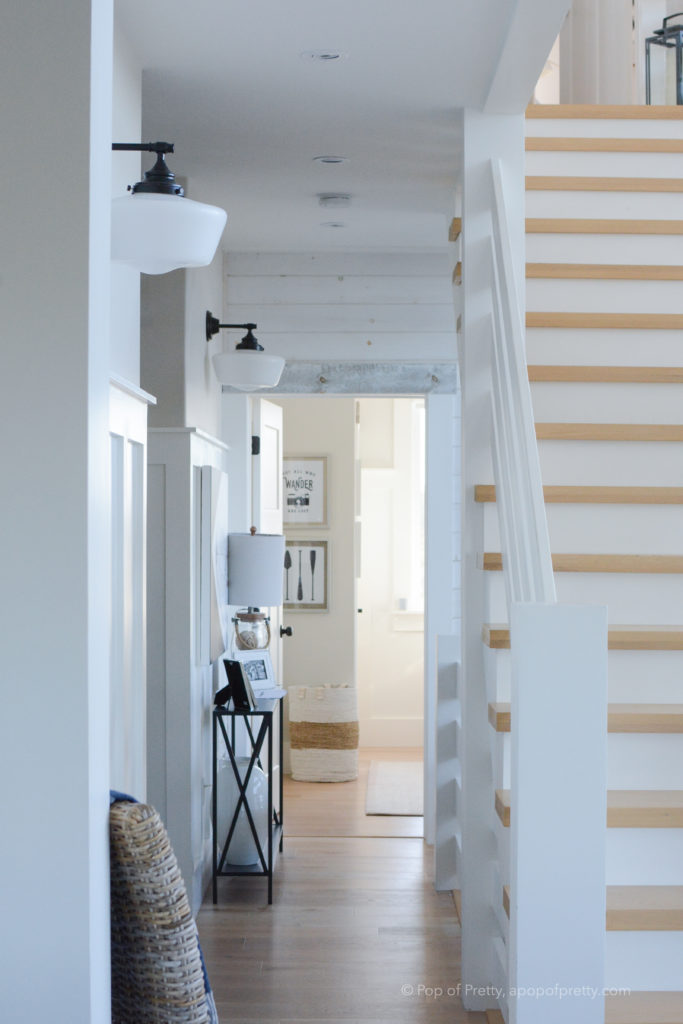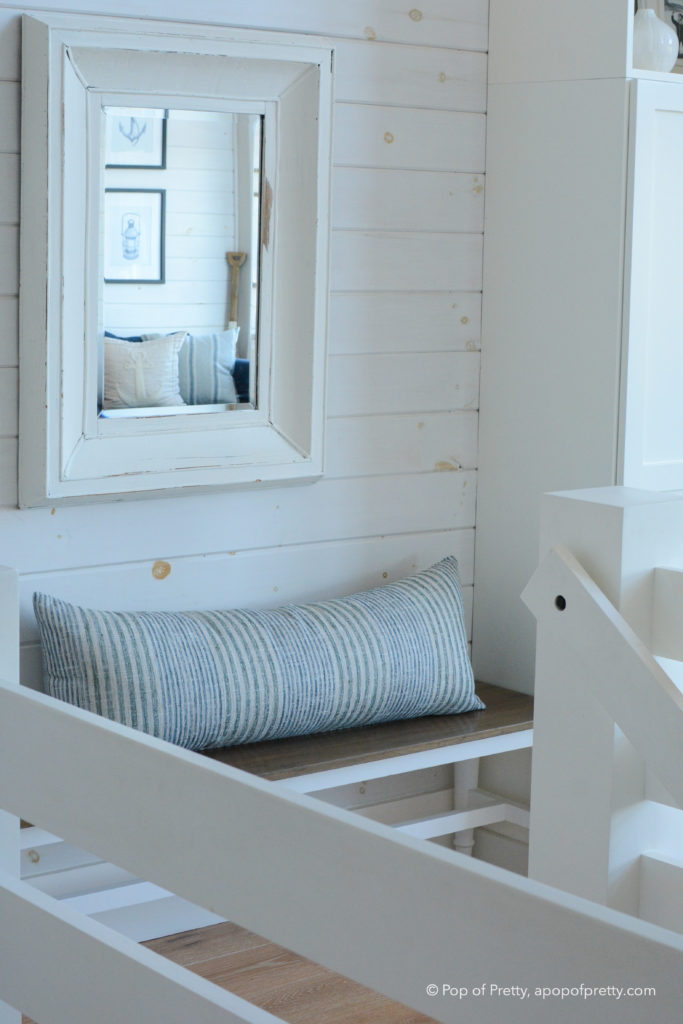 Why I Love Coastal Cottage Style So Much
Our summer home is on a pond / lake. But that's not the only reason I'm influenced by coastal cottage style. I live (and grew up) on an island on the East Coast of Canada. My home, Newfoundland, is on the most Easterly edge on North America, and is surrounded by the North Atlantic Ocean and rocky beaches. That's probably why I've always loved colours inspired by the ocean. Navy blue and turquoise are my favourites!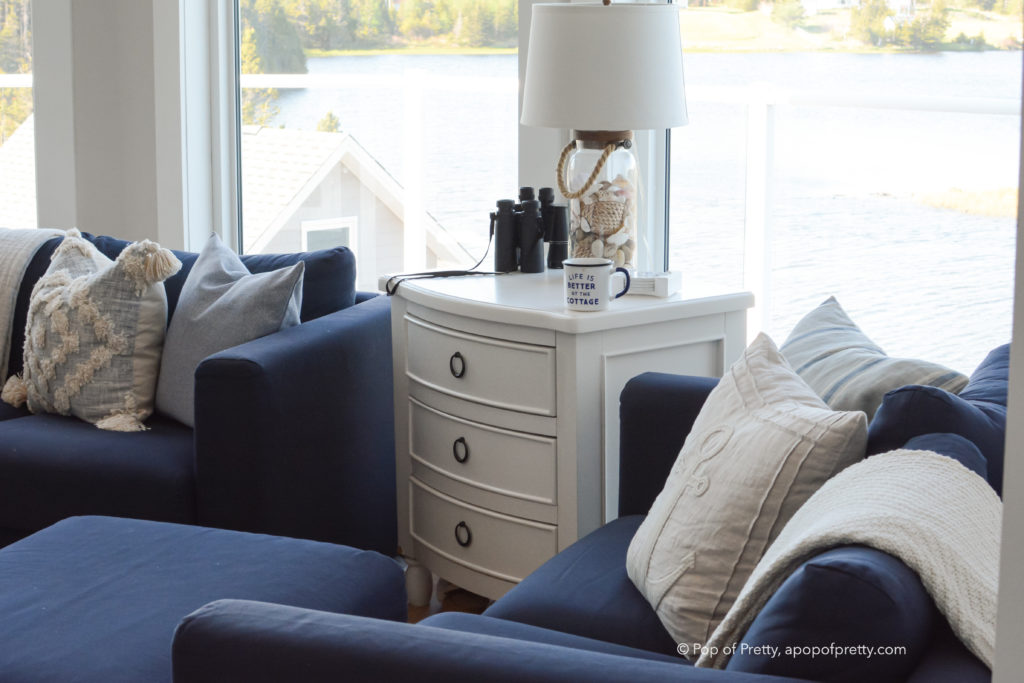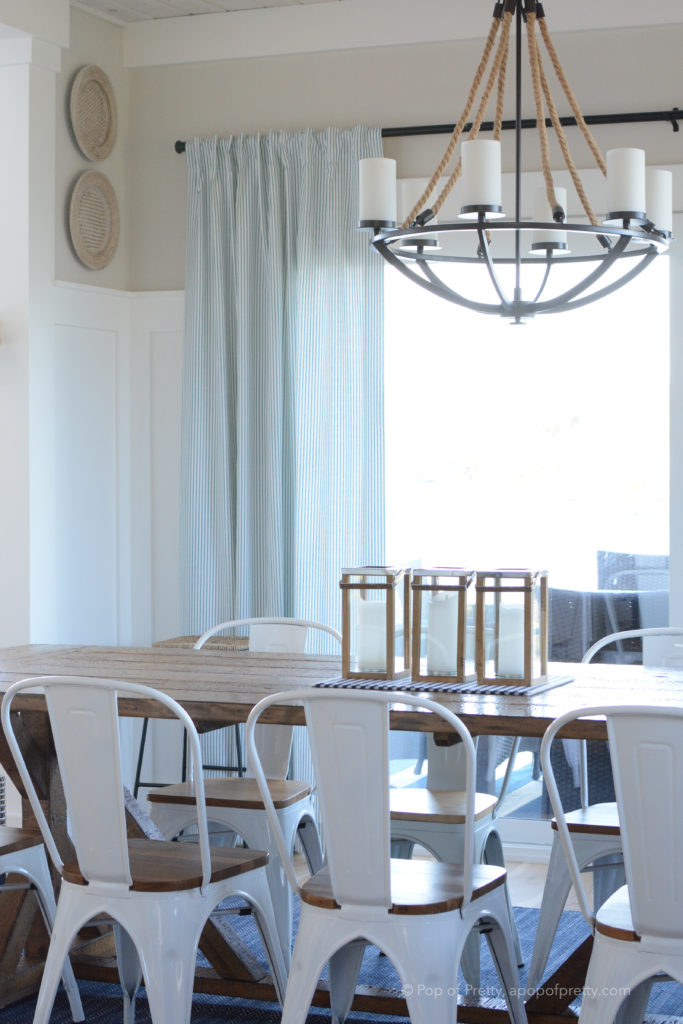 Of course, one of the other reasons I love coastal style so much is that it's so calming. Everything about coastal cottage decorating feels easy, from fuss-free colour schemes to nature-inspired textures. It's one of the reasons I enjoy decorating the built-in shelves on each side of our stone fireplace so much. It's easy to arrange collections of items that work well together when your only design rule is simplicity. (For more about this, see: Shelf Styling Tips: 5 Tips for a Clean Collected Look.)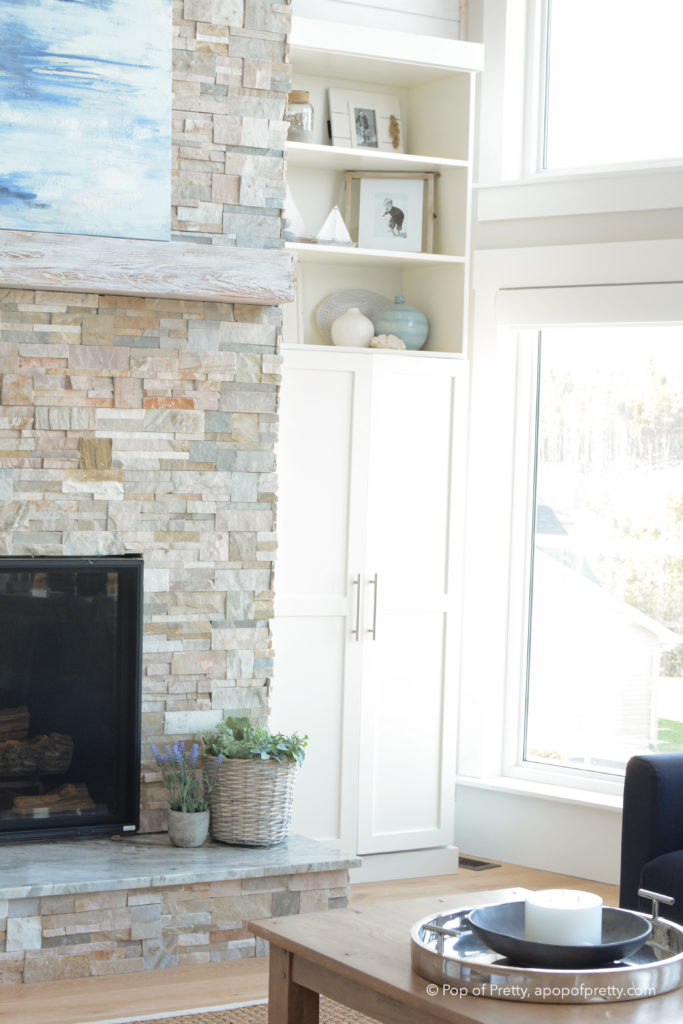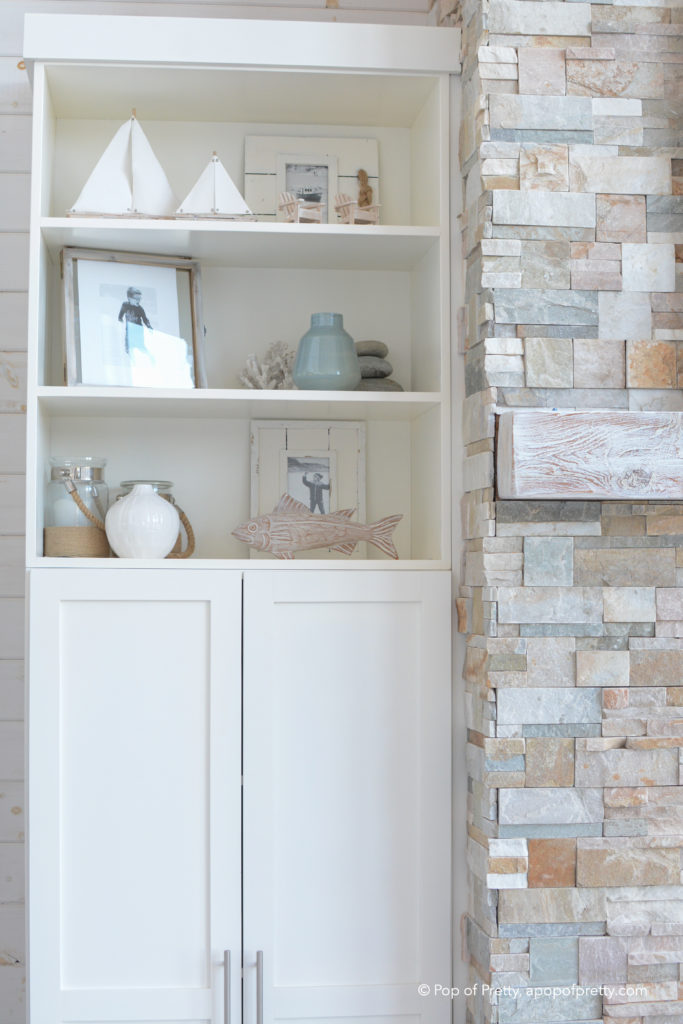 To keep things even simpler than usual for Summer, I recently pared down on the decor in my built-in shelves. I removed things that felt too 'heavy' or fussy, and replaced them with a few watery blue and white accessories that play off the large art canvas on our mantel. (To see how I painted this abstract piece see: How to Paint Abstract Art: DIY Tutorial.)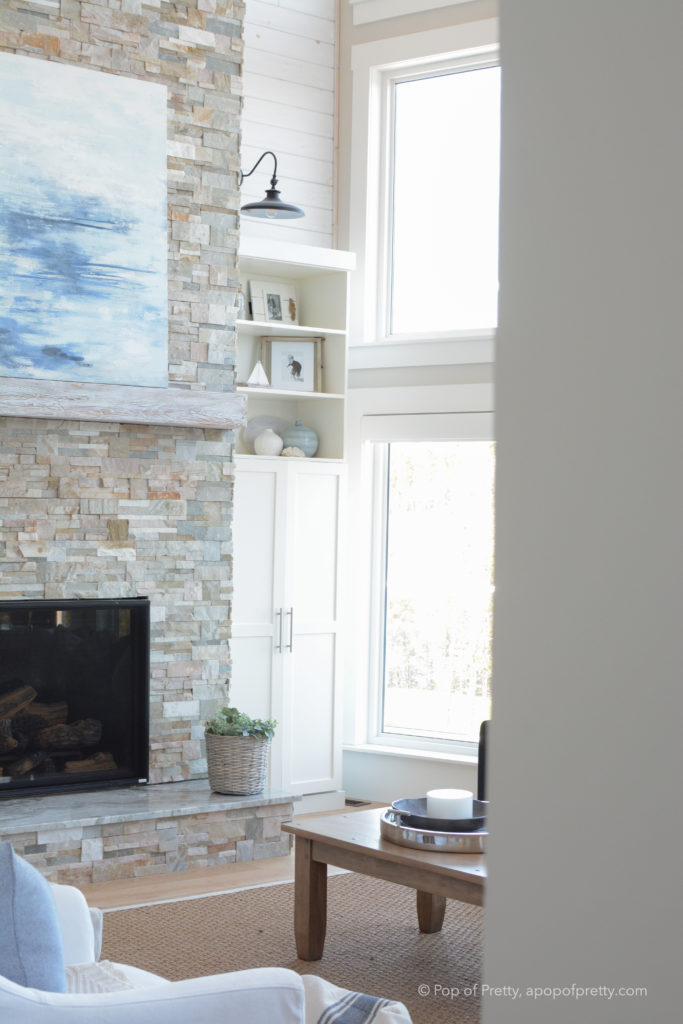 Coastal Cottage Style is All About Summer
Summer decorating is pretty easy in this home. I think coastal cottage style always feels like summer! Even when the wind is howling and the snow is piled high for half the year, this home is our retreat. So my goal is to keep it feeling light, airy, and fuss-free year round.
Having a simple blue and white colour scheme is one of the reasons it feels like a summer escape. Using watery blues and a lot of white helps to create a calmness here that I always look forward to after a crazy week.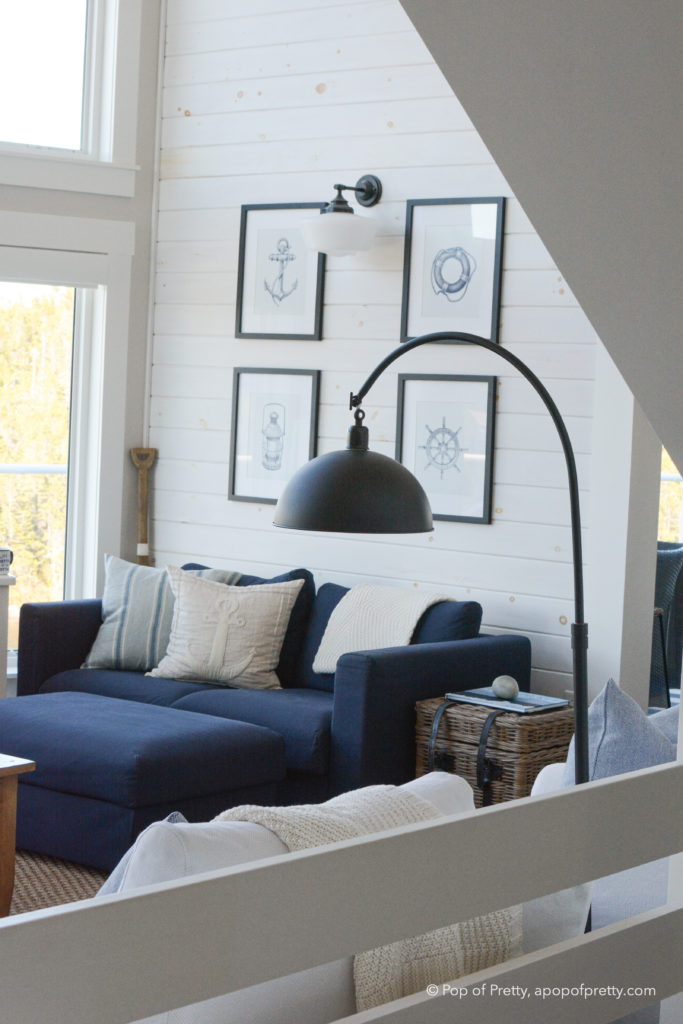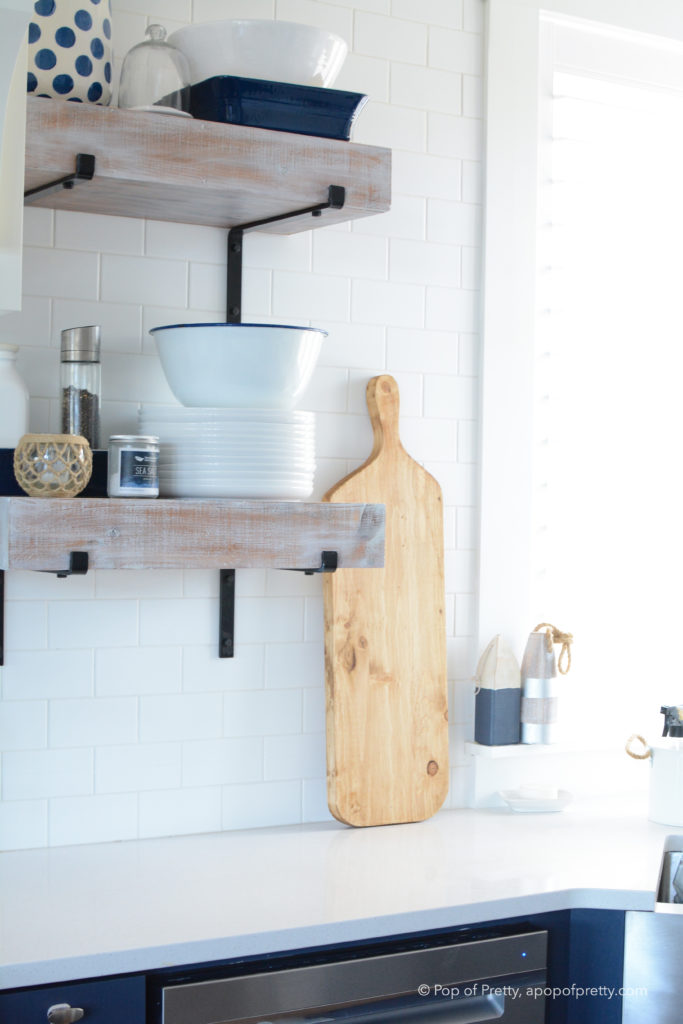 It might seem a little overly Type A of me (lol), but I've tried to be disciplined about sticking to the blue and white colour scheme. I've definitely introduced other colours throughout the year, for example red for the holidays. (For more on that, see Rustic Christmas Decor Tour or Cozy Lakehouse Vibe for Christmas.) But during the summer , I keep the colour palette streamlined. Well, except for a little pop of happy yellow here and there.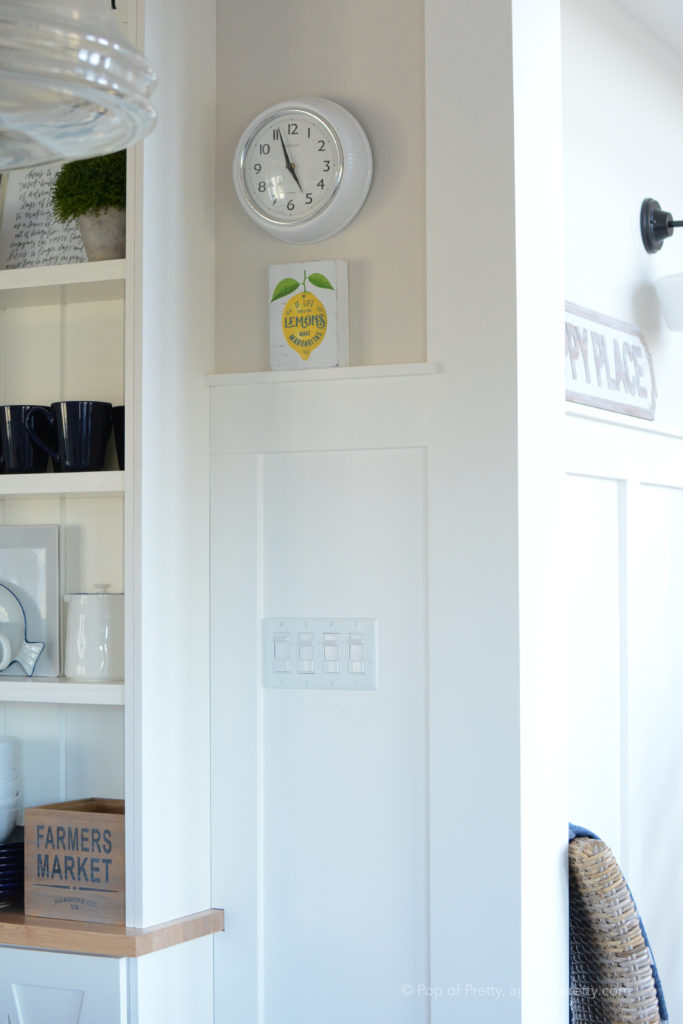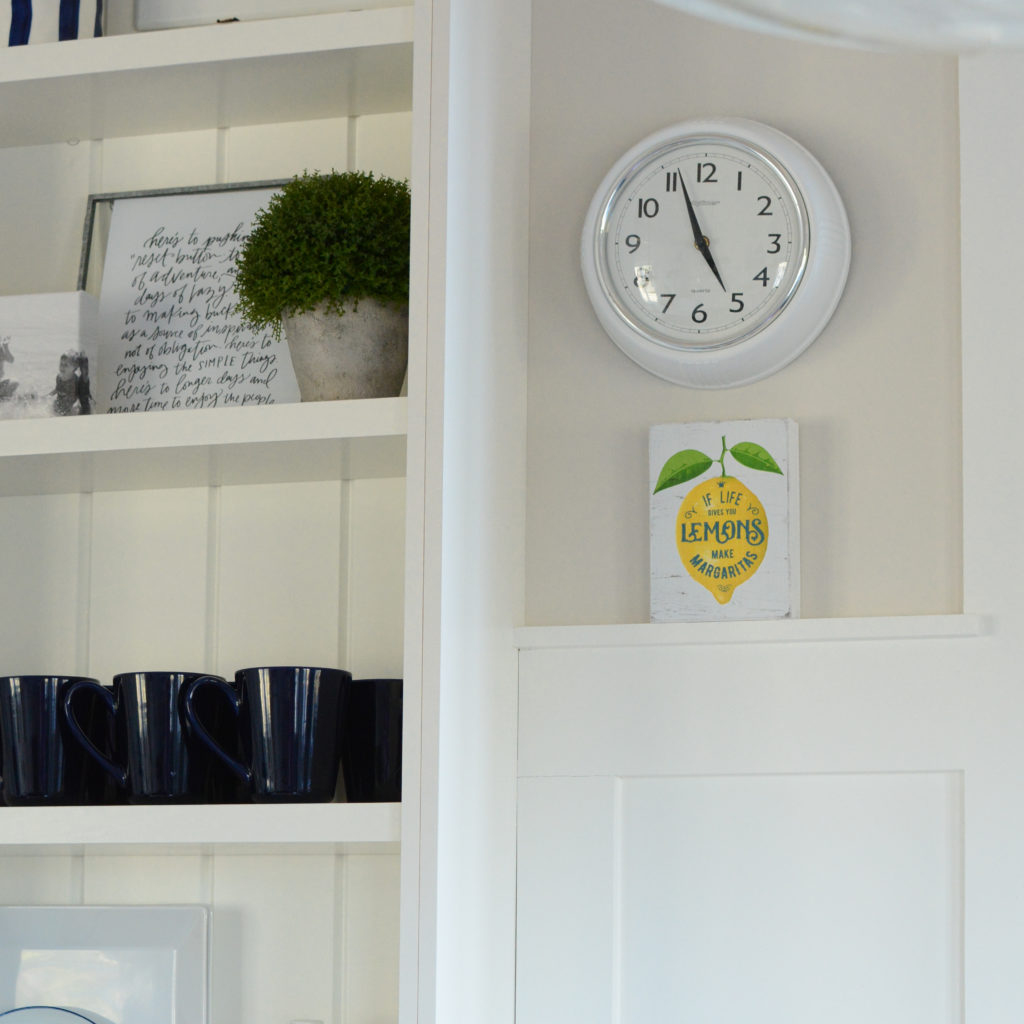 Other features of coastal cottage decorating that makes this home feel summer year round include the jute accented lighting and the whitewashed shiplap ceilings. (Learn how to whitewash wood with my tutorial here: How to White Wash Shiplap and Wood: A Step by Step Tutorial). T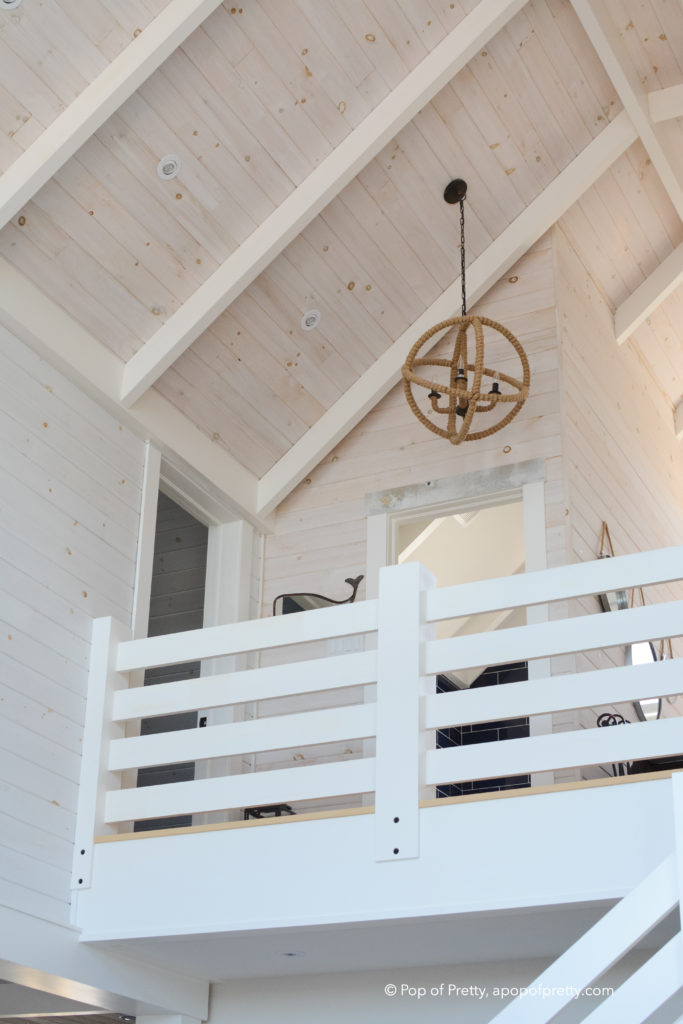 You can find a lot of rope decor in our coastal cottage home. I love rope accents because they add texture to a space, and they're a nod to the nautical side of coastal style. Want to learn how to make your own rope wrapped lamp? You can find my tutorial here: Rope-Wrapped Lamp: DIY Tutorial).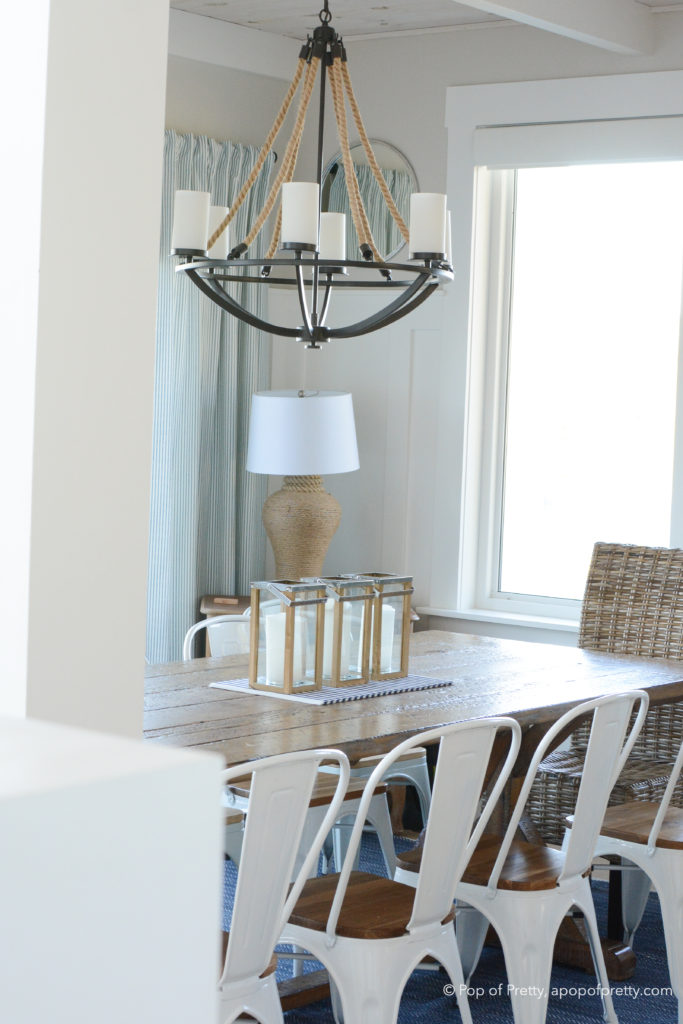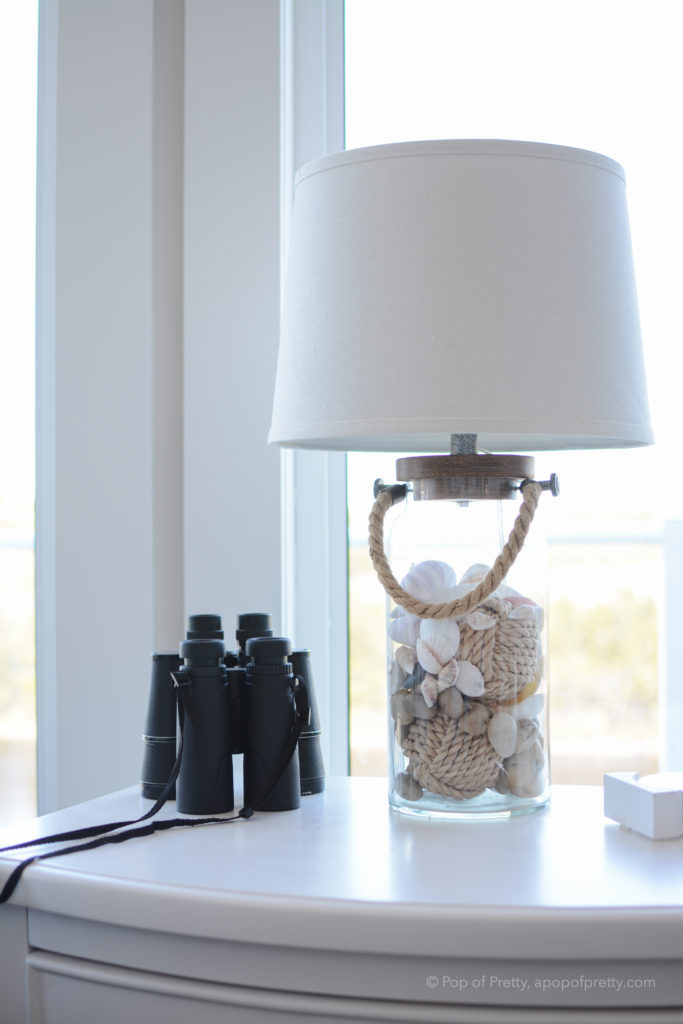 Summer Decorating in Our Coastal Cottage
Even though this home feels summer-y all year, there's still a few things I try to do differently for the season. We entertain our family and friends here a lot during the Summer months which means paring back on extraneous decor. In Summer, our home is typically filled with people (and pets) and casserole dishes galore. So I need every inch of free table and counter space I can find!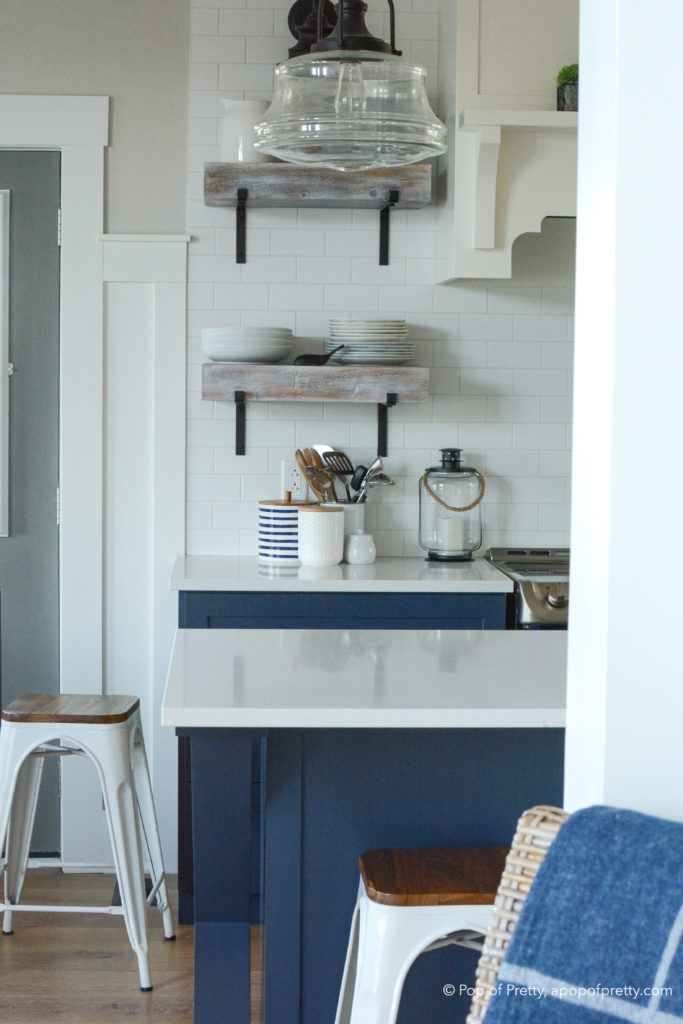 I also try to display my beach-y decor bit more prominently, like this coastal cottage inspired collection of random ocean inspired things on the hearth of our fireplace. I'm not sure why it makes me so happy. After all, it's just a glass jar I bought years ago filled with things I already had – like starfish, sand, jute and beach rocks. I guess it goes to show that you can create pretty decor from things you already own.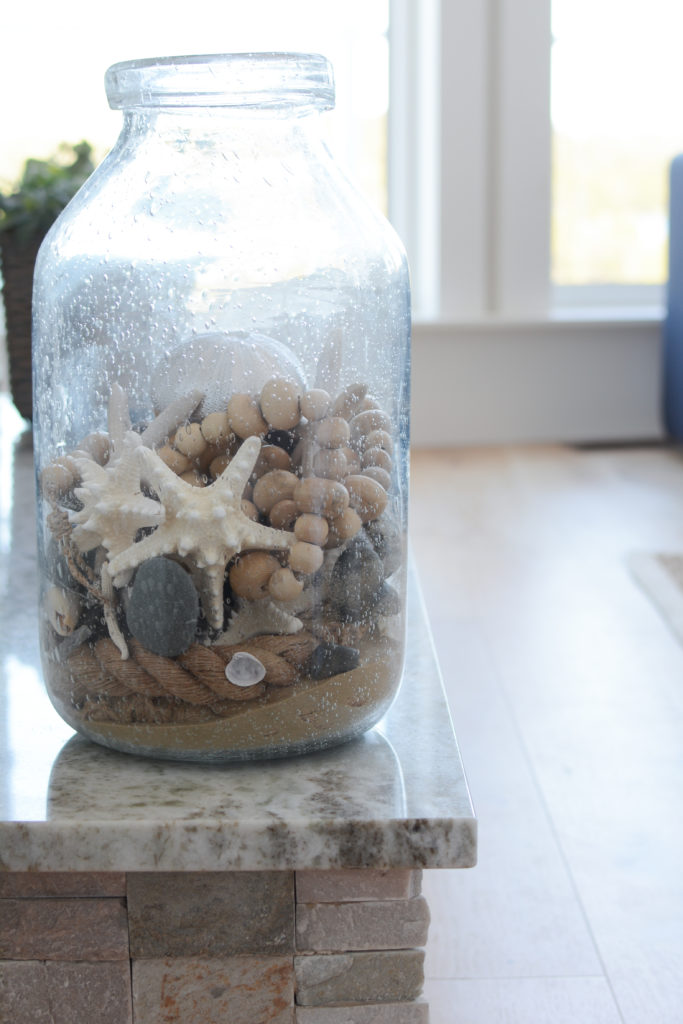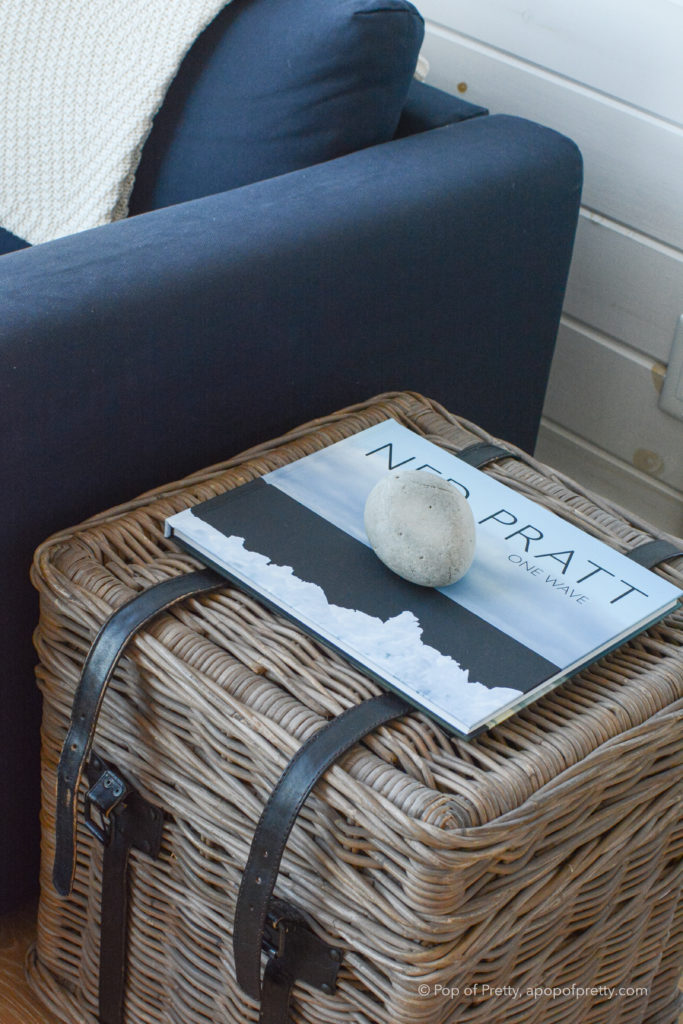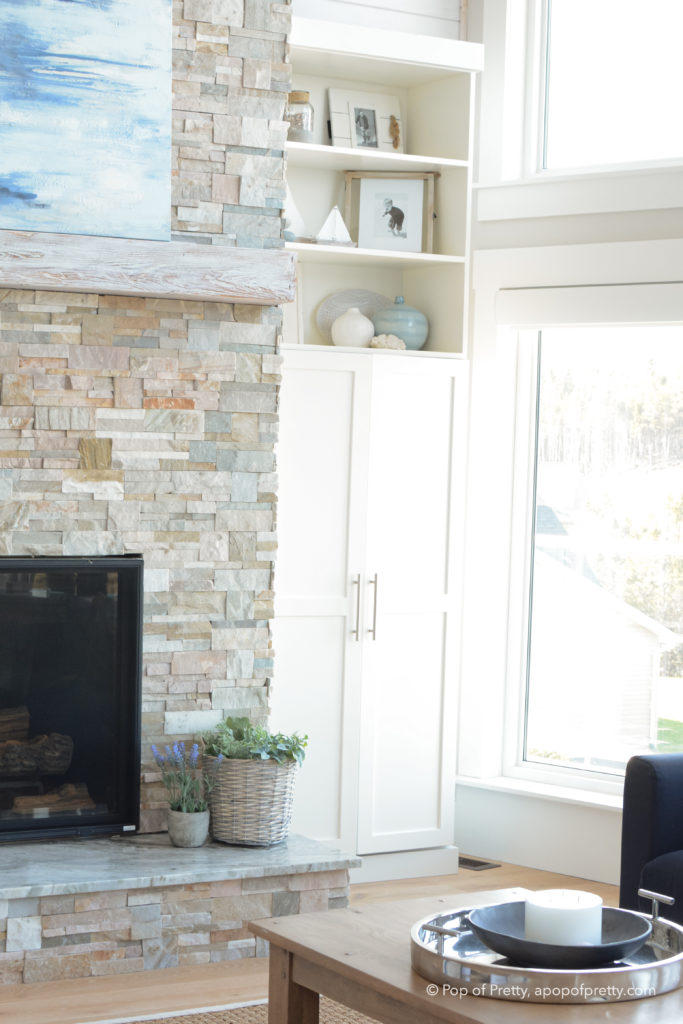 I also like to display greenery and flowers – even if they need to be faux to survive while we're not here. Lavender is one of my favourite summer florals. I planted it outside and I'll definitely use it indoors once it blooms. But for now, this little lavender plant is a dupe.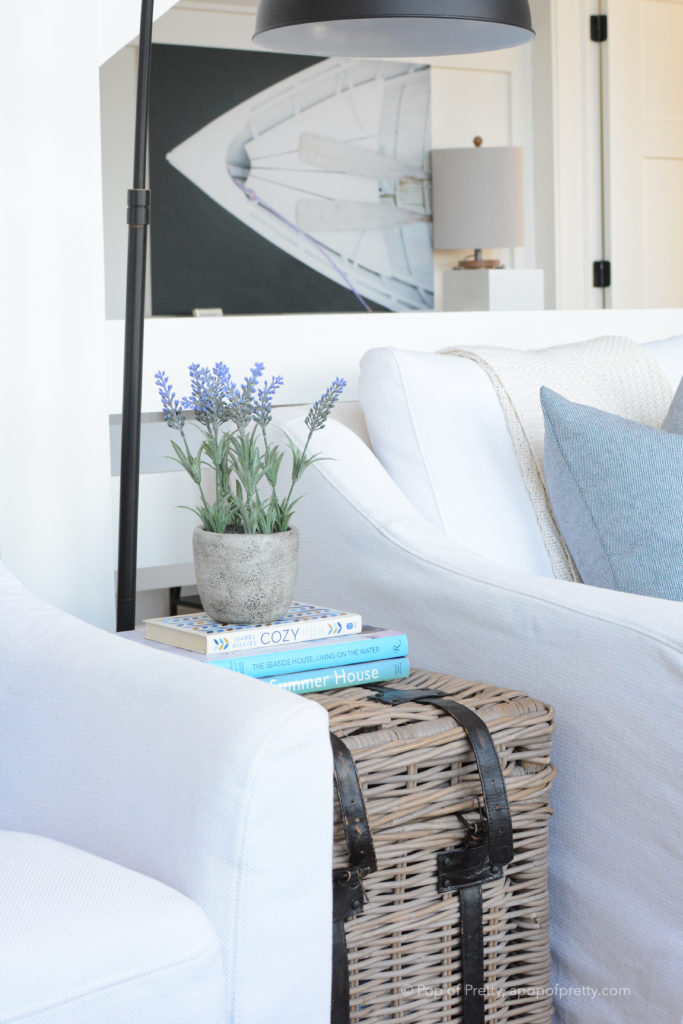 The other thing I change for Summer is my toss pillow covers. (BTW, if you look for the definition of pillow addict in the dictionary, you will find my name, lol.) To be honest, most of these pillows stay out all year because I like to keep it pretty fuss free in this home. The only thing I change out are a couple of pillows that are cable knitted and feel like Winter. And, I recently found this sweet Bohemian style denim coloured pillow (or it found me?) and added it to the our navy blue IKEA sofa Summer. (You can find out more about this sofa here: lKEA Vimle Initial Review and here IKEA Vimle vs Finnala).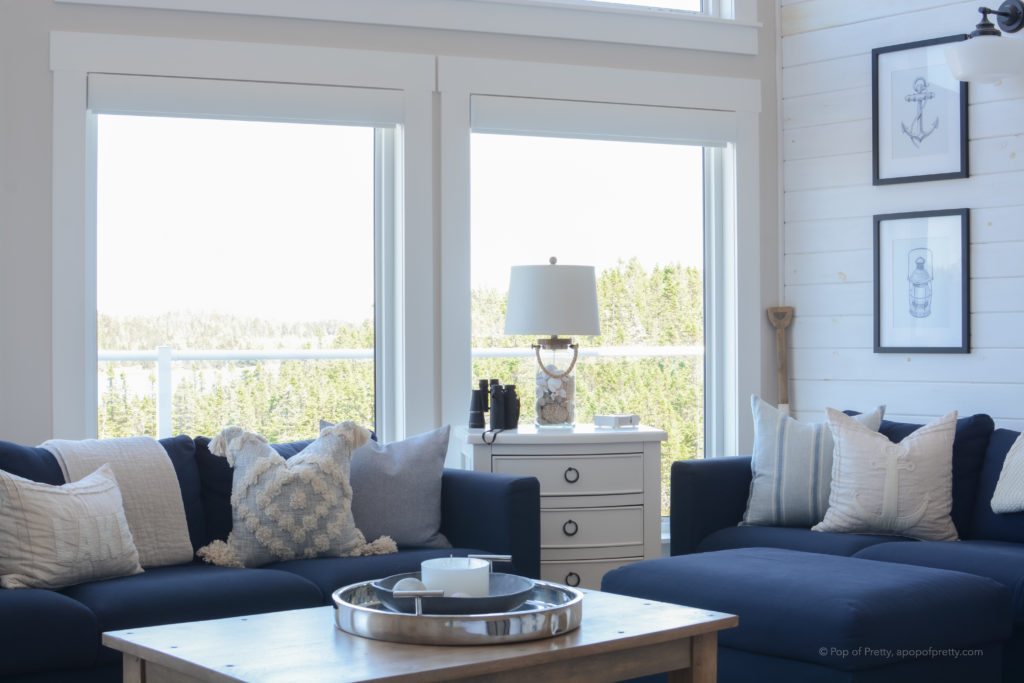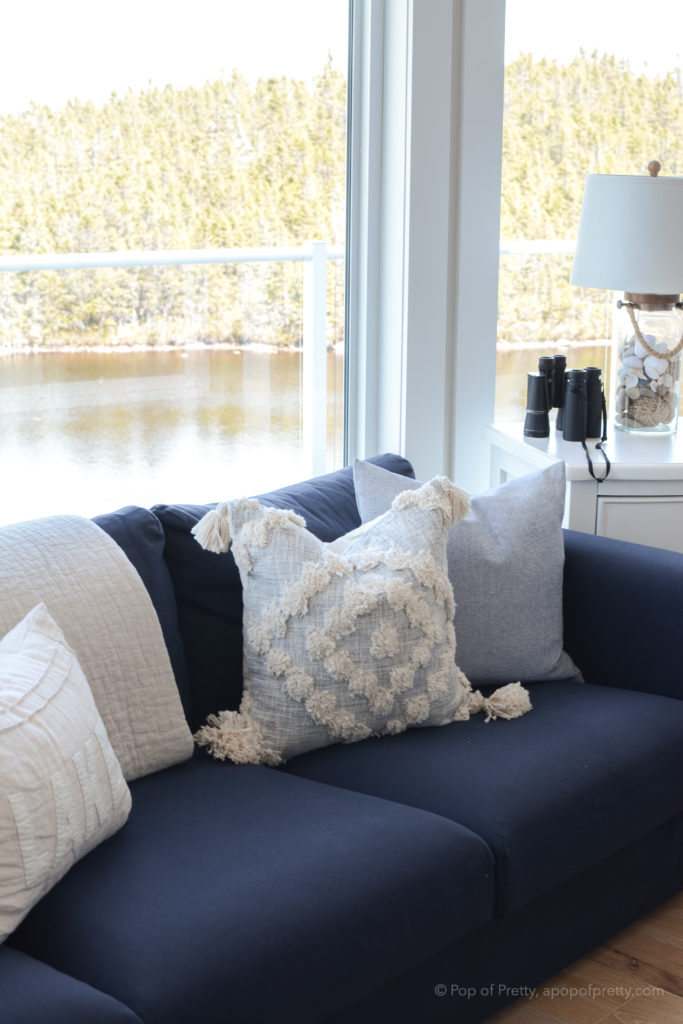 Did you like this tour? Follow Along!
There's so much more I'd love to show you, but there's like 35 other home tours to see! So please sign up for my blog post updates and you'll keep up-to-date on all the other great stuff I post here!
Get Blog Post Updates
Follow me on Instagram too!
Wondering how to Get the Look?
And, if you're wondering where you can find great coastal cottage decor, I've rounded up some of my favourite Amazon finds over in my Amazon shop. I've also got some lovely coastal inspired printable art in my JanieJute Etsy shop.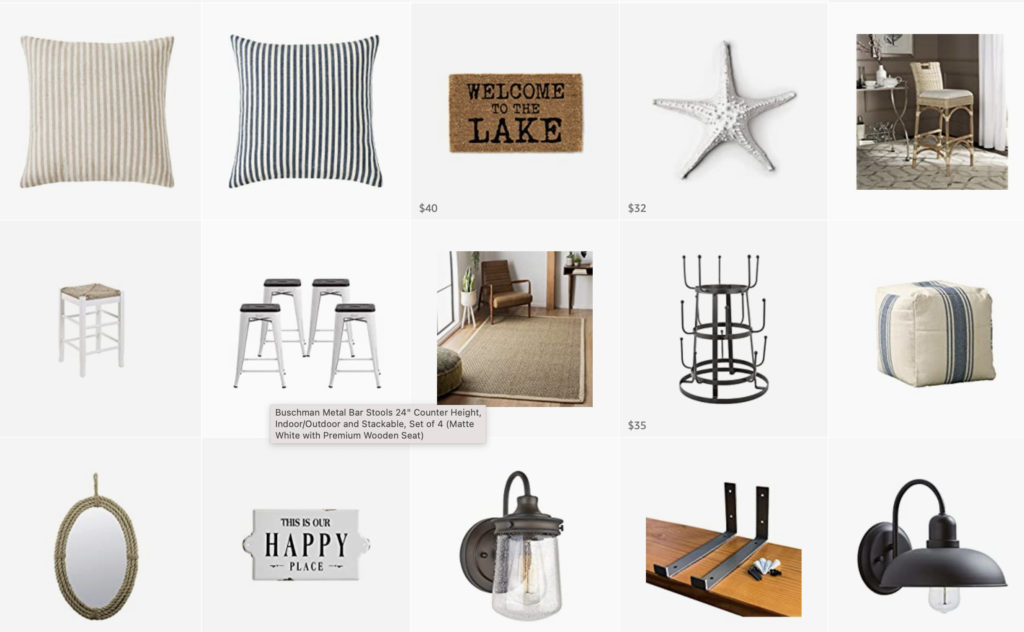 Yay, it's Time to Visit More Homes Decorated for Summer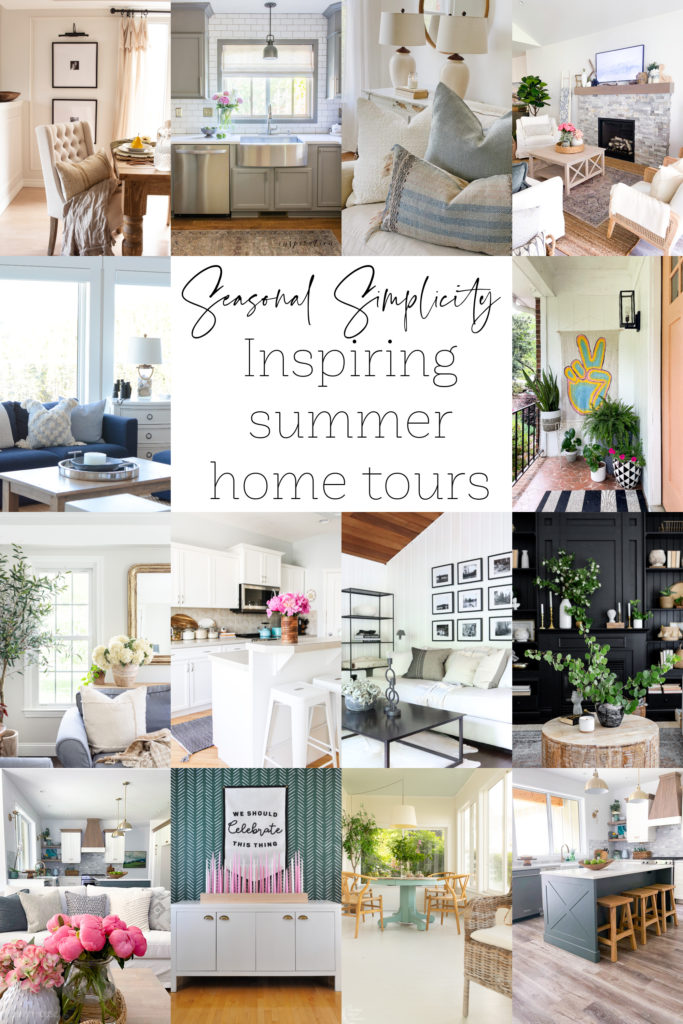 This week I'm joining some of my talented blogging friends for the Summer Seasonal Simplicity Home Tour Series! Each day from Monday through Thursday six bloggers are sharing part of their homes all ready for summer. Be sure to enjoy all of the beautiful inspiration for adding a little summer to your home by visiting the links under the images below.
Sharing with me today...
Monday
The Happy Housie // Inspiration for Moms // She Gave it a Go
Home Made Lovely // A Pop of Pretty // Life is a Party
And sharing the rest of this week...
Tuesday
Cassie Bustamante // Finding Silver Pennies // Deeply Southern Home
Nina Hendrick // Maison de Cinq // Clean & Scentsible
Wednesday
A Pretty Life // My Sweet Savannah // Fynes Designs
House by Hoff // Lemon Thistle // Dans le Lakehouse
Thursday
Life is Better at Home // Rambling Renovators // Hallstrom Home
Craftberry Bush // JoAnna Anastasia // Willow Street Interiors
Enjoy the tours!
Until next time,
Kerri