This post was most recently updated on November 11th, 2021
In this article: Are you wondering how to create a rustic Christmas tree with a farmhouse vibe? Today, I'm sharing a closer look at the rustic Christmas tree at our cottage, as first shared in yesterday's larger Christmas home tour home tour post: Rustic Christmas Decor Tour (Our Cottage). I'll share all my tips and ideas for creating a cozy, rustic themed tree.
Do you love the look of a rustic Christmas tree with a simple, home-y feel? I've tried to create this Joanna Gaines-esque farmhouse style with our cottage tree for the past couple of years. Last year's Christmas tree was rustic and full of festive colour: see Cabin Themed Tree (Lakehouse Christmas). But, this year, I went a more neutral route with our Christmas tree, using navy blue accents.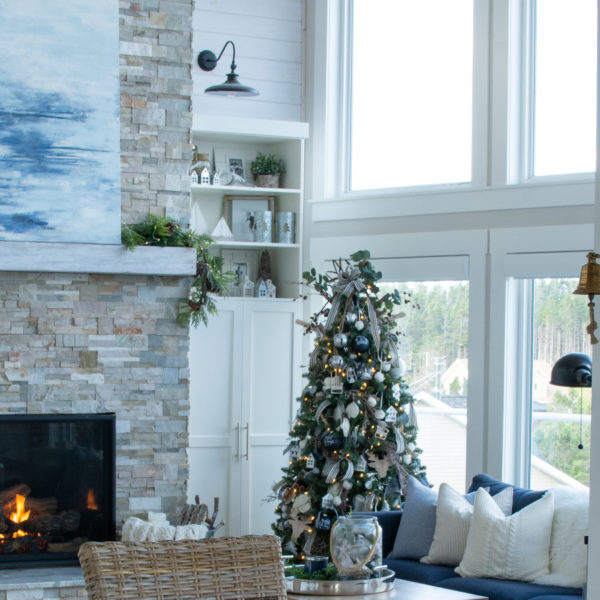 For 2020, I really wanted a simple, rustic Christmas tree that wouldn't distract from the space and the beautiful natural surroundings right outside the large windows. While I loved last year's festive vibe with lots of red accents, I found it a little overwhelming. This year, more than ever I was craving peace and tranquility! Aren't we all?
Rustic Christmas Tree: Simple, Informal Charm
To create a rustic Christmas tree like this, the trick is to keep things simple and informal. The charm of a farmhouse tree is in its down to earth personality. A rustic Christmas tree shouldn't feel fussy or overdone – even though you might have to fuss around to make it look that way lol. Oh the irony!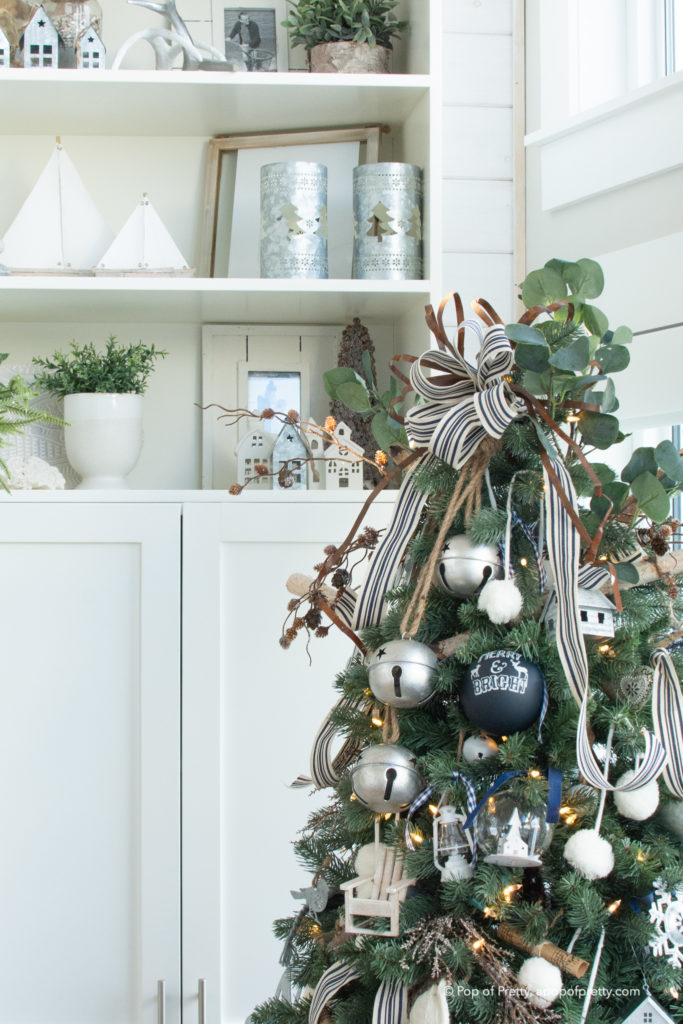 Ribbon for Your Rustic Christmas Tree
For example, first, let's talk about the ribbon. If you're going to use ribbon on your rustic Christmas tree, it should be simple, and probably not too shiny or glittery. Stripes, plaid and gingham ribbon all work perfectly for that rustic, farmhouse look.
My inspiration for this tree actually started with this simple farmhouse-striped, navy and cream ribbon that I found at Michaels earlier in the Fall. When I spotted it, I grabbed the few rolls left on the shelf, knowing it was perfect for this space. By the way, if you are looking for unique ribbon for your tree, don't wait for the Christmas stock to arrive. Keep your eye out all year long. This ribbon was part of their Fall line up and is no longer available but I've rounded up a few similar ones over on my Amazon storefront.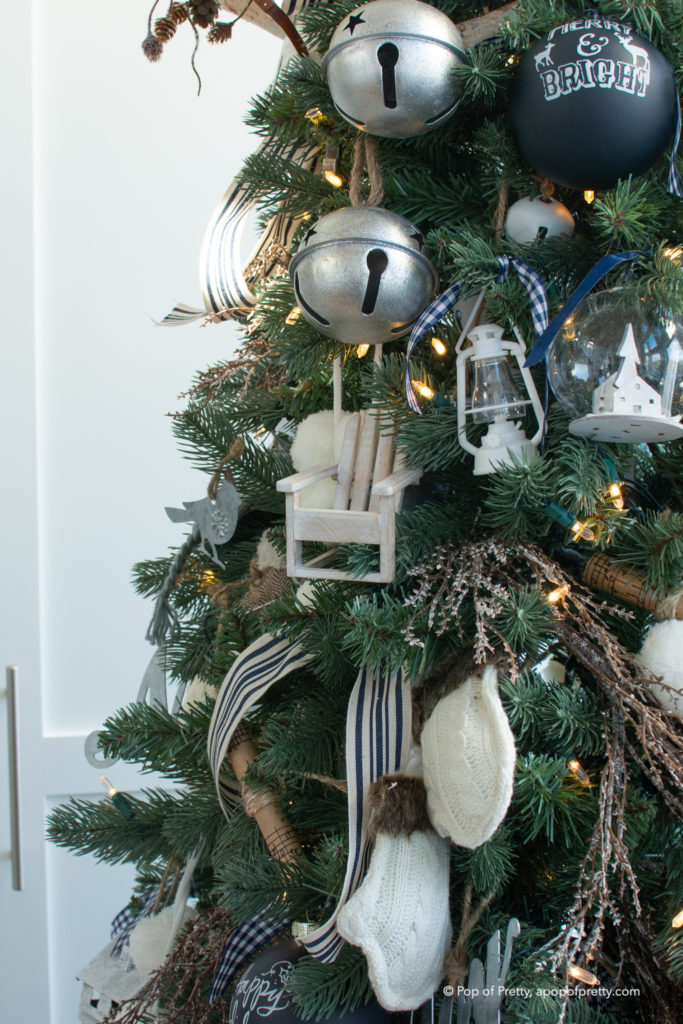 So how to you add ribbon to an informal tree? On a more formal Christmas tree, you might want to place it with a cascading look (See my popular tutorial: How to Put Ribbon on a Christmas Tree). But, with a rustic themed tree, this might look a little too formal.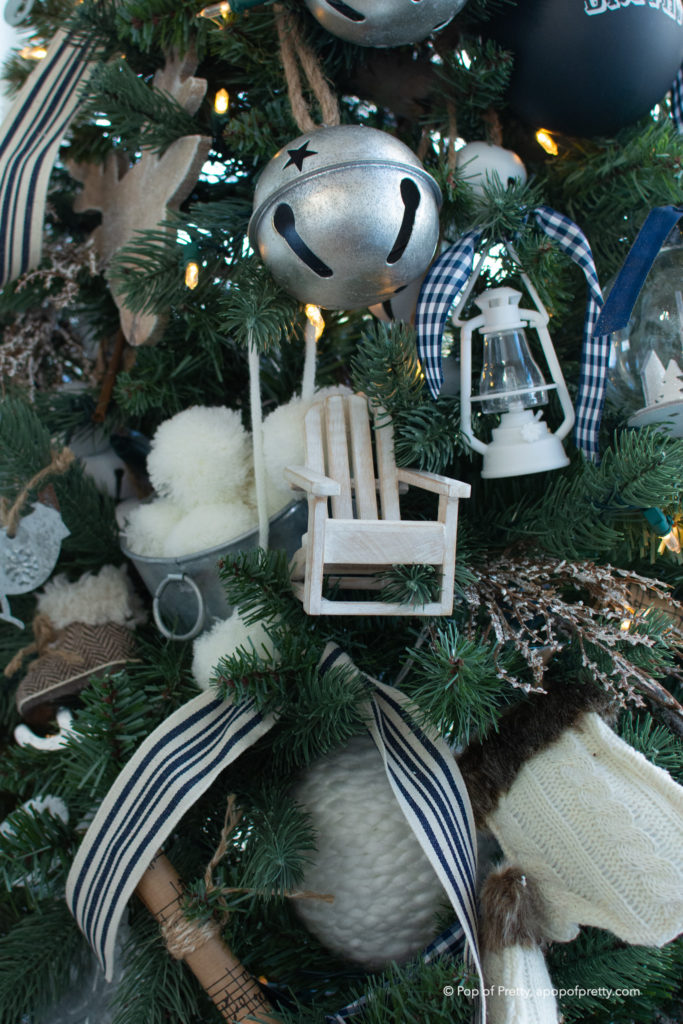 Instead, I opted to simply tie pieces of ribbon at the end of the branches in a loose knot. This is such an easy way to put ribbon on your Christmas tree. It requires no particular skill level. In fact, you could even get your kids to help out with it!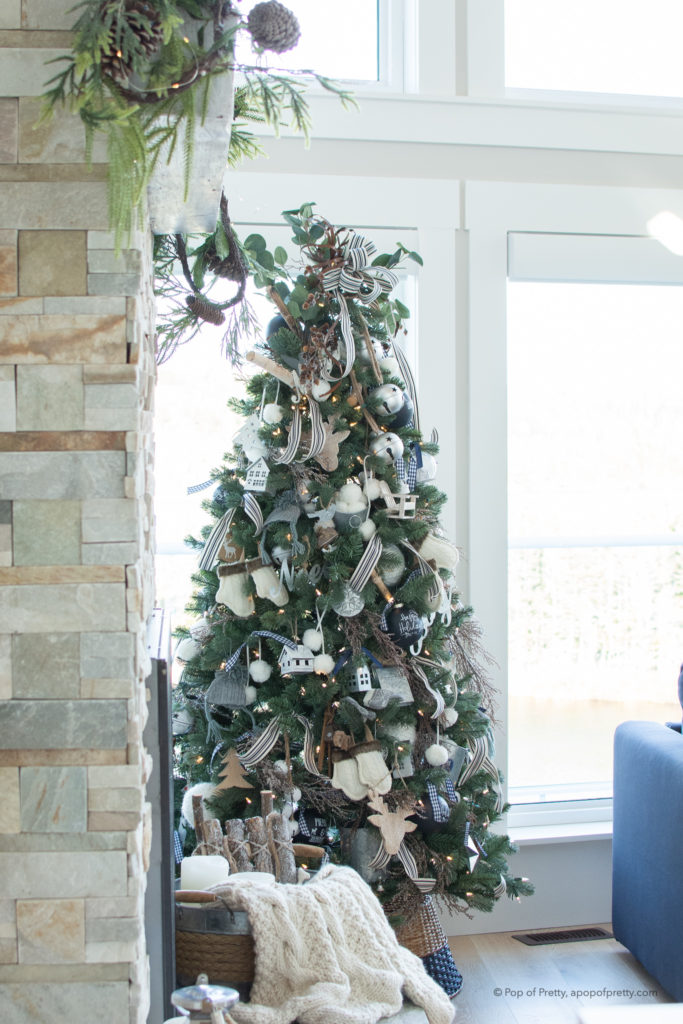 Rustic Christmas Tree Decorations
In addition to a casual Christmas tree ribbon, there are certain types of Christmas tree decorations that will make your tree feel rustic and woodsy.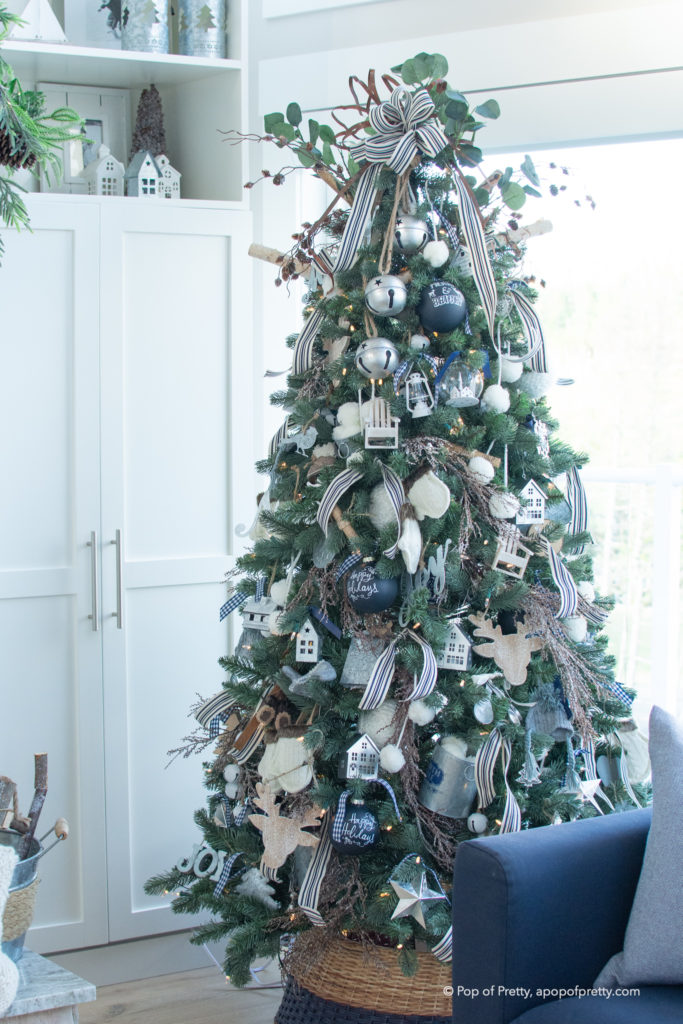 On our rustic Christmas tree, I used decorations that were made from rustic, home-y materials, like galvanized metal, distressed and whitewashed wood, and wool. I also chose ornaments that had a vintage, cabin-y or farmhouse vibe, like lanterns, mittens, adirondak chairs, and pom poms. Chalkboard bulbs also work great, adding a bit of nostalgic flair.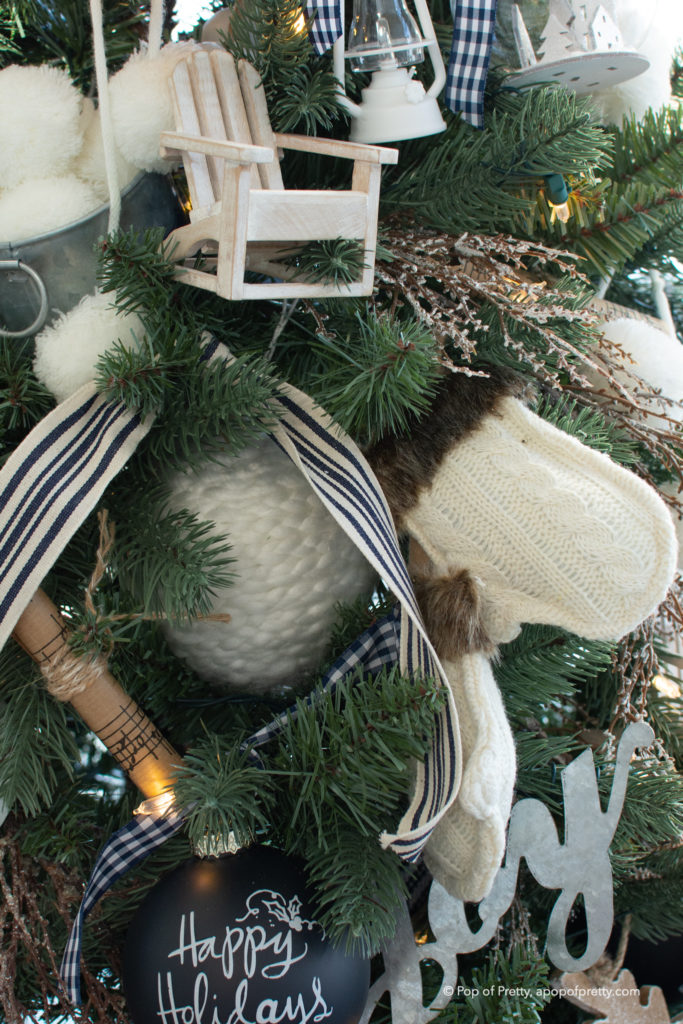 In fact, there's something on this tree that actually came from my grandmother's home. Can you spot anything unusual toward the bottom of the next photo? Yep, there's even a set of metal measuring spoons on my Christmas tree that my grandmother used for all of her recipes. I love having special things on my trees.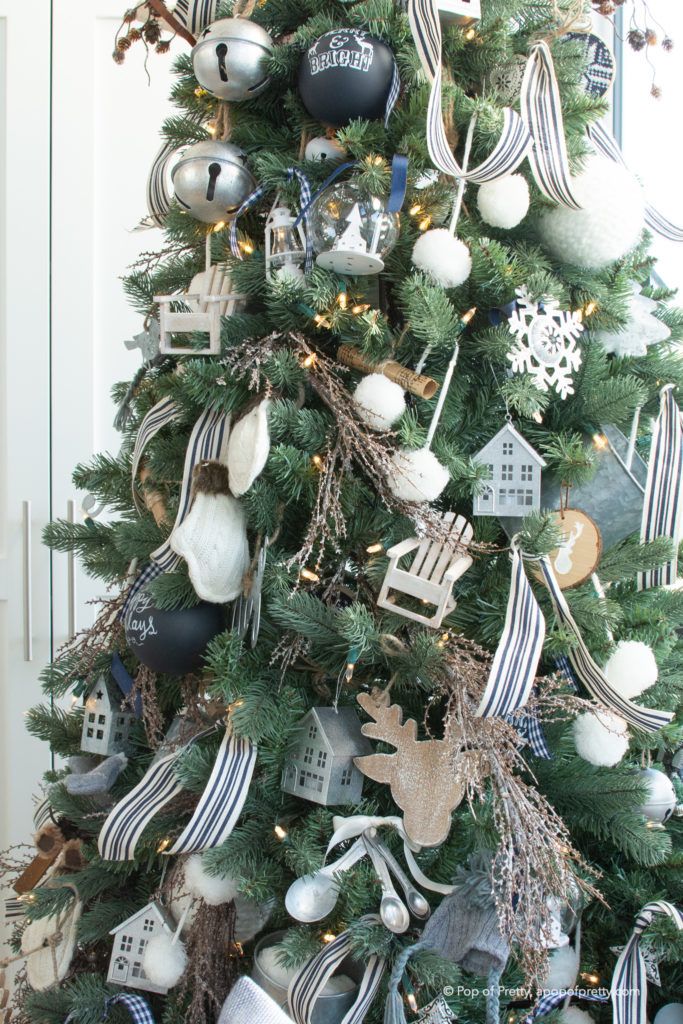 Farmhouse-Inspired Tree Topper Idea
To top off a rustic Christmas tree, simple and casualties work best, For example, you could use a metal star or simply make a big, casual bow using your Christmas ribbon.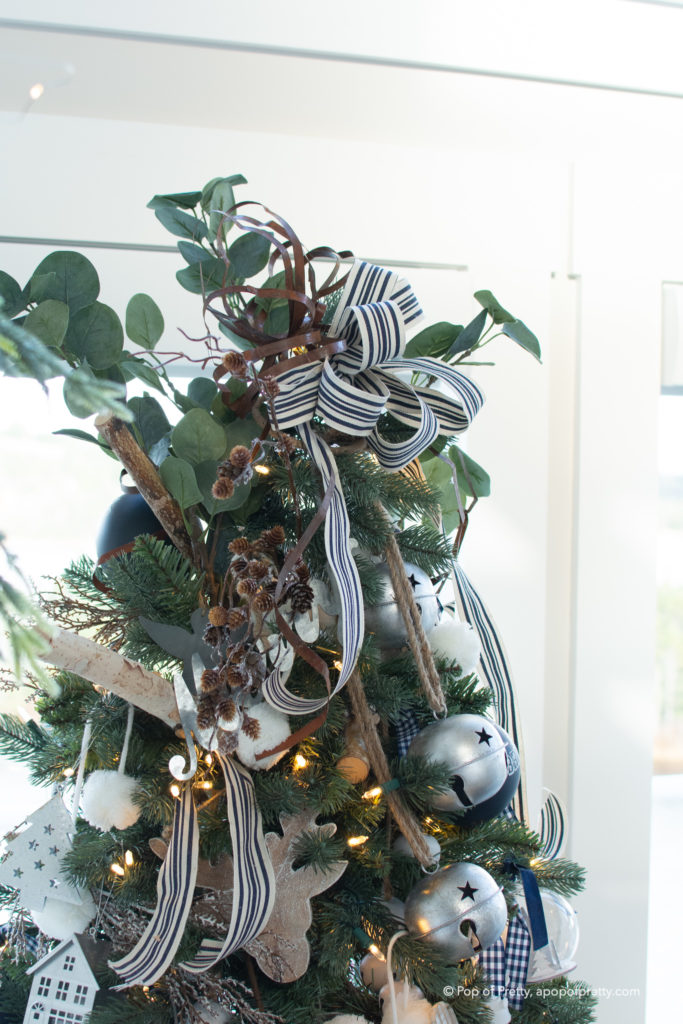 Personally, I love being a little creative with the tops of my Christmas trees, especially if it's an informal one like this tree.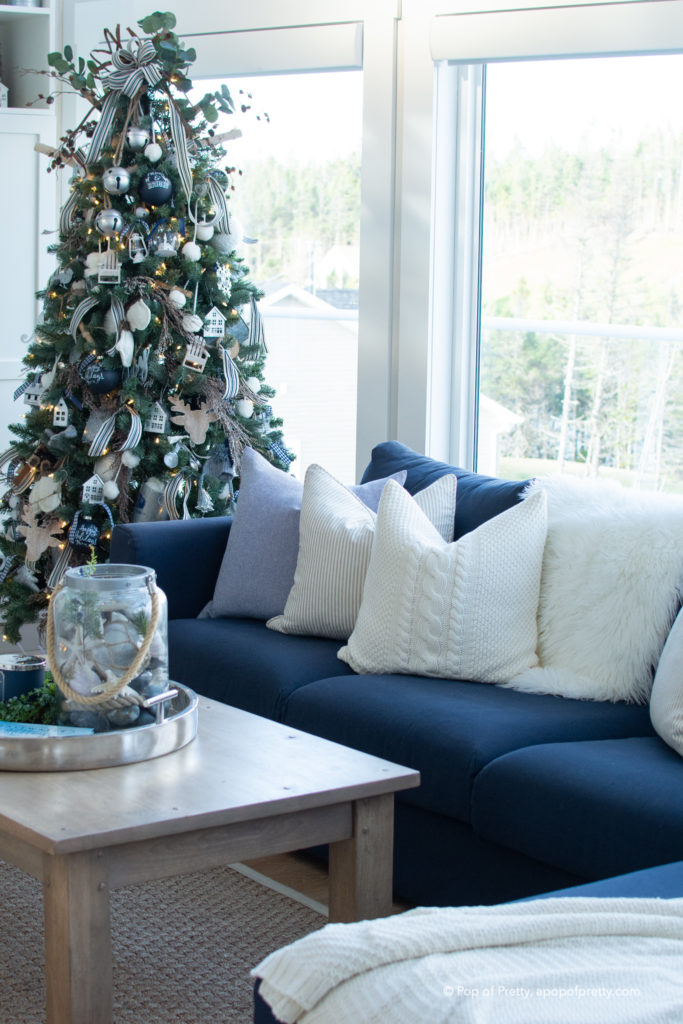 On this one, I simply poked a bunch of eucalyptus sprigs and birch logs into the top of the tree, and finished it off with a bow made from my farmhouse ribbon. I also used a rusty metal bow I had in my Christmas stash from years ago, so I threw that on there too!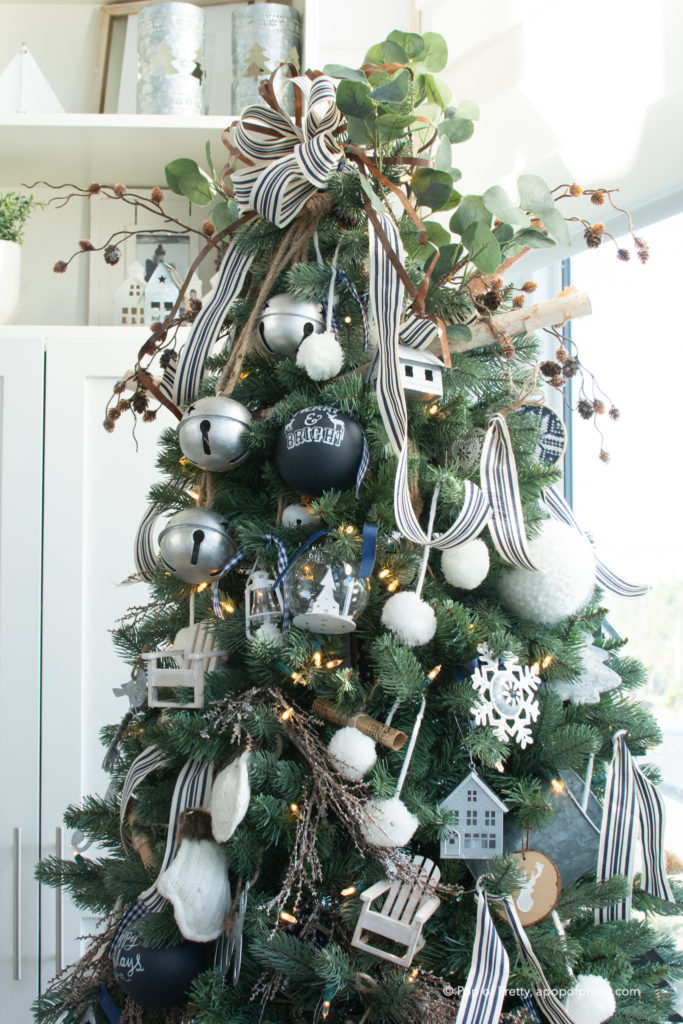 What to use at the base of your tree?
Are you a tree skirt or tree collar/basket fan? I love a pretty tree skirt like the next person, but for a rustic Christmas tree, a tree collar or tree basket really adds to the farmhouse feeling.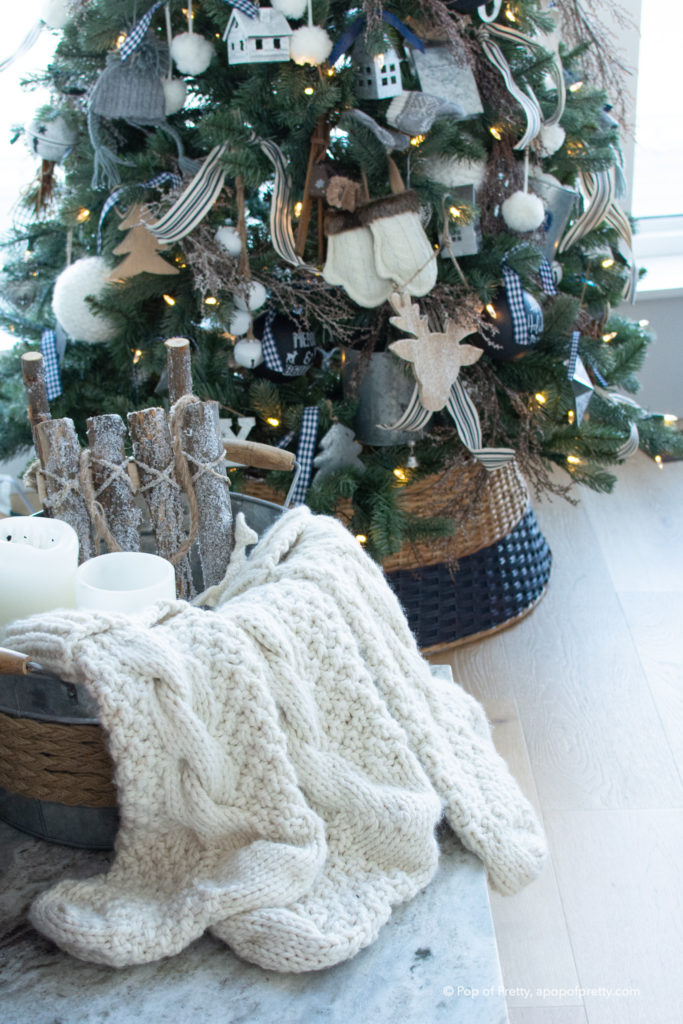 You can find lots of gorgeous galvanized metal tree collars and wicker tree collars these days that have a simple, rustic look. That said, if you are attached to the idea of a tree skirt, go for it! A plaid or striped tree skirt would look lovely on a rustic themed tree.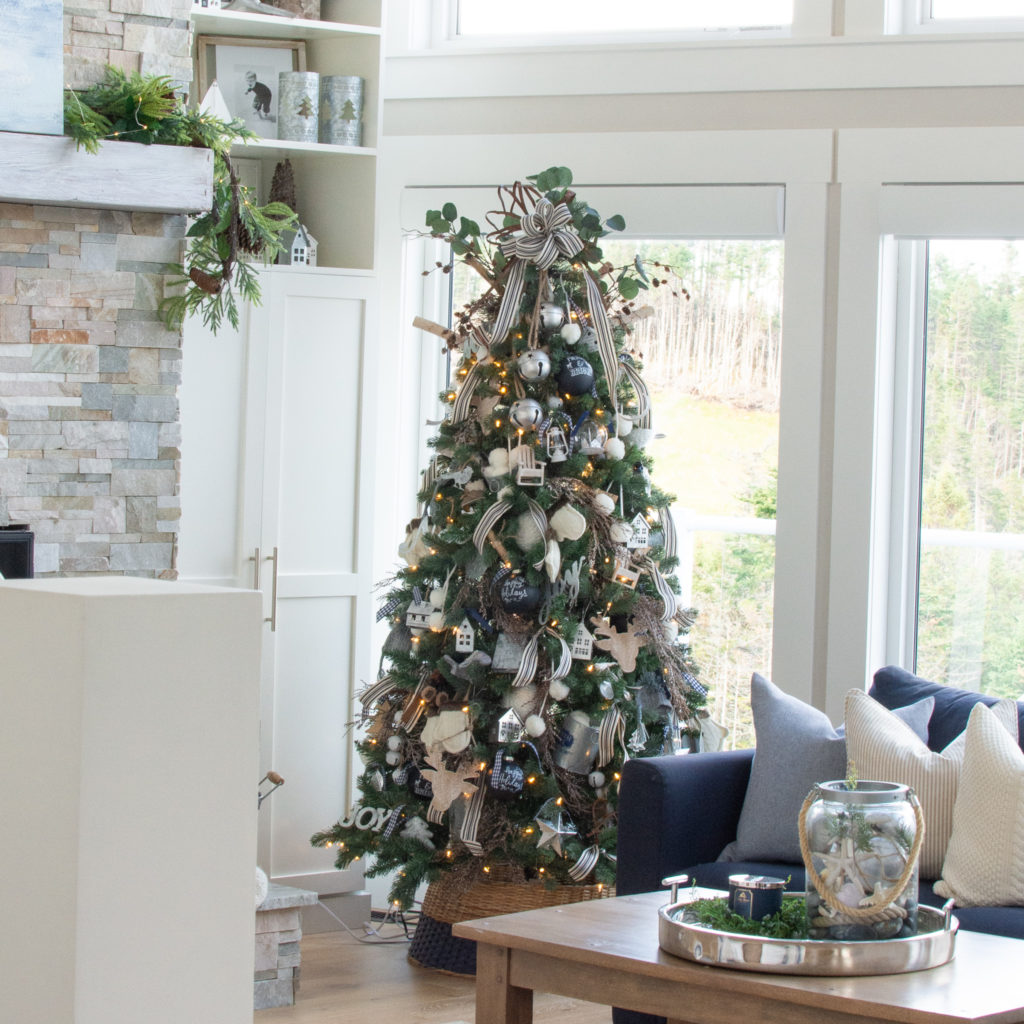 More Christmas Decorating Ideas
Are you looking for more Christmas decor ideas or theme inspiration? You might like one of these Christmas posts:
Our Cabin-Themed Christmas Tree
White Christmas Theme Decor Tips + Ideas (Home Tour)
Navy Blue Christmas Decor Ideas (Home Tour)
Winter Wonderland Christmas Decorating Theme (Home Tour)
Red Plaid Christmas Decor: Cozy Tour
What Goes on Christmas Tree First?
How Much Ribbon for Christmas Tree? (+ All Things Ribbon!)
How to Put Ribbon on a Christmas Tree
I hope this post gave you some ideas on how to create your own simple, rustic Christmas tree!
Until next time,
K.