This post was most recently updated on November 11th, 2021
In this article: Find gorgeous red plaid Christmas decorating inspiration, including my cottage-inspired Christmas tree (recently featured in Women's Day and Cottages & Bungalows!), staircase railing, fireplace mantel, front porch, and more!
Red plaid Christmas decor! Is there anything more quintessential and traditional when it comes to Christmas decorating? This year, my decor is a departure for me as I typically decorate with blues or neutrals. But, it feels so cozy, and it's giving me all the Christmas vibes. My red plaid Christmas tree in this article has received lots of love. In fact, it was recently featured in Women's Day magazine's 2018 round up of "30+ Christmas Trees that are Straight Up Magical"! Also, it was featured in the 2017 Christmas edition of Cottages and Bungalows magazine.
This holiday home tour is all about traditional red plaid Christmas decor. But you can get all kinds of other great Christmas decorating ideas by visiting just a few of the lovely homes in today's tour. That's because today, I'm participating in an online Christmas Home Tour with a group of talented and creative Canadian bloggers. You can find those links near the end of this post.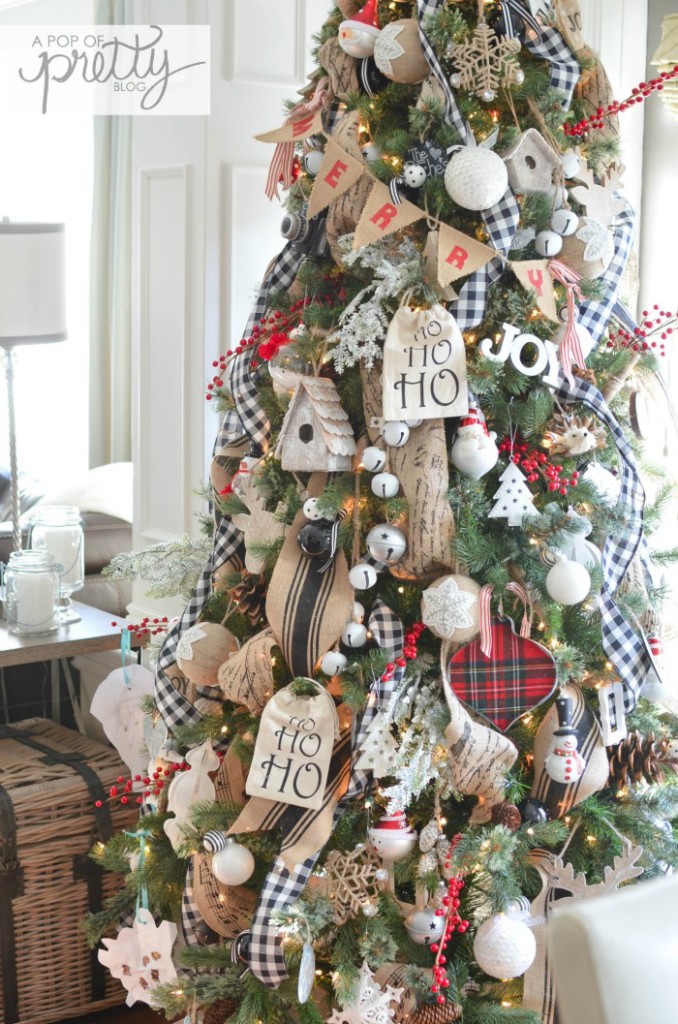 My Christmas decorating this year definitely has a cozy cottage vibe, with lots of punchy red plaid decor. However, this is the first year in awhile that I've used red in my Christmas decorating. The last time I used it, I paired it with aqua. But, red can definitely stand on its own during the Christmas season, and it looks fab paired with simple greenery.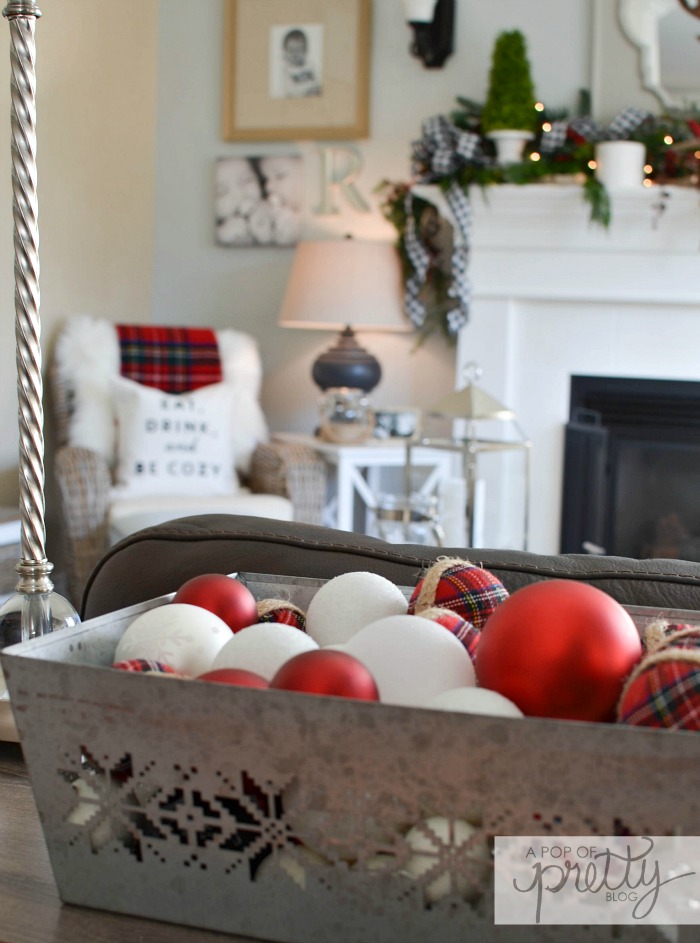 Red Plaid Christmas Porch
The red plaid Christmas theme starts on the front porch. There you'll find lots of cottage Christmas touches like a rustic sleigh that hangs on a simple pine wreath with red berries.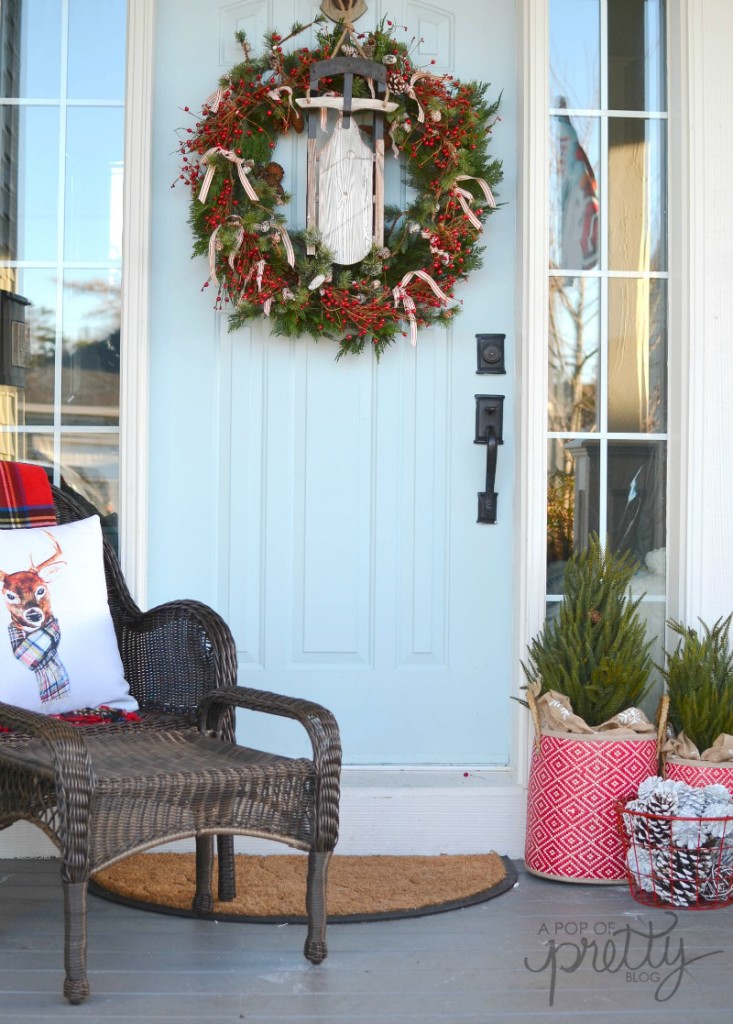 In addition, I placed a red plaid over a wicker chair and paired it with this deer pillow to create a traditional and festive statement.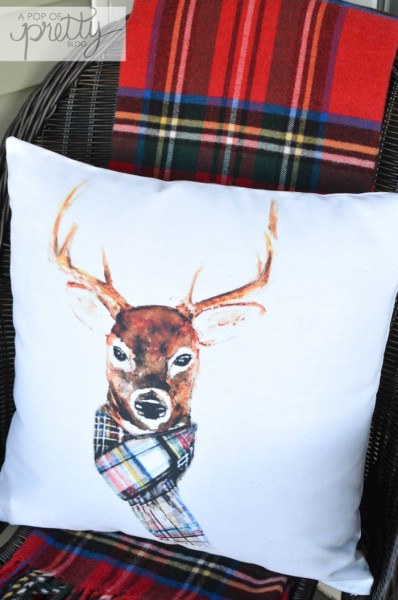 Also, I added this sweet, rustic sleigh to my traditional Christmas wreath to fit with the cottage feel of my red plaid Christmas theme.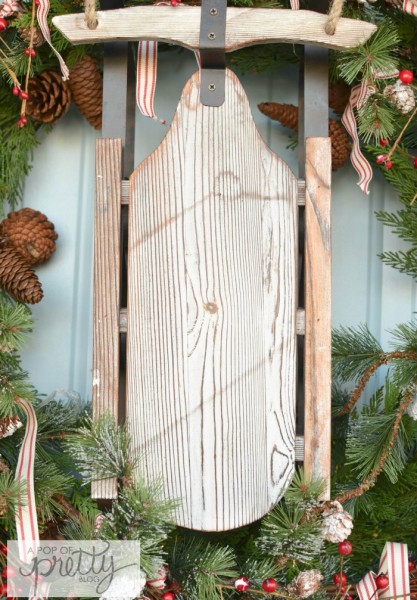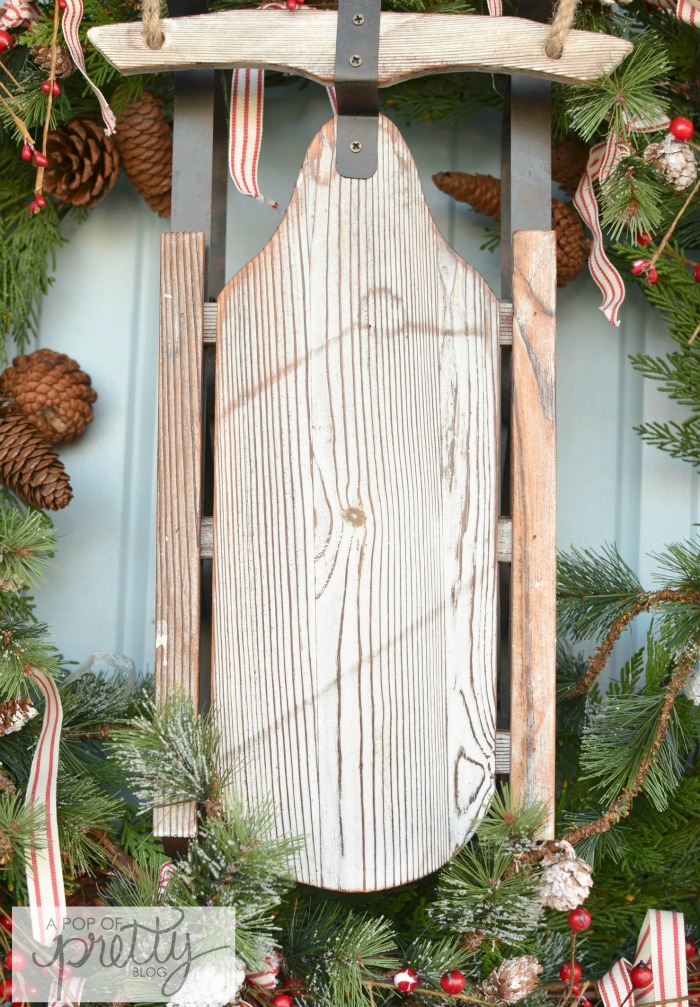 The red plaid Christmas throw looks pretty paired with some texture provided by these two little trees in red baskets. I love how they have a rustic, cottage Christmas feel.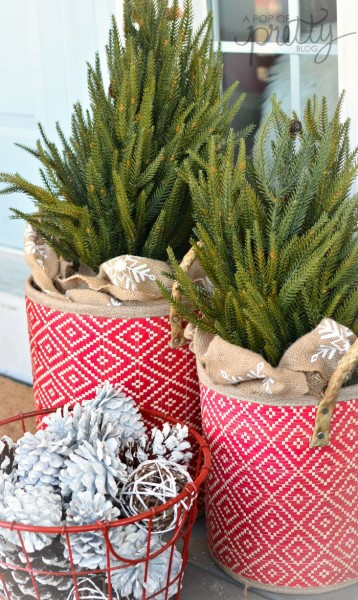 Inside in the foyer, I've added a few nods to the season, but it's such a small space. So, I tried to keep things simple. This burlap and red plaid Christmas shopping bag was a fun find that fits the theme perfectly.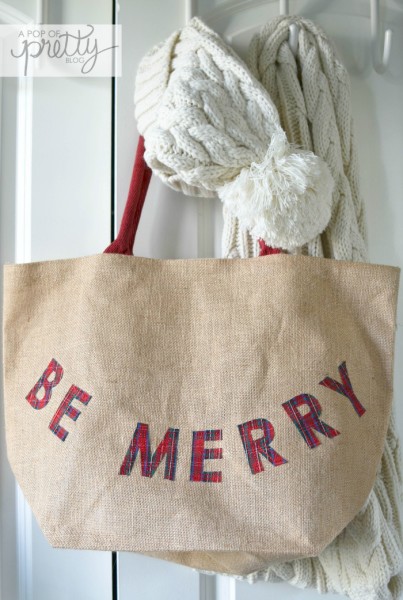 In keeping with the cottage Christmas vibe on the front porch, our staircase is decorated with black and white buffalo plaid ribbon. It's set against some simple greenery and red berries, and a few rustic touches.
Staircase Railing with Buffalo Plaid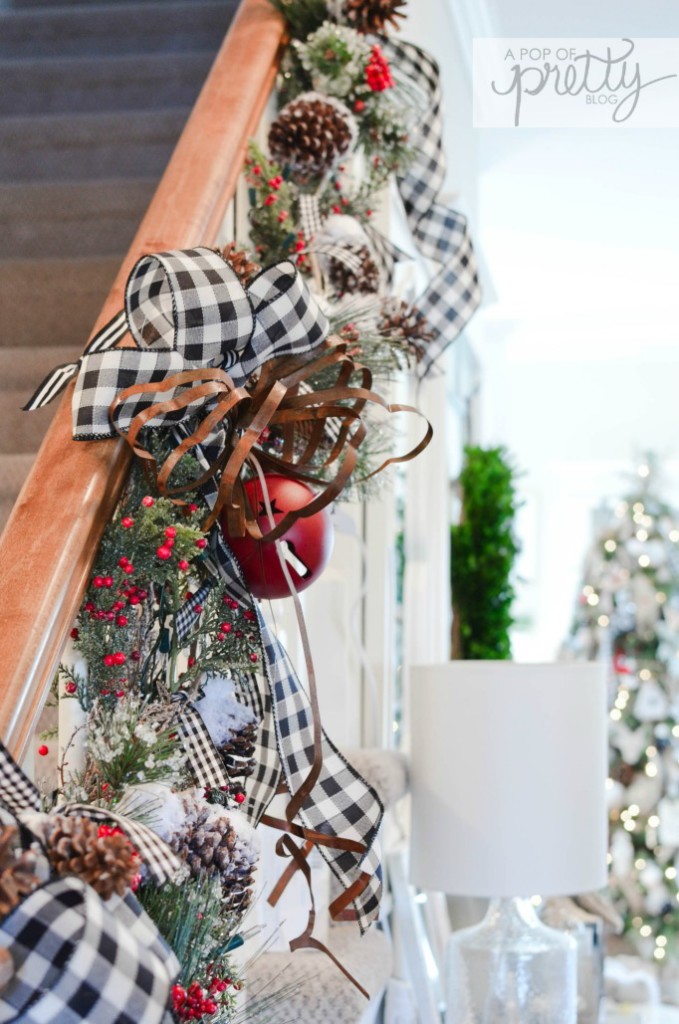 In addition, there are white lights in there, and at night it looks really pretty against our foyer gallery wall.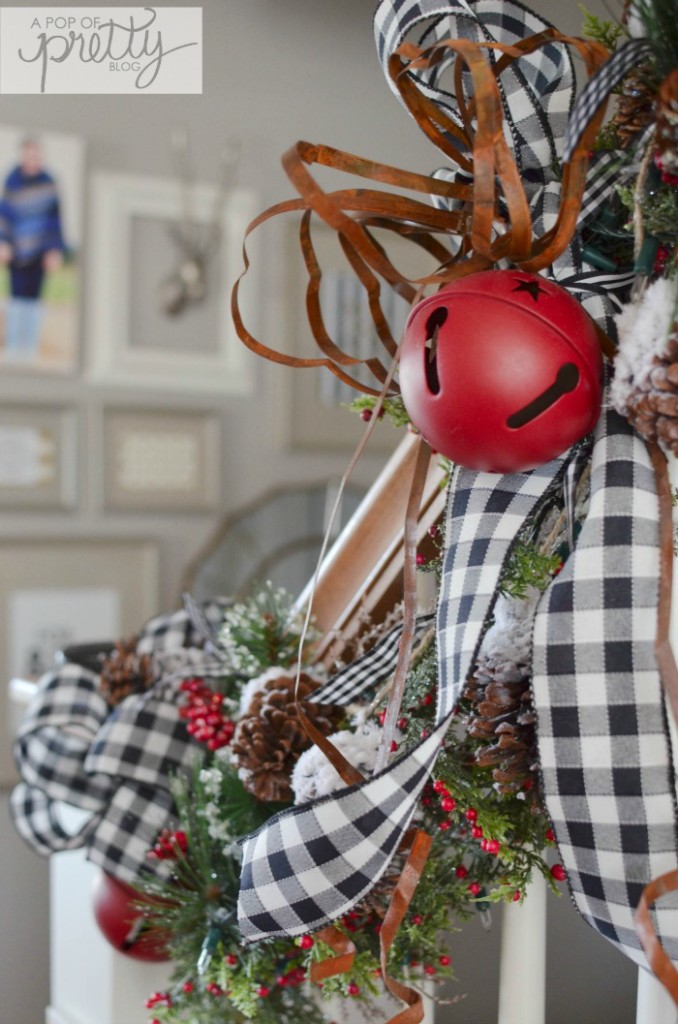 Moving along, in the kitchen, we have a few simple cottage Christmas touches. For example, as a centrepiece, I used a boxwood wreath around a large hurricane filled with pine cones and mini birch logs. The greenery looks so pretty set against the pops of red plaid Christmas decor throughout the space.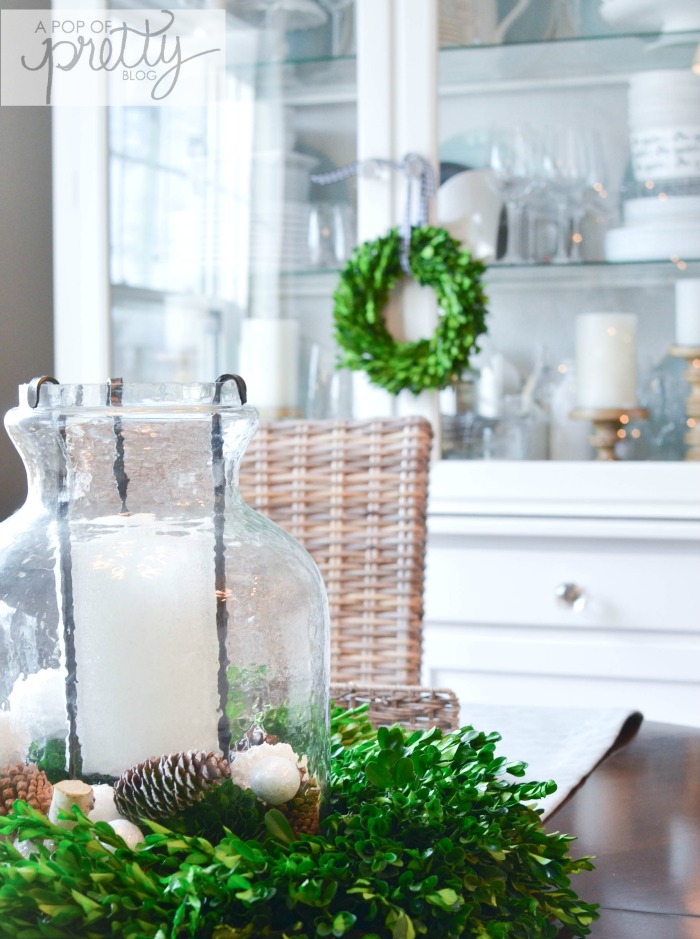 Also, I added some greenery with red berries to the top of our white hutch.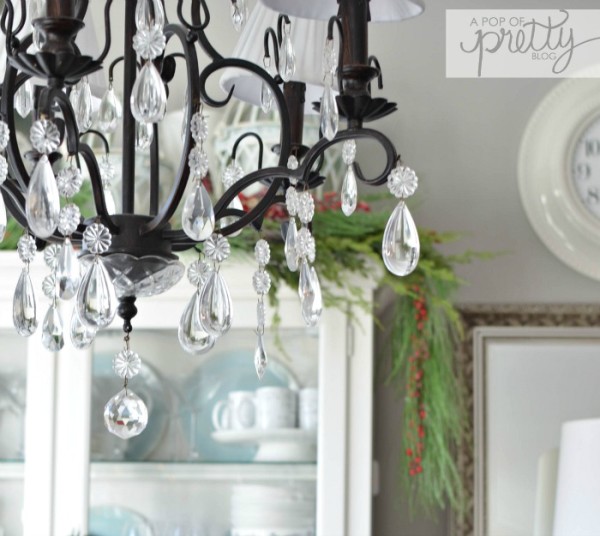 Red Plaid Christmas Mantel
Next, let's move to one of my favourite rooms in our home: our family room. It's where our fireplace is, and it's the room where we spend most of our time. In this space, I complemented the red plaid Christmas decor with some simple buffalo plaid ribbon.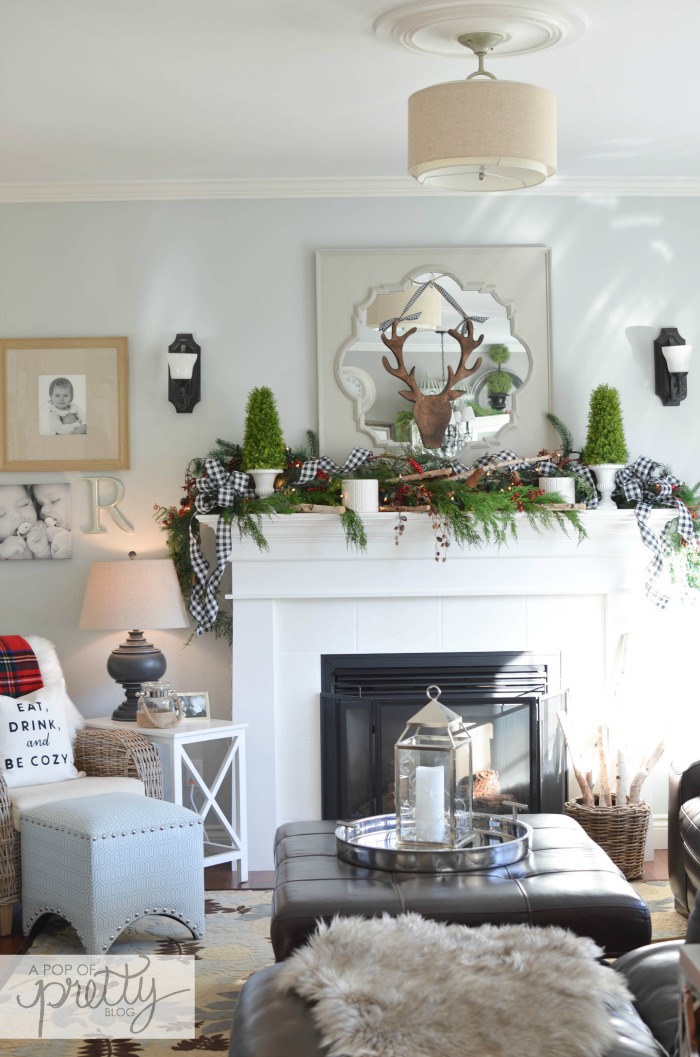 Additionally, the berries in the mantel greenery create a few pops of red that coordinate with the red plaid throw on the arm chair.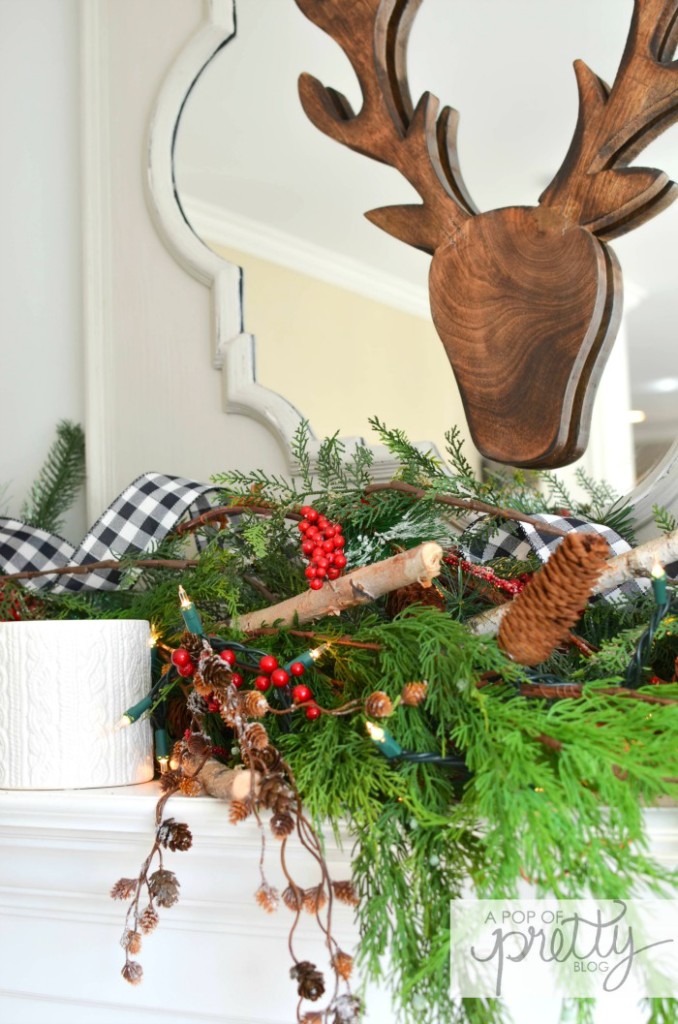 All in all, I love how the red plaid makes this room even more cozy than usual.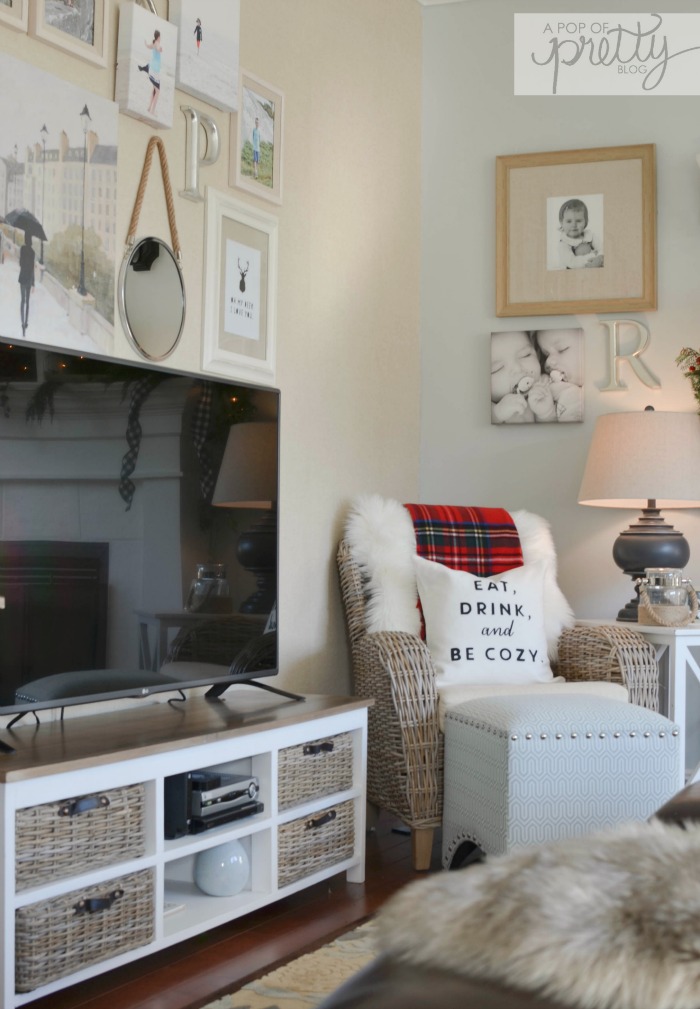 Now, let's take a look at the fireplace mantel which is also decorated in a cottage Christmas style, with lots of greenery and buffalo plaid. I really love how the crispness of the black and white ribbon plays with the red plaid Christmas decorations on our nearby tree. In addition, the wooden deer head adds a bit more cottage whimsy.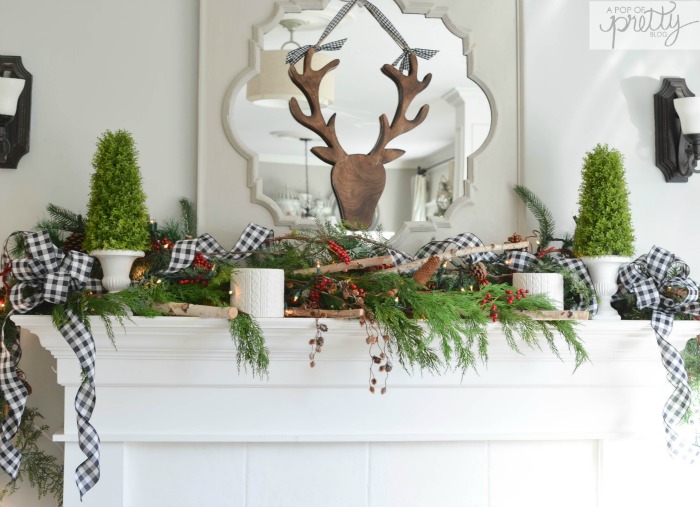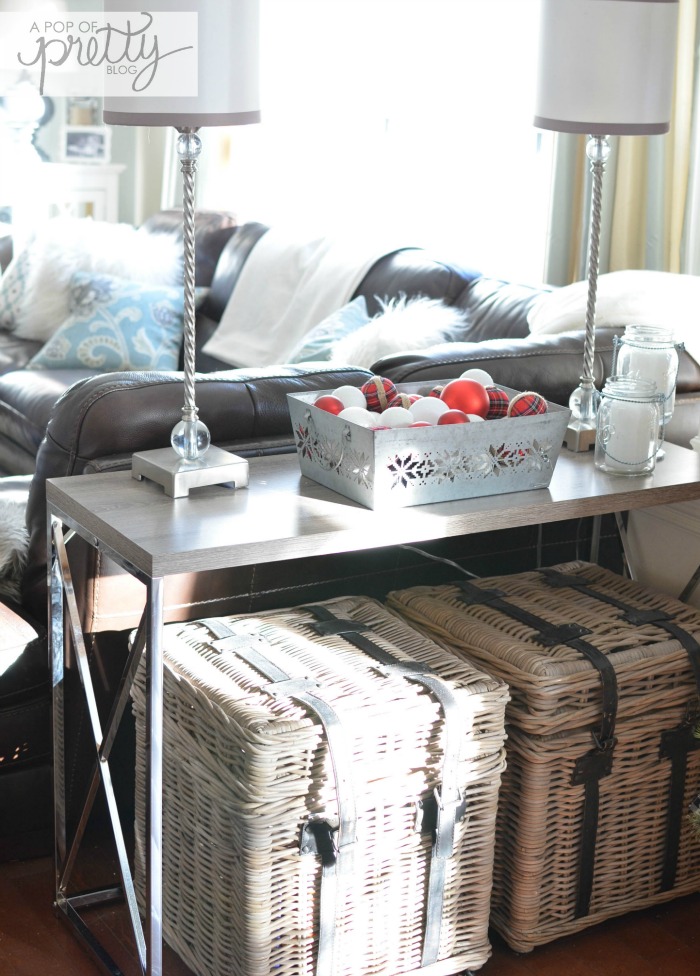 Red Plaid Christmas Tree
Next, let's move on to the star of the show, our red plaid Christmas tree! This tree was recently featured in Women's Day magazine's 2018 round up of "30+ Christmas Trees that are Straight Up Magical"! Also, it was featured in the 2017 Christmas edition of Cottages and Bungalows magazine. Obviously, I'm very humbled and thrilled!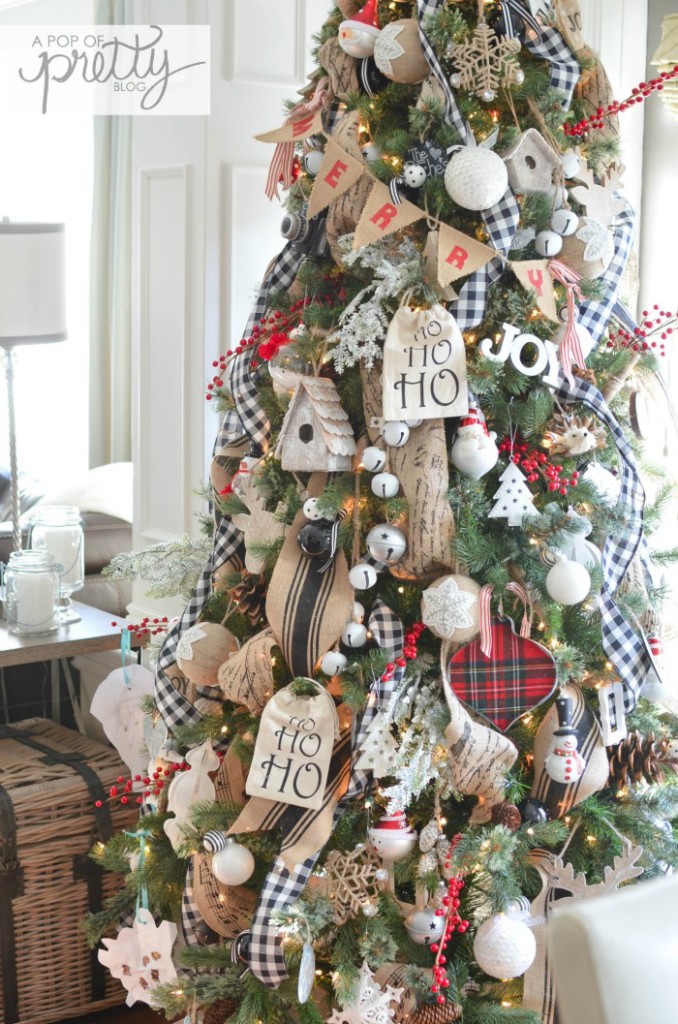 This Christmas tree is chock-a-block full of red plaid cottage fun! I paired some DIY red plaid Christmas decorations with black and white buffalo plaid ribbon and burlap garland.
Pssst….If you're wondering how to put ribbon on a Christmas tree so it looks like this, you can follow my easy tutorial by clicking below:
On the tree, I used the same burlap as last year, but accentuated it with crisp black and white buffalo plaid ribbon. It is filled with lots of cottage Christmas decorations, like bird houses, rustic bells and red berries.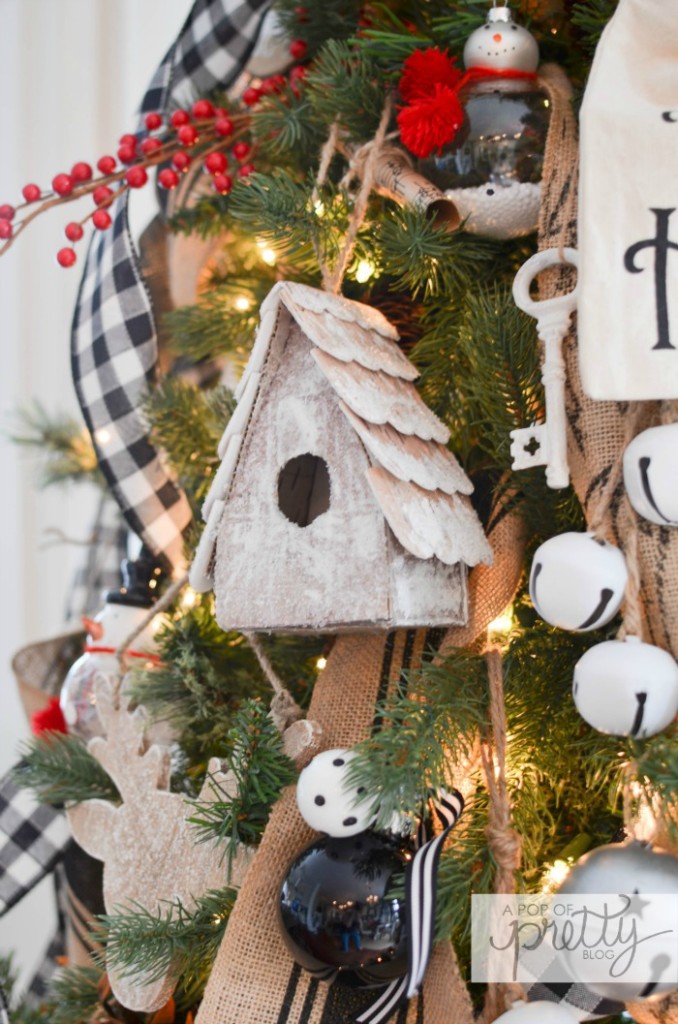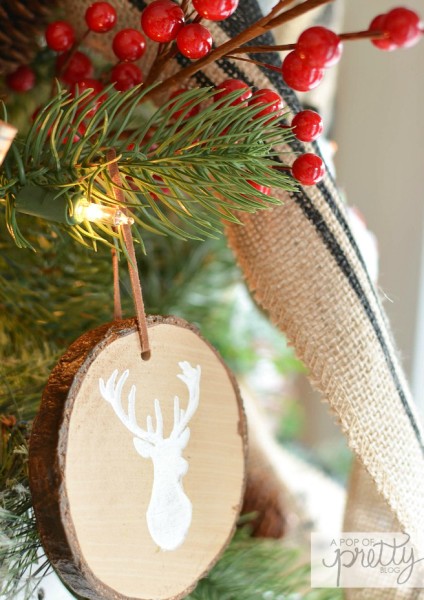 I used mostly red, white and wooden Christmas decorations which keeps the look simple and light even with SO MUCH on this tree! This red plaid Christmas decoration was a DIY project. I simply used modge podge to add red plaid fabric to a galvanized metal decoration I found at a craft store. Easy peasey!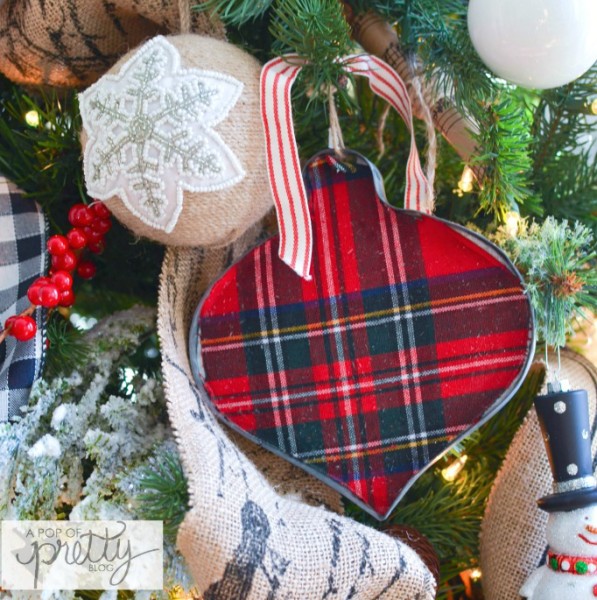 If you'd like to know my method for adding decorations to a Christmas tree to create this full look, you can find my step-by-step instructions by clicking below:
DIY Red Plaid Christmas Sign
Finally, you can find this plaid deer head sign on our back deck. We don't spend much time in the yard in the winter, but I can see this little arrangement from my kitchen window. I shared the tutorial for this easy diy project yesterday (see DIY Plaid Deer Head Sign).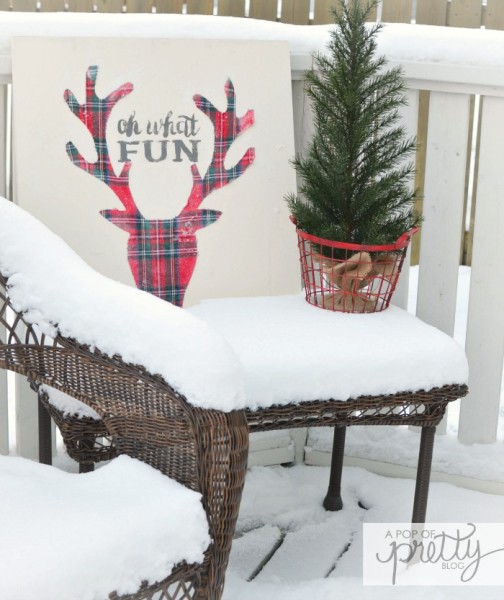 Now that my own Red Plaid Christmas Home Tour is complete, I am going to spend some time touring the gorgeous homes of my Canadian blogging friends who opened their homes all this week for Christmas home tours. I hope you will too! You can find all the links at the end of this post.
Get the Look
Want the same look of my Cottage Plaid Christmas Home Tour? I've curated a collection of products that will do just that, and I shared all the shopping sources in my Christmas Decor Shop. Click below to take you there!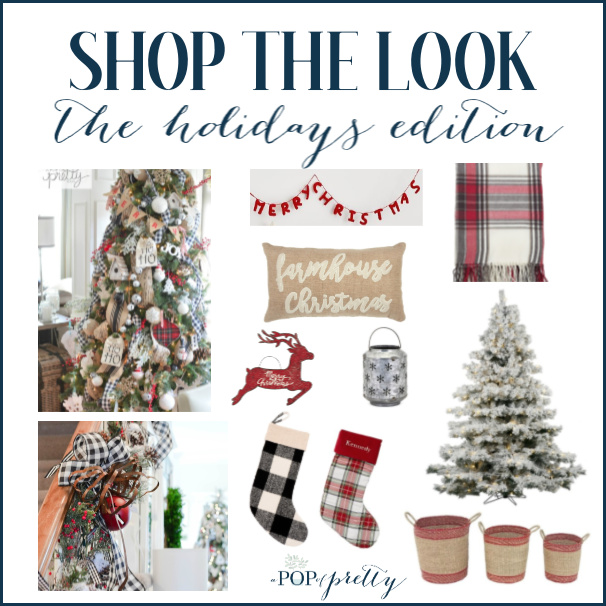 Share the Love
If you liked this home tour, please consider sharing the love by pinning this to Pinterest for others to find:
Looking for Christmas tree decorating ideas?
In addition to my red plaid Christmas decor found in this post, here are some of my all time favourite past Christmas tree decorating posts.
Navy Blue and Silver Christmas Decor Theme featured in Women's Day)
All White Christmas Decorating Theme
Winter Wonderland Christmas Decor Theme (featured in Women's Day)
DIY Disney Frozen Christmas Tree
Nutcracker Christmas Tree (Sugar Plum Fairy)
Oh, and don't forget to read:
My #1 Christmas Decorating Tip
Canadian Bloggers' Christmas Home Tours
Monday:
Tuesday:
Wednesday:
Thursday:
I hope you enjoyed this Red Plaid Christmas Tour and found some inspiration for your own home.
Until next time, happy holiday decorating!
K.