This post was most recently updated on January 17th, 2022
I don't think I ever told you how we did a cement tile wall in our nautical-inspired cottage. (Except on Instagram, of course!  If you don't follow me there yet, what are you waiting for? You can find my Instagram feed at the bottom of this post.  Just hit the follow button to bring you there.)
I truly love cement tile, sometimes called encaustic tile.  It's known for it's bold pattern and statement making aesthetic.  I definitely wanted to use it somewhere in our cottage build last year.  I found a few photos of cement tile used in a bathroom that inspired me, but mostly, they were used on the floor. Typically that's where cement tiles are installed.  They actually look a-MAA-zing on the floor of a bathroom where everything else is 'quiet', like the photo below…
But, then, just as we were building our cottage, a blogger I've been following for years posted about her bathroom renovation. (<—To see it, click over to her blog, and then come on back!) She did a cement tile wall in her ensuite behind her sinks.  The photos of the reno gave me aaaall the feels. I'd never though of using cement tile on a wall until I saw her bathroom. The more I thought about it, it just made sense.
Patterned cement tile is a showstopper.  So why limit it to the floor? After all, if you're standing on it, you're not looking at it! On the wall, it would act as a backsplash and also create an interesting feature wall at the same time.  I was determined to do this in our cottage ensuite too!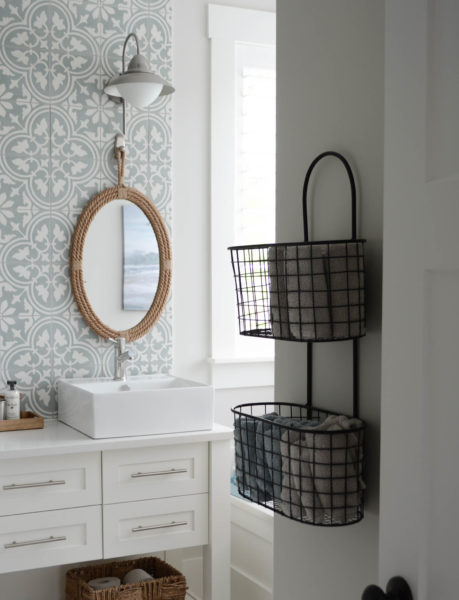 Using her renovation as my inspiration, I set out to find the right cement tile for the cottage. I wanted a beachy feel, so chose this soft blue and white patterned one. I LOVE IT.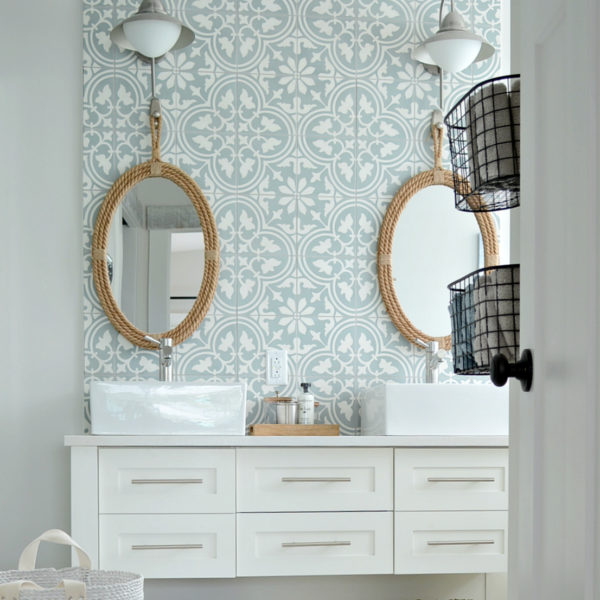 And, of course, next I had to convince the builder and tiler that I hadn't lost my mind.  (Funny, I had to do that a lot during our build 😉 I guess that a cement tile wall wasn't exactly something they'd seen before.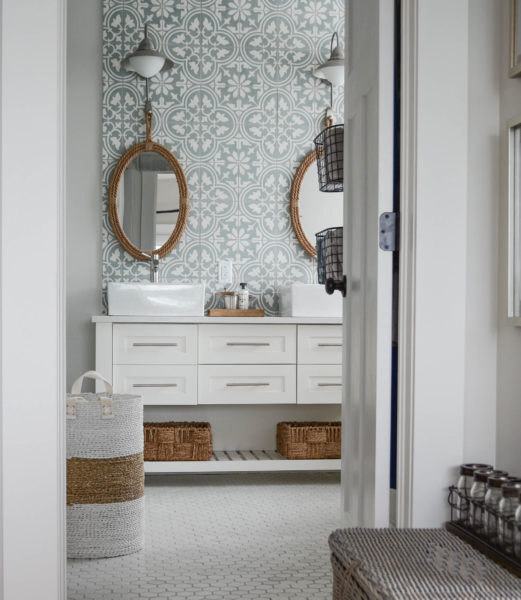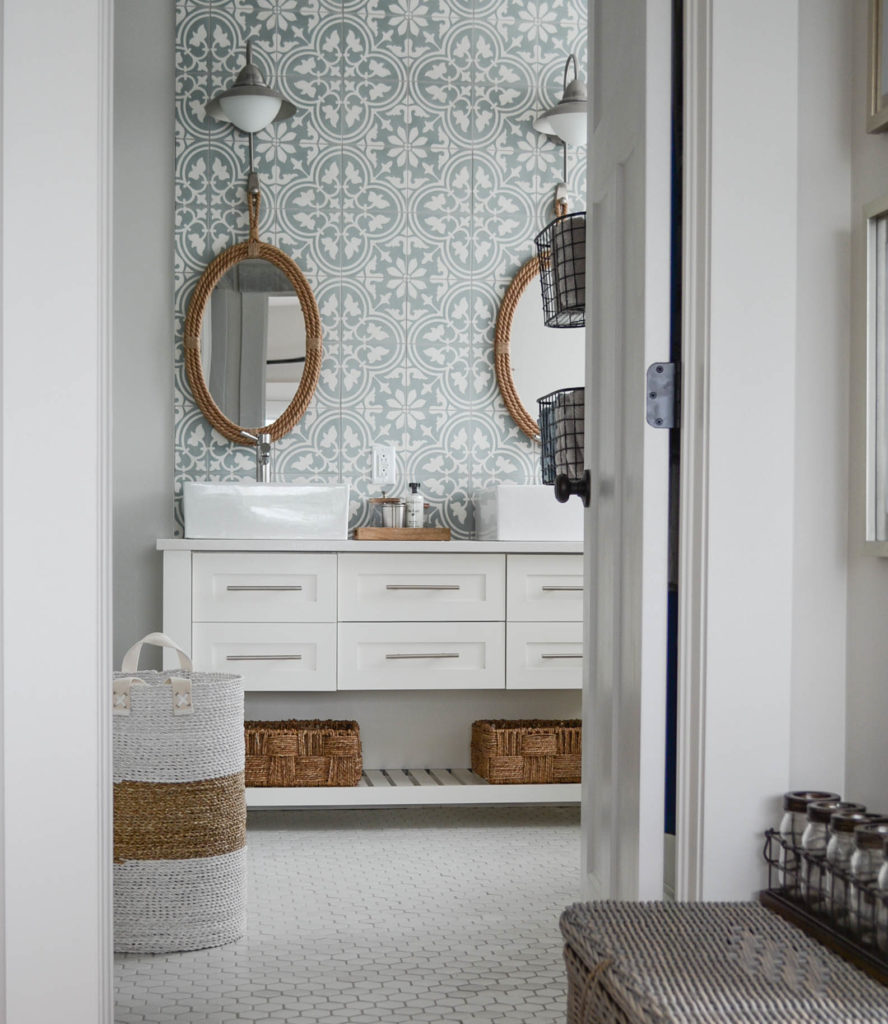 I don't blame them for their initial skepticism. It's hard to imagine how fabulous cement tile will look on a wall when you are peeking into boxes of individual quarter square tiles that don't make any discernible pattern.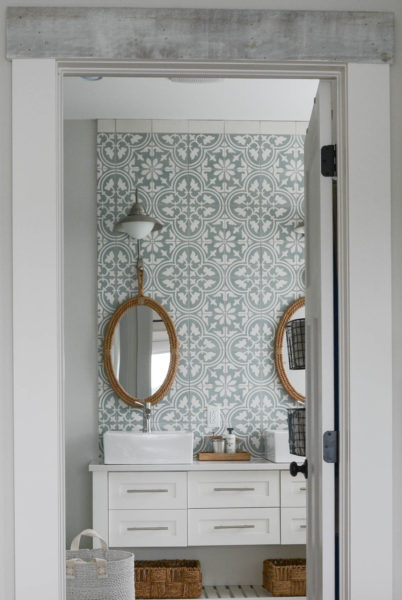 And then, of course, there's the prep work.  I'm not sure how they felt about having to seal the tiles first, but I know it wasn't a thrilling proposition for them.  Encaustic cement tiles require about 3 coats of sealant before they are ready to be installed.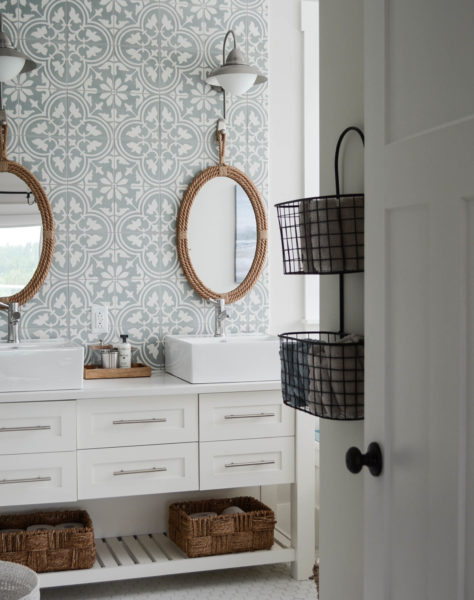 In was a lot of work, but well worth it. In the end, I think the crew loved it just as much as me.
This feature wall ended up creating one of my favourite spaces in our whole cottage.  I know some people fear that they'll tire of a bold pattern like this, especially when it's positioned so prominently.  But, cement tile is timeless.  And, if you can find a pattern that truly speaks to you (like this one did for me), then I can't imagine ever getting sick of it.  I'm so glad we decided to do it.
So would you ever install a cement tile wall in your home?  Soon, I'll show you how we used a different pattern in our cottage foyer and laundry room floors.
Until next time,
Kerri
FYI, My local source for this tile was DSF Granite.