In this article: You'll find a simple, DIY rope-wrapped lamp tutorial. Make a pretty coastal-inspired lamp with an old lamp and a few rolls of jute rope. This is awesome lamp makeover is a project you can do with minimal supplies and just an hour of your time.
Hello, friends. So, I've been wanting to buy a rope wrapped lamp for our summer home for awhile. Jute lamps have a cute, coastal vibe, and add lots of gorgeous texture to a space. But, wowsers, they are super expensive at home decor retailers. And, listen. I'm not usually the type to let an unreasonable price tag come in between me and a home decor piece I love, LOL. But, even I was surprised by how much a rope wrapped lamp costs at retail. I just couldn't bring myself to pay all that money for a little jute embellishing.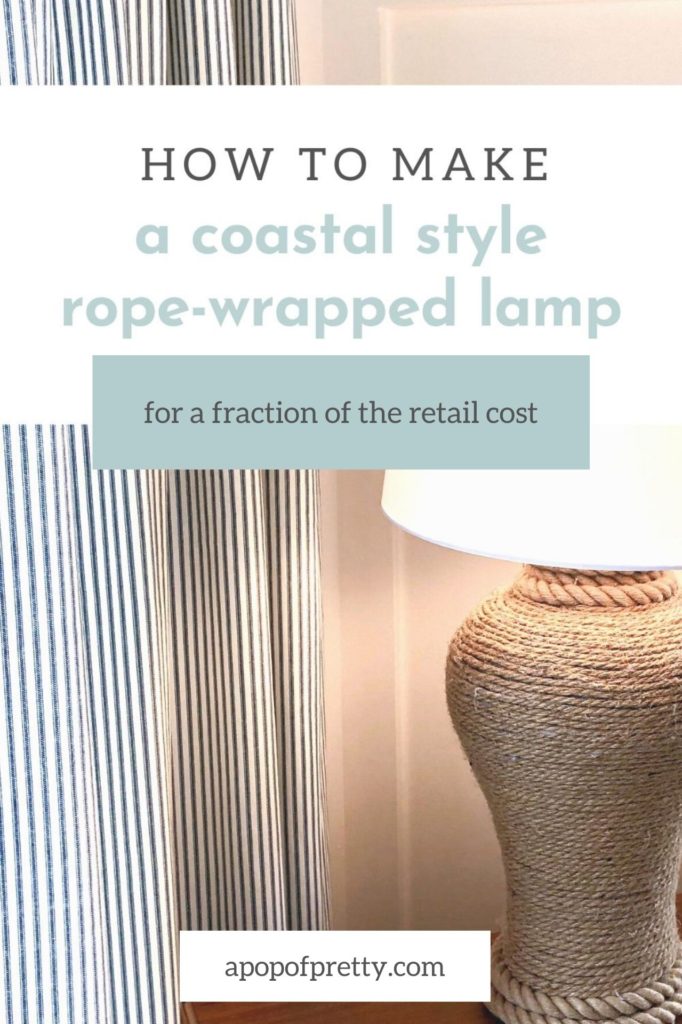 DIY Rope Wrapped Lamp
So , what's the next best thing? Um, hello, a lamp makeover, of course. I'm not sure why I didn't think of a making a DIY rope wrapped lamp sooner! I have an embarrassingly large stock of old lamps in my storage room awaiting donation. So, basically, all that was standing in the way of my rope wrapped lamp dream was some jute and my glue gun. Wondering how to wrap a lamp with rope too? It's so simple, my friends. If you want to add some coastal style to your home with one of these beauties, let's get started.
Jute Lamp Makeover Supplies
All you'll need to wrap a lamp with rope:
Old lamp: Shop your home for an old lamp you no longer love, or find one at a thrift store for a steal.
Jute rope: You can find rolls of inexpensive jute rope at any dollar store or hardware store. You can use the same width for the entire lamp, or use a wider rope at the base and the top of the lamp, like I did.
Glue gun. A glue gun and a plentiful supply of glue gun sticks.
Scissors: You'll need a pair of sharp scissors to cut the jute rope cleanly.
How to Make a Rope Wrapped Lamp
To create your own pretty coastal lamp, you'll need at least an hour of time. But the process is super simple, and you can even do your lamp makeover while watching your favourite show. It just takes patience because it's a little monotonous. Get ready, to wrap, wrap, and wrap!
Step 1
Start adding the jute rope at the base of your lamp. Add a small amount of glue at the back, and begin wrapping your lamp with your first roll of jute. Note: If you want to have a wider rope accent at the top and bottom like mine, cut those pieces of rope piece to size, and add them first.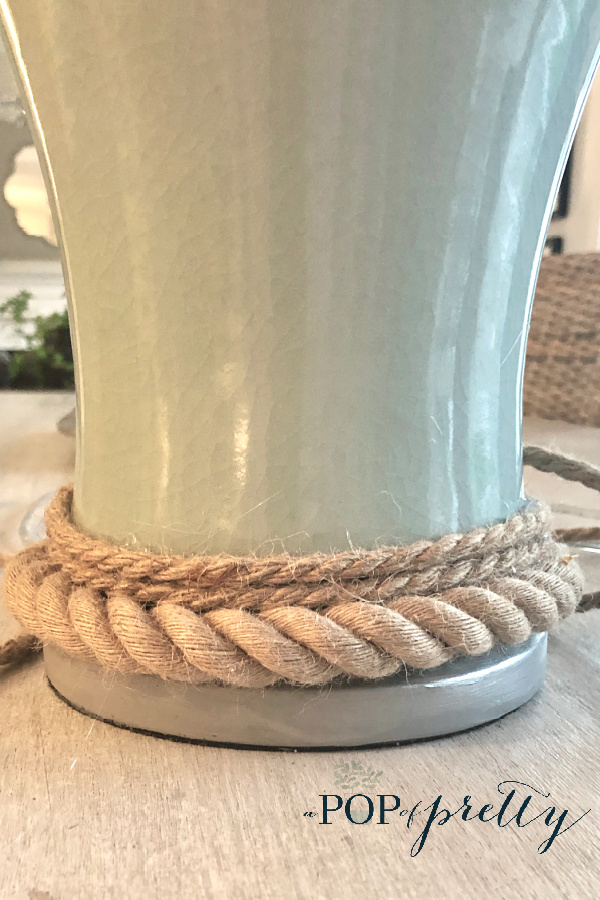 Step 2
Step 2: Every couple of wraps, secure the jute rope with another bit of glue at the front and back of your lamp. Be careful about how much glue you use. You don't want it to seep through edges of the the rope, especially on the front of your lamp. (I say this from experience lol.)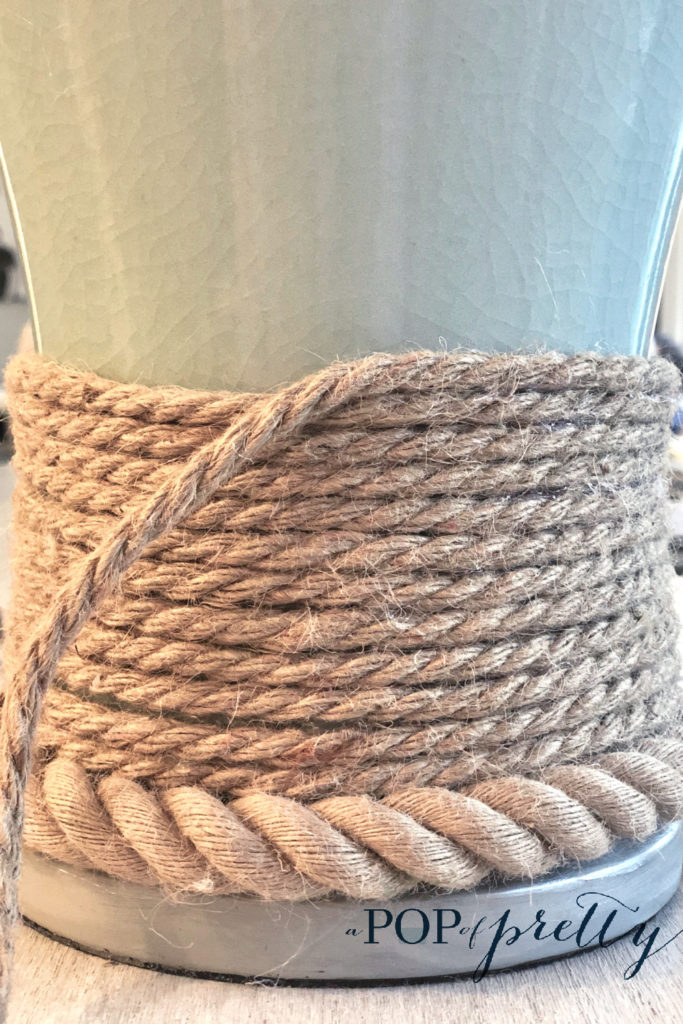 Step 3
Continue wrapping your lamp until the first roll of jute is finished. (If you cut your rope, the look won't be as seamless.) Finish each jute roll at the back of the lamp (not the front) by snipping it cleanly with scissors and gluing it.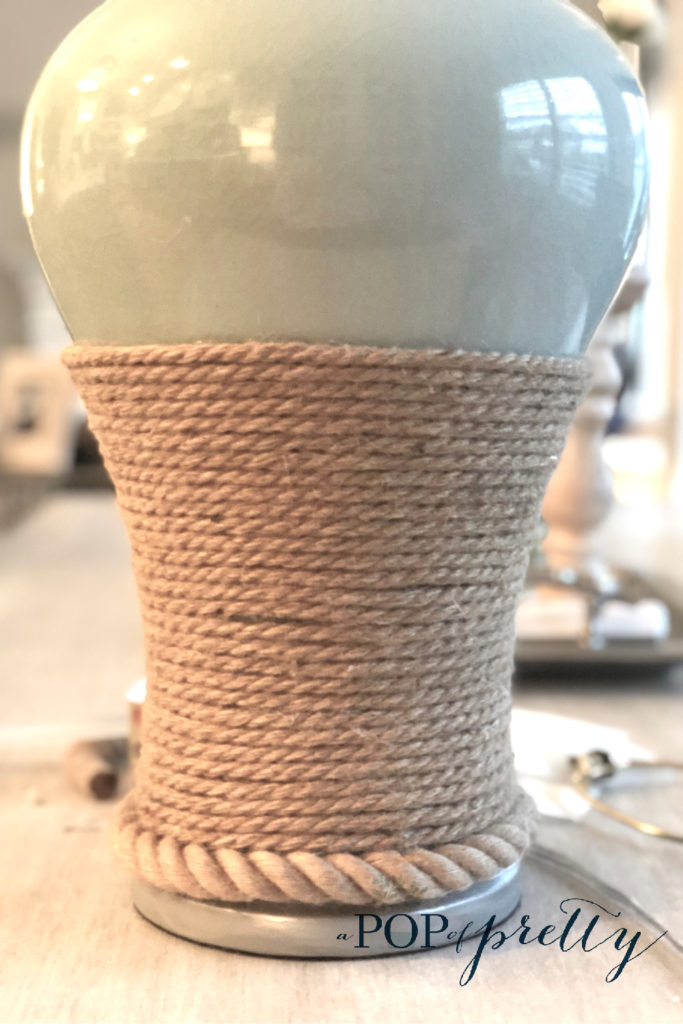 Continue this process with more rolls until you have covered the entire lamp. Yay! You're done!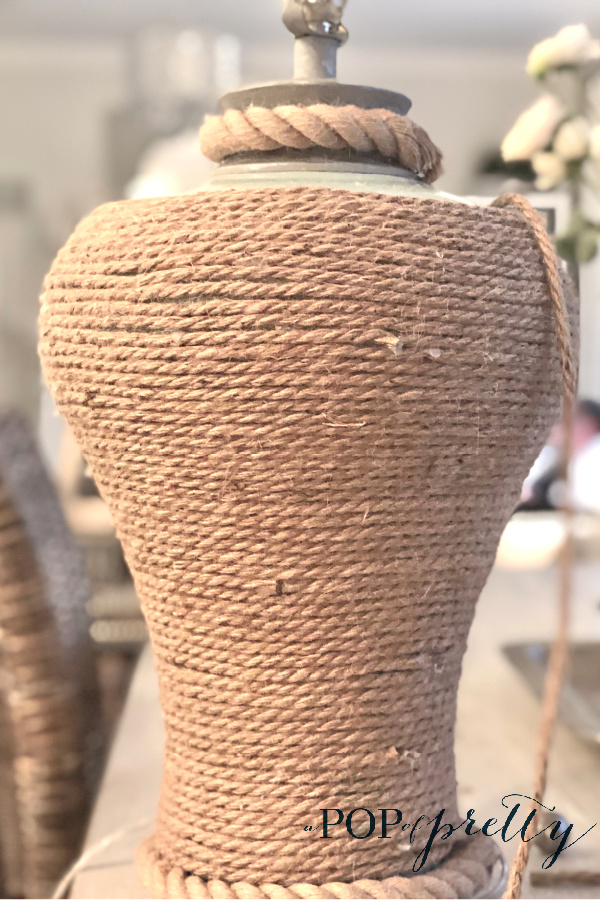 Ta-Da! Easy, Breezy, Coastal Style
Now, all that's left is to find the perfect spot for your gorgeous jute lamp. Oh, and also brag about how your lamp makeover cost you under $20, when the same rope wrapped lamp costs 10 times that at your favourite retailer. Pat yourself on the back, and then enjoy the easy breezy coastal style you added to your space.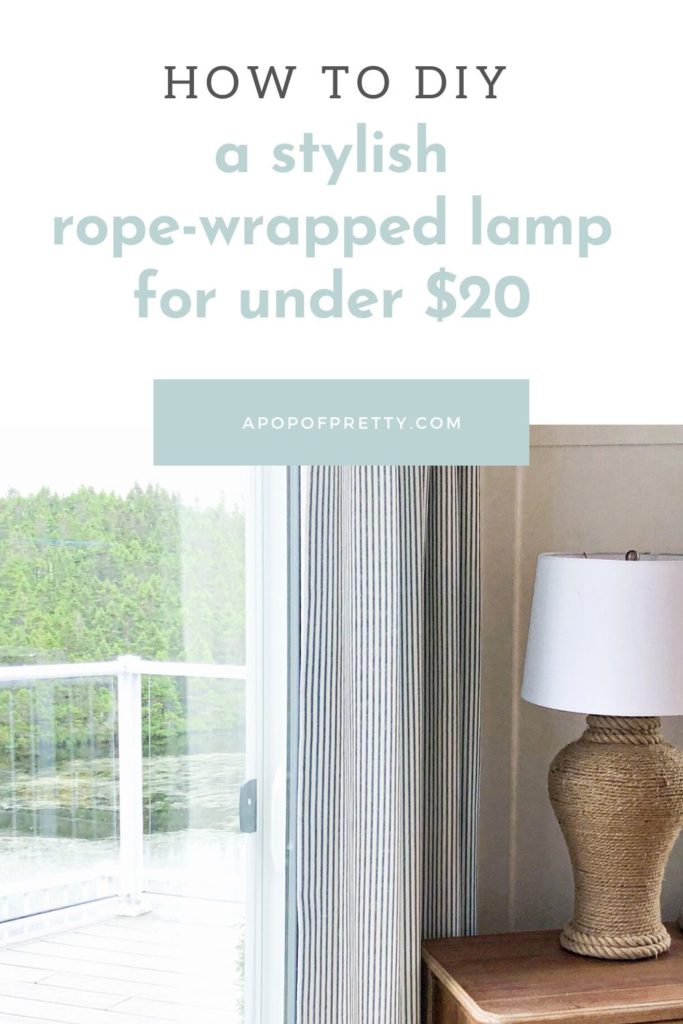 More Coastal Decorating Ideas
Do you love coastal decorating as much as I do? If so, you might love this blog post I did awhile back: Rope Decor: 10 Cottage Decorating Ideas. And, if you love a gorgeous, white-wash finish on shiplap or wood furniture, I also shared a step-by-step tutorial that you might like: How to White Wash Shiplap and Wood Plank.
Oh, and if you are looking for more lamp makeover inspiration, I love this article from The Spruce: 20 DIY Lamp Ideas to Light up Your Decor.
Until next time, friends,
K.