This post was most recently updated on November 11th, 2021
IN THIS ARTICLE: You'll find my pretty Winter Wonderland Christmas decorating theme, including lots of frosty white and silver, accented with red berries! This Christmas home tour includes my Winter Wonderland themed Christmas tree and fireplace mantel, front porch, and other sweet Christmas decor around our home.
My Winter Wonderland Decor Theme
My Winter Wonderland Christmas decorating theme is complete, and I can't wait to share all the sparkly goodness with you. This year, I decided to go with a sparkly Winter Wonderland decor vibe. I used mostly silver, white and blue, and added in some pops of red here and there. Red always makes our home feel cozy this time of year.
Canadian Bloggers Home Tour
This week, I'm sharing my Winter Wonderland decorating theme as part of the annual Canadian Bloggers Christmas Home Tour. This means that, in addition to my home, you can visit nearly 20 other Canadian homes all decked out for Christmas! Just follow the links at the end of my post each day this week.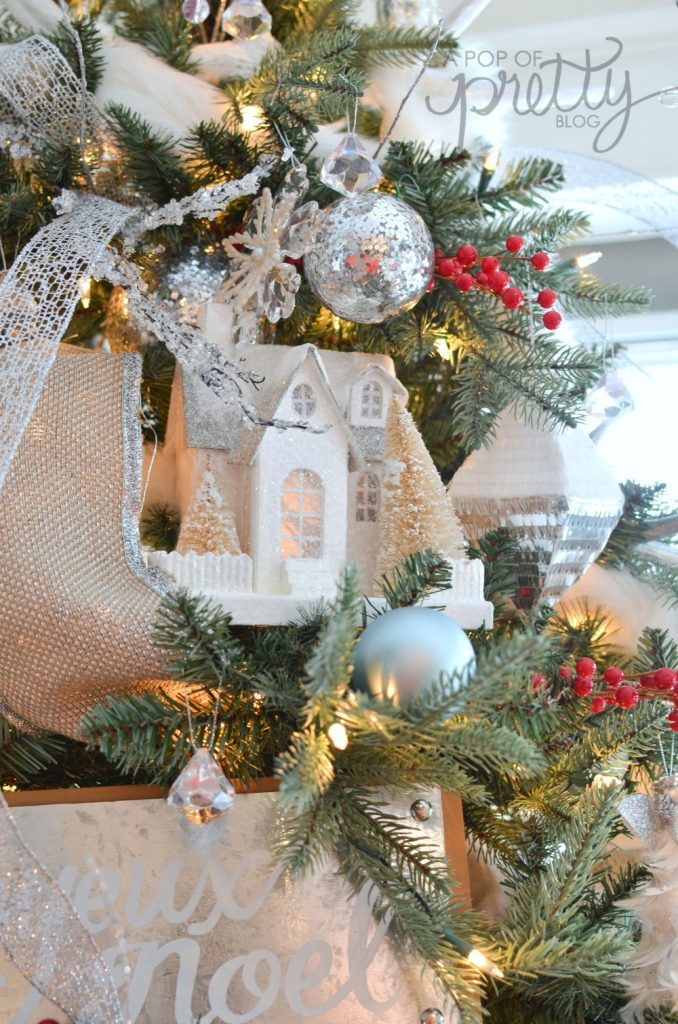 Why I Chose This Theme
Well, it's no wonder I've had a Winter Wonderland Christmas decorating theme on my mind these days. You see, it's been snowing both outside and inside around here. We are in the midst of home renovations which means there is a constant settling of white plaster dust on all our Christmas decor. On the bright side, I've always wanted a flocked tree!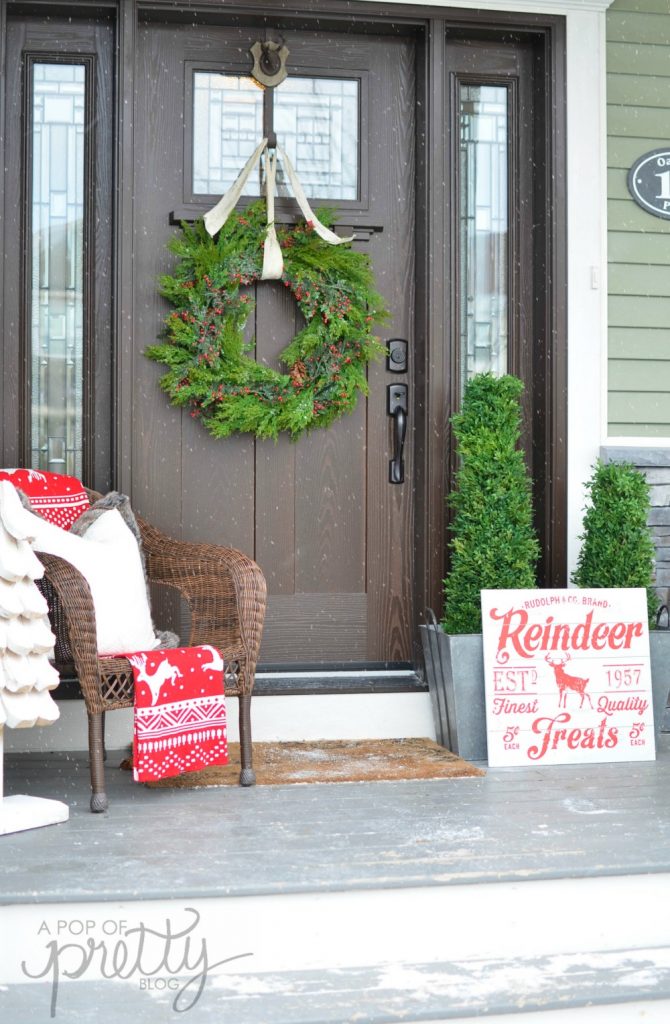 While the plaster dust certainly helps the theme, haha, that's not really why I chose it! I love cool tones (like white, blue and grey) and I figured that a frosty, Winter Wonderland Christmas decorating theme would blend in with my home decor seamlessly.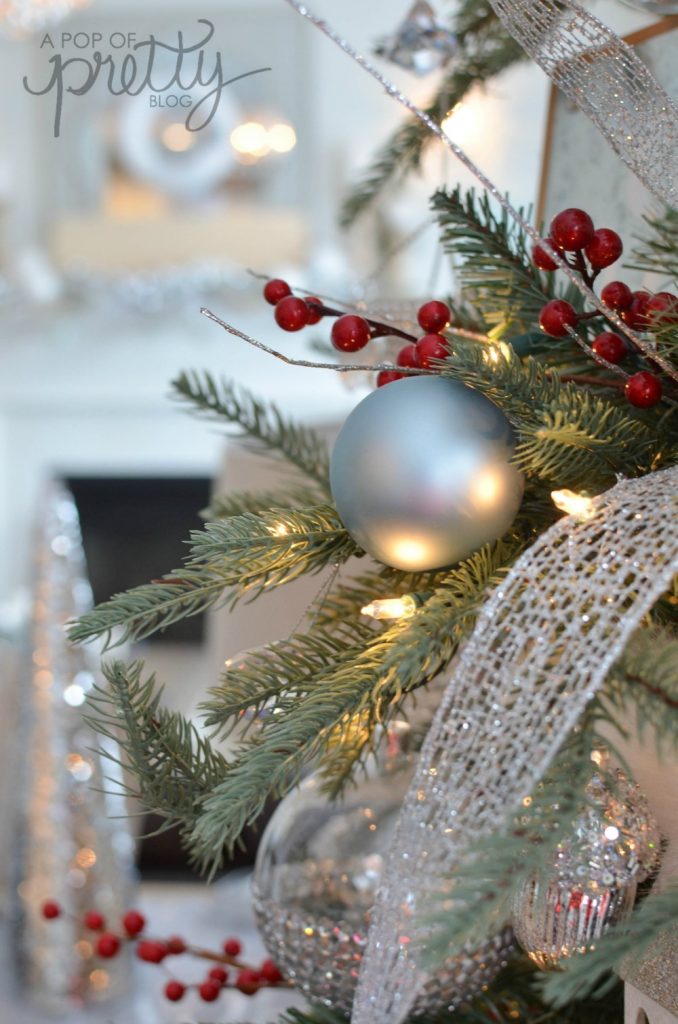 Winter Wonderland Christmas Tree
Christmas tree decorating is one of my all-time favourite things. It's definitely my happy place. I love finding new ways to mix up my Christmas decor and create an entirely new look each year, and this Winter Wonderland decor was right up my alley.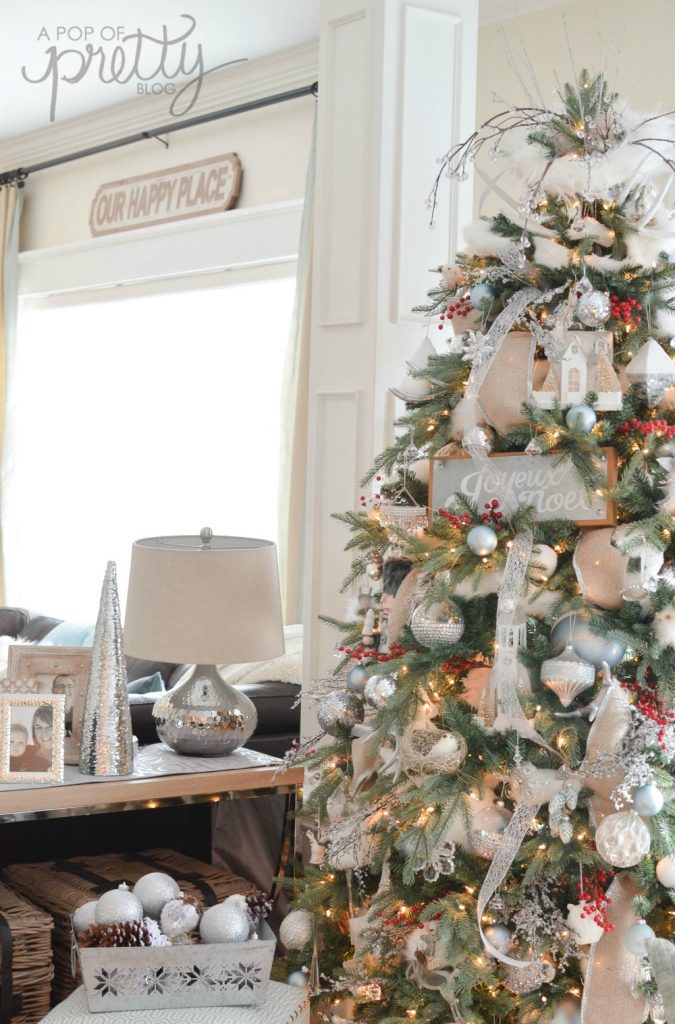 Also, when it comes to decorating a Christmas tree, simplicity is not my forte. This year's Winter Wonderland Christmas decorating theme tree is no exception. If you've visited some of my other Christmas home tours (linked at the end of this post), you'll know that I love a tree that is chock full of all kinds of things, with layers of ribbon and lots of visual interest.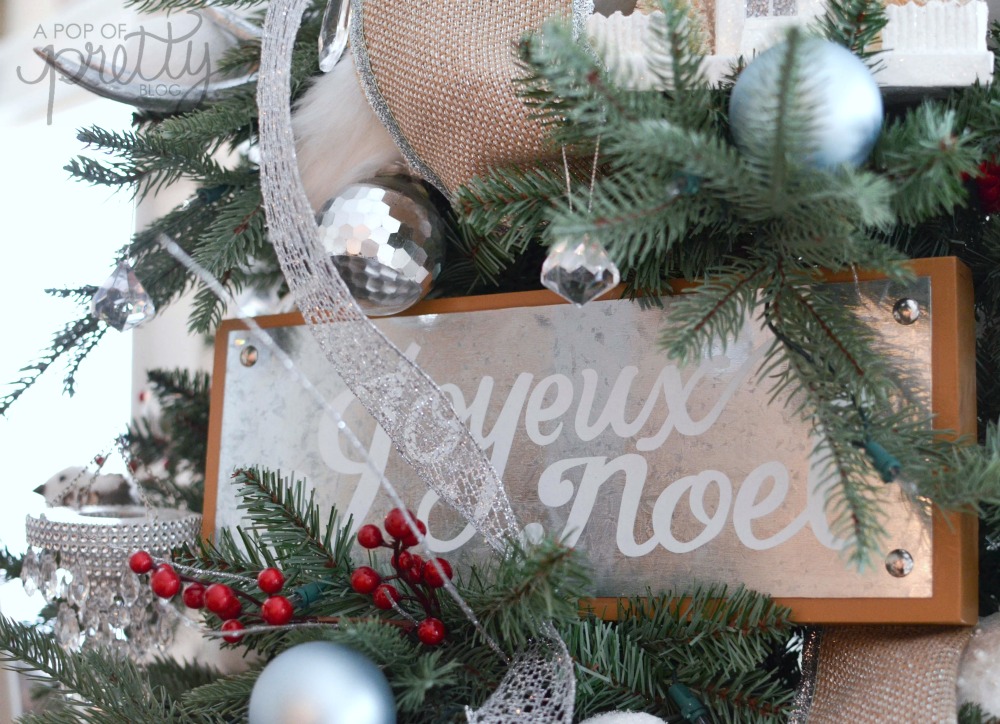 Our Christmas tree is stuffed with all kinds of goodies. The Winter Wonderland Christmas decorating theme is easy to pull off with a mix of silver, white and pale blue Christmas decorations.
To create this look, I also used a mix of sparkly silver mesh ribbon, and a wider burlap that has a silver trim. If you are curious how to put ribbon on a Christmas tree to create a gorgeous, professional look, I have any easy step-by-step tutorial: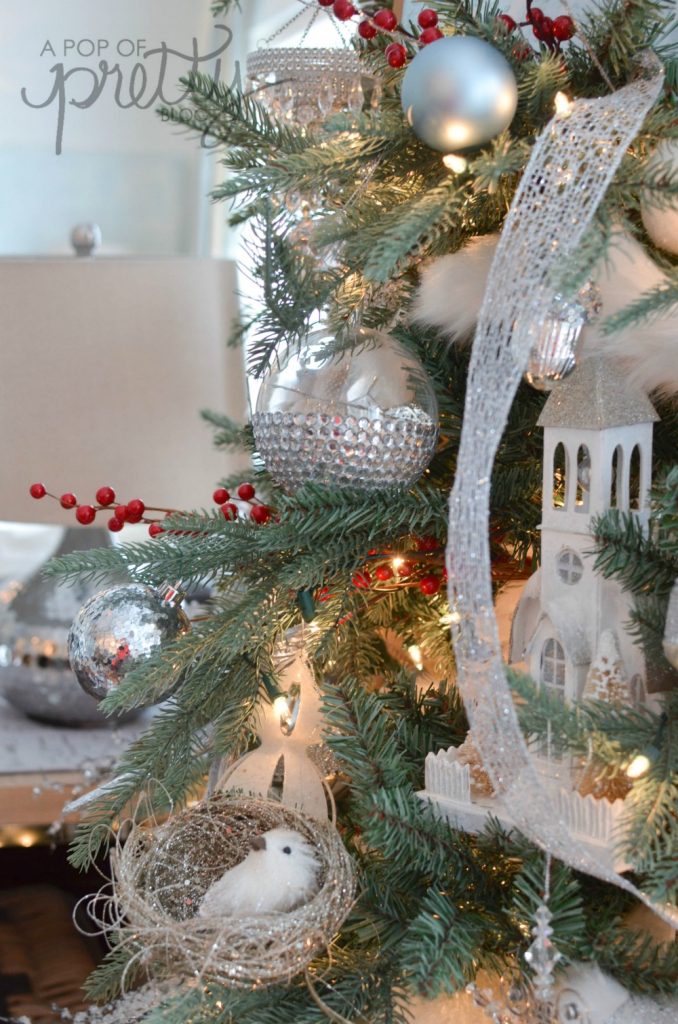 Each year, I choose something unusual to place in our tree as a focal point. This year, I used sweet wintery houses to complete the Winter Wonderland Christmas decorating theme. And, to keep the look cozy, I also used a little bit of red in the tree. I added some red holly berry sprigs here and there to create texture and visual interest.
There's definitely an art to the order that Christmas tree decorations should be placed in order to create a gorgeous Christmas tree. I've created a step-by-step tutorial on what to put on first, in the middle, and the end: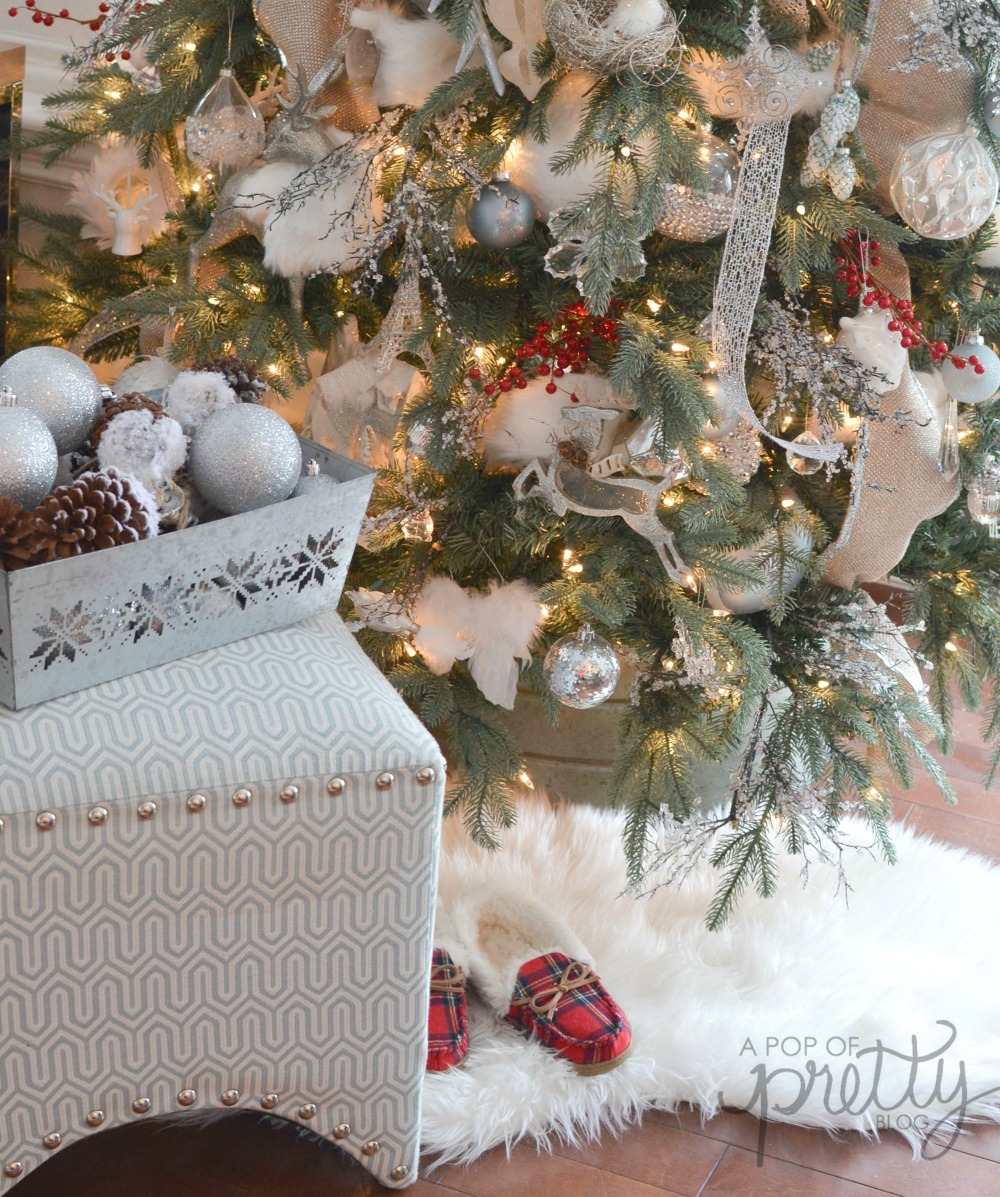 This Winter Wonderland decor was so fun to pull together, particularly the Christmas tree. Even though I decorating this Christmas tree each year, we also have a tree in our basement family room that brings even more joy. That's because it is decorated with our kids' gorgeous crafty creations. Every decoration on that tree has real sentimental value.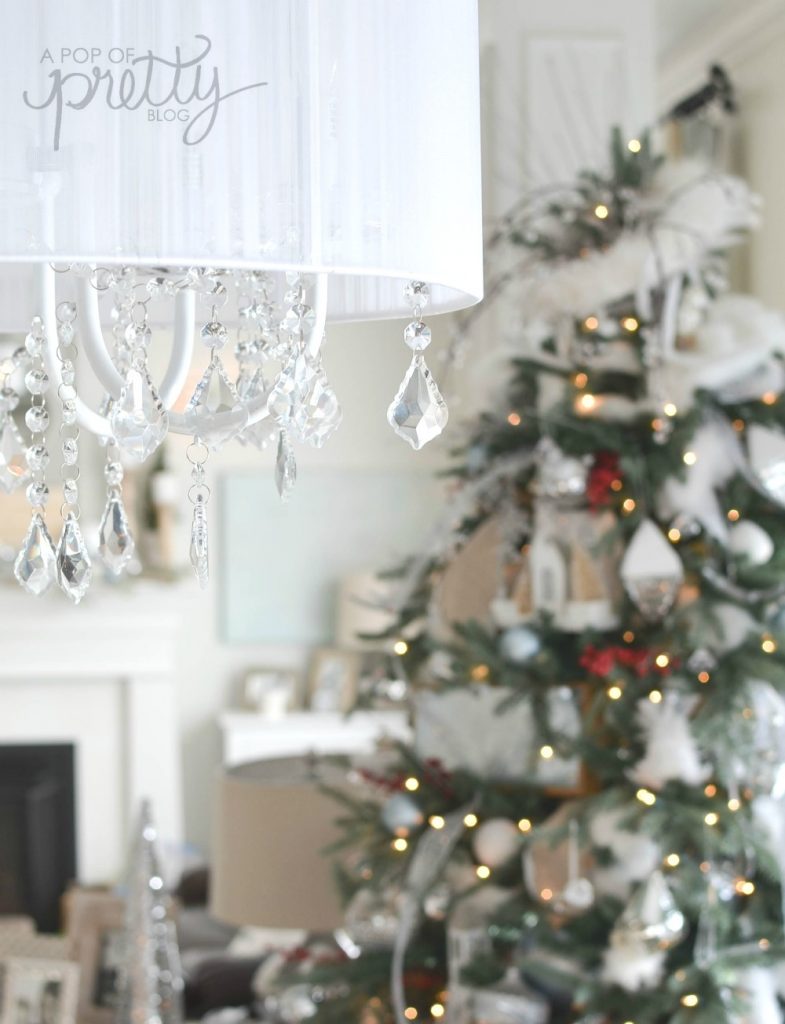 Winter Wonderland Christmas Decorating Theme: The Mantel
Our fireplace mantel is also decorated in the same pretty Winter Wonderland Christmas decorating theme. It has a garland of white and silver Christmas bulbs, white lights, and some wooden candlesticks. I love mixing up glam and cottage styles. When you add a little wood to the mix, glam decor always feels more approachable.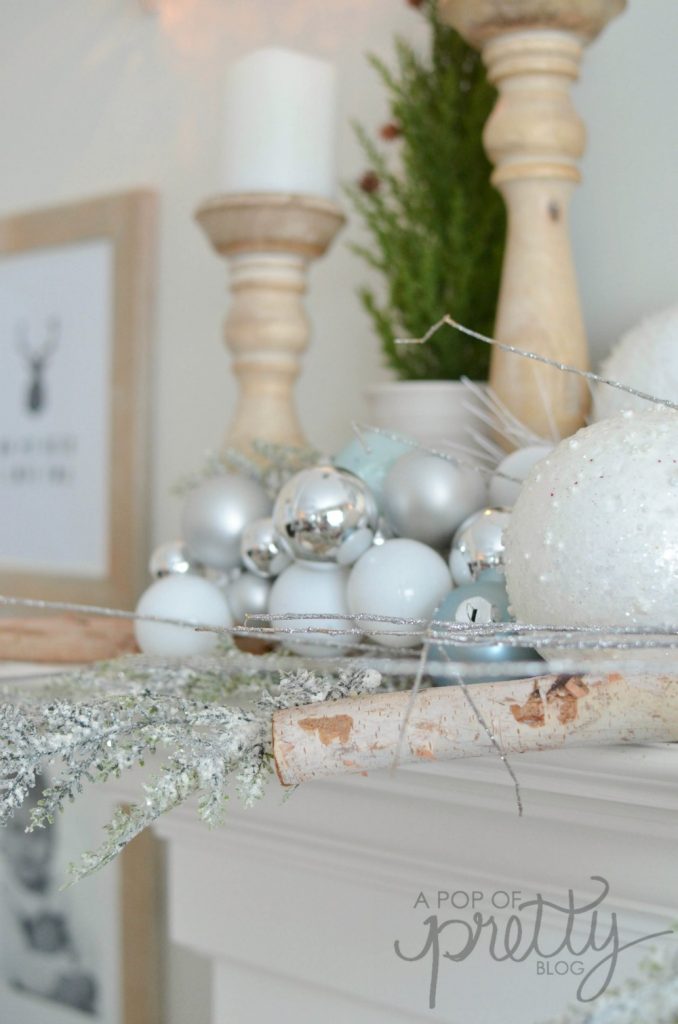 A simple white and furry Christmas wreath above the mantel makes a pretty focal point. I love how everything sparkles and plays off the light fixtures in this space.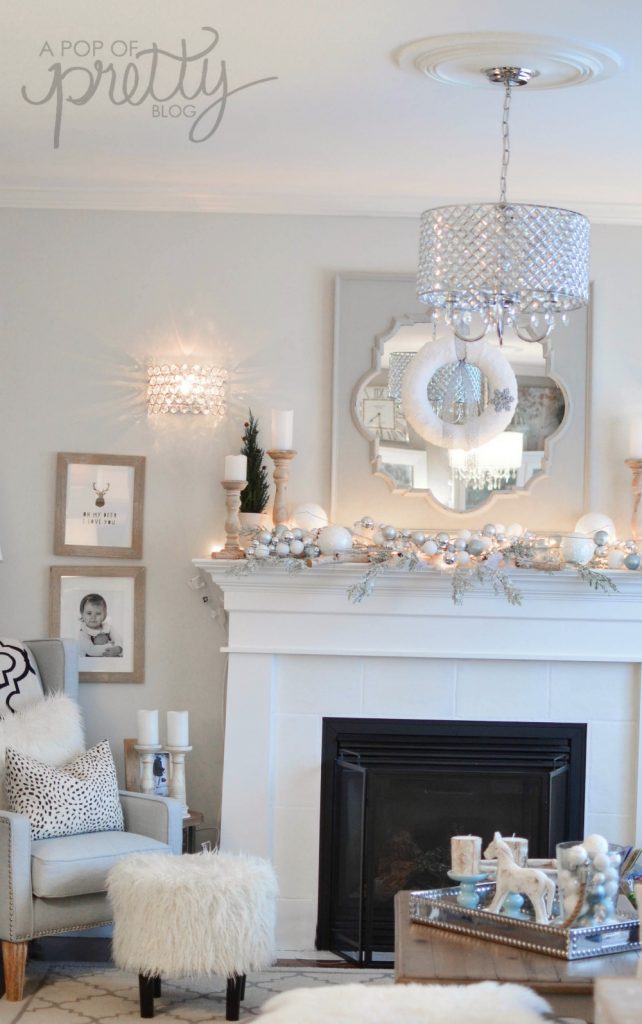 The one thing that I really wanted for this Winter Wonderland mantel was a sign for my with lyrics from "Sleigh Ride". But I just haven't found the time to paint one yet. It's such a busy time of year! If I get around to it, I'll will definitely post a tutorial here. (In the meantime, you can check out this tutorial if you are looking to paint a sign for your own Christmas decor:DIY Vintage Inspired Joyeux Noel Wood Sign.)
Other Winter Wonderland Christmas Decorating Ideas
If you are looking for inspiration to create your own Winter Wonderland Christmas decorating theme, I've also included Winter Wonderland decor in other areas of our home. You'll find sparkly silver, white and blue decorations throughout our main floor, like the dining area.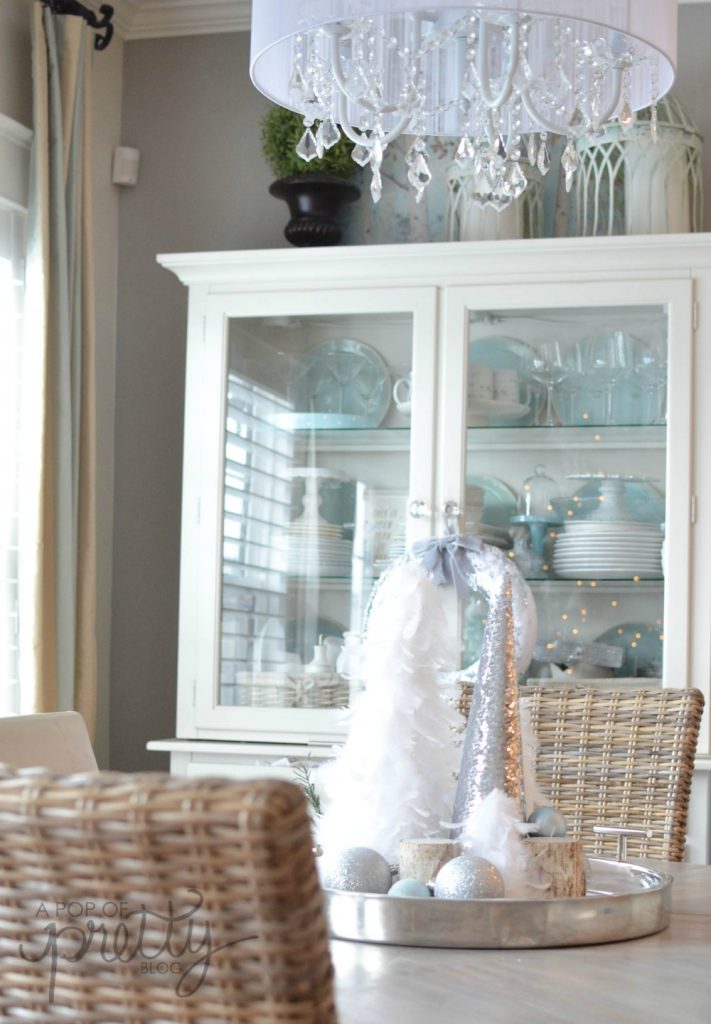 A few feathered and sequinned trees, mixed up with silver and blue Christmas bulbs, carries this Winter Wonderland theme to the table.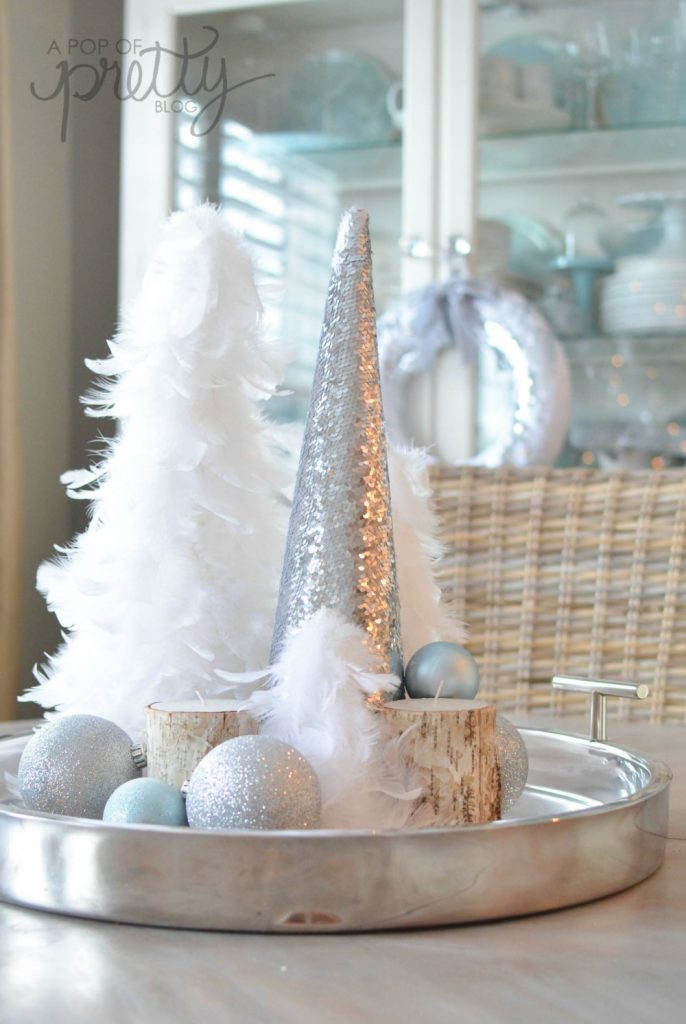 A canvas print of a reindeer (in mostly white and grey with a pop of red) sits on the small console table between the dining room and kitchen. I love how he adds a little life and personality to the Winter Wonderland decor.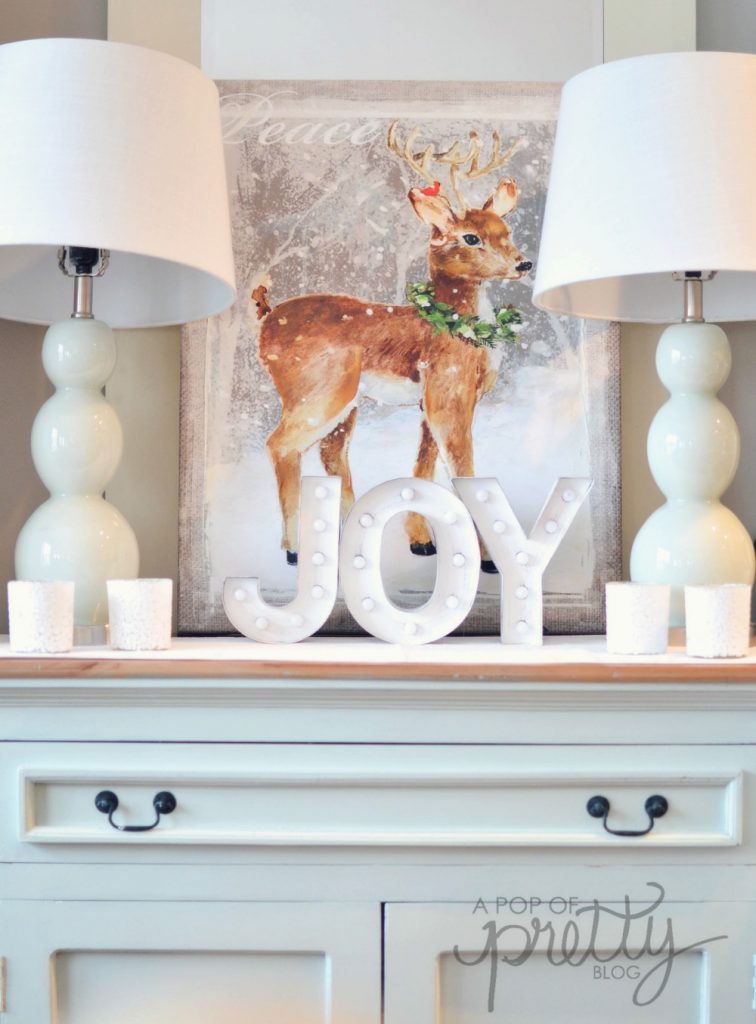 To 'style' the coffee table in a Winter Wonderland Christmas decorating theme, I put some Christmas bulbs in a glass vase. The mix of sparkly elements with the jute rope helps the vibe feel more casual than formal.
I love the distressed wooden rocking horse. I've had him for a few years, and it's one of my favourite Christmas decorations.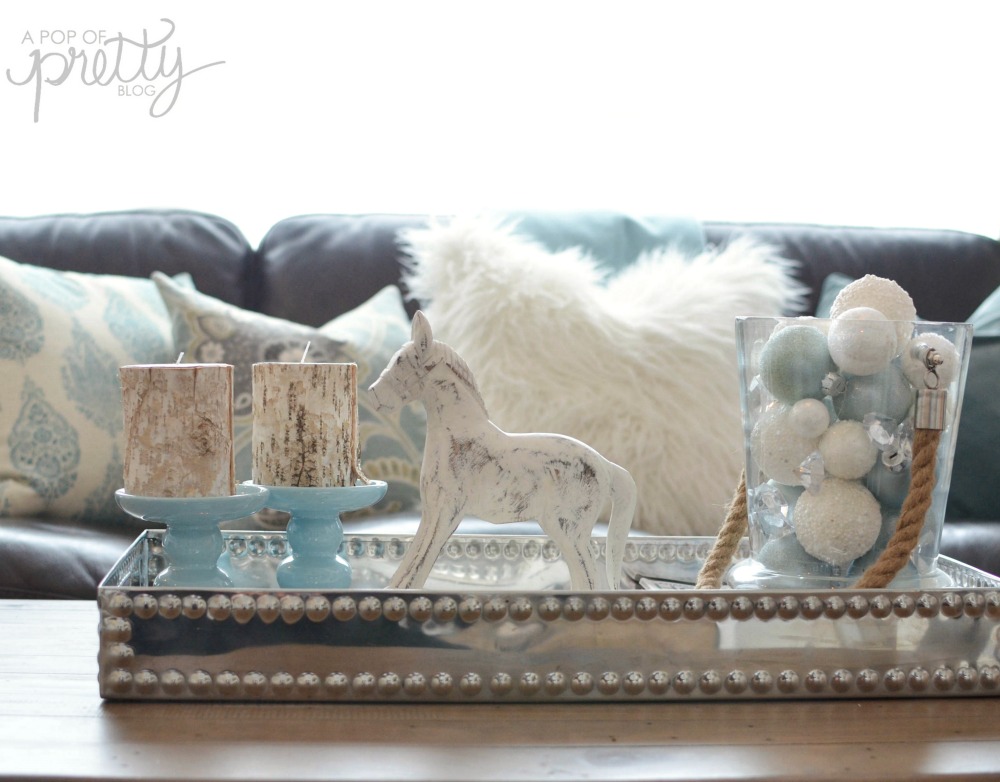 Filling bowls or vases with sparkly ornaments and pine cones is an affordable way to carry a consistent look throughout your home at Christmas. For a Winter Wonderland Christmas decorating theme, you can use a mix or silver, white and blue. Just put a few of your Christmas bulbs aside as you decorate your tree. They make a great centrepiece.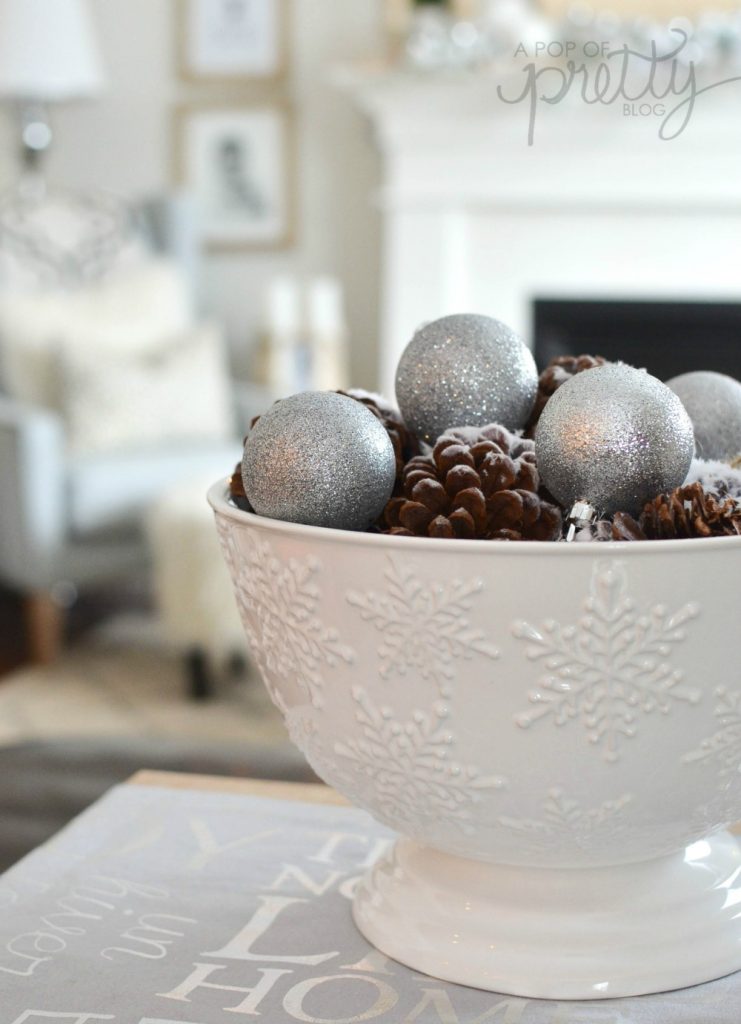 Get the Look
Want the same look of my Winter Wonderland Christmas Decorating Theme Home Tour? I've curated a collection of products that will do just that, and I shared all the shopping sources in my Christmas Decor Shop. Click below to take you there!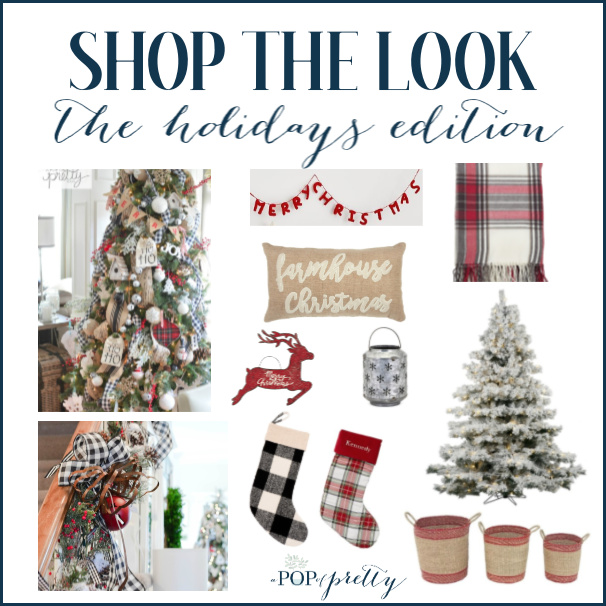 Share the Love
If you liked this home tour, please consider sharing the love by pinning this to Pinterest for others to find:
Looking for Christmas tree decorating ideas?
In addition to my red plaid Christmas decor found in this post, here are some of my all time favourite past Christmas tree decorating posts.
Navy Blue and Silver Christmas Tree (featured in Women's Day)
Red Plaid Christmas Tree (featured in Women's Day)
All White Christmas Decor Theme Home Tour
DIY Disney Frozen Christmas Tree
Nutcracker Christmas Tree (Sugar Plum Fairy)
Oh, and don't forget to read:
My #1 Christmas Decorating Tip
Stay tuned for some other Christmas-related posts in the coming days. In the meantime, grab your eggnog latte and go visit these other gorgeous Canadian homes!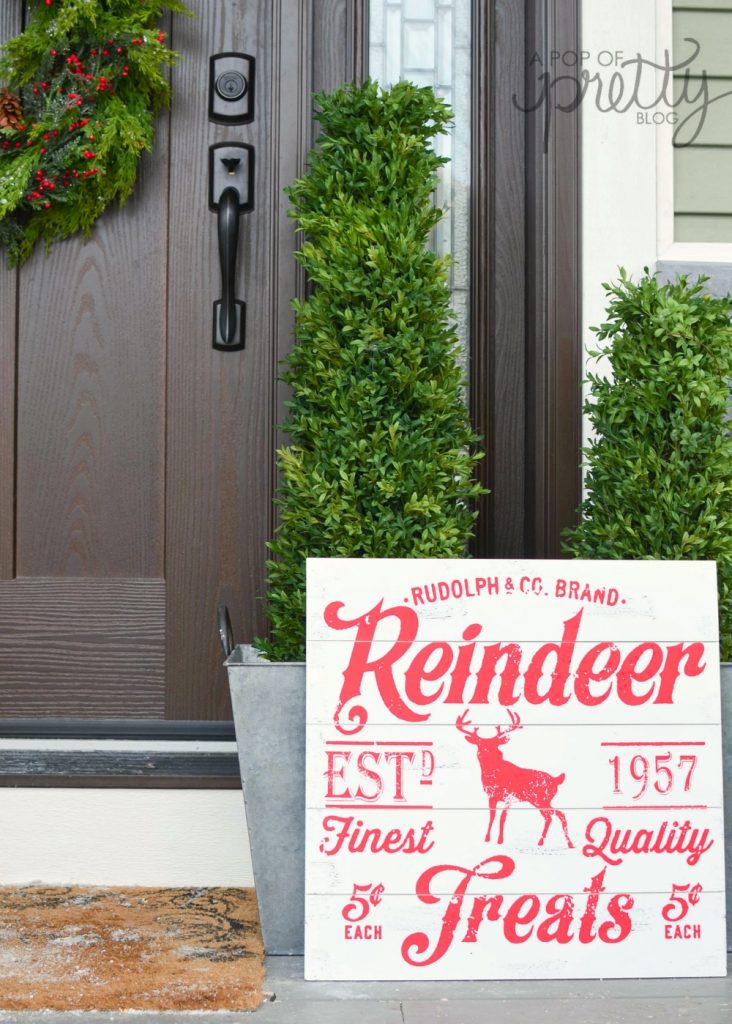 Monday
northernstyle exposure
The Learner Observer
The Uncommon Law
Heather In Heels
Clean and Scentsible
THE SWEETEST DIGS
Tuesday
Amidst the Chaos
Brooklyn Berry Designs
lemon Thistle
Suburble
Life is a Party
PMQ for two
Wednesday
Love Create Celebrate
Satori Design for Living
A Pop of Pretty (THAT'S ME!!)
So Much Better With Age
VinYet ETC
Woman in Real Life
Thursday
The DIY Mommy
Fresh Crush
Time With Thea
A Pretty Life
Home To Heather
Nalles House
Friday
This Little Estate
Craftberry Bush
The Happy Housie
Kimpowerstyle
Elliven Studio
See you again soon,
Kerri xo