This post was most recently updated on January 1st, 2020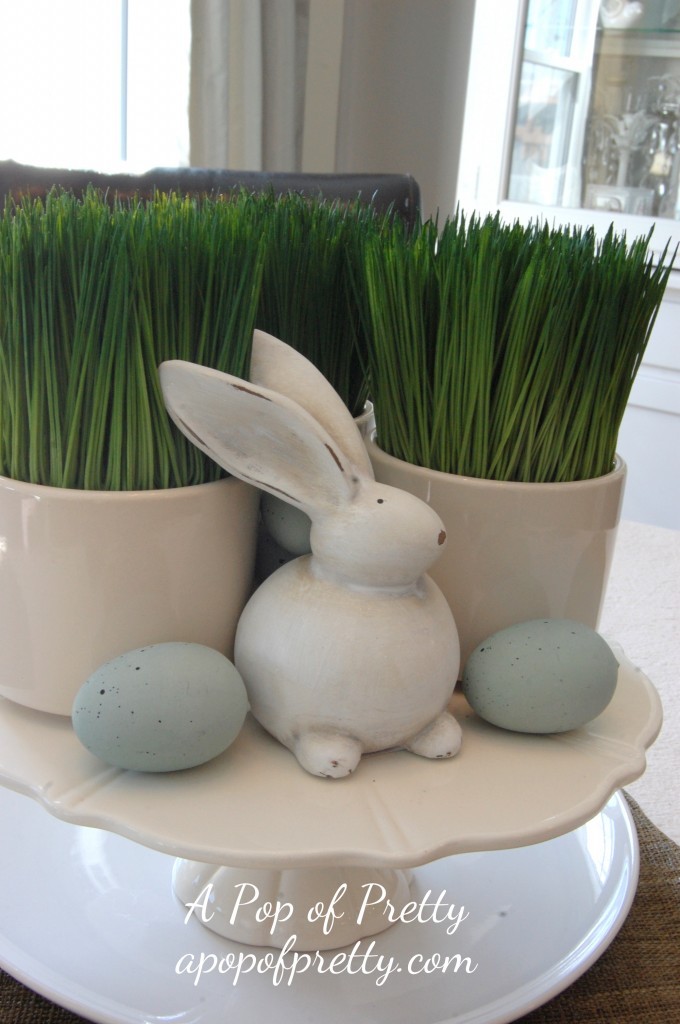 Hope you all enjoyed St. Paddy's Day!
.
March is really flying by, isn't it?  Now that all the leprechaun fun is dying down, I'm looking forward to taking down the St. Patrick's Day decorations from my mantel (click here, if you missed that post!), and decorating it for Easter over the next few days.
.
I'm not sure what I'll come up with. I'll definitely use some of my favorite Easter decorations, but I enjoy changing things up from year to year.
.
In the meantime, I thought I'd share some of my Easter decorating ideas over the past few years.
.
.
.
.
.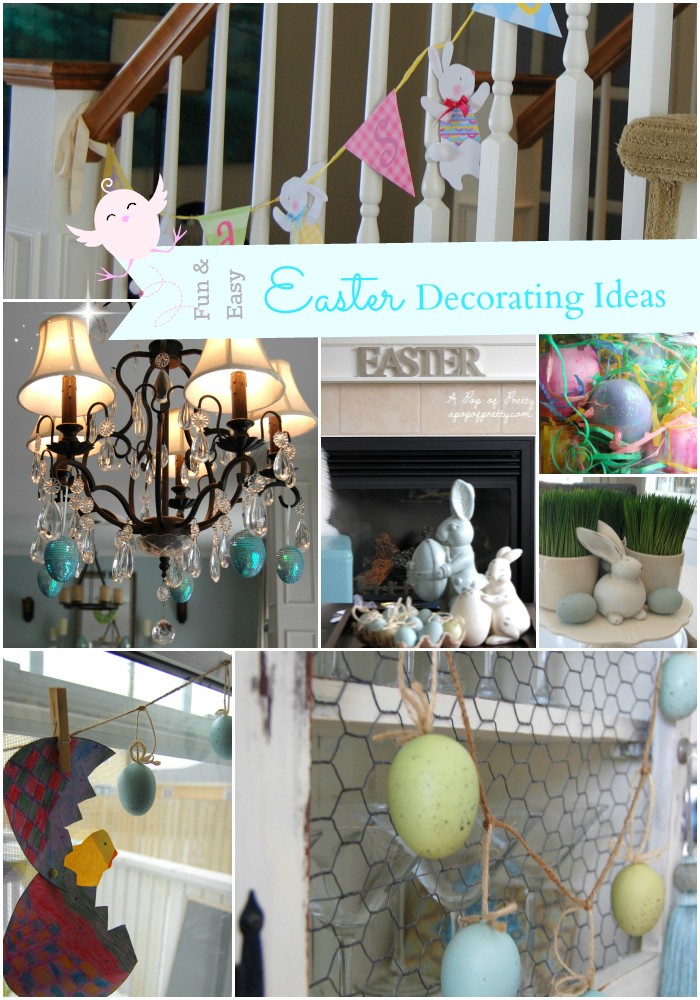 .
My favorite place to start is my mantel!
.
Over the past few years, I've created several Easter and Spring Mantels.  The simple Easter mantel below, was from 2011.   Since then, it's been featured at both HGTV.com.and Better Homes & Gardens in round-ups of Easter mantel decorating ideas, and more recently at One King's Lane.  I liked how the muted color scheme was calming, and blended in with our decor.  Most Easter decorations are really colorful – with pinks, yellows and greens – but that doesn't mean you have to go that route if you prefer a simpler look.
.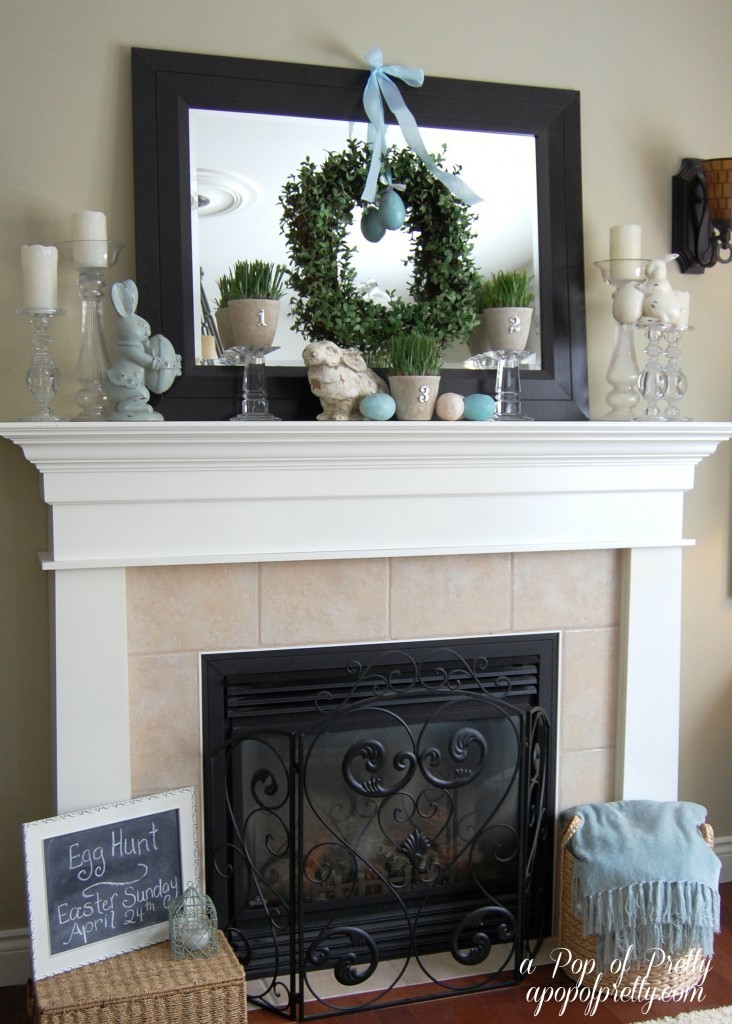 This next mantel was not nearly as under-stated!  Last spring, I decided to decorate around the song "Singing in the Rain" which my daughter sang in a local musical festival at the time.  I created it in early Spring, and planned to keep it this way through Easter.
.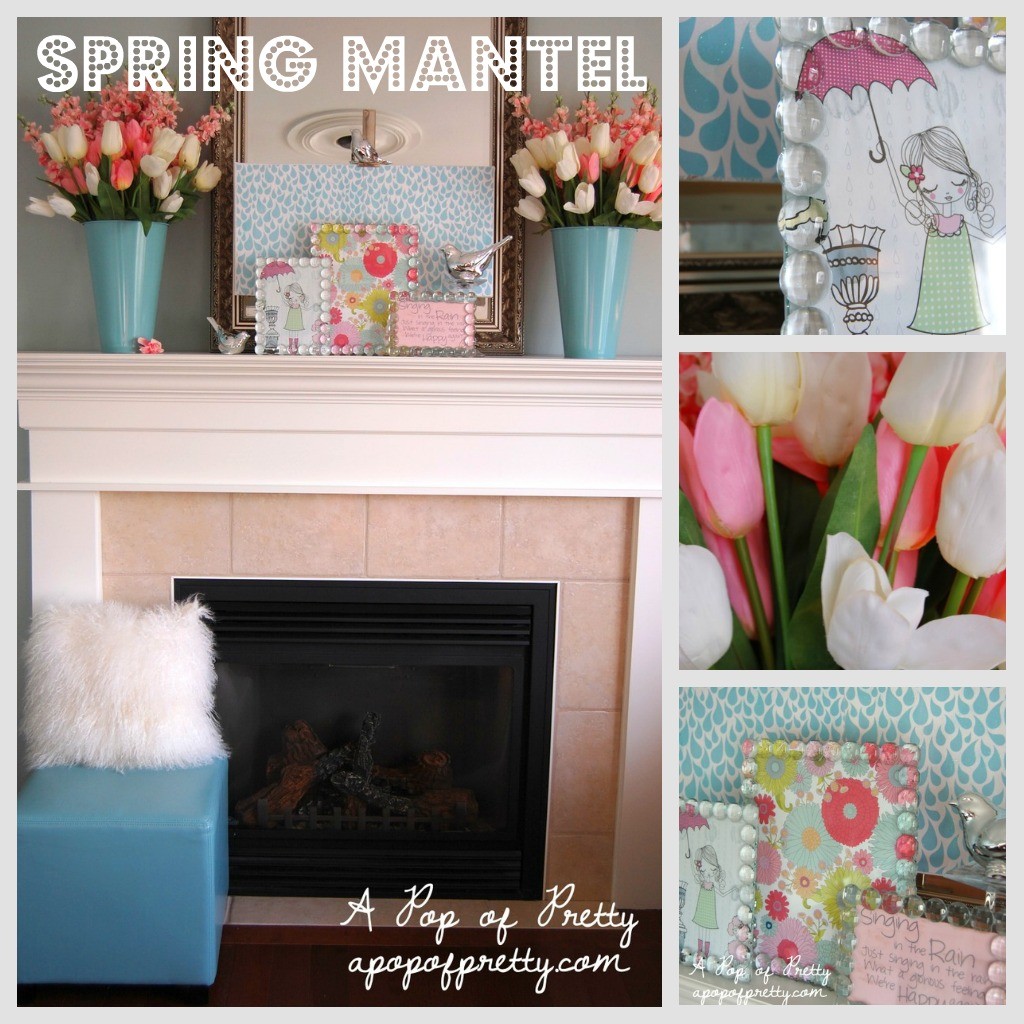 ..
As much as I loved the pink and other happy colors, I grew tired of them, and decided to change it up again before Easter holidays!  (Yes, I'm that much of a freak when it comes to seasonal decor ;-).) Because I was getting tired of decorating the mantel by then (ha!), I kept it much simpler with some candles, a green feather wreath with blue eggs, and a couple of mercury-glass looking decorative Easter eggs.
.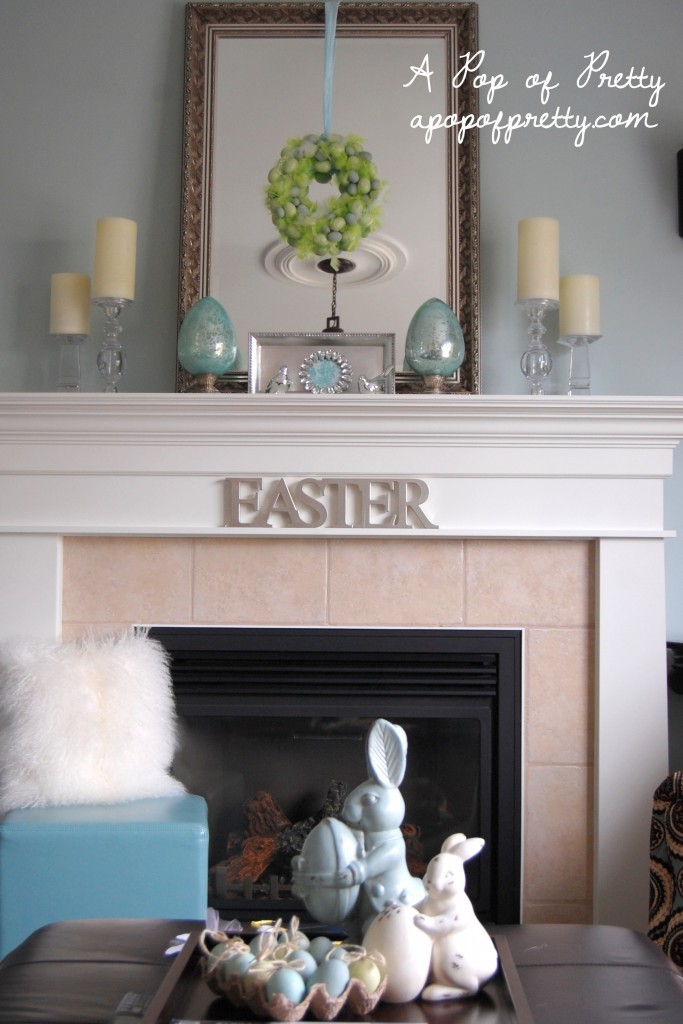 .
.Besides decorating my mantel, here are a few other super easy and fun little decorating ideas I've used in past Easters…
.
1.  Eggs strung on twine for an easy diy Easter garland: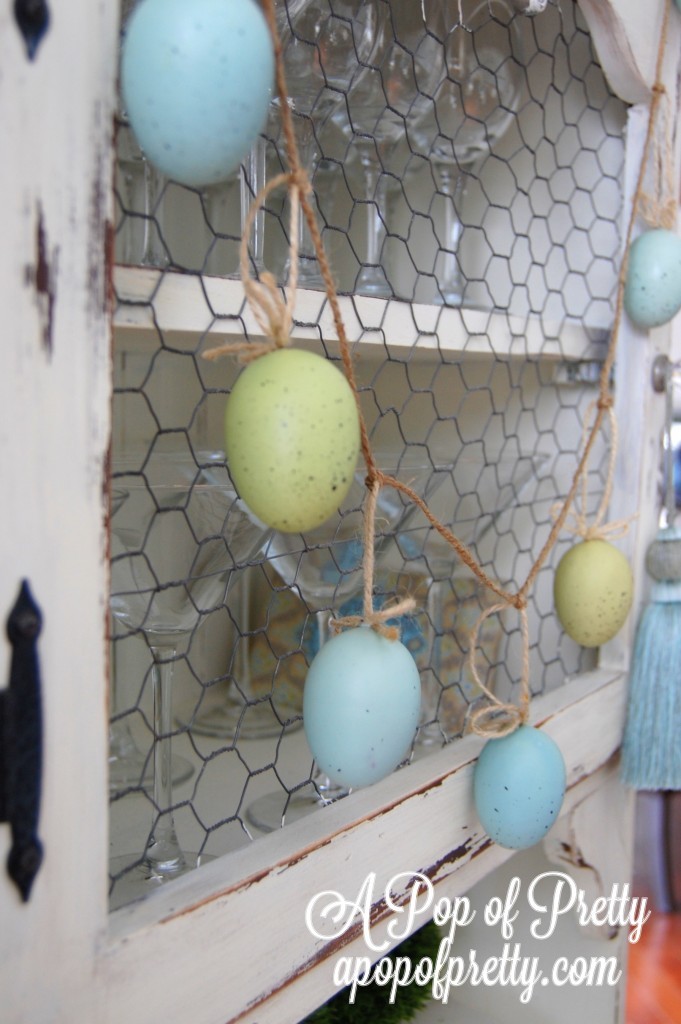 .Display .

2. Dyed eggs in a jar (great if you have toddlers like me who like to break things):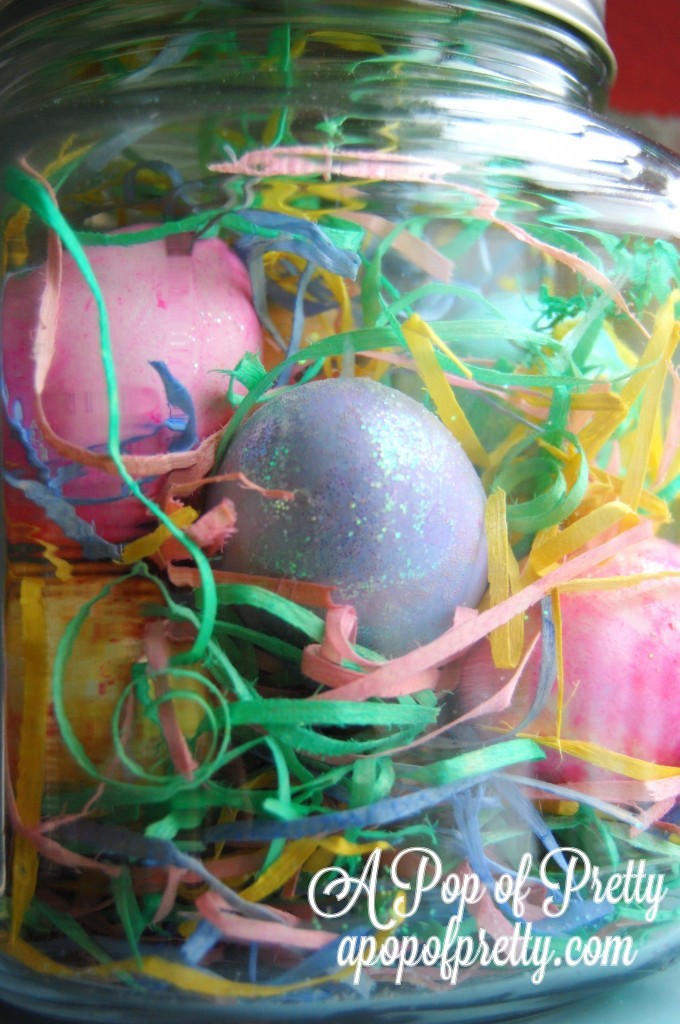 ..
3. Kids' Easter art on  some twine (using clothespins):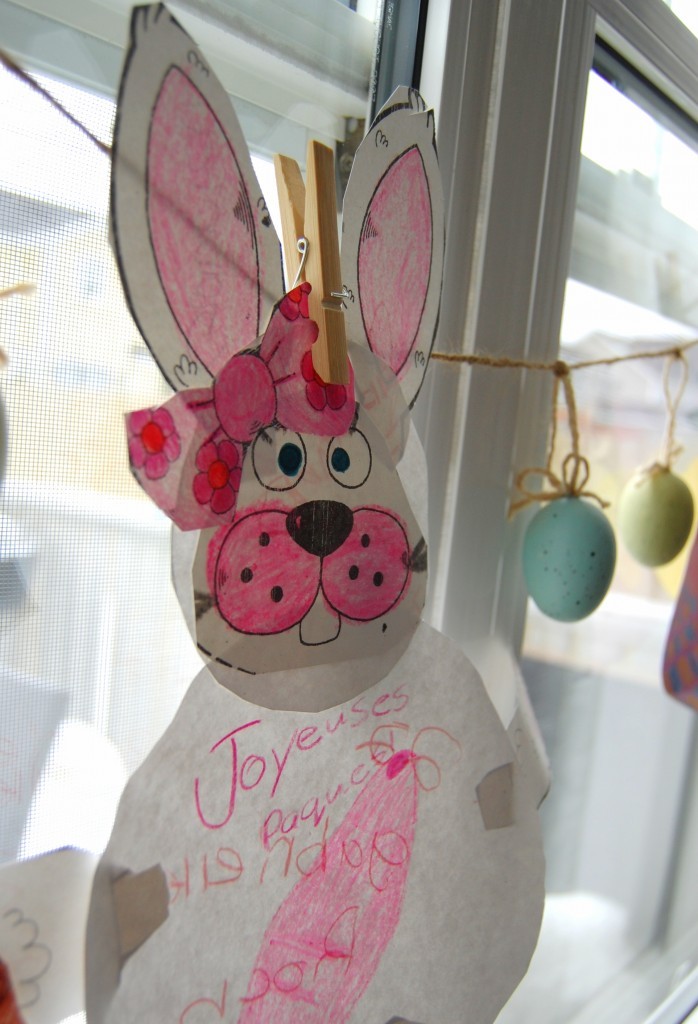 ...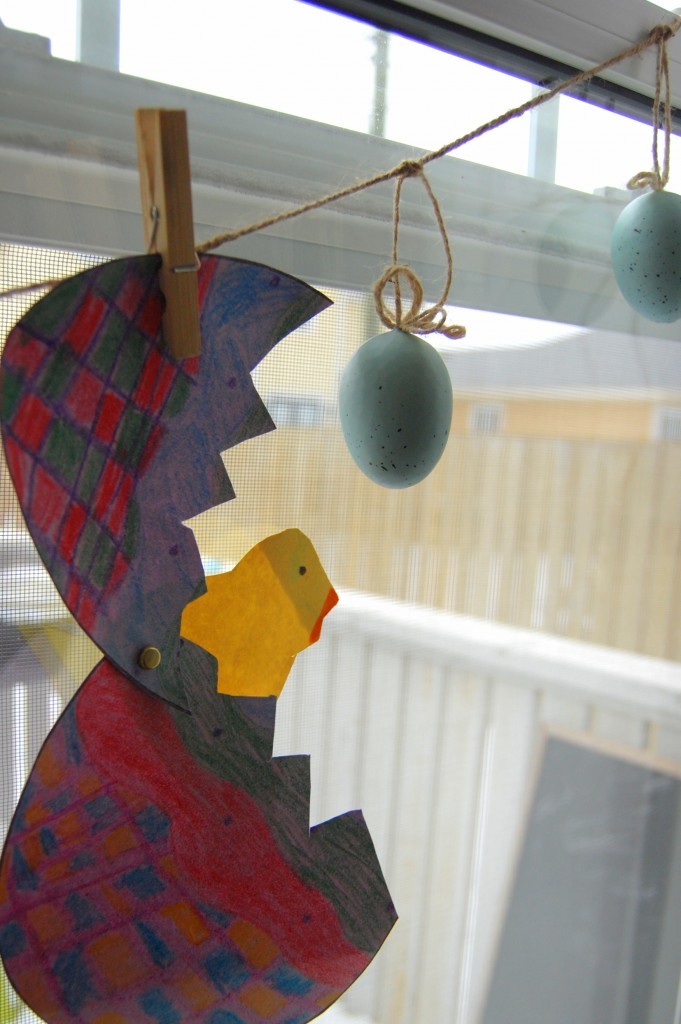 .
4. Sequined eggs hung from the chandelier: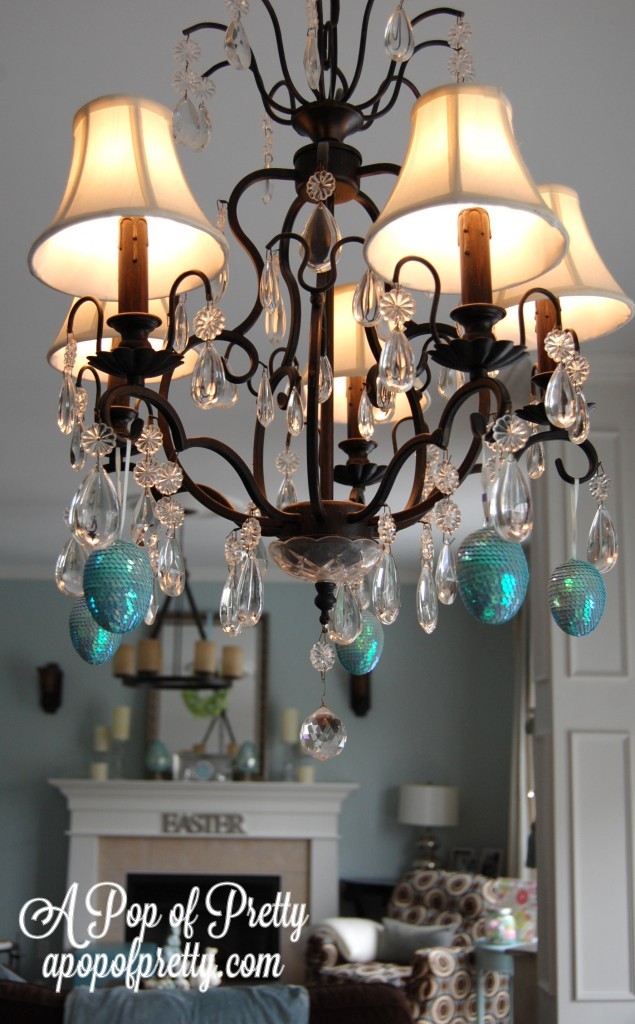 .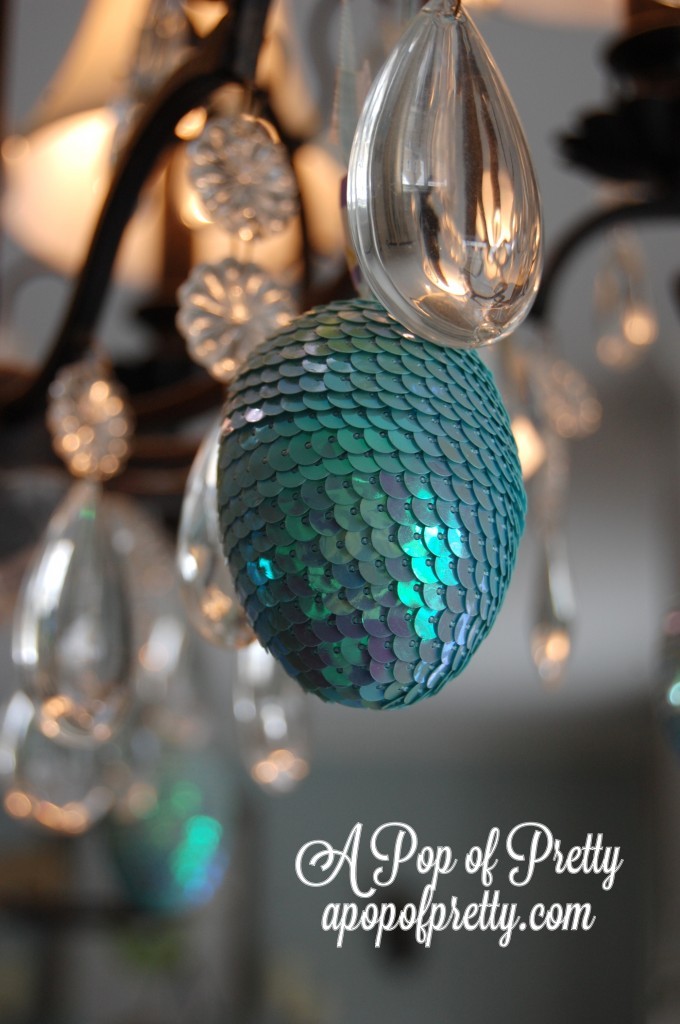 .5.A fun way to disp
5. A fun paper Easter banner on the stair railing: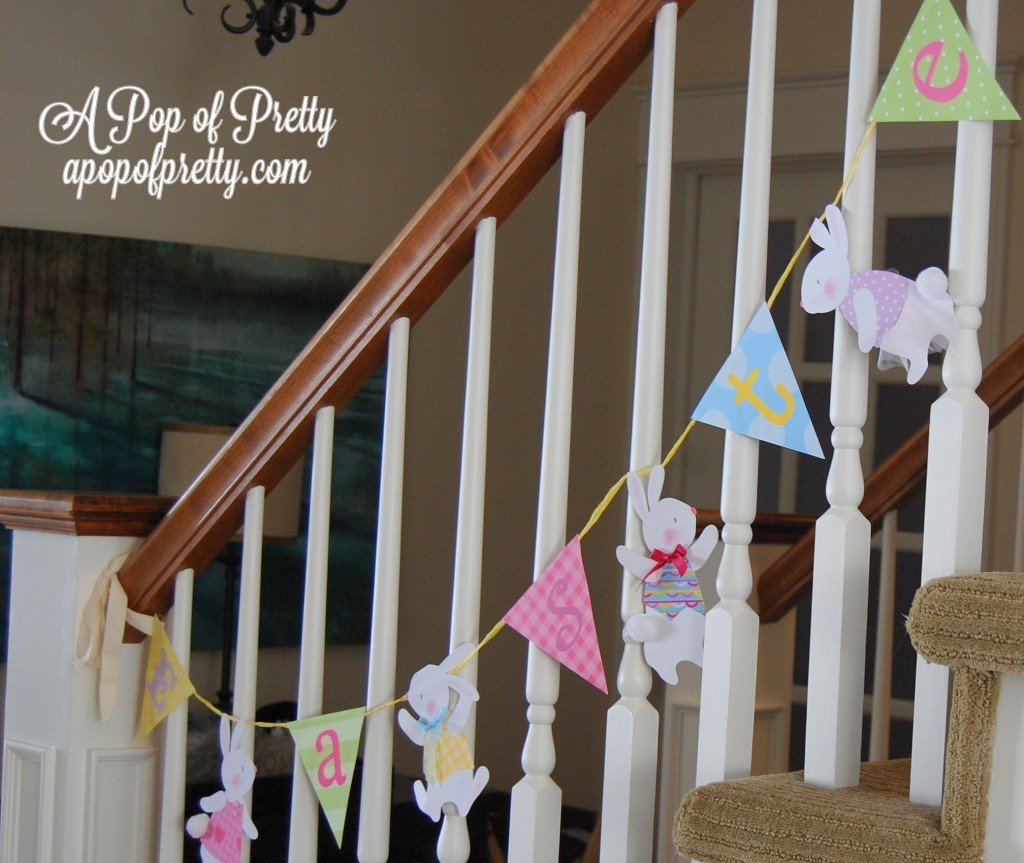 ..
6.  A diy Easter wreath for your front door:
( pssst…I made this one with a pool noodle, dish cloths and painter's drop cloth!)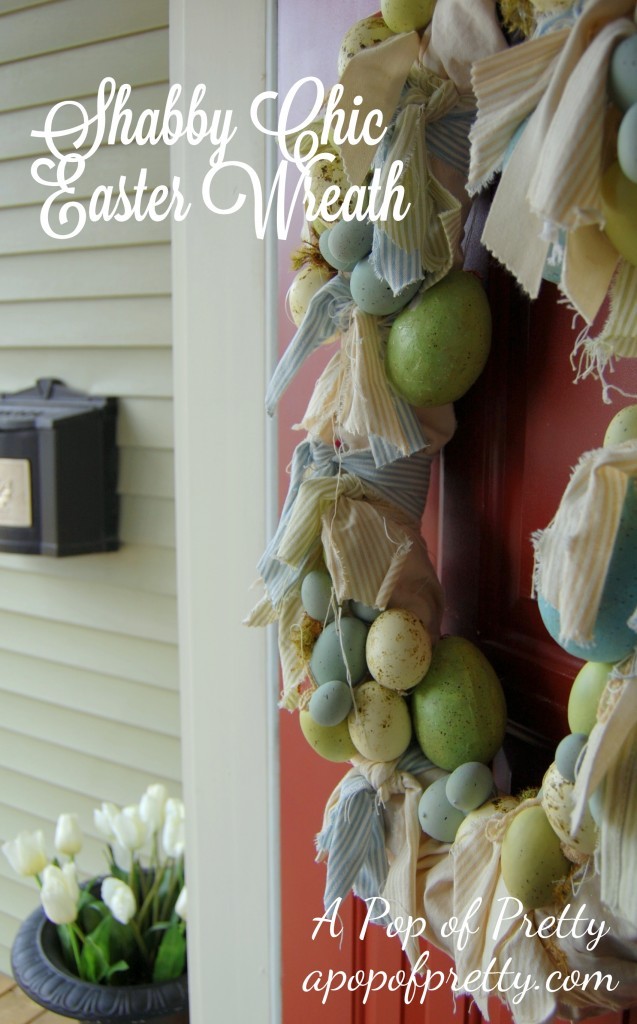 ..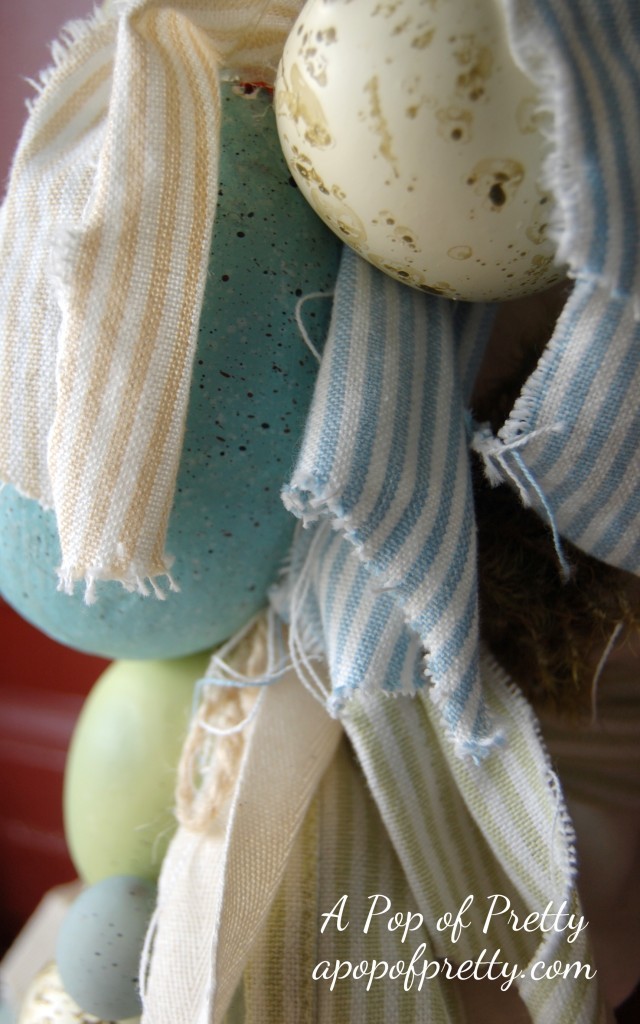 .
For the tutorial, click below!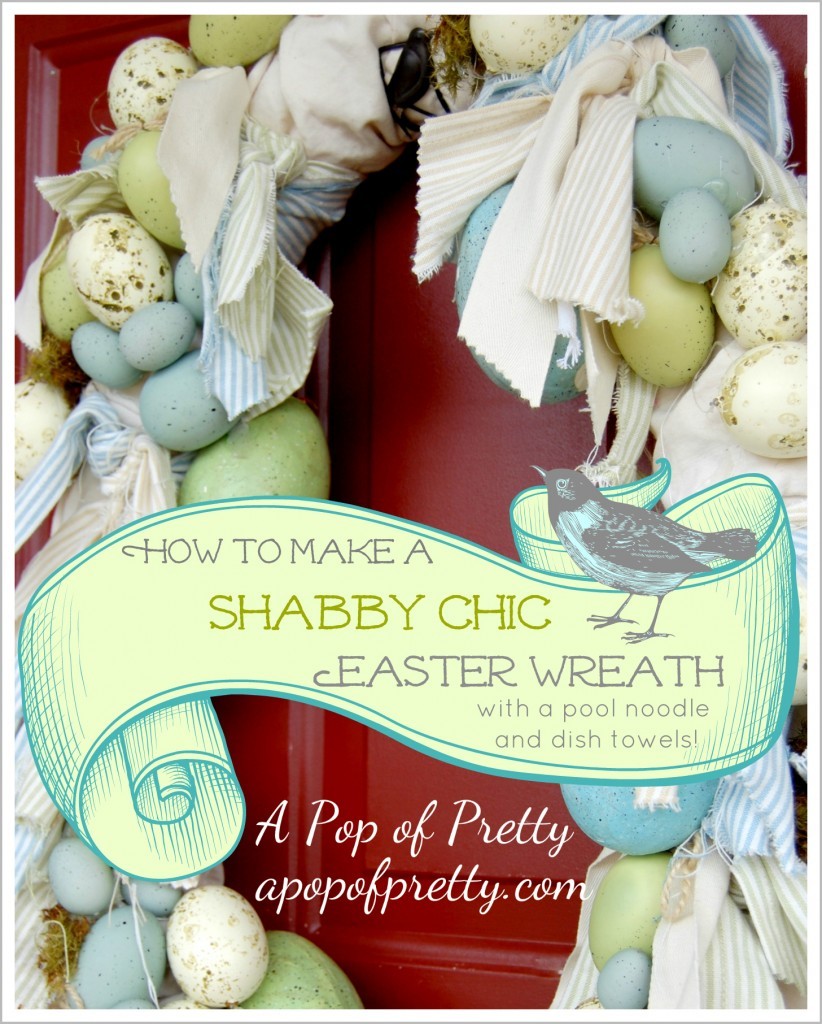 .
7.  Fresh tulips always look great!.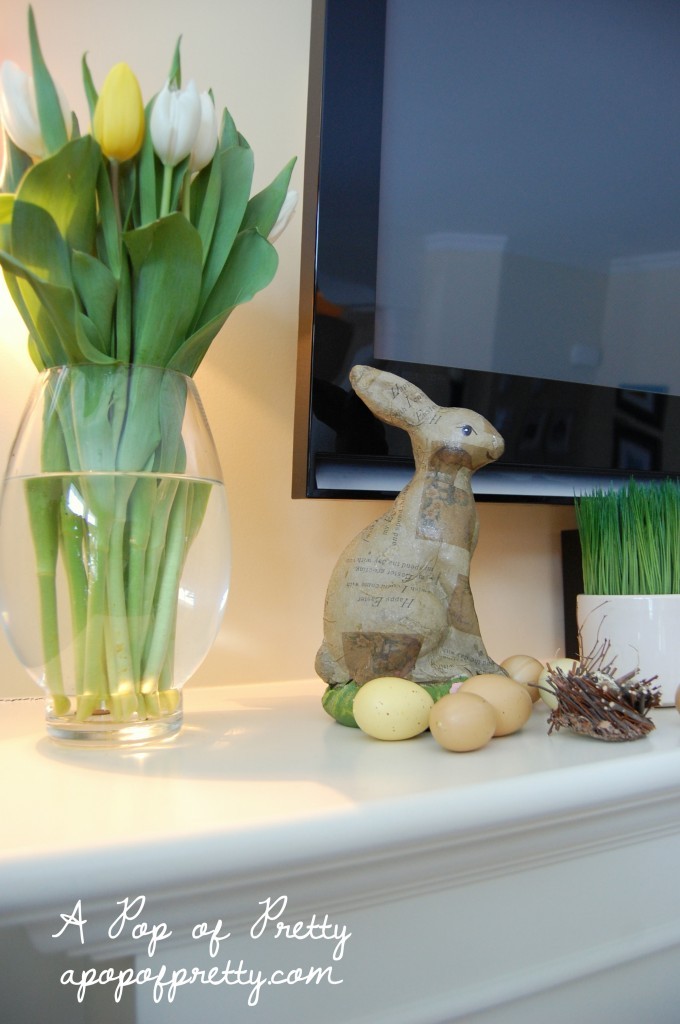 .
OK, I seriously love Easter decorations!  I'm chomping at the bit to pull out the bunnies and eggs.
.
How about you?  Have you already decorated your home for Easter?  Are you planning to?
.
Until next time,
.