This post was most recently updated on September 23rd, 2019
Did you catch my post about our gold and white Christmas tree the other day?  I've also added some other gold and white Christmas decorating touches around the house. This year's Christmas decorating is a little more glam than usual!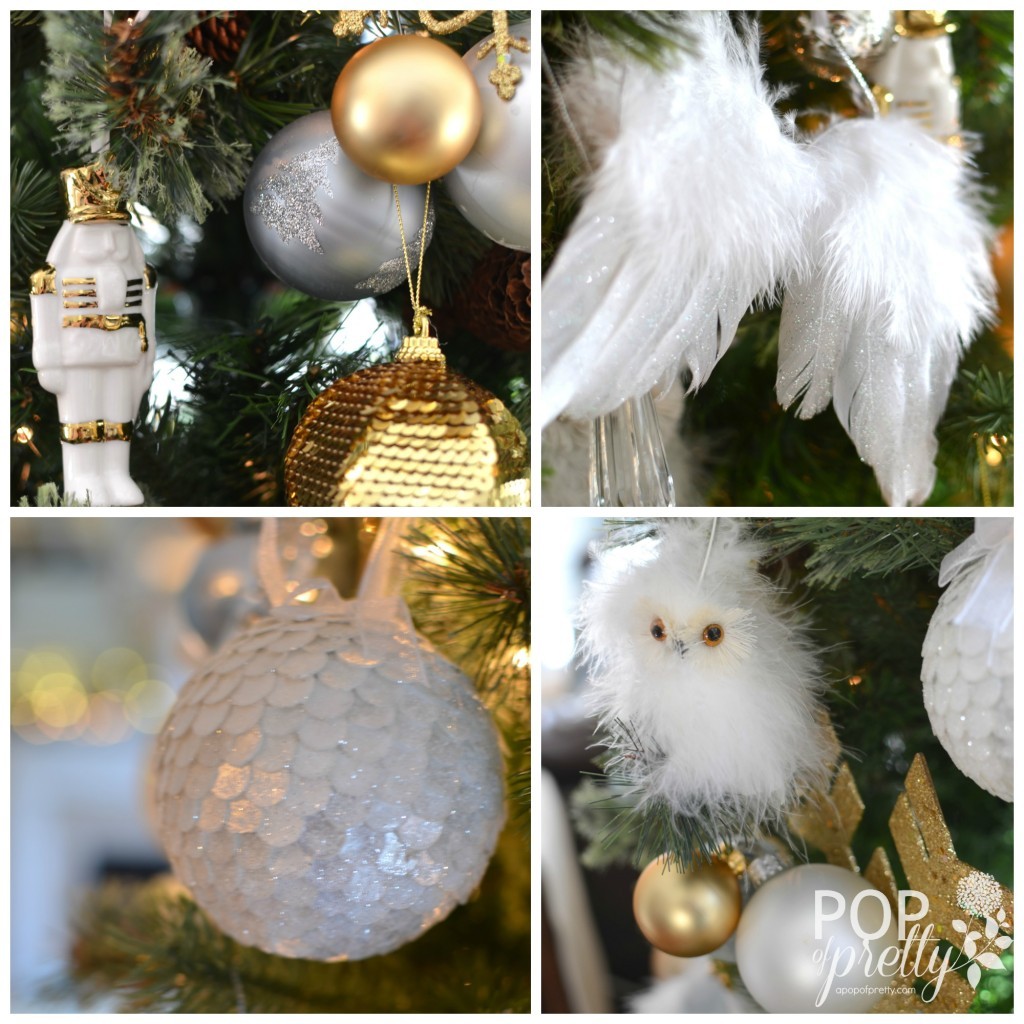 I hesitate to call this a Holiday House Tour like some of those you'll see on other decorating blogs this time of year. Have you seen some of those?  Wowsa, soooo beautiful, and so thorough! (If you follow me on Facebook, I've been sharing some of my faves over there.)
The thing is, photographing a holiday house tour requires a tidy home and well, mine, just isn't! (Yet?).   (You see my 2012 holiday house tour here and my 2011 holiday house tour here). Keepin' it real: there's still some random Christmas decorating bins and bags hanging out in the corners, along with the regular daily stuff that 3 kids leave behind. So to spare you from all that, I've just photographed some of the  little pops of Christmas you'll find around our home.
Gold and White Christmas Decor: The Foyer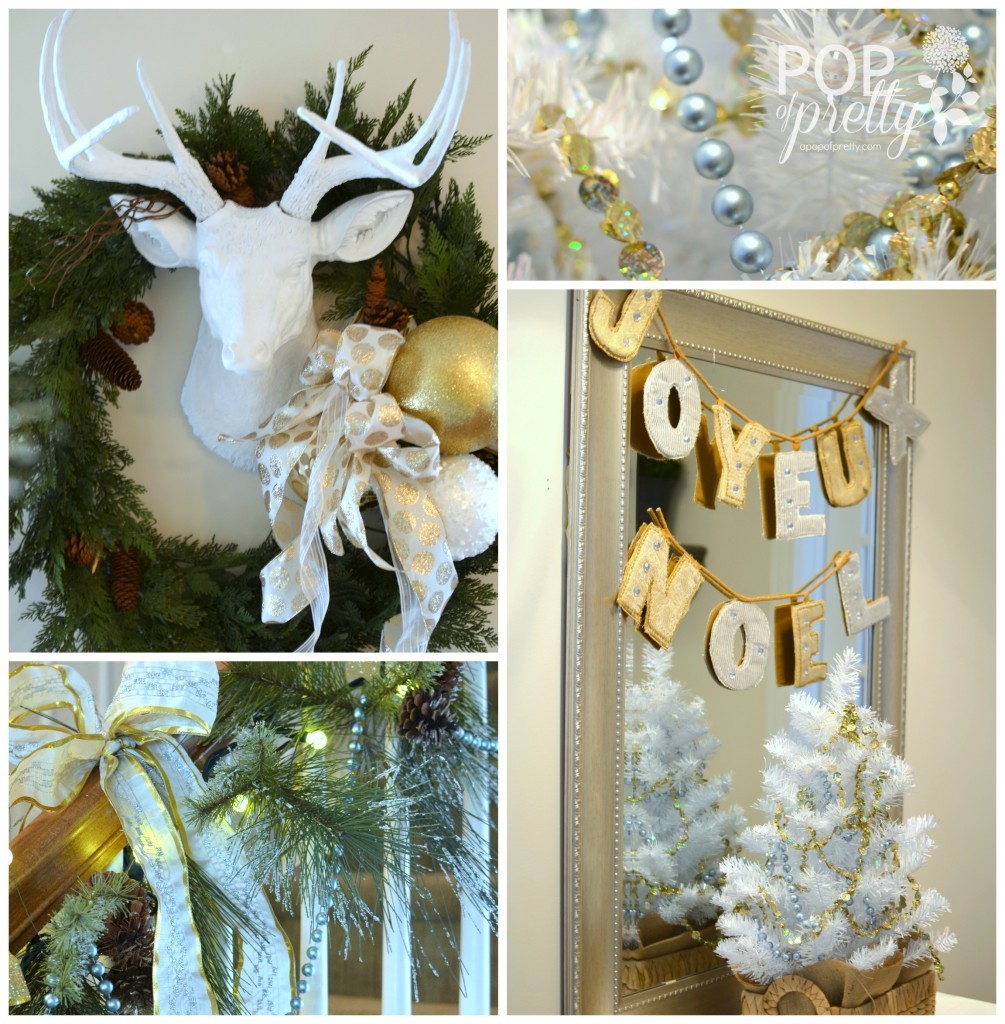 In the foyer, you'll find our new white deer head hanging in a big green wreath (more on styling this guy in another post!), with some gold polka dot ribbon.  The foyer table has a little white tree decked out in gold and light blue beaded garlands.  I wasn't sure if I'd decorate our stair railing this year, but I caved.  It's pretty simple though – just some bows and beads and pine cones.  YOu might have seen that 'Joyeux Noel' garland before – it usually hangs on our tree (see Joyeux Noel Tree: A Closer Look).
The Piano Room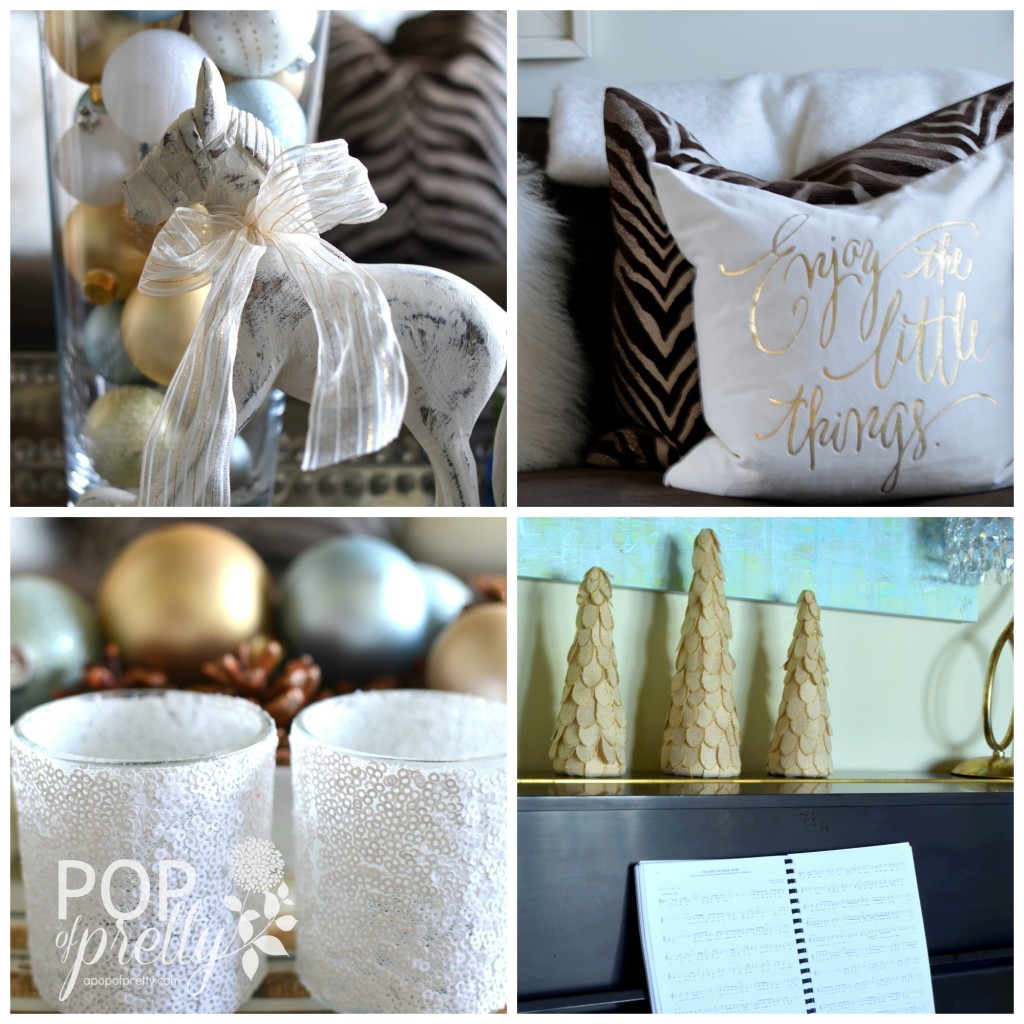 Our little piano room / living room is quite small, so I kept the Christmas decorating to a minimum. I styled the coffee table with a tall vase of glass bulbs in white, gold and pale blue ornaments, along with a few other gold and sparkly things!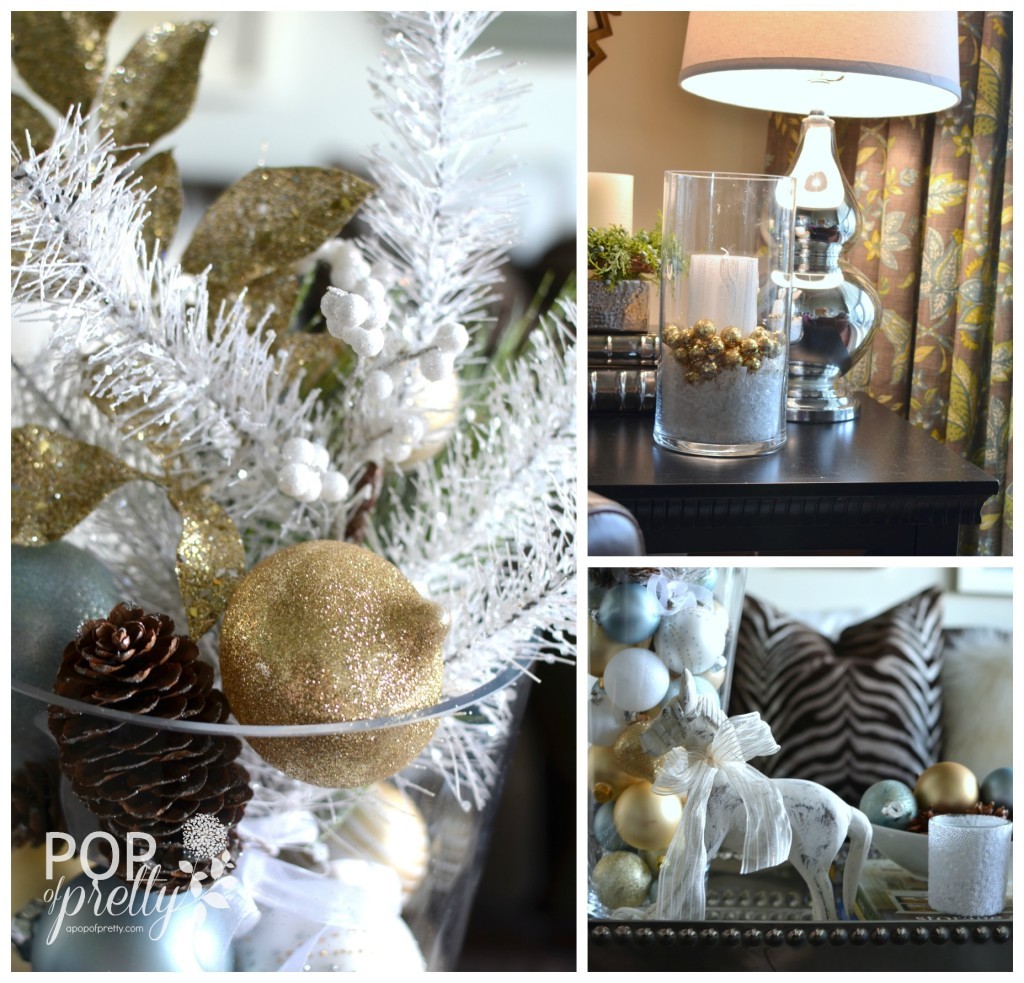 In the kitchen, I hung some gold and white Christmas bulbs from the chandelier using transparent fishing line.  This is such an easy way to add some festive cheer in any room with a hanging light fixture!  There's also some boxwood touches ( I luurrve boxwood!), like the wreath hanging on the mirror over the blue console table.  A bowl of pine cones is also an easy way to add a bit of Christmas to a room without overdoing it.
The Kitchen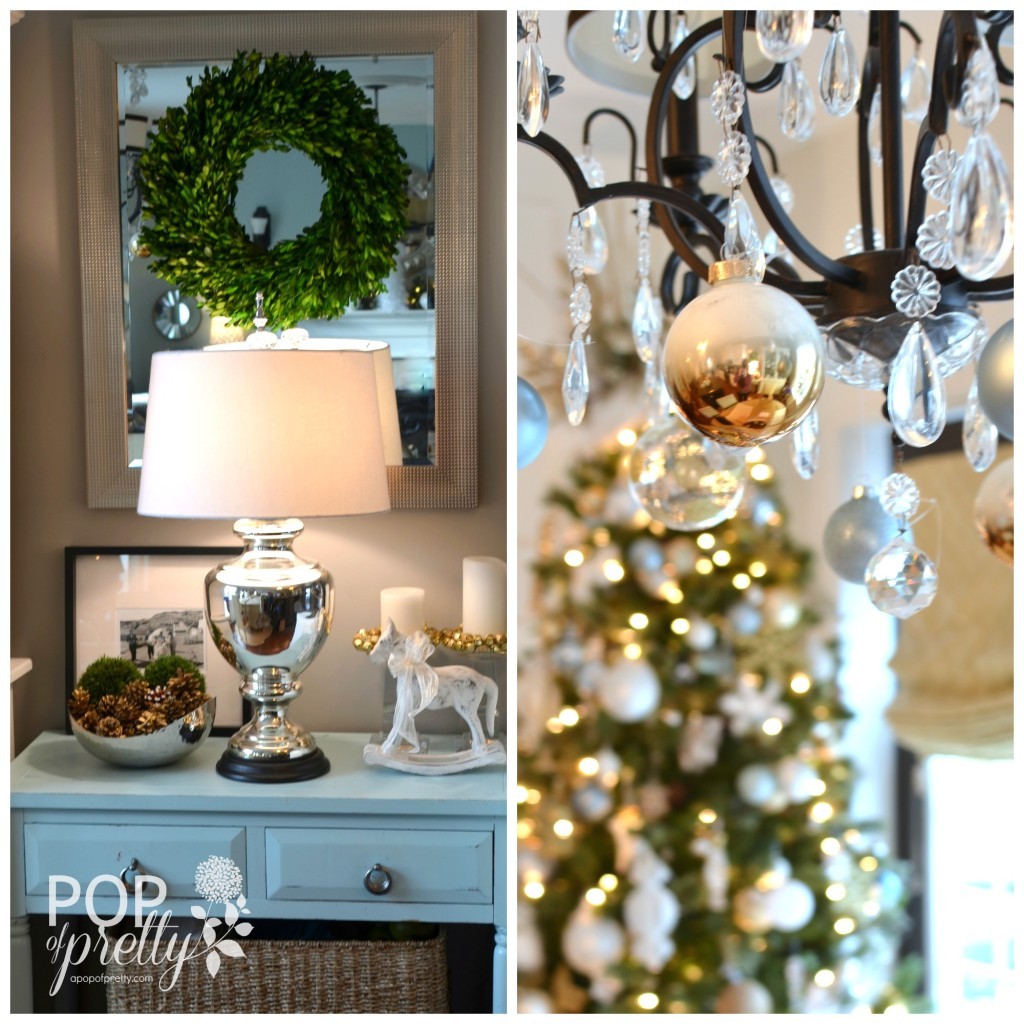 Our Christmas tree sits in this space too, between our dining area and our family room.  If you're interested, you can take a closer look at the gold and white Christmas tree over here.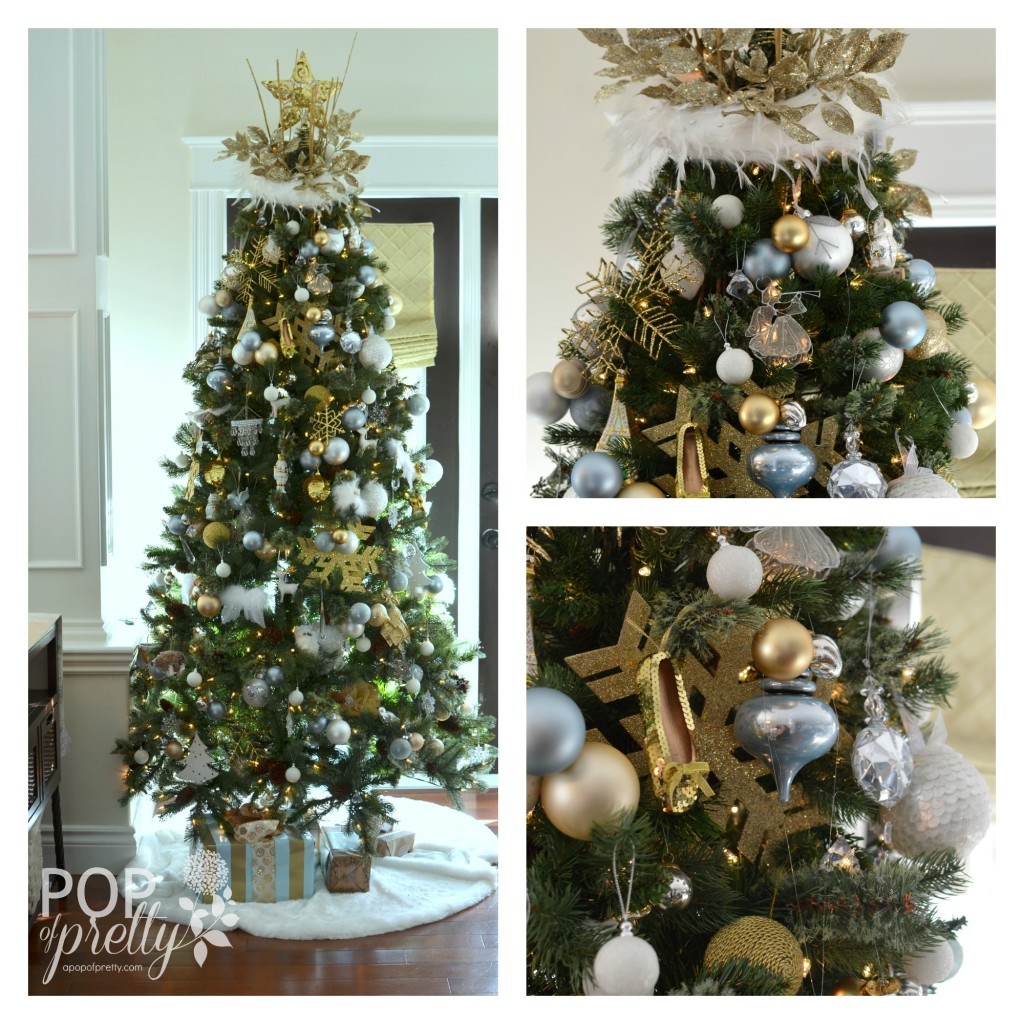 Directly across from the kitchen, our fireplace mantel in the family room is also styled in gold and white, with some greenery, birch logs, a white feathered tree and some large white and gold Christmas balls.
The Fireplace Mantel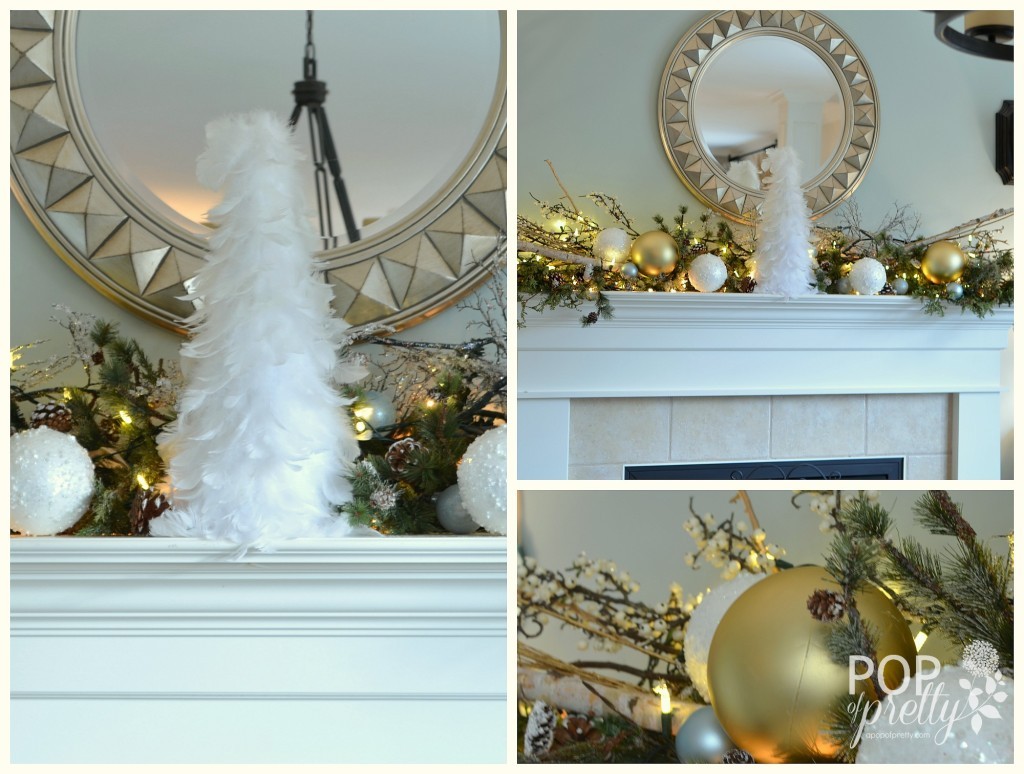 We have some other Christmas decorating on the other floors too, but I broke from gold and white off the main floor.  We still adore our Dr. Seuss Christmas Tree in our basement family room.  It's so much fun for the kiddies!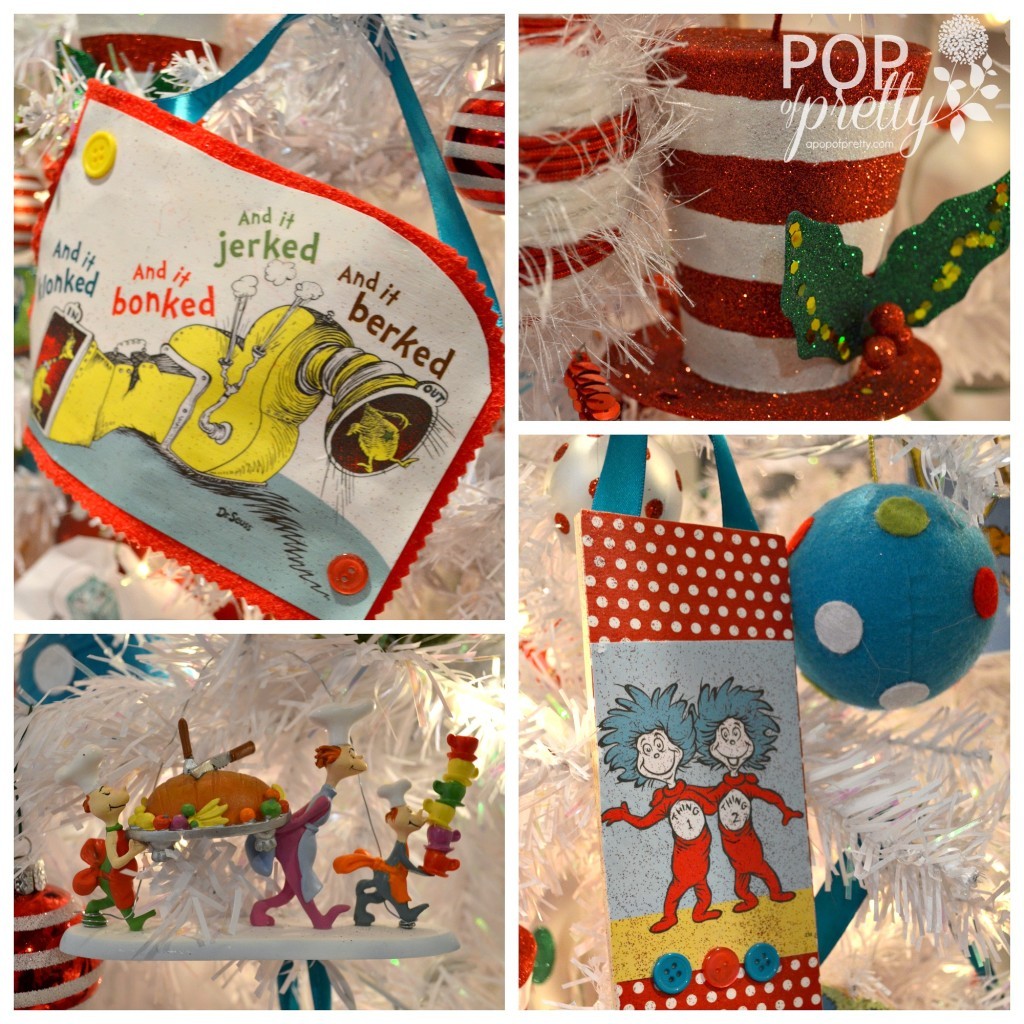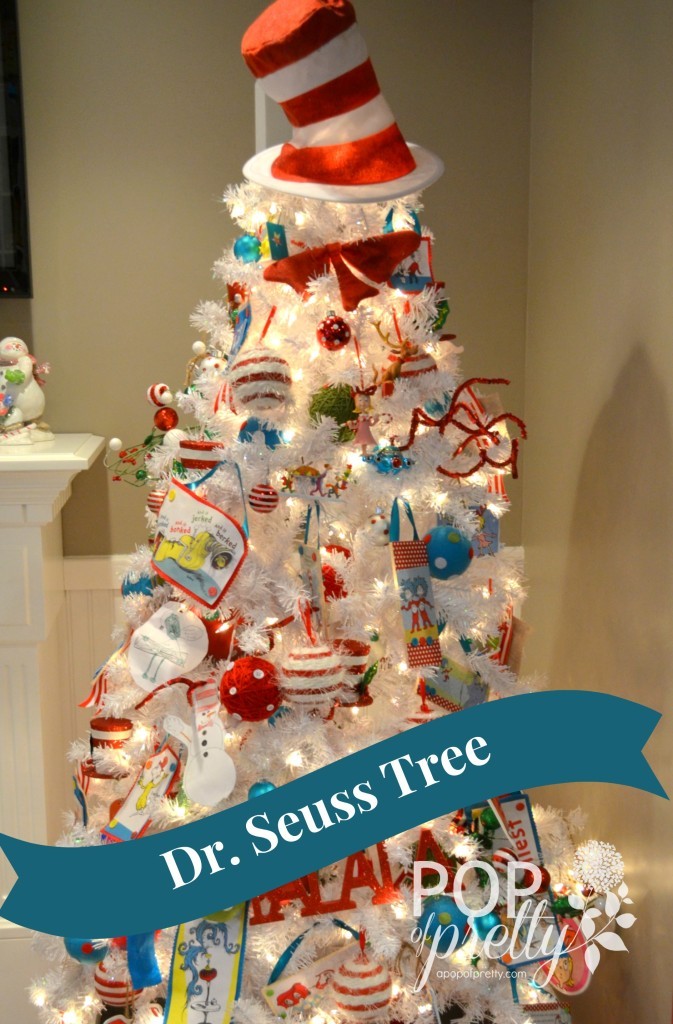 I'd love to know – do you decorate for Christmas with a particular color scheme or style in mind, or are you more of an elclectic/collected Christmas decorator?  I love both looks, but personally, I just find it easier to live in the main floor space with a bit of color coordination.  But that's just me!
Hope you are enjoying getting ready for the season!
K.
P.S., I'm sharing this tour at Beth's tips and tutorials linky party at Home Stories A2Z.