This post was most recently updated on January 11th, 2020
Over the years, A Pop of Pretty has been featured in some awesome places. A sincere thank you to these fabulous magazines, web sites and blogs for the coverage.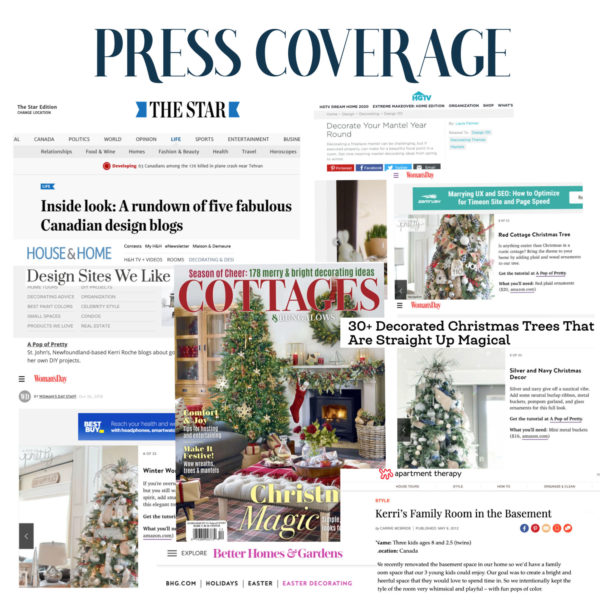 .

Canadian House and Home

.Canadian House and Home, Canada's top home decor and design magazine, includes A Pop of Pretty in its list of Design Sites We Like: "The ultimate list of online decorating destinations, sites and blogs…as chosen by House and Home editors."
Women's Day
Women's Day featured three (3) of my Christmas trees in its 2018 round up of "30 Decorated Christmas Trees that are Straight Up Magical".
Cottages & Bungalows
Cottages & Bungalows Magazine featured my Christmas tree in its 2017 Christmas Magic issue (hard copy).
The Star
The Star, Canada's largest online news site, featured A Pop of Pretty in its round up of "5 Favourite Canadian Blogs" in the article: Inside look: A rundown of five fabulous Canadian design blogs, saying, "(A Pop of Pretty is) packed with DIY projects and conversations about the most pertinent design issues of today (like whether you should really have a gallery wall). The writing has an easy, breezy pace."
HGTV
HGTV featured my Easter mantel in a feature gallery of Easter fireplace mantels on hgtv.com, stating that, "Decorating a fireplace mantel can be challenging, but if executed properly, can make for a beautiful focal point in a room."
Apartment Therapy
Apartment Therapy featured our basement renovation in a feature post.
Better Homes & Gardens
Better Homes & Gardens featured my Easter mantel in its round up of real home spring and Easter decorating ideas (March 2012).
---
Brand Web Sites
Wayfair Canada featured my coastal inspired decor in its coastal room inspiration and ideas.
Canadian Tire featured my themed Christmas tree in its Christmas decorating feature.
Posterjack featured my Fall Mantel in a feature post on 15 Winter Decorating Ideas to Warm Up Your Place.
Behr Paint featured my DIY Christmas sign in its article on Holiday Craft Ideas.
The International Etsy Blog featured my tutorial in a feature post.
The Flying Camel, an advertising, design and PR agency, includes A Pop of Pretty in its list of 11 Canadian Design Instagrams We Love, saying: "Kerri Roche and A Pop of Pretty come to us all the way from Newfoundland. Kerri runs a home decorating blog that focuses on making livable, family-friendly spaces for herself, her husband and her three kids. Kerri's Instagram is built on her mantra of "love what you do, do what you love."
Zebra Blinds includes A Pop of Pretty in its list of Stylish Canadian home decor bloggers, saying, "One of the things that draw us to Kerri is her honesty. She shares plenty of pretty projects with an emphasis on the modern cottage look, but she also lets readers know her kids' handprints are always on the glass and her accent pillows probably need a good fluff and straightening. In other words, pretty doesn't have to mean perfect. It gives all of us hope that we can have pretty things and still enjoy our home, fingerprints and all.
---
Decor Blogs
Rambling Renovators: Blogs I Read
The Inspired Room: Fall Decorating Around Bloggers' Houses
Southern Hospitality: Feature Friday
Hooked on Houses: 20 Very Merry Rooms Decked out for Christmas
All Things Heart & Home
Home Stories A to Z: Tips & Tutes Not to Miss
Whisperwood Cottage
Tip Junkie
Knock Off Decor
Craftaholics Anonymous
Craft Gossip
And, many more.
.