This post was most recently updated on September 23rd, 2019
I've got Fall porch decor on my mind! That's because the kids went back to school today, and I need to face the sad reality that the warmest weather is behind us for another year. Besides grabbing my first pumpkin spice latte of the season, I'm thinking about how to cozy up some spaces around the house, starting with our front porch.
Truth be told, our front porch is in a bit of a mess right now. The paint cans have been sitting out there for a week since I started to re-stain it. But, now that Fall is just around the corner, I feel much more motivated to finish it. That's because I love adding Fall porch decor to the exterior of our home in September. We have a covered porch, which means that we can pretty much use it all Fall. And, unless it's completely snow-covered, I'll usually sit out there in the winter too!
I love Fall textures, but I'm not really a huge fan of reds and oranges. Instead, I like neutral tones like ivory, blue, and grey. It's sometimes hard to find Fall porch decor accessories in those hues. So, you have to be a little creative. I usually just 'shop the house' for neutral decor that has a lot of texture and feels cozy. Then I just add a touch or two of Fall-themed decor like pumpkins, a porch sign with a Fall quote, or a big Fall wreath.
10 Fall Porch Decor Items
Over the years, I've tried different decor to create a cozy Fall porch. Here are 10 Fall porch decor items that I find ALWAYS work great for a cozy, modern cottage vibe:
Wicker outdoor chairs in a seating area: they add warm texture.
Cozy blankets: hang them over the back or arm of a chair.
A neutral outdoor rug: tweed or plaid rugs help anchor a seating area.
Black planters or urns, filled with greenery like boxwoods or cedars: black planters always feel grounding, while the greenery feels woodsy.
Chunky, cable knit pillows: nothing compares to the texture of a cable knit sweater for coziness. They are perfect Fall porch decor.
Simple black lanterns filled with flickering outdoor candles: adds a warm glow to your porch as the days get shorter.
Real and faux pumpkins in neutrals like pale blue, grey and ivory.
A simple, textured wreath hung on a door: a wheat or bamboo wreath give Fall vibes without screaming for attention.
Checked or plaid ribbon to hang or decorate the wreath.
A cute, modern farmhouse sign, with a Fall quote.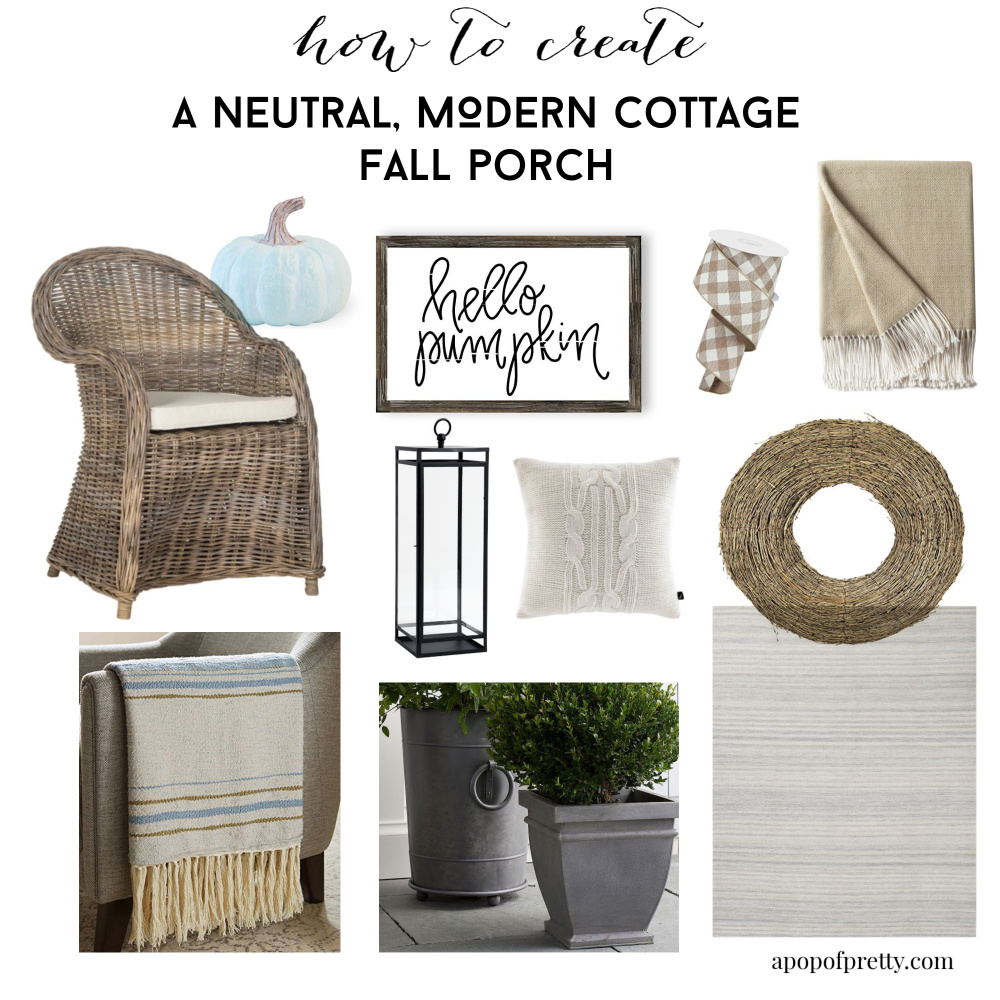 MY SOURCES
You can probably find some of these things to use as Fall porch decor by looking around your house. But, if you want to find the exact products I've listed above here are the links:
Striped Throw blanket / Blue Pumpkin / Hello Pumpkin Sign / Grey Planter / Cable Knit Pillow / Natural Wreath / Tan Throw Blanket / Checked Ribbon / Black Lantern / Outdoor Rug / Wicker Chair
NOTE: These are affiliate links. That means that if you buy any of the items I've sourced by clicking through, I may earn a small commission, but it does NOT increase the price you pay.
Looking for more Fall and Halloween decor inspiration? Visit my Amazon storefront to find more of my favourite decor for the season.
In the meantime, since Halloween is just around the corner, you might also like this post on How to Make a DIY Ribbon Wreath for Halloween.
Until next time,
Kerri
P.S. Did you catch these recent blog posts?