This post was most recently updated on September 22nd, 2019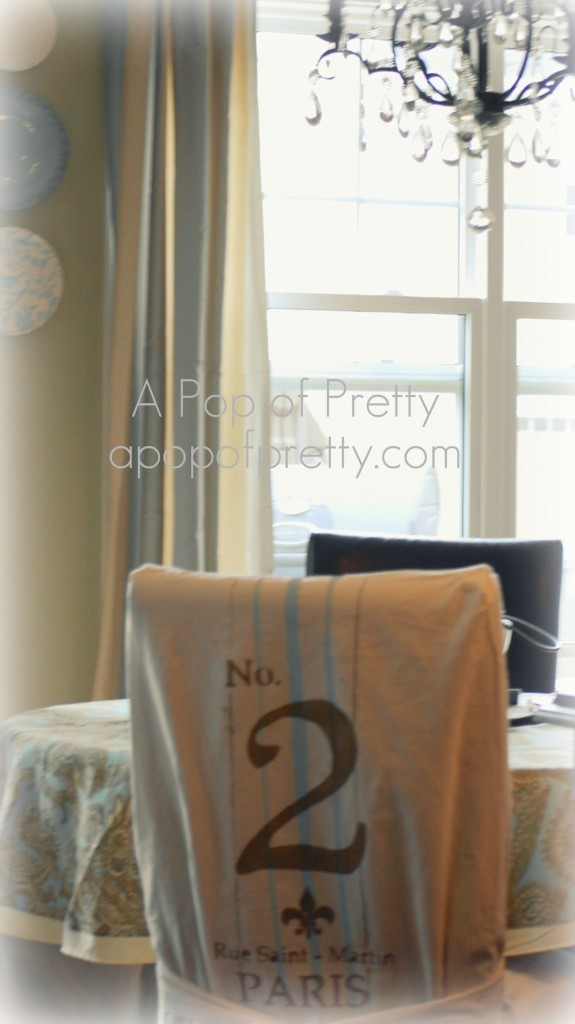 Bonjour mes amis! I've been working away on a little
diy French grainsack-inspired dining chair slipcover
project over the past few days.  You silly bears!  You didn't think I meant that I was sewing them, now did you?
No, I'm not "a sewer".  I have a sewing machine, and I've taken all the beginner courses.  I even have a lop-sided wrap dress to prove it ;-).  But let's just say it's not my favorite crafty activity.
Sewing is finicky and requires patience, something I don't have in abundance.  And, well, the whole idea of sewing an entire slipcover just seems like a patience-sucking activity. So, no.  I'll never be one of those amazing DIY 'slipcover whisperers' you'll find on other blogs.  If you are one of those people, I envy you!  It's not my thing.
But when it comes to dressing up a pre-made slipcover, well, that's a sandbox I can play in! I've been wanting slipcovers for my (p)leather dining chairs for awhile.   I love how easy it is to wipe down my (p)leather chairs, especially with two-year old twin toddlers. (P)leather is, well, totally PRACTICAL.  But I'm so flipping bored with them.
Oh, how I would love to have stunning fabric-upholstered dining chairs. But it would probably require never feeding my kids again, lol.  There's just a few too many juice box explosions around here for fabric covered chairs!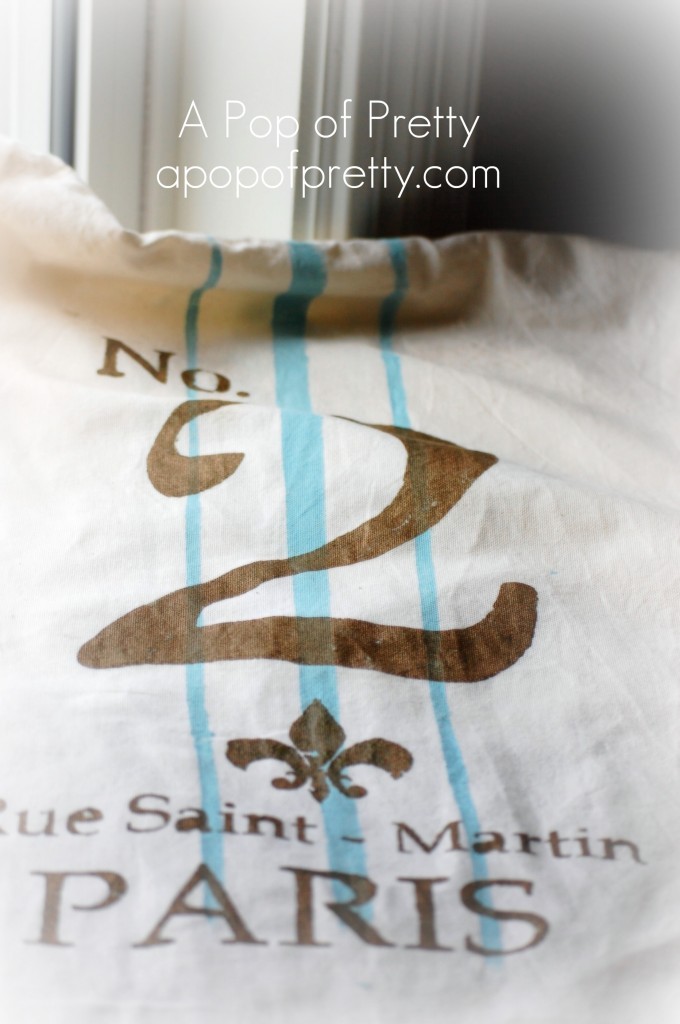 So I compromised with washable slipcovers to give my shiny brown (p)leather chairs a softer look. I ordered plain cotton-duck slipcovers from Sears, for less than $20 each.  Not bad, if you consider that new upholstered chairs would probably cost 10-20x the cost.
I've had a slipcover idea cooked up in my head for awhile. I really wanted to have big, whimsical numbers on the back of each chair for each of our five family members (so, numbers 1-5).  You may have noticed that I'm in love with typography decor. (If you are too, you should check out my pinboard on Pinterest about decorating with letters and numbers!) I'm also a fan of the whole French Laundry / grain sack look.  I've seen lots of great DIY projects on other blogs where pillows have been stenciled or painted with French grain sack insignia.
Hmmmm, how to choose, how to choose. In the end, I didn't. I ended up with a design that combined both ideas!
Wanna know how I did it?

What I used:

slipcover, masking tape, textile medium and craft paint, a foam brush, stencils.

How I did it:

 Step One (Prep Work):

Before I started anything, I washed and ironed the slipcovers. 

It was a bit of extra work but it ensured that any shrinking would happen BEFORE the stencil was painted.

Ironing was important so that I had a flat, wrinkle-free surface to paint on.

Step Two: The French Linen Stripes

To get the look of french linen stripes, I taped off vertical lines with masking tape. 

I found it easiest to do this with slipcover on the chair.

 Once I was happy with the tape's placement, I painted the fabric inside the the tape with a foam brush. 

For my paint, I mixed 2/3 textile medium, with 1/3 latex paint. 

I am sure that any craft paint would do, but I had a sampler of Martha Stewart Agean Blue  on hand.

 Once the paint was dry (OK, semi-dry, I told you I lack patience), I pulled the tape off to reveal the stripes. 

Sorry, I don't have a photo, but please imagine three perfectly straight, immaculately painted lines.

OK, no, they were not really that perfect, but I decided they'd do. 

Gotta love the "shabby" in shabby chic.

Step 3:  The Numbers

I cut my first of the five number 'stencils' out of cardstock on my Silhouette. 

I made the number 2 first.  I'm weird like that. It's guess it's just a prettier number than 1.

Don't worry if you don't have a Silhouette.  You can buy number stencils at any craft store or at Walmart. 

Or you can easily make your own.

There are lots of tutorials out there on making stencils with an x-acto knife and freezer paper.

I mixed some craft paint together to create a colour I liked,and then mixed it with the textile medium in the same proportion as the stripes. 

Unlike the stripes. I laid the slipcover down on a flat surface to paint the number.  Make sure that you put some paper in between the two layers of the slipcover to avoid seeping to the other side. 

Not that I know anything about that ;-).  Ahem.

If you are using a cardstock stencil like me, make sure you hold the stencil down as you go to ensure that it doesn't move.  Otherwise, you'll end up with wonky lines.

Not that I know anything about that  either;-).

Step 4:  The French Grainsack Insignia

For this step, I created a faux French street address on my Silhouette, and cut another cardstock stencil. 

Again, if you don't have a Silhouette, no worries.

You can discover a creative way of making your own stencil by googling "freezer paper stencils".

To finish it off, I added a little fleur-de-ly.

Step 5:  Enjoy

Once the paint had dried on the insignia, I threw it in the washer and dryer to soften it up.

I also wanted to ensure that the paint would stay on through the wash before I painted my other slipcovers.

I am happy to report that it did!
Here's the finished product: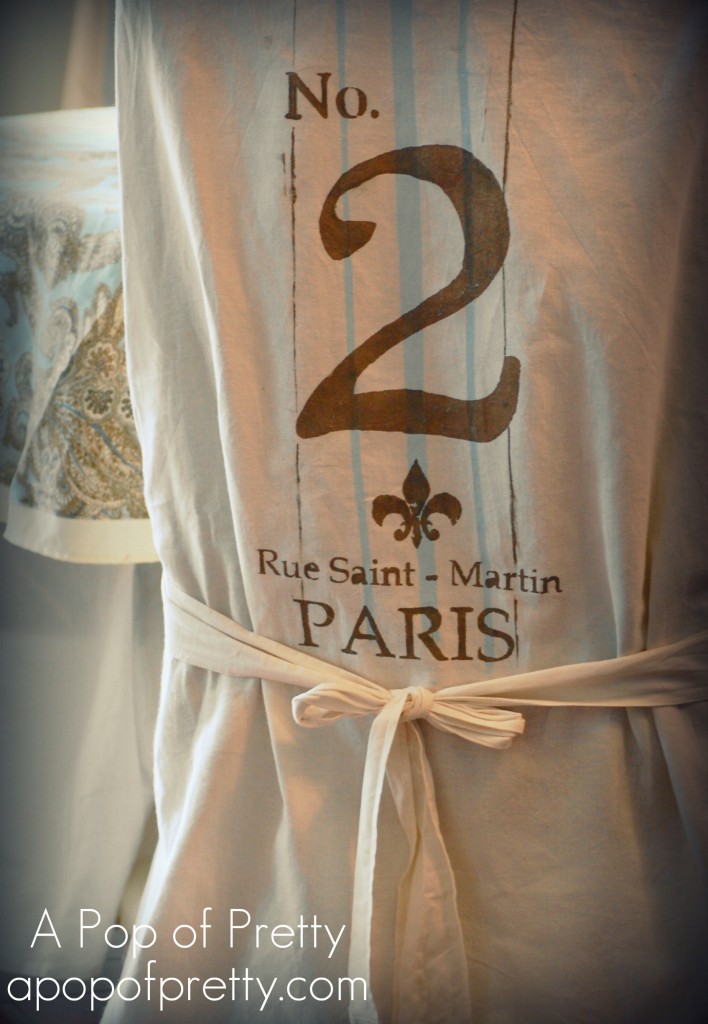 Now onto the other four slipcovers!
I'll post another pic of my dining area when all of them are finished.
Until next time,
Kerri