This post was most recently updated on October 25th, 2020
In This Article: You'll find inspiration for a woodsy, Cabin Themed Tree, including the kinds of Christmas tree ornaments and decorations that help create this look. I'm sharing the cozy Christmas tree in our lakeside cabin/cottage with lots of photos and ideas for cabin and lake house Christmas decorating. Find out how to get the same look by mixing cozy cable knits , plaids, and ornaments.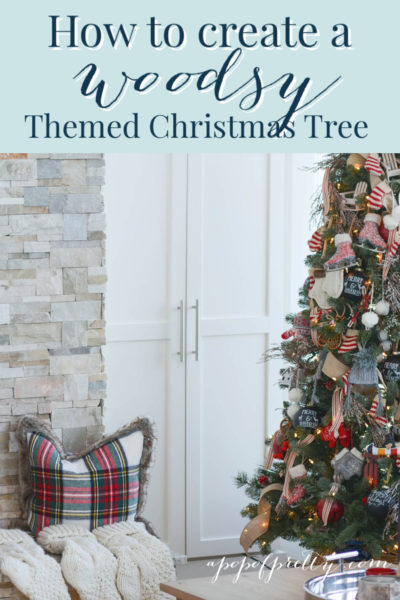 Hello friends! Looking for woodsy Christmas tree decorating inspiration? Today, I'm sharing the cabin themed tree in our lake house-cabin-cottage-summer home (<– depending on what you call it in your neck of the woods!) As we neared completion of this home build in late fall 2017, I noticed woodsy, cabin themed ornaments everywhere. Funny how that works, isn't it? It's like when you notice just how many red cars are on the road on the day you buy one, lol.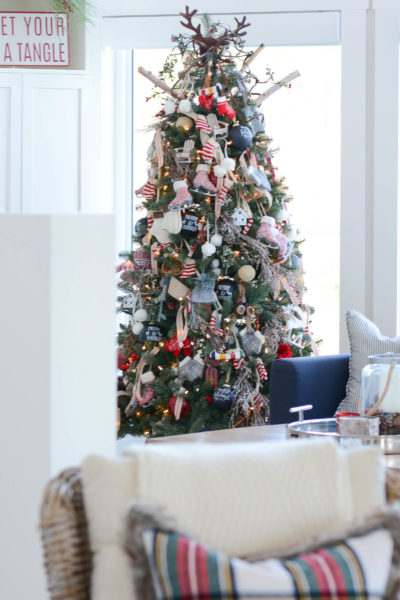 Our Cabin Themed Tree
Of course, despite my willpower (um, I have none lol), these rustic, cabin themed tree decorations landed in my cart. And, as luck would have it, I also partnered with Walmart on a Nordic Style Christmas Tree that Christmas. So, I had lots of cute woodsy Christmas decorations left from that project.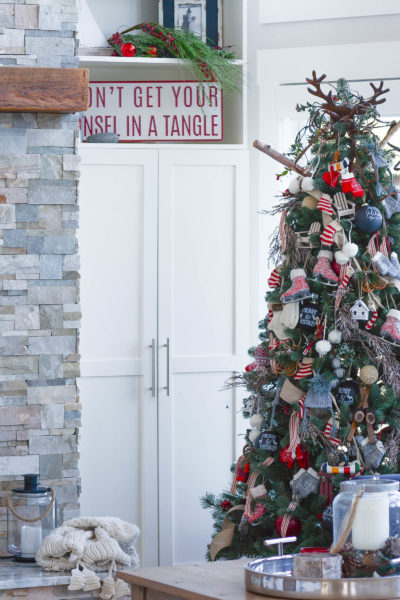 But, in all honesty, how could anybody in their right mind resist cute cabin themed ornaments like teensy tiny mittens and pom pom hats, or mini skates and skis? It's like asking somebody not to cuddle a puppy, lol. OK, so maybe I'd choose a warm puppy over cute Christmas decor, but it would be a close tie, haha.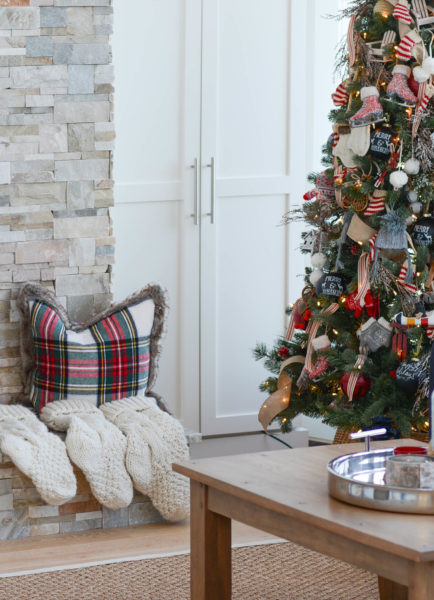 Now, fast forward two Christmases. This year, I was happy to realize that I had collected enough woodsy decorations to fill an entire Christmas tree at our cottage. I didn't plan for a full-on cabin themed tree when I started buying these kinds of decorations. But, once they came together, it definitely felt like one!
How to Create a Woodsy or Cabin Themed Tree
It's not that hard to create a woodsy Christmas tree like this. And, even if you don't have a cabin or cottage, this kind of cabin themed tree has the classic, cozy Christmas vibe that works well in any kind of home. It makes you want to curl up with a plaid throw and a big cup of tea and wait for Santa to come down the chimney!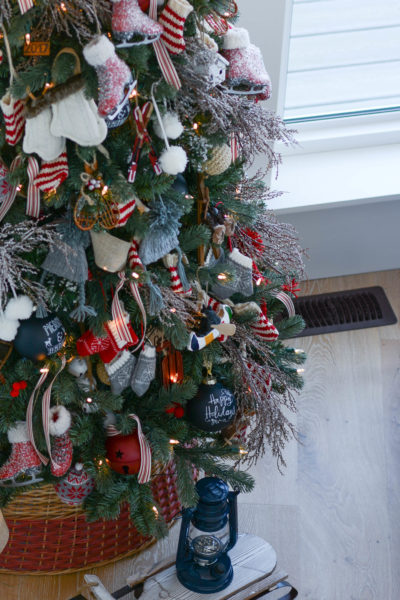 The tree is filled with things you'd find around a wintery scene in the woods. I think my favourite decoration on this tree is a little black bear in his HBC striped canoe (below). Being Canadian, I have an affinity (addiction?) for Hudson's Bay stripes (#stripespotting). So, you'll find more than a few products in our cabin with these quintessential stripes.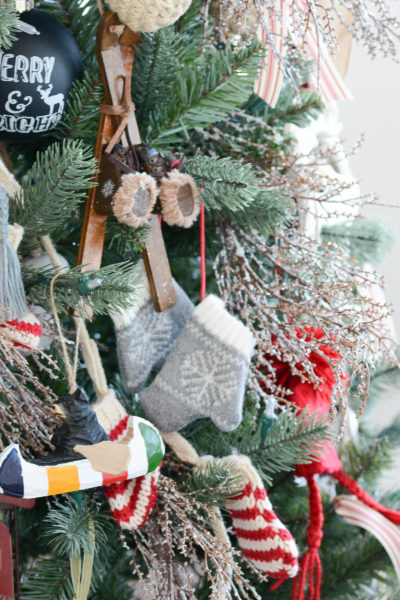 My other favourite decoration on this woodsy tree is the red skates. The pond next to our cabin freezes which means that we can use it for skating and hockey all winter long.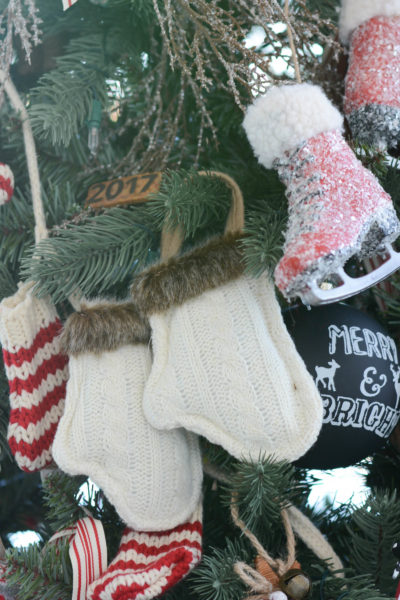 Last Christmas, we skated on the frozen pond next to our cottage for the first time! We loved every minute of it.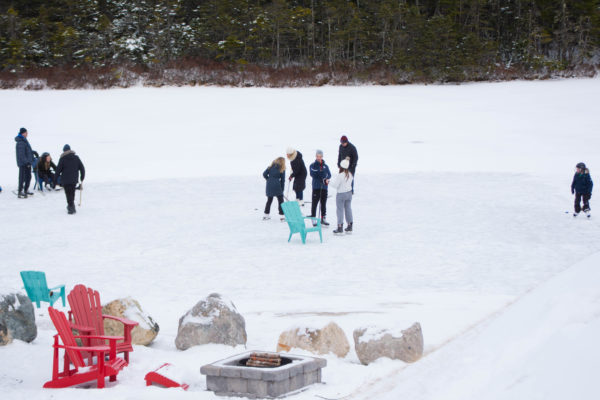 A Closer Look
You can take a closer look in the video below!
What You'll Need
To create this vibe, all you really need is a mix of woodsy or cabin themed tree decorations.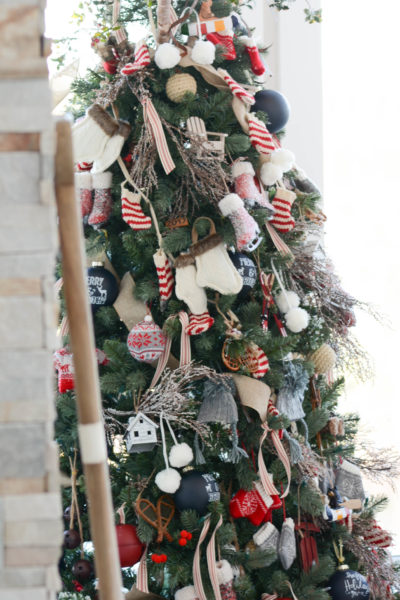 Here's a few tree decorations that work great to pull off a look like this:
Woodsy Christmas houses or cabins.
Mittens or mitten garlands.
Cable knit decorations.
Wool socks/stockings.
Mini sweaters.
Skiis.
Snow shoes.
Skates.
Canoes.
Sleighs.
Lanterns.
Forest animals: fox, bear, moose, deer.
Faux antlers.
Birch logs.
Red berries.
Tree branches/foliage.
Simple striped ribbon.
Nordic-inspired ornaments.
Woodsy Tree Topper Idea
I love being creative with the top of a Christmas tree. For the top of this cabin themed tree, I placed a wooden deer head with antlers. I also poked some birch logs and red berry garlands into the tree. Then, I finished it off with a rustic metal bow that I had in my Christmas stash.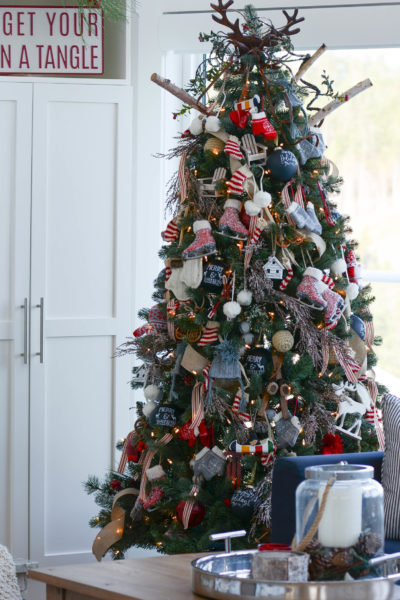 Bottom of the Tree
In addition to the tree topper, I also love to decorate around the bottom of a Christmas tree. It can look so sad and empty before Santa arrives! For this cabin themed tree, I used my basket tree collar that I've had for awhile. Sometimes I use a tree skirt, but other years, I love the tailored look or a collar. It all depends on the look I'm aiming for.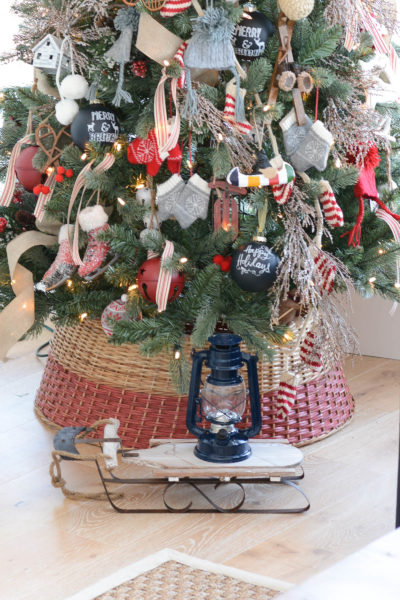 To finish off the woodsy look, I added a wood sleigh topped with a navy blue camping lantern that's usually on my shelves next ti the fireplace. It's LED powered, so it just adds a bit more ambiance to the space.
Casual Style Ribbon
There are so many different ways to put ribbon on a Christmas tree. But, for a rustic, woodsy tree like this one, I like to keep the vibe super simple. Striped ribbon, like the one I used here, has a lakehouse or farmhouse feel. And, rather than place it just so, I just tied it casually in a knot at the end of branches throughout the tree.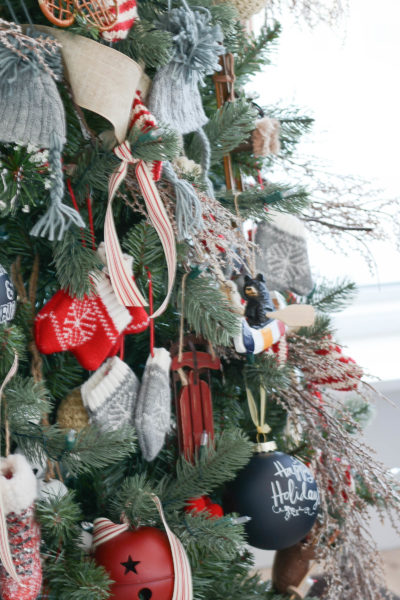 Cabin Themed Tree: Get the Look
Want the look of this cozy Christmas tree, but not sure where to find the right decorations? I've rounded up some fabulous Christmas decor below. The list contains affiliate links.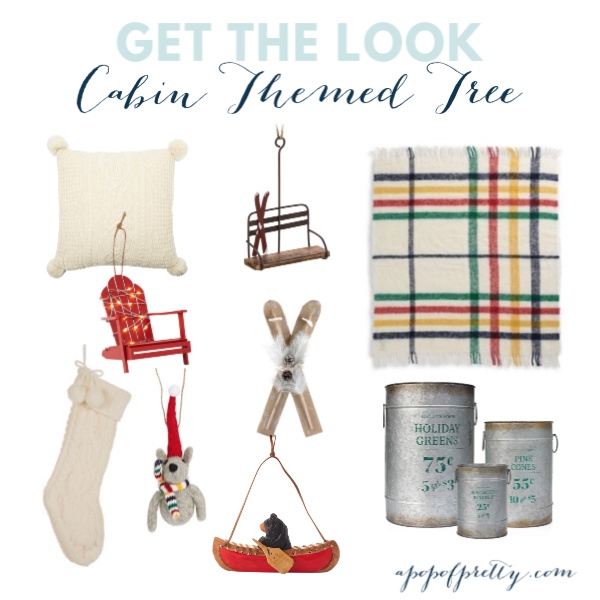 Adirondak Chair Christmas Tree Ornament
Black Bear Canoe Tree Ornament
Cable Knit Pom Pom Pillow Cover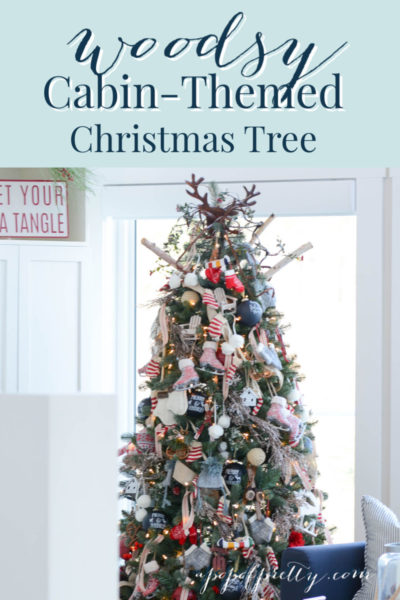 Other Themed Christmas Tree Ideas
Looking for other themed Christmas tree ideas? Here are a few I've decorated over the years: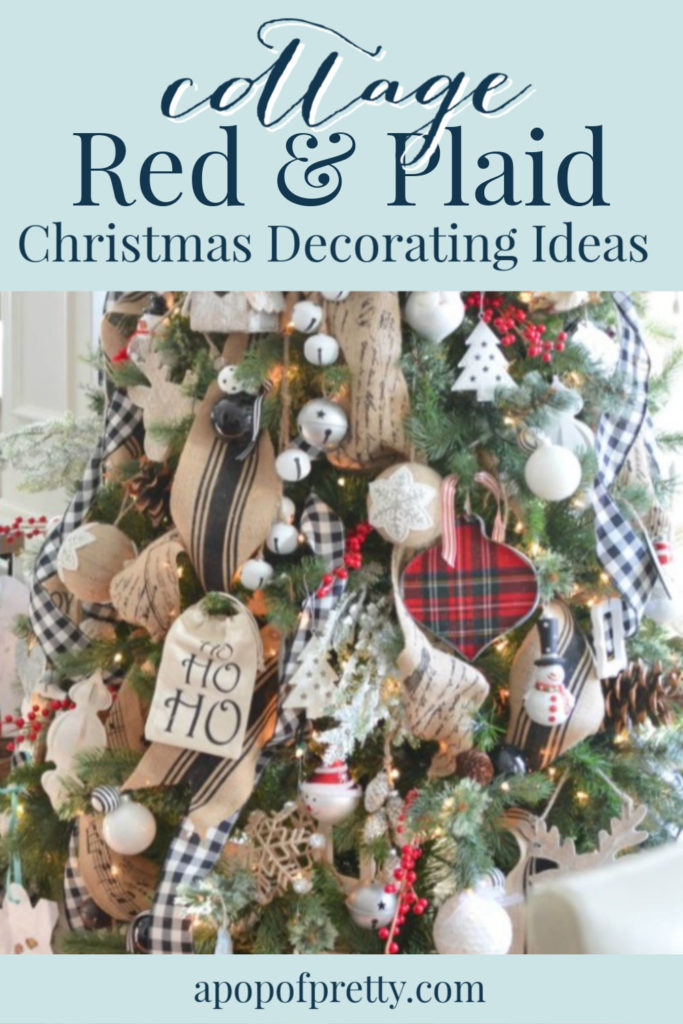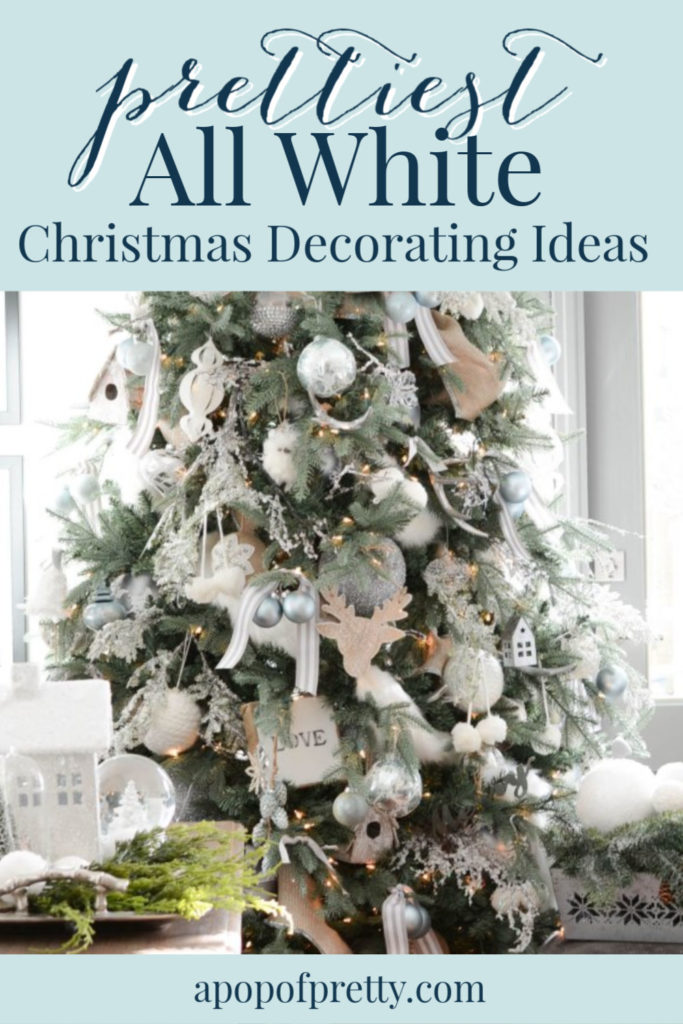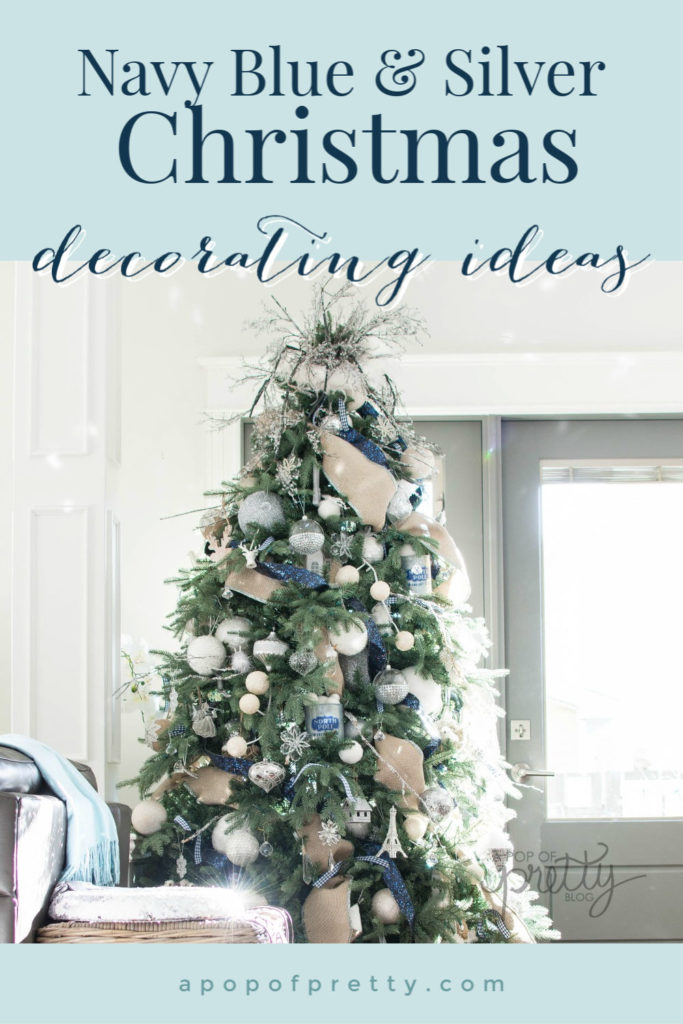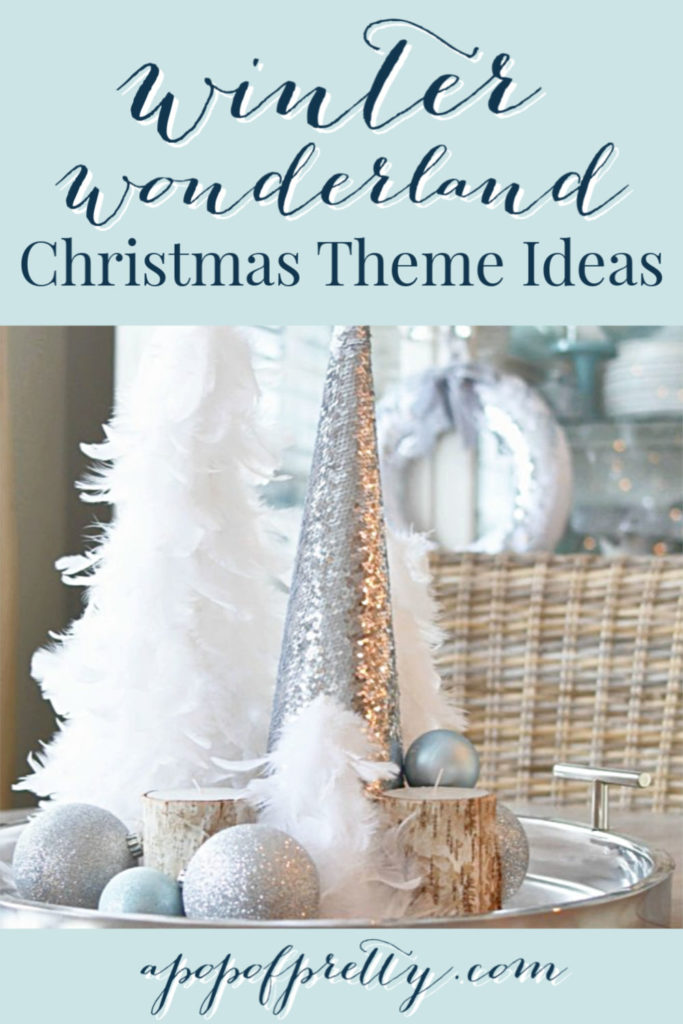 Hope you've enjoyed this post. Let me know if you've ever decorated a tree with the same kind of woodsy, cabin vibe! Or, if you are about to, then let me know how it goes.
Until next time,
K.