This post was most recently updated on January 11th, 2021
In this article: Do you have a Word of the Year for 2021? Today I'm sharing a free, downloadable (printable) workbook with pretty worksheets so you can document your focus word for this new year, create actionable goals, and track your progress.
Happy New Year, friends! It seems that everyone is choosing a Word of the Year these days. When I first heard about this trend several years ago, I thought it was a bit, well, silly. I mean, how could choosing one word change your entire perspective (and behaviour) for the year? But, guess what? I've grown to really love this idea. That's because I've never been one for setting (or sticking to) a long list of resolutions. I've found that choosing just one word as a guide for the year is simple and do-able! For me, it's been a concrete way to inspire my mindset and priorities.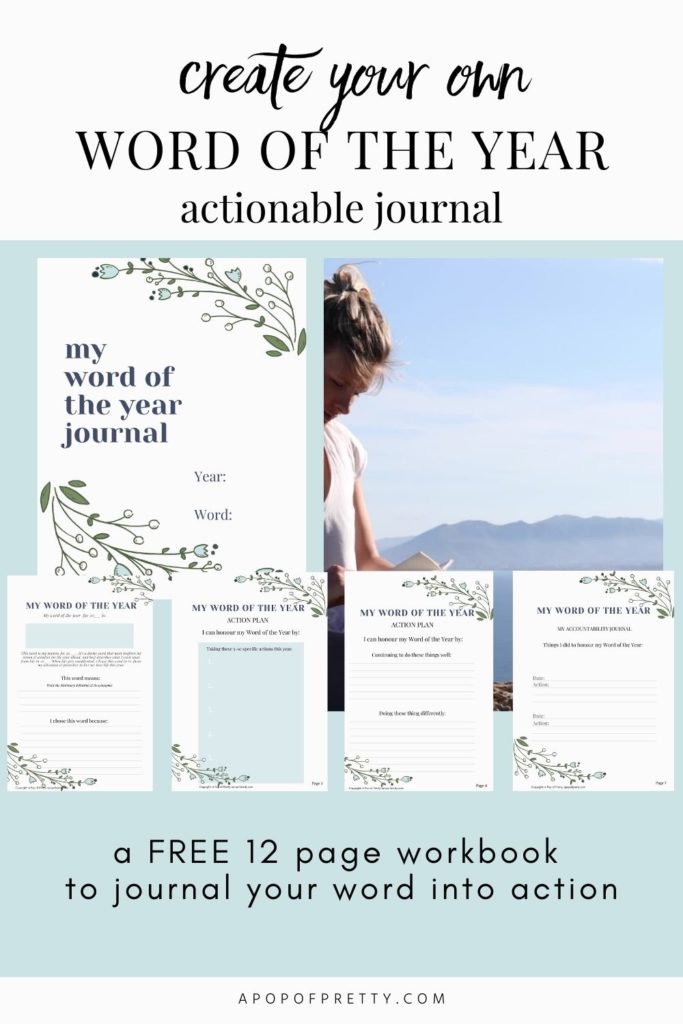 What is a Word of the Year?
Still not sure what a Word of the Year is? In its simplest form, it is like your mantra for the year ahead. The idea is to choose just one word that represents what you want from life in the new year. Perhaps you want to live a simpler life (e.g., "Simplicity") or get better at appreciating the life you have rather than the one you want (e.g., "Gratitude"). Or maybe you want to get in shape and feel better (e.g., "Thrive"). Whatever your goal for the coming year, your Word of the Year should be should be inspiring and broad enough to apply to different areas of your life (family, friends, work, play, and more.).
It's Like A Theme for the Year
A Word of the Year is sometimes called a Focus Word or a Theme Word because it helps you focus (or re-focus) your priorities throughout the year. Life can get messy and complicated, and it's often hard to decide between competing priorities. Well, a great theme word will help provide the clarity you need to make decisions and live the life you want. And, while there are lots of theme word idea lists out there to help you choose one, yours should be individualized to your own personal goals.
My Own Theme Word
And, speaking of personal goals, I'm still finalizing my word for 2021. But, the word I chose last year was "Worthy". Having this word as my guidepost was inspiring and life changing. I chose Worthy because the previous year was full of big insights, both personally and professionally. But, the biggest one had transcended everything and was all about self-worth. I realized I needed to better honour myself, so I chose Worthy to remind myself that we are absolutely deserving of all the things that fill our tanks: good health, positive energy, a creative outlet, work that inspires us, and authentic, supportive friendships. Whenever I found myself accepting less than I deserved in any of these areas, this Word of the Year helped me re-focus and re-energize.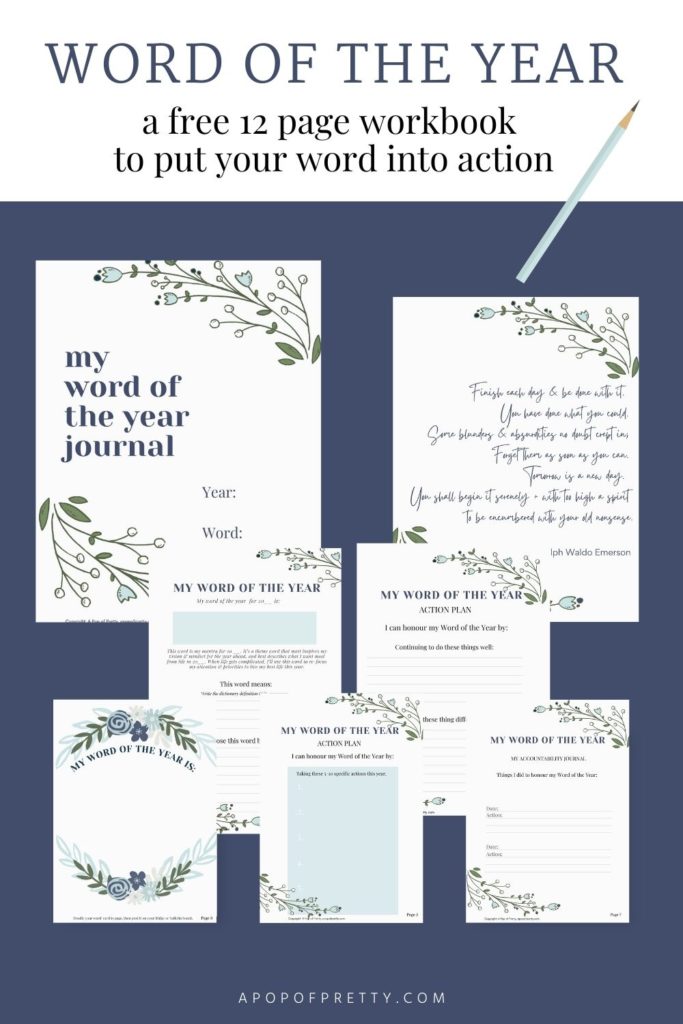 Free Word of the Year Printable Journal: Downloadable
Once you've decided on a focus word, the challenge is to put it into action. It's pretty easy to forget about your word if you're not committed to incorporating it into your life on a daily basis. We all know how crazy life can get. But, I've always found that writing things down makes them more concrete, and I can make a better commitment.
So, this year, I thought I'd put together a little workbook (journal) that includes pretty worksheets that will help put my word into action. (Let's face it, pretty also motivates me!). And, yay, I'm sharing it with you here too so you can use it for your Word of the Year. Use it to make your word come to life with actionable and accountable worksheets. You can use all of it, or just the pages that interest you.
To get the free download, just click the Download link below. You'll find it wherever your downloads go on your own device, Then, simply print it at home, or at your favourite printer.
Let me know in the comments whether you find this workbook useful! Also, I'd love to know what you're choosing as your own Word of the Year, if you're willing to share.
Until next time,
K.
And, if you're not ready to use this workbook quite yet, pin it over on Pinterest so you can find it later!