This post was most recently updated on December 19th, 2020
In this article (updated 2020): I'm sharing a fun DIY painting party I threw for a birthday. It seems that "Paint and Sip" Parties are all the rage these days. But did you realize that it's easy and affordable to throw a painting party like this on your own? That's right. You don't need to go to a studio, or be led by a professional artist, to have a fun, creative experience with your friends. Read on to see how I created my own art themed celebration using almost all dollar store finds!
Wondering how to throw a trendy Paint and Sip Party? Or perhaps you're just searching for a unique, fun party theme idea for a small group of friends. If so, this article will show you just how easy and affordable it is to create your own DIY painting party that you can have in your home. I threw this art themed party for my daughter's birthday several years ago, before paint and sip parties became so trendy! It was an easy and affordable party theme to pull off because I used almost all dollar store finds (woot!). And, it's a party theme that adults would love as much as kids.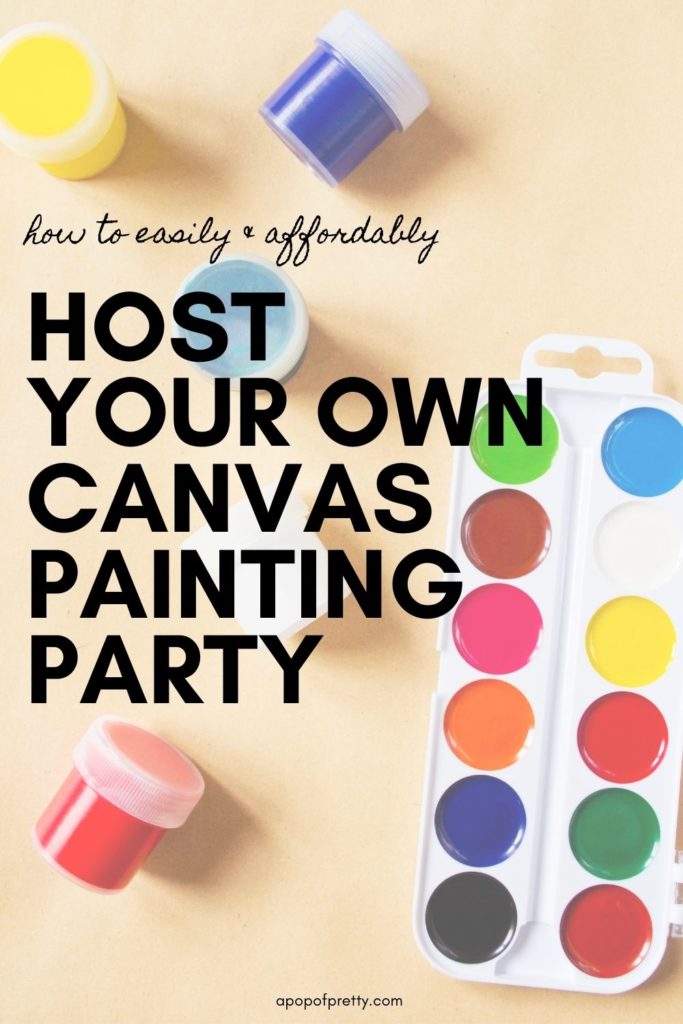 What's a Paint and Sip Party?
If you're not familiar with the name Paint and Sip, it's basically just a fun label for a painting party! Usually, these get togethers are held at an art studio where a group of friends can paint an art canvas with the help of a professional. That's the 'paint' part. And, the 'sip' part? Well, that usually involves some wine, but it could just as easily be replaced with non-alcoholic punch or a mocktail, especially if you've got kids as guests.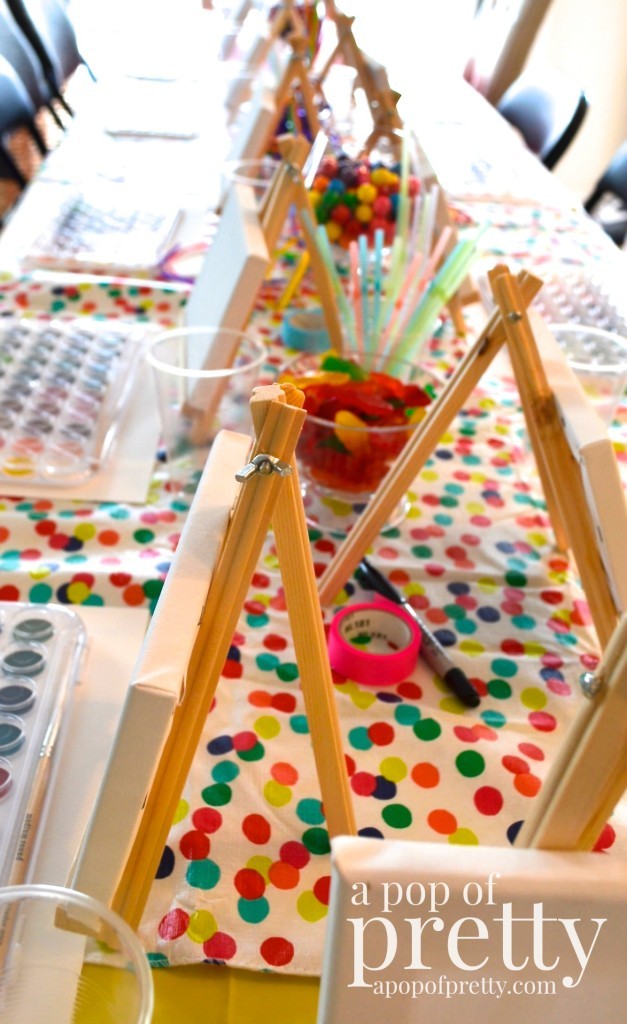 How to Throw Your Own DIY Painting Party
Even though paint and sip parties are usually held off site, you could just as easily host your own DIY painting party at home for friends. While it's always nice to have a professional artist lead you through a project, it's not at all necessary. After all, isn't the whole point to be social and creative while having fun? And, with so many great resources out there on how to paint abstract art, you can find an easy project for a paint and sip party by searching Pinterest. I know that our own DIY painting party was a huge success, and I'm not an artist! Here's how I did it.
What You'll Need to Throw a DIY Paint and Sip Party at Home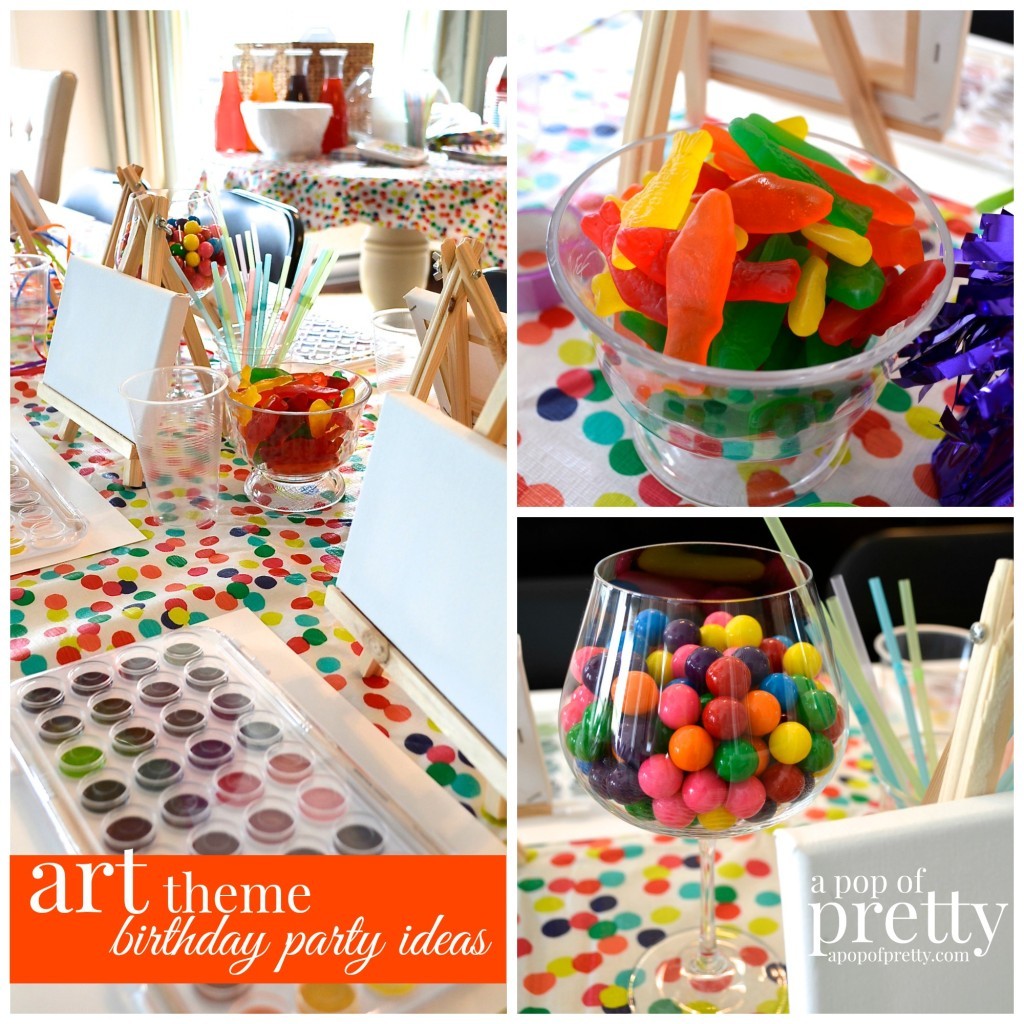 DIY Paint and Sip: Party Supplies
Rentable Items:
A long table and enough foldable chairs for your guests (rentable)
Dollar Store Finds:
Fun, colourful plastic table cloths to catch the mess.
Party decorations in rainbow colours.
Edible decorations for the table: glass jars of brightly coloured candy like gum balls, Swedish fish, etc.
Art supplies for each guest's place setting:
Canvas
Wooden easel (optional)
Sheets of watercolour paper (see note below)
Water-colour paint set (see note below)
Paint brushes
Any other tools the project requires (ours required straws and painters' tape)
Cup of water
Paper towels
Note: Our project used watercolour paint, but if your project uses acrylic paint, just substitute the watercolour paint set at each place setting with a small acrylic paint set.
All these supplies can usually be found at a dollar store. But, if you're bot into shopping these days, you can also find most of them online at places like Amazon. (Note contains affiliate links.)
The watercolour paint set later became part of the takeaway from the party. (If your project uses acrylic craft paint, just substitute.) Each guest wrote their names on the bottom of the set with a Sharpie, and we popped them in their takeaway bags when the painting was done.
I also put straws and tape on the table, in case the guests wanted to use a few simple paint techniques I demonstrated, like blowing the paint through the straw and masking their initials/names. But honestly, they didn't need much direction. Everyone had their own ideas about what they wanted to create. (And, isn't that what art is all about?)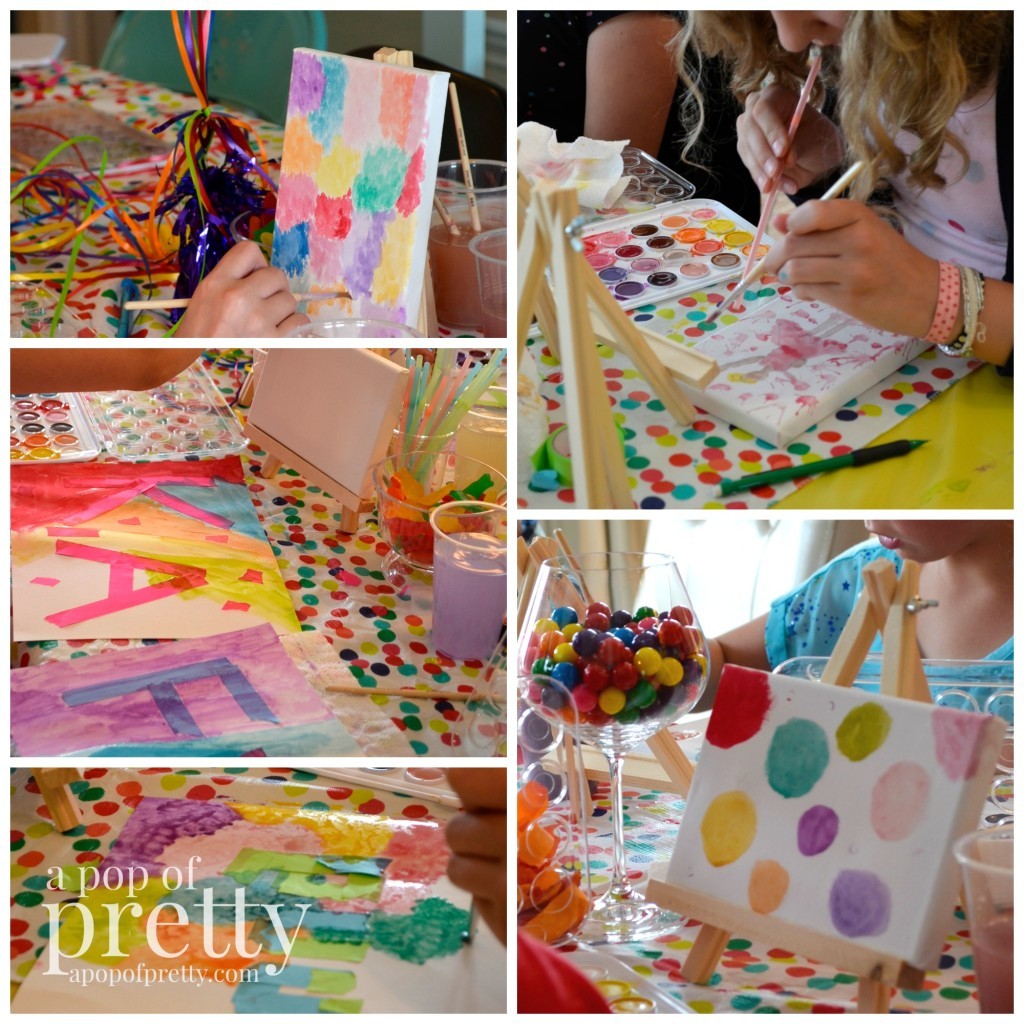 Where to Find Projects for a DIY Paint and Sip
There are so many great resources out there for beginner-level painting projects. Search Pinterest to find one you love, or check out my post on how to paint abstract art (diy tutorial). You can show a YouTube video tutorial to your guests, or you can print out the instructions. I've also compiled a list of a few diy paint projects that would be awesome:
Easy Paint Projects for Families
How to Paint Birch Tree (No Art Skills Required)
How to Paint a Lighthouse Beach (Easy)
DIY Abstract Heart Painting (Easy)
How to Paint a Bicycle with a Basket of Flowers
Easy Christmas Tree for Beginners
Easy Watercolour Techniques for Kids
Art Themed Games You Can Play at a DIY Painting Party
Once the painting was done, we laid it all out on the kitchen island to dry, and we played a couple of other art-related games. Games certainly aren't necessary at a Paint and Sip gathering – especially for adults – but if you have kids as guests, it definitely makes it more fun! Here are a couple of art themed game ideas:
Paint and Sip Game Ideas
Art Trivia:
I created a multiple choice trivia game with age-appropriate art questions I found online. Because our guests were tweens, we had easy ones like 'What are the primary colours?' and 'What colours are found in a spectrum', etc.. I also threw in a few questions for fun like 'What is Selena Gomez's favourite colour?' – which is turquoise btw, in case you ever need to know lol.
Art Pictionary:
We also played a homemade game of 'Pictionary' in teams of two. I made up a bunch of silly (and easy) things for them to draw (e.g., a dog playing a flute) and they picked them from a hat. One partner drew while the other one guessed, and in the end, whichever team performed fastest won the prize. It was a lot of fun!
How to Decorate for a Paint and Sip
Decorating for a diy painting party certainly isn't necessary, but it couldn't be easier! And the best thing? You can find it all affordably at any dollar or party store. I used streamers, balloon, paper lanterns and tissue flowers all in the colours of the rainbow. I grouped decorations together to make a big impact.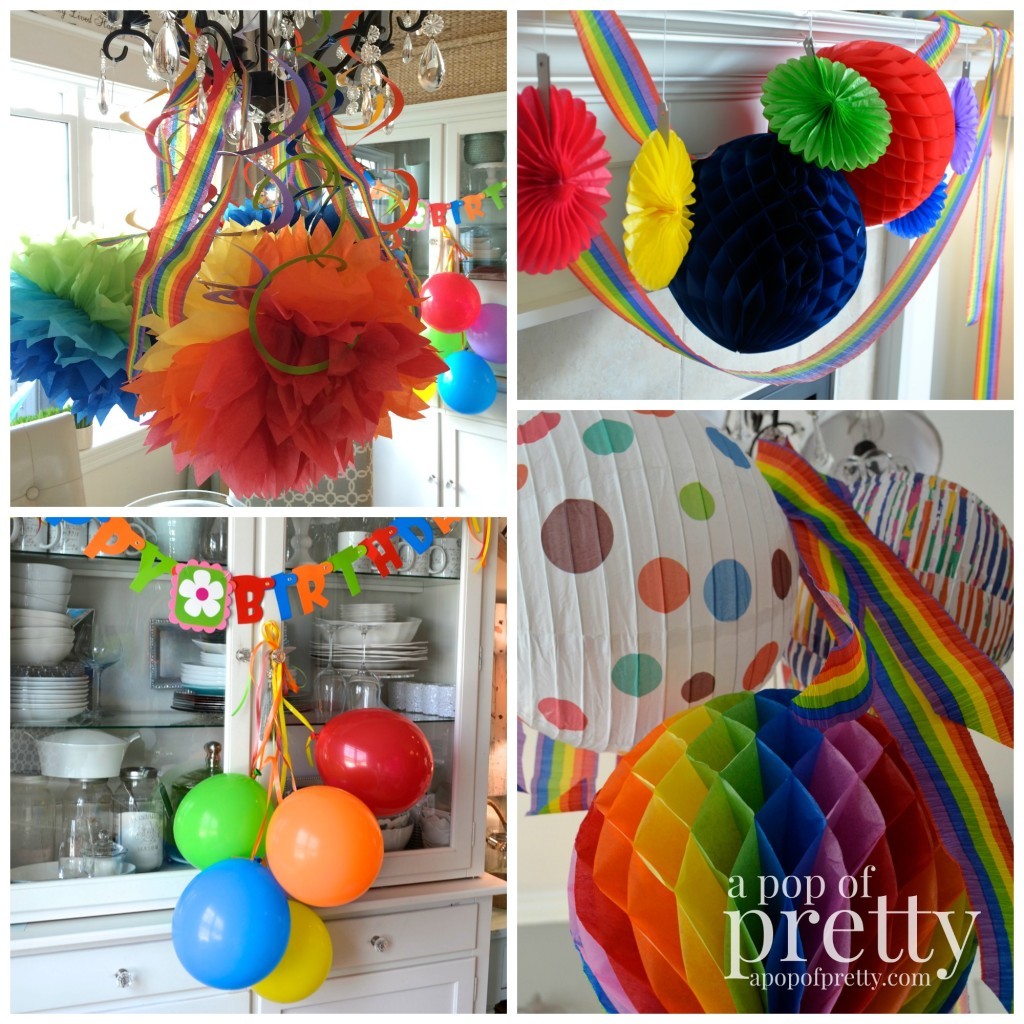 Food to Serve at a Paint and Sip Party
The whole point of a paint and sip party is to, well, paint and sip lol. So, if you have adults at your party, you'll want to have wine or champagne on hand for the sipping! It's always a good idea to have a non-alcohol option too, like punch or fancy mocktails. And of course, if you are having kids as guests, you'll want to have some art-themed snacks on the table too.
Our party was mid-afternoon, so I prepared snacks that kept with the rainbow-theme for the party. I made rainbow fruit skewers using strawberry and watermelon for red, pineapple for yellow, cantaloupe for green, grapes for violet, and blueberries for indigo. We also had a veggie tray laid out like a rainbow, Kool-aid in varying colours, rainbow-coloured candy, and sweets with rainbow sprinkles.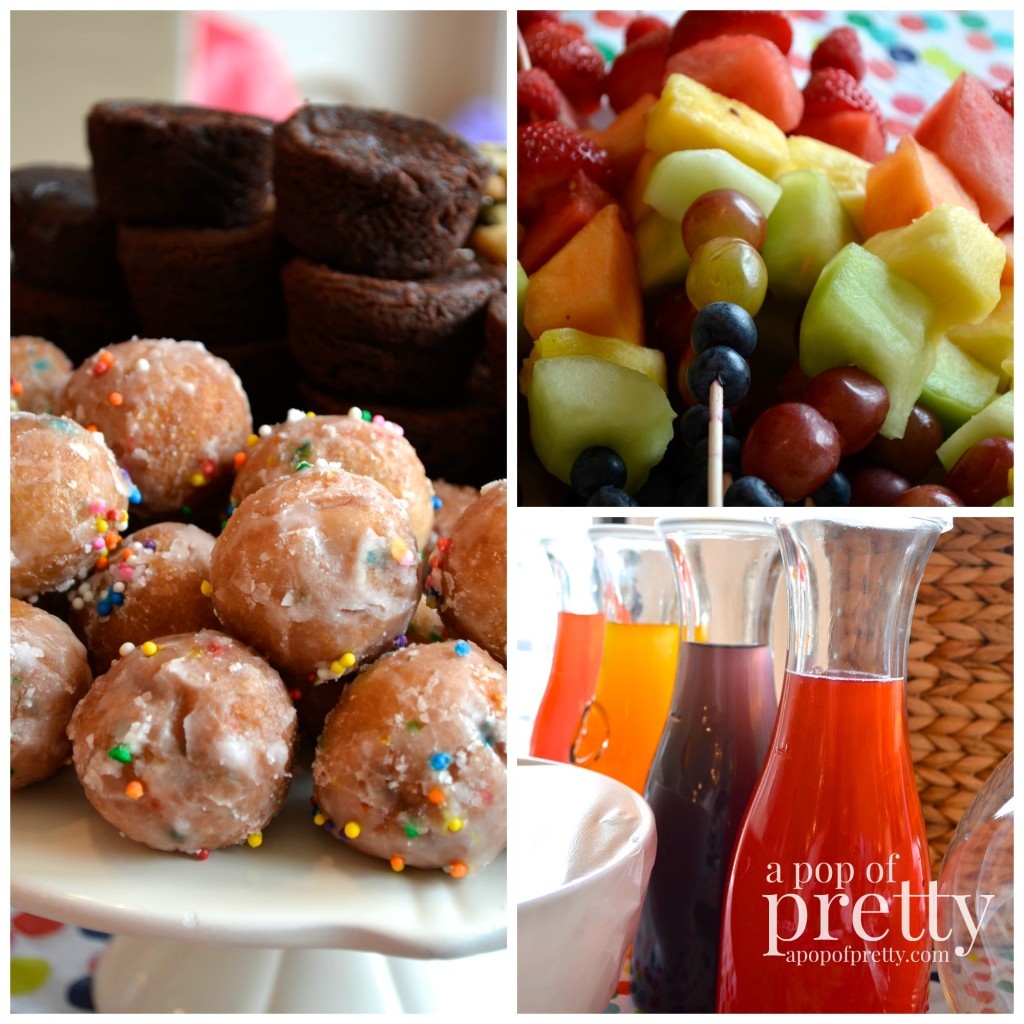 The Takeaway Bag
Even adults will enjoy receiving a small takeway bag at the end of your paint and sip party. Bags can include the paint set they used for their paintings, a mini canvas that they can paint at home, and a package of colourful candy.
That's it, my friends! Now you know how to throw a paint and sip / diy painting party that's super easy and affordable. If you are looking for more great party theme ideas, check out my post on a Broadway theme party or the one on how to make a photo booth cheaply and easily!
Until next time,
Kerri
PIN & SHARE!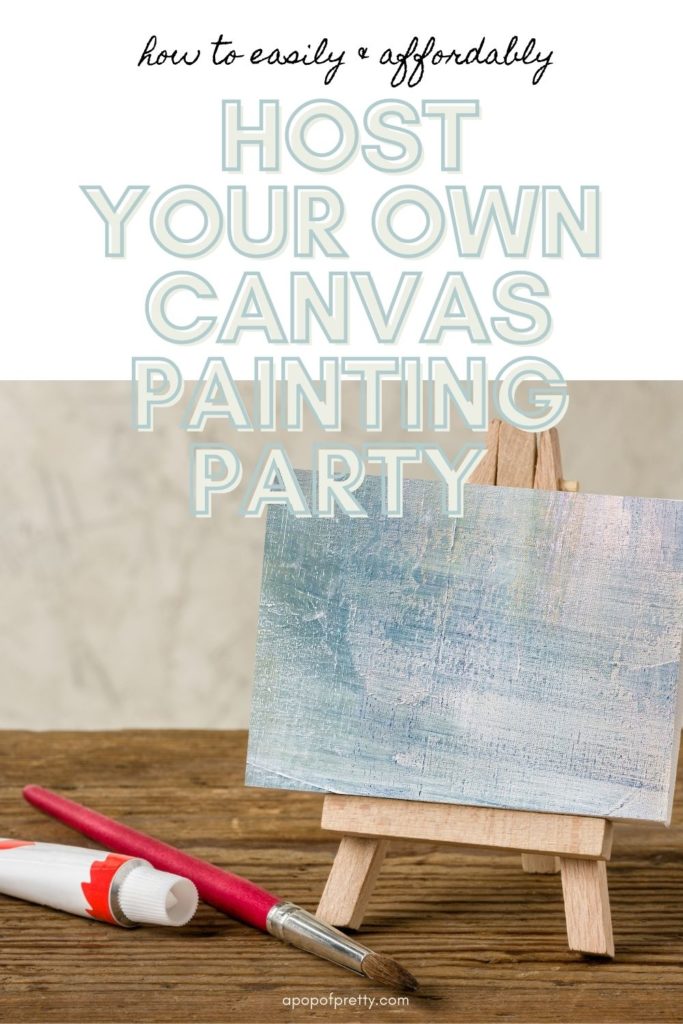 P.S., There's also a super fabulous post about a water-colour theme birthday party on my of my favourite blogs, The Handmade Home. Check it out here.