This post was most recently updated on July 15th, 2020
In this article: I'm featuring several DIY cane furniture projects that will rock your world! I love beachy, coastal style. So, the current, coastal inspired home decor trend of DIY rattan cane furniture makeovers (especially IKEA cane hacks) is super exciting! I love that you can easily get the look of an expensive cane furniture piece on a budget. (This article is the first in my five (5) part series, Coastal Decor Trends to Try This Summer.)
Beachy, Coastal Decor Trends to Try this Summer
Well, helloooo there, DIY cane furniture trend. Where have you been all my life? Today's post is all about the home decor trend I'm seeing EVERYWHERE these days: DIY cane furniture makeovers. I don't know if you've noticed, but cane furniture can be pretty pricey. So, upgrading old or inexpensive furniture with rattan cane webbing is a great way to get the look on a budget.
This is the first of five (5) articles on Coastal Decor Trends to Try this Summer. Over the next 2 weeks, I'm going to share five coastal style design trends I'm noticing. They are all easy ways to create a laid back, beach house vibe in your all year long.
No secret, I love coastal style. And, I've always been obsessed with rattan cane furniture like cane headboards and cane chairs. But, recently, I've noticed more and more webbed cane woven material used for diy projects like side tables and cabinet doors. After some digging, I discovered that this home decor trend of cane furniture makeovers are actually simple and inexpensive IKEA cane hacks. And, I'm here for it!
What is Cane Furniture?
So, maybe you've been hibernating from your home decor social media feeds in recent months, and haven't seen all these diy cane furniture projects yet. If so, let me remind you what woven or webbed rattan cane material looks like.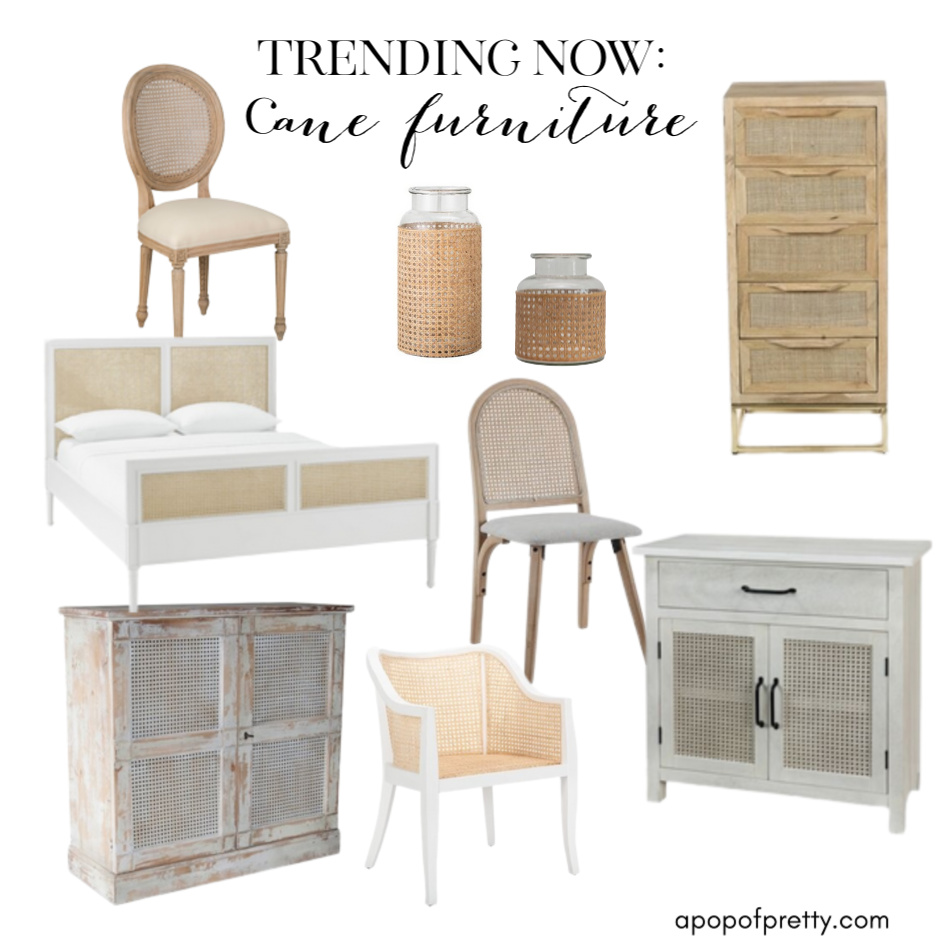 DIY Cane Furniture Makeover Trend
It's easy to see why the diy cane furniture makeover trend is so popular right now. Woven rattan cane material gives furniture a casual, coastal vibe, with some stylish mid-century modern, Scandinavian feel. Not to mention, the tight geometric weave also helps a space feel polished.
There are a couple of ways to get in on this coastal-inspired home decor trend. First, you can do it yourself by upgrading old furniture piece using rattan cane webbing material, for example, on the cabinet doors or dresser drawers. This is a great way to upcycle something you already own. Second, you can buy an inexpensive IKEA furniture piece to upgrade. There are so many great IKEA can hacks out there, and I'm sharing 5 of them below!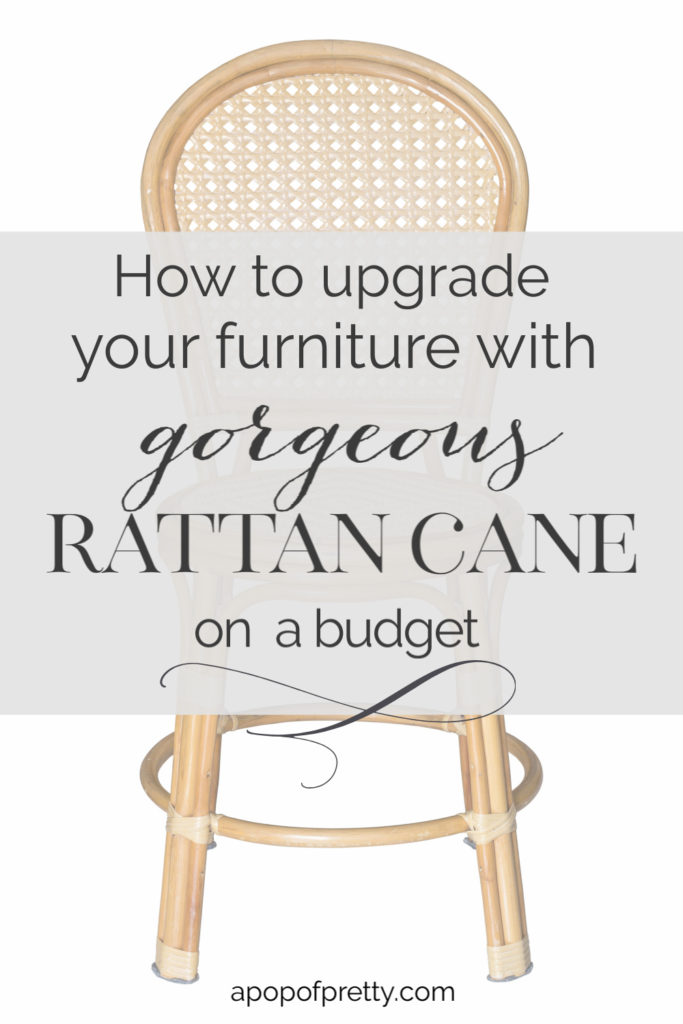 To do either, all you need is a roll of webbed rattan cane. You can purchase rattan cane material on a roll just like fabric. You can find it on Amazon and other online sources. All you need to do is measure how much you need for your project, and use a staple gun (or other method) to attach it to your furniture piece. (Check out all the IKEA cane hacks below to see how it was attached in each case.)
And, of course, if you're not the diy type, you can simply buy one of the many gorgeous cane-inspired pieces on the market today. I'll start with featuring some inspiring diy cane furniture makeovers below, and then I'll share some fabulous cane home decor finds at the end of this article.
DIY Cane Console Makeover
First, take a look at what you can do with an old furniture piece! I just love the gorgeous woven cane doors on this console cabinet by Schoolside Design. Can you believe that Ashley added cane to the cabinet doors herself? It looks like a high end piece at an expensive furniture store. Check out her blog for the details.
DIY Cane Furniture Makeovers: IKEA Cane Hacks
IKEA Billy Bookcase
This diy cane furniture piece has a casual, coastal vibe, and looks as if it was purchased in a high end store. I was shocked to discover that this gorgeous cabinet is actually, wait for it, an IKEA cane hack! Whaaat? Yup, it was created from an inexpensive IKEA Billy bookcase. All the fabulous details can be found at House of Hawkes.
IKEA Tarva Dresser
This next diy cane furniture project provides just as much of a WOW. Apparently, this makeover was from an IKEA Tarva dresser. It's amazing how replacing just the drawer fronts of an inexpensive IKEA dresser with woven cane material can upgrade the look to a premium piece. And, I'm also a big fan of the beachy finish on the wood. You can find all the details on this stunning diy cane dresser makeover at House on Longwood Lane.
IKEA Nesna Nightstand
If you're not ready to tackle a big diy cane furniture piece like a cabinet or dresser just yet, this next IKEA cane hack is probably one you'll love. It's a diy rattan cane nightstand / side table makeover using one of IKEA's most inexpensive furniture pieces! This is a simpler project, but makes a big impact in adding beachy, coastal style to a bedroom. It's definitely a great project to try this summer! Find all the details at Burkatron.
IKEA Flisat Bookshelf
This next IKEA cane hack is one I think I am definitely going to try! These cane lined bookshelves are so sweet in a kids bedroom (as pictured), but they would work equally well in a coastal style bathroom to hold cosmetics. They're made from inexpensive (or, dare I say cheap) IKEA Flisat bookshelves, and you can find all the details at White Picket Farmhouse.
Cane Memo Board from IKEA Hovsta Frame
These IKEA cane hacks are all so fun, right? And, this final one is probably the easiest of all. This coastal chic webbed cane memo board is made using an IKEA poster frame. I love how the weave in the cane is so versatile for hanging necessities and notes. This cane memo board can be used in your home office or anywhere you want to add some coastal chic. Find the project details over at Hunker.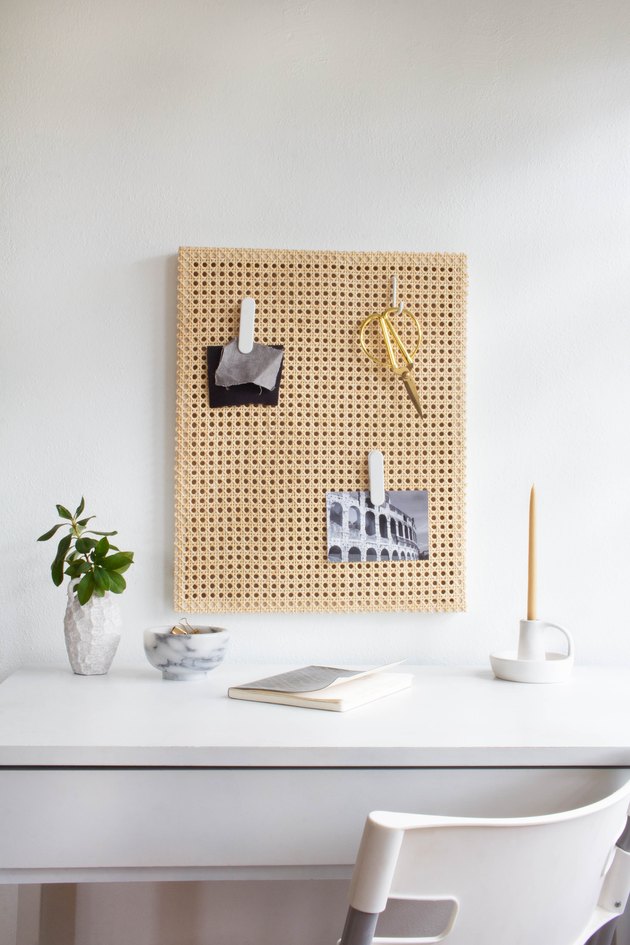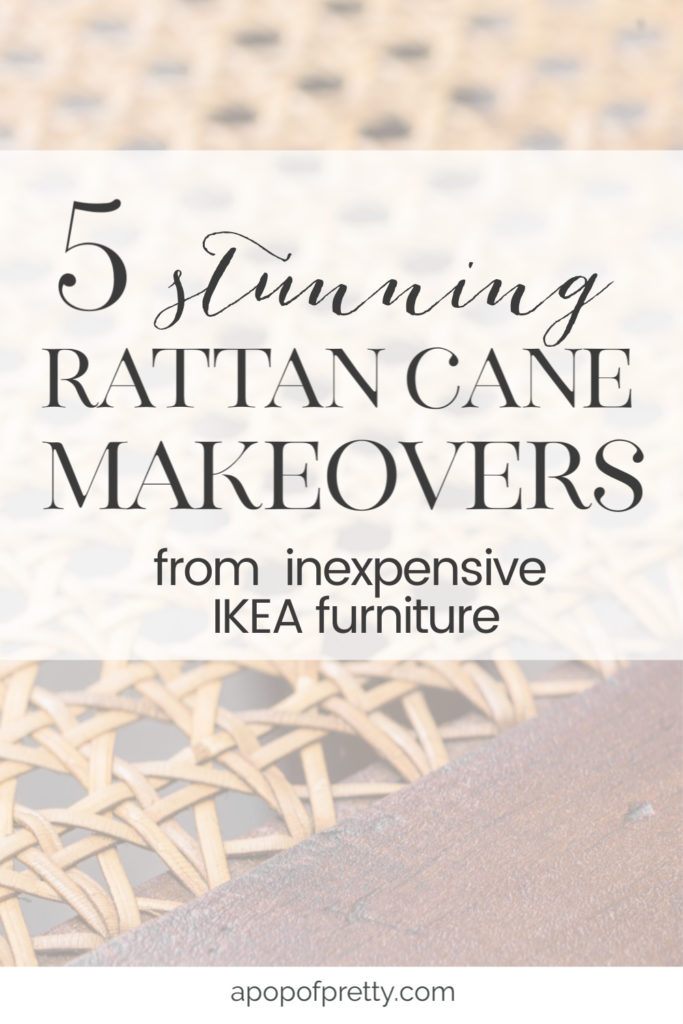 Fabulous Webbed Cane Home Decor Finds
So, are you feeling inspired to add more webbed cane accents to your own home? If you're loving this beachy, coastal vibe, but don't have the time (or desire) to do a diy cane furniture project, you could always buy something. Here are some great webbed cane home decor finds I'm LOVING. (List contains affiliate links for all the rattan cane furniture pieces and home accessories shared above.)

Stay tuned in the coming days for 4 more coastal style trends I've got my eye on this summer!
Until next time,
K.
Pssst, do you love coastal chic style? You might also like:
10 Coastal Indoor/ Outdoor Rugs I Love
Tidying Up in Style: Where to find Great Baskets
Looking for a project? Try these!