This post was most recently updated on September 23rd, 2019
Welcome to my 2011 holiday house tour, featured on Hooked on Houses', "20 Very Merry Room Tours Decked Out for Christmas"!

So…is your home all ready for Christmas yet?
I wish I could say mine was, but it's still a work-in-progress. My trip to New York set me back a little time-wise, and now I'm playing catch up.  Some rooms are complete, others are half-done, and still others are holding  all the boxes and bags filled with the random things which haven't found a spot yet (or ever). Sound familiar?!?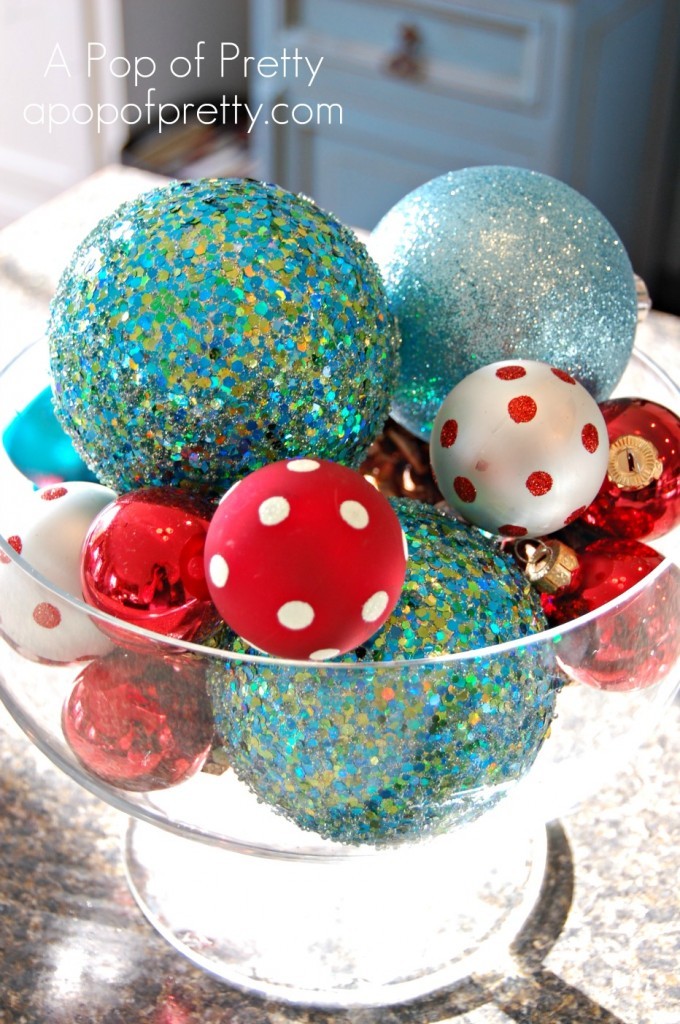 Even though things aren't finished around here, I'd really like to join in on the Christmas Open House party happening at The Inspired Room. So, for now, I'm going to show you what I've completed so far.
My Christmas decor is a little more cottage-rustic than last year's, and I've also changed my color scheme.
You'll see lots of pops of bright red and aqua in just about every room.
Let's start on my front porch!
The front porch decor is still a work-in-progress.   I hung my wreath (updated from last year with the turquoise), and finessed my urns, but there's still lots to do out there! But you'll get the gist of my vision from these couple of pics…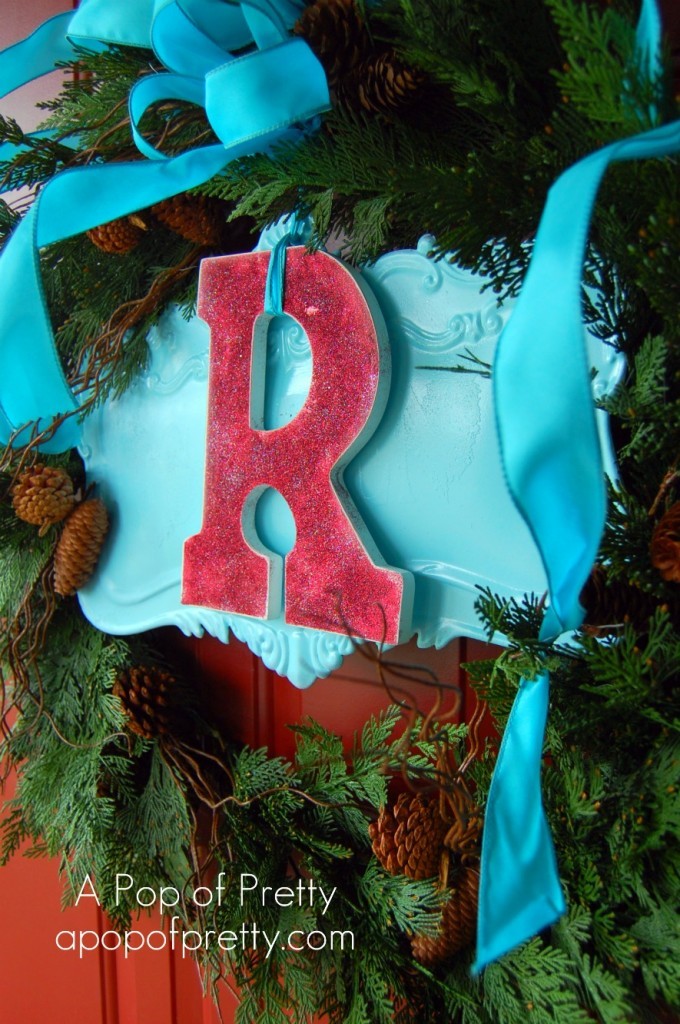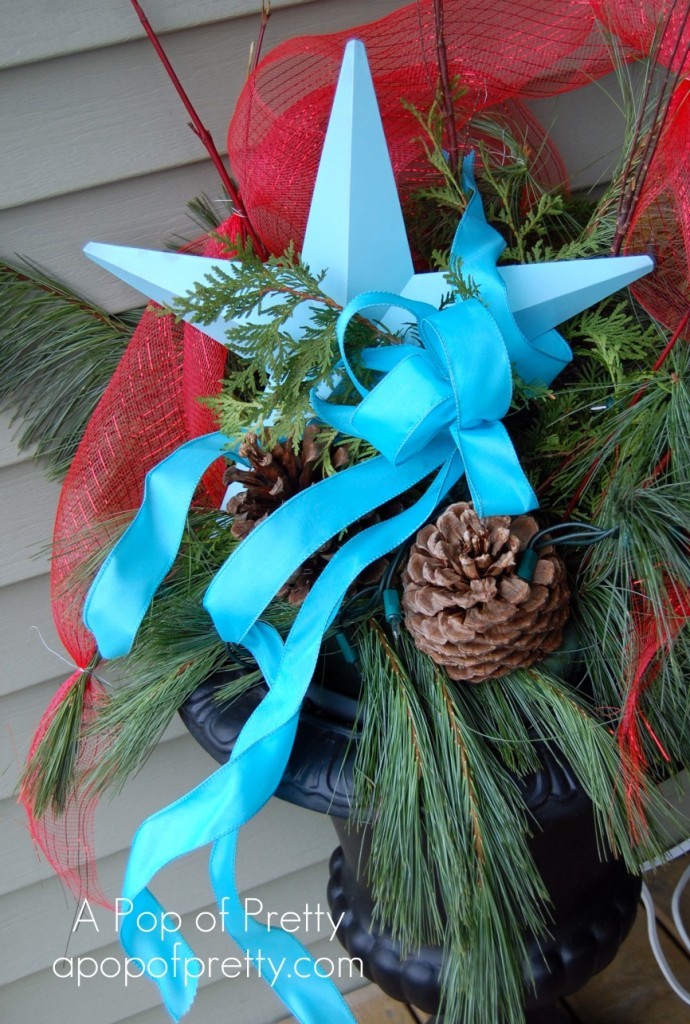 Next stop…the Foyer
Brrrr.  It's chilly out there!  Come on in!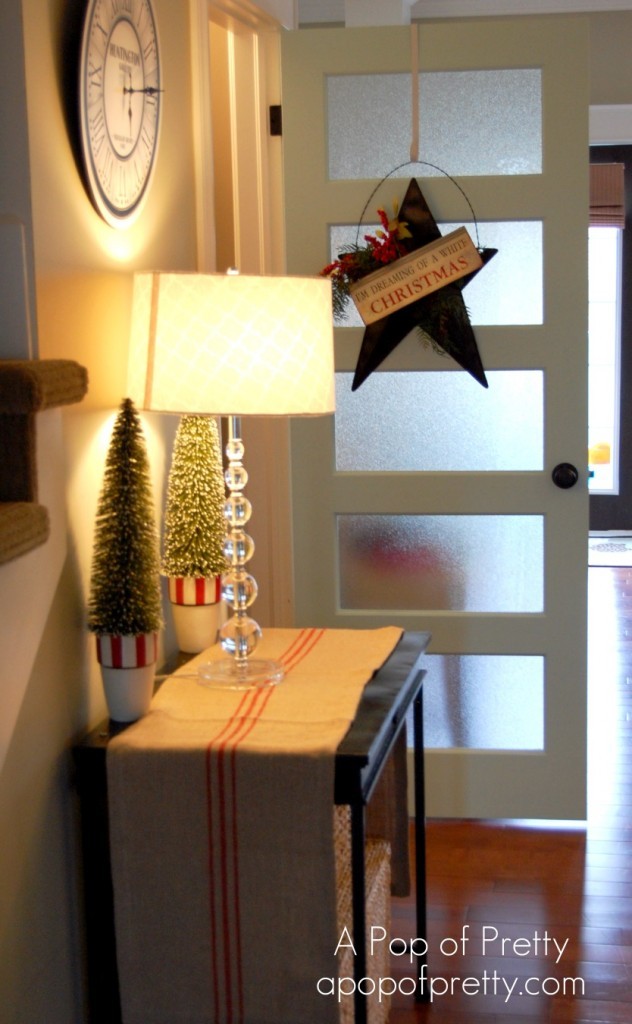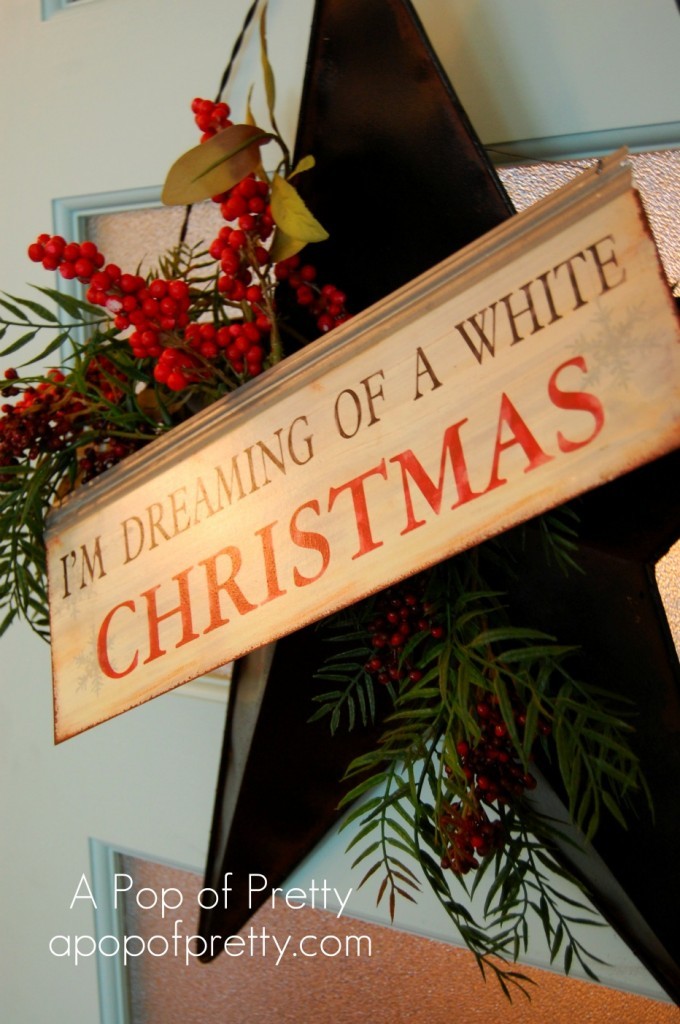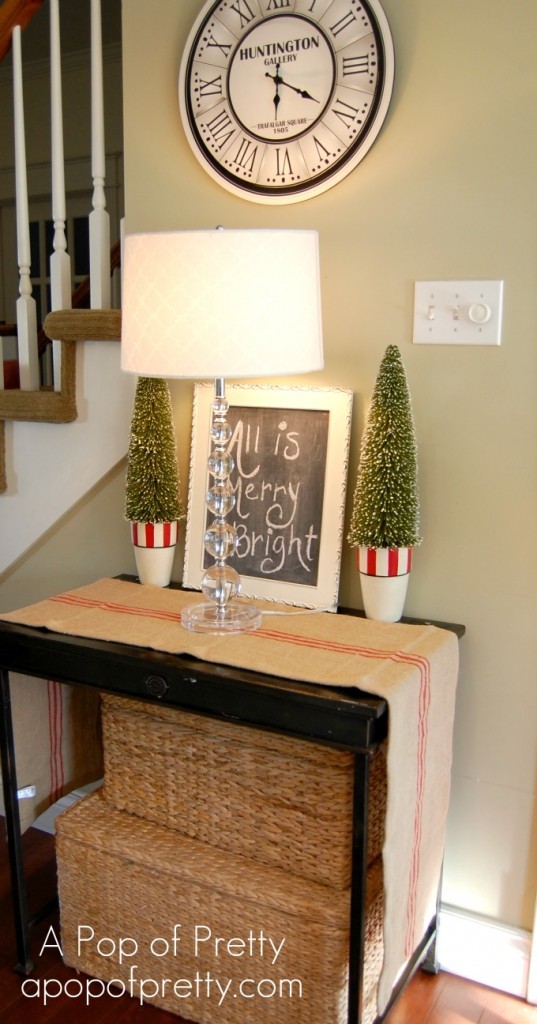 And, now the Living Room…
This is one of the rooms which is completely done.
That's after decorating, undecorating, and redecorating the tree, but that's a story for another post.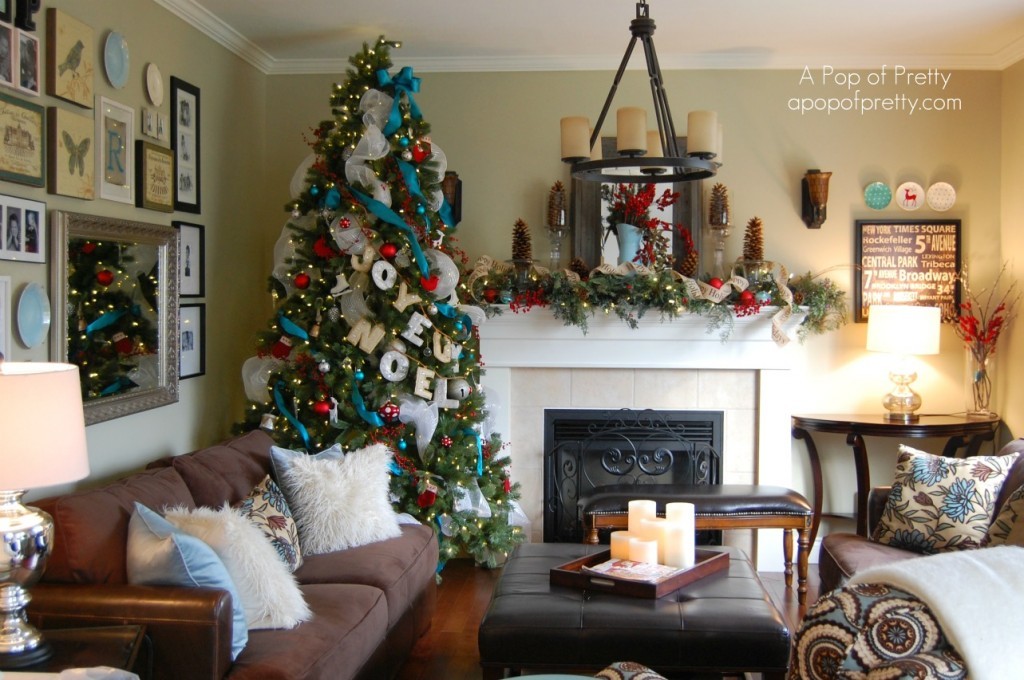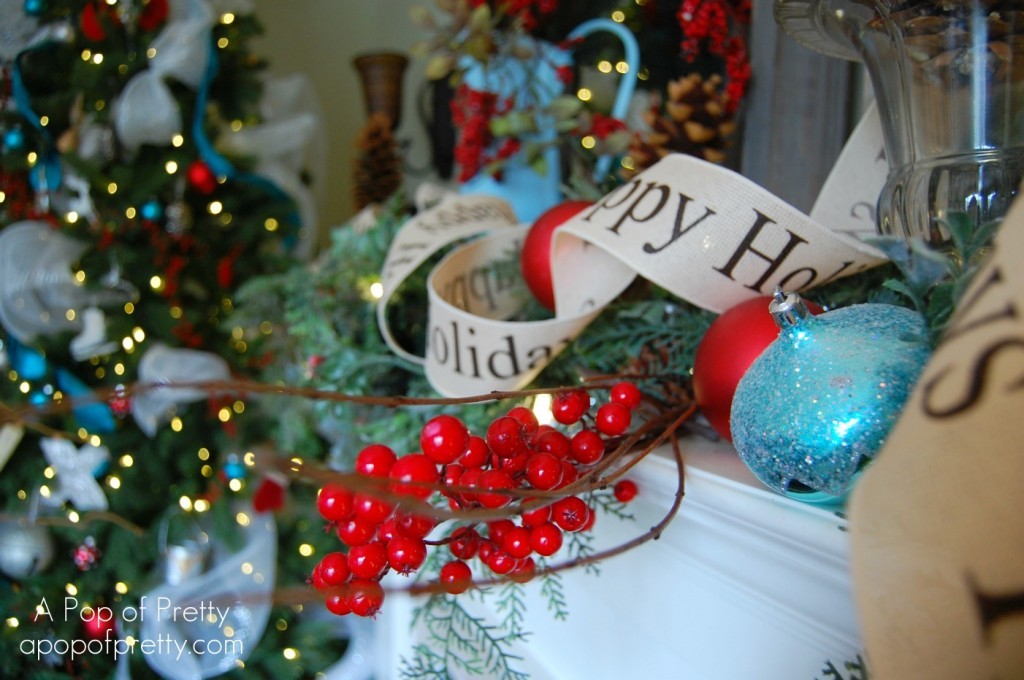 I already did a couple of posts on my holiday mantel – including a tutorial which was featured at Home Stories A2Z and also broadcast on the BlogHer network, so I won't spend much time here. (But here are the links, in case you are interested: How to Decorate a Christmas Mantel Tutorial and My Rustic Red & Turquoise Christmas Mantel)
Here's some other things you'll find around the room…
This 9-ft monster tree replaced our tiny 7-ft slim tree this year.  Not exactly sure how I feel about him yet.  (I'm partial to little trees.)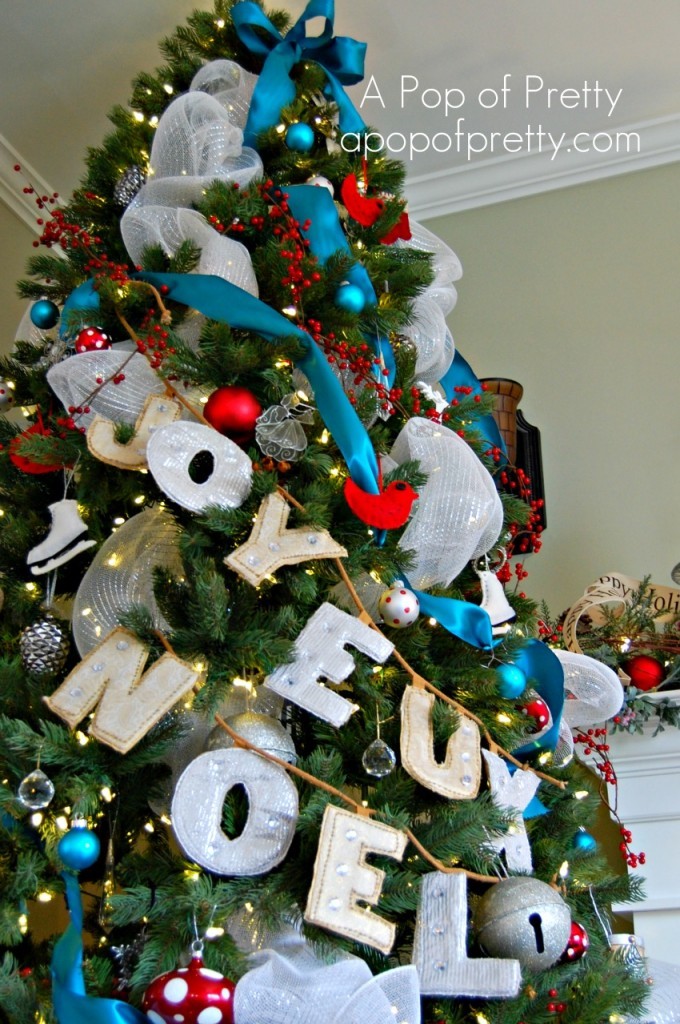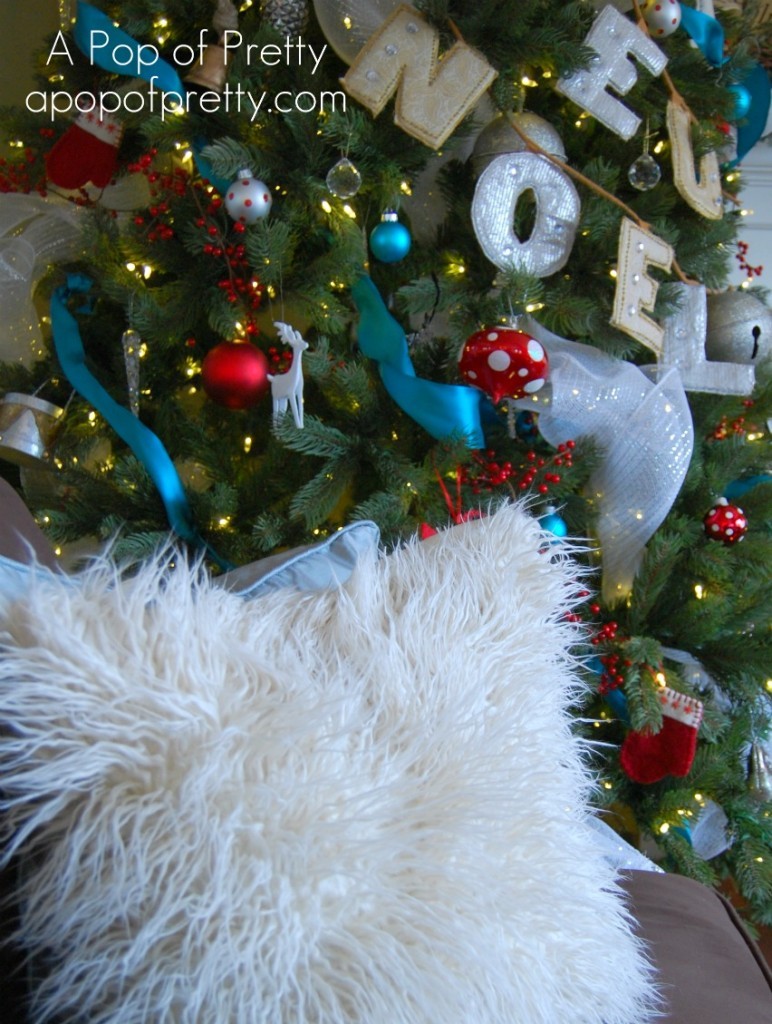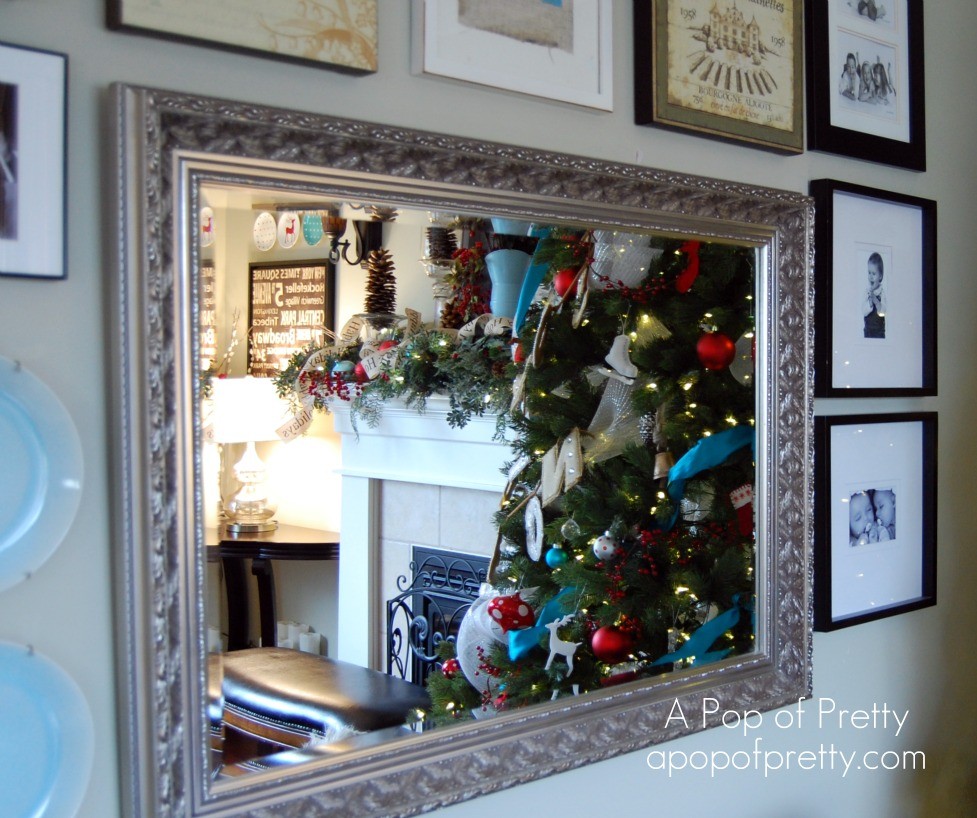 My 'big' decor discovery in 2011 was plate hangers!  As you see, I can't seem to get enough of them…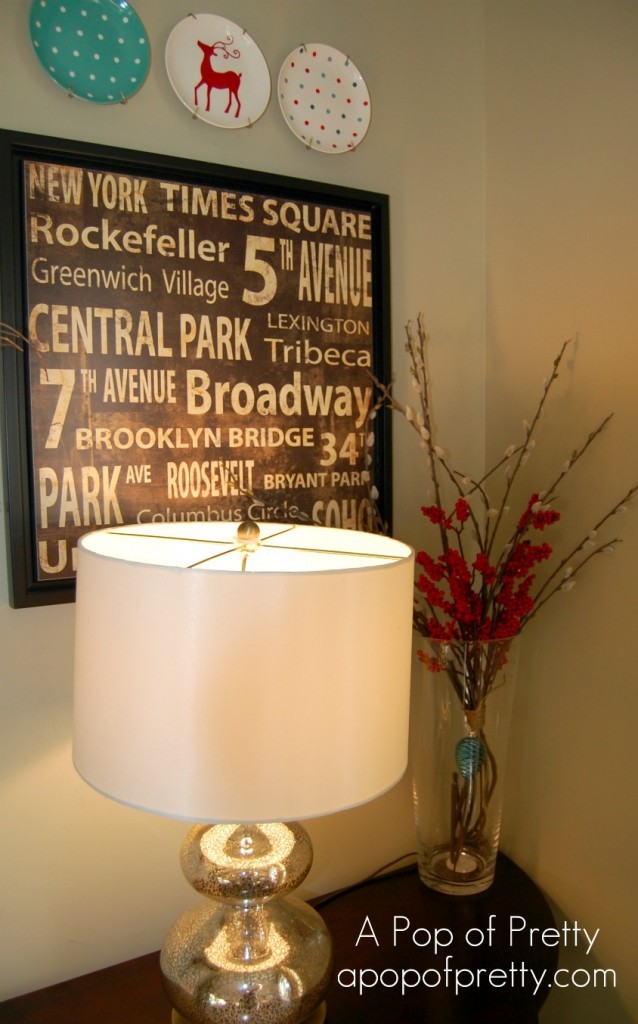 Here's another corner of the room that I don't photograph often…
I replaced everything in this little cabinet with glass to really highlight the pop of red and turquoise on top.  If that sounds like a lot of unnecessary work just for Christmas decorating, well you're probably right!  But it needed to be done, anyway.  (P.S. You might also want to check out how I completely changed this cabinet, which was a fun, early 2011 project!)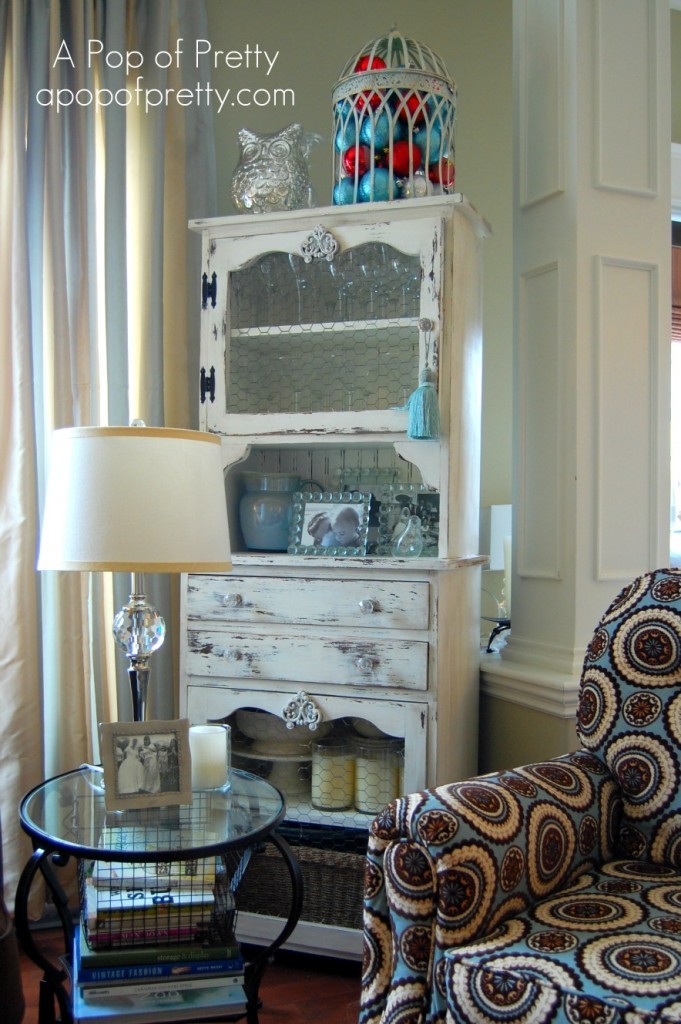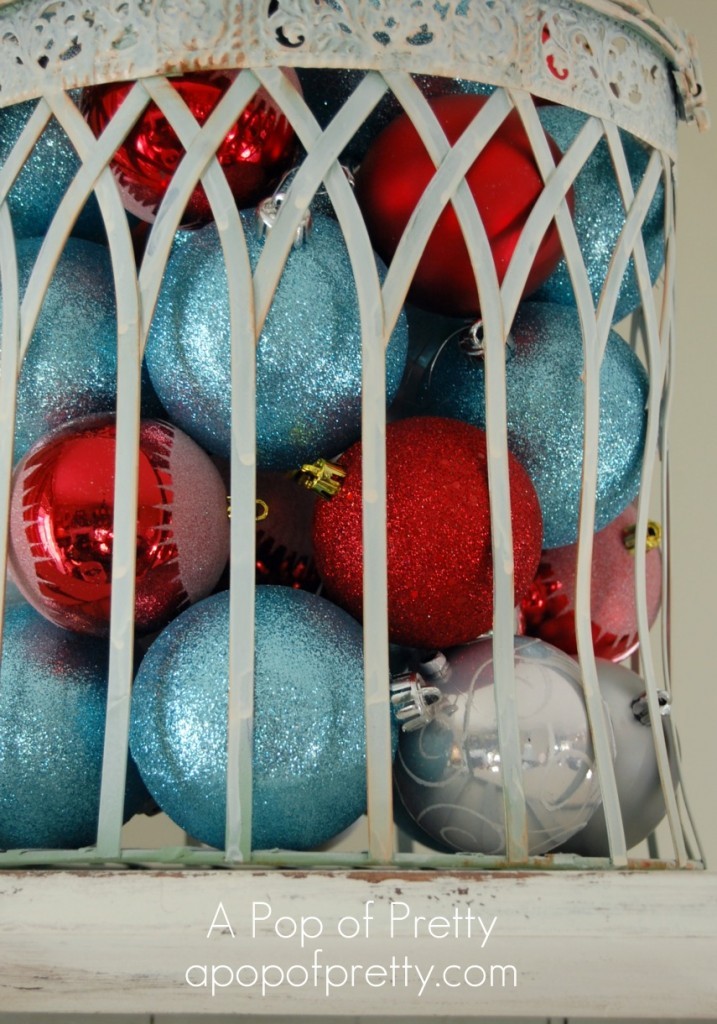 And, what would Christmas be without some holiday decor reading?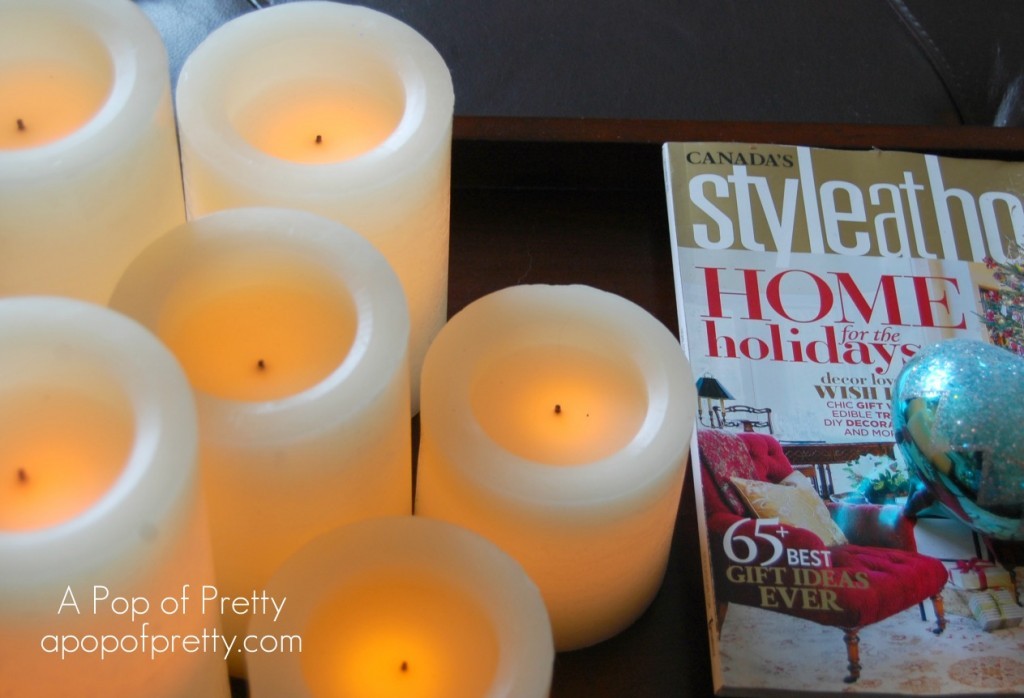 The Kitchen / Dining Room
OK, I must warn you that now we're heading into the land of half-finished Christmas decorating.
But I do have some things completed, like this little tree, which sits between the dining area and my kitchen island.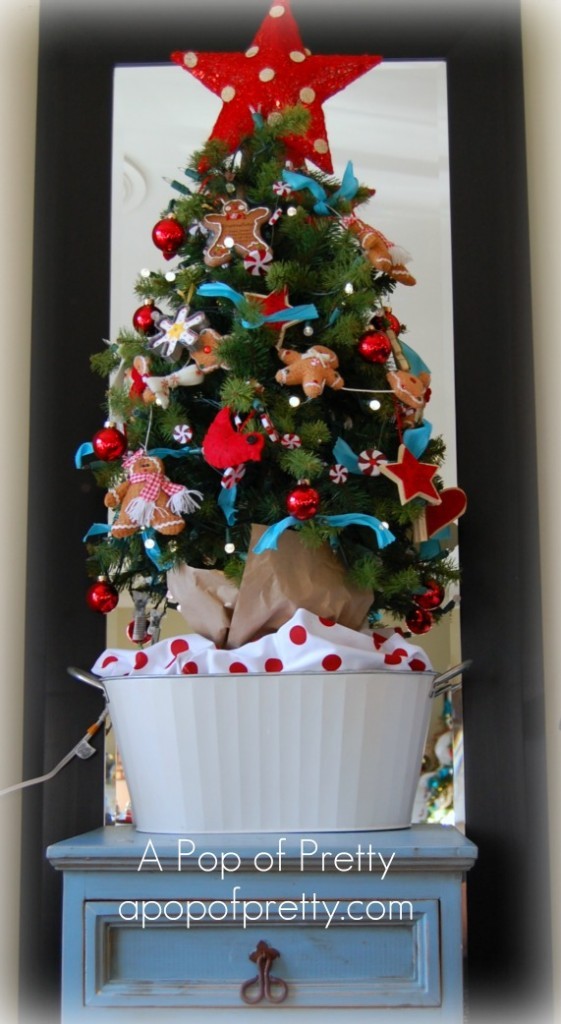 I also re-organized my 'china' cabinet, which was  a long over-due project.  Nothing like the holidays to give you the kick in the pants you need to make things pretty!  I pulled out my glass snowman plates (from Crate & Barrel about 10 years ago, maybe) and stacked them up against my turquoise dinner plates…and added lots of pops of red.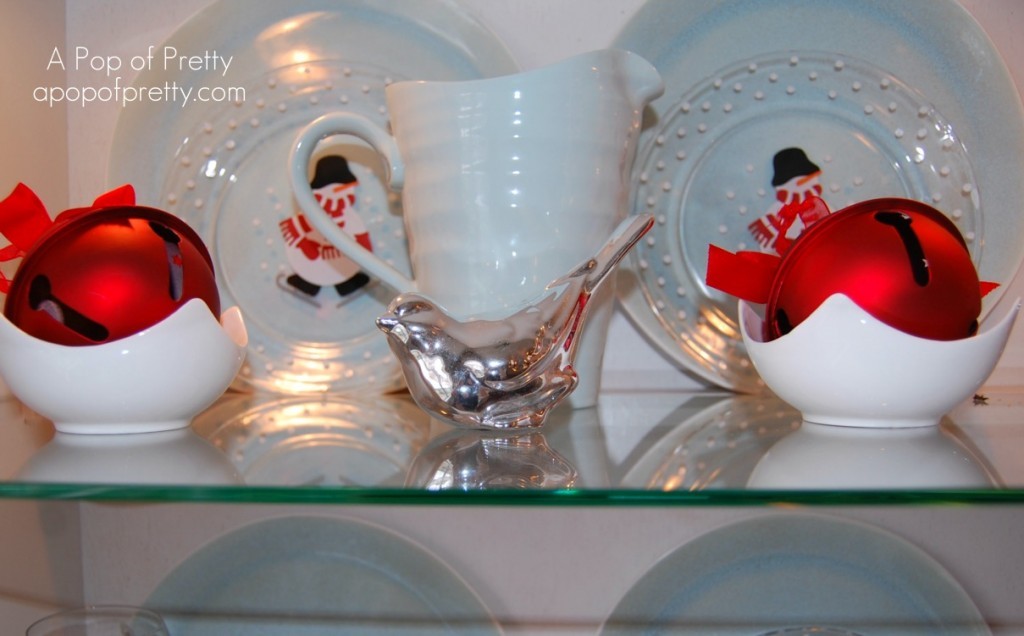 I also added a red linen table cloth…to make the table more festive.  It usually wears a cream one.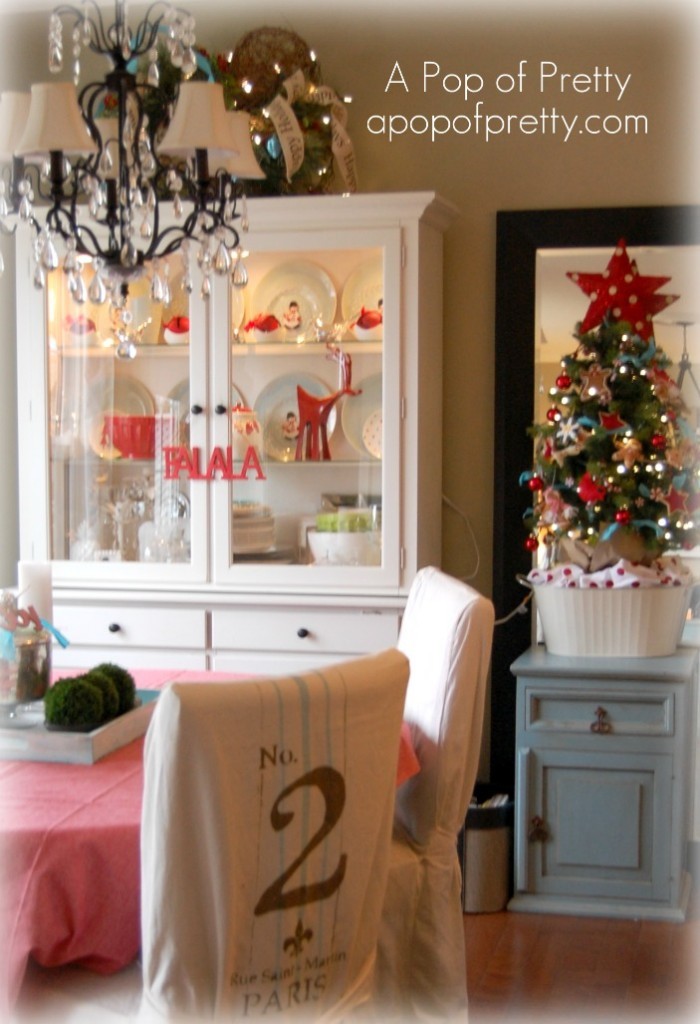 The tray in the center of the table has a little Christmas vignette…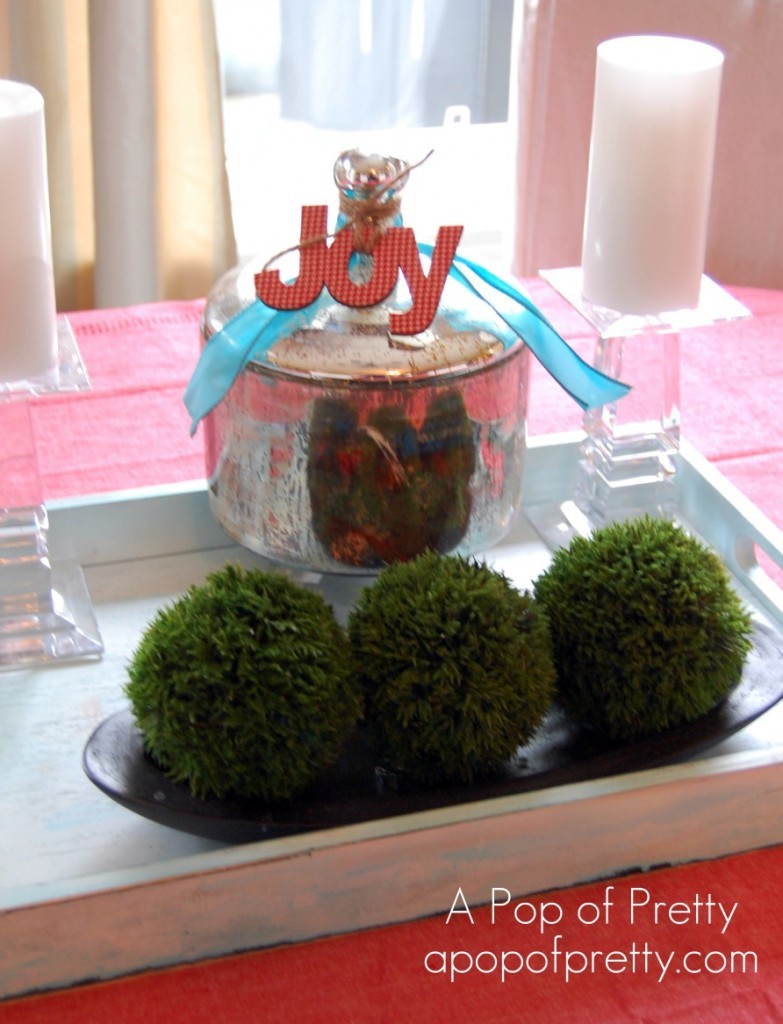 And this jar is filled with lots of sweet treats.  Shhhh, don't tell the kidlets!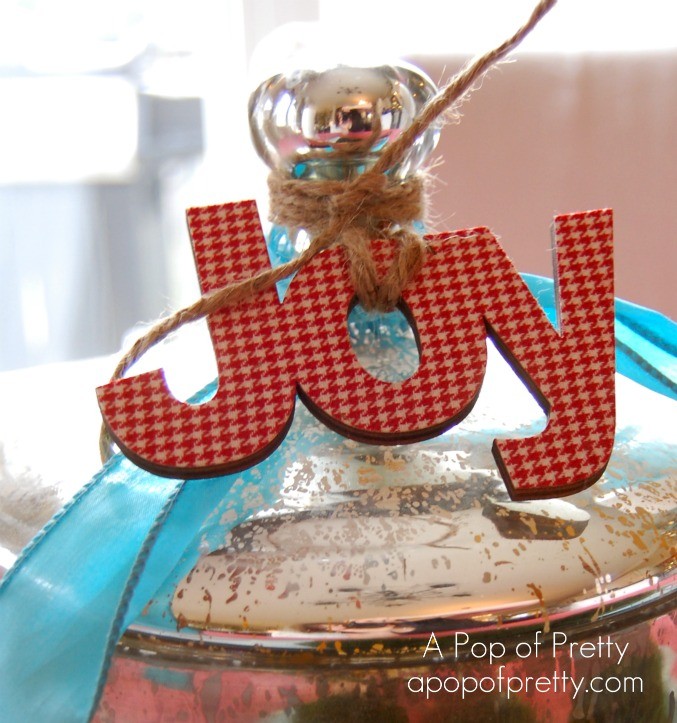 I also added some little pops of Christmas cheer over my stove…but I'm not sure how long this plate will last here.  One of my 2-year old boys says "it's scare-weeee"!)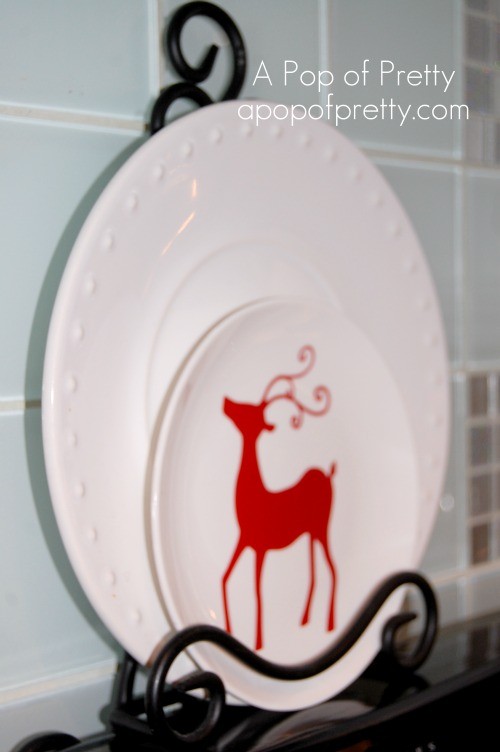 and above my cabinets…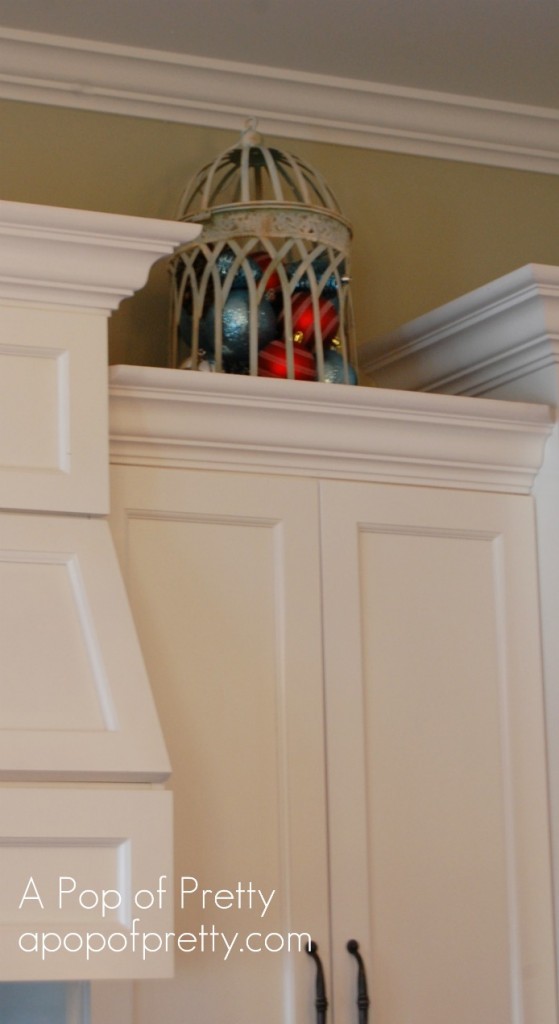 …and on my countertop.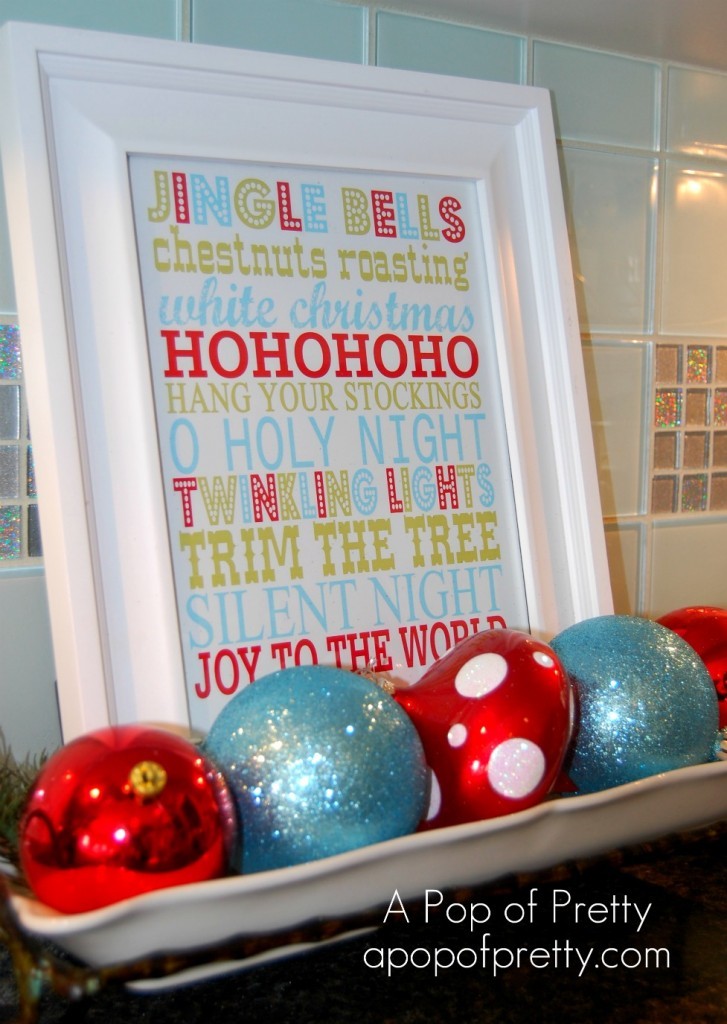 The TV Room / Playroom
The next stop on my Christmas home tour is our TV Room / Playroom area in the basement (which we just finished developing about 6 months ago).  I just finished putting together a Dr. Seuss-themed tree for my sweet kiddies. It is my FAVORITE Christmas thing in the whole house!  I've been planning this tree all year.  Almost everything on this tree is handmade by moi, with a few exceptions.  I just posted about this tree in detail last night, so if you want to check it out more closely just click on over here:  My Dr Seuss Christmas Tree! I also posted awhile back about the things I've been collecting for this tree (Dr. Seuss-Inspired Christmas Tree: Handmade Decorations).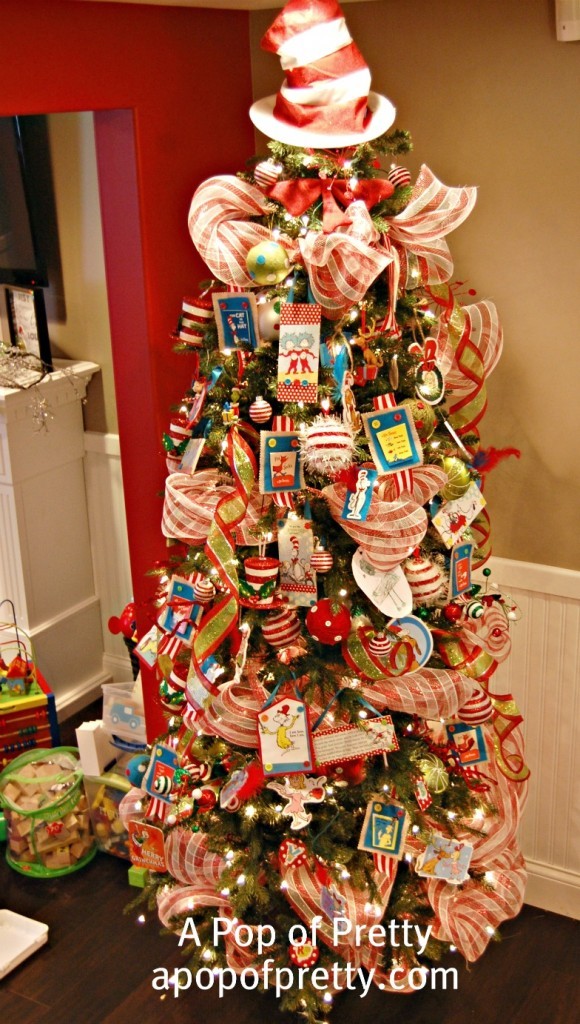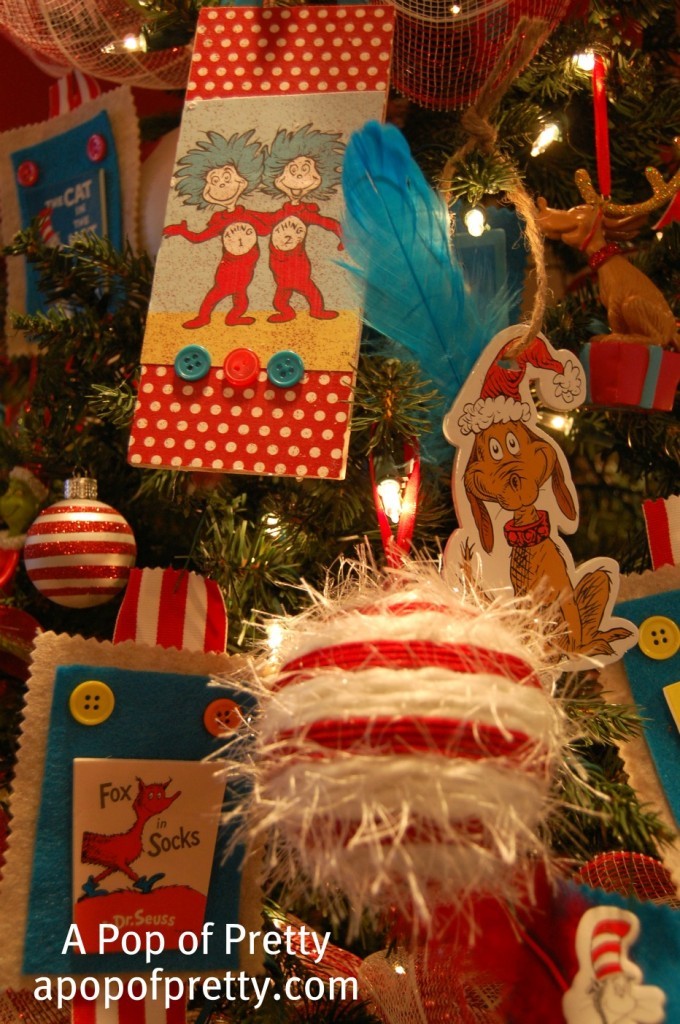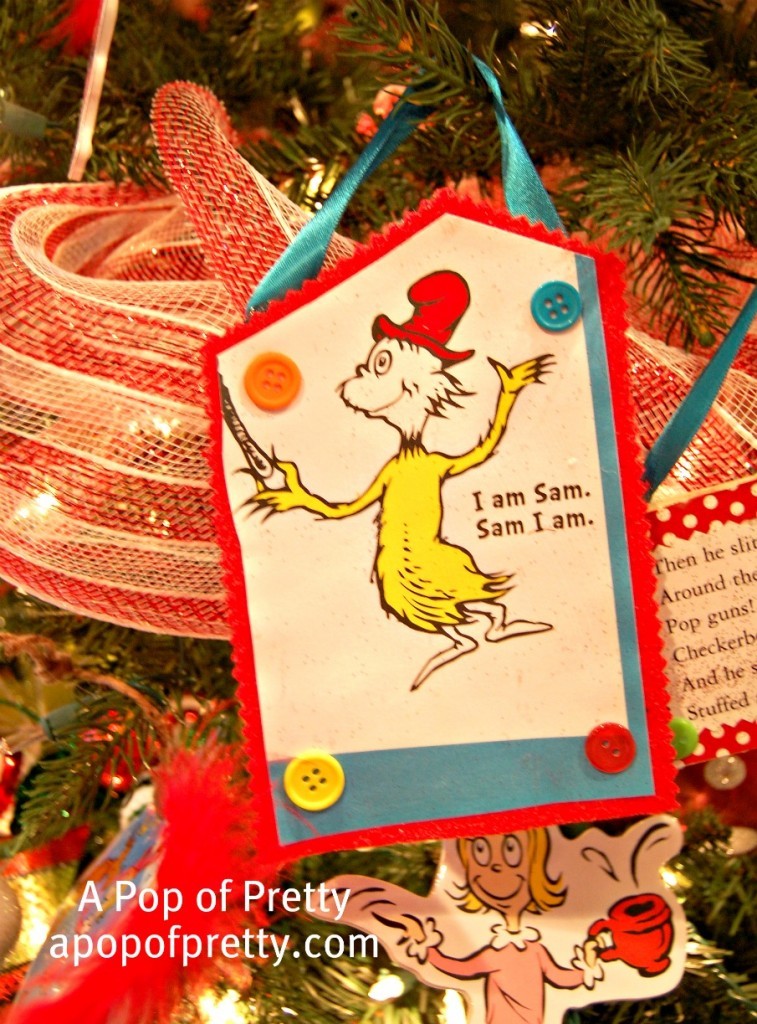 Miss G's Room
And if 3 trees weren't enough, here's the little ballerina tree that we decorated in my 7-year old daughter's bedroom.  I know the title of this post promised red and turquoise, but this one's an exception! It's decorated to match her bedroom, so it's wrapped with green and pink sinamay, and is adorned with everything from tiaras to ballet slippers to recital photos. To see more about this tree, check out the post: Pretty Little Ballerina Tree.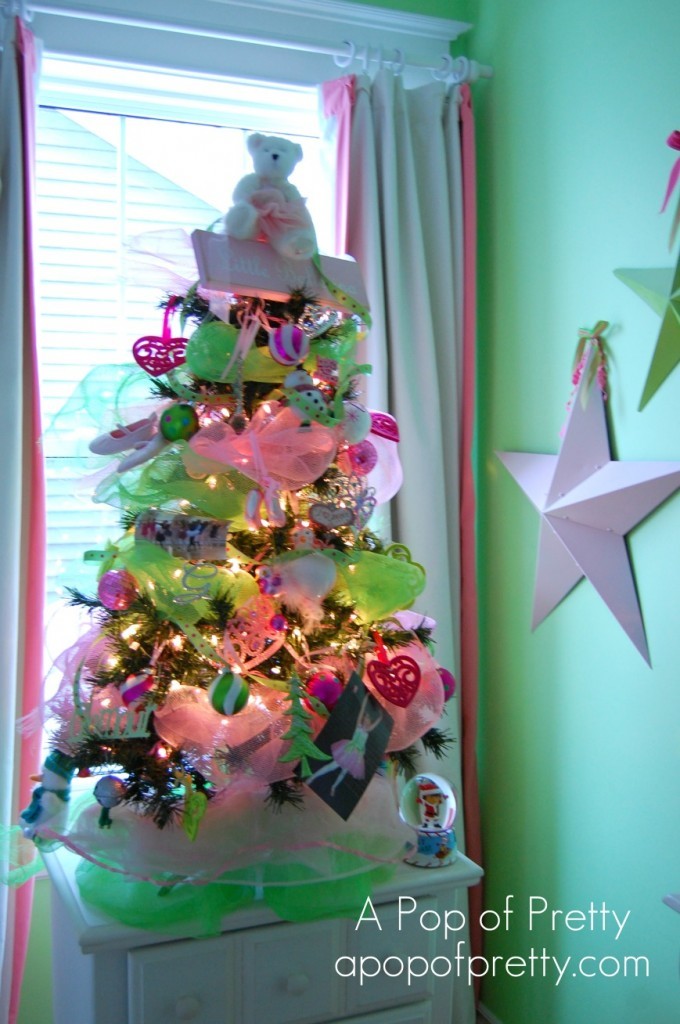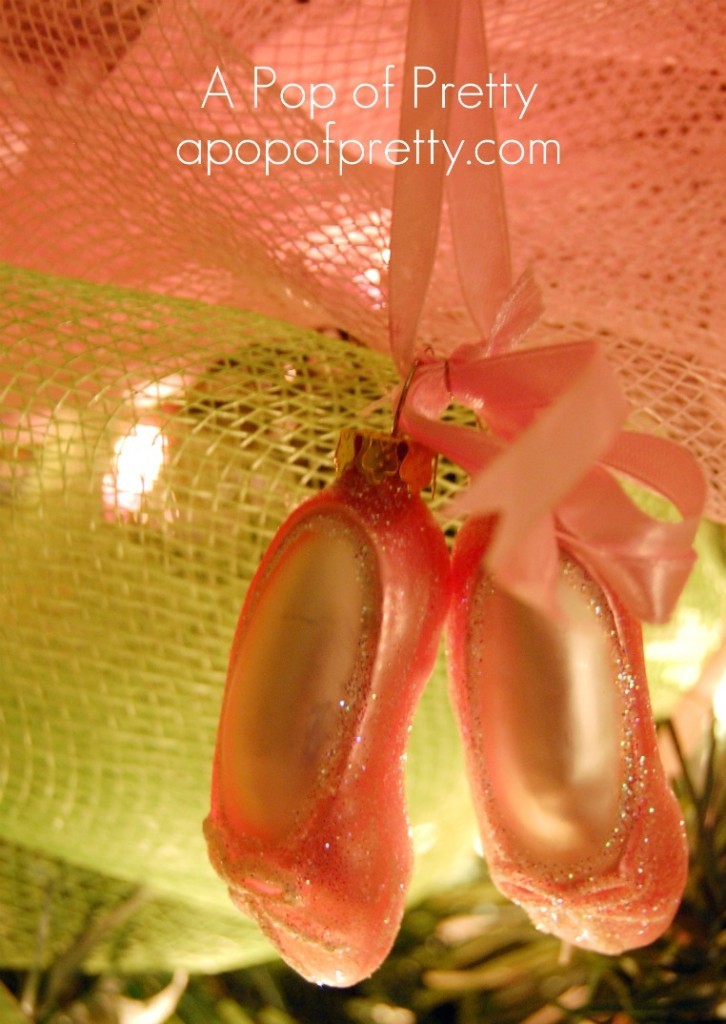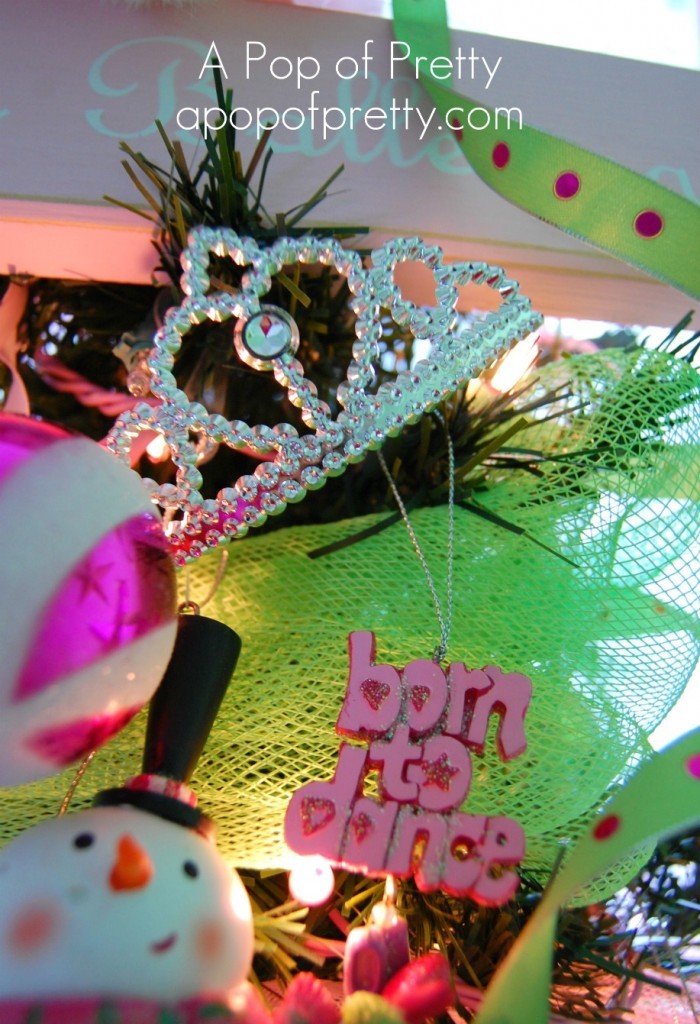 And, that's it! I hope you enjoyed the tour!  Thanks so much for coming by.
Happy holidays to you and yours,
~Kerri
—–
I'm linking this post to
The Inspired Room's Christmas Home Tours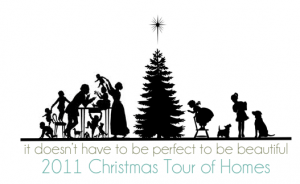 Thrifty Decor Chick's Christmas Tree Party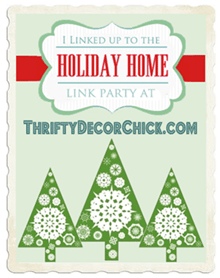 'Hooked on Houses' Holiday House Tours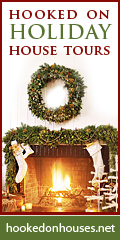 The Shabby Creek Cottage, Holiday Home Tour Edition of…