This post was most recently updated on October 25th, 2020
In this article: How to decorate a North Pole themed Christmas tree! I'm sharing the sweet North Pole tree I decorated for a school fundraiser last year. And, of course, you'll find lots of tips and ideas for decorating your own North Pole Christmas tree.
Looking for a fun Christmas theme tree idea? This North Pole themes Christmas tree that I decorated for a fundraiser at my kids' school last year is a great one! It's filled with lots of North Pole inspired ornaments, along with reindeer signs and more!
North Pole Themed Christmas Tree: My Inspiration
What inspired me to create a North Pole Themed Christmas Tree? Well, over the years, I have decorated lots of Christmas theme trees for my kids' school as a fundraiser. And, I always choose themes that I think children would love.
That's because the Christmas tree stays on display at school until their Christmas vacation begins. And, I love to see their bright smiles and sweet comments while I'm decorating it at school. (You'll find links to a few other of these theme trees at the end of this post, like a DIY Disney Frozen Theme Tree, a Nutcracker Theme Tree, and a Sweet Tooth/Candy Land theme tree.)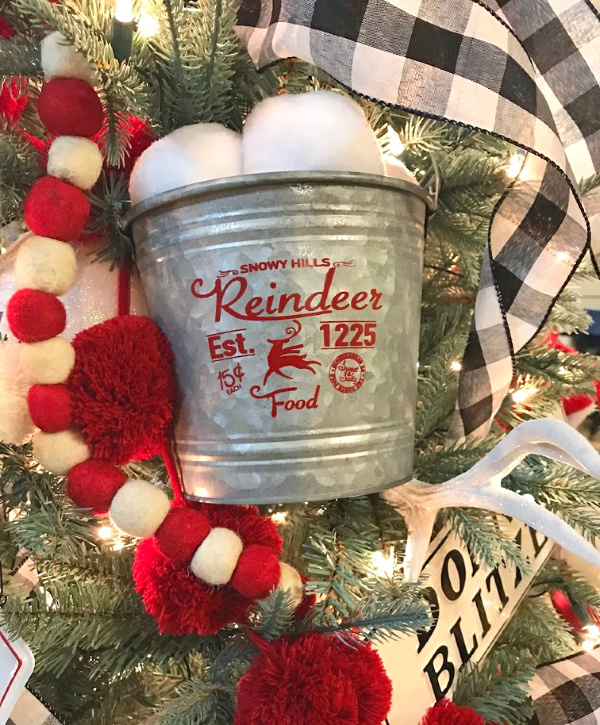 And, what could be more thrilling for kids than a Christmas tree decked out with everything you might find in the North Pole? This theme tree was one of my favourites!
North Pole Themed Christmas Tree: What You Need
So, are you thinking of decorating your own North Pole themed Christmas tree? That's exciting! I know you will love it. Here are some of the things you could use to bring it to life!
Red and white Christmas decorations
Pom pom garlands
Red plaid, or b&w buffalo plaid, ribbon
Reindeer name signs
Metal village houses
Metal buckets filled with faux snowballs
Santa tree ornaments
Polar bear or other Arctic tree ornaments
Wooden sleighs
Antlers
North Pole Themed Christmas Tree: Keep It Fun & Whimsical!
Obviously, the goal with a North Pole themed Christmas tree is to keep the look fun and whimsical. It's a great theme tree idea for a kids' bedroom, playroom, or classroom. But, truly, this tree would be enjoyed by anybody who loves the magic of Santa and the North Pole. The whole idea with a Christmas tree like this is simply to make people happy! Here's how to make them smile!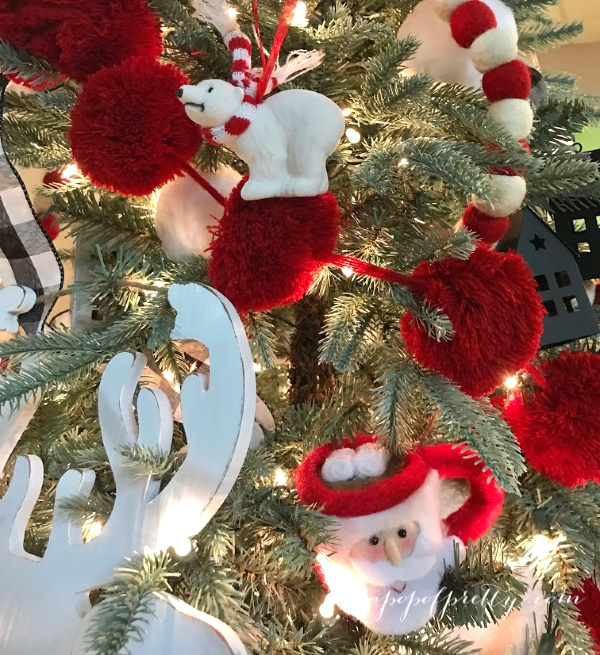 Use Pom Pom Garlands
To keep the North Pole themed Christmas tree fun and whimsical, I used sweet elements like pom pom garlands. If you are so inclined, pom poms are easy to make, and they create an instantly fun vibe on a Christmas tree. And, if you're not inclined to make them yourself, you can find them in lots of stores that sell Christmas decor!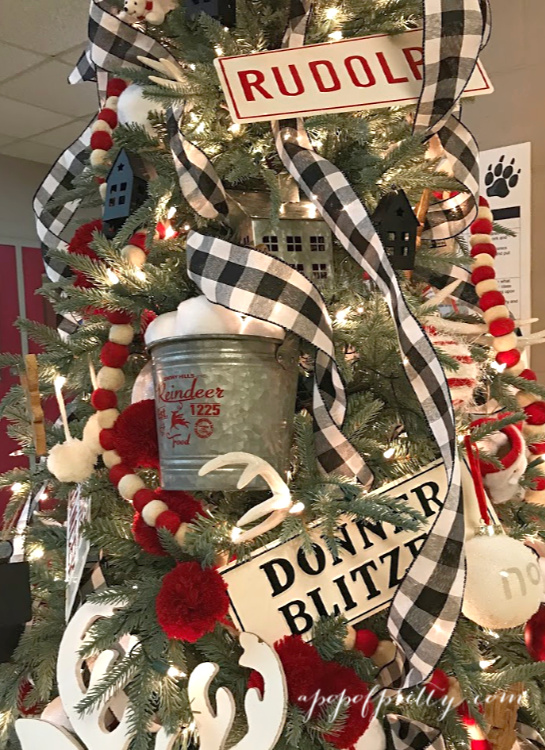 Buckets of Snowballs
Another fun idea for the North Pole theme is buckets filled with faux snowballs. I've used this idea before. (You can also find it on my Navy Blue & Silver Christmas Theme Tree.) It's so simple and adds lots of personality to a Christmas tree, especially one with a North Pole theme. Galvanized buckets are easy to find at craft stores. And, you can find faux snowballs in stores, but could easily make them with cotton balls.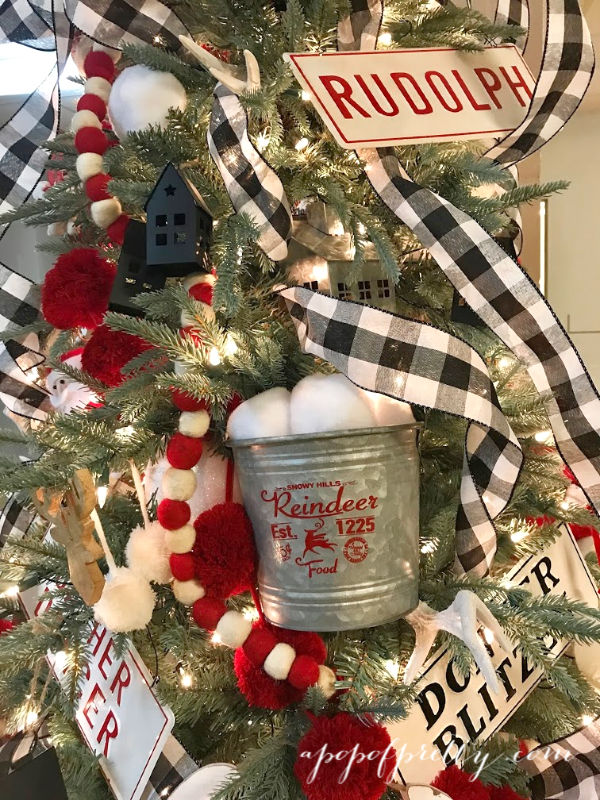 Reindeer Signs
Metal signs with all the reindeer names are another sweet feature that keeps the tree light and airy. These were a lucky find at Michaels last year, but you could just as easily make your own reindeer signs as a DIY project with wooden plaques, letter stencils and paint. I have also spotted metal North Pole street signs at Christmas retailers that would work well too. For example, some say "North Pole Road", etc.. I will link these up at the end of this post so you can find them easily.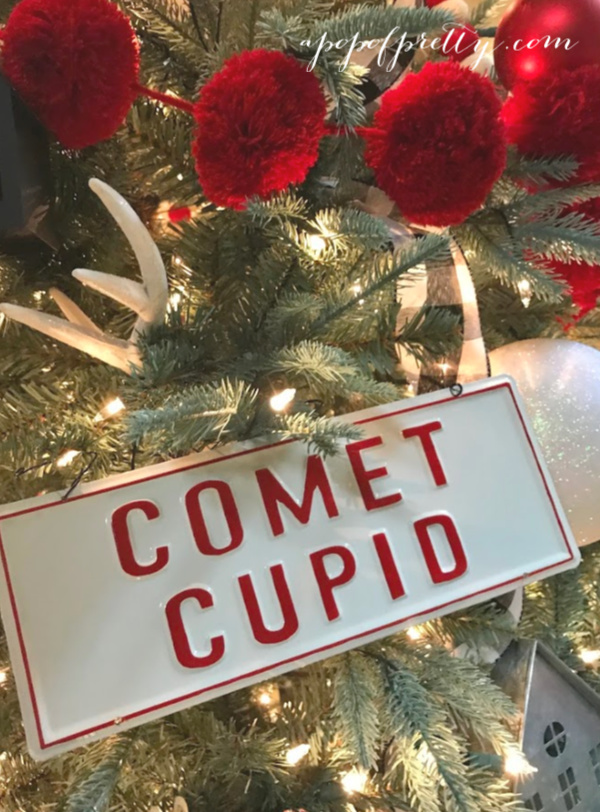 Christmas Village Houses
I also placed Christmas village houses throughout the tree. If you've ever watched The Polar Express, then you probably have the same image as me of what a North Pole town might look like! I wanted to carry that Christmas village vibe throughout this tree. To keep the look simple, I used galvanized metal houses. But white, ceramic Christmas village houses would also look very sweet.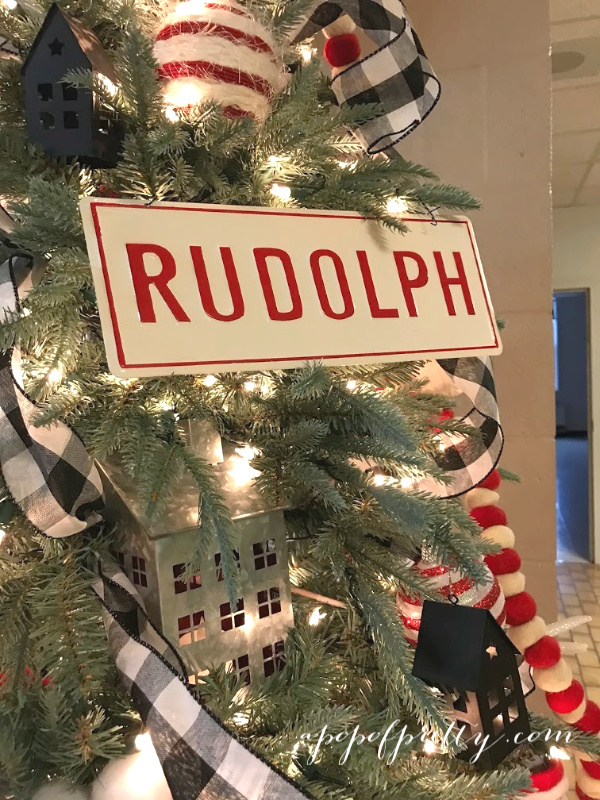 Plaid Ribbon
Another fun and whimsical element of this themed tree is the ribbon! I chose to complement the pom pom garland with black and white buffalo plaid ribbon. I love how it coordinates with some of the other black touches on the tree, like Santa's belt!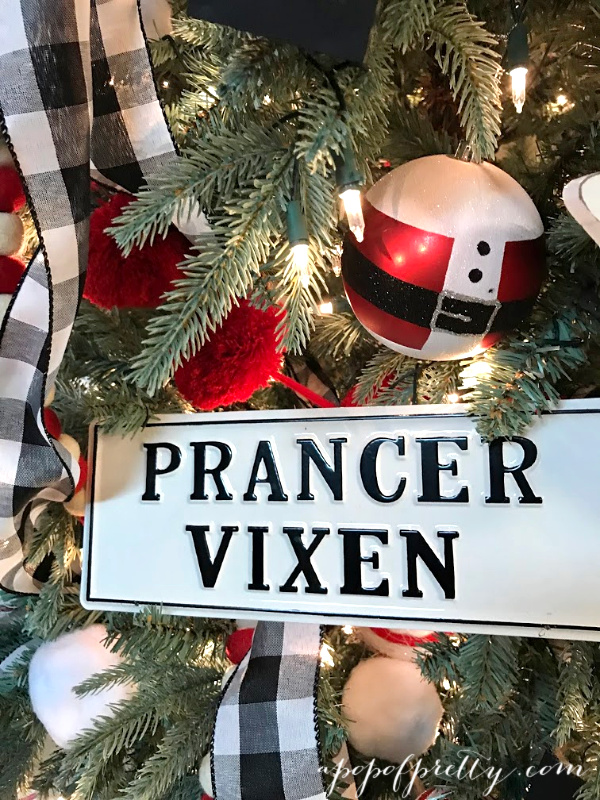 If you've ever wondered how to put ribbon on a Christmas tree with a loose, cascading effect, look no further! I have a highly popular step by step tutorial that you can follow:
If red plaid and buffalo plaid are your 'thing', you might also love my Christmas home tour from a few years ago. It's filled with lots of cozy cottage plaids, and pops of traditional red Christmas decor:
North Pole Themed Christmas Tree: Shop the Look
I've curated a collection of my favourite Christmas decorating decor in my Christmas Decor Shop. Pop by and take a look! In the meantime, here are a few items similar to the ones found on my North Pole tree! (Contains affiliate links.)

My Amazon Picks
Are you an Amazon shopper? Me too. I love how fast things can ship, especially when you want it NOW! (Disclosure: I'm also an Amazon Affiliate. This means that I may earn a small commission if you purchase something from this list of special picks I've curated for a North Pole Christmas tree. However, this does not impact the price you pay.)
What Goes on First?
OK, so now you know what to buy or make for your North Pole theme tree, but how the heck do you put ALL this stuff on the tree? If you're wondering what order to put it on, I've put together great step-by-step instructions on the best order to decorate a Christmas tree. If you think this might be helpful, here's the tutorial:
Share the Love
If you liked this post about my North Pole tree, I'd love it if you could share it to Pinterest so others can find it too:
More Theme Tree Ideas
Finally, as promised, here are a few of the other Christmas theme trees I decorated for this fundraiser in the past:
Nutcracker Theme (Sugar Plum Fairy) Christmas Tree
DIY Disney Frozen Theme Christmas Tree
Sweet Tooth Theme Christmas Tree
And, if you're looking for more North Pole themed Christmas decorating ideas, Jen at Tatortots and Jello has a great tour of her Santa/North Pole themed living room.
Until next time, happy Christmas tree decorating!
K.