This post was most recently updated on October 25th, 2020
IN THIS ARTICLE: I share the Nutcracker themed Christmas tree I created for a school fundraiser. This pretty Christmas tree is filled with glittery blush pink and gold ribbon and accents. It also includes the sweetest DIY paper ballerinas, wooden nutcracker ornaments, and sugar plum fairies.
I'm so excited to share this pretty and sparkly Nutcracker themed Christmas tree. Every year, I help out with a fundraiser at my kids' school by decorating a fun, themed Christmas tree. The fully decorated Christmas tree is then carefully delivered to the lucky winner's home in bubble wrap. They can set it up right away, as is!
Nutcracker Themed Christmas Tree
This year, I created a Nutcracker Themed Christmas Tree, inspired by dancing sugar plum fairies. Over the past five years, I've chosen different themes for the Christmas trees I've decorated for this fundraiser. Last year, it was a DIY Disney Frozen Christmas Tree, filled with Frozen inspired decorations. I'll include links to some of the other theme trees at the end of this post!
Nutcracker Theme Tree Inspiration: Sugar Plum Fairy
This year, my Nutcracker tree was inspired by the ballerina in our family. Our daughter has been studying ballet since she was 3 year old, and she loves The Nutcracker. So, this particular Nutcracker themed Christmas tree was inspired by the Sugar Plum Fairy.
Who is the Sugar Plum Fairy?
Do you have a ballerina in your family? If so, I bet you already know who the Sugar Plum Fairy is. The Sugar Plum Fairy is a ballerina who dances in the the second act of the Nutcracker. In fact, The Dance of the Sugar Plum Fairy is one of the most well-known scores from the Nutcracker.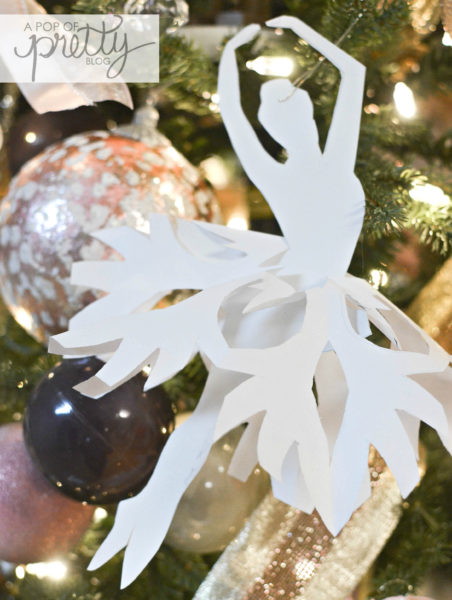 I wanted this Nutcracker Christmas tree to be soft and romantic and pretty, so the Sugar Plum Fairy was perfect inspiration.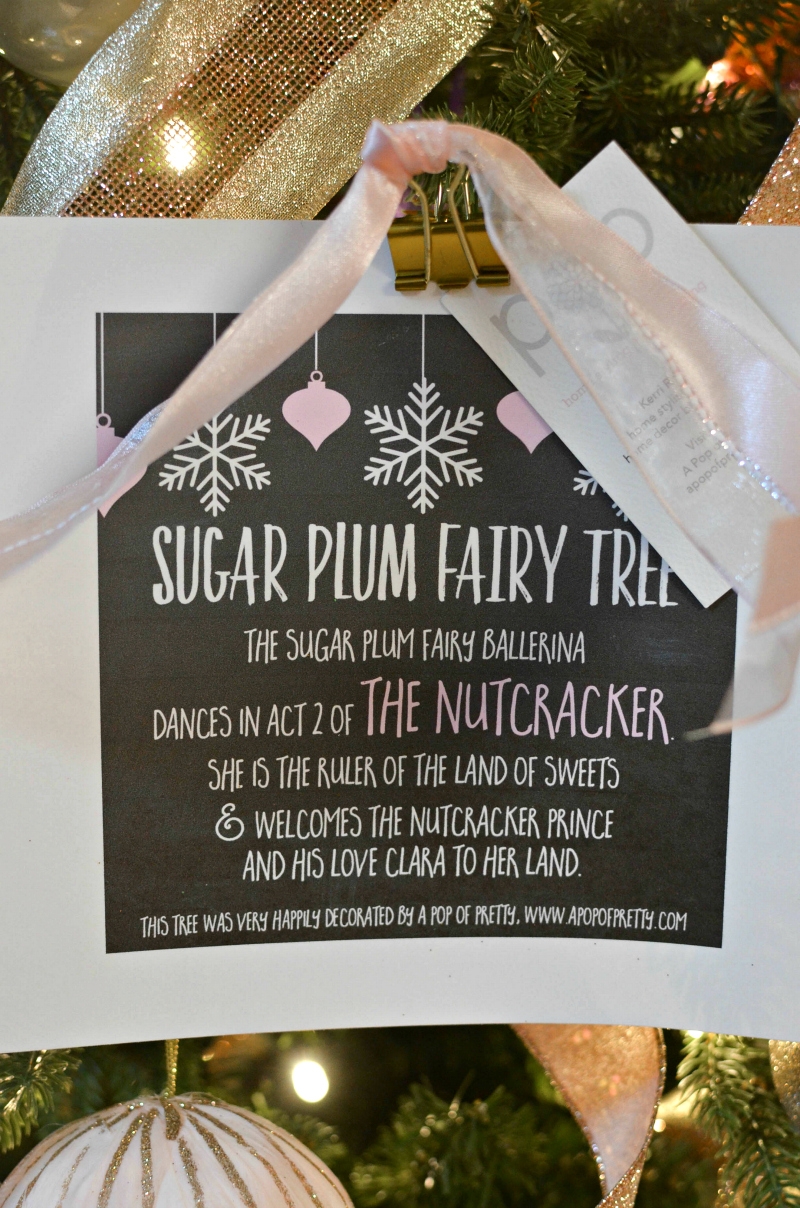 What You'll Need to Create a Nutcracker Themed Tree
To create a Nutcracker Christmas Tree inspired by the Sugar Plum Fairy, you'll need some of these items. You can substitute colours and decorations to make it your own! You can find a lot of these items over on my Amazon Storefront.
Blush pink wired ribbon
Gold or champagne wired ribbon
Blush pink, mauve, and gold/champagne Christmas tree decorations
Glittery (sugared) Christmas ball ornaments
Wooden Nutcracker decorations
Ballerina decorations (See link to DIY paper ballerina craft below)
DIY Nutcracker Musical Score Decoration (see below)
Nutcracker Christmas Tree: The Decorations
Sparkly Ball Ornaments
I started out by buying as many blush pink and purple Christmas decorations as I could get my little hands on!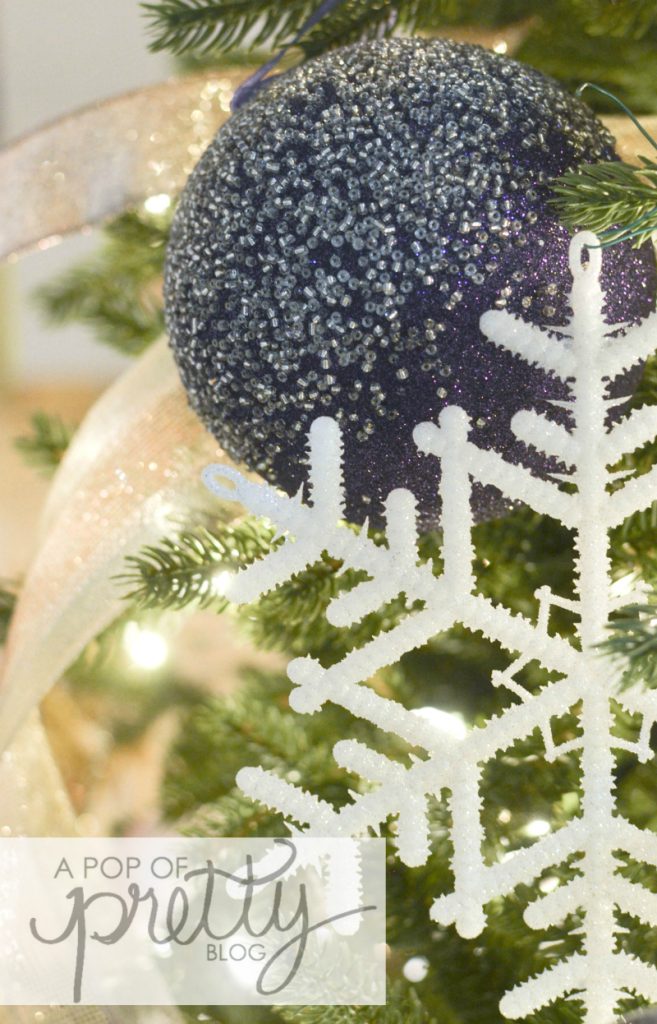 Blush Pink & Gold Ribbon
I also selected different types of glittery ribbons in champagne golds and blush pinks in order to create a pretty, romantic, cascading effect.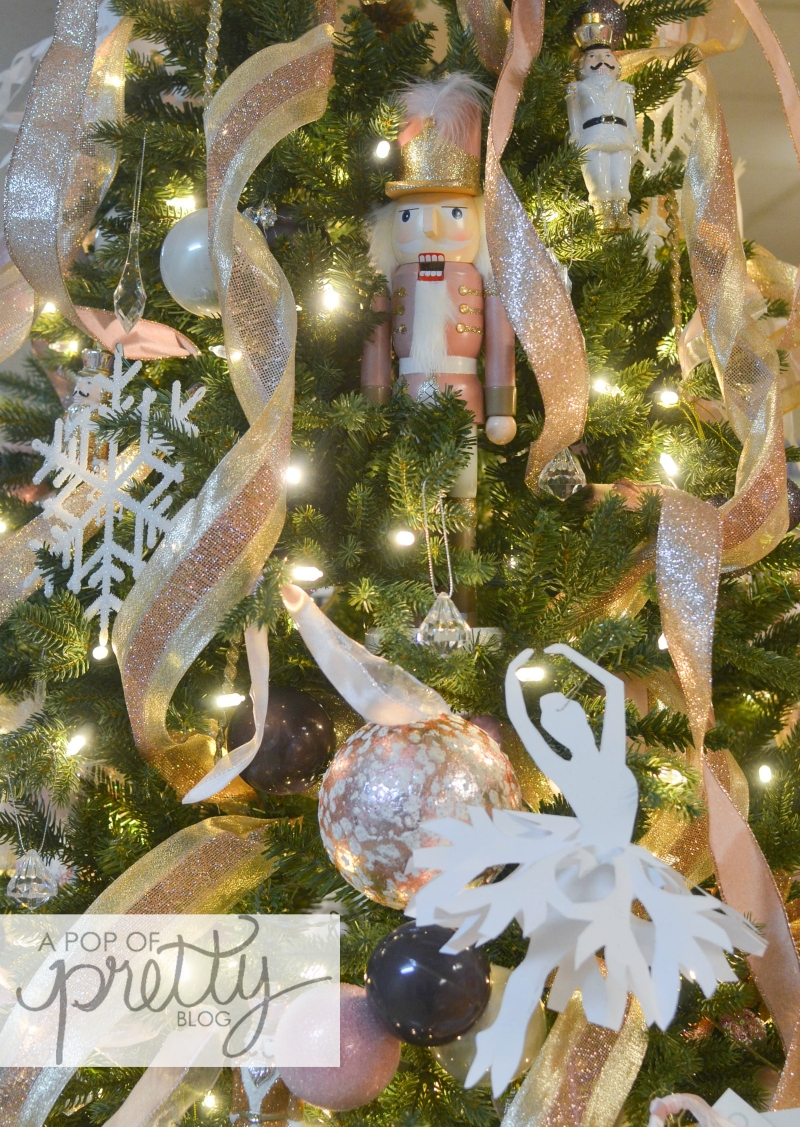 If you've ever wondered how to put ribbon on a Christmas tree, it's easier than you might think! You can find my popular ribbon tutorial here:
Wooden Nutcrackers
When I set out to find wooden Nutcracker decorations, it wasn't as easy as I'd hoped. I wasn't just looking for any Nutcrackers. To keep with the vision I had for this tree, the nutcrackers had to be blush pink, mauve, or white!
There's lots of fun Nutcrackers out there. But they are all painted in super bright Christmas colours. Of course, I could have painted these nutcrackers, but I wanted a quicker solution. After searching and searching, I found this fabulous blush pink Nutcracker. It was as if he was looking for my Sugar Plum Fairy inspired Nutcracker Christmas Tree all his little Nutcracker life :-).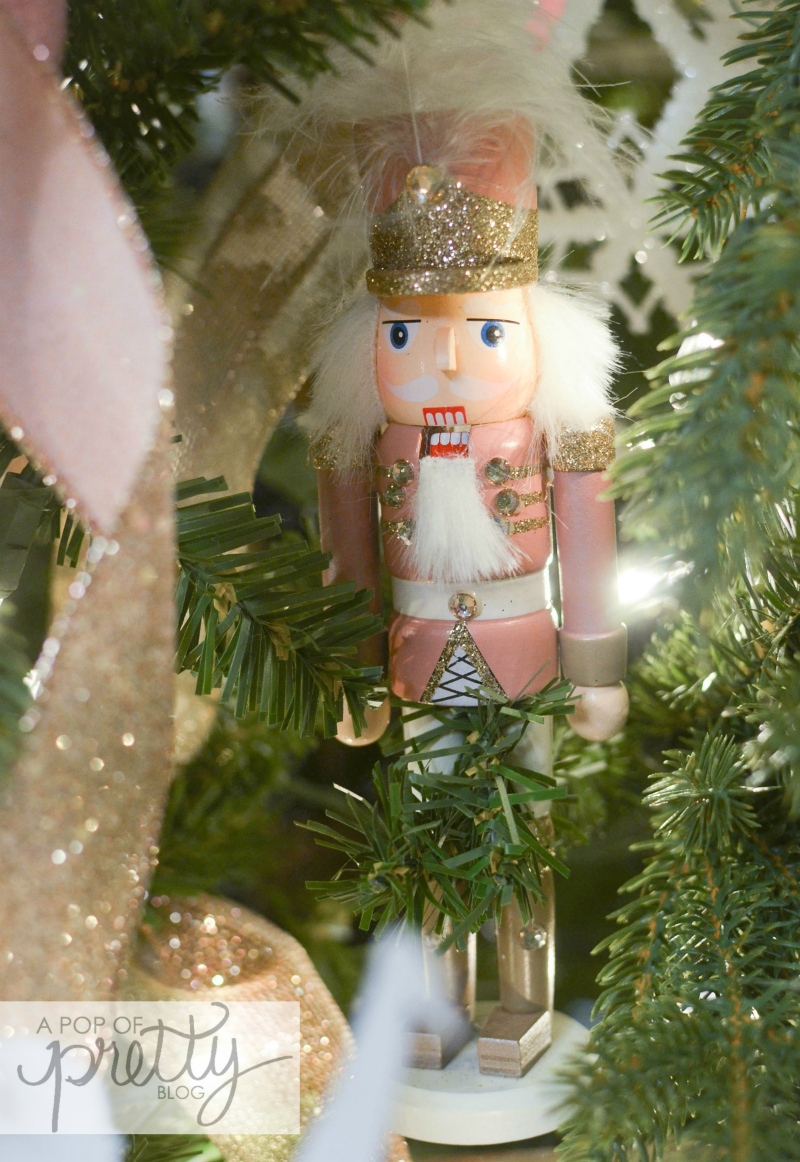 Ballerina Decorations
With my Nutcracker crisis averted, I moved onto to ballerina decorations. You know how some years you see ballerina-related decorations everywhere? This year, not so much. Honestly, I couldn't even find a ballet shoe. So I put my thinking cap on.
DIY Paper Ballerina Tutorial
I remembered how I'd once seen a pretty paper ballerina online tutorial right here: Paper Ballerina Tutorial. These ballerinas use paper snowflakes as the tutus, so they're perfect for a Christmas tree! I love how these delicate paper ballerinas add an airy, ethereal quality to the Nutcracker Christmas tree.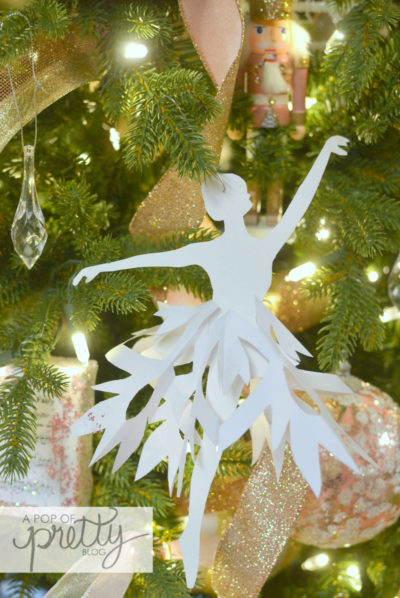 DIY Canvas Decoration: Nutcracker Score
Now I had just about everything I needed to bring this Nutcracker theme to life! But, I felt it was still missing something: the music! The Dance of the Sugar Plum Fairy is such a quintessential part of the Nutcracker Ballet. I wanted to make sure it was a part of the tree.
Of course, finding a Christmas tree decoration with such a specific musical score was going to be next to impossible. So I decided to create my own! Last year, I created my own DIY Christmas tree decorations for my Disney Frozen theme tree using small artist canvases and modge podge. They turned out so sweet that I decided to use this for the Nutcracker themed Christmas tree.
To make these, I simply printed out scores from The Nutcracker in mini versions. Then I adhered them to small canvases using Modge Podge. Finally, to make them sparkle, I used some blush pink glitter while the Modge Podge was still wet. They turned out really pretty.
Nutcracker Tree: Shop the Look
I've curated some of my favourite Christmas decorations over in my Christmas Decor Shop. Pop by and take a look!
In the meantime, here are some decorations that will help you achieve the same look as my Nutcracker themed Christmas tree. (Contains affiliate links.)


What Goes Your Nutcracker Themed Tree First?
Ok, so now you've collected everything you need for your Nutcracker tree. Yay, you! But, what the heck goes on first? Check out my step by step instructions for what goes on a Christmas tree first, in the middle, and last, in this tutorial:
How to Create a Theme Tree: Imagination!
I'm so happy with how this Nutcracker themed Christmas tree turned out. If you want to create a themed Christmas tree like this one, there is one important ingredient: your imagination!
It's not always easy to find exactly what you are looking for when you need it. So, put your creative hat on and improvise! With special DIY projects, your tree will turn out even better than you imagined.
More Theme Tree Ideas
North Pole Themed Christmas Tree
DIY Disney Frozen Christmas Tree
Sweet Tooth / Candy Land Themed Christmas Tree
Cozy Cottage Plaid (Red Plaid & Buffalo Plaid) Themed Tree
Winter Wonderland Themed Christmas Home Tour
All White Christmas Theme Home Tour
Navy Blue & Silver Christmas Home Tour
So, have you ever created a theme tree? Tell me all about it in the comments!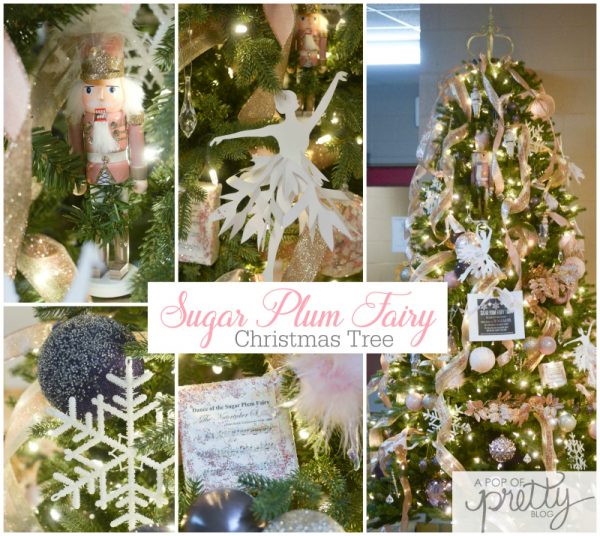 In the meantime, if you're laser focused on the Nutcracker theme, there's a great article on Martha Stewart on creating a Nutcracker "Land of Sweets" tree!
Until next time,
K.