In this article: I'm sharing 10+ super stylish outdoor rugs as part of my Blog series, The Tuesday Ten. If you're looking to spruce up your outdoor space this Spring and Summer, one of these gorgeous indoor-outdoor rugs can help create a cozy oasis on your porch or patio.
Hello, friends. Have you been dreaming of sunny, warm days like me? Can you believe we're now in Week 7 of Covid-19 social distancing? And, it has me wanting to break free of these walls, even if it's just to my back patio! I can't wait to break out the patio furniture and create a cozy space on our deck. That's why, among other things, I've been searching online for stylish outdoor rugs. (Note: This post contains affiliate links.)
Why I Love a Good Indoor Outdoor Rug
When I've used a water-resistant indoor outdoor rug on our deck before, I found it helped keep the patio floor cooler, as well as helped to prolong the painted or stained boards.
Aesthetically, they can also define and ground an outdoor space, pulling your outdoor furniture together more cohesively. They can really help give your patio a "finished look" or an indoor space. In fact, I've even used some outdoor rugs indoors because they can be so pretty!
That said, stylish outdoor rugs seem hard to come by, right? And, have you found that most of the widely available indoor outdoor rugs are duds? I'm not sure why this is the case. But, there are actually some super stylish outdoor rugs (that are affordable) available if you do some digging.
Today, I'm sharing some of my favourites. I rounded up 10+ stylish outdoor rugs that will work with an modern cottage or coastal styled patio or porch. I actually couldn't narrow down the list to just ten, lol.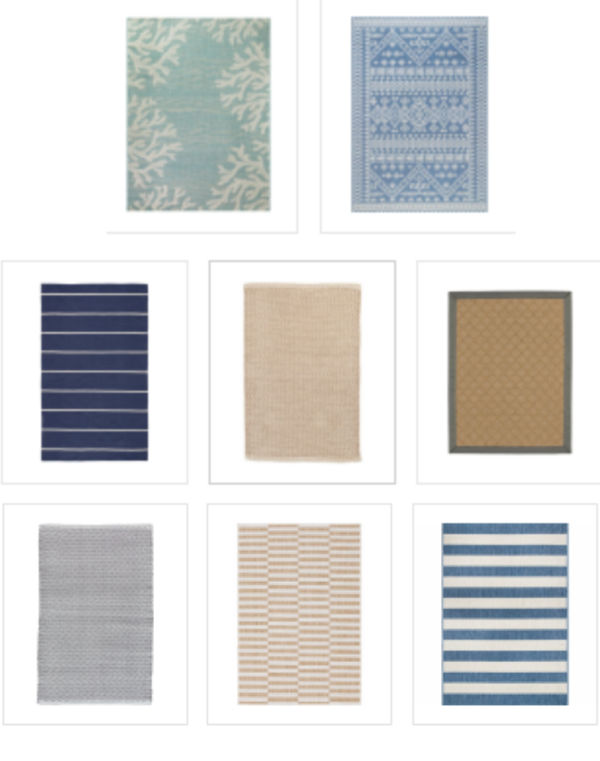 Shop the Post
For sources for these rugs, just click on the one you like below. It will take you straight there. (List contains affiliate links)

Hope you find something you love.
Until next time,
K.
You Might Also Like