This post was most recently updated on January 1st, 2020
Today I'm finally giving you a glimpse at how the twins 'big boy bedroom' turned out.  No, I haven't fallen in a deep dark hole or been abducted by aliens. (Although you might see an alien or two in the post – just sayin'.) But it's been forever since I've been on a regular blogging schedule. Let's just say there's nothing regular about summer with 3 kids.  It's taken over my life, but that's a different blog post. Today let's take a looksy at the boys bedroom!
Our twin boys recently ditched their toddler beds for big beds (I know, crazy right? And, don't even mention Kindergarten, I'm fragile!), and of course that meant that their bedroom needed another makeover.  Sheesh, it seems like I've been making over that room for 5 years.  Oh wait – I have!  I kid – it's actually been a joy.  I love any excuse for a room makeover, and making this room special for our beautiful twin boys has been such a treat.
You might recall that I started by removing a big ol' vinyl wall quote from their nursery days on this long wall. (See How to Remove Vinyl Wall Decals (Bye Bye Elephants). Then I painted these large horizontal wall stripes in aqua and white which I talked about in How to paint wall stripes (the second time around!).  The stripes added a bit of preppiness to the room, and not to mention, a hit of vibrant colour.  We also replaced the carpet with white-washed hardwood which I am absolutely gaga over.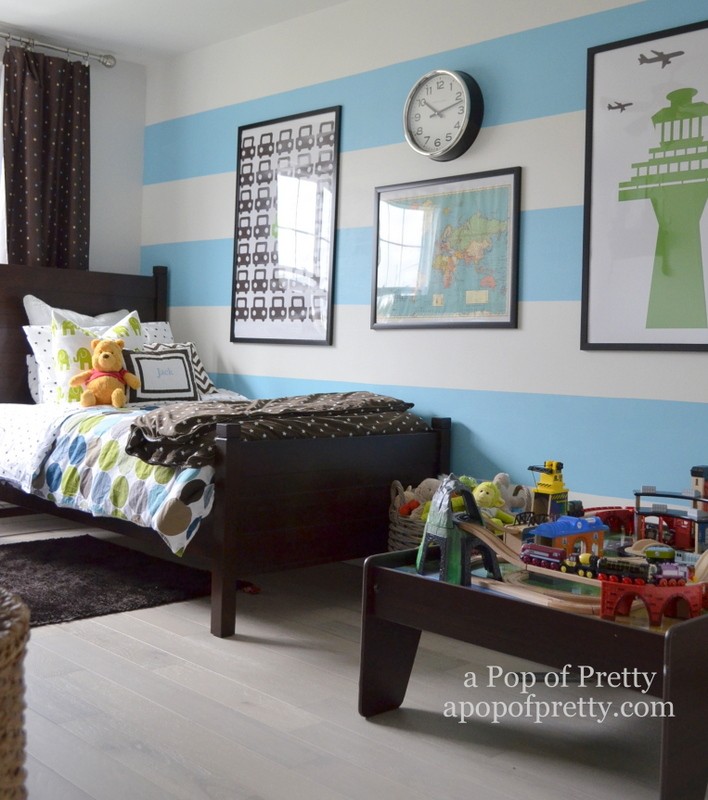 Truthfully, their room has actually been a series of edits over the years, rather than a complete room makeover. I am a true believer that you don't have to change everything in a child's bedroom as they grow.  If you start out with a color scheme and pieces you love (and that aren't babyish), you can keep using them, while adding new pieces as the bedroom evolves.  You can see how their room looked when they were babies and toddlers by clicking on  Our Twin Boy Nursery (Room Tour): Must you change so soon? and Room Makeover: Twin Boy Nursery to Toddler Room (without changing everything!).
For example, I used the same toss pillows from their toddler room, and simply folded their starry toddler-sized duvet at the bottom of the bed to add a bit more coziness.  I also ordered twin-sized bed sheets in the same starry pattern that the had in their toddler beds (all from Pottery Barn Kids). By sticking with the same colour scheme as their nursery and toddler room, it was easy to evolve the room to without buying lots more things.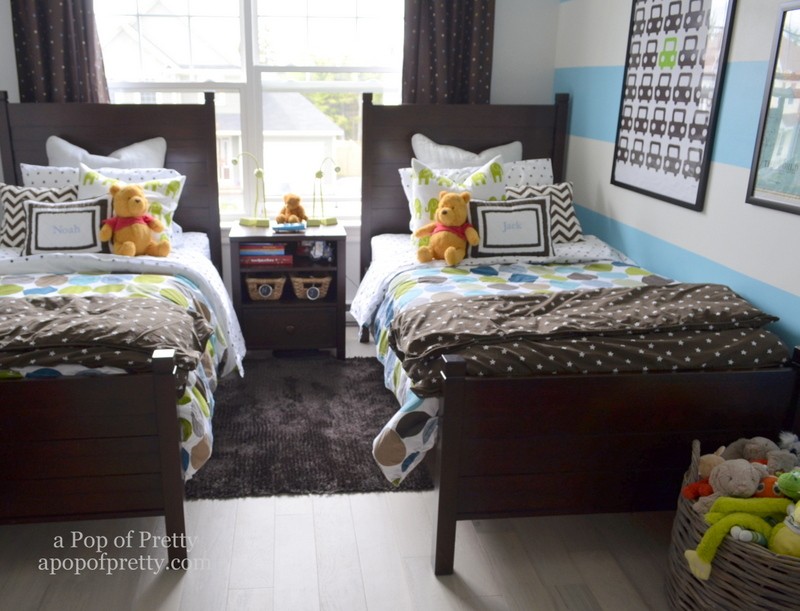 You might have noticed in the pillows that even a sentimental elephant or two made their way over to their big boy bedroom.  I couldn't part with the elephants completely!  And oddly, elephants still kinda worked with the travel-inspired feel that the room was taking on.  Serendipity!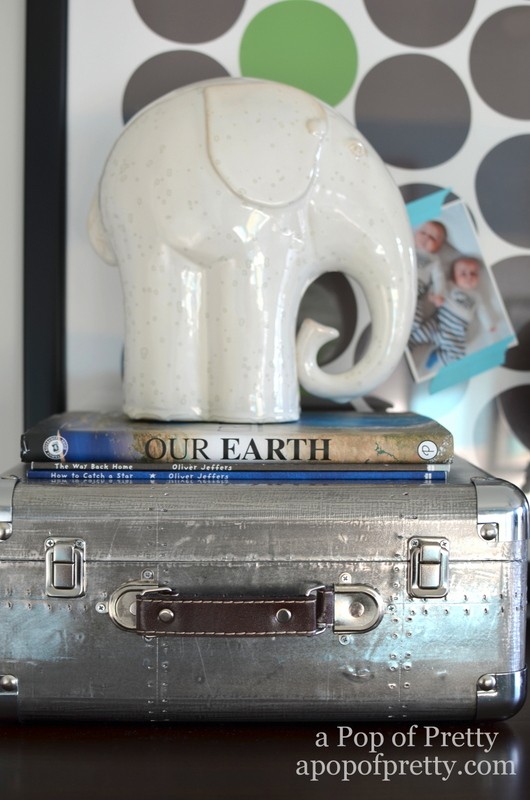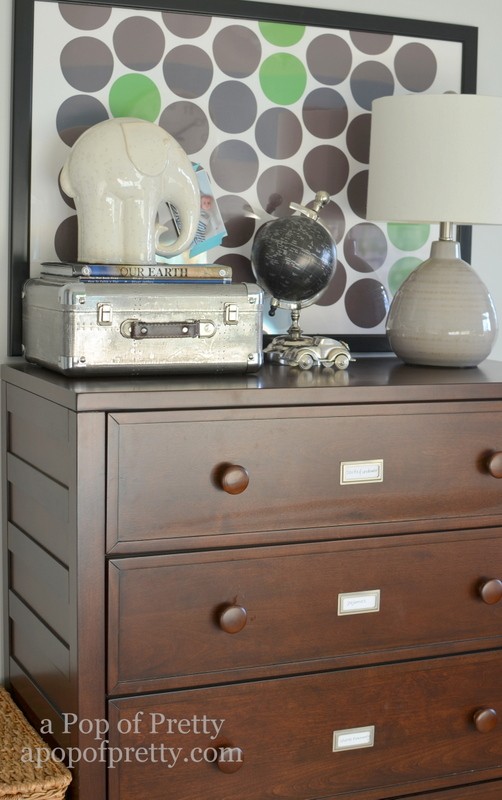 I didn't start out with any particular 'theme' for this boys bedroom, but when I found these massive mod wall posters that I totally fell for (from allposters.ca), the travel thing took on a life of it's own.  It's actually kinda cool because Daddy travels the world for his job, and the boys are always super curious about the places he visits. I'm going to start to put some stars on the vintage map whenever he's away so that the boys can get a sense of where he is in the world.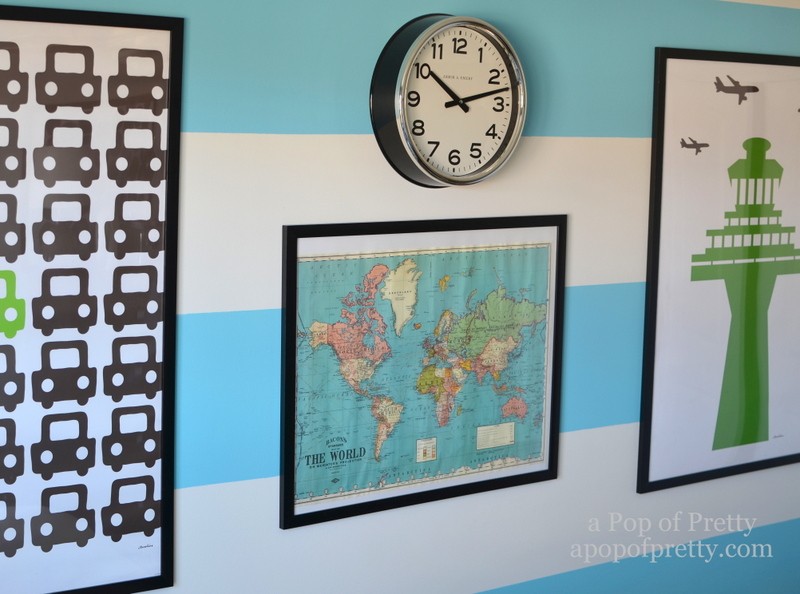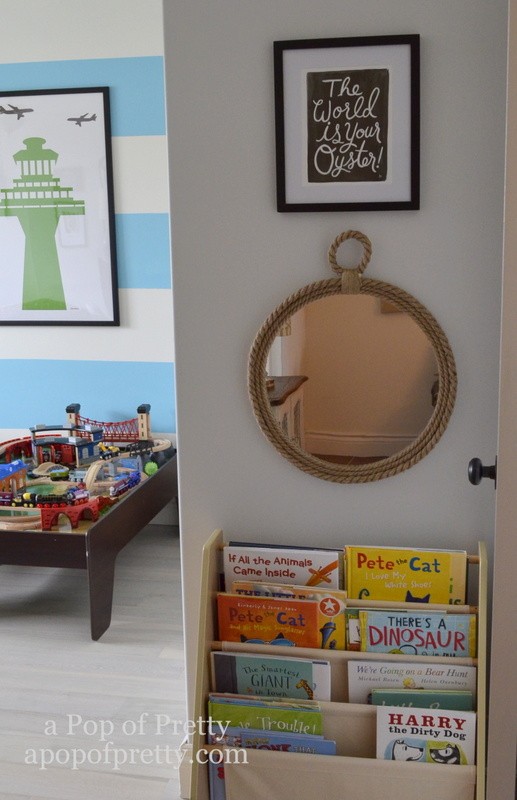 I love that the map and the globe provide a few hits of bright cerulean blue that perfectly compliment the aqua wall stripes and bright green accents.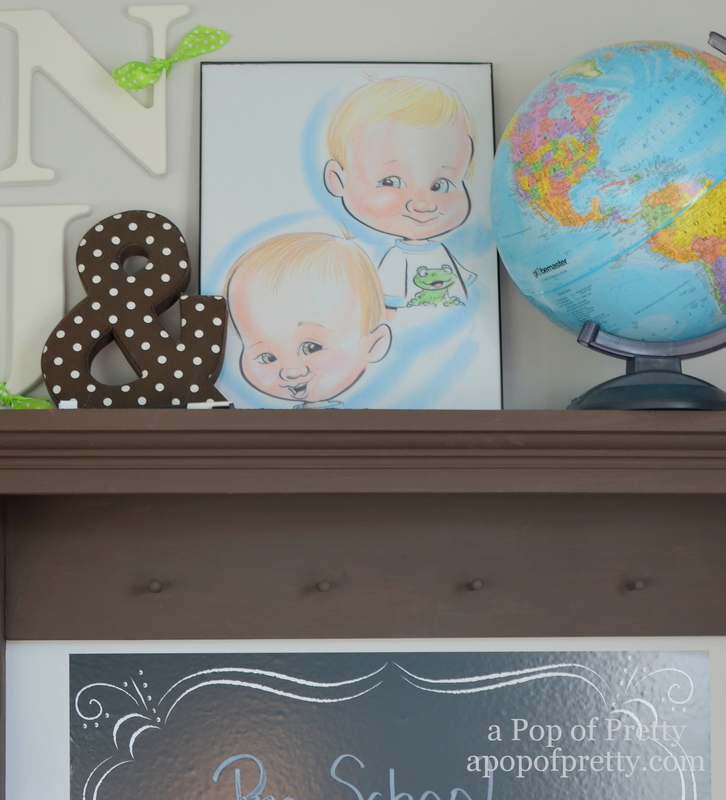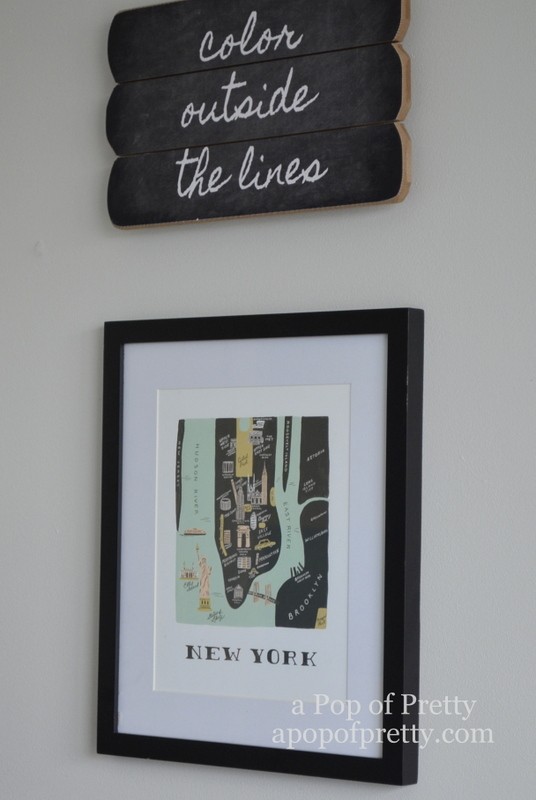 On a trip to Target, the boys spotted these super cute 'alien' lights, and begged me to buy them. Seriously, you know you spend too much time in the decor section of Target with your 4 year old kids when they get more excited over a lamp than a toy. I protested for a few minutes because, well, that's what mommies do. But I secretly wanted to stick out my pointer finger and say "E.T. phone home".  Instead of creeping out the boys, I put two lamps in the cart and kept moving. You know, so they could keep enjoying them at home. 😉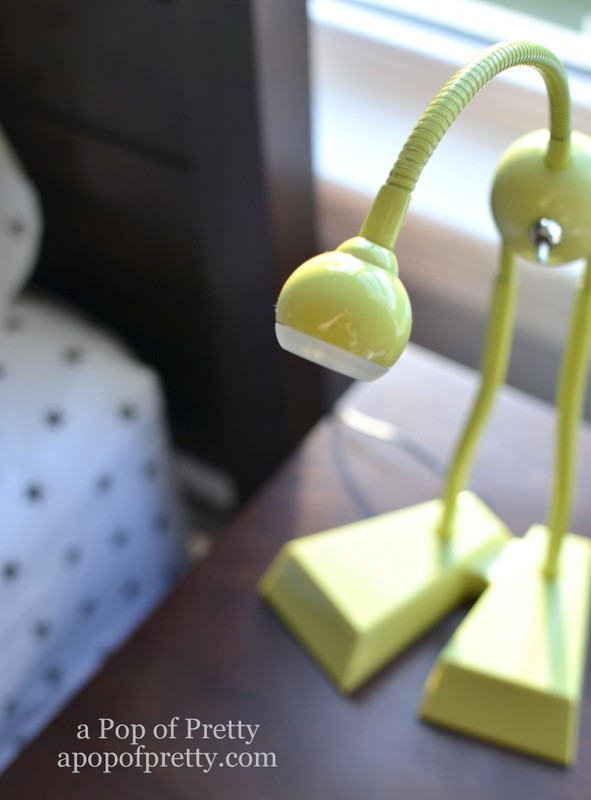 Aren't they just the cutest? And, as a bonus, they each have their own reading light, which means no fighting over who turns out the light….ahhhh.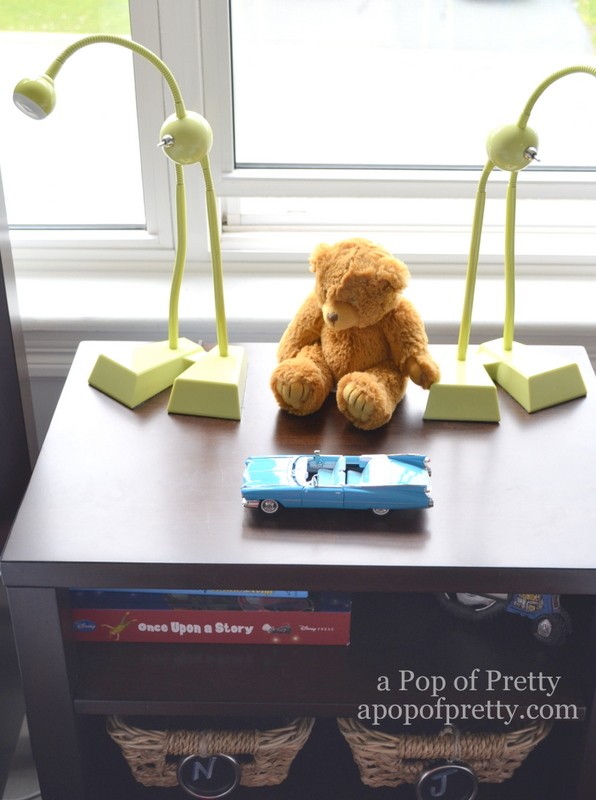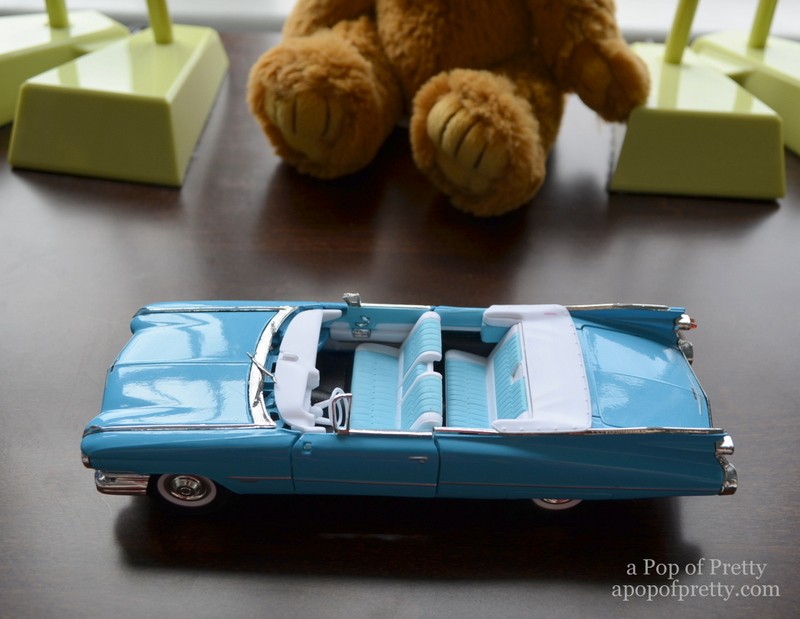 And, of course, even a big boy bedroom requires a huge basket of stuffies and a train table,  right?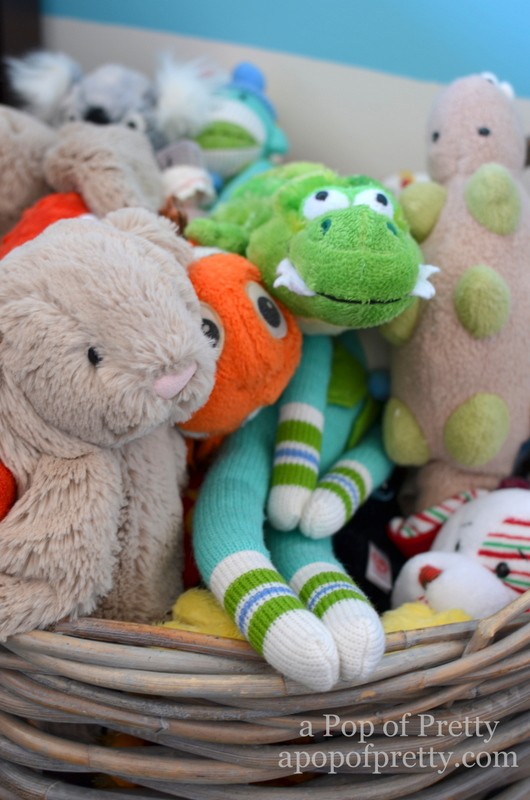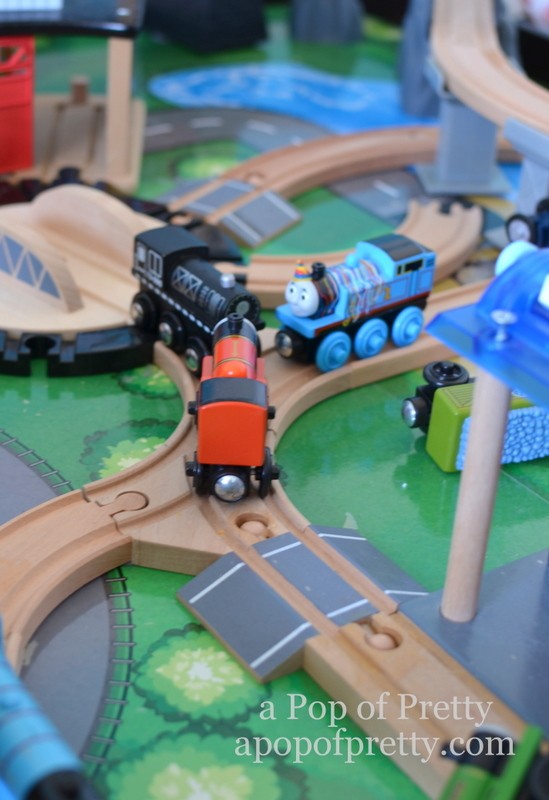 So far, they seem pretty stoked about their big beds and their new bedroom.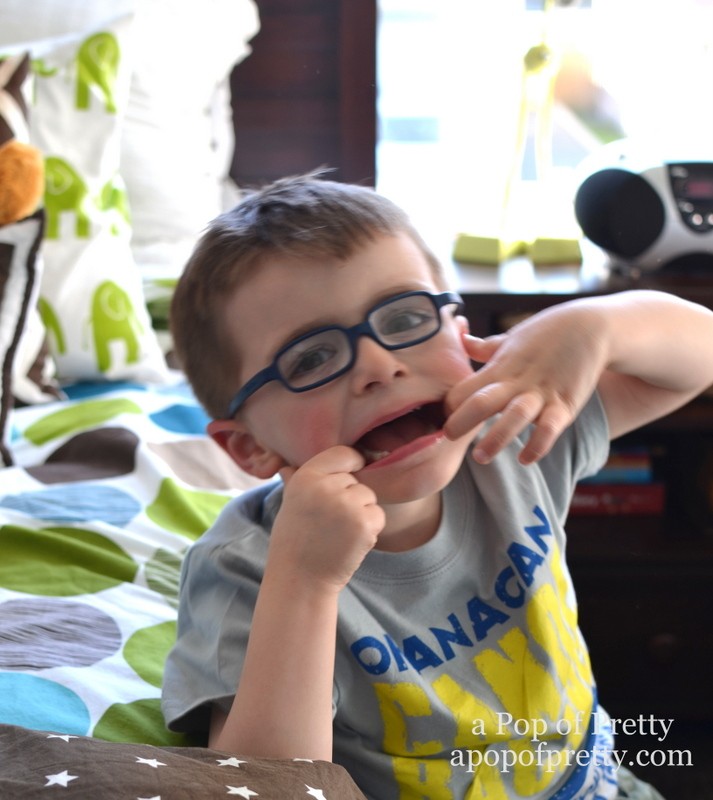 They stay in their beds most nights without crawling in with us like they used to – and, in my opinion, that's a sign Mommy did good.
Until next time,
K.