This post was most recently updated on January 18th, 2022
Hello friends! Two-toned kitchen cabinets are all the rage these days, aren't they? I love this trend so much, and I hope it becomes a classic. We recently did two-toned cabinets in white and grey in our newly renovated kitchen, And, we just finished a second kitchen in our cottage / summer home with two toned kitchen cabinets. Why? Well, because they rock! But more about that shortly!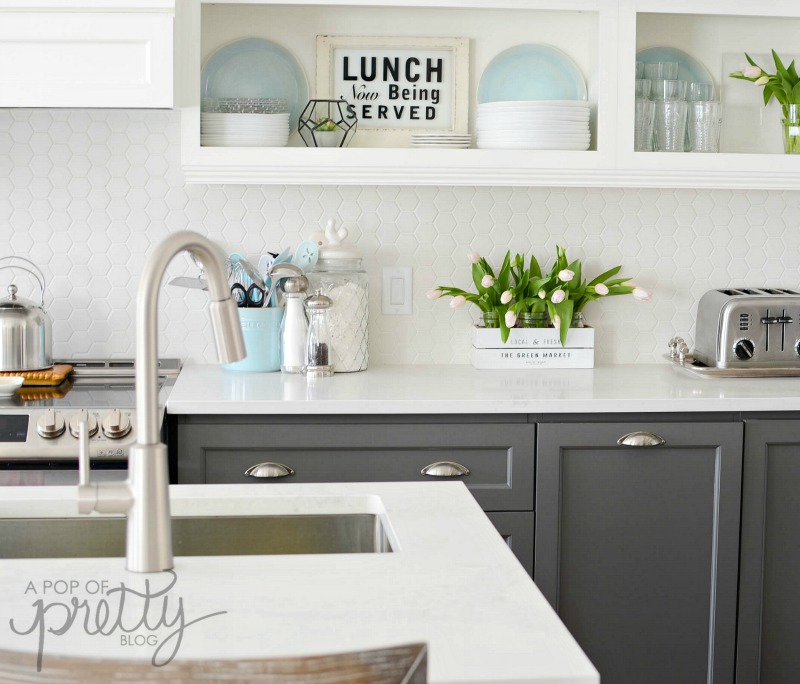 Our recently renovated two toned kitchen in grey and white.[/caption]
What are Two Toned Kitchen Cabinets?
If you are wondering what in the heck 'two toned kitchen cabinets' are anyway, it's when upper and lower kitchen cabinets are painted different colours.
Typically, the bottom cabinets are painted a deeper colour than the tops. Given that my design inspiration for our summer home is mostly coastal/nautical, the kitchen cabinets there are going to be a deep navy on the bottom, white white on the top ones.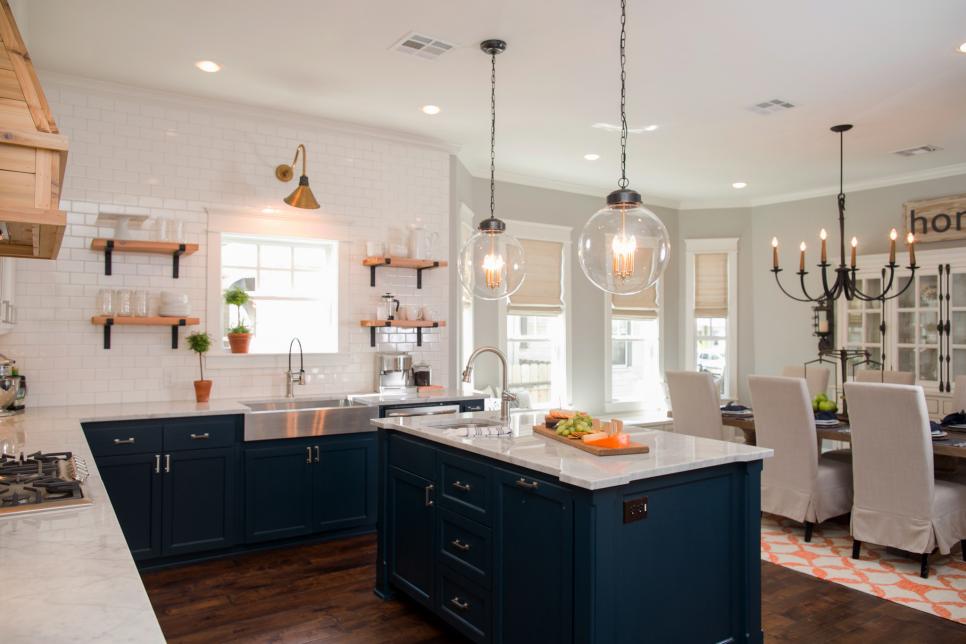 Source: HGTV, 1905 Craftsman Fixer Upper, Photo Credit: Rachel Whyte (Click image for full house tour)[/caption]
Two toned kitchen cabinets are having a major moment in kitchen design these days. But, I'm hearing a a dull hum in design circles about them. I guess they are seen as a little trendy. But, personally, I'm a HUGE fan.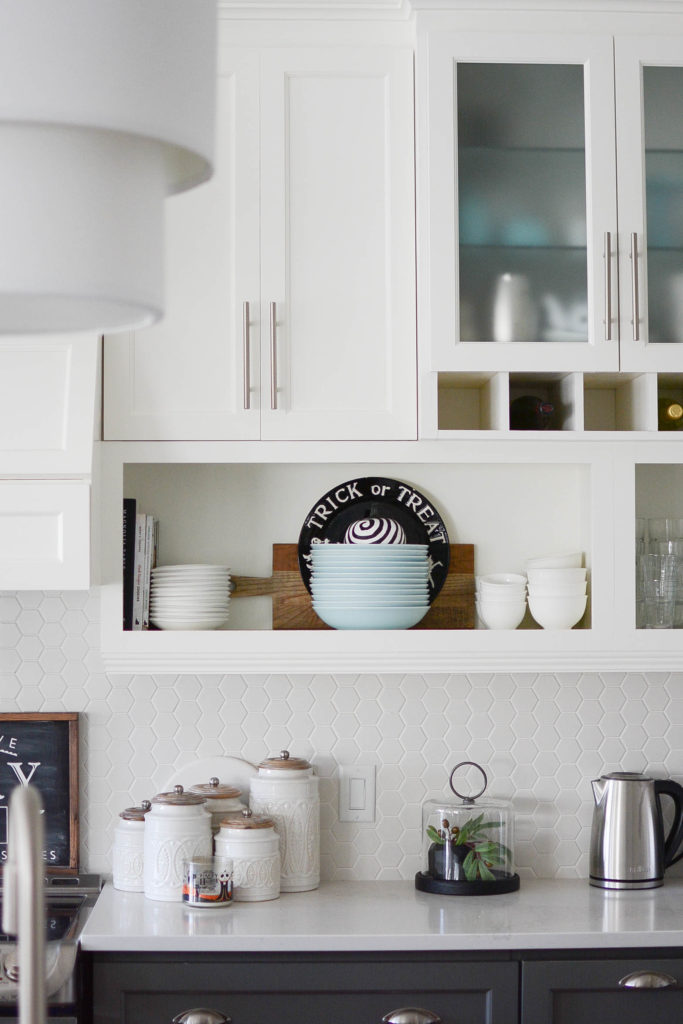 The Downside of a Full White Kitchen
Listen, I LOVE the look of a ceiling to floor white kitchen for it's brightness and airiness. But, let's face it, there's a downside of a full white kitchen. I had one for almost a decade, and let me tell you, I couldn't have had the bottom cabinets painted a dark colour fast enough.
Why, you might ask? Well, for starters, we have three young kids. And, in case, you're doing the mental math, that's six messy hands.
If you multiply that by 3 meals a day – and then add in a few messy snacks for good measure – that equates to about 24 grimy hands plastered all over our white cabinets daily.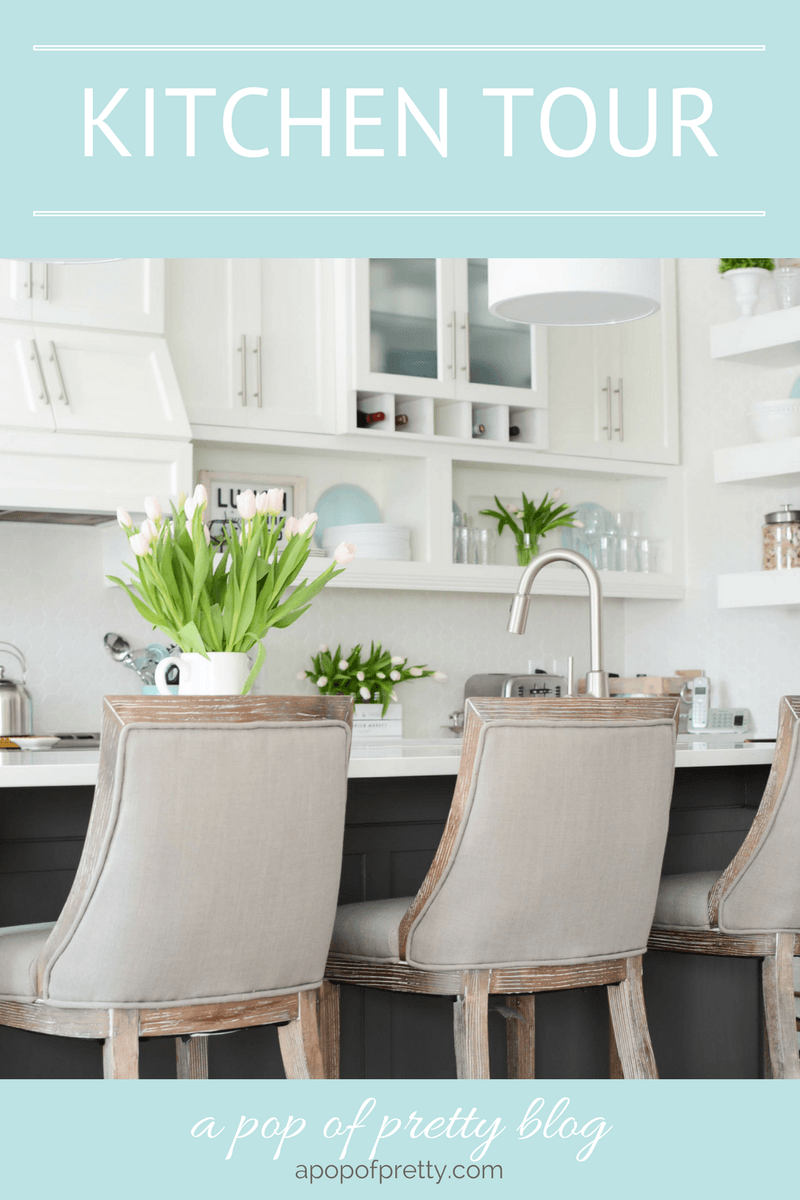 Some days, it was literally as if two strawberry jam-covered octopuses had a party in the kitchen. I couldn't deal with the constant mess on the lower cabinets. And, the garbage pull out? Oh sweet love of God. I won't scare you away with a description.
So, after less than a decade, I decided that our entire white kitchen needed to be re-painted. To be fair, it wasn't all the kids' fault. Because my white painted cabinets were solid wood underneath (and not themafoil), the white finish had yellowed faintly over time.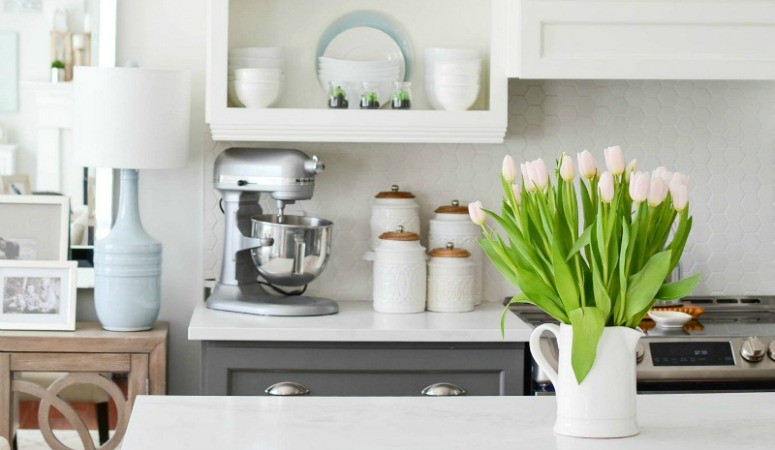 Why Two Toned Kitchen Cabinets Rock
I originally planned to have the upper and lower cabinets re-painted white again, with just the island painted grey. But then the kitchen designer suggested painting the lower cabinets grey too.
Boom! Why had I never thought of that? My prayers to the clean cabinet gods were answered! OK, OK, I know grey cabinets only hide the dirt. Don't judge me, but I can totally live with that.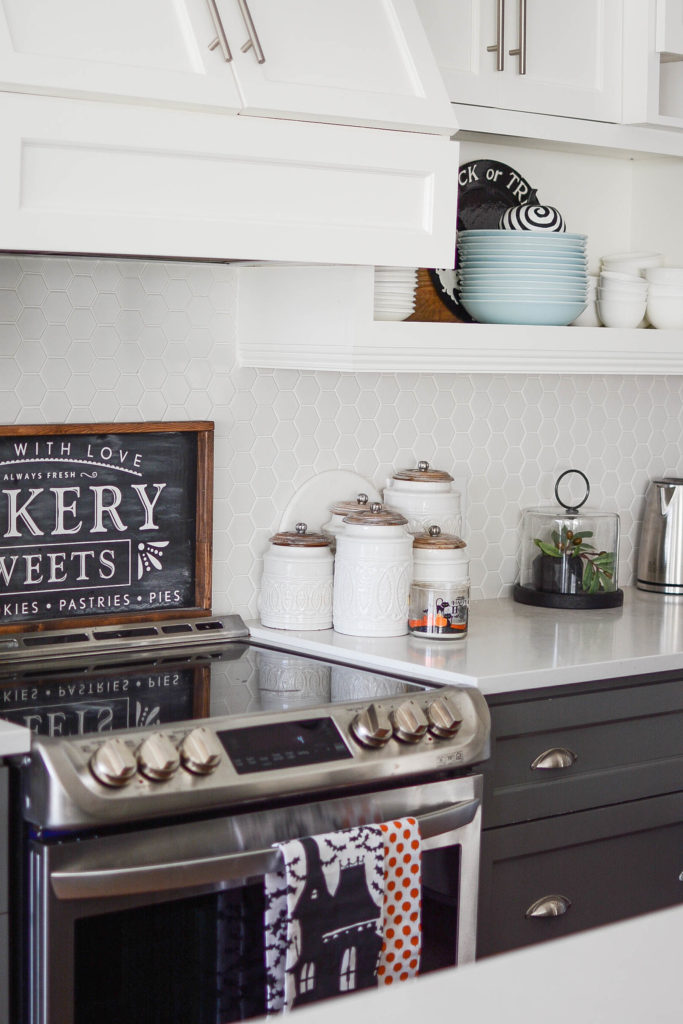 The other reason that two toned kitchen cabinets rock has nothing to do with utility, but purely aesthetics. There's something grounding about deep toned cabinetry on the bottom of a kitchen.
I think the principle of balance in art and design helps to explain why this is the case. It's human nature to seek balance. And, in design, balance is all about the distribution of the visual weight of a space.
This is how the kitchen in our summer home turned out…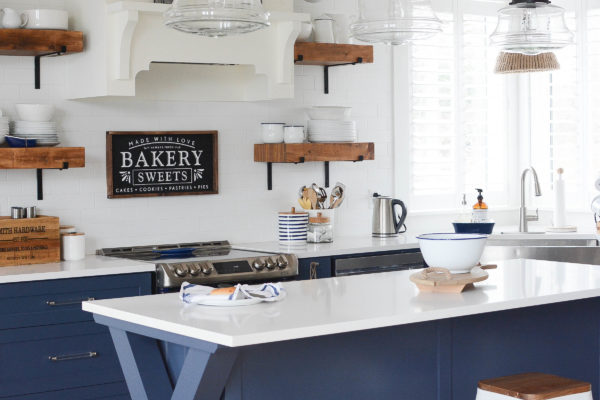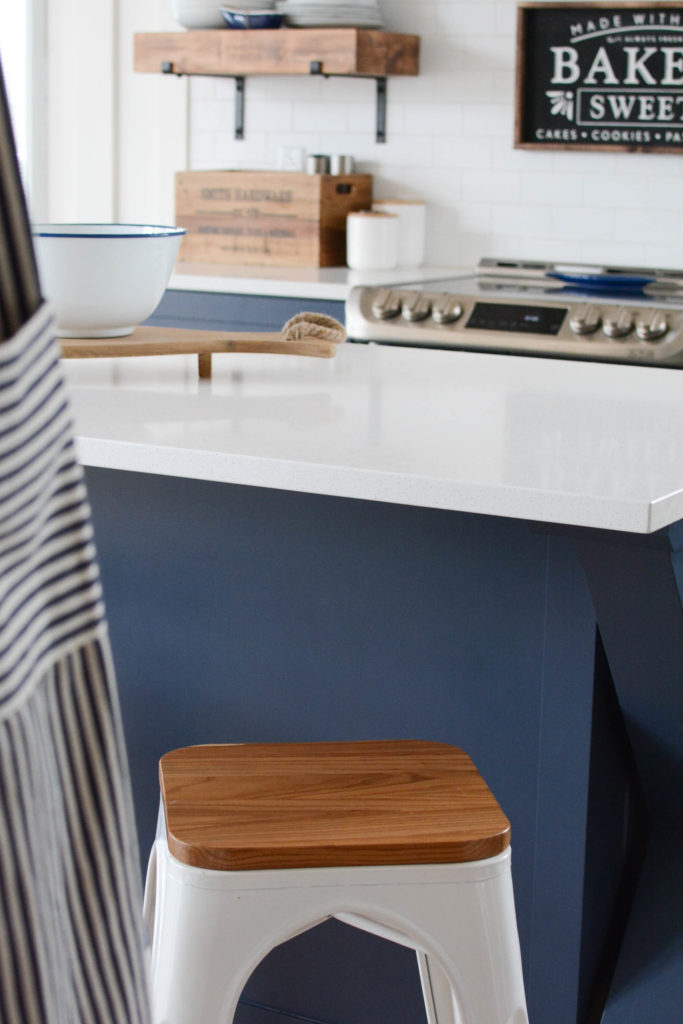 A deep tone on the bottom cabinets of a kitchen provides visual weight because dark objects always feel heavier than light ones. This is why a kitchen with dark toned bottom cabinets can feel more grounded, or even more harmonious, than kitchens that are all one colour.
If you're looking for inspiration, I've compiled more than 55 gorgeous two toned kitchens.
More than 55 Two Toned Kitchen Cabinet Ideas