This post was most recently updated on February 24th, 2020
Hello friends!  I've got cottage chandeliers on the brain these days! I'm so excited to finally have a reason to buy this style of lighting for our new cottage which we are in the process of building. I've recently spent hours online searching for pretty cottage chandeliers.
After lots of drooling and ogling, I've finally settled on using dark bronze/iron fixtures, some mixed with sisal and wood.  My next step is to look more closely at our cottage floor plan, and decide where I could hang some of these beauties.
In the meantime, I thought I'd share my short list of 10 pretty cottage chandeliers with you.  If you are in the market for this style of lighting like me, I think these are worth a peek .  You can find the online sources that match each numbered chandelier, just below.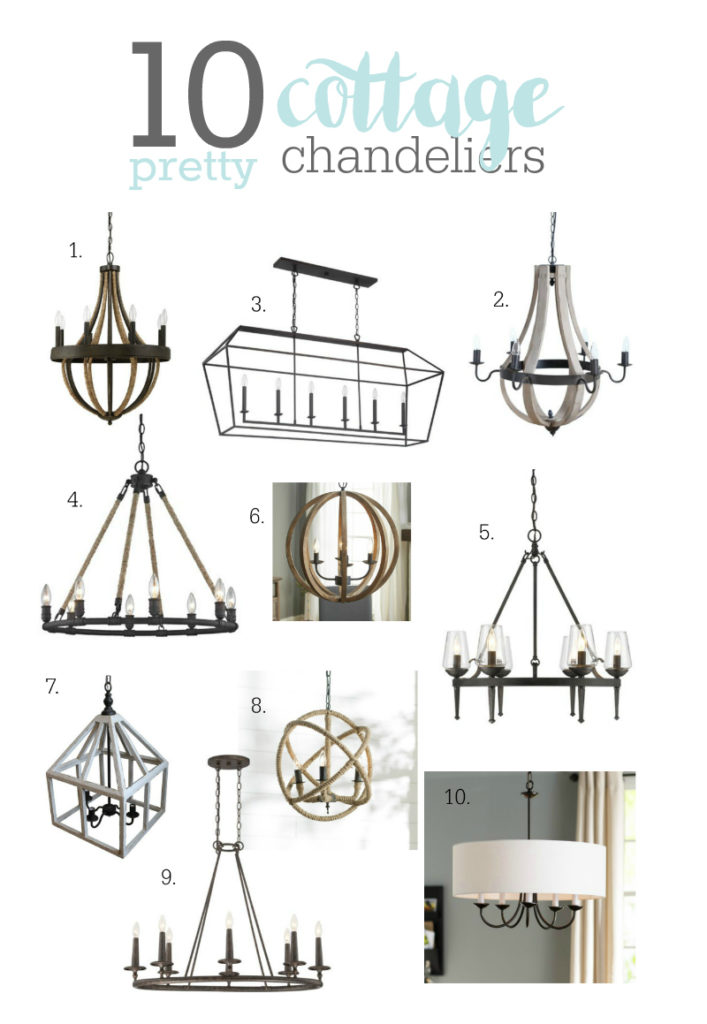 Cottage Chandeliers: Sources
(*contains affiliate links)
Oh my, too much gorgeousness! Aren't these cottage chandeliers lovely? Decision, decisions!
I've already ordered #2 on the list. I'm thinking it will probably go over our dining table.  The warmth of the wood will look great against a backdrop of white shiplap and subway tile that I have planned for the kitchen.
If you love cottage chandeliers as much as I do, I'll also be sharing my short lists of cottage-style pendants and cottage-style outdoor lighting soon too. Until then, I hope you are enjoying these warmer days.
K.
Note: This post contains affiliate links. From time to time, my blog posts contain affiliate links for certain products. All this means is that I may earn a small commission, at no extra cost to my readers,  if these links are clicked on by readers who eventually purchase the product within a specified time period. However, my editorial content is NEVER influenced by this potential. When affiliate links are used in a blog post, it is because the product is one I would buy (or have already bought) myself, and I think my readers might like too. Affiliate links are always clearly identified as such for you. To find out more, read my Blog Policies here.