This post was most recently updated on November 11th, 2021
In this article: I'm sharing 3 oh so simple Christmas tree decorating tips that will take your Christmas tree up a notch this year. Those stunning Christmas trees we all ooh and ahhh about on Pinterest? Well, their beauty is in the details. There are lots of little ways to make your Christmas tree look more magical, but, for now, I'm sharing 3 crazy easy tips that you can master!
Oh hey! I see you over there on Pinterest collecting images of designer Christmas trees that are as magical as Disneyland. Do you know what's common about all those gorgeously polished trees? It's all in the details, my friend. Sure, most of them started with a big idea or decorating theme. But, their beauty is in the execution of small things you may never have thought about.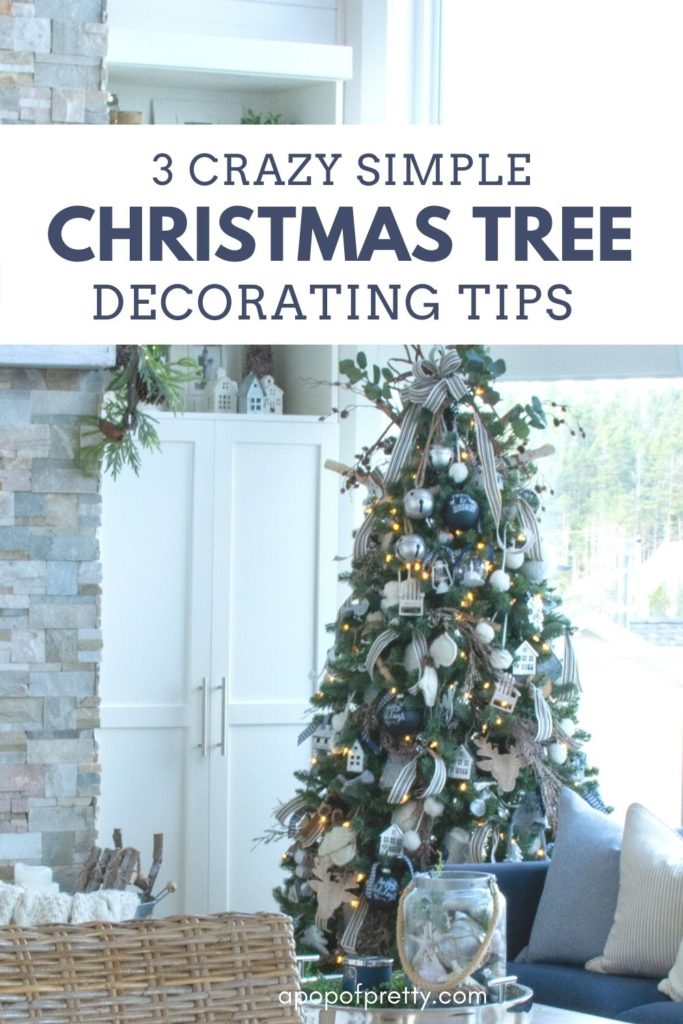 So, today, I'm sharing 3 Christmas tree decorating tips that are so darn easy you'll be wondering why you didn't know them before. There are actually SO many little ways you can up your Christmas tree decorating game. But, for today, let's not overwhelm ourselves, lol. Let's start with just 3 basic Christmas tree decorating tips that will make your tree look prettier and more polished than ever.
If you follow A Pop of Pretty on Instagram, you may have caught my IGTV video last week that demonstrates just how simple these tips are. If you didn't see it, click on the image below to take you there. (You need to be logged into Instagram on your device to view it: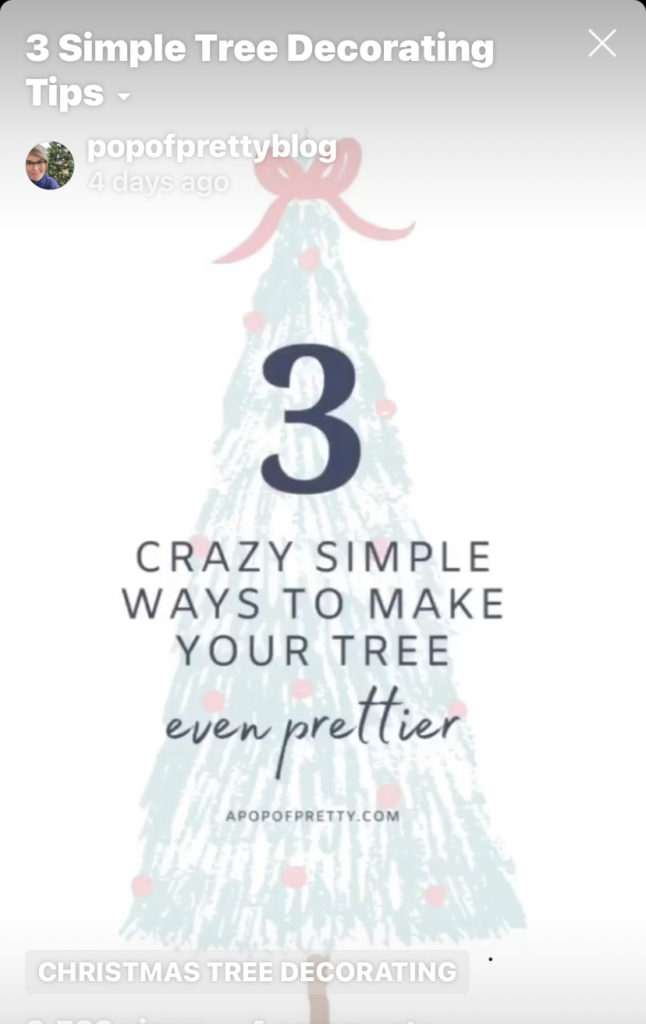 In case you're not an Instagram junkie, or you're more of the reading type, I'll also share these 3 simple Christmas tree decorating tips here.
3 Simple Christmas Tree Decorating Tips
Tip #1: How to Curl Ribbon
This is one of my favourite Christmas decorating tips! Lovely, loosely curled ribbon gives a Christmas tree so much polish. If you've always wondered how to get a flowing, loose curl in your ribbon, read on. There's a super easy way to master this.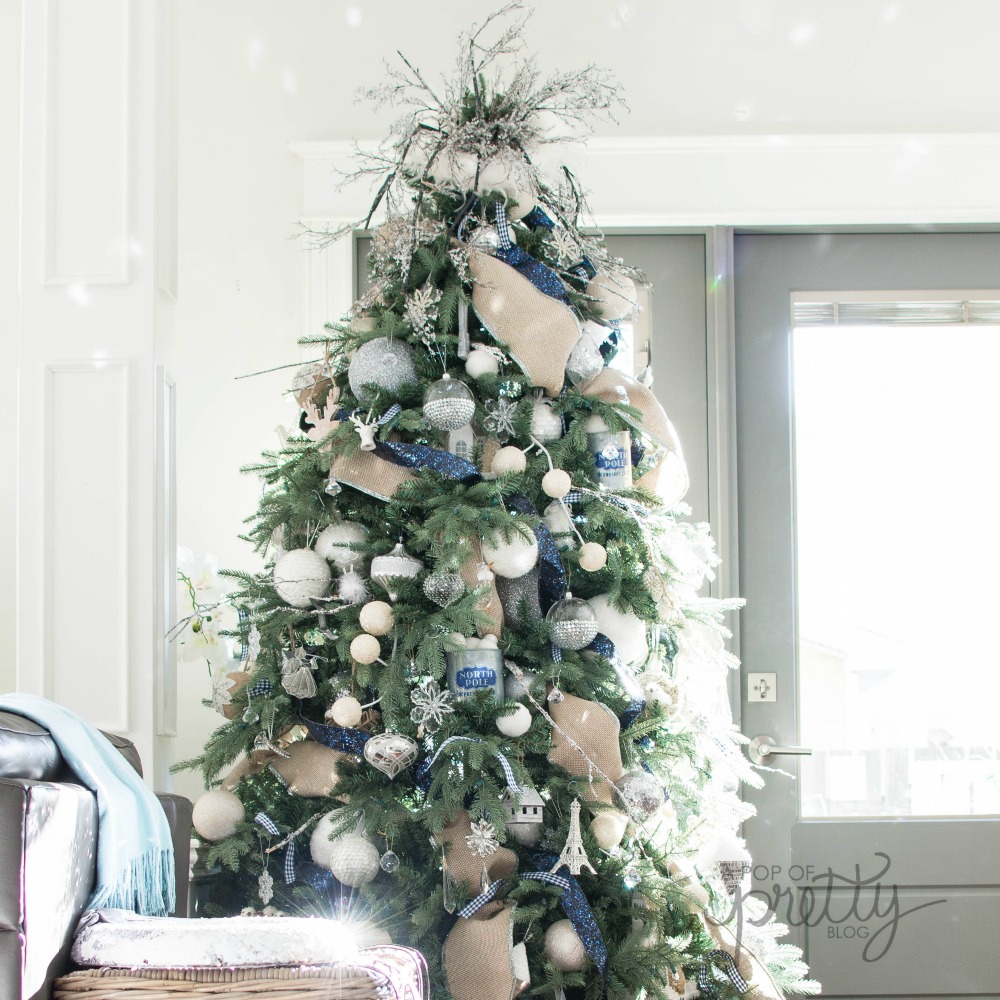 Maybe it goes without saying, but if you want a gorgeous curl, always use wired ribbon. Cut it to the length you want, and then roll the ribbon tightly around your hand. When you get to the end of the length, grab the end and pull it even tighter. Now, reach into the ribbon roll on your hand, and slowly pull the end out that you started with. Ta-da! Now you have a beautifully curled ribbon. If the curl is a little too tight, give it a little shake to loosen it up.
To add this loosely curled ribbon to your Christmas tree, just carefully poke it into your tree, securing it with wired branches. Or, if you have a real tree, use some wire. You can use this trick to add ribbon to a Christmas tree, a wreath, to the garland on your stairs, a mantel, and so much more. Oh, and if you'd like a full tutorial on how to put ribbon on a Christmas tree, check out my popular tutorial.
Tip#2: Where to Position Large Ornaments
OK, of all the Christmas tree decorating tips I could share here, this might be the most obvious. But, obvious as it may be, I see so many trees that could look so much better with this little detail. If you have a large ornament, don't just cram it on any branch.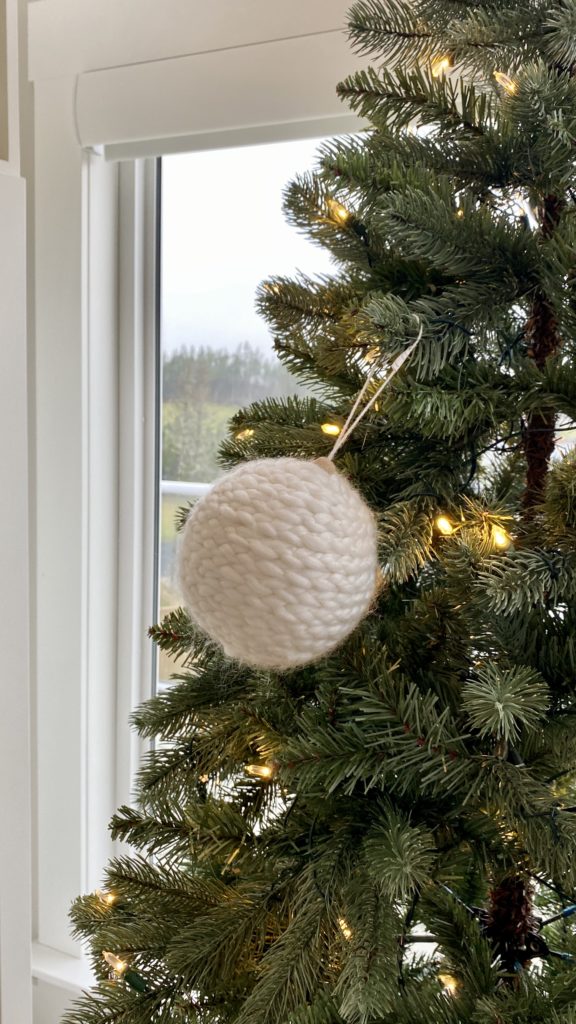 Instead, find a branch that has at least the height of your ornament, so that it hangs naturally and doesn't stick out. And here's another thing: place it deep into the tree, not on the end of a branch. Leave the branch ends for smaller ornaments. This will create a better sense of balance and harmony between your ornaments.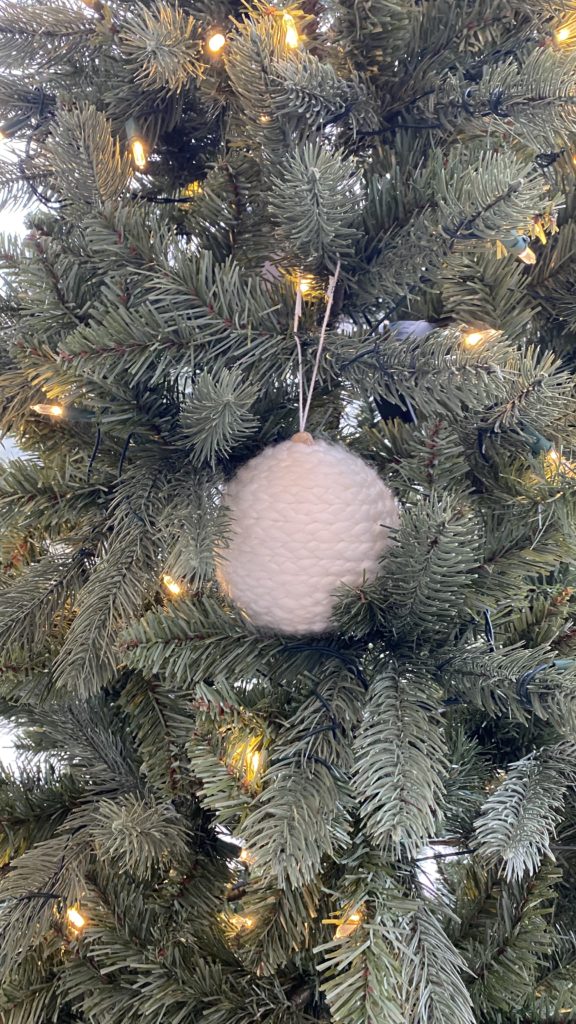 Tip #3: How to Hang Your Christmas Tree Ornaments
See how easy these Christmas tree decorating tips are? We're already on number 3! And this tip is all about how to hang your Christmas tree ornaments to look even prettier.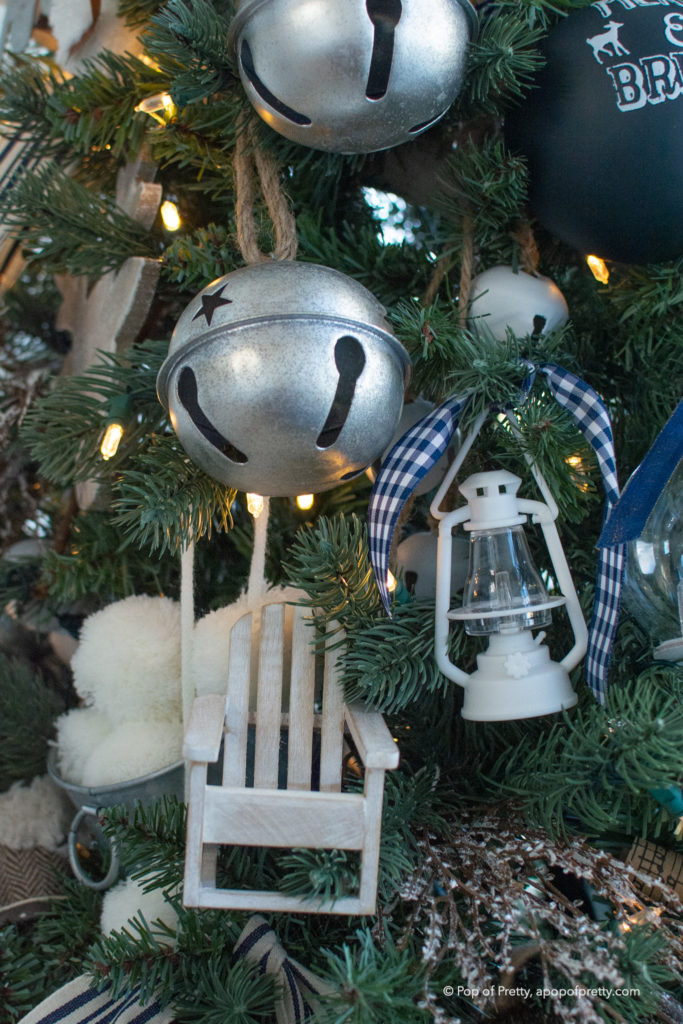 Metal ornament hangers are fine, but do you know what looks even prettier? Duh, ribbon of course! Instead of hanging your ornaments the typical way, use a ribbon you love. It may be a sweet plaid or gingham, or a velvet or satin solid-coloured ribbon. Or, you may want to choose a ribbon that amps up a colour theme.
In any case, take the metal hanger off you ornament, and thread a piece of thin ribbon through the ornament's opening. You can tie it in a casual knot, allowing the end to fall over the branch, or in a bow. Either way, this little detail will make a big impact.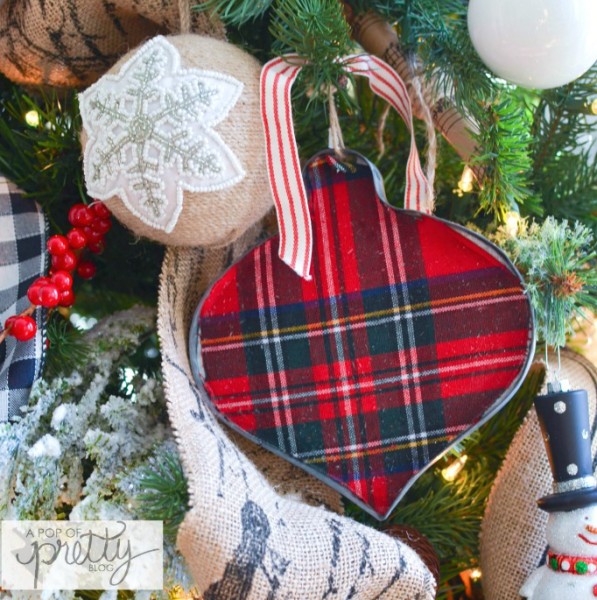 And, you don't have to use ribbon on all of your ornaments! In fact, it might have more impact if you only use it on some. Perhaps there are special ornaments you want to draw attention to. This is a great way too make them stand out!
Yay, now you know 3 crazy simple Christmas tree decorating tips that will make your Christmas tree look even prettier this year. Go forth and make it pretty!
Take a Closer Look
Do you want to see how these tips came together to create the rustic, farmhouse inspired Christmas tree at out cottage? Take a closer look here:
Rustic Christmas Tree (How to Get That Farmhouse Look)
And, here's a tour of the entire space:
Rustic Christmas Decor Tour (Our Cottage)
Other Christmas tree Decorating Tips You Might Love!
Oh, and here are a few more Christmas decorating tips that will help you create the Christmas tree of your dreams:
How to Put Ribbon on a Christmas Tree (Tutorial)
How Much Ribbon for Christmas Tree? (+ All Things Ribbon!)
What Goes on Christmas Tree First? (The Best Order tip Decorate Your Tree)
Until next time,
K.