This post was most recently updated on September 22nd, 2019
Around this time each year, Miss G (now 8) begins drawing up her plans to make a leprechaun trap for St. Patrick's Day.  Every year since she was 3 or 4, she's tried to catch one! I'm not really sure how or why this tradition began in our home.  It's certainly not an idea that I planted. Let's face it, I've got enough little beings to care for around here already; I don't need a leprechaun too, lol!  But she goes about it with the same excitement as finding her Elf on the Shelf every morning during Christmas, so who am I to interfere!
 .
. You'll see lots of elaborate schemes out there for a leprechaun trap.
But all you really need to lure a leprechaun is an empty tissue box, some things to decorate it, and a good dose of sneakiness. .
.
.While Miss G hasn't caught one yet, she's come close!
We've found a trail of green glitter on several occasions, and last year, he left a note! (See end of post.)
Here's what seems to work the best to trap the leprechaun.
.
.
1. Promise him gold. 
Leprechauns are greedy, and they'll do just about anything to add to their fortune.
On the first night, leave a note that explains your offer!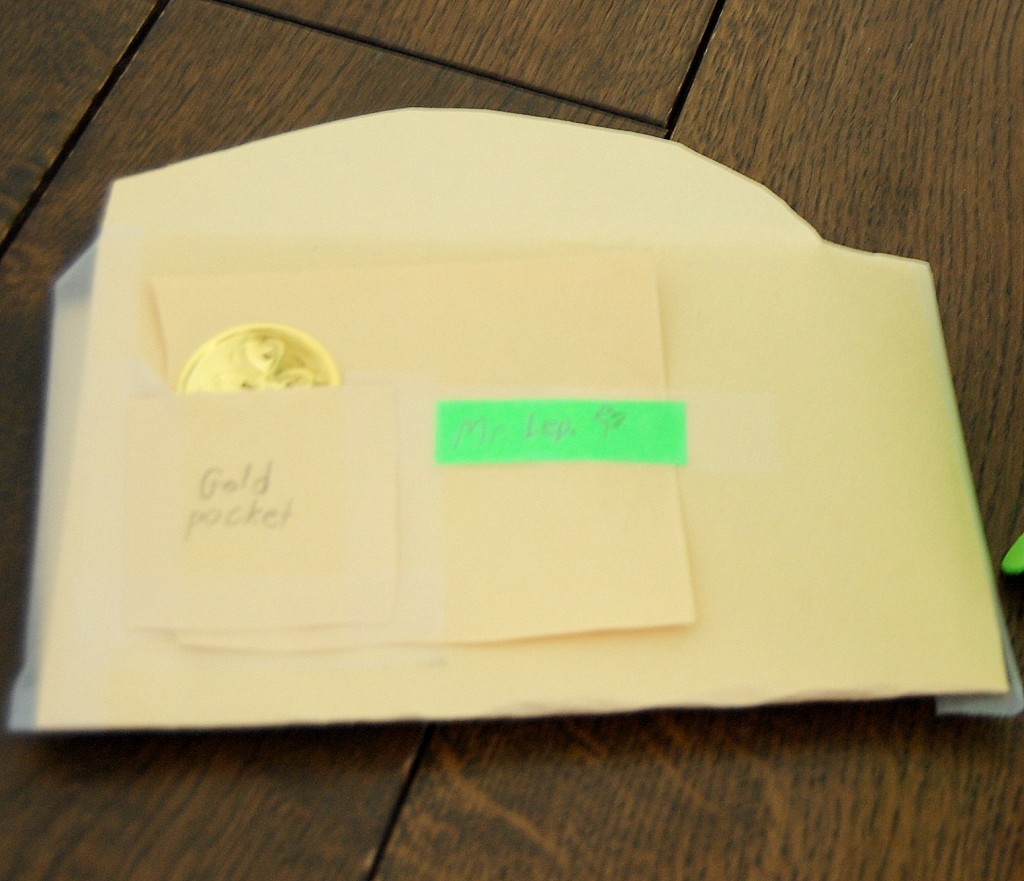 .
2. Follow through.
Give him a small amount of gold on the first day, and then set the leprechaun trap the next!
Sneaky!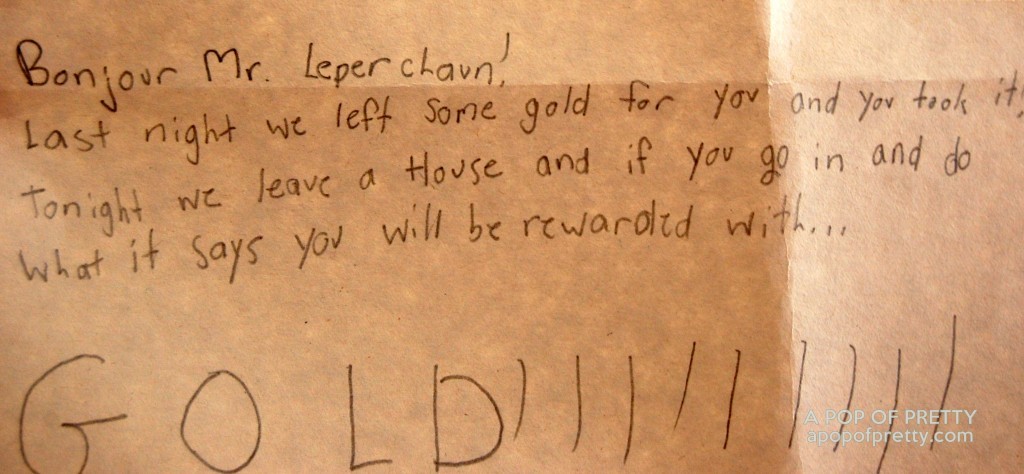 3. Set the trap.
Make a door that is easy to open, but more difficult to get out. A shamrock usually works well.
A leprechaun can smell gold from a mile, so don't forget to stuff some inside.
Cover the floor with something sticky – like double-sided tape!
.
.
4. Surround the trap with a rainbow.
.
A rainbow will make him feel at ease.  It's easiest to trap him when he's relaxed, and his guard is down.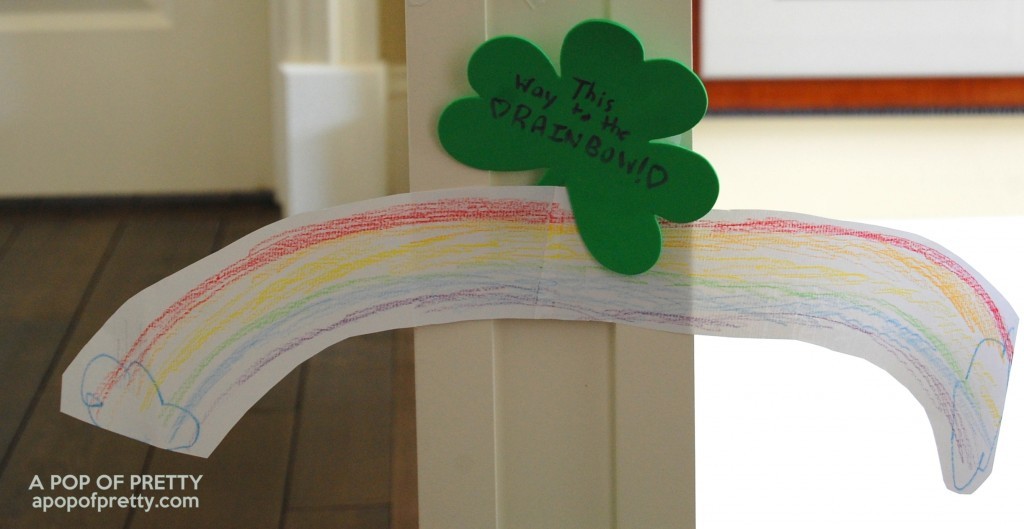 .
If you're lucky enough, you might just catch one.
The next best thing?  A note that shows you almost did!
.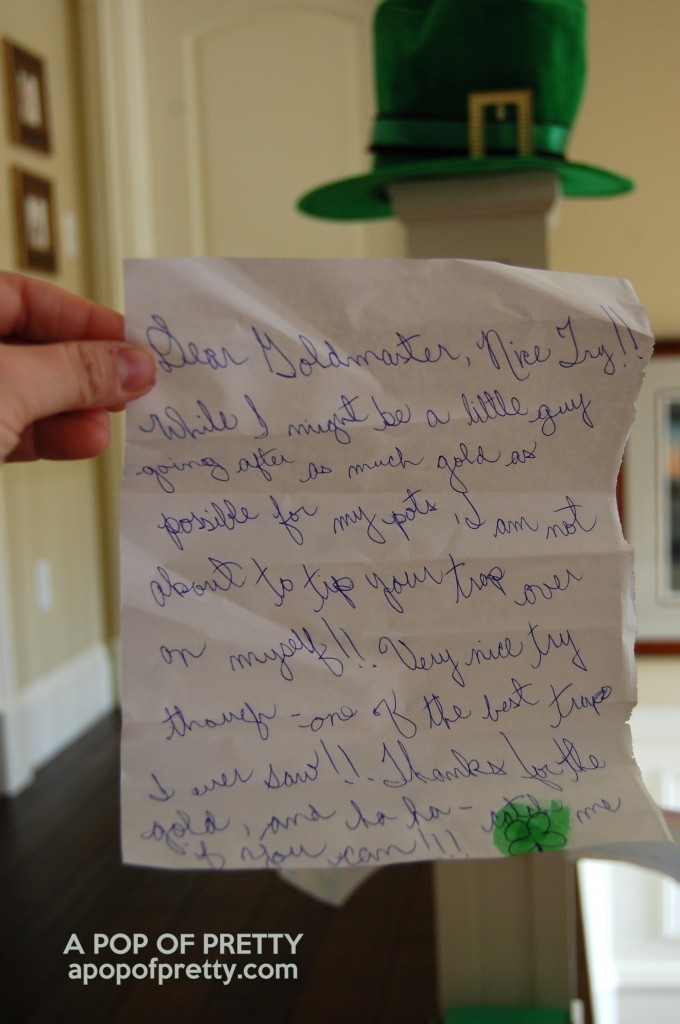 .
No doubt, Miss G will be ramping up her leprechaun chase this year!  I'll keep you posted on whether she catches one.
.
If you're feeling particularly creative, you might want to make a leprechaun trap cake.  Check out this fantastic work of art I came across in my web travels!  And, the best part?  The inside is a rainbow!  Source: Not Martha (notmartha.org). Full tutorial can be found here.
.
Did you know:
While they've become a popular St Patricks Day icon because of their role in Irish mythology, leprechauns don't have any real connection to the holiday.
.
.
Want to learn more about the leprechaun? Check out the National Leprechaun Museum in Dublin, Ireland!
.
Until next time,