This post was most recently updated on September 22nd, 2019
Yay, it's one of my favourite weeks of the year – our Canadian Bloggers Fall Home Tour week! Each day, a new group of Canadian bloggers will be sharing their Fall decor. I'm so happy to invite you inside to take a peek at some Fall decor touches throughout our home.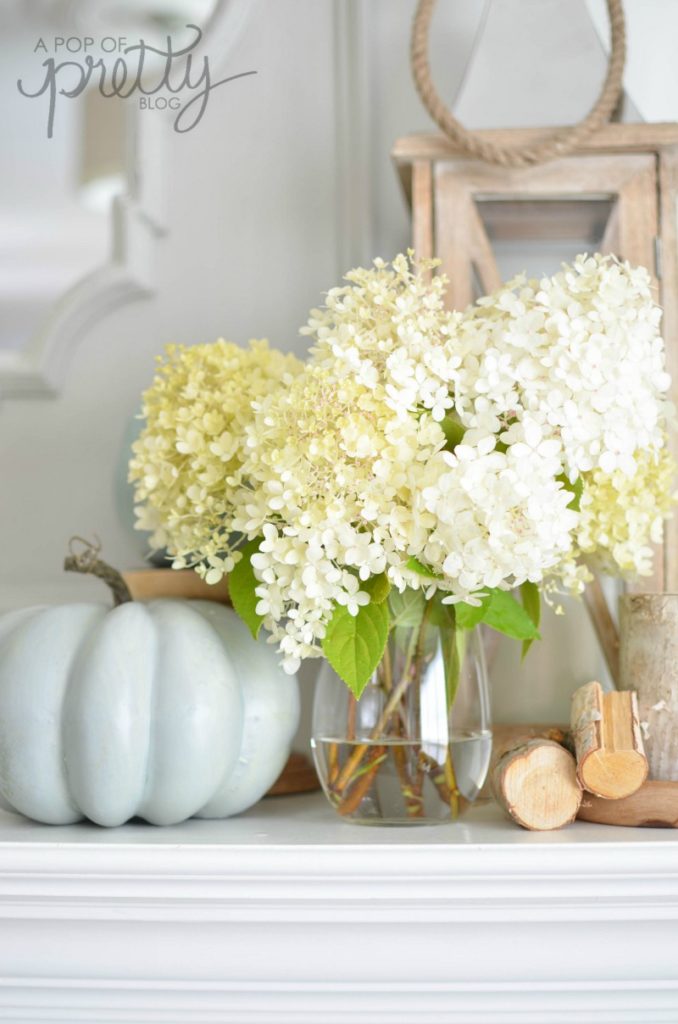 You can visit each Fall home tour by following these bloggers' links that are listed at the end of my tour, on the days that are outlined.  So much fun!  And special thanks to Christina from The DIY Mommy who does a brilliant job of organizing this ever-growing crew of Canadian decor bloggers every season!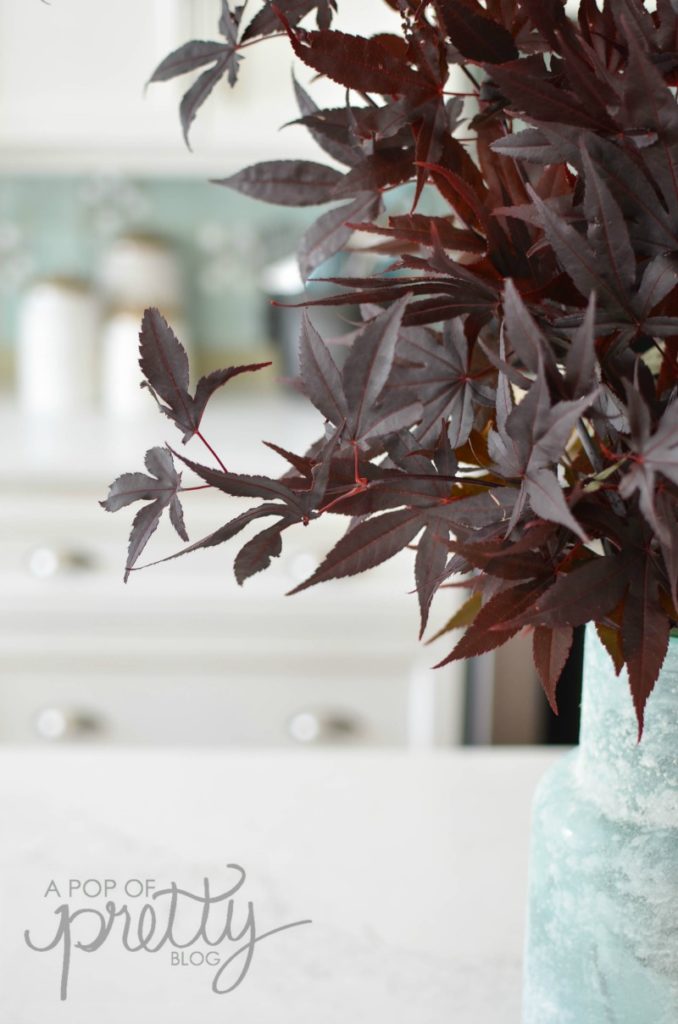 I love changing the house up to reflect the seasons.  Fall decor is my fave. After the summer, its such a comfort to be able to cuddle up with our babes with a cozy throw. In the Fall, I usually just add some warmer textures. You'll find a blanket or something cozy on just about every piece of furniture in the house. Even the front porch! Seriously, give me all the plaid throws.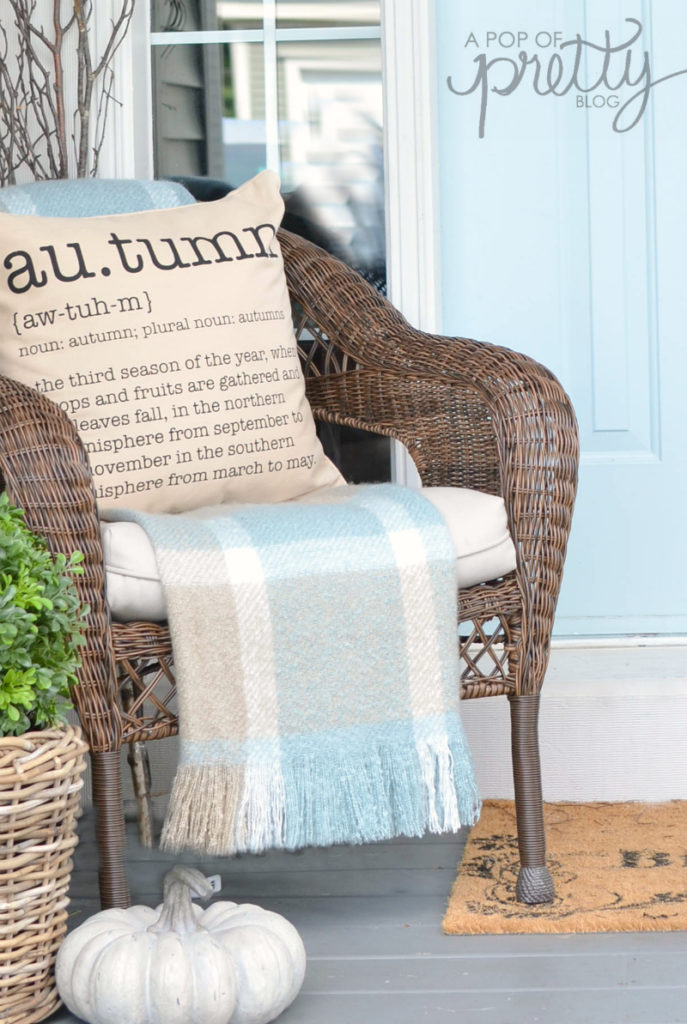 In the living room, the toss cushions now have warmer velvet pillow covers, and you'll find a big furry stool.  The soft throw makes me want to curl up with a good book.  Now, if I could only find the time to curl up with a good book.  🙂  (Gah!)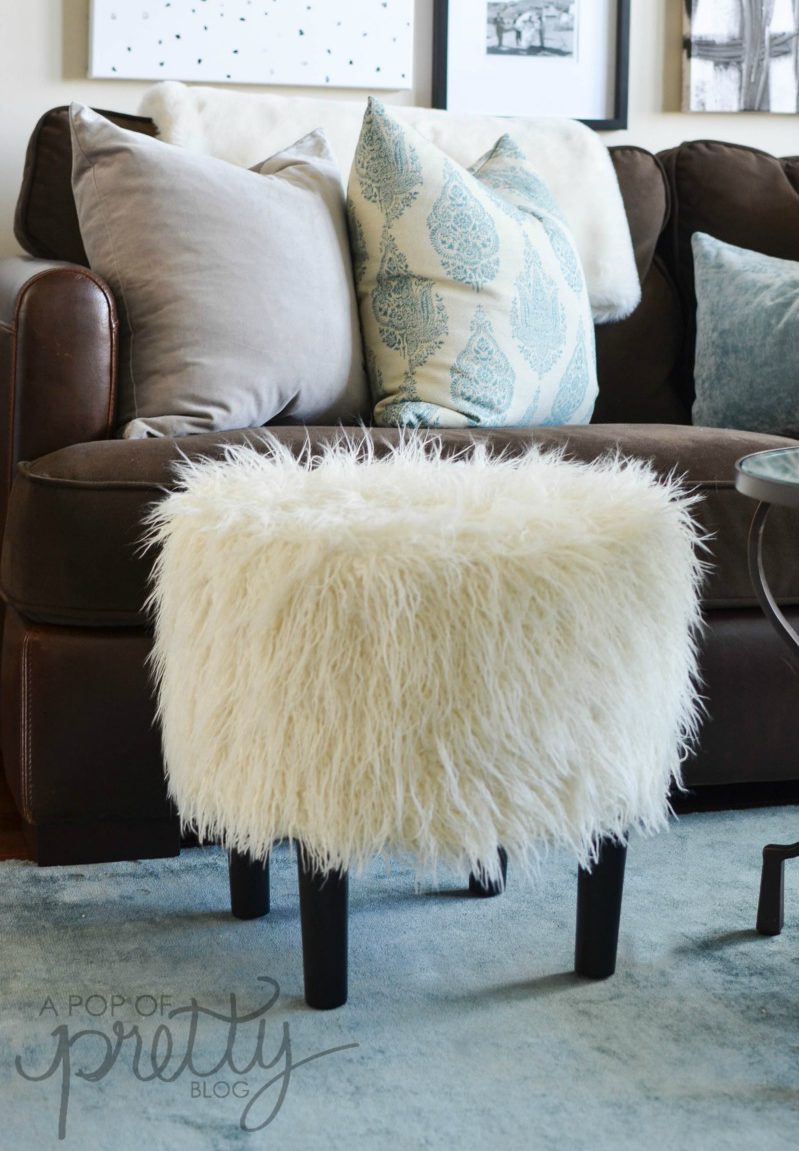 Fall decor time also means re-styling the fireplace mantel and coffee tables with some subtle Fall elements.  If you caught my post the other day (Early Fall Decorating with Hydrangeas), you already know that I've been raiding the garden for Fall decor.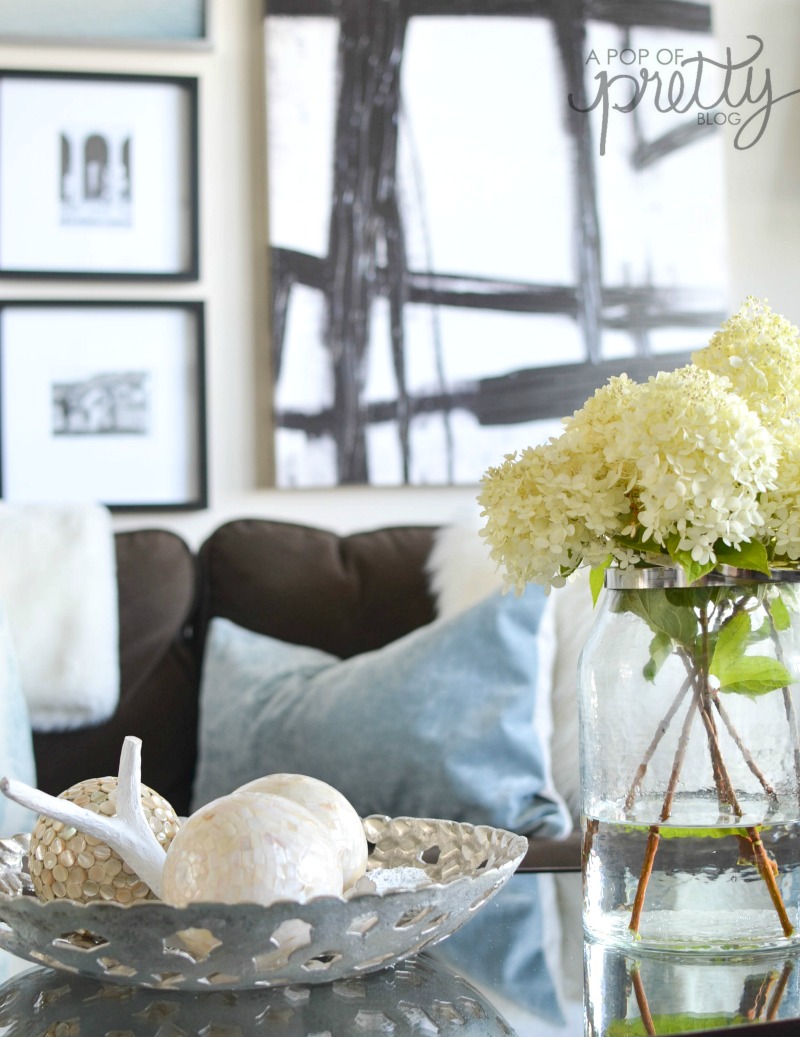 Decorating with Fall hydrangeas in September is so dreamy. I just wish they'd last all season!  I hate to cut them as I know their beauty is fleeting. Last week, you could find vases of creamy hydrangeas from the garden in most of our rooms.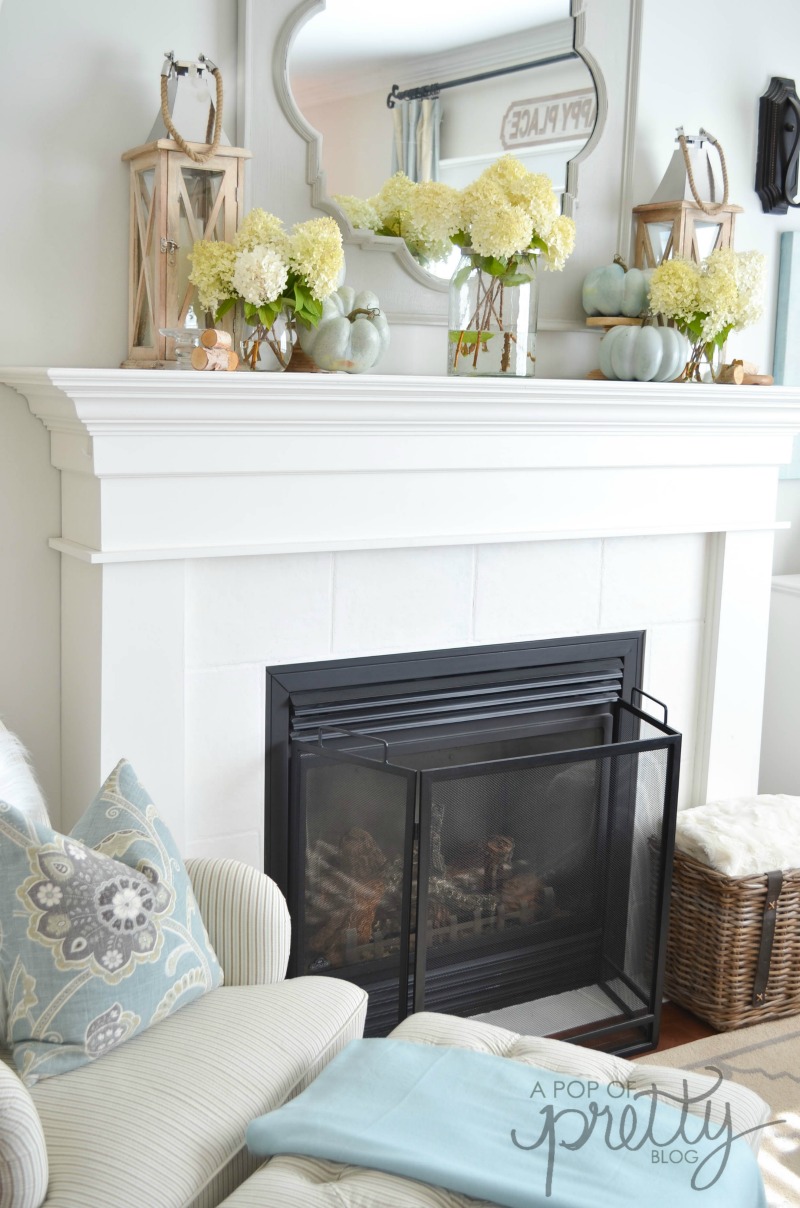 I love how airy the mantel looked with these pretty hydrangeas.  Sadly, they only lasted a few days, so I just replaced them with some other Fall decor.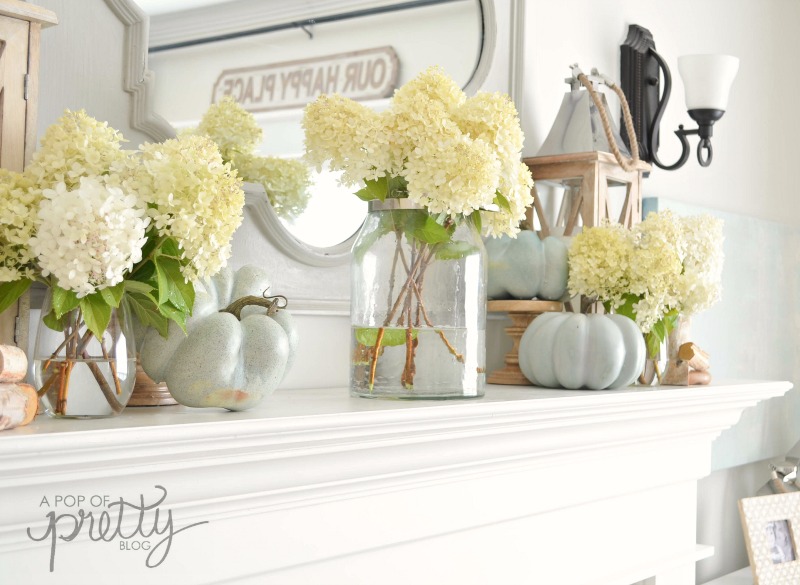 I also styled the coffee table with some birch-wrapped candles, and a simple grey pumpkin. I love this guy, probably because he is so perfectly imperfect! I know, I know. I just referred to a pumpkin as a person.  So weird. I get a little carried away with Fall decor. Let's move on. 🙂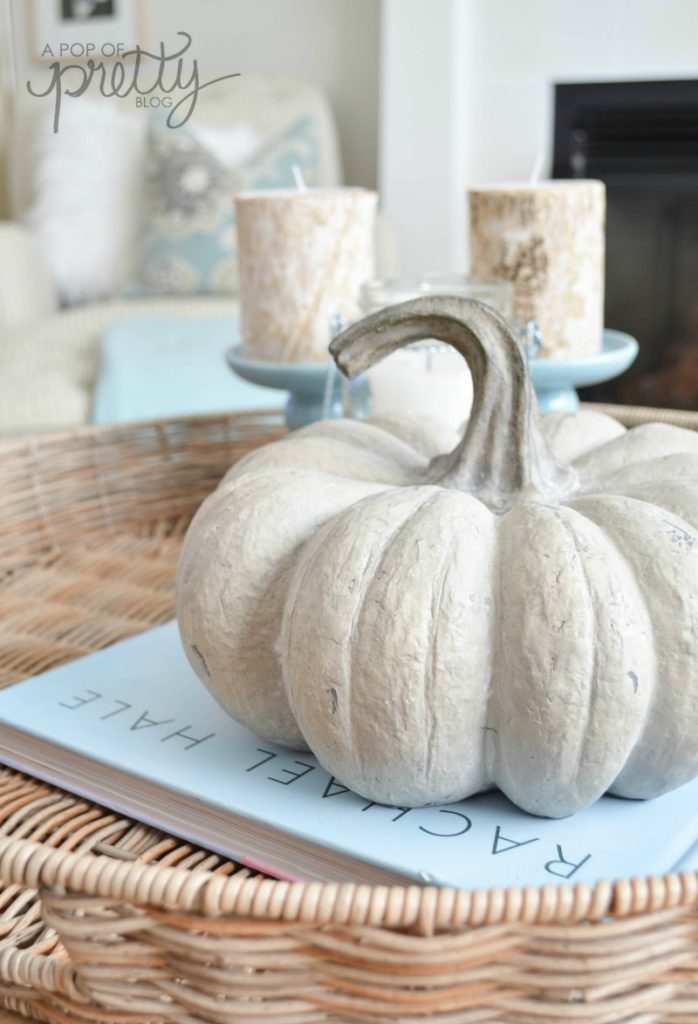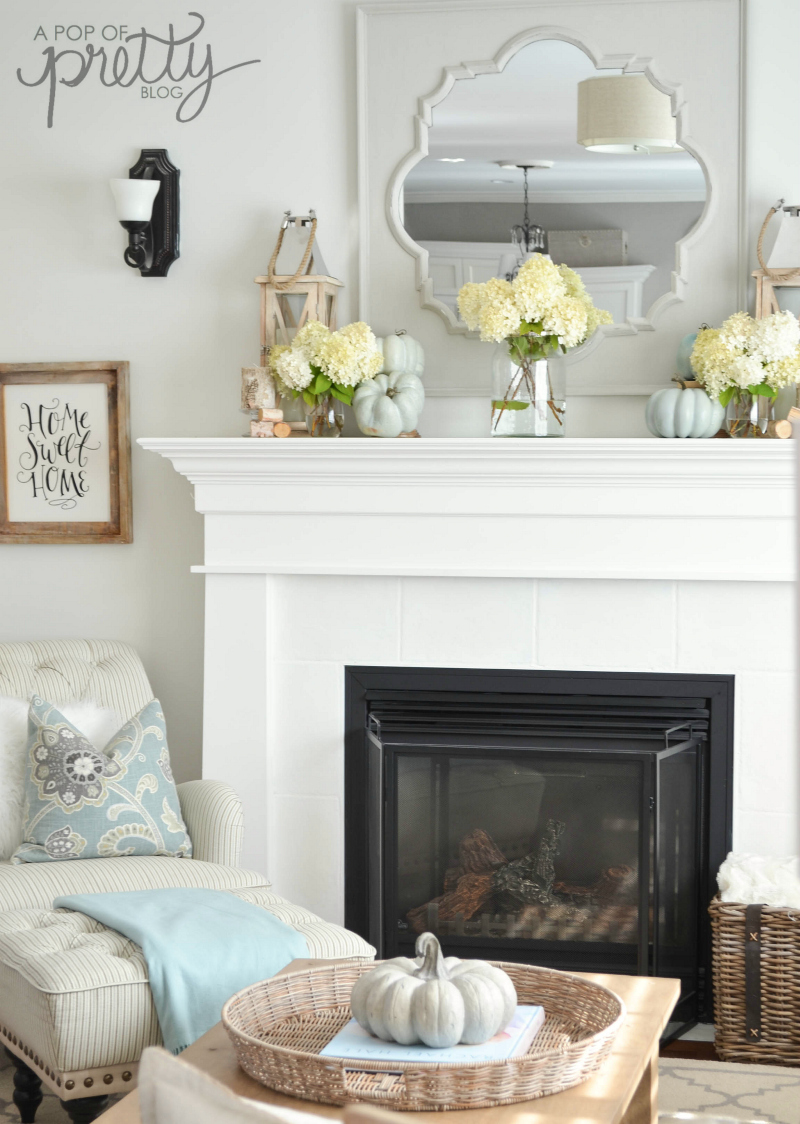 Another fun seasonal change up is replacing a few pieces of artwork in frames.  There are so many fun seasonal printables to be found online, or through stores like Chapters-Indigo. It's truly a great way to add some seasonal decor to your home. This sweet deer art usually makes an appearance when the weather gets cooler.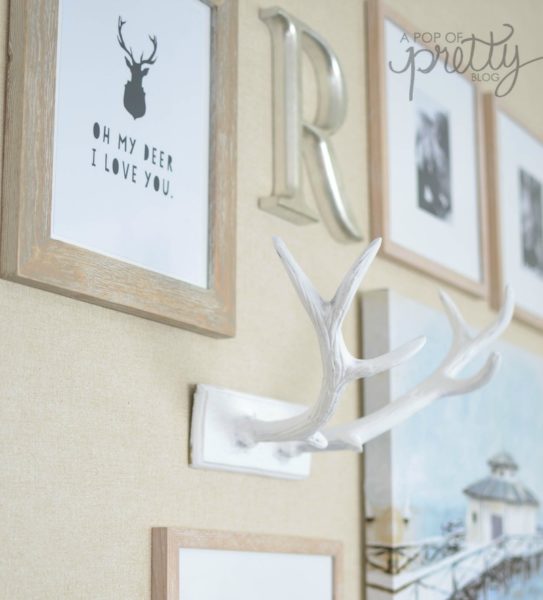 And, I'm a firm believer that you can never ever have too many toss pillows, no matter what season it is! No apologies. 🙂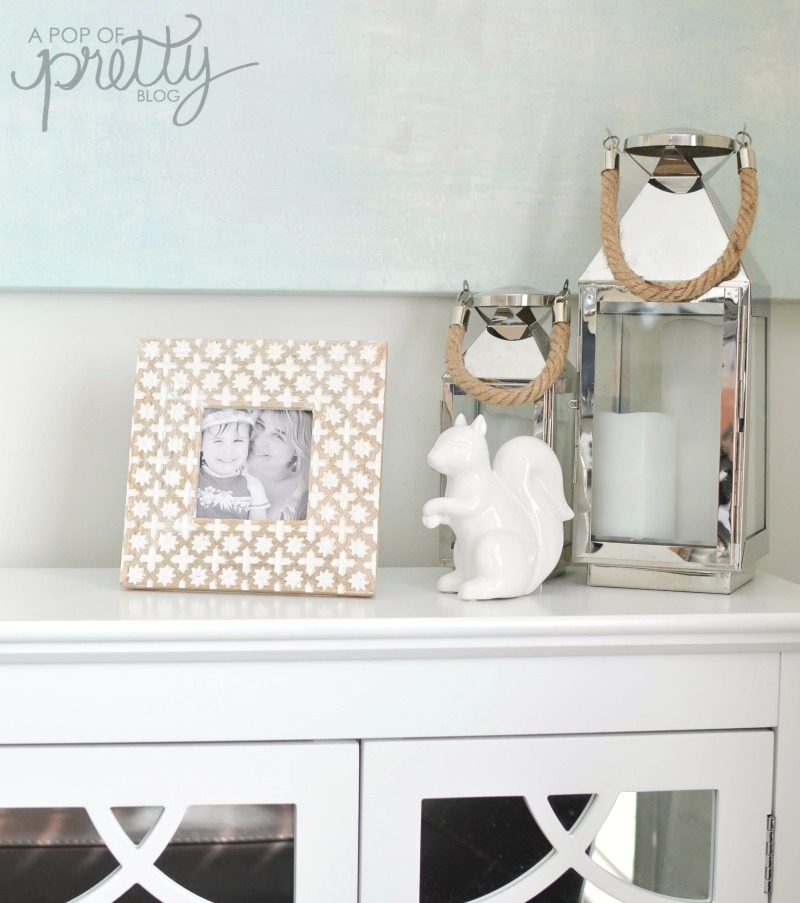 In the kitchen and dining area, you can find some other little nods to Fall.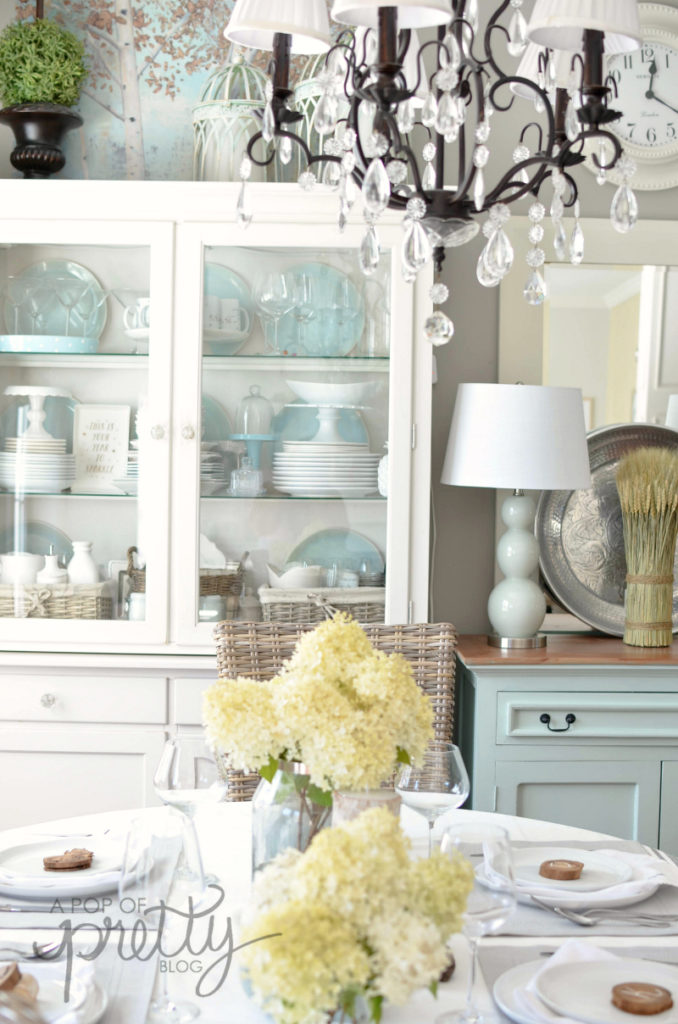 One of my favourite Fall decor items is wheat because it provides such pretty texture to a space.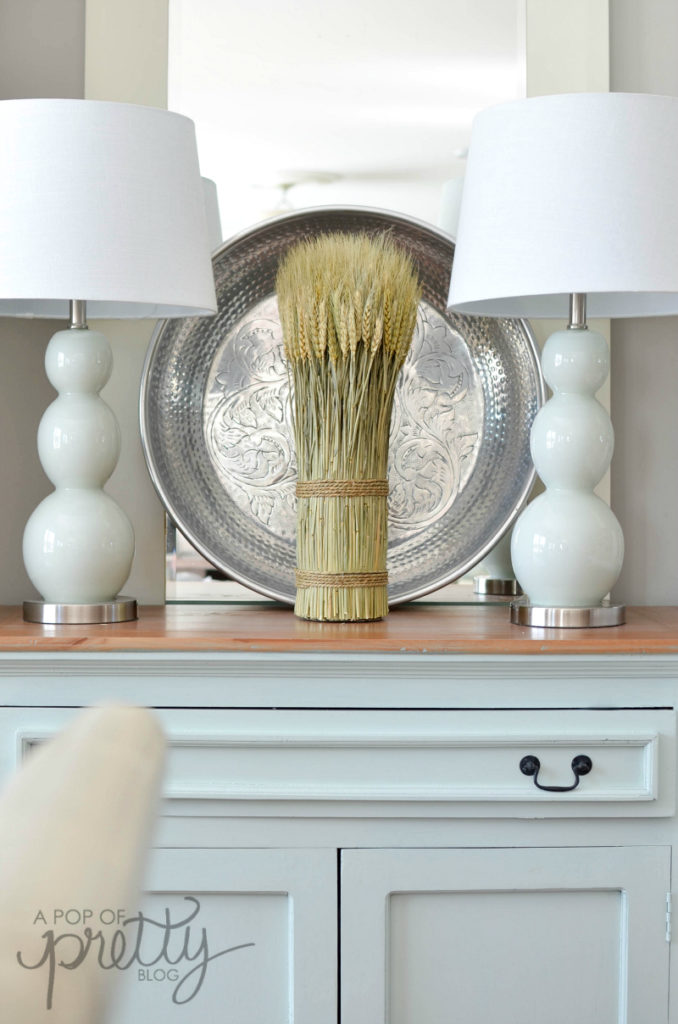 I also  love playing with accessories to create a pretty table each season.  (If you're into tables too – and why wouldn't you be lol – click to take a look at my recent summer table and Christmas table.) Here, I used hydrangeas from the garden as a centrepiece, along with some soft, blue pumpkins.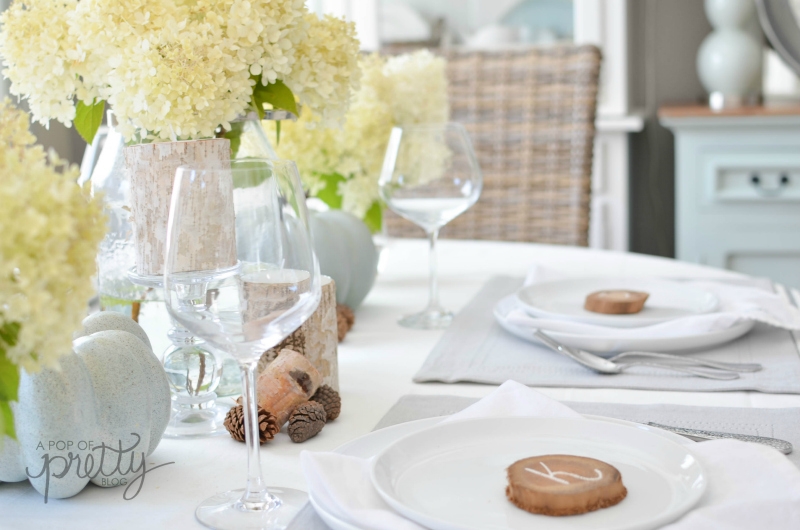 This is such a sweet and simple idea for place markers on a Fall table.  Just use a wood slice and chalk initials or names.  So easy, breezy – but super pretty.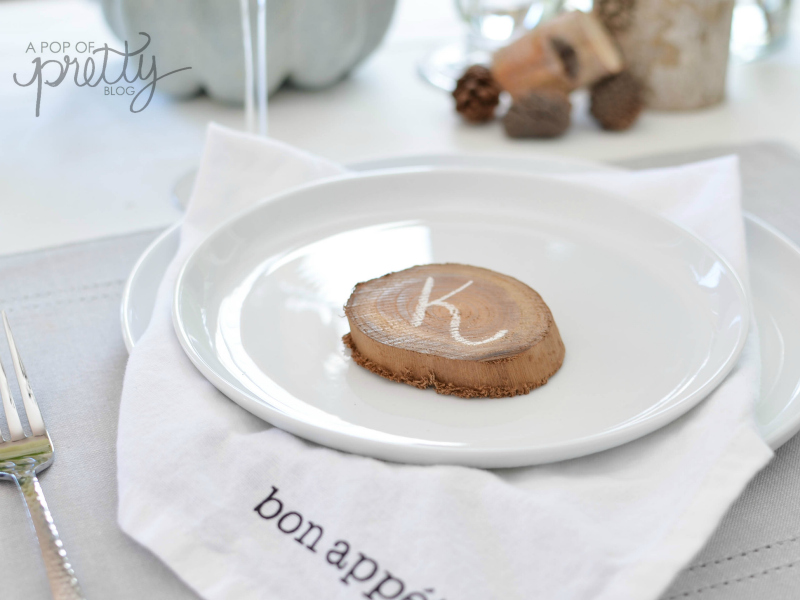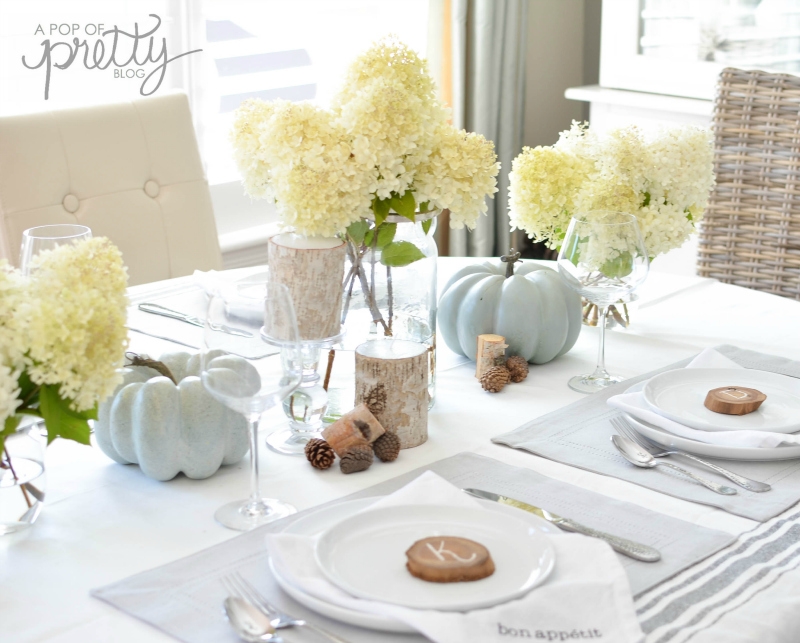 So, do you decorate for different seasons?  If you love Fall decorating, there is a tonne of inspiration to be found in the Fall home tours of these talented Canadian bloggers.  Check them all out by clicking the links below throughout the week.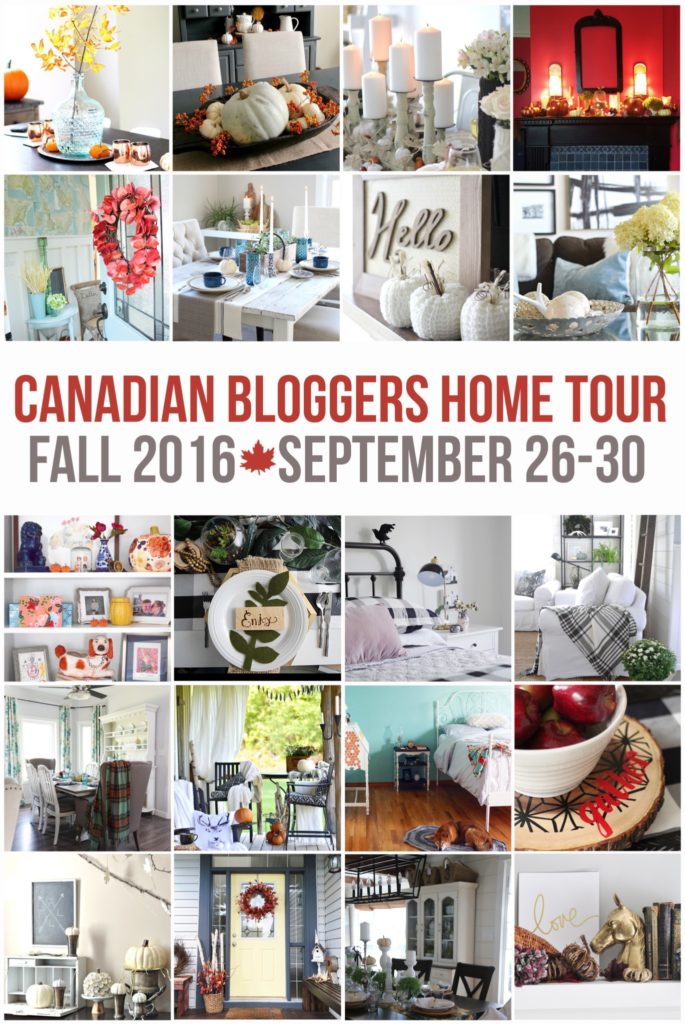 Enjoy all the Canadian Fall decor inspiration…
Monday
Northern Style Exposure
Clean and Scentsible
Amidst the Chaos
Heather In Heels
Tuesday
The Happy Housie
Satori Design for Living
Love Create Celebrate
A Pop of Pretty
Wednesday
PMQ for Two
Brooklyn Berry Designs
Rambling Renovators
Kim Power Style
Thursday
The DIY Mommy
Vin'yet Etc.
Home To Heather
Fresh Crush
Friday
Life is a Party
A Pretty Life
This Little Estate
Suburble
Be sure to check them out!
I'll be back tomorrow with a post about my diy Fall wreath.  Hope you'll join me!
Kerri xo