This post was most recently updated on October 16th, 2020
In THIS ARTICLE: You'll find great tips and ideas for creating your own DIY Disney Frozen Christmas Tree, inspired by the original Disney Frozen movie, and now Disney Frozen 2, with lots of snow and ice, and DIY decorations with Elsa, Anna, Olaf. I'm sharing the Disney Frozen Christmas Tree I decorated as a school fundraiser, along with some easy DIY Disney Frozen Christmas tree ornaments. Create a beautiful theme tree – on a budget!
My Disney Frozen Christmas Tree
Earlier this week, I decorated a Disney Frozen Christmas tree as a fundraiser in my kids' school, inspired by the movie. And, can I just tell you? It was an absolute joy to design and create! This is an easy theme tree that would be perfect for a child's bedroom, playroom or even a classroom. And, let's be honest. You don't have to be a kid to enjoy a Disney Frozen Christmas Tree. All you need is a love of all things Disney Frozen and Disney Frozen 2! So, if you are Frozen-frenzied, and would like to create a tree like this, I've got some great tips and ideas!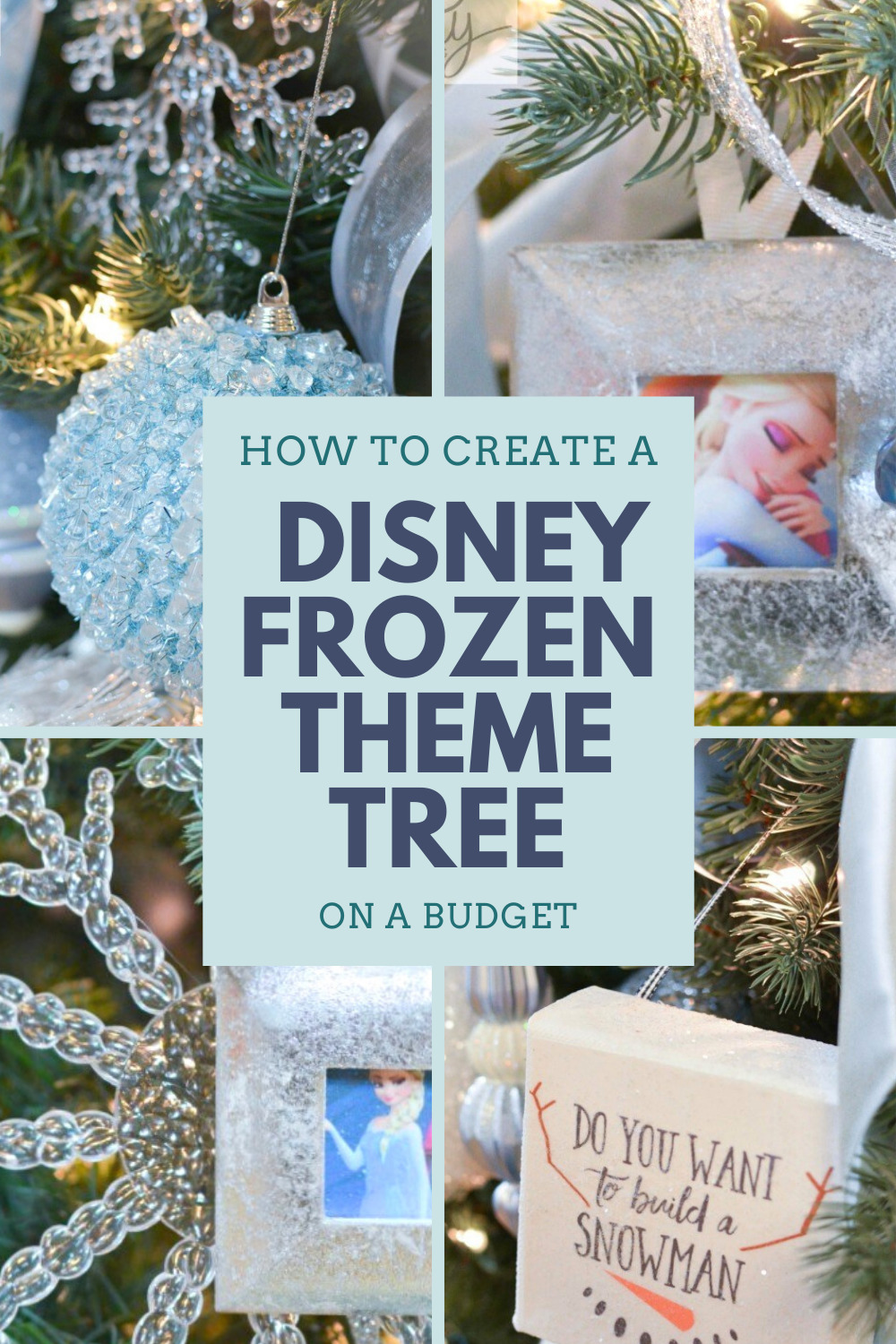 Do you want to build a snowman?
This Disney Frozen Tree will be put up on tickets at the school's annual bake sale. For the past 4 years, I've decorated a Christmas tree for this fundraiser. The lucky winner has the tree delivered to them fully decorated in mid-December, and the funds raised go toward school initiatives. It's a sweet deal for the winner. It's also a sweet deal for me because I get to choose the 'theme', shop for the decorations, and decorate it. It's a tonne of fun.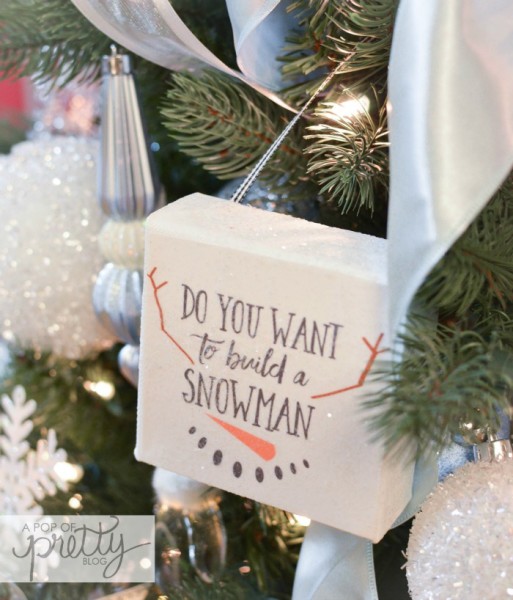 How to Create a Disney Frozen Tree
Creating a DIY Disney Frozen Christmas tree isn't as hard as you might think.  I wanted the tree to be inspired by Frozen (and now Frozen 2!). But I didn't want it to feel kitschy or too theme-y. So, I searched for icy blue, white and silver ribbon and ball ornaments, and anything decorated with snowflakes. I also wanted to find ribbon that resembled Elsa's blue dress. I was lucky enough to find the perfect icy blue satin ribbon!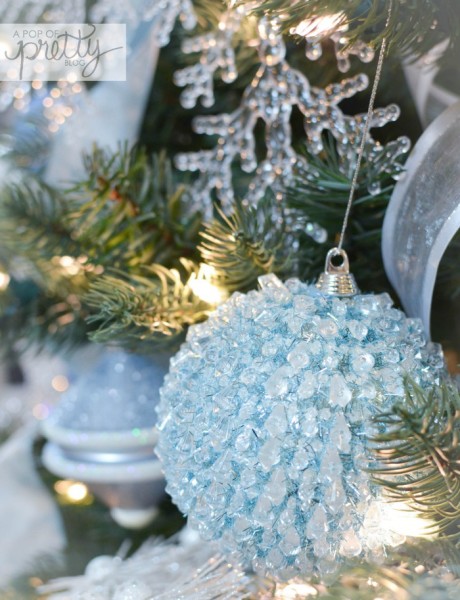 I also added lots of nods to the Disney Frozen and Frozen 2 characters, including Elsa and Anna, and everybody's favourite, Olaf!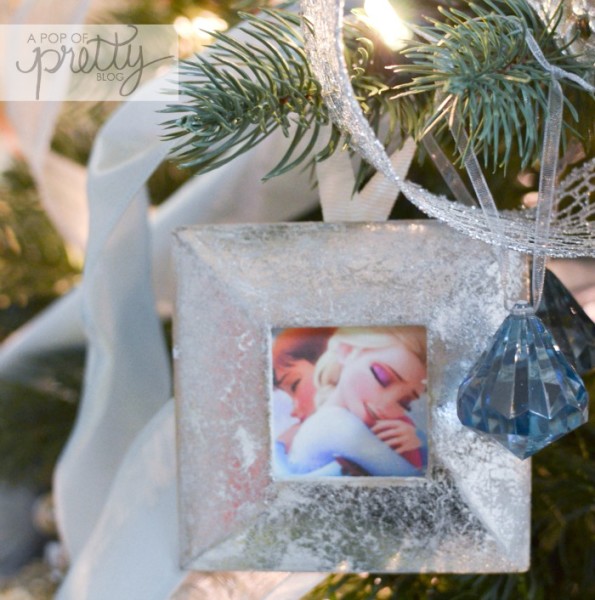 But without those, it would still be a beautiful formal tree because it has lots of bling and sparkle. Removing the Disney Frozen Christmas tree decorations would still leave a sparkly winter wonderland-themed tree. Mixing two types of decorations is a great idea if you have young kids, but still want to invest in decorations that you'll love when they get older.
What You Need For This Disney Frozen (or Frozen 2!) Christmas Tree
If you want to create your own Disney Frozen or Frozen 2 theme tree like this one, here are the types of decorations you'll need:
Sparkly white, silver and blue ball ornaments
Large snowflake decorations
White, silver and blue wired ribbon
Silver mesh ribbon
Faux snowballs or white pom poms
Disney Frozen and Frozen 2 character ornaments (like Elsa, Anna, Olaf, etc.) – optional (see DIY Projects below)
Silver mini frames (see DIY Projects below)
Small artist canvases (see DIY Projects below)
Modge podge (see DIY Projects below)
Colour printouts of Disney Frozen characters (see DIY Projects below)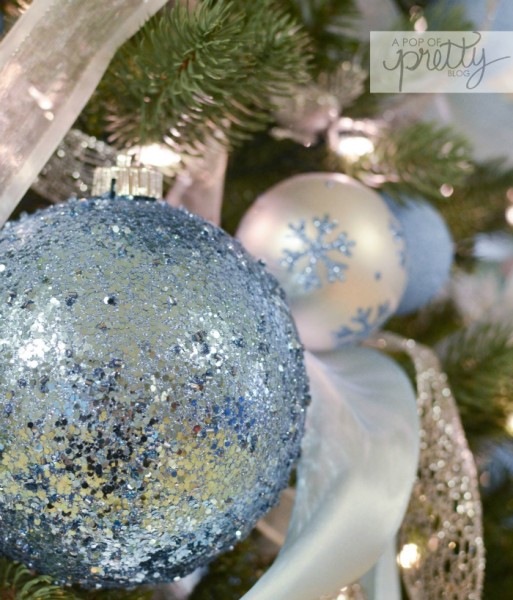 Adding the Ribbon
For the ribbon, I used an icy blue satin ribbon (like Elsa's dress) and mixed it with a sheer white ribbon and a silver glittery mesh ribbon. To add the ribbon to the tree, I used the same method I shared a few years back in this now highly popular tutorial:
Big Snowflakes
I also found giant icy snowflakes that were perfect for a Disney Frozen Christmas tree. Actually, I think I might have let out an audible squeal in the store when I spotted them. For those of you in Canada, I found them on the Christmas decor section at Canadian Tire. However, you can find similar ones at craft stores this time of year.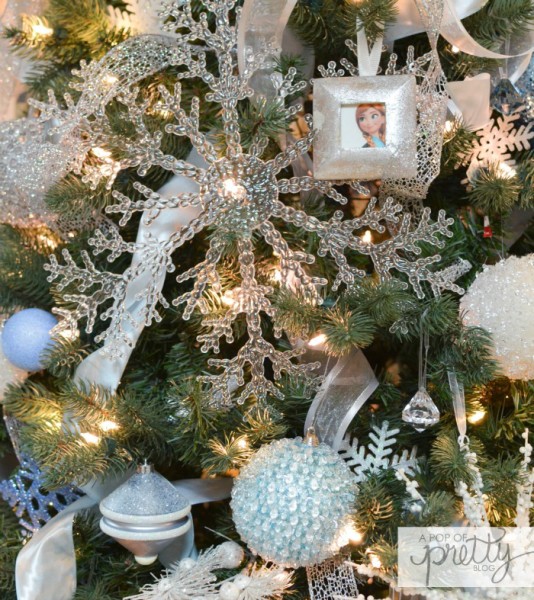 The big snowflakes really create the wintery vibe needed for an authentic Frozen and Frozen 2 Christmas tree!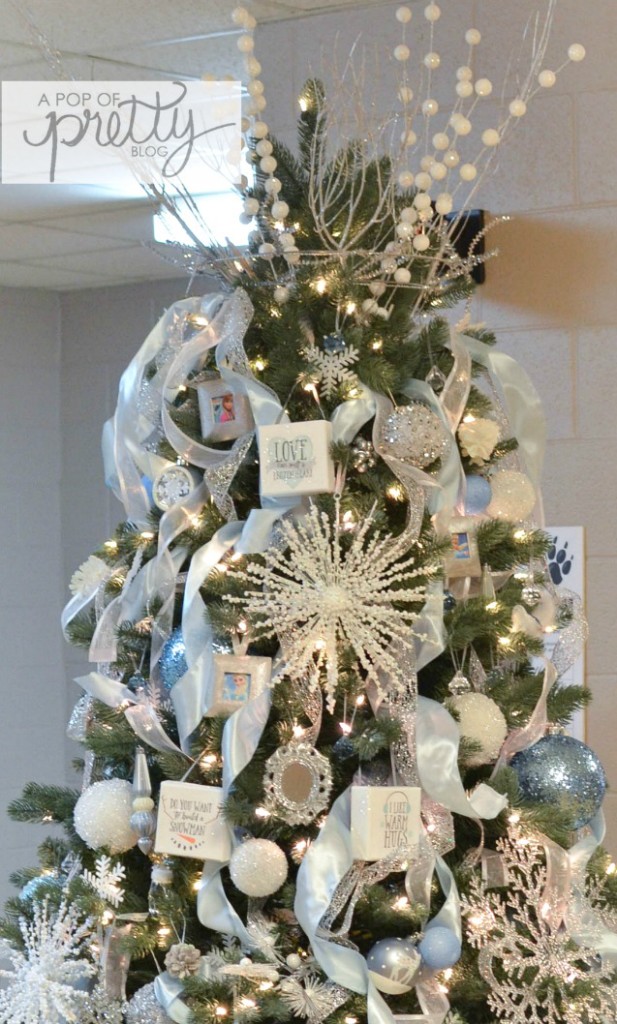 Disney Frozen Character Decorations
The official Disney Frozen character decorations for Christmas trees are beautiful, but can also be pricey. If you have an option of buying some, they will certainly give your Frozen Christmas tree lots of personality. Here are a few I've rounded up (affiliate links):

But, if you don't have the budget, no sweat! There are also some other ways to add the Disney characters without the big price tag.  Given that this was a fundraiser tree, I was challenged with a budget, so I tried to be creative where I could.  
Here are two easy DIY projects that will add some memories of the Disney Frozen (and Frozen 2) movie to your tree!
DIY Project #1: Framed Character Prints
In order to create this Disney Frozen Christmas Tree within budget, I put on my thinking cap! I purchased mini silver frames in the dollar section at Michaels. You can probably also find these at dollar stores, I then found pictures of the Disney Frozen characters, and filled the frames with a variety of photos. (Try wrapping paper, colouring books or even search Google for images you can print.) I think they turned out quite sweet.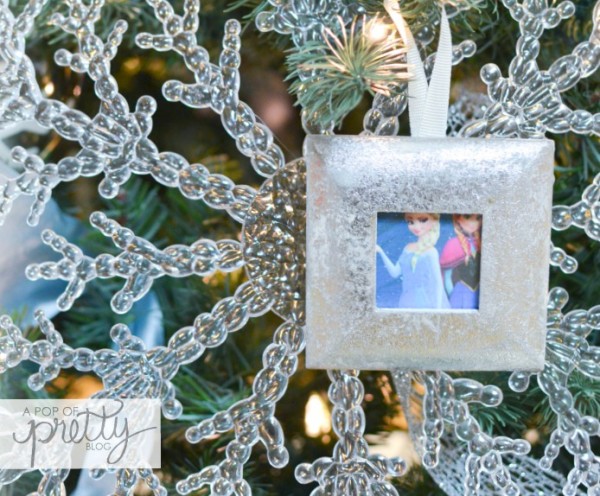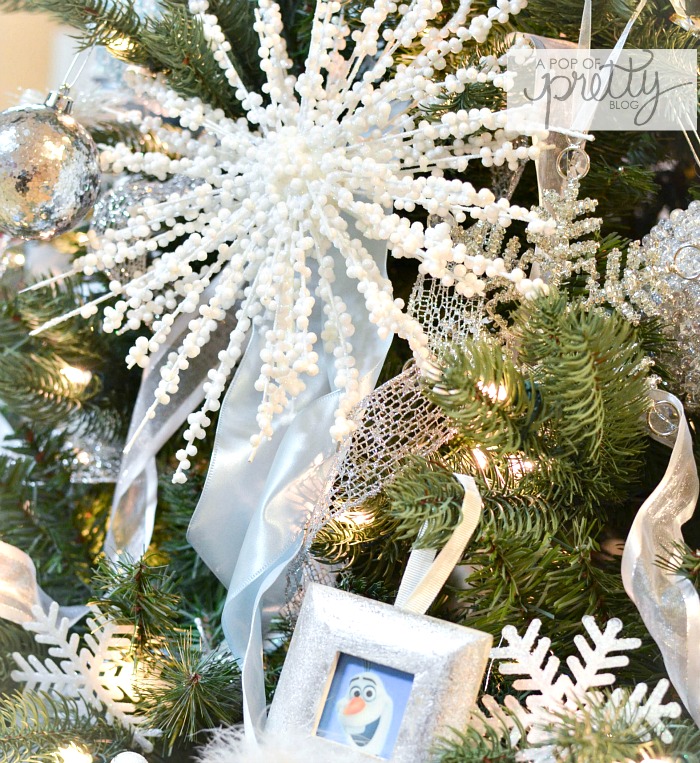 DIY Project #2: Disney Frozen Quotes on Mini Canvas
The second DIY Project I competed for this Frozen tree was my favourite one! I wanted to include a series of Frozen decorations using quotes from the movie. There are so many awesome ones that we all remember!
Quotes from Disney Frozen
"I like warm hugs!"
"Do you want to build a snowman?"
"Love can melt a frozen heart."
How to Make the Quote Canvases
In order to add these quotes to the canvases, I first designed the quotes in Photoshop. If you don't know how to use Photoshop, no sweat. You can easily create them in PicMonkey or even a word processing application like Word. I print the quotes out at the exact size of the small canvases I purchased from the craft store.
Next, I cut them out and attached them to the canvases with modge podge. To do this, I spread a thin layer of modge podge with a paint brush, attached the print, and then spread another thin layer on top. I then sprinkled the canvases with glitter.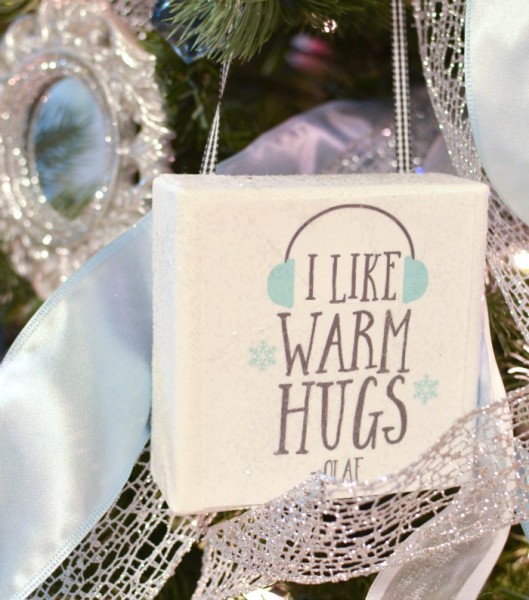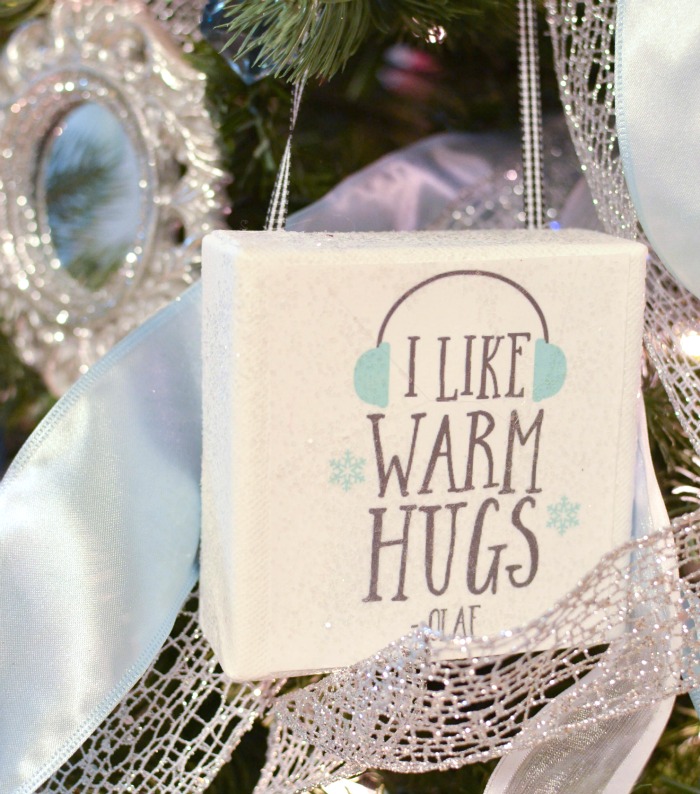 To hang them on the tree, I attached a small loop of ribbon on the back of each canvas. I am in love with how they turned out!
Disney Frozen Tree Topper
To create a Disney Frozen tree topper, the top of the tree is stuffed with silver branches and snowball stems. This is one of my favourite ways to top a tree because it gives a tree height and presence that it would not otherwise have.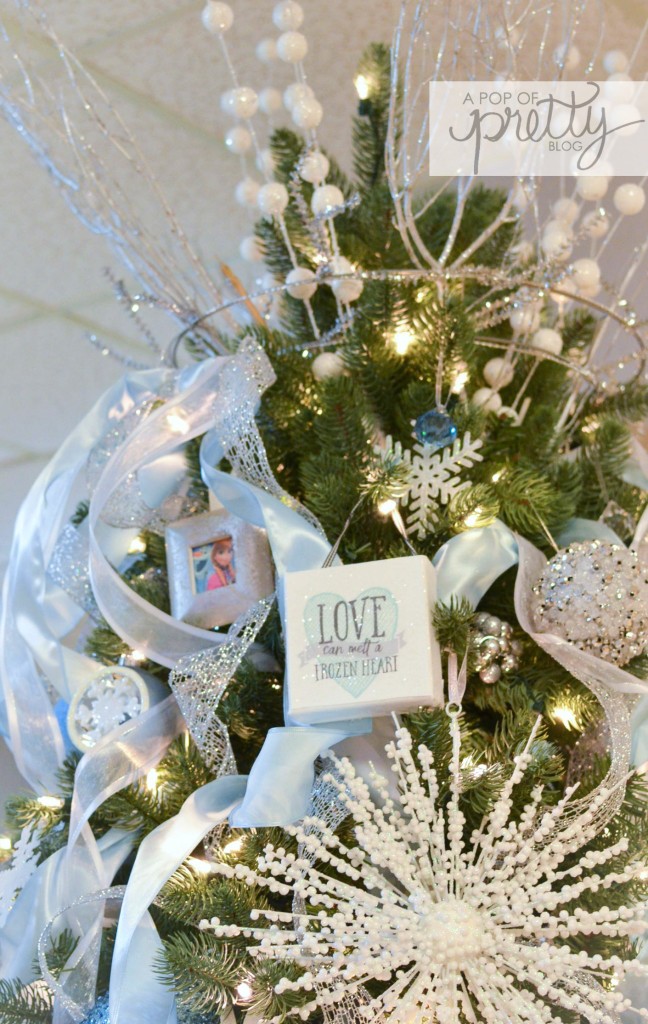 So are you or your kids big fans of Frozen? My daughter still loves the movie so much. If so, maybe you can use some of these tips and ideas to create a similar tree for your home.
Shop the Look
Here are a few things you might need for your Disney Frozen Christmas tree. (Contains affiliate links.) You can also check out my Christmas Decor Shop here on the blog for my curated collection of Christmas decorations, or visit my Amazon Storefront for my Amazon picks.
More Theme Tree Ideas
Do you like 'theme trees'? If so, you might also enjoy these!
North Pole Themed Christmas Tree
Nutcracker Themed Christmas Tree
Sweet Tooth / Candy Land Themed Christmas Tree
Dr. Seuss Themed Christmas Tree
Until next time,
K.