This post was most recently updated on September 22nd, 2019
I know Halloween is still over a month away, but Friday the 13th calls for some spooky talk, don't you agree? This year, I'm all about simple Halloween decorating ideas. If you aren't one for decorating with blood, gore and flashing lights, today I'm sharing 5 ways to decorate for Halloween without the all the circus.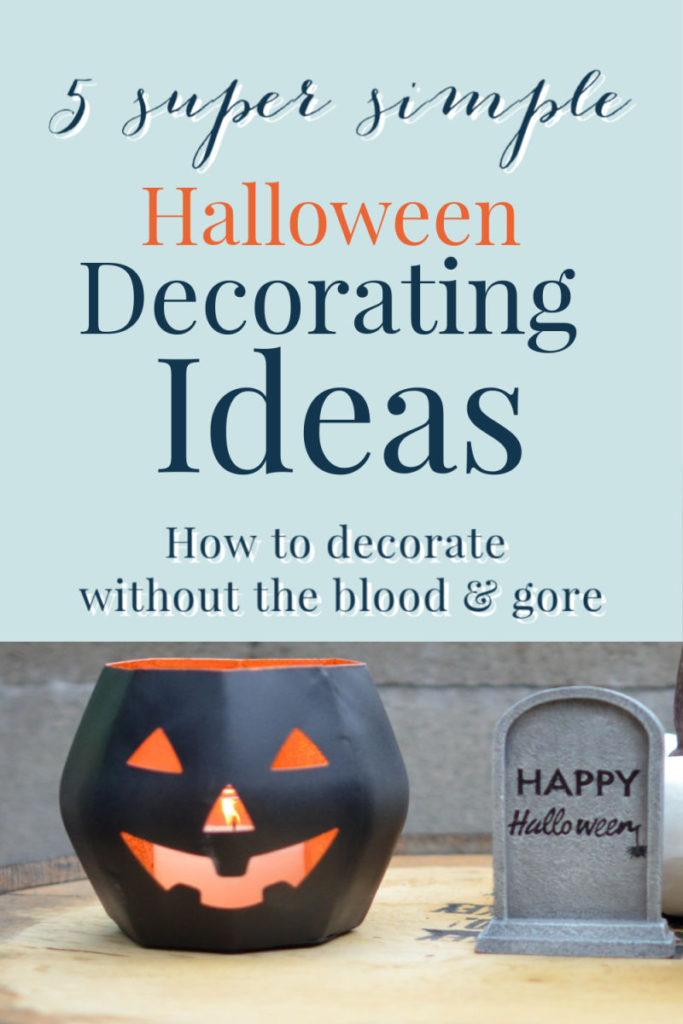 Wwhen my kids were babies and toddlers, I was Halloween crazy. I looked online for Halloween costumes in July lol. And, made three matching sock monkey costumes by hand. (Here's the tutorial btw: Halloween Costume Ideas: How to Make a Sock Monkey Costume)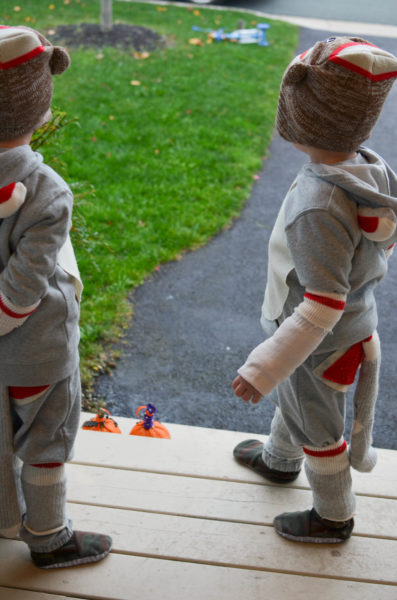 I still love to decorate for Halloween, and the kids still love it too. But, last year, I stuck to simple Halloween decorating ideas. I pared down on the amount of Halloween decor and simplified the colours. It was still fun, but felt a little calmer.
5 Simple Halloween Decorating Ideas
So, here are five simple Halloween decorating ideas that will add Halloween spirit to your home, without going overboard.
#1: Cute Halloween Pillow
One of the easiest ways to add some Halloween spirit to your home is to add a cute Halloween pillow to a chair on your front porch or patio. If you don't have an exterior space, there are lots of cute Halloween indoor pillows out there too. You can find them at most home retailers these days.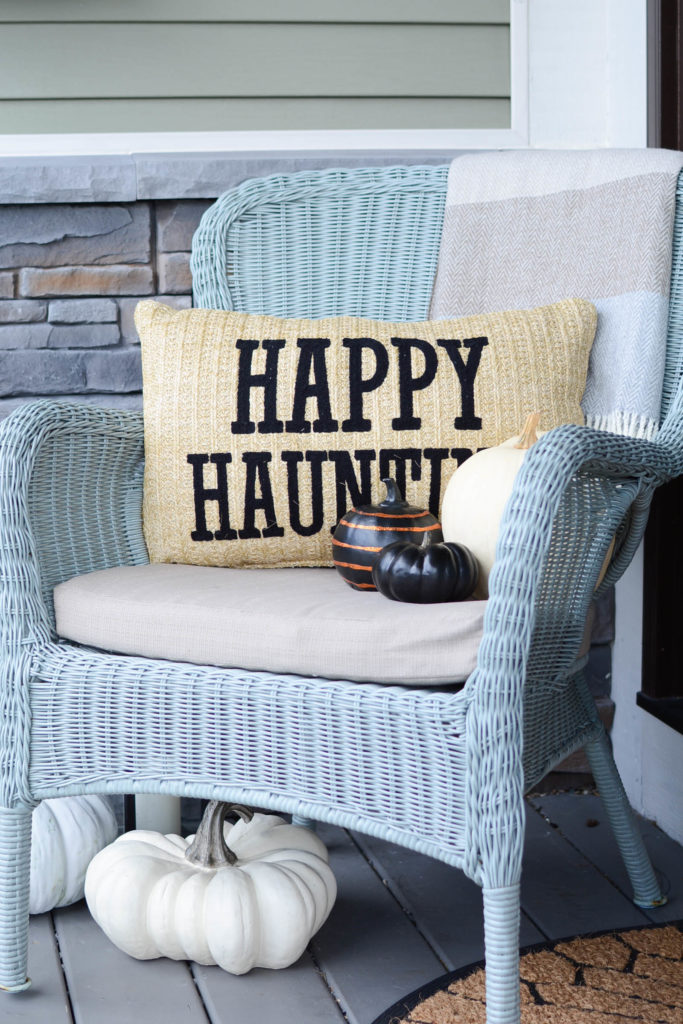 For you shopping convenience, this post contains some affiliate links*.
#2: Fun Halloween Dishes
One of my favourite, simple Halloween decorating ideas is to add some Halloween-themed dishware to the kitchen. There are lots of sweet decorative plates on the market which can be placed on an open shelf for a little spooky flair. You can also find some adorable useable kids' dishes at stores like Pottery Barn and Target.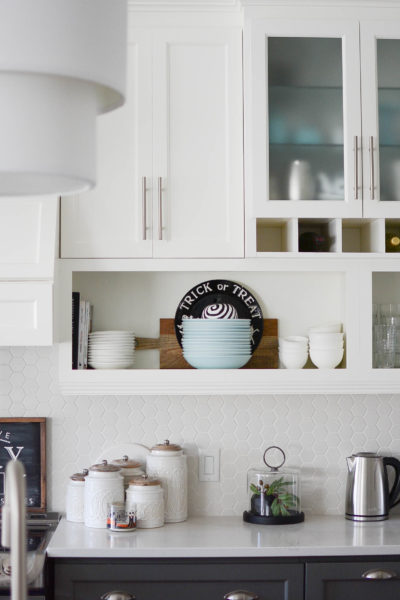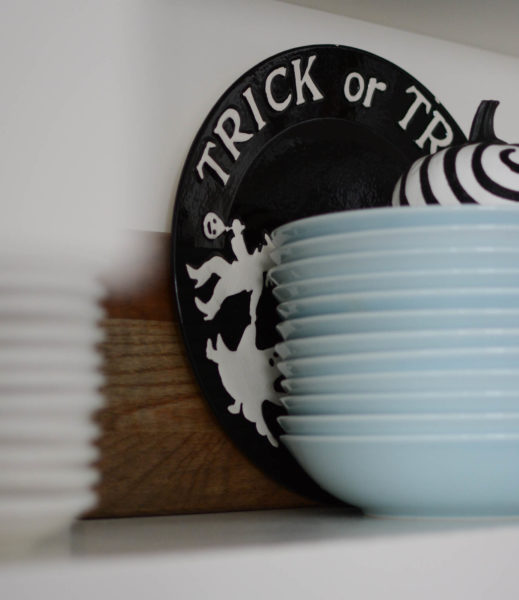 #3: Sweet Halloween 'Tree'
Believe it or not, decorating a Halloween tree is a thing these days. Some of them even look like Christmas trees! While, I'm not sure how I feel about that kind of Halloween tree, I'm all for the spooky kind. I've had this little branchy Halloween tree for at least a decade.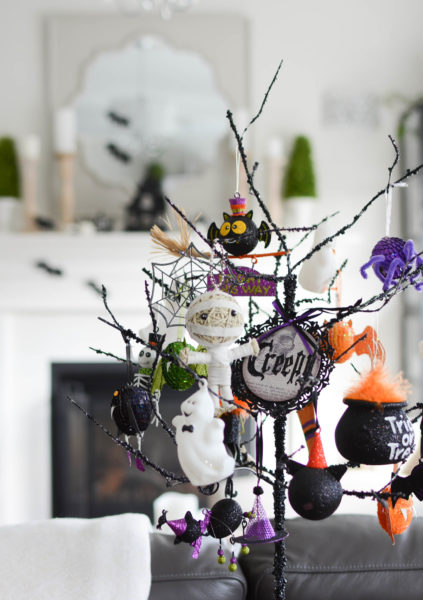 I purchased it when our now teen was just a toddler, and I've been buying a couple of little decorations for it each year since then.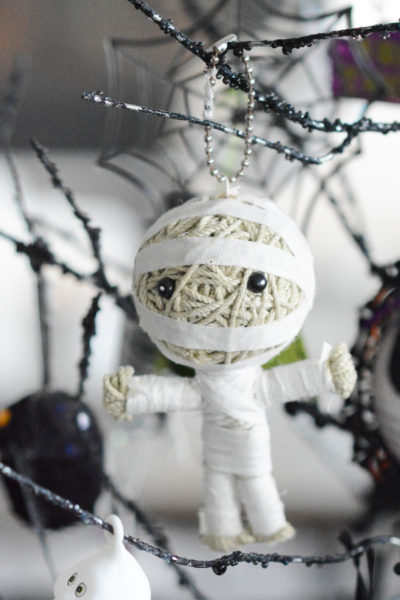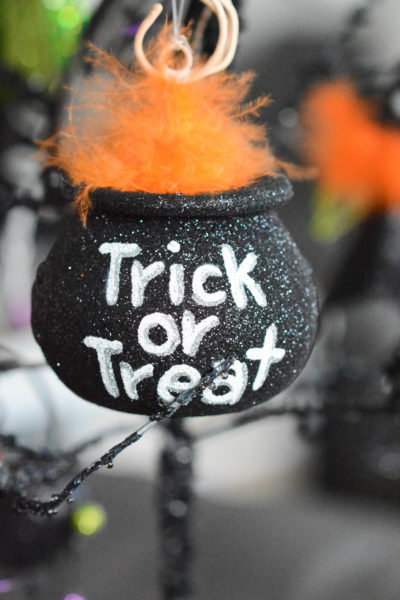 The kids look forward to seeing it each Halloween. The decorations are so freaking cute!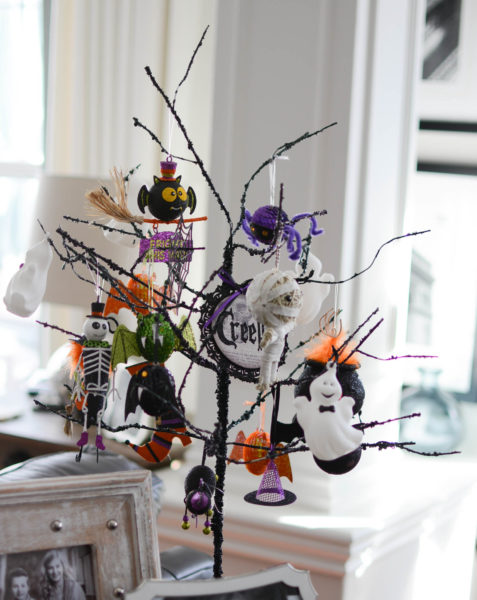 I think I bought mine at Pier 1 (many moons ago). But I've seen similar ones around recently at Michaels, HomeSense and Amazon. You could also easily create a DIY Halloween tree like this one with real branches, and some black spray paint.
#4: Halloween Dish Towel
Um, I might be addicted to cute dishtowels. I have a drawer filled with ones for every season or holiday. You can find Halloween dish towels at most home goods store at a great price. It's just one of those simple Halloween decorating ideas that adds a bit of fun to your kitchen.
#5: Halloween Themed Shelf or Mantel
Another one of the simple Halloween decorating ideas I love is a themed shelf or mantel. Rather than spreading Halloween decorations around the house (which can feel cluttered), group them together for a more simple and cohesive look. Choose a simple colour scheme, like black and white, and just use your Halloween decorations in those hues. Here, I used black paper bats, a few black and white pumpkins and crows, and a black haunted house.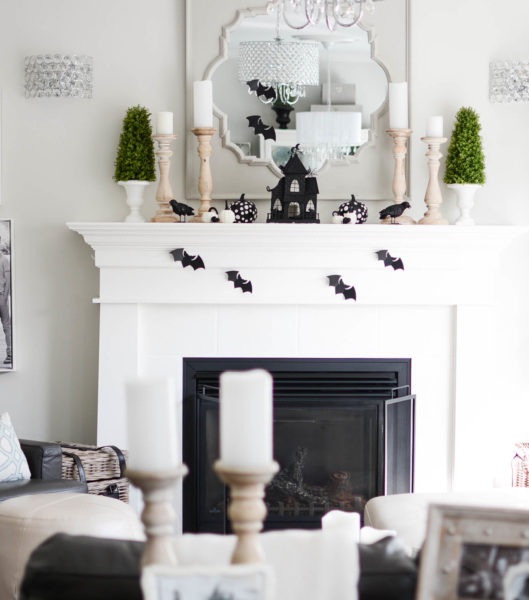 So, friends. It IS possible to decorate for Halloween without the flashing lights and sound machines! Just a few simple decorating ideas are all you need to create some fun without craziness. Let's face it, there is already enough extra noise in the world these days. Your home doesn't have to feel like a circus just because it's Halloween.
If you're looking for cute and simple Halloween decor, check out my Halloween decor collection on my Amazon Storefront: kerripopofprettyblog.
* Note: This post contains some affiliate links. If you'd like to learn more about affiliate links and how they work, please read my Terms + Conditions.
Until next time, my friends.
Kerri
---
Shop the Post


---