This post was most recently updated on November 11th, 2021
IN THIS ARTICLE: Find gorgeous navy blue Christmas decor ideas and inspiration (accented with sparkly silver) including my Navy Blue & Silver Christmas tree recently featured in Women's Day magazine, as well as my fireplace mantel decorated with greenery and navy blue accents, and more.
Navy blue Christmas decor has been on my mind for a couple of years now. And, I finally decided to use it as the main colour in this year's Christmas decorating. And, can I just tell you? I'm LOVING it! To keep things festive and sparkly, I accented the navy blue with silver. I'm not sure I've ever loved our Christmas decorating more than I do this year.
Navy Blue Christmas Decor: Home Tour
My Navy Blue Christmas Decor Home Tour is being brought to you as part of the Canadian Bloggers Christmas Home Tour. Thanks to Christina (DIY Mommy) and Shannon (AKA Design) for hosting the tour again this year.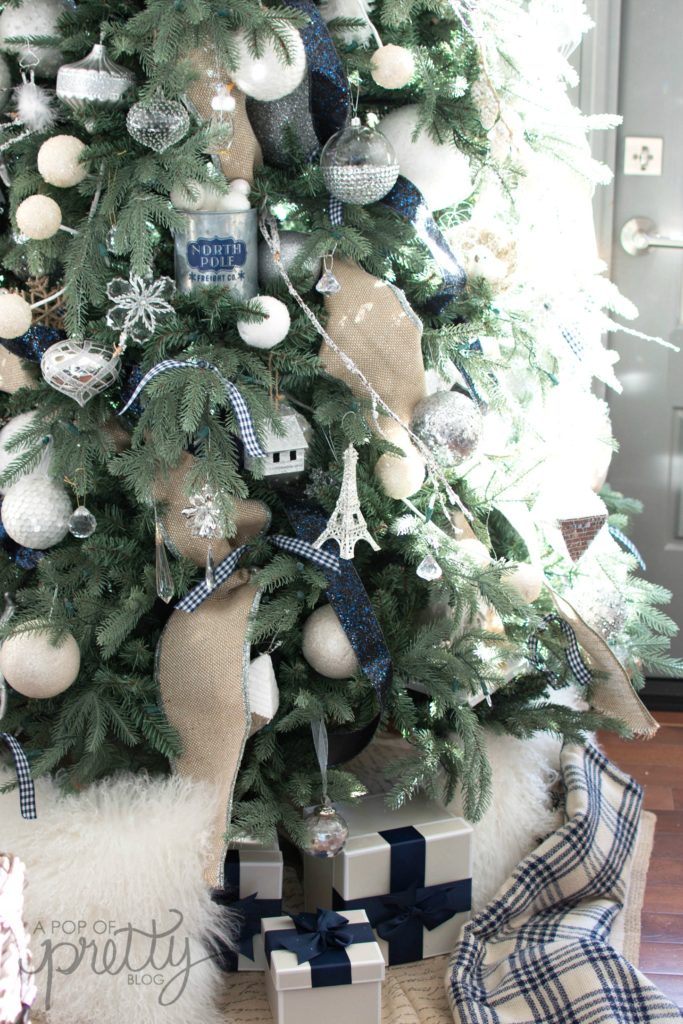 At the end of this post, you can find links to all the other talented Canadian bloggers on the tour. It's a great way to get some gorgeous Christmas decorating ideas for your own home, in addition to this navy blue Christmas decor inspiration!
How I Changed My Christmas Colour to Navy Blue
I love to change things up with my Christmas decorating every year by trying new colour schemes. However, I haven't used navy blue Christmas decor with silver before.
People often ask me whether it's expensive to change up the colours of our Christmas tree every year. The truth is it's not really that indulgent. That's because 90% of the decorations I use are the same every year.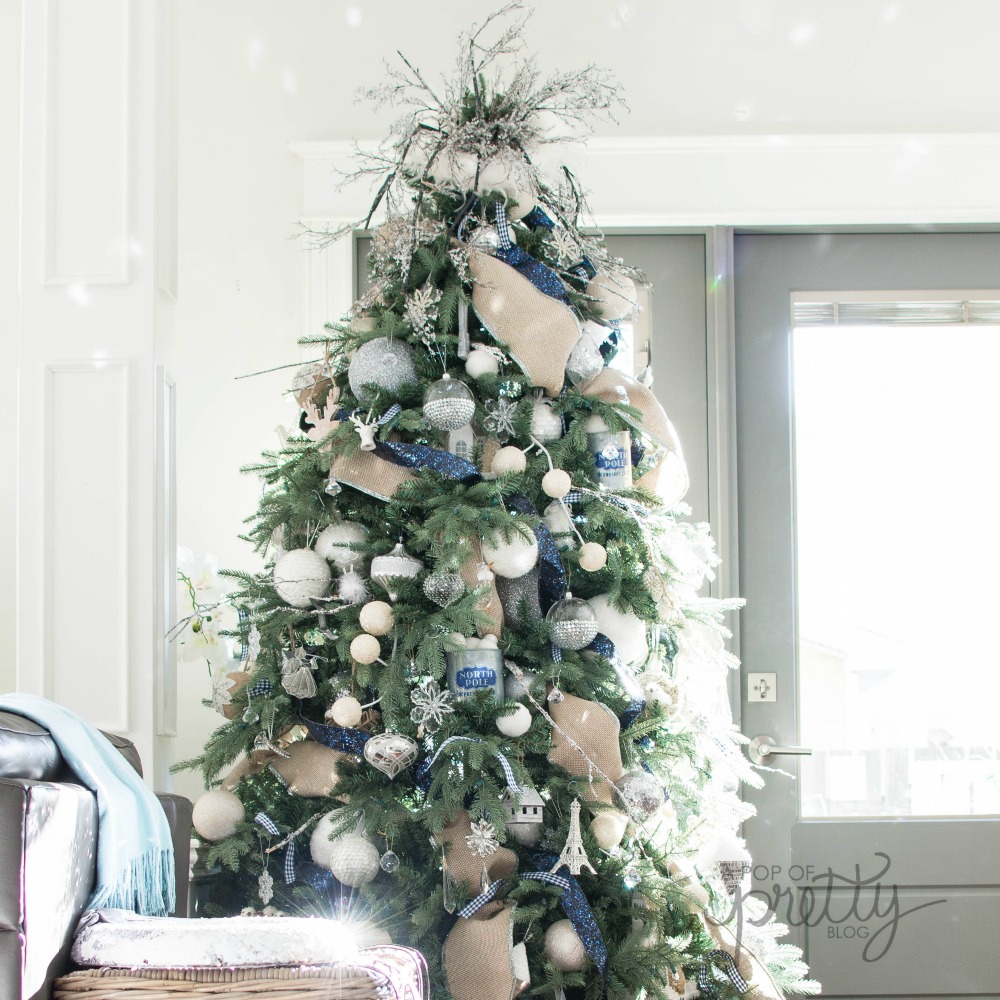 You see, the majority of our of our ornaments are simple, neutral and sparkly. The part that creates the real magic each year is relatively inexpensive. Typically, I'll just buy a few new rolls of coloured ribbon and maybe a box or two of solid coloured glass balls when I want to change the colour scheme. For example, the navy blue Christmas decor you see on the tree this year is really just 4 rolls of new ribbon and a few new navy blue accents.
Why I Love Navy Blue Christmas Decor
I knew it was a great decision to use navy blue Christmas decor as soon as I started to decorate with it. My heart rate just might have sped up a little when the ribbon went on our tree. (I know, I need to get out more lol.)
The thing I love most about this year's navy blue Christmas decor scheme is that it feels neutral. I tend to tire of my Christmas decor quickly when it's too bright and colourful. Navy blue is a bold colour but still blends beautifully with my silver and glass ornaments. It's not overpowering, but provides enough contrast to keep the look interesting.
I also love navy blue as a Christmas decorating colour because it feels both weighty and traditional. Navy blue has a a very regal and grounding quality to it which just feels perfect on a Christmas tree.
Our Navy Blue and Silver Christmas Tree
You might have noticed that I absolutely LOVE to mix up styles when decorating a Christmas tree. This navy blue Christmas tree is no different! It is chock full of glam ornaments mixed with navy blue Christmas decor. But, to keep things interesting, I also added some rustic, cottage-y elements.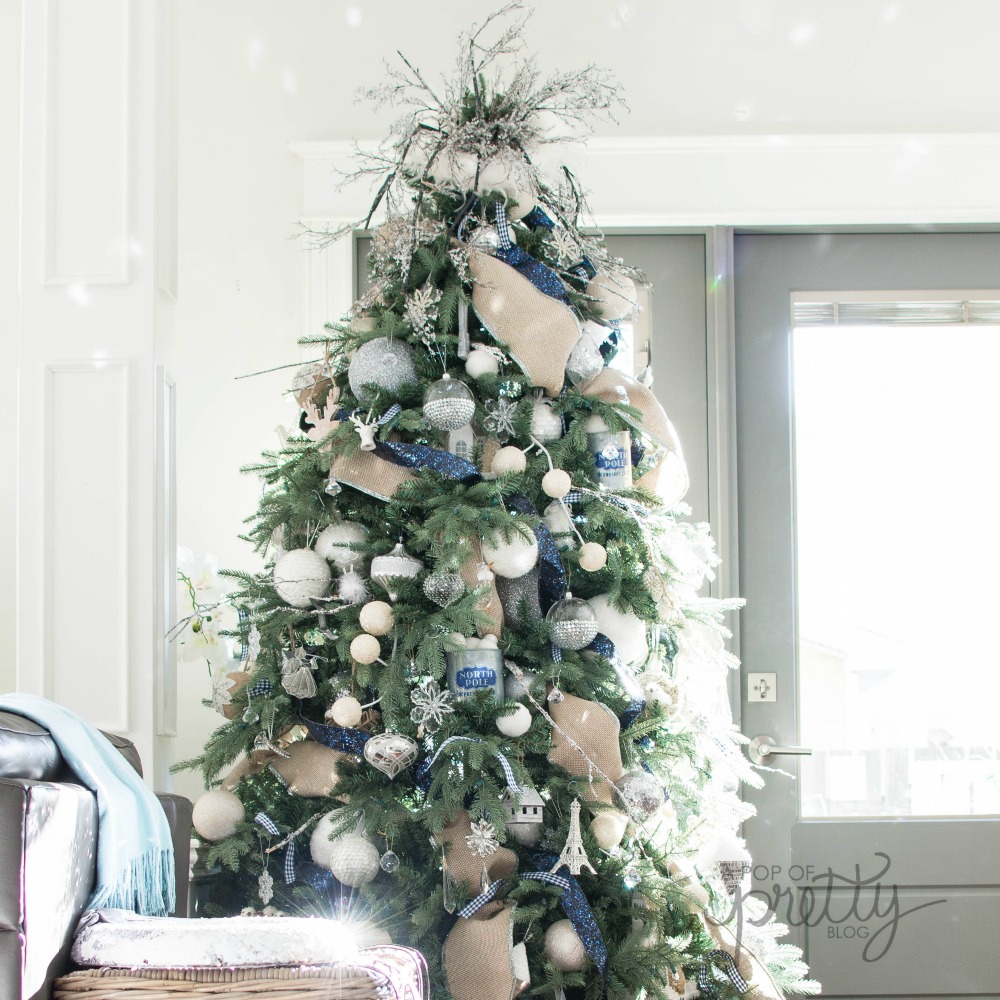 Pssst…Wondering how to decorate a Christmas tree professionally with ribbon? Click below to find my easy, step-by-step tutorial!
For example, I mixed the sparkly navy blue Christmas decor and ribbon with a burlap ribbon that has a little bit of sheen. I also tied some sweet navy and white gingham ribbon around the ends of some of the branches. I even added some little galvanized metal buckets, and I love how fun they look up against my glass ornaments. All of this makes the tree feel a little less serious!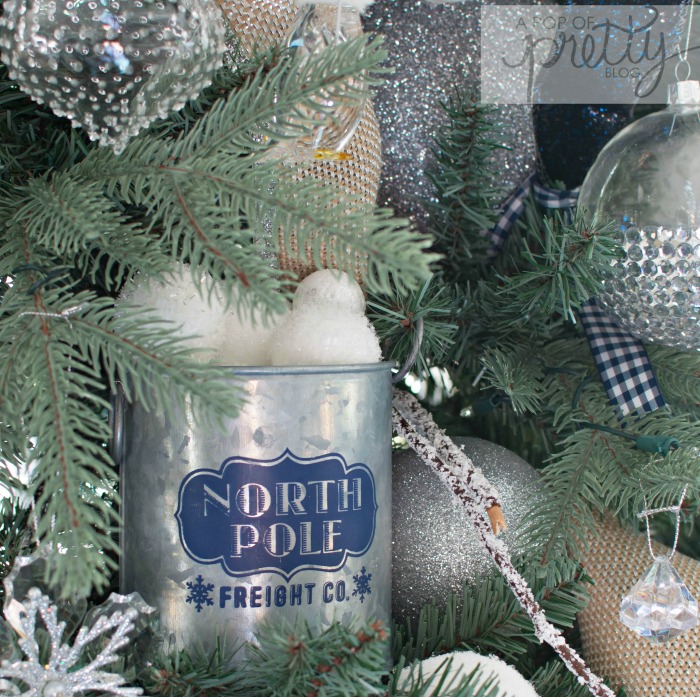 One of the things I like to do is add some cozy elements to the base of my Christmas tree until Santa arrives with presents. This year, I added a cozy navy throw, some mohair pillows and a few pretty boxes with navy ribbon. It just helps to fill up all that empty space.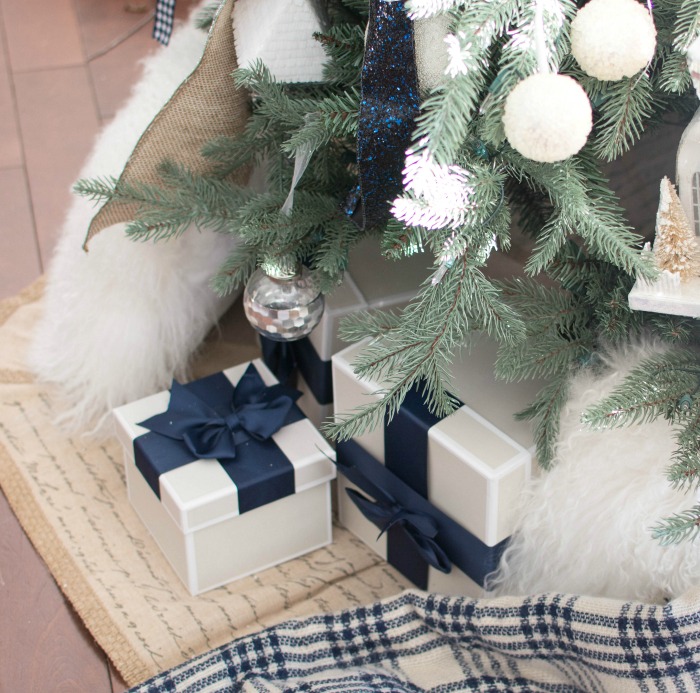 I'm pretty thrilled about how the tree turned out with navy Christmas decor. I topped it off casually with a bunch of 'icy' branches. I tried to get them to hang down over the tree in the same way that tree branches would hang after a winter snow or ice storm (which we see a lot of around here lol).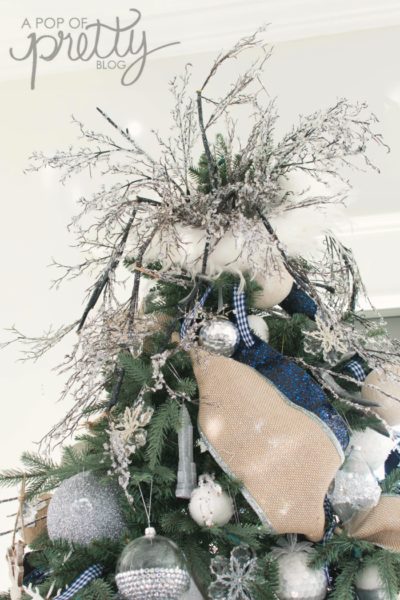 Are you wondering what goes on a Christmas tree first, the ribbon or the ornaments? Click below to find my step by step instructions for the best order to decorate a Christmas tree:
Navy Blue and Silver Christmas Mantel
I carried the silver and navy blue Christmas decor theme over to the fireplace mantel in our family room as well. Our home is open concept, so I like when all my Christmas decor coordinates. It just makes it all feel more seamless.
The cable sweater wreath that hangs over the fireplace mantel was a DIY project. You might have caught it on my Instagram stories last week. It was super easy.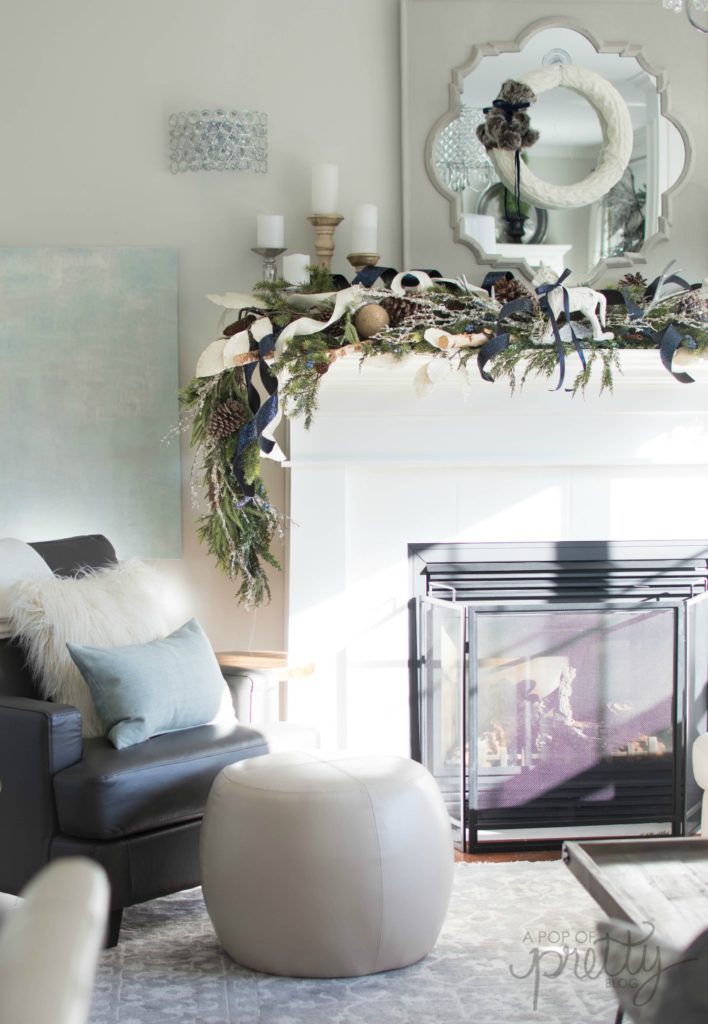 The fireplace mantel is decorated with layers of greenery, birch logs, cream coloured leaves, pine cones, and blueberries. The sparkly navy blue ribbon helps add a bit of magic to the otherwise rustic elements in the mantel display.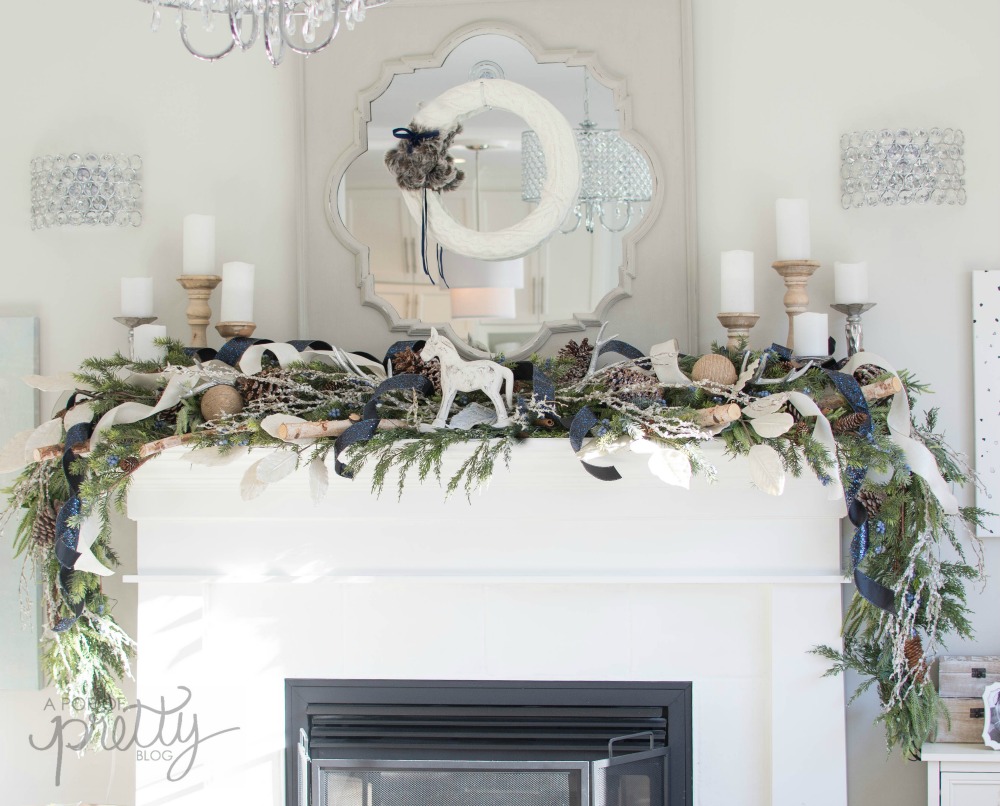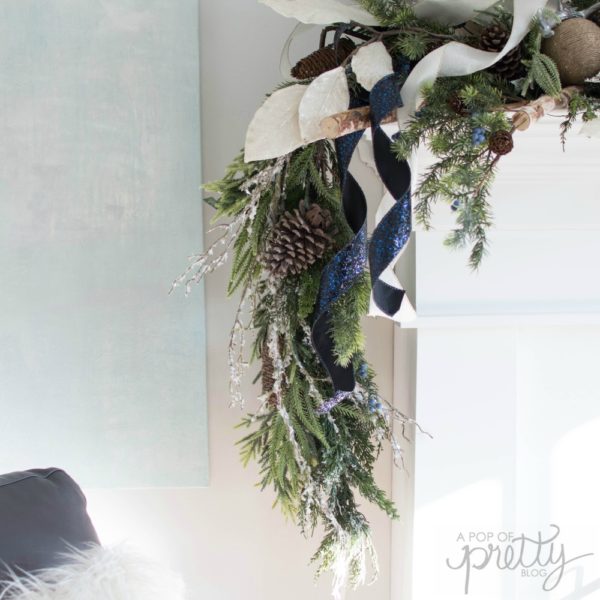 Other Navy Blue Accents
I tried to keep things simple this year, so I only added a few other touches to the family room. These cute nutcrackers sit on the coffee table. I already had the silver one in my Christmas stash, but was lucky enough to spot a navy blue one at Pier One.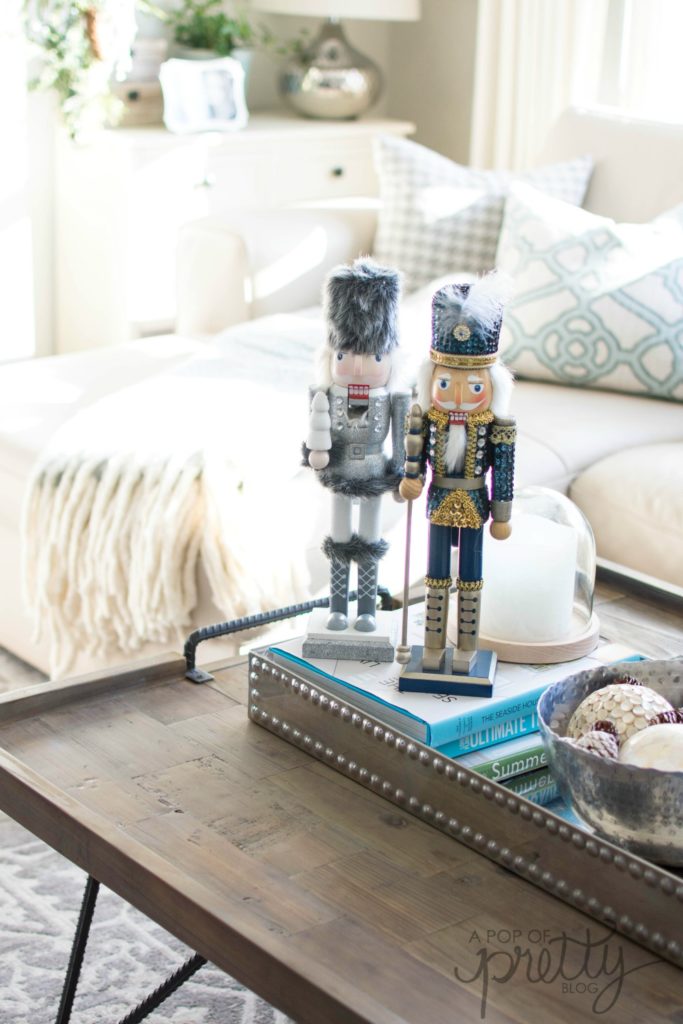 On my dining table, I also kept things super simple. In keeping with the navy blue Christmas theme, I just tied a pretty navy bow around one of my large glass hurricanes, and filled the other with icy gems. I'm still working on adding some festive cheer to the rest of my kitchen, and I'll hopefully share a post on that next week.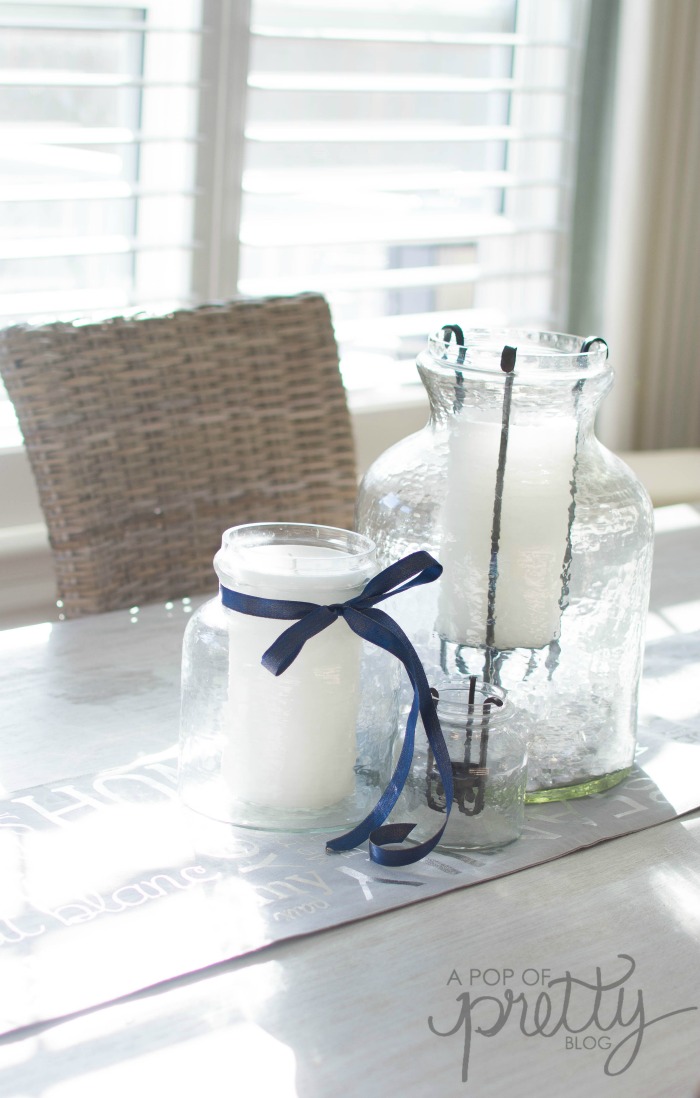 Get the Look
Want the same look of my Navy Blue Christmas Home Tour? I've curated a collection of products that will do just that, and I shared all the shopping sources in my Christmas Decor Shop. Click below to take you there!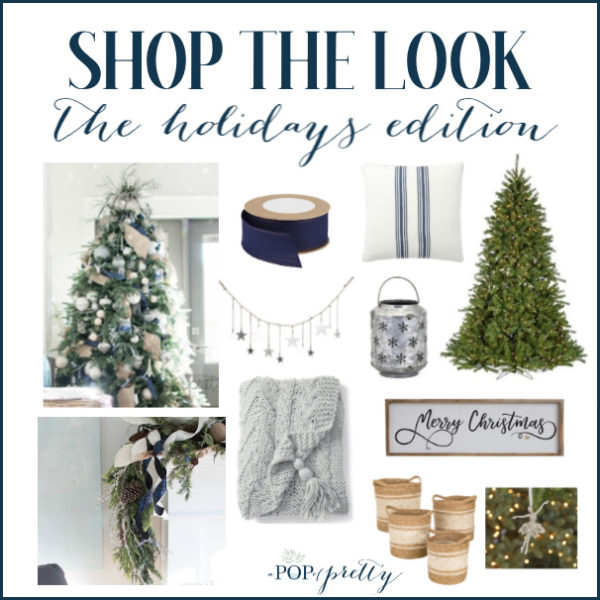 Share the Love
If you liked this home tour, please consider sharing the love by pinning this to Pinterest for others to find:
Looking for Christmas tree decorating ideas?
In addition to my Navy & Silver Christmas Tree found in this post, here are some of my all time favourite past Christmas tree decorating posts with different colour schemes.
Red Plaid Christmas Tree (featured in Women's Day)
Winter Wonderland Christmas Tree (featured in Women's Day)
DIY Disney Frozen Christmas Tree
Nutcracker Christmas Tree (Sugar Plum Fairy)
Oh, and don't forget to read:
My #1 Christmas Decorating Tip
If you want some more inspiration for your own Christmas decorating, please visit some of my Canadian blogging friends as part of the Canadian Bloggers Home Tour (Christmas 2017) which has been going on all week. You can find all of their blog links below! You can also find us on Instagram with the hashtag #cbhometour.
Have a fab weekend.
Kerri xo
Monday
The DIY Mommy | The Creek Line House | Woman in Real Life | Life is a Party | Lemon Thistle | The Learner Observer
Tuesday

PMQ for two | Amidst the Chaos | Clean and Scentsible | A Burst of Beautiful | Rambling Renovators
Wednesday

Satori Design for Living | Love Create Celebrate | The Happy Housie | Craftberry Bush | Sustain My Craft Habit | House by the Bay
Thursday
VinYet Etc. | A Pretty Life | Home to Heather | So Much Better with Age | This Little Estate
Friday
AKA Design | Kim Power Style | Elliven Studio | A Pop of Pretty | The Sweetest Digs