This post was most recently updated on September 22nd, 2019
Good teacher gift ideas are always so hard to come up with, aren't they?  I pretty much assume that they've all been given enough tree ornaments with the word "Teacher" on them by now to decorate the entire Christmas tree at Rockefeller Plaza in NYC in a teacher theme, lol.
If you're like me, you probably try to tackle the hard gifts early in the holiday shopping season. For those of you who aren't early holiday shoppers, I'm so sorry for alarming you with a Christmas post in October…buuuut…..come on, it's time to start thinking about it!  And let's face it, if you get your holiday shopping done before December, that means you can spend more time enjoying the season, and less time stressing.  It's the best.
Gift cards make great teacher gift ideas, but personally, I like to wrap something up with a pretty bow.  Also, I find my kids still prefer to give them something to unwrap. I found some awesome teacher gift ideas on Chapters Indigo while perusing for Christmas presents. It's always my go-to for fab gifts, mostly for myself, bahaha.  In all honesty, I'm pretty obsessed with their products.
10 Awesome Teacher Gift Ideas
(Note: *contains affiliate links)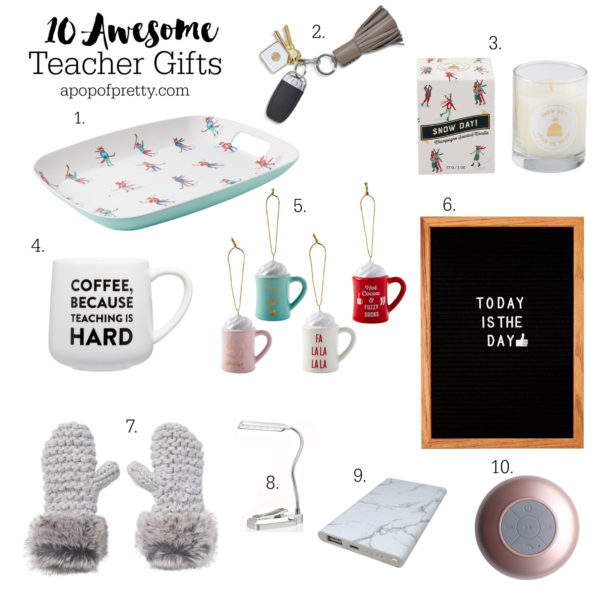 10 Sweet Teacher Gift Ideas for the Holidays
There's definitely a few things on this list that any teacher would love, and if you're feeling so inclined, send an extra my way too, K? 😉
Have fun with your (early) Christmas shopping!
Kerri
(*An affiliate link simply means that if you purchase a product after linking from my blog, I may earn a small commission, but it does  not increase your price in any way. If you want to learn more about how affiliate links work, please visit our Terms & Conditions and Privacy Policy.)