This post was most recently updated on January 18th, 2022
The open shelving kitchen trend is going strong. All you need to do is look at your Instagram or Pinterest feed – am I right? You can find open shelves in just about every recent kitchen renovation. And, if you follow me on Instagram, you may have noticed that we put open shelving in both our homes the past few years. Personally, I love them. But, if you are considering the same, you definitely should consider a few things first!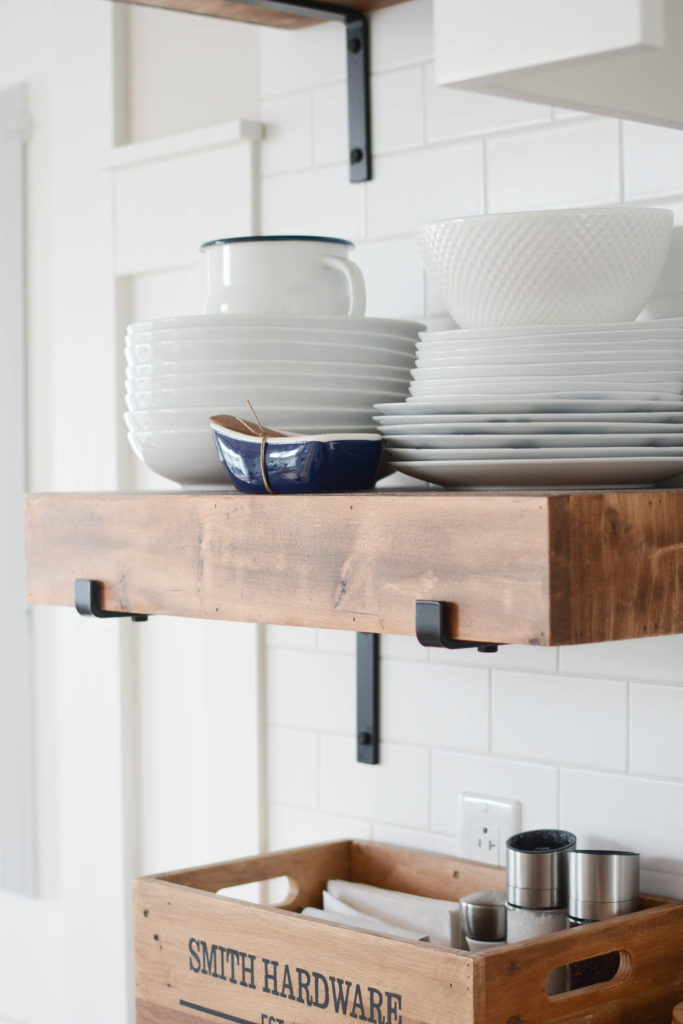 Open Shelving in Your Kitchen: Why You Should Consider It
Why I Love Our Open Shelves
Before getting into the reasons you might not want to use kitchen open shelving, let me explain the benefits. There's a few reasons why I love ours so much.
The Cost
First, renovating a kitchen or designing a kitchen for a new home can be so freaking expensive. Minus the countertop surfaces, a great deal of the cost is in cabinetry labour. Open shelves cost only a fraction of the cost of cabinets, and are pretty easy to install. I'm not suggesting using them throughout a kitchen. But, even using a few will save you some big money.
The Practicality
Second, open shelves in our kitchens are super practical. The dishes we use daily are always within arm's reach. (See our Kitchen Renovation here) I don't know about you, but most of my other dishes are tucked away behind who-knows-what-door. It takes a small ladder and a roadmap to find the right casserole dish.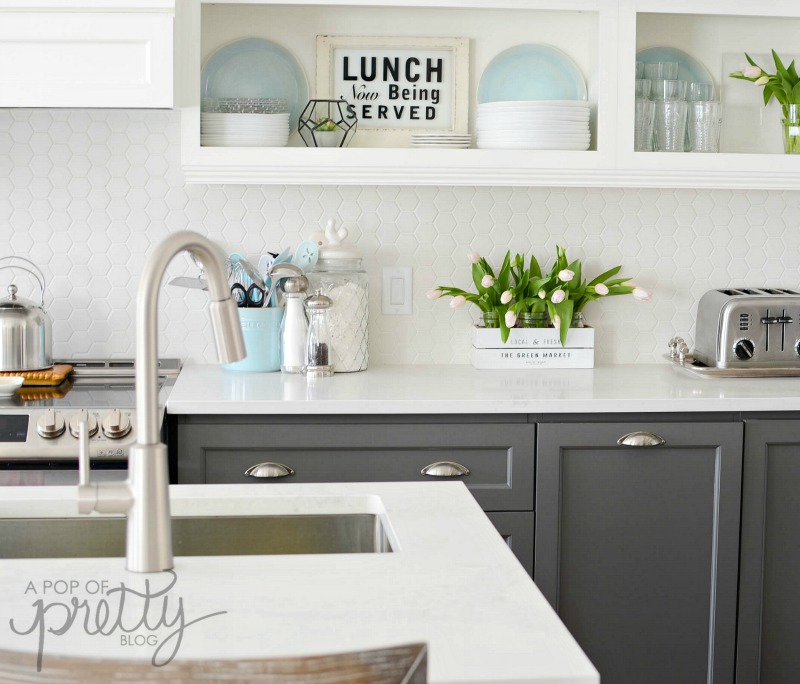 Plus, still on the practicality benefit, if you have young kids like me, open shelves make it easy for them to quickly find what they are looking for.
And, because my everyday dishes aren't hiding behind doors, it means that I am much more disciplined about buying and hoarding new dishes I don't need.
Aesthetics: Open & Airy
Third, I love gorgeous cabinetry, but, it takes up so much wall space, and can make a space feel smaller. Open shelves, on the other hand, create an open, light and airy feeling in a kitchen. And, you can use open shelves in the tiniest of spaces, where a standard sized cabinet would never fit.
Aesthetics: Focal Point & Visual Interest
Finally, the thing I love most about the open shelving trend is that it helps create a focal point in a kitchen. A long bank of cabinetry doors can be so boring and repetitive. But, if you use open shelving in your kitchen strategically, you can create a punch of visual interest.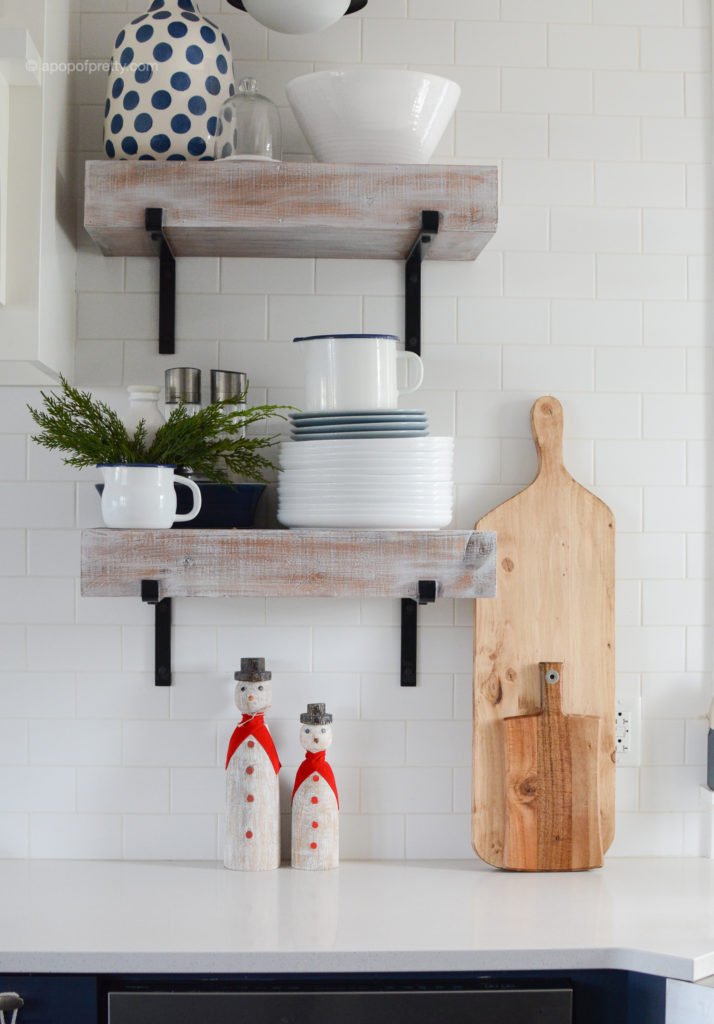 For example, in our cottage kitchen, we flanked each side of our oven with rustic, wood shelves. This creates a warm contrast with the white subway tile wall behind them. We also used black iron industrial shelf brackets. This provided an opportunity to establish the rustic, coastal cottage style I was going for in this space.
Open Shelving Kitchen Trend: Why You Shouldn't
Ask yourself these 3 questions first!
OK, so open shelving has its advantages. But don't jump on the bandwagon yet. I'm pretty much a raving fan, but that doesn't mean that you will be. Are you considering putting them in a kitchen? Ask yourself these five 3 questions first.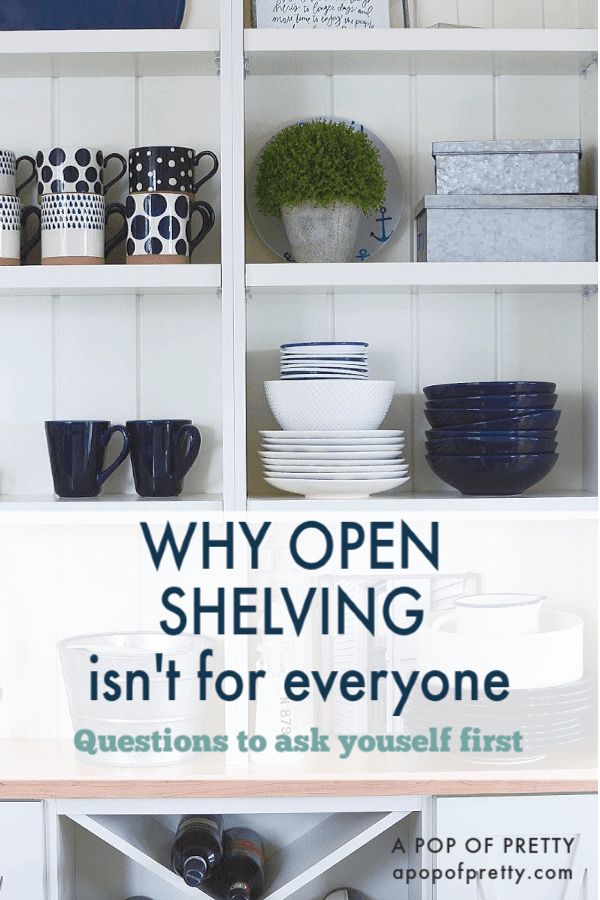 Question #1: Do you use your dishes often?
A weird question, right? If you have kids, or you entertain often, it might feel like your dishwasher is ALWAYS full! (Um, hello, I can relate!) But if you are single or have small family, you are probably using only a few dishes weekly. In that case, your dishes might be better behind closed cabinetry where they won't collect dust. I never worry about ours getting dusty because ours are constantly being used. And, at our summer home, we entertain large crowds often, so our open shelves are always being emptied and refilled.
Question #2: Do you like your dishes?
Some people are just 'dishes' kind of people, while others are happy enough with a mis-matched, hand-me-down collection. (No judgement, lol.) Personally, I'm a dish girl. (Did you guess, lol?) So I really don't mind them staring me in the face daily.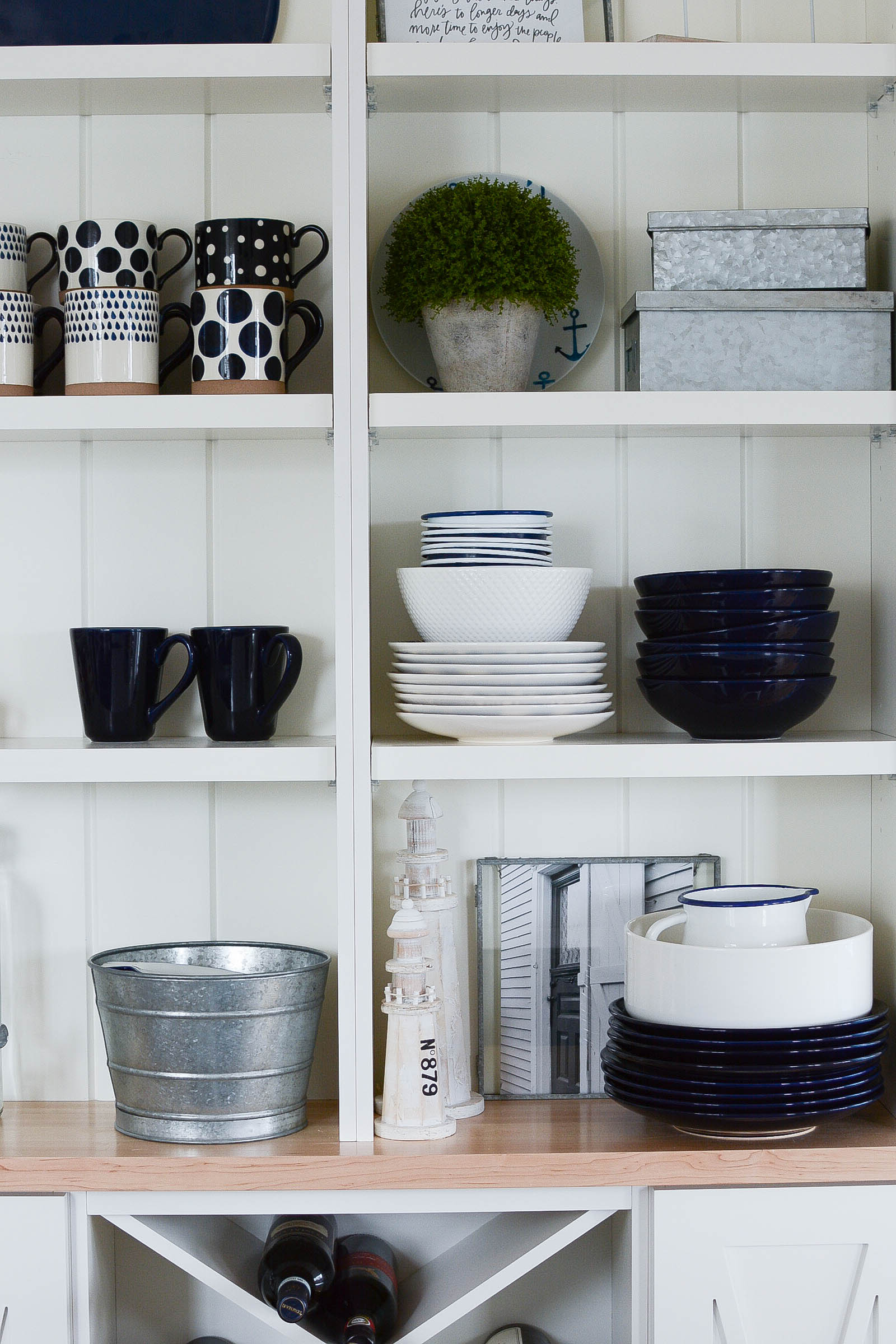 I love the colour of my dishes (mostly white!), and they coordinate well with the interior colours in my home. For example, at our summer home, my dishes are white and navy, while in our city home they are mostly white with some pretty seafoam blue. I don't mind displaying them on open shelves because they blend in nicely with the surroundings.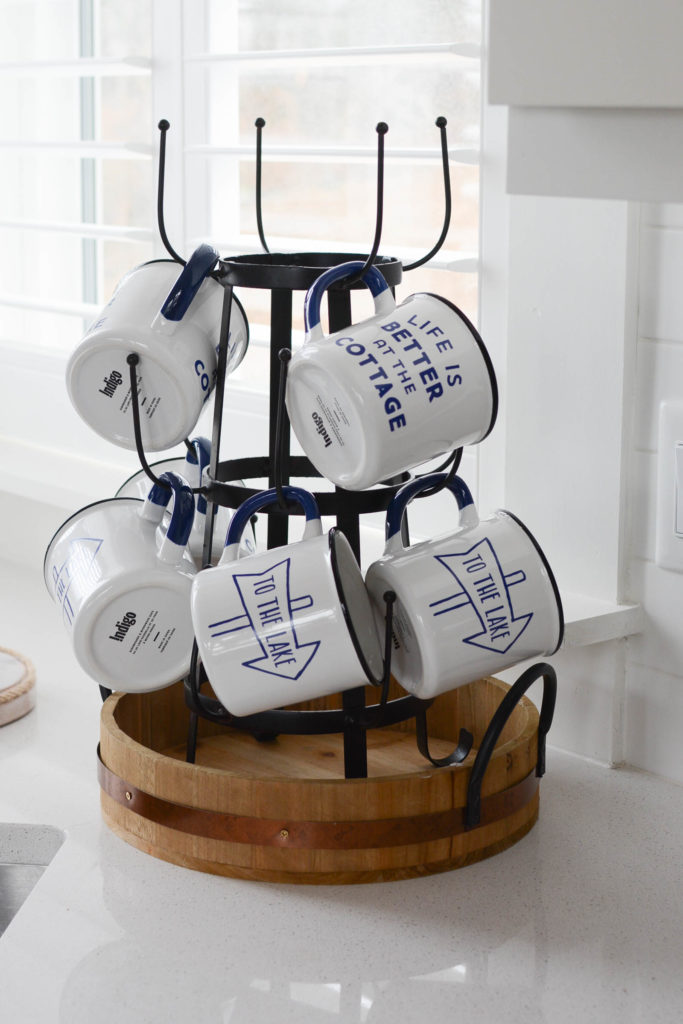 If your dishes are mismatched, or every colour of the rainbow, they might stand out like a sore thumb on open shelving. (That said, if your style is boho and eclectic, then open shelves with colourful dishes might be the perfect way to create that feeling in your kitchen!) I guess the thing to remember is that open shelving is exactly that: OPEN!
Question #3: Do you hate clutter?
Um, duh. We all hate clutter right? But, I mean, do you REALLY hate clutter? Are you a hard-core minimalist? To most of us, a nicely coordinated dish collection on open shelves wouldn't feel like clutter at all. But, if you love sleek, modern interiors, or if you are a minimalist by nature, even well-matched dishes displayed in the open might be too much for you. If so, I'm not sure kitchen open shelving is the best fit for you. Personally, I love styling shelves and creating visual interest, but that's not everyone's thing.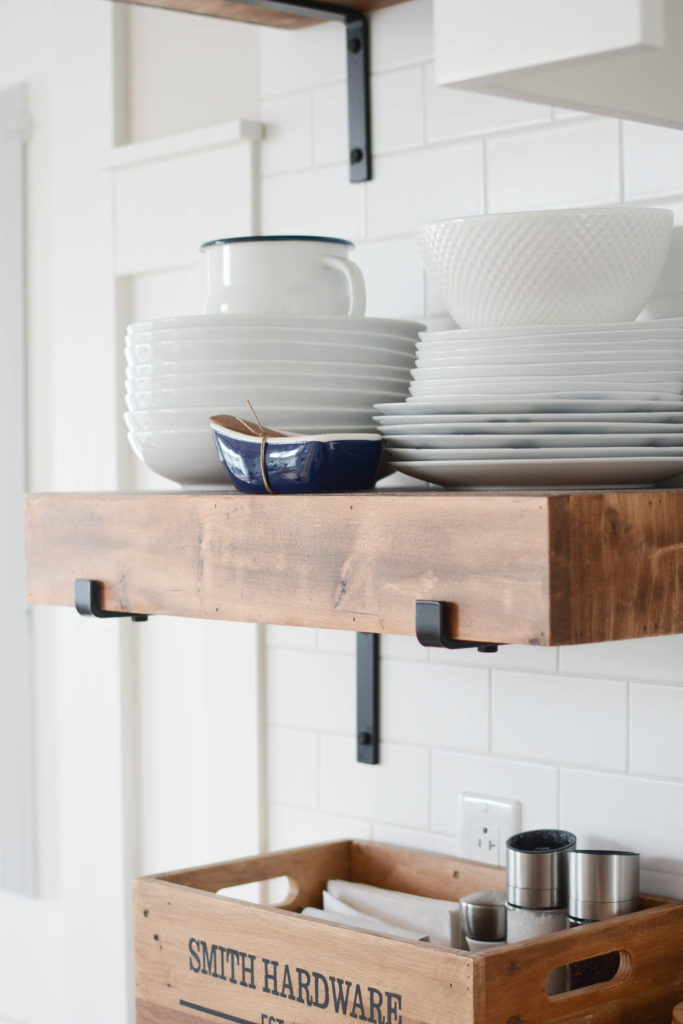 To Sum Up…
Like anything, the open shelving kitchen trend has both its benefits and disadvantages. I think you have to live with open shelving for awhile to realize that it's not for everyone. If you have any questions about open shelves in kitchens, let me know. Decisions about kitchen renovations are so hard (and expensive.) So make sure you consider everything before hopping on the open shelving kitchen trend.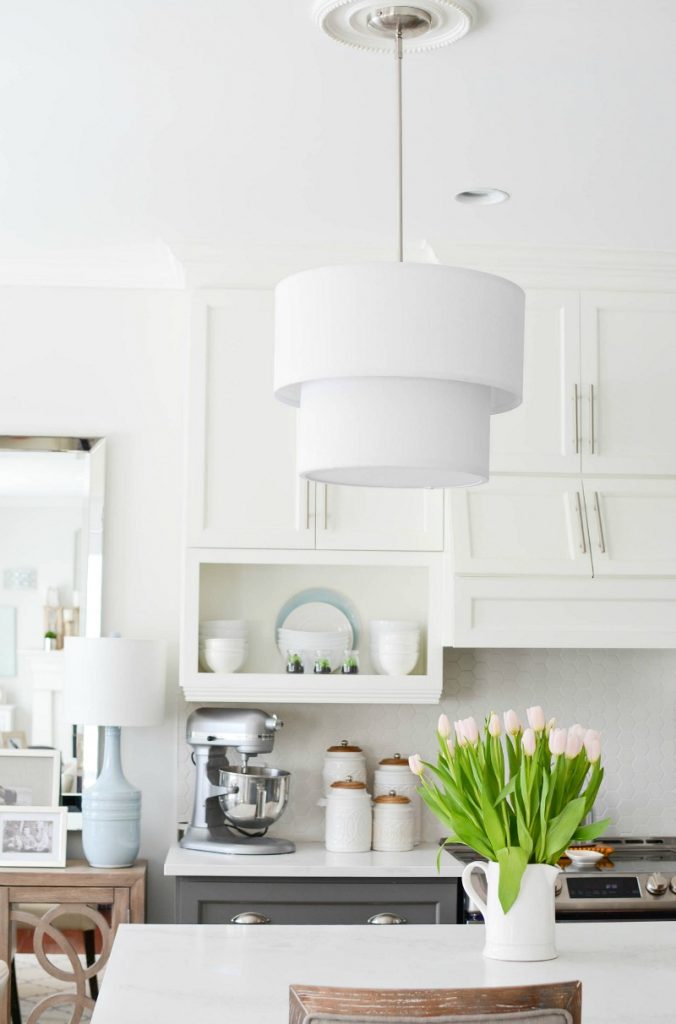 If you're looking for more information, here's another great resource: 8 Reasons You Should Try Open Shelving in Your Kitchen.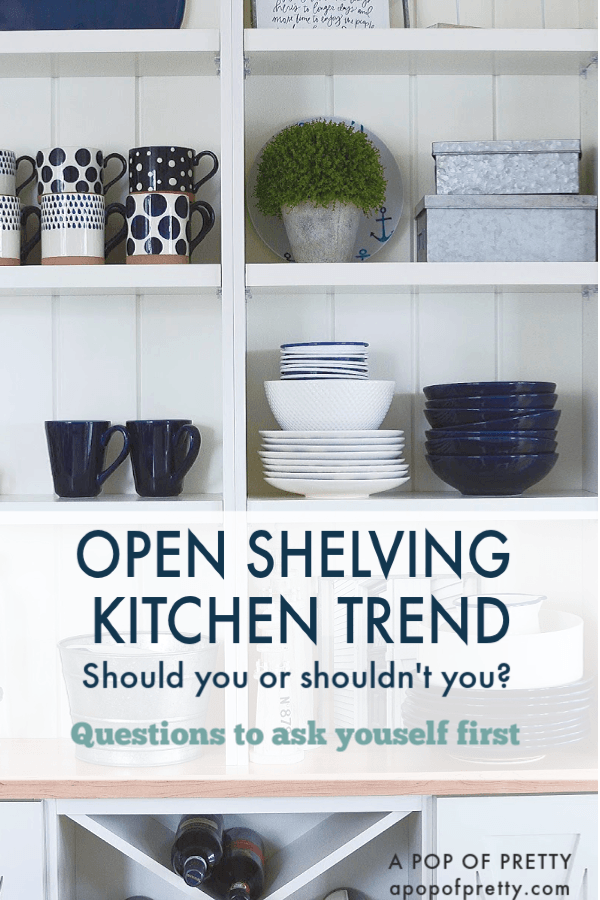 Aaaaand, if you're considering the two-toned kitchen cabinetry trend, check out a post I wrote here: 55 Two-Toned Kitchen Cabinetry Ideas! Both my kitchens have dark bottom cabinets and white uppers, and I love them.
Oh, and before I forget! Do you follow me on Instagram?
I share lots more photos of my projects over there, so pop over and hit follow. @kerripopofprettyblog
You might also like my new coastal-inspired online shop, JanieJute. You can find it on Instagram at @janiejute_modern_coastal.
Until next time, my friends!
Kerri 🙂