This post was most recently updated on January 17th, 2022
In this article: I've combined all my best tips on how to choose a front door to create real curb appeal into a one-stop complete guide. I'll cover whether a front door really adds value to your home and whether you should makeover your existing front door or buy a new one. I'll also talk about front door installation (whether you should diy or hire an installer), the best material for a front door (steel, wood, fibreglass, etc.), the best front door for your particular home style, the best colour to paint your front door, and how to paint a front door. Finally, I'll discuss what to hang on your front door (i.e., wreathes and front door decor) to create major curb appeal!
Over the years, I've written a lot about front door design. If you search the blog, you'll find posts about the best colours to paint a front door, and how to paint a front door. Additionally, there are articles on the best front door style for your house, the best material for a front door, and countless posts about front door decor for every season! I figured it was time to combine ALL of of those tips into a one-stop post on how to choose a front door!
Why I Wrote a Complete Guide on How to Choose a Front Door
So, why did I write this post on how to choose a front door? Well, I get countless questions on this topic from homeowners and readers alike.
And, let's just say that I have a thing for front doors! I love them.I've tried just about everything to create more curb appeal with my own front door. For example, I painted and re-painted our original steel door many times. Then, we finally replaced it with a craftsman-style, fibreglass one.
Along the way, I made more wreathes and diy front door decor than I can recall. I have the glue gun scars to prove it! As well, I've helped countless homeowners pick the perfect front door colour for their home exteriors.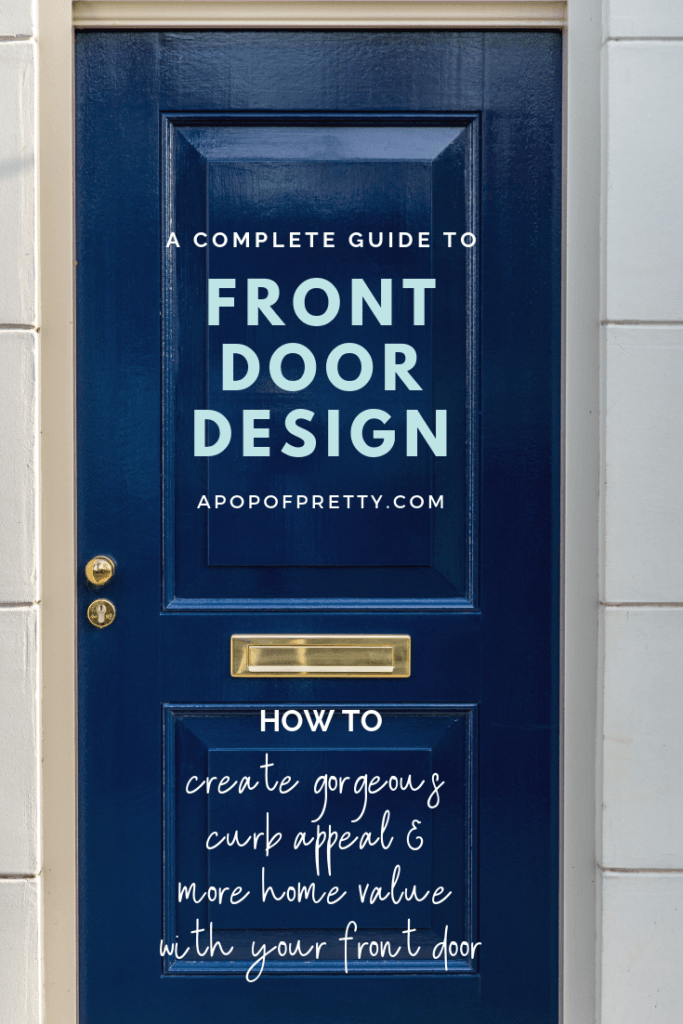 Obviously, searching all the topics related to how to choose a front door design for your home is time-consuming. Thus, today I'm combining all of my best front door tips into one big 'Complete Guide' post.
I'm going to tackle just about everything you need to know about front door design.In fact, this article is so comprehensive that it needs a Table of Contents to keep us all on track!
The Topics I'll Cover
So below you'll find the list of the front door-related topics I'm going to cover. But, don't worry, you don't need to read it ALL. Instead, if you're just looking for information on a specific topic, you can skip to that section.
1. Good Front Door Design: Does it Really Add Curb Appeal & Value?
In this section: This section covers whether a good front door really matters. Is it worth the investment? Does it provide curb appeal? Does it impact resale value?
Let's cut to the chase. YES, yes and yes.
Friends, your front door is the focal point of your home! A front door provides the first impression of your home for guests and neighbours alike. And, it's the first thing you'll see when you pull into your driveway. For instance, do you want to arrive home to a worn-out, ho-hum door, or one that makes you smile?
Good front door design has the potential to change the entire appeal of your home's exterior. So, when looking to upgrade your home's exterior, your front door should always be your starting point. That's because it is usually where you'll get the biggest bang for your buck. Did you know that real estate studies consistently show that an appealing front door, especially if it's painted one of a few particular colours, can add thousands of dollars to a home's value? (Read on. I'll cover the best colours for your front door below.)
A front door makeover has a great return on investment primarily because you can add so much curb appeal with a relatively small up-front cost. Often, you can a do an impressive DIY front door makeover on an existing door with just a quart of paint ($30). And, even if you need to upgrade to a new front door, the investment can easily pay off over time in energy savings or resale value.
2. Front Door Makeover or Upgrade?
In this section: This section covers whether you should makeover your existing front door with new paint and/or hardware, or if you should really invest in a new door. There are four considerations you should think about.
Should I makeover my existing front door or buy a new front door?
So, you want to add curb appeal with your front door design, but you don't know if you should invest in a new one?
Well, it's definitely possible to do a pretty amazing DIY front door makeover with some paint and new hardware. For example, there are some gorgeous front door 'before and afters' on Pinterest for inspiration.
Painting your door and changing the hardware might be a good temporary solution. But, there are some things to consider before you grab a paint brush. For instance, answer these questions to help decide if you should buy a new front door instead.
First, does your front door reflect your taste?
Often, homeowners buy a home with a front door that that they would not have chosen for themselves. Maybe the door is traditional or ornate, when what you really love is simple, modern or craftsman style. If your front door design does not reflect your taste, you should consider replacing it over time. But, don't worry that it is a frivolous or vanity-driven expense. As discussed earlier, real estate studies show that changing a front door is one of the best renovations you can do for return on investment. (Source: Front Door Ideas)
Second, does your front door reflect the style of the home's exterior?
In addition to your personal taste, consider whether your front door design actually fits with the style of your home. For example, if your home has a clean-lined, modern exterior, then a traditional, panelled steel front door might be a contradiction. Similarly, if your home is a traditional saltbox, you may not want an ultra-modern front door.
To follow, if you want to add curb appeal, you should aim for a cohesive look and feel for your entire home's exterior. Take a look below for some front door ideas for different style houses. (Source: HGTV – Getting maximum value from your front door)
Third, is your front door out of style?
Even if your front door matches the style of your home and your personal taste, ask yourself whether it shows the age of your home. This isn't a big deal if it's a classic home and your door has timeless style.
But, considering that the age of the average home is around 40 years old, it's a pretty safe bet that there are a lot of front doors out there exuding a not-so-chic 80s or 90s vibe. Not surprisingly, real estate studies also show that an out-of-style door is one of the biggest turn offs for potential home buyers. If they see an out-of-date front door, then they likely imagine a dated interior too.
Fourth, is your front door energy-efficient?
If the first three considerations aren't enough to convince you to buy a new front door, then the door's energy-efficiency certainly should be.
A poorly-installed or warped front door design can cost you hundreds of dollars a year on your heating bill. Some new weather stripping or a new door jam kit might improve its efficiency. But a new front door design is likely your best choice if you notice any of the following:
you see light from inside or outside without the door being open;
the door is difficult to open or close;
it's visibly weathered and/or warped;
you feel can feel a draft that requires a rolled towel to stop it;
there's moisture or mildew between the glass or the glass is broken.
If you aren't sure if your door is energy-efficient, ask an expert to come and assess it. If it isn't keeping your heat in, they can recommend the best solution.
3. Front Door Installation
In this section: This section covers front door installation, specifically, whether you should attempt a diy installation of your new front door, or whether you should hire a professional.
Should you DIY or hire a professional?
I could easily post a link here to a YouTube video on how to install a front door. But, let's face it, if you are googling "how to install a front door diy", it's probably not a job for you. Obviously, you'll find lots of resources out there on DIY installation for exterior doors. But, I truly believe that installing a front door is a job for a skilled professional. I say this for a couple of reasons.
Front door installation requires skill.
First, take from me, front door installation is finicky. We've just had AAAALL our exterior doors replaced. Over time, the original doors became warped and drafty. I can only imagine how much money we lost over the years to the lack of energy-efficiency.
While we did not DIY install the original doors, it does prove that long-term, weather-tight installation of an exterior door can be tricky. This is especially true in climates with big temperature variations. It requires a level of skill that goes beyond your typical weekend warrior.
A new front door is an investment.
The second reason I recommend hiring a professional is that upgrading your front door isn't cheap. Studies show that the average new front door design will cost you $900-1000, with some designs in the range of $4000-5000! If you've never installed a front door before, do you really want to risk that investment? Not to mention, a poorly installed front door will cause you major headaches (and costs) down the road. On the other hand, a reputable professional will guarantee their work, and will come back and make repairs if required.
If, after reading these precautions, you are still convinced that a diy front door installation is project for you, there are lots of great resources out there. So definitely do in-depth research first. This article for DIY Network is a great starting point.
4. Door Types: Material Choices
In this section: This section covers the best material for an exterior door. More specifically, what should you consider when deciding on steel, wood, fibreglass or other? Will a wood door rot? Is a fibreglass door worth the money? I'll also provide links to some great articles that cover these topics.
What is the best material for an exterior door?
When it comes to front doors, there are many options for materials. So much so, in fact, that it can be confusing deciding what material is best for your front door. These days, some of the most popular material choices include wood, steel, fibreglass, and glass.
Usually, the best material for your front door comes down to a few factors:
climate/weather patterns
budget
security
privacy
Cold, Wet Climate Considerations
If you live in a wet, damp or cold climate like mine, the choice in material for your front door is particularly important. I live in Canada, on an island in the Atlantic Ocean. It doesn't get much colder or wet than that! So, while I love the look of a solid wood door, it just wasn't a viable option. This is because wood doors are vulnerable to fading, warping, splitting, cracking, and rotting.
For us, the best solution was a wood-grain fibreglass door. After doing research, we learned that fibreglass won't warp or rot, is resistant to wear and tear, and is very energy efficient. And, just like a wood door, fibreglass comes in an authentic wood grain finish, and can be painted or stained. The only downfall to fibreglass doors is that they can be pricey when compared with a steel door.
Consult a Local Expert
To decide on the best material for your front door, it is best to consult a local expert who knows your climate. If you want to dig into this topic in more depth, here are a few great articles which cover the advantages and disadvantages of different types of front door materials:
5. Front Door Styles
In this section: This section covers how to choose a front door for your particular house style. For example, what are the best front door styles for classic or traditional homes, modern or mid-century homes, coastal cottage style homes, and artisan/craftsman style homes? And, also, is it ok to mix it up?
What front door style should you choose for your house?
A question that gets asked a lot about front door design is what front door styles look best with different style houses. I covered this topic in depth in another blog post a couple of years ago. I'll provide a summary of the key points here. But, if you want to learn more, I highly recommend reading it: The Best Front Doors for Every Home Style.
Best Front Doors for Classic/Traditional Homes
If you have a classic or traditional home, the best front door design is one that makes a bold statement without competing with your home's beautiful architectural features like shutters, corbels, or detailed mouldings. Choose a front door that is either:
classic/traditional, with details or features that mimic the architectural charm of your home;
very simple and understated, so it allows your home's architectural features to REALLY stand out.
Personally, I love contrast. So, the juxtaposition of a simple door against a more ornate home, is what I like best.
Best Front Doors for Modern/Mid Century Homes
The best door for a modern home with a clean, minimal exterior is a door with a modern or mid-century aesthetic. Skip a door with traditional cues, and, instead, choose one with a clean, retro vibe. Modern front doors with wood texture, or painted black or grey always look amazing, But, don't be afraid to choose a bright and punchy mid century colour either! Lime, cobalt or even orange, all look so appealing on a modern home.
|
Best Front Doors for Artisan/Craftsman Homes
If you love artisan or craftsman appeal as much as I do, a craftsman style door might be up your alley. A craftsman or artisan door is the perfect crowning touch for any home that has some classic craftsman lines and texture – like peaks, shakes, or a covered front veranda.
Craftsman style front doors are close to my heart as we recently upgraded from our steel front door to one. You can read more about that project here, see the Before & After, and find the exact door model we used: New Craftsman Front Door. And, if you'd like to learn how to take a builder grade exterior to craftsman-style, you can read about the changes we made to our home's exterior here: Craftsman Home from Builder Grade: Get the Look.
Overall, I think the best front door for a craftsman home is a warmly stained (or painted) wood grain artisan door. This kind of door creates a cohesive look on a craftsman home exterior, without distracting from its simple and charming features.
|
Best Doors for Coastal Homes
Coastal homes come in all varieties and styles, but they do have a few special considerations for front door design.
First, do you live near the beach?
If you live near the beach or ocean, some materials (like wood) will not have long term viability in salty air. In fact, most reputable door manufacturers provide specific guidance on this. Further, they may not guarantee certain doors that are installed in coastal areas. Be sure to consult an expert on what material is best for your front door.
|
Second, are you in a rainy or hurricane-prone area?
If you have coastal home in a rainy or hurricane prone region, you will want to consider your climate when choosing the right front door. An expert can help you find a front door design constructed with the proper material and "Impact Rating" to withstand severe weather.
Coastal hues work best.
On a lighter note, consider the right aesthetics for a coastal home. I think the the best coastal front doors give a relaxed vibe, and are painted in hues that reflect the sun, sand, or water.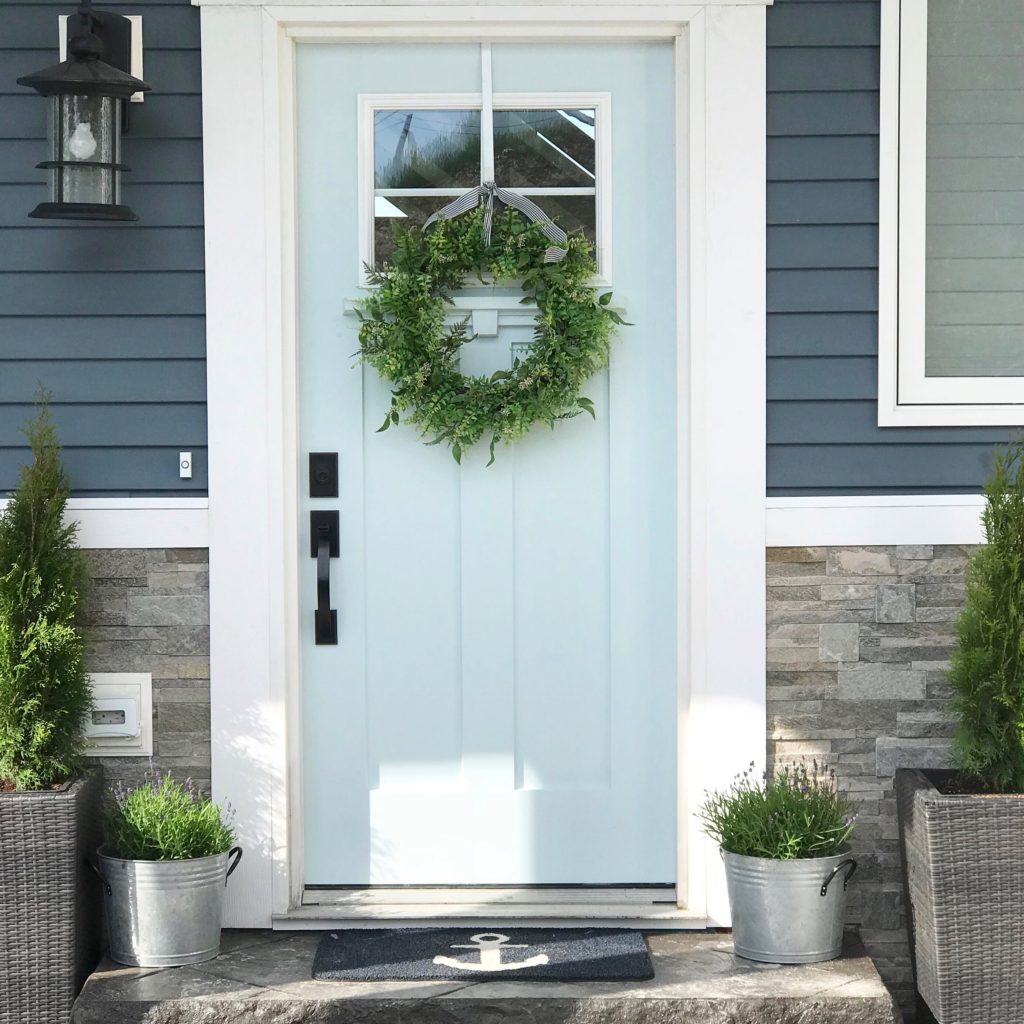 Other Front Door Style Considerations: Landscaping
Beyond the style of your home's exterior, you should also consider the style of any existing landscaping. Do you already have a mature garden that has a structured, formal look? If so, perhaps a stately front door in a classic colour would be best. However, if you have cottage-style landscaping that is freeform and casual, a pop of colour that has a fun, laid back vibe would be perfect.
|
6. Front Door Colour Ideas
In this section: This section covers the best colour to paint your front door, depending on the style of your house, as well as the colour of your home's siding. Which paint colour has the best home re-sale value? And, which creates a stately entry? Is there a colour that creates a peaceful statement? I cover all this and more.
What colour should you paint your front door?
You might think the colour you paint your front door is just a matter of personal preference. But, did you know that certain colours can actually increase you home value?
In fact, real estate research shows that one front door colour in particular is the best at garnering the most money for a home. Can you guess what it is?
Black Front Doors: Always a Great Choice
Incredibly, a 2018 study from real estate site, Zillow, shows that a black front door design can help a home sell for more than $6,000 over its asking price (Source: Southern Living). Wow! Clearly, black front doors have real curb appeal for potential home buyers. This is probably a result of being so stately-looking. A black door just feels more serious and grounding.
If you're not into a pure black front door, you can take it down to a shade of deep charcoal or grey with the result in home value. However, if a black door is really not your thing, there's also lots of other gorgeous front door colours that create curb appeal.
Consider Your Home's Exterior Colours
To narrow down the colour choice for your front door, you should always consider your home's exterior features. For example, take a look at the colour of your siding, roof shingles, and landscaping stone. Typically, we want our front doors to 'pop', but, that doesn't mean it should clash with the rest of your exterior. For curb appeal, a front door design should feel harmonious with the rest of the exterior.
A cohesive look can be achieved by choosing the right tone for your door colour. For example, if your other exterior features have a soft tone, a front door colour that is muted might look more unified than a primary, saturated colour.
On the other hand, if your siding colour is deeply saturated, then a bright or saturated door colour might work best. But, remember that all design rules are made to be broken! If you have your heart set on a front door colour, try it out for awhile, and see how it feels. After all, it's only paint. You can always re-paint it later!
How to Choose the Best Paint Colour for Your Front Door
To choose the best colour for your front door design, pull out your colour wheel. You probably haven't owned a colour wheel since high school art class! But, you can always Google one. For a vibrant 'pop', choose a contrasting colour to your home's siding, like a yellow or red front door with blue siding.
Similarly, for a more serene look, you can choose a harmonious colour, like a blue door with green or taupe siding. A blue front door is actually my favourite front door colour. For example, before we replaced our panelled, steel door with a new fibreglass front door design a few years ago, I painted it this pretty light blue. It looked very calming with earthy green siding. You can find that blog post here: Behr Marquee Dayflower: Front Door Update.
Blue Door Colours: Another Popular Choice
On that note, blue front door colours are another very popular choice. Further, they have also been shown to increase home value. This may because of the psychology of a blue door. Apparently, blue doors symbolize abundance and prosperity, and evoke feelings of peace and tranquility.
If you are looking for pretty blue front door colours to choose from, you should check out this round-up I shared awhile back: Front Door Design Colour ideas: 10 Pretty Blue Doors.
Other Perfect Door Colours
Still stuck for a door colour? Luckily, there is lots of inspiration on Pinterest for just about every exterior colour combination! Furthermore, I wrote an article a few years back with 1o Fabulous Front Door Colours for Curb Appeal. In addition, I give all the paint colour brand names and numbers too!
More great Inspiration >> This article from House Beautiful also has some more great inspiration: 30 Front Door Colour Ideas for the Prettiest House on the Block.
7. How to Paint a Front Door
In this section: This section covers how to paint a front door, two ways: the quick way and the right way. Find step-by-step instructions on how to paint a front door, and the materials you'll require.
How to paint a front door 'The Right Way' and 'The Quick Way'
So, you've read about how to choose a front door, and you've picked your paint colour for your front door. Yay for you! You're almost there. Now it's time to paint! Experts at your paint store will tell you that there is both a right way and a wrong way how to paint a front door. I'm not sure I agree entirely. Instead, I think there is a right way and a quick way!
Painting a Front Door the Right Way
Here are the steps to painting a front door the right way. Always use this longer process if you aren't in any particular rush to finish.
Remove all hardware, including the handle, lock, door knocker, kick place and/or mail slot.
Clean the door.
Sand it lightly to remove any scratches or imperfections.
Prime the door with a quality primer, with 1-2 coats, depending on the condition of the door.
Use a quality painter's tape to cover any exposed glass or edges.
Paint a first coat with a high quality paint specifically formulated for exterior doors. Use an angled brush for any indentations, and then a foam roller for the rest.
Let the first coat dry completely. Do not shut the door while it dries, or the door will stick to the frame and transfer paint.
Paint a second coat. Wait for it to dry completely.
Re-attach all hardware.
Do not hang a wreath or door decor for several weeks to allow the paint to cure properly.
Painting a Door the Quick Way
Let's face it, these days we are all looking for short cuts! That's why, a few years ago, I wrote a post for busy moms on How to Paint a Front Door in Under an Hour! This method will work great under the following conditions:
you're a careful painter;
you use a fast-drying exterior paint;
your door is in good shape;
your paint colour is the same or similar to the old colour.
You can definitely cut a few corners and shave off some time by following this method. Click over the post to see how I achieved a freshly painted door with such a quick turnaround!
8. Door Decor Ideas
In this section: This section covers front door decor ideas for amazing curb appeal, including what to hang on your front door for different seasons, as well as how to make your own diy wreathes and door decor.
Front door decor: What to hang on your door?
So, by now your front door design should be on point! If you just want to dress it up a little, you've come to the right place. That's because, over the years, I've made more front door decor and posted more tutorials here on this blog than I can remember.
Here are a few posts about door decor ideas that might inspire you:
Summer DIY Door Decor Idea: Hang a Basket
Traditional Christmas Wreath with Real Greenery
Valentine's Wreath – Ribbon and Burlap
A Year of DIY Wreaths and Door Decor
If you've made it this far, congratulations, friend. You are now a front door curb appeal expert! Yay for you! You now possess just about everything there is to know about front door design. I hope you have lots of great new information on how to create an amazing front door with a few simple updates. Whether you decide to makeover your existing front door, or you buy a new one, one thing is for sure. You will instantly increase your home's resale value and curb appeal!
Do you have any tips on front door design? If so, feel free to share them in the comments. I always love hearing from readers about what has worked for them!
Until next time,
Kerri xo