This post was most recently updated on January 1st, 2020
Hello friends, and welcome to Day 1 of the Canadian Bloggers Home Tours, the Fall Edition!  You might remember that we did Canadian Bloggers Home Tours twice before, a Christmas tour and a Summer tour, but for the next few days, it's all about Fall decorating!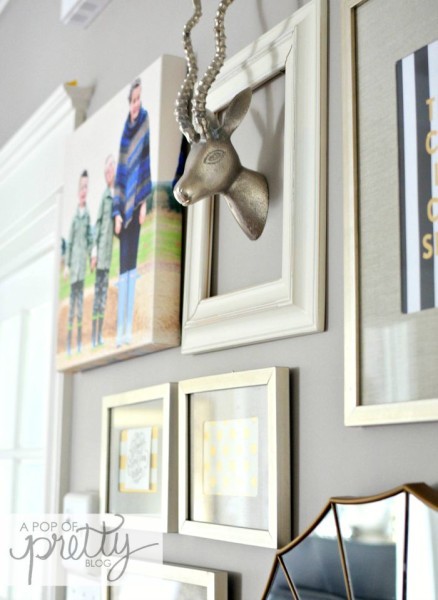 Today, tomorrow and Wednesday, you'll have a chance to peek into some Canadian bloggers' homes to see how we've added some cozy Fall flair to our abodes. If you are looking for some Fall decorating ideas for your own home, these tours will be full of inspiration!
At the end of this post, I'll give you all the links to the Canadian Bloggers Home Tours, including the other 3 other home tours featured today, as well as the links for Tuesday's and Wednesday's tours.
But, for now, welcome to our home!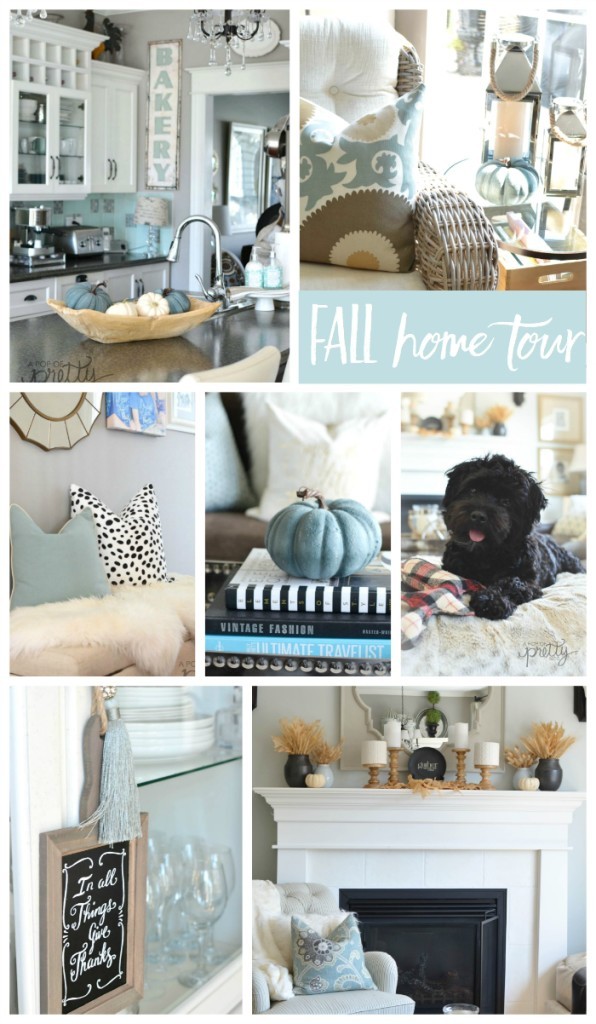 On Friday, I shared our simple Fall mantel decorated with neutrals in our family room.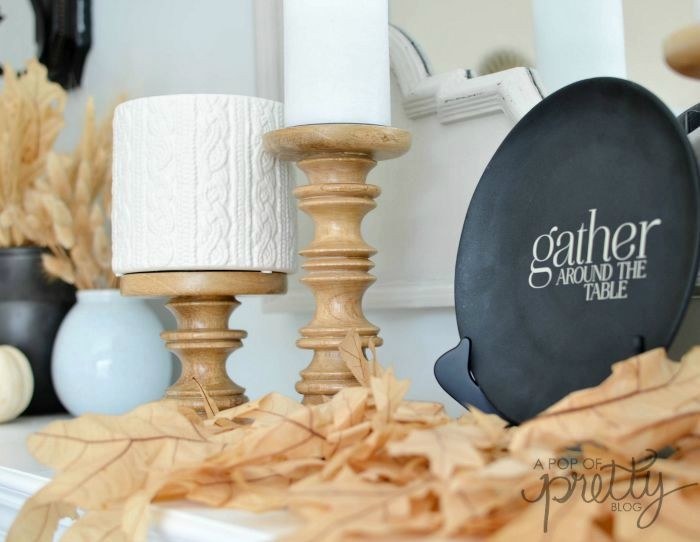 I also admitted that my seasonal decorating is much simpler than it once was, which just happened to coincide with life getting busier with 3 school-aged kids. Huh, funny how that works.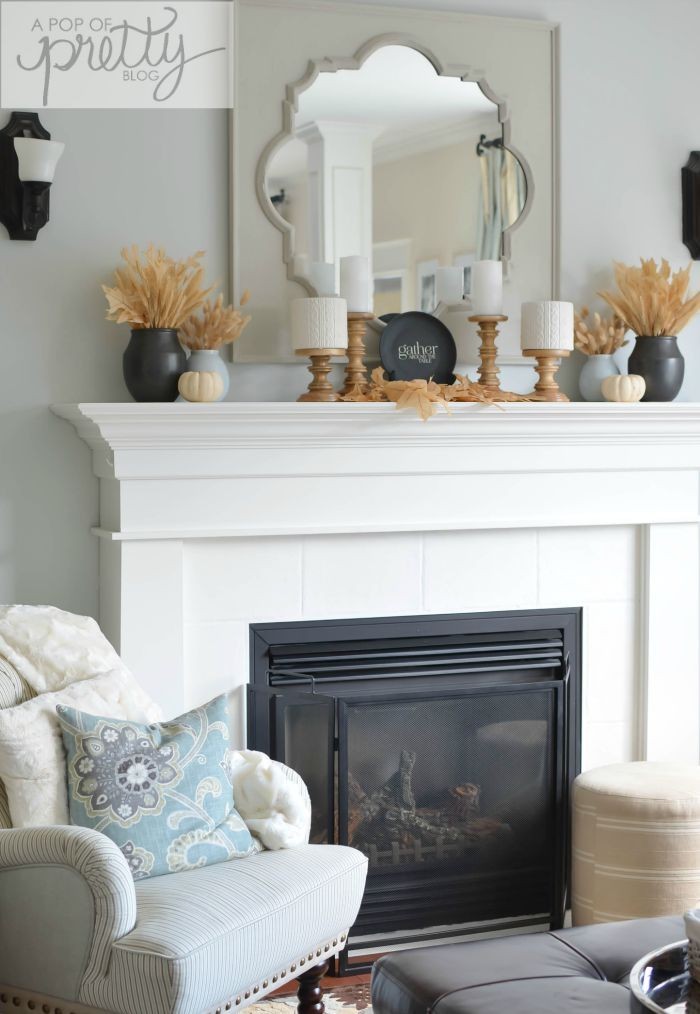 Oh, and then there's this crazy scallywag, Finnigan, who we've had about a year.  I know, he looks so angelic.  Don't be fooled. Looks can be deceiving, lol.
All of that chaos means I've taken a simpler approach to my Fall decorating throughout the rest of my home too.
Instead of buying and storing a tonne of seasonal decor, I've invested in a few key accessories that I can leave out all year, and just easily adapt for the season – things like like candle-sticks, vases and bowls.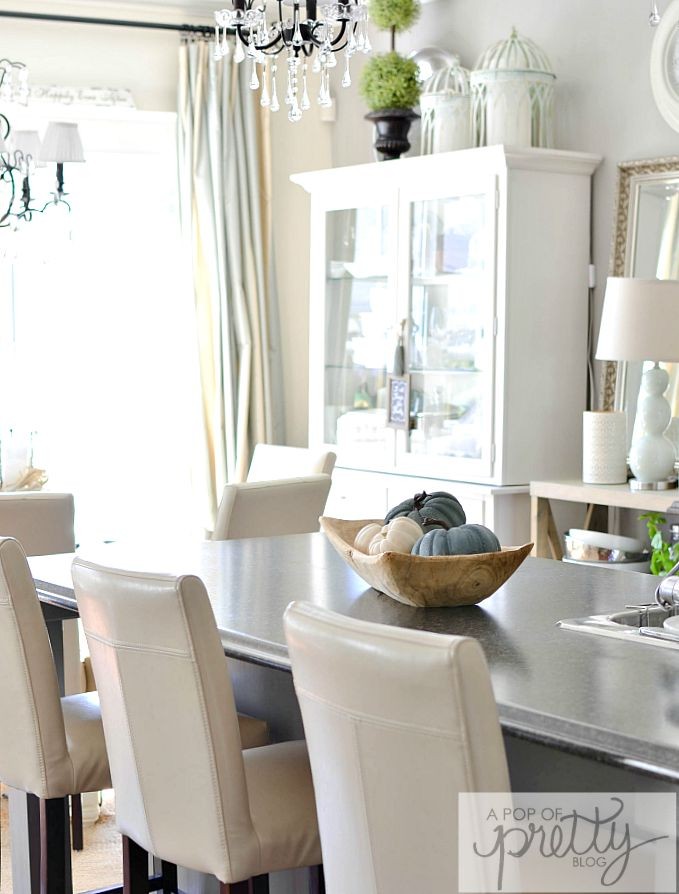 I learned this lesson the hard way, after running out of storage for my seasonal stash, and then donating an SUV-load of rarely used items to charity.  If you bought a seasonal decor item recently at a thrift store, it most likely came from me, lol. You're welcome ;-).
The truth is that you don't have to have mad decorating skills, or pay a lot of money to create a pretty Fall home. Just a few cozy Fall touches are all you really need to make your family crave their fuzzy slippers, and a pot of warm soup, on a cold Autumn evening.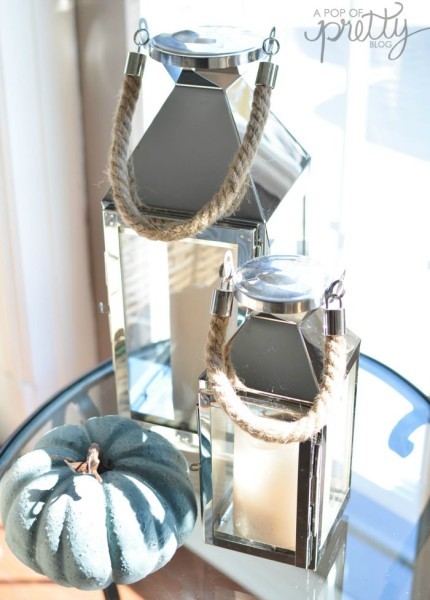 My Favourite Fall Decorating Essentials…
Pillows and throws in warm textures (faux fur, velvet, knits).
Candles – on timers.
Pumpkins.
'Fall'-themed wall art / prints.
Deer head anything.
Fall botanicals.
OK, talk of soup is making me hungry (mmmm).
So let's take a peek at our kitchen, where you'll find some pumpkins and other Fall pretties.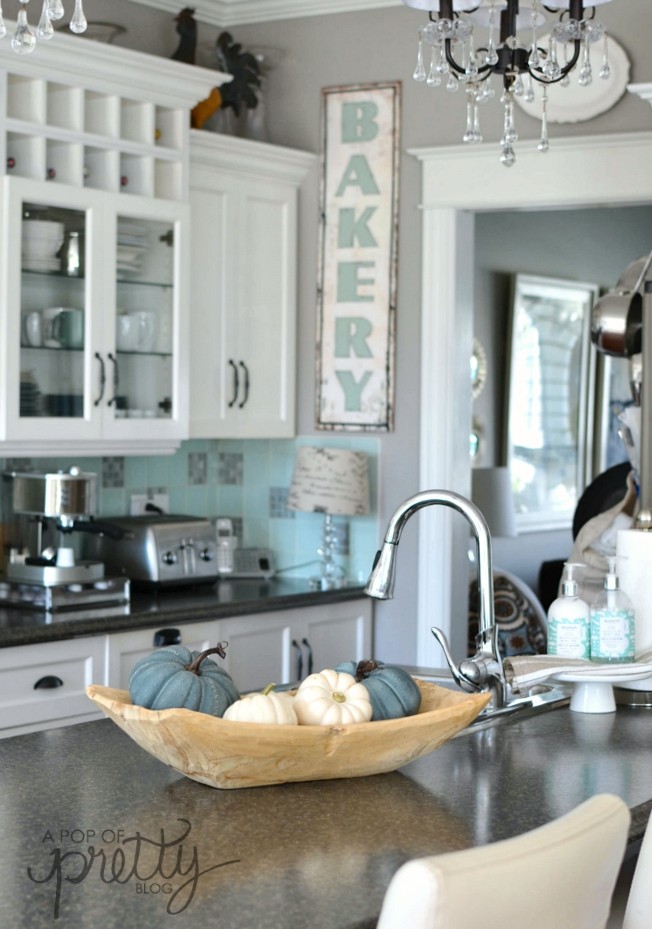 On my kitchen island, I have a rustic wooden bowl filled with white and blue pumpkins. This bowl stays out all year, but it is usually filled with fruit.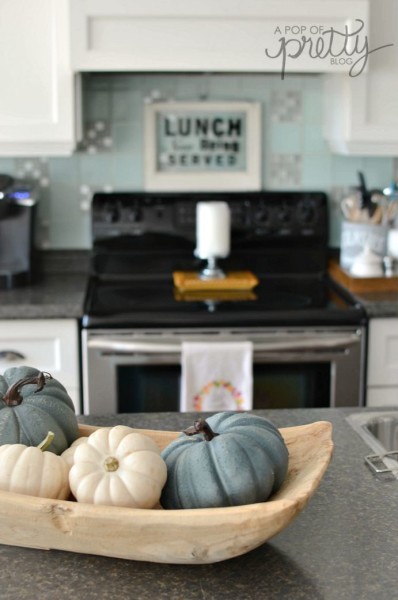 On our dining table, I filled my candle centrepiece with some Fall 'filler' that I've been collecting over the years.  My favourite things in there are those knitted orbs, and the gold acorns.  But you can also add natural items like dried leaves, or even mini-cobs, which I found at our local grocery store.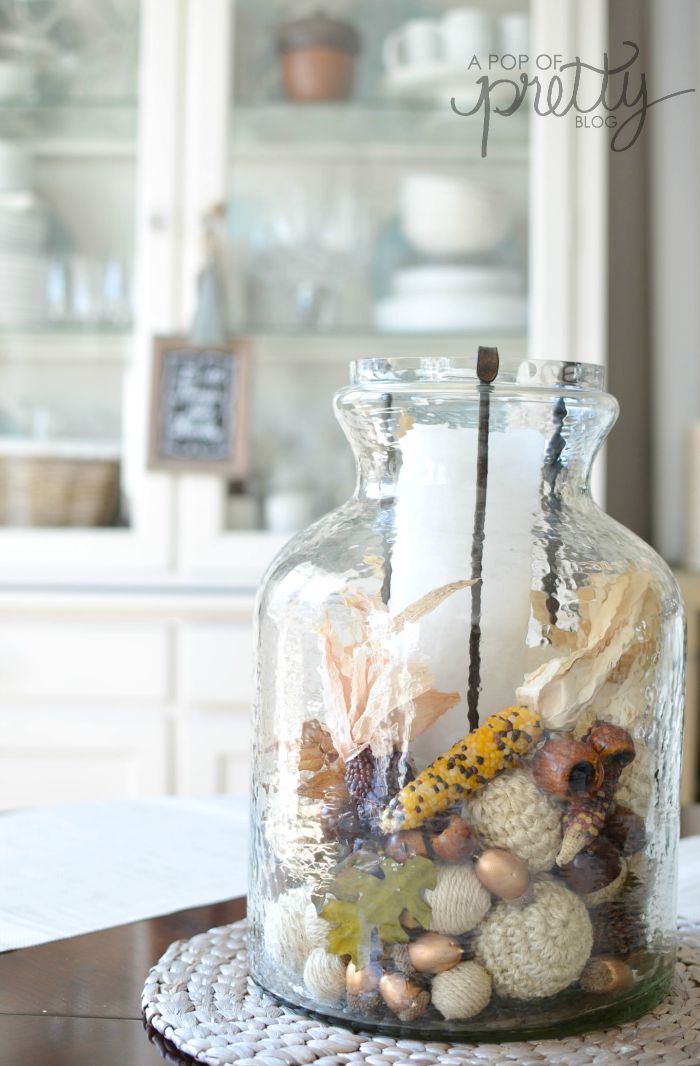 Our hutch has a cute little chalkboard sign that gives a nod to Thanksgiving.  Although, it'll probably stay there all year, as I love the sentiment.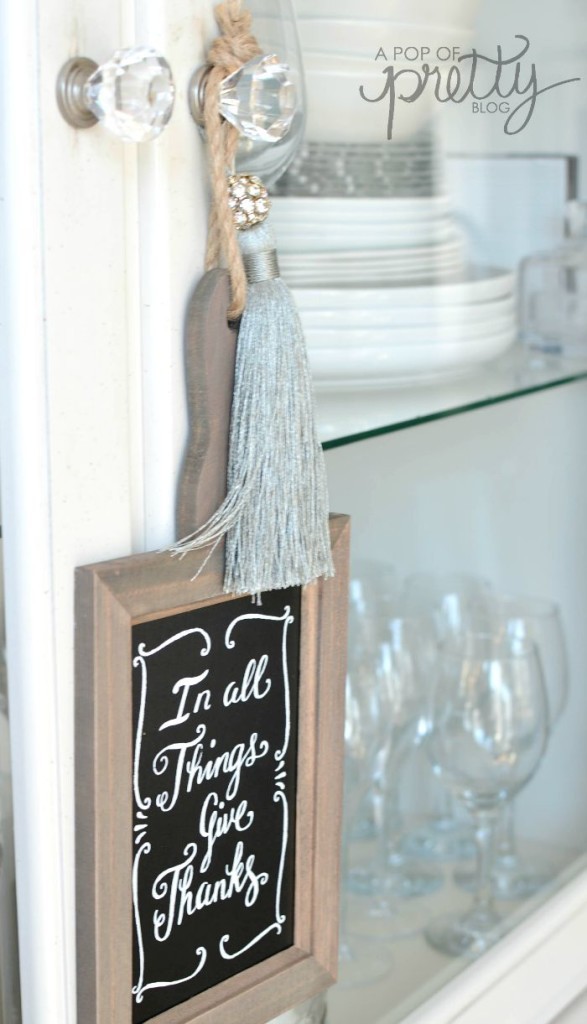 Oh, and I can't forget this cute tea towel. You can find the cutest seasonal tea towels at stores like HomeSense, and they're an affordable way to add Fall flair to your kitchen. This one came in a pack of 2, which is great considering that my kids will have their grimey fingers on it with 24 hours, lol.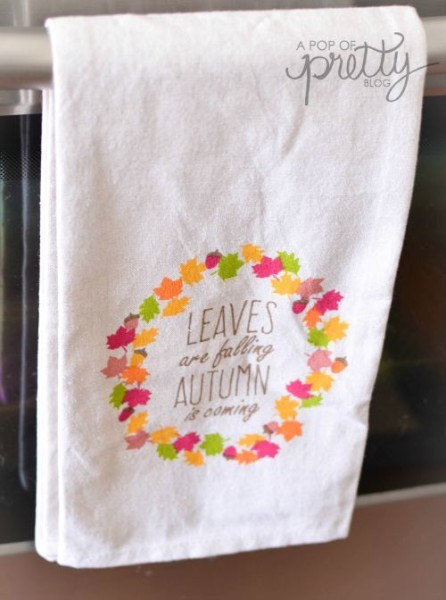 I'm also crazy for candles in the Fall, especially since it gets dark so much earlier.  I added a few glow-y ones (on timers) to the side table next to this chair in our kitchen.  They come on automatically while I am making supper, and, well, they just make me happy.  It's the little things right?
In our piano room, you'll find a just a few simple Fall touches, like cozy throws and pillows, and pumpkins.  I usually switch out a few of my toss pillow covers in the Spring and Fall.  In the colder months, I like richer, warmer textures – like knits, faux fur, and velvet – while in the summer, I stick with cotton and linen.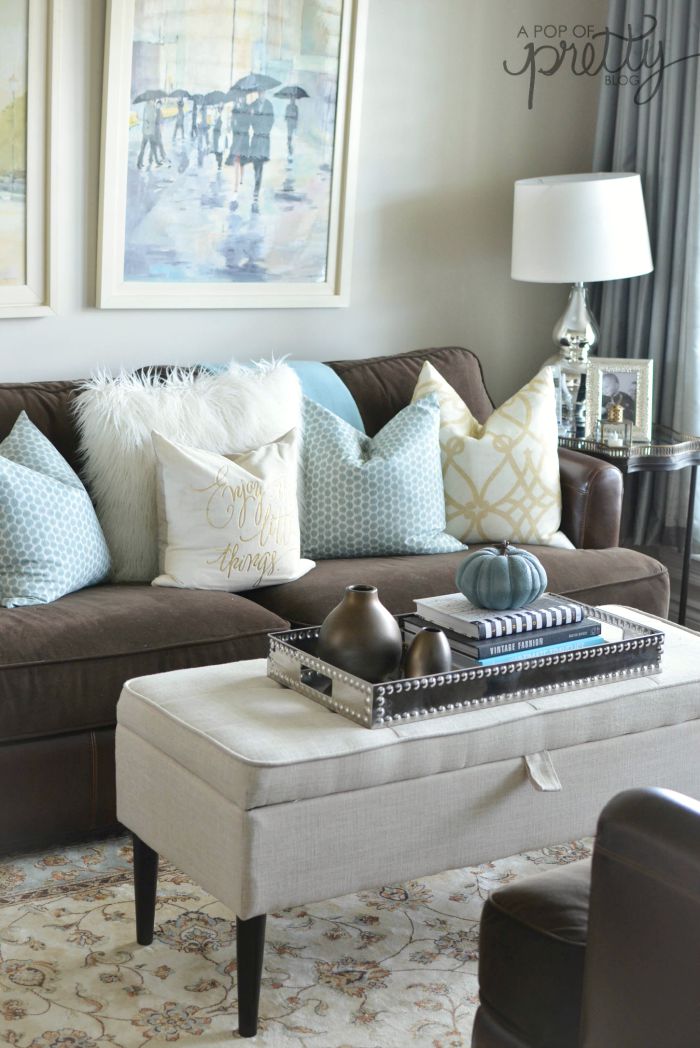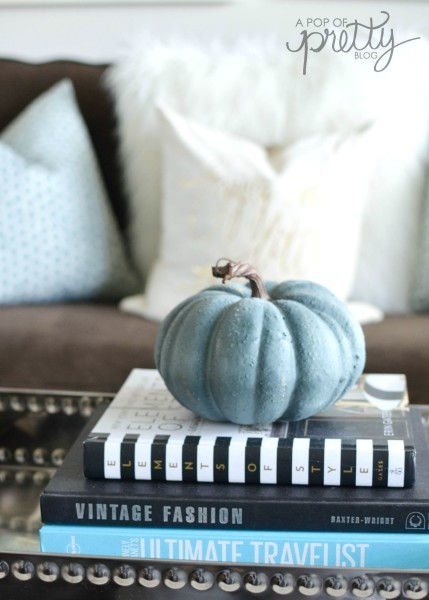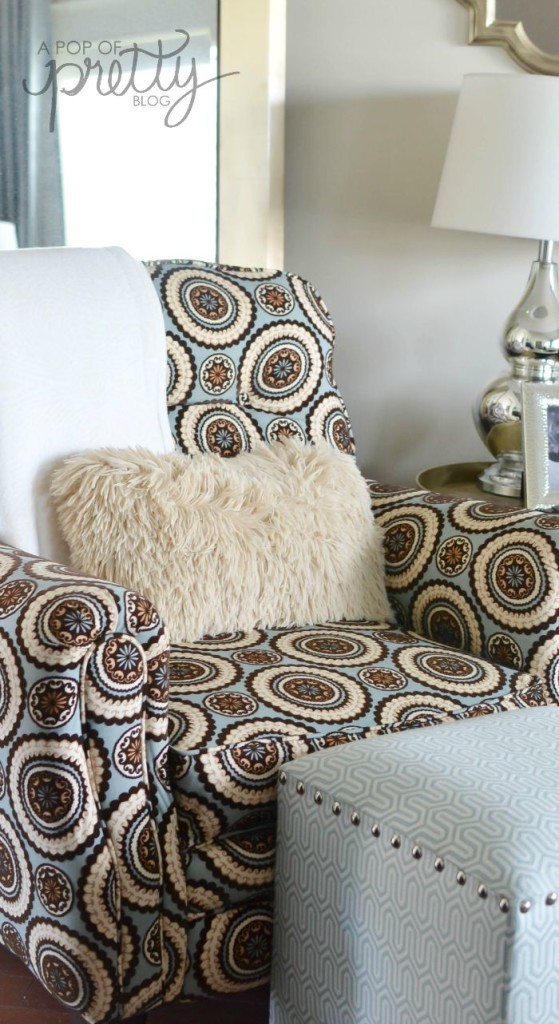 This reed diffuser on our bar cart creates a lovely Fall scent throughout our home, without the worry having a candle burning.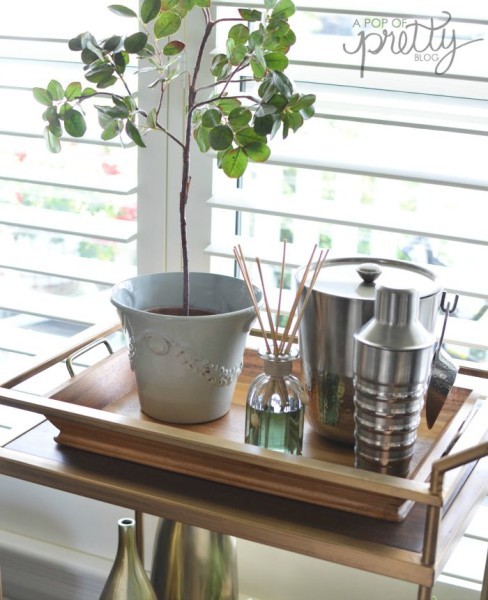 In our main hall/entry-way, I added some Fall botanicals in a large vase.  At other times of the year, this vase has been filled with hydrangeas (Spring) and branches (Christmas).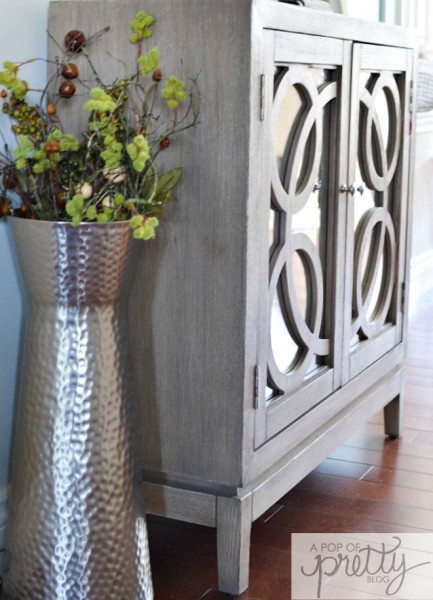 The bench in our foyer gets dressed up for Fall & Winter too, with a warm sheepskin rug.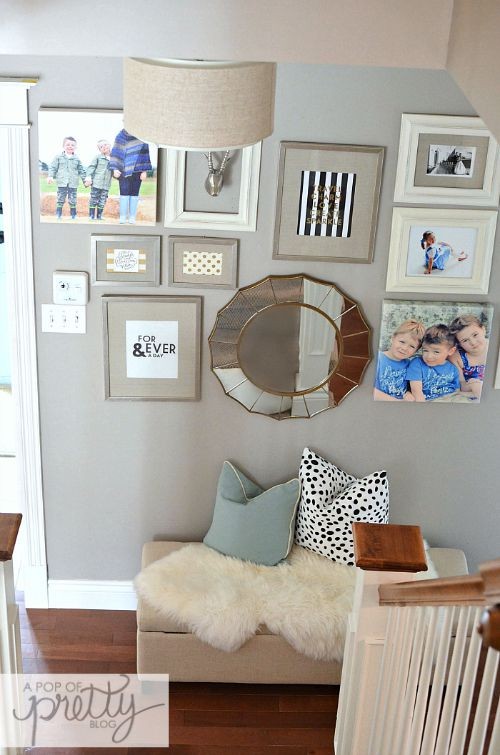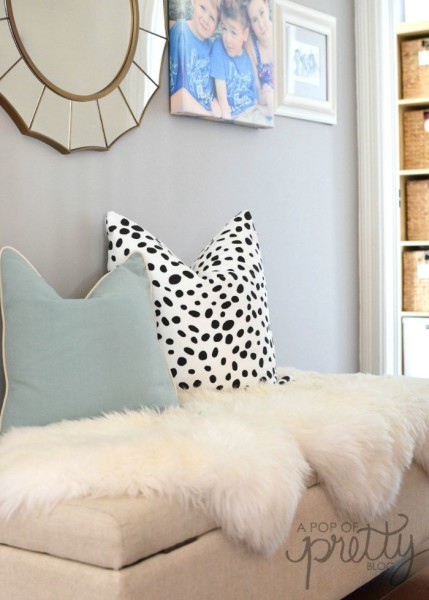 The gallery wall in our foyer also gets changed up a little each season.  I recently added the deer (elk?) head, and this Fall canvas of my 3 kids is one of my faves.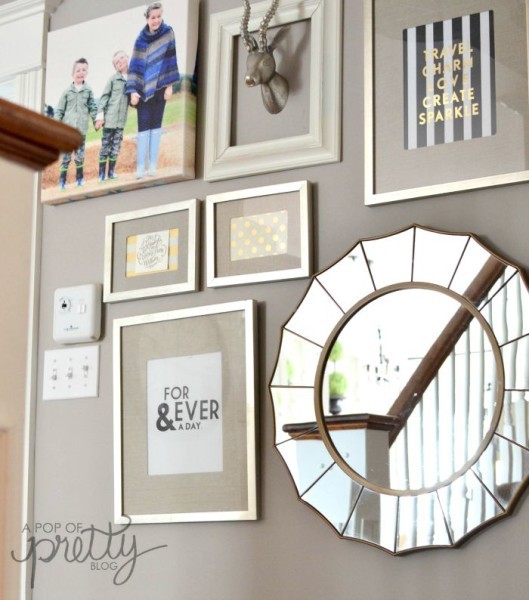 Switching out artwork in frames is such an easy way to create a seasonal mood in your home. You can find gorgeous seasonally-themed prints online (try Etsy).  You can even find some really lovely FREE ones created by bloggers if you search the internet.  I recently added this deer head piece (which I found at Chapters-Indigo) to the gallery wall around our TV.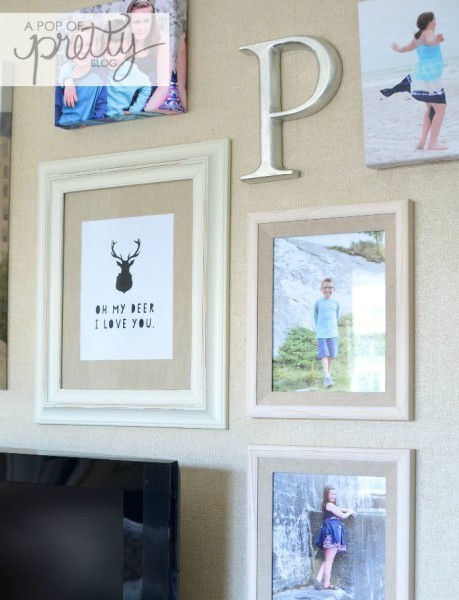 Finally, on the front door, I hung a Fall wreath which I recently made with a simple grapevine wreath. I added some of the Fall sprigs and botanicals I've used in my decorating in other years, and finished it off with a cute Fall chalkboard sign that reminds me of Starbucks (mmmm).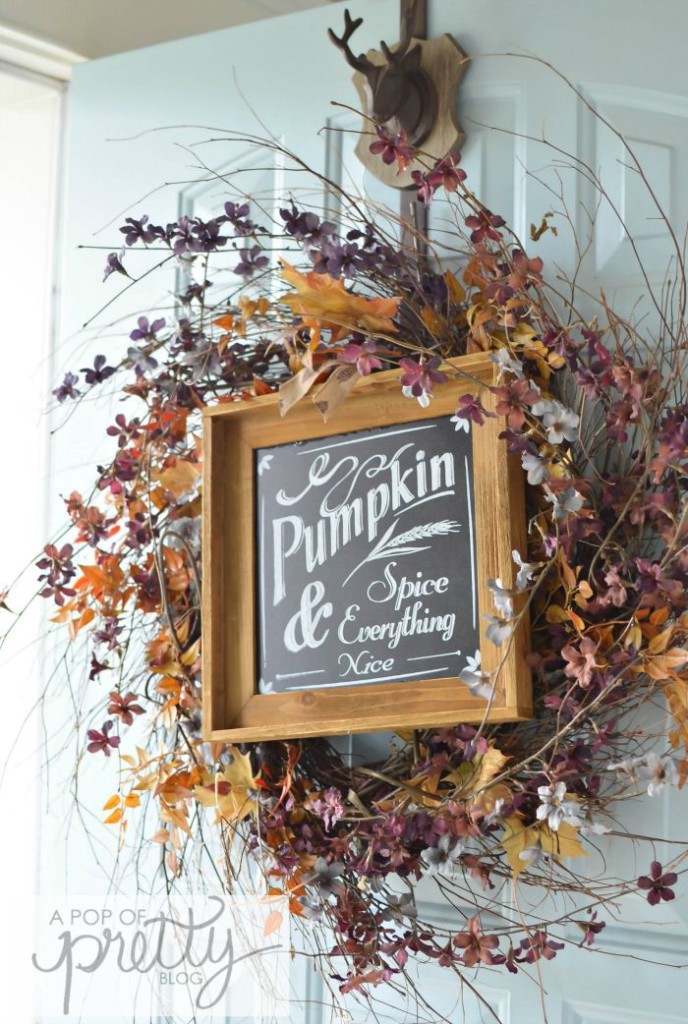 I also added some Fall mums to the front step; they always brighten everything up when our summer planters stop blooming.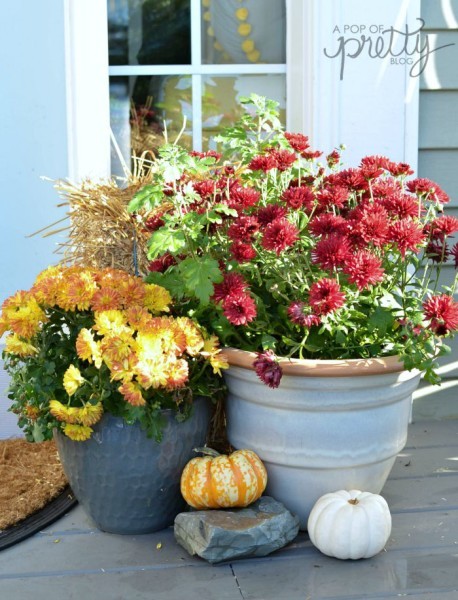 And….that's it!
See?  I haven't done anything overly fancy – just a few cozy touches throughout.
Now it's my favourite part – it's time to tour some other Canadian homes all decked out for Fall!  Today, Tuesday and Wednesday, you'll find lots of Canadian autumn decor inspiration at these other talented bloggers' homes.
Canadian Bloggers Home Tours: Fall 2015
Monday, September 28
Tuesday, September 29
Wednesday, September 30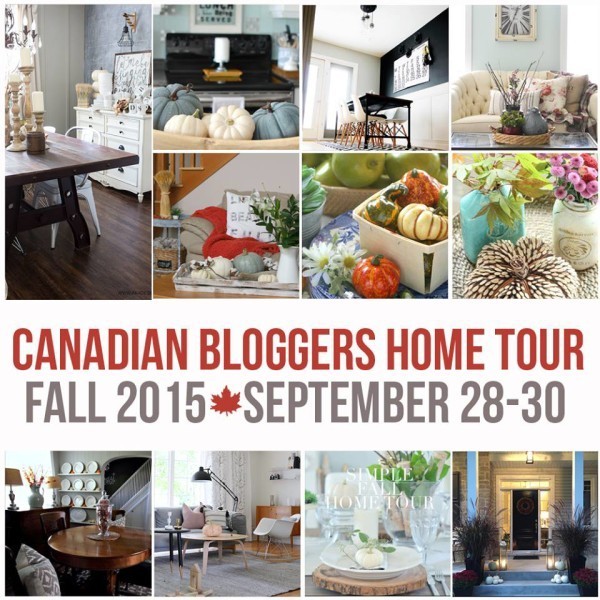 I hope you enjoyed our Fall home tour, and that you'll join us over the next few days for the Canadian Bloggers Home Tours!
Until next time, Mr. Finnigan says to grab yourself a fuzzy throw and a PSL (aka: pumpkin spice latte), and enjoy the tours :-).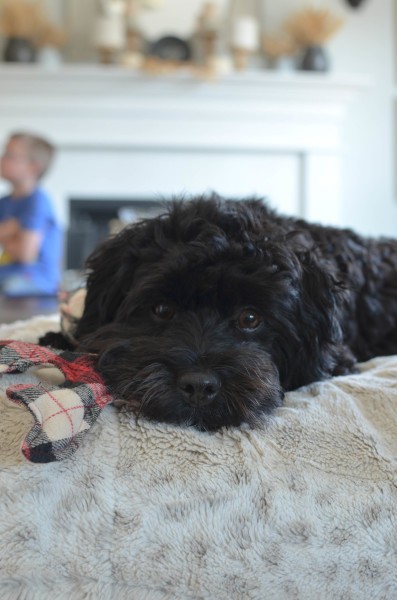 Kerri xo