This post was most recently updated on November 11th, 2021
In this article: I'm sharing a little tour of the simple, rustic Christmas decor at our cottage. See how I used woodsy and rustic Christmas decorations, including lots galvanized metal and white washed wood, to create a cozy retreat for the holidays. You can easily create a warm and inviting coastal farmhouse vibe with my Christmas decorating tips and ideas.
Hello, friends! Are you decked out for the holidays yet? As usual, I've enjoyed every second of decorating our home and cottage for Christmas. Decorating for the holidays is pure joy for me! I love the creative process just as much as the end result. (And, maybe even a little more!) Today, I'm sharing how I used rustic Christmas decorations to create a simple, coastal farmhouse vibe at our cottage in case you're still looking for Christmas decorating inspiration. (Or maybe, like me, you're all done, but love seeing how others decorate for the holidays!)
Coastal Farmhouse Vibe with Rustic Christmas Decorations
I love how this woodsy home gives me the chance to play with rustic Christmas decor. At home (in the city), my Christmas decorating is a little more glam, with lots of sparkle and shiny glass ornaments. But, this place is our simple and cozy retreat year round. I didn't want to mess with that vibe with a bunch of extra stuff at Christmas.
So, I used simple, rustic Christmas decorations to complement the space, not distract from it. Last year, I decorated this space with rustic Christmas decorations too, but I used a lot of red throughout the house. I really loved that cozy look (you can see it here: Cozy Lakehouse Vibe for Christmas), but the colour was a bit jarring in a space.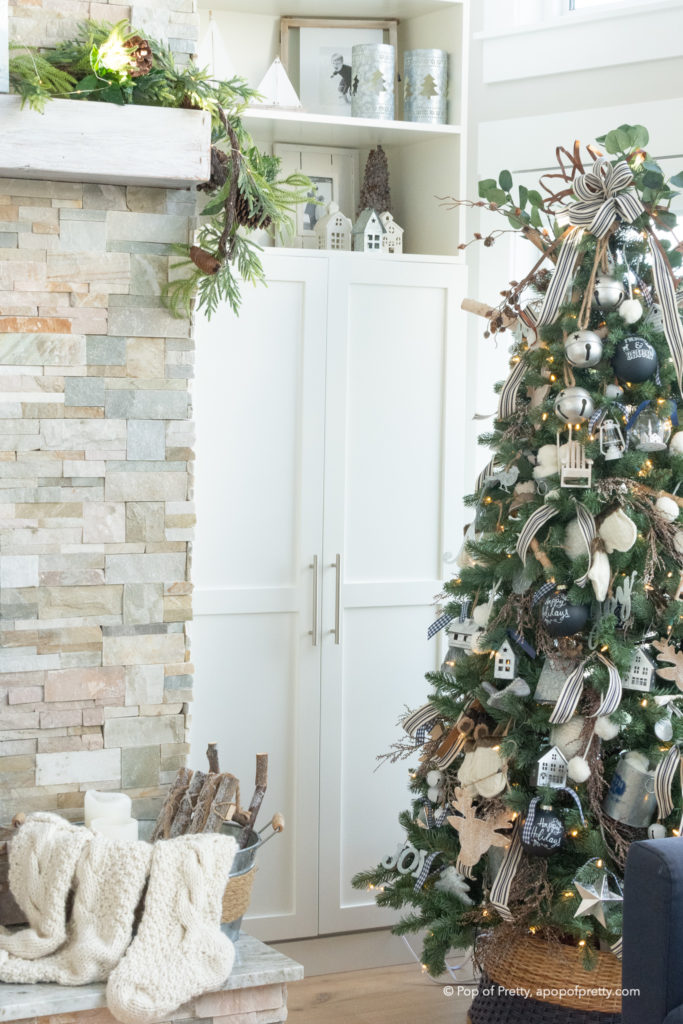 So, this year, I decided to try a more neutral look. I scaled back on the red, and used a lot of galvanized metal and whitewashed wood decorations. On our rustic Christmas tree (I'll share a closer look later this week), I opted for some navy blue accents instead, like a farmhouse striped ribbon.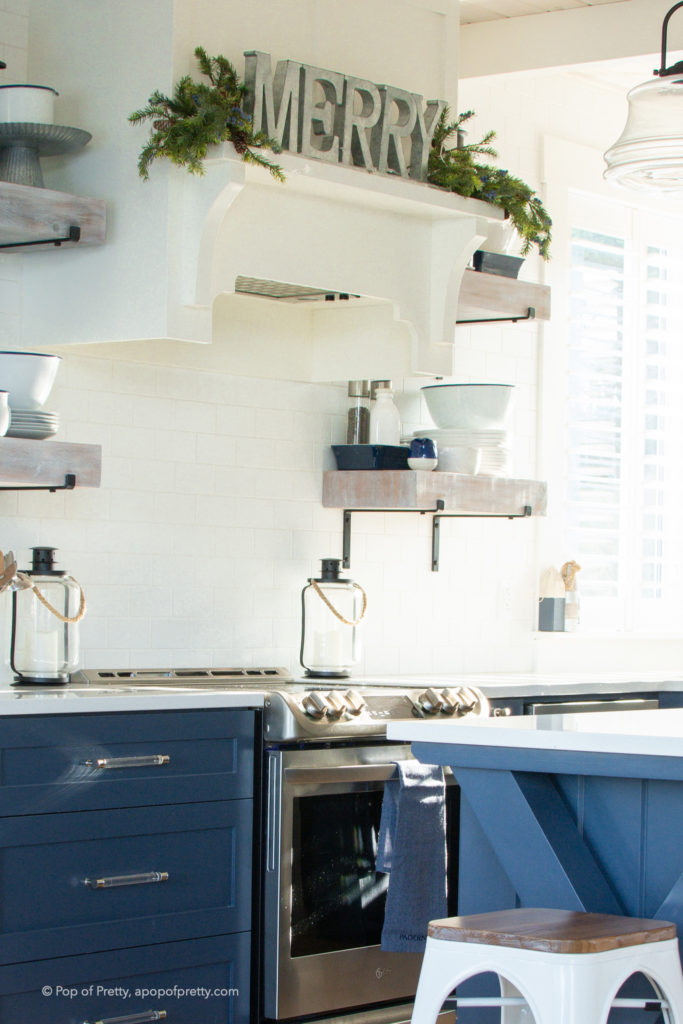 Neutral, Rustic Christmas Decor
I still used some red in my Christmas decorating because what would Christmas be without a little bit of it? And, I took all of my red rustic Christmas decor and created a super cozy and festive mood in our basement TV room, which I'll share a little later this week! If you follow me over on Instagram, you might have already had a peek at the space.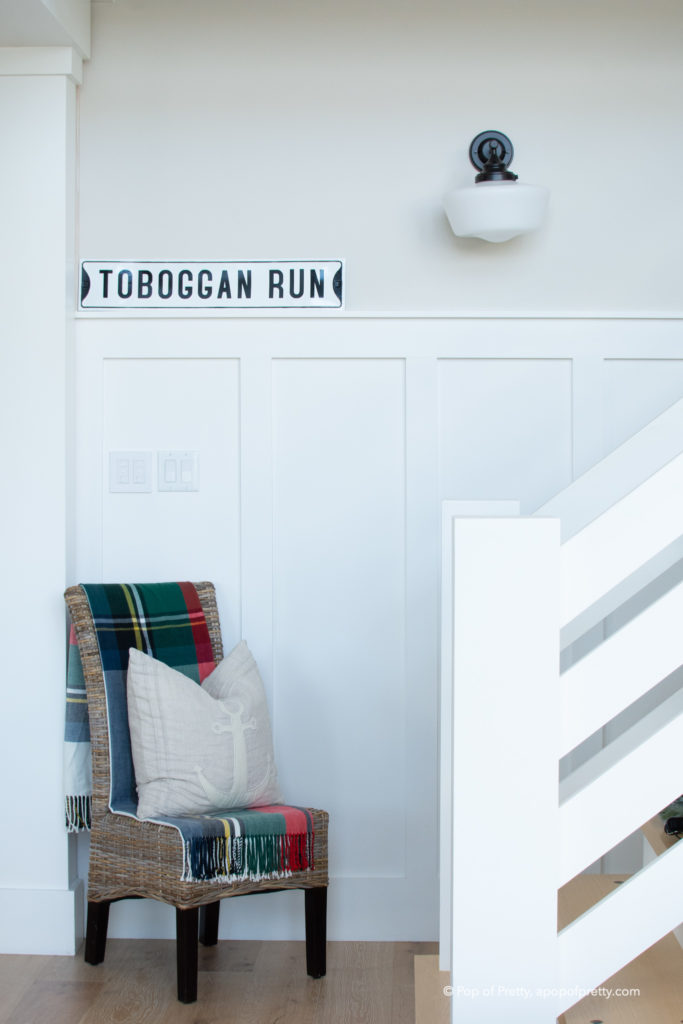 These plaid throws add just enough colour to the space, without feeling too overwhelming. In our small mudroom area, the plaid creates a festive welcome.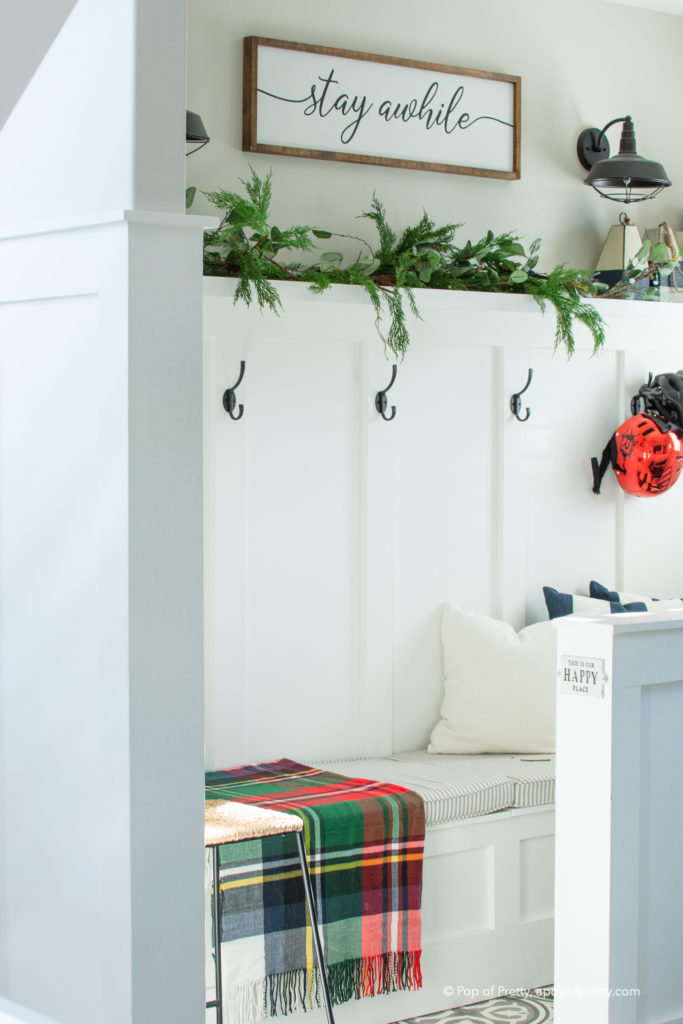 Two Tips: How Rustic Christmas Decor Can Still Feel Cozy
I'm so happy that this space still feels cozy even though the the look is woodsy, and without much colour. I relied a lot on the texture in my rustic Christmas decorations to create interest. But also, I found that there were two tricks to creating this feeling when using rustic Christmas decor.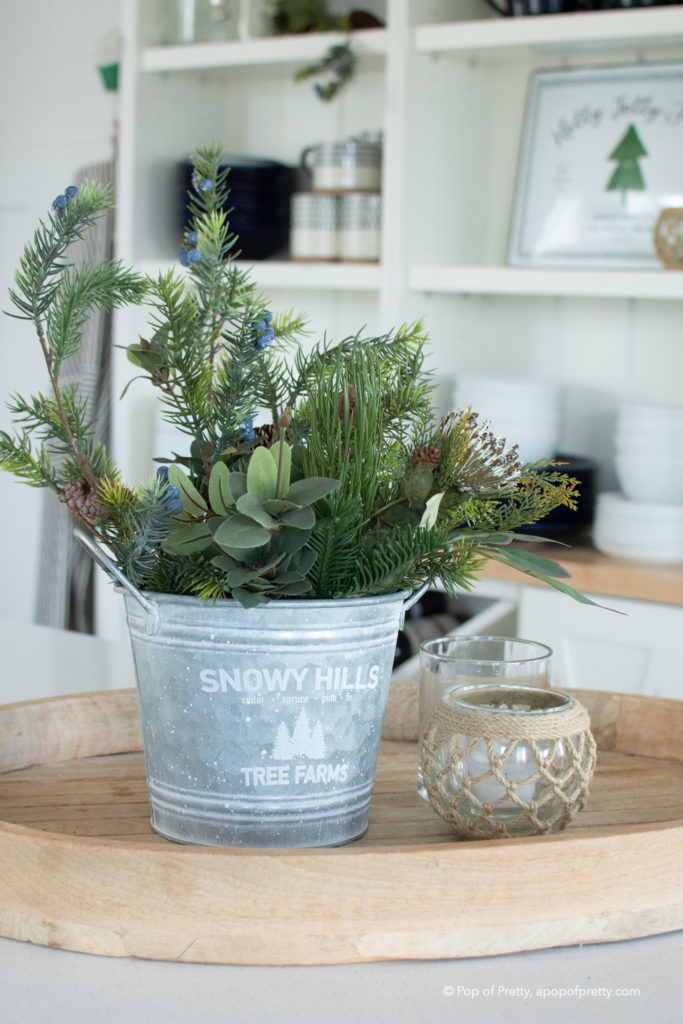 Tip #1: Use Lots of Soft Textures
Let's just say that there's never a shortage of soft throws and toss pillows in this space, haha. But, to create a warm feeling with rustic Christmas decor, I added a few extras around the room.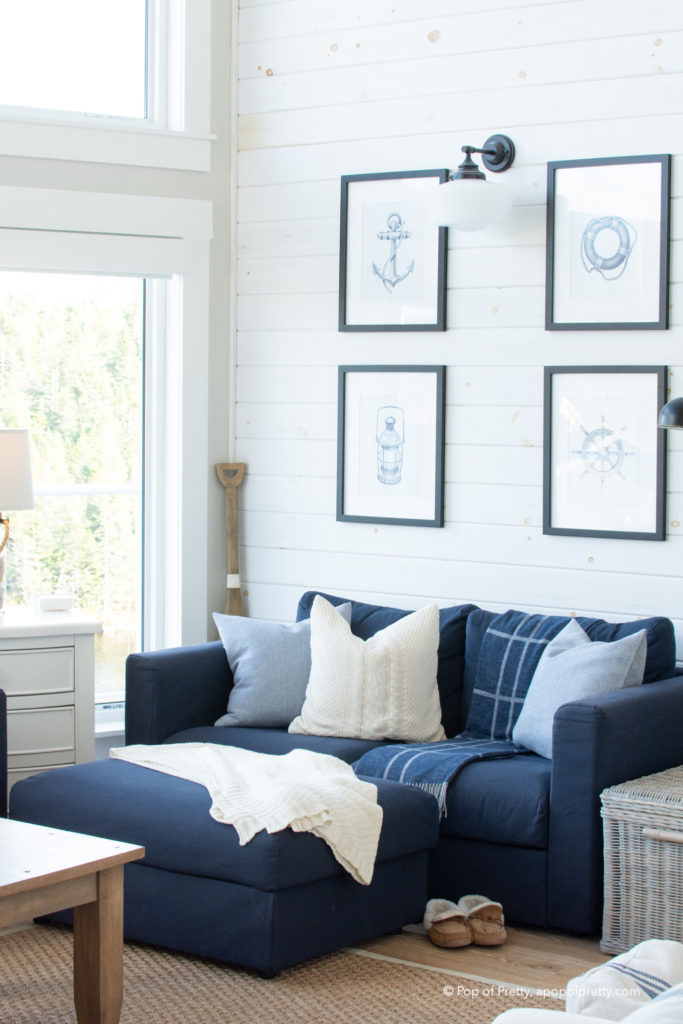 The knit pillows also add a home-y vibe to the space. And, they also remind me of my sweet Nan who always knit us the prettiest cable knit sweaters. I also added a faux sheepskin rug to to the back of our IKEA sofa to soften up the look.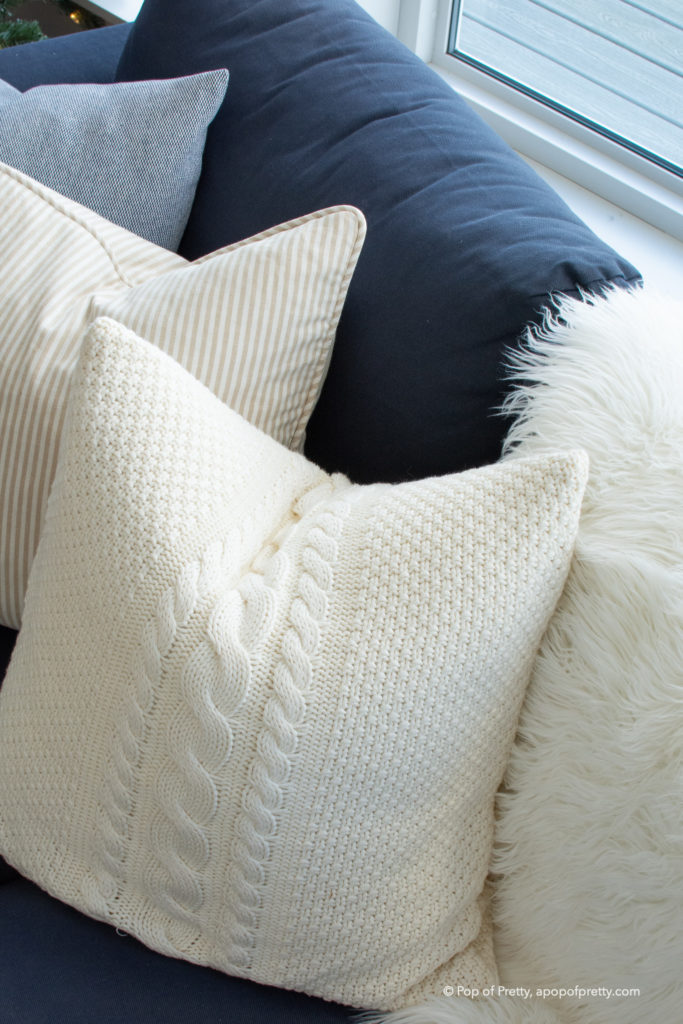 I'm a big fan of cable knit anything! Even the kids' stockings have this handmade vibe.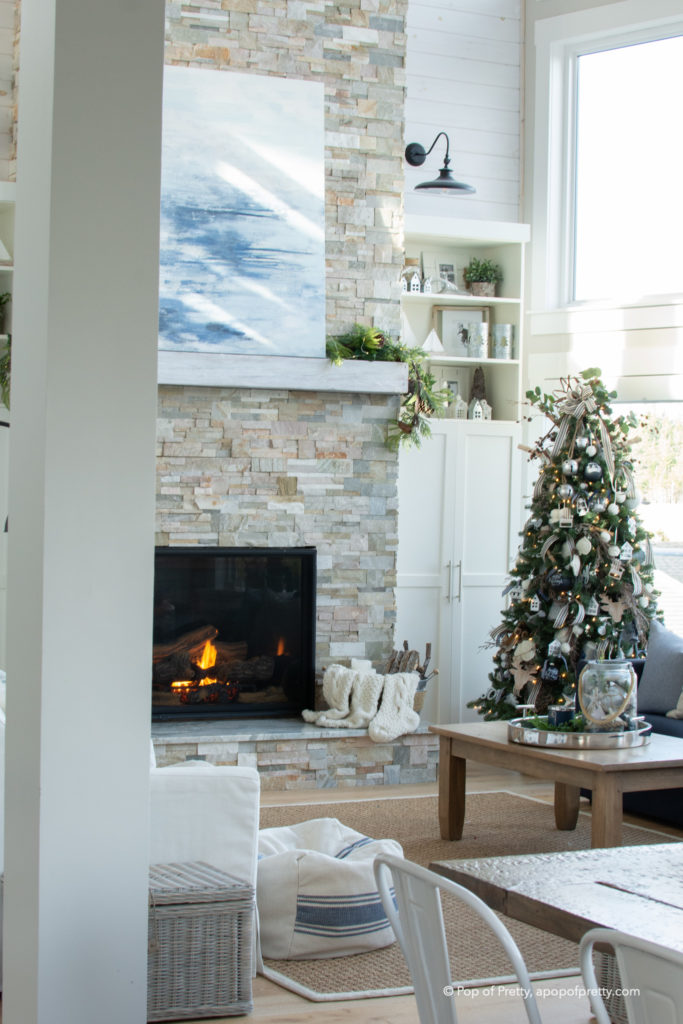 Instead of hanging them on the mantel which is a little too narrow, I threw them into this galvanized metal bin, along with some other rustic Christmas decorations like a sweet sled made of wooden logs.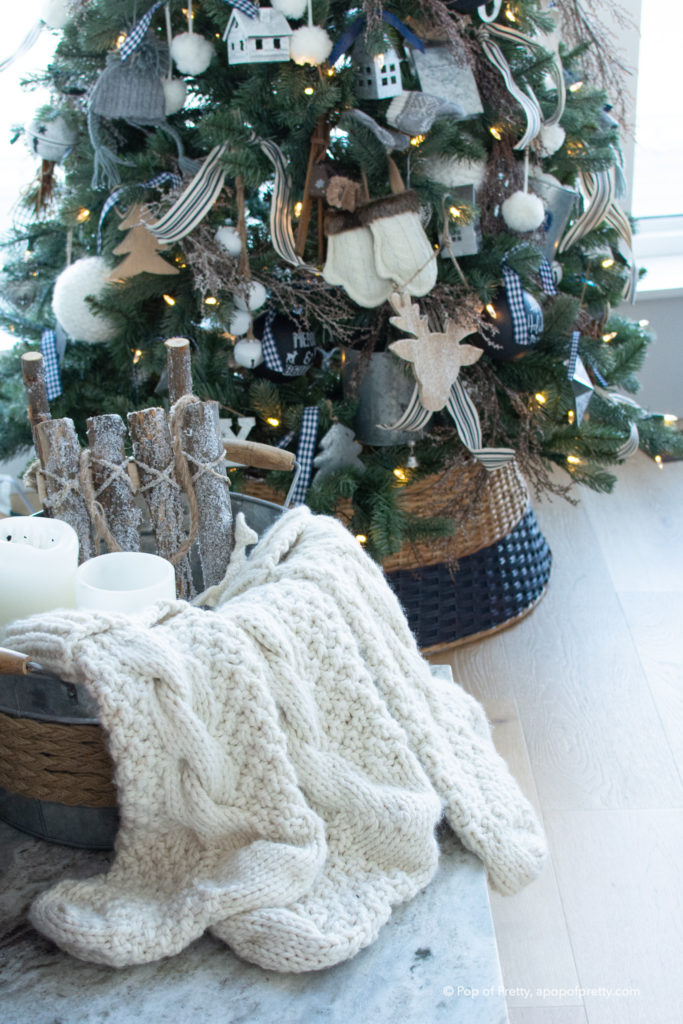 Tip #2: Add Lots of Greenery
In addition to our rustic Christmas tree (which I'll share more of this week), I used a cedar garland with fairy lights on the mantel, and added pops of greenery to our fireplace built in shelves. Greenery helped to warm up the shelves that I decorated mostly with rustic Christmas decorations like nordic houses, and metal accents like lanterns and bins.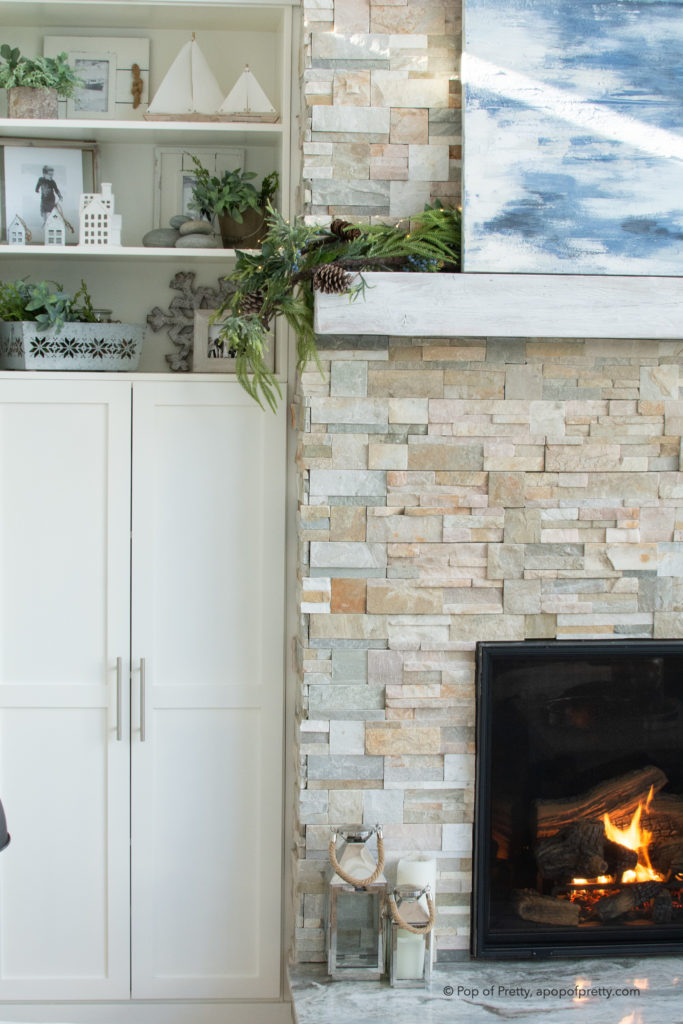 I also used greenery on other surfaces in the room, like our coffee and end tables.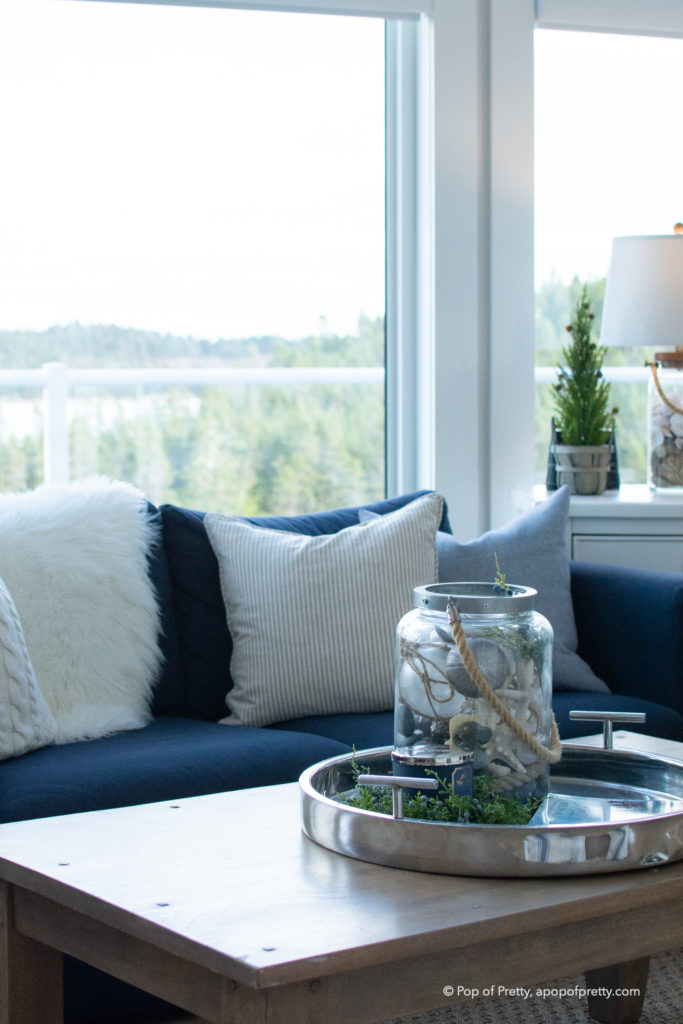 I'm slightly addicted to mini Christmas trees this time of year lol. so you'll find lots of them in my Christmas decorating.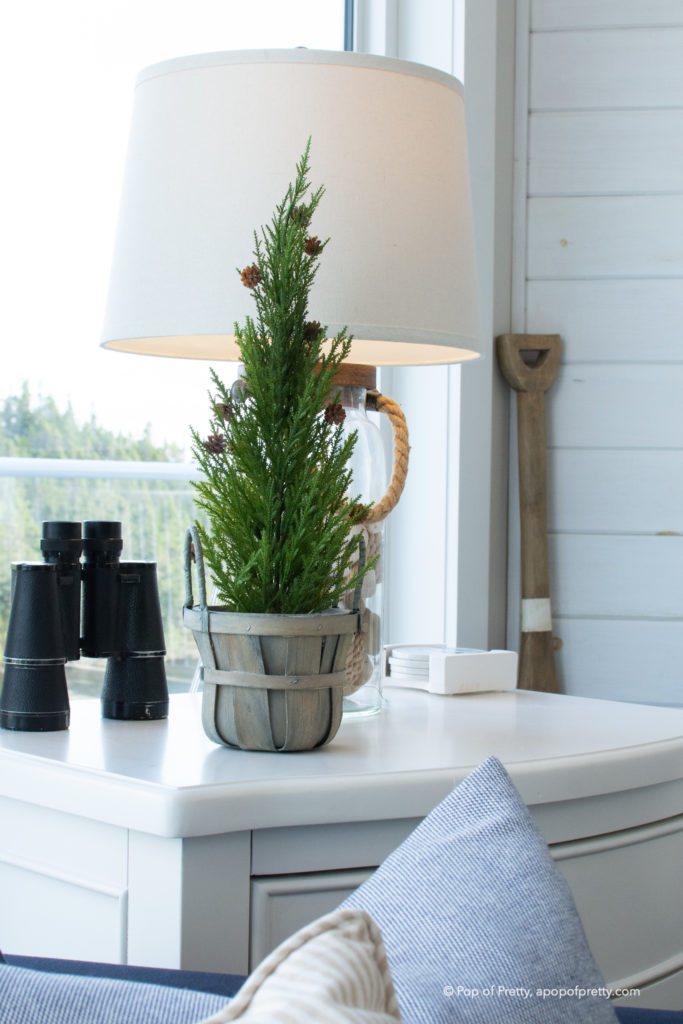 This glass hurricane is on the coffee table year round, but it feels a little more Christmas-y with some cedar sprigs.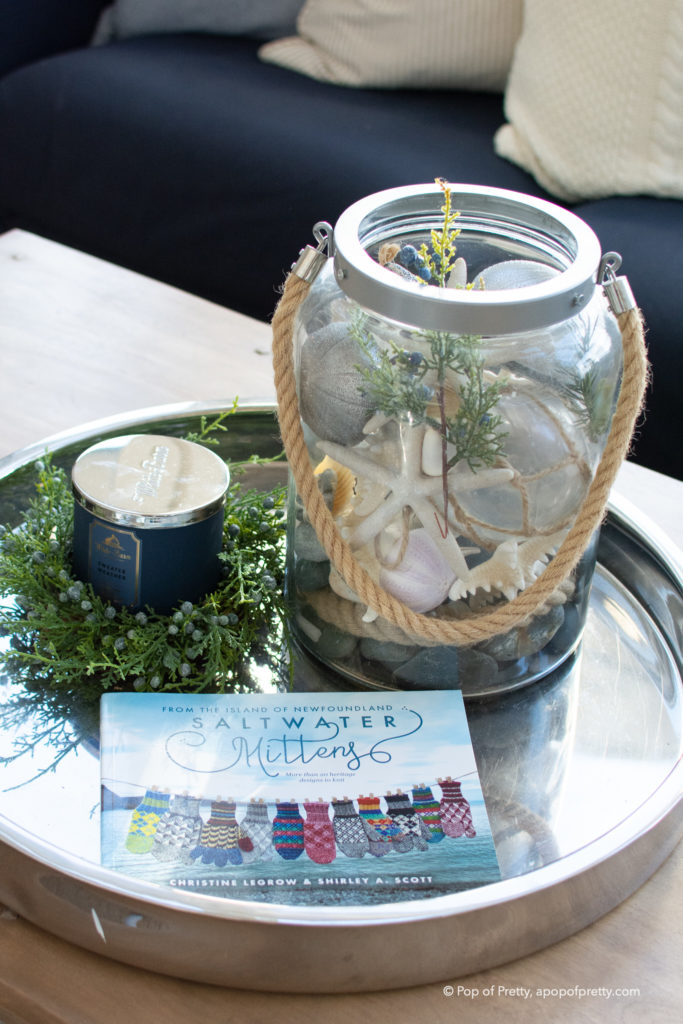 Rustic Christmas Kitchen Decor
In the kitchen, I didn't add too much. I love a festive Christmas kitchen, but it can feel a little too cozy when you have three kids (and friends) under your feet 24/7! On the range hood, I used a big rustic, metal MERRRY sign, with a cedar garland and fairy lights.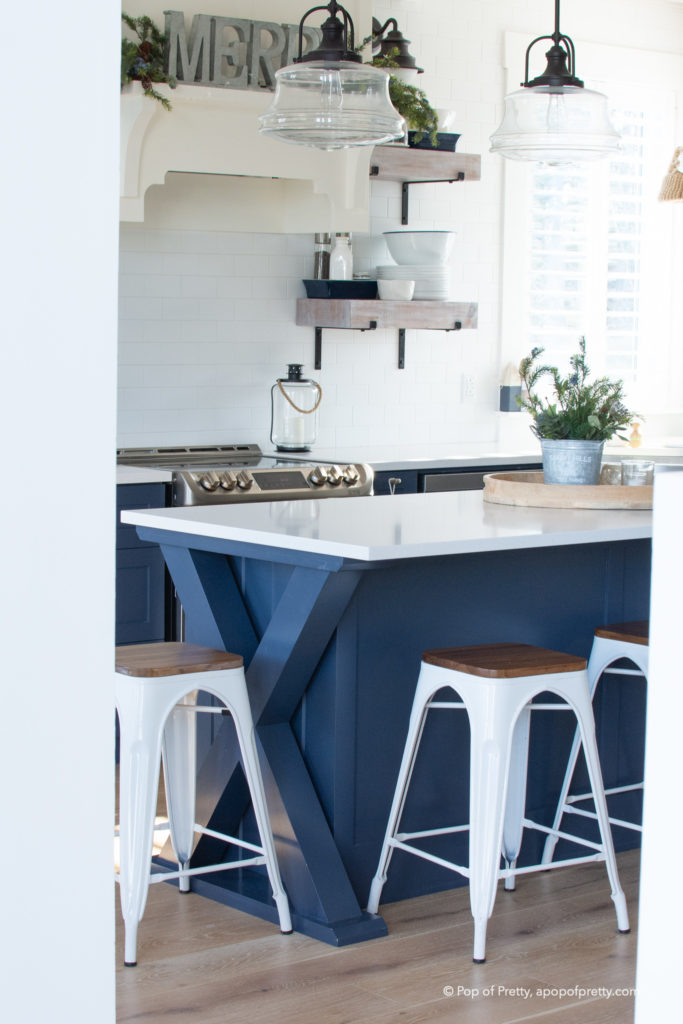 You'll also find some simple, rustic Christmas decorations on the open shelves, and some boughs in a metal pot on the kitchen island.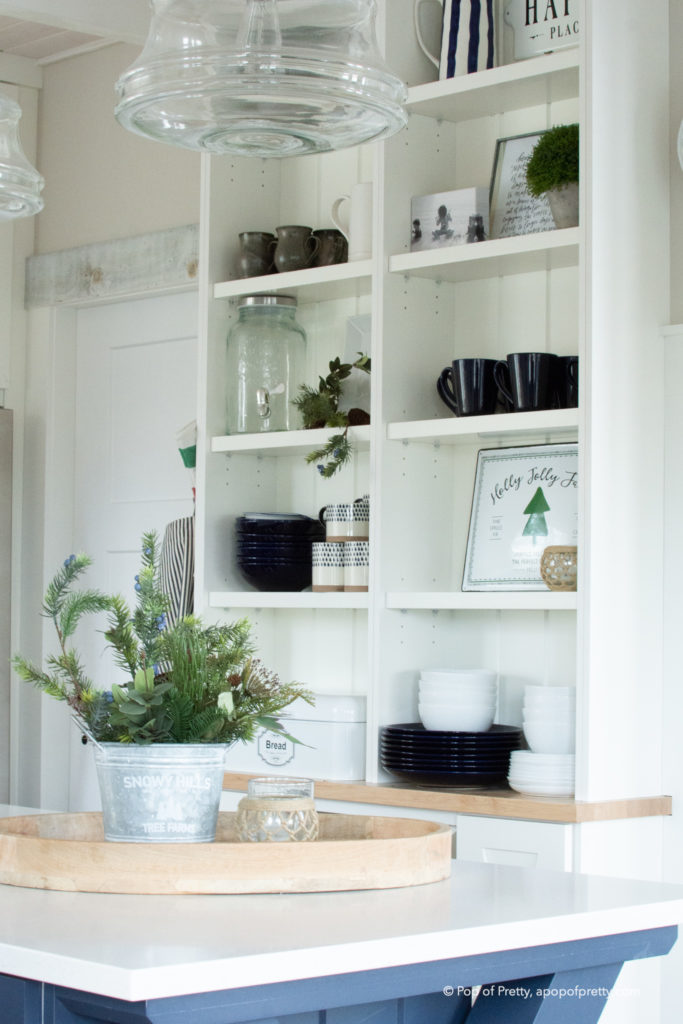 These open shelves are always fun to change up during the seasons. I always leave a little space for seasonal decor like this metal Christmas tree farm sign.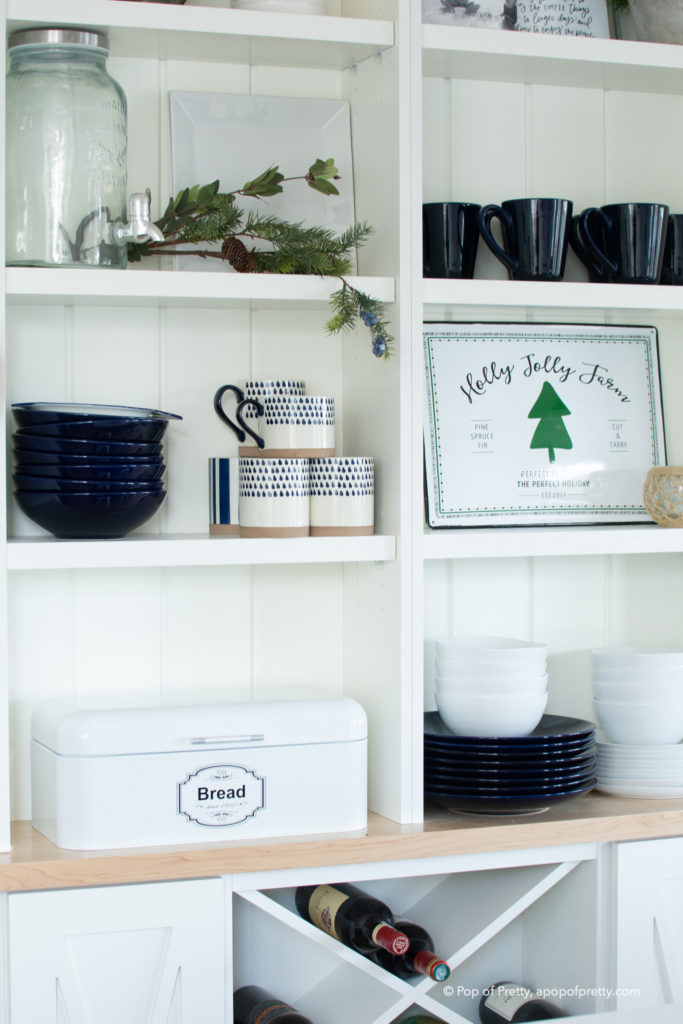 On our dining table, I just added a candle in a simple glass hurricane with some woodsy finds, like pine cones and cedar branches. While I love beautiful table settings, I'm all about an easy (ahem lazy) pace in this home. I didn't want a bunch of stuff on the table that needs to be pushed out of the way in order to eat. Ease of eating is always a top priority during the holidays, lol.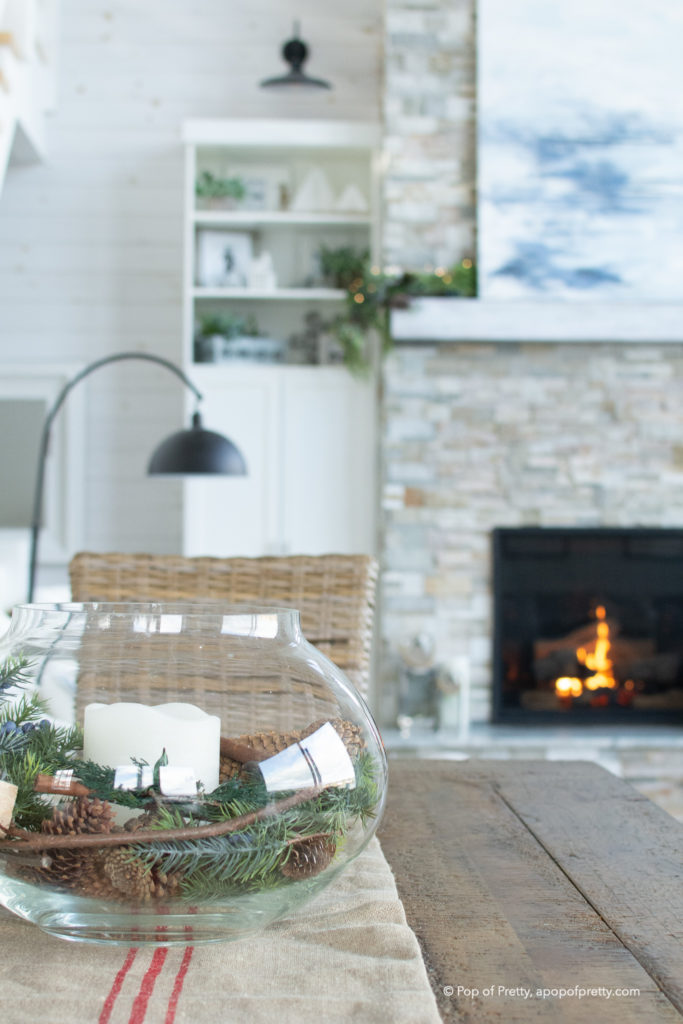 Looking for more Christmas decor ideas?
Are you looking for more Christmas decor ideas or theme inspiration? You might like one of these Christmas posts:
Our Cabin-Themed Christmas Tree
White Christmas Theme Decor Tips + Ideas (Home Tour)
Navy Blue Christmas Decor Ideas (Home Tour)
Winter Wonderland Christmas Decorating Theme (Home Tour)
Red Plaid Christmas Decor: Cozy Tour
What Goes on Christmas Tree First?
How Much Ribbon for Christmas Tree? (+ All Things Ribbon!)
How to Put Ribbon on a Christmas Tree
I hope you enjoyed this little tour of our rustic Christmas decor. Pop back this week for a closer look at our rustic Christmas tree in this space, as well as our red, festive TV room.
Until next time,
K.