This post was most recently updated on September 22nd, 2019
I love coming up with new Easter decorating ideas.  But sometimes, what you imagined in your head when you started a project, ends up being a whole lot different in reality.  Sometimes 'different' means it ends up prettier than you imagined. Those projects are the best, aren't they?!? But, sometimes, 'different' can mean that it doesn't quite live up to your vision. 😉
.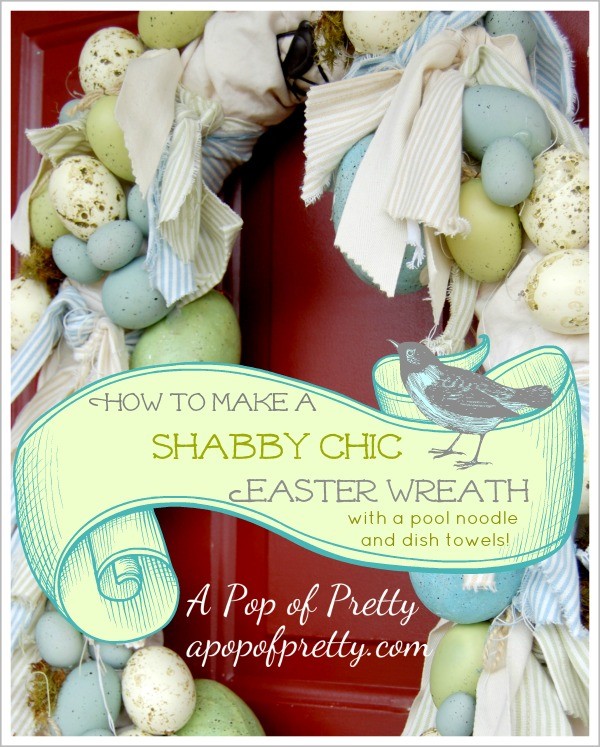 .
Like, for instance, this Easter wreath I made for my front door this year. It was  prettier in my head. I imagined a perfectly imperfect kind of wreath made of tattered and torn materials that a spring bird might collect to build its nest. Shabby chic, in all its glory. I wasn't totally satisfied with where I ended up.  It was a little more shabby than chic! But I thought I'd share this Easter decorating idea with you guys anyway because being crafty is all about experimenting, yes?
.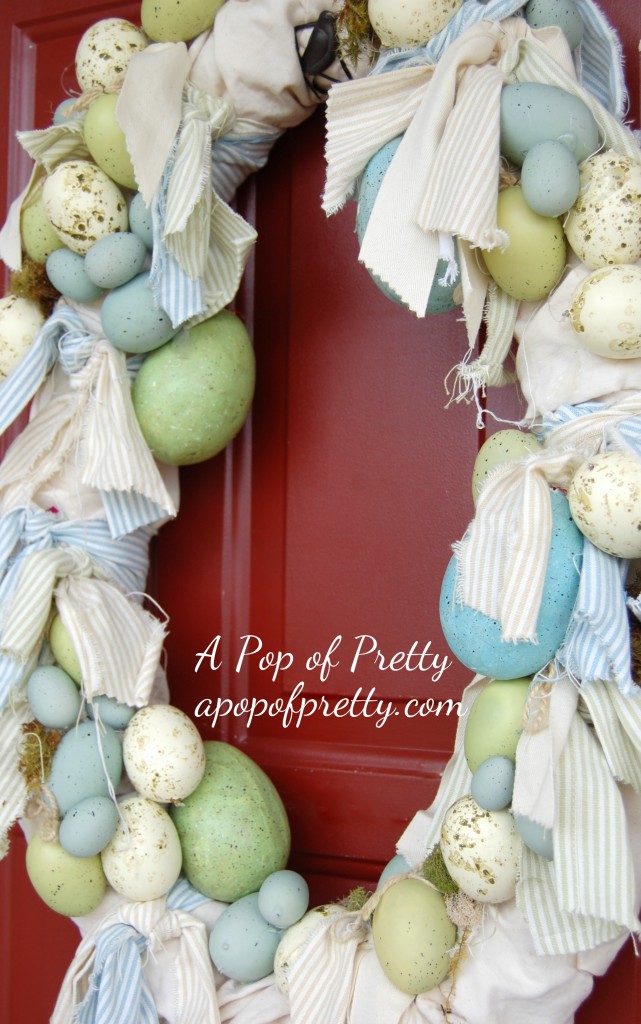 .
To get that 'shabby chic' look, I wrapped my 'wreath form' – actually a $2 pool noodle bent into an egg-shaped oval – with some washed/softened drop cloth.  Yup, the very same stuff that you buy at the paint store…and the same stuff that's been made famous by other decor bloggers who've made Pottery Barn-worthy sofa slip covers with it – truly amazing!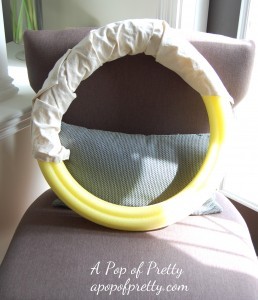 Next, I hand-tore a number of striped/ticking dish towels (un-used, just thought I'd add that in, lol) into strips so that they had tattered edges, and knotted the strips randomly around the wreath form.  It was really that easy. I trimmed off the really shabby edges with pinking shears.  I then glue-gunned on the freckled blue, green and cream Easter eggs, and I also added a bit of moss here and there.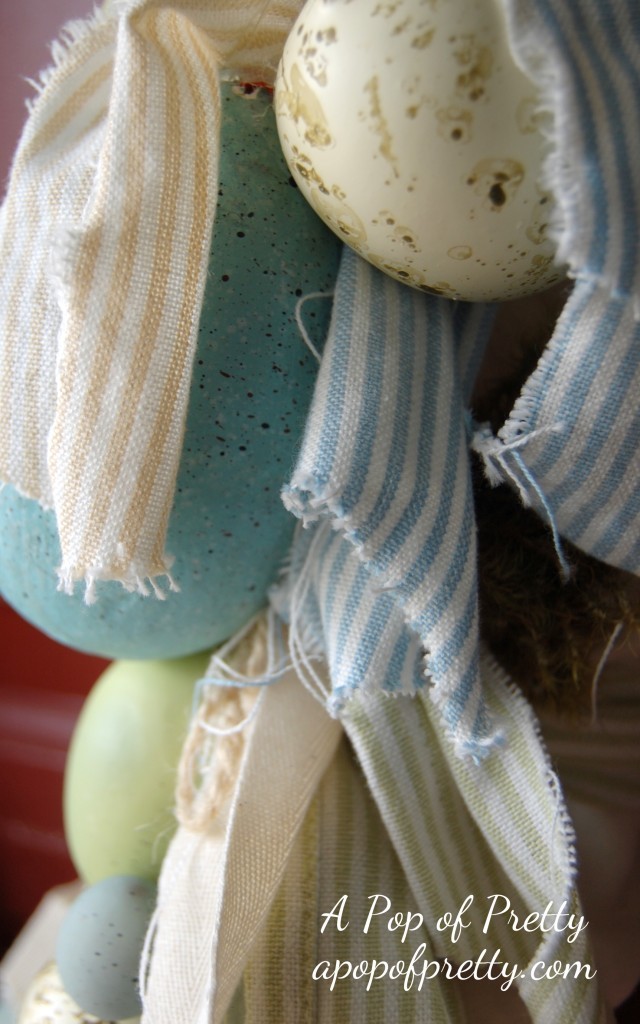 I think it needs a little more of something (perhaps twigs)…or maybe a little less of something (perhaps eggs). I  probably could have gotten it in better shape if I kept at it, but with 3 kids tugging me in 3 other directions, there's only so much time that mommy can devote to indulging in Easter decorating and crafts!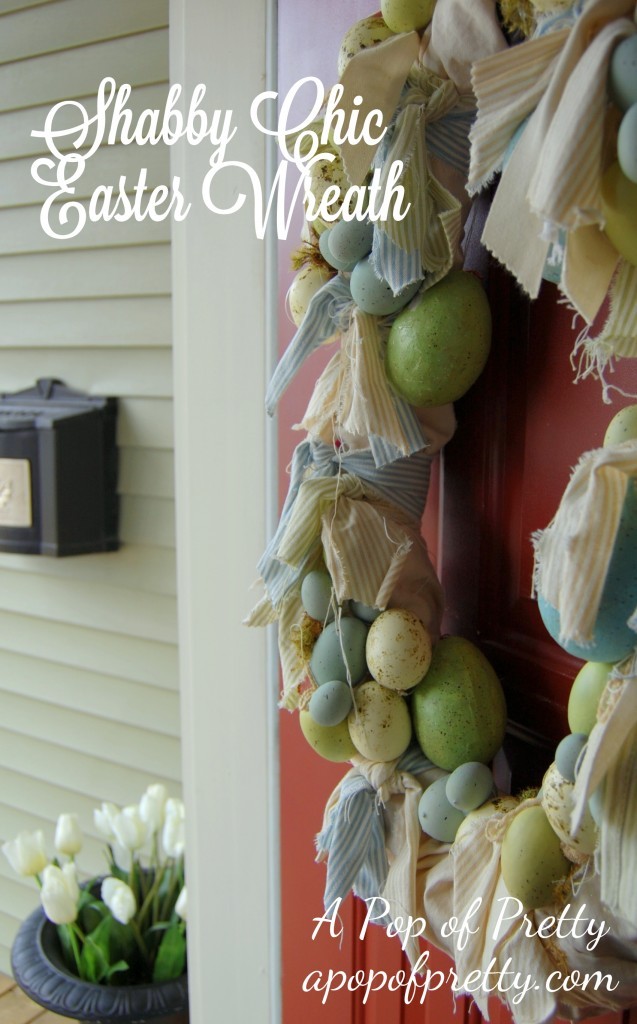 So this is how it will remain this Easter. Perhaps next spring I'll make another attempt at bringing it closer to my vision, but for now, I'm gonna embrace its imperfections!
.
Until next time,
Kerri
P.S., I'm linking up at Southern Hospitality where you'll find a plethora of beautiful Spring wreath ideas.
 as well as Frugal Friday at…