This post was most recently updated on November 11th, 2021
IN THIS ARTICLE: My 3 key tips on how to decorate with a white Christmas theme AND lots of white Christmas decorating ideas! My home tour: fireplace mantel decorated in Nordic style, Christmas tree decorated in a sparkly, monochromatic scheme with white Christmas tree decorations + other festive white Christmas decor ideas!
Yay, it's my favourite time of year! I'm excited to share the white Christmas theme I used for this year's Christmas decorating. If you're looking for simple, white Christmas decorating ideas, I hope you'll find some inspiration here!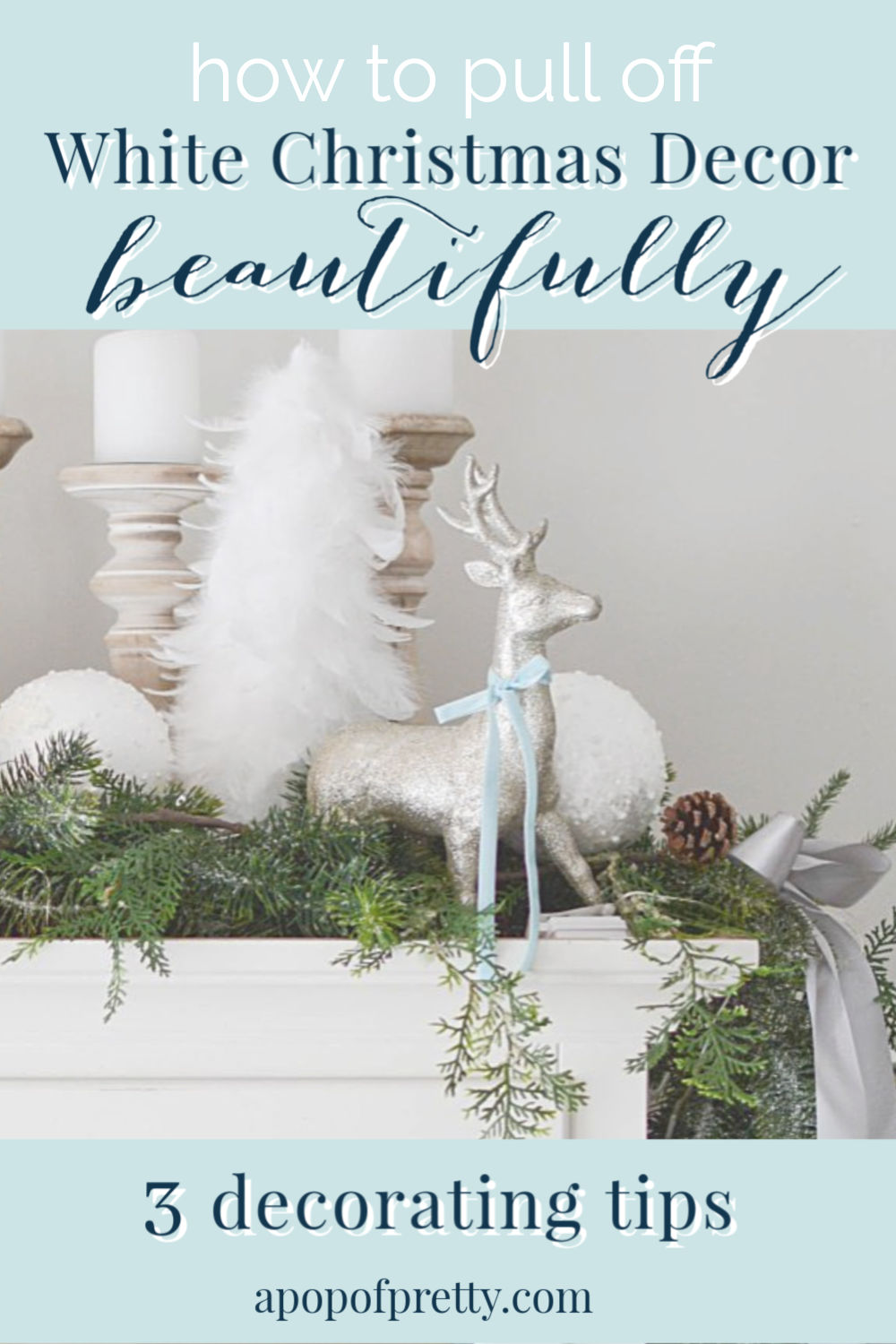 White Christmas Theme Home Tour
I'm sharing this White Christmas Theme Home Tour along as part of the Canadian Bloggers Christmas Home Tour with my fellow Canadian home bloggers. (See #cbhometour on Instagram). Much gratitude to the tour hosts, Christina at The DIY Mommy and Shannon at Home Made Lovely for hosting once again!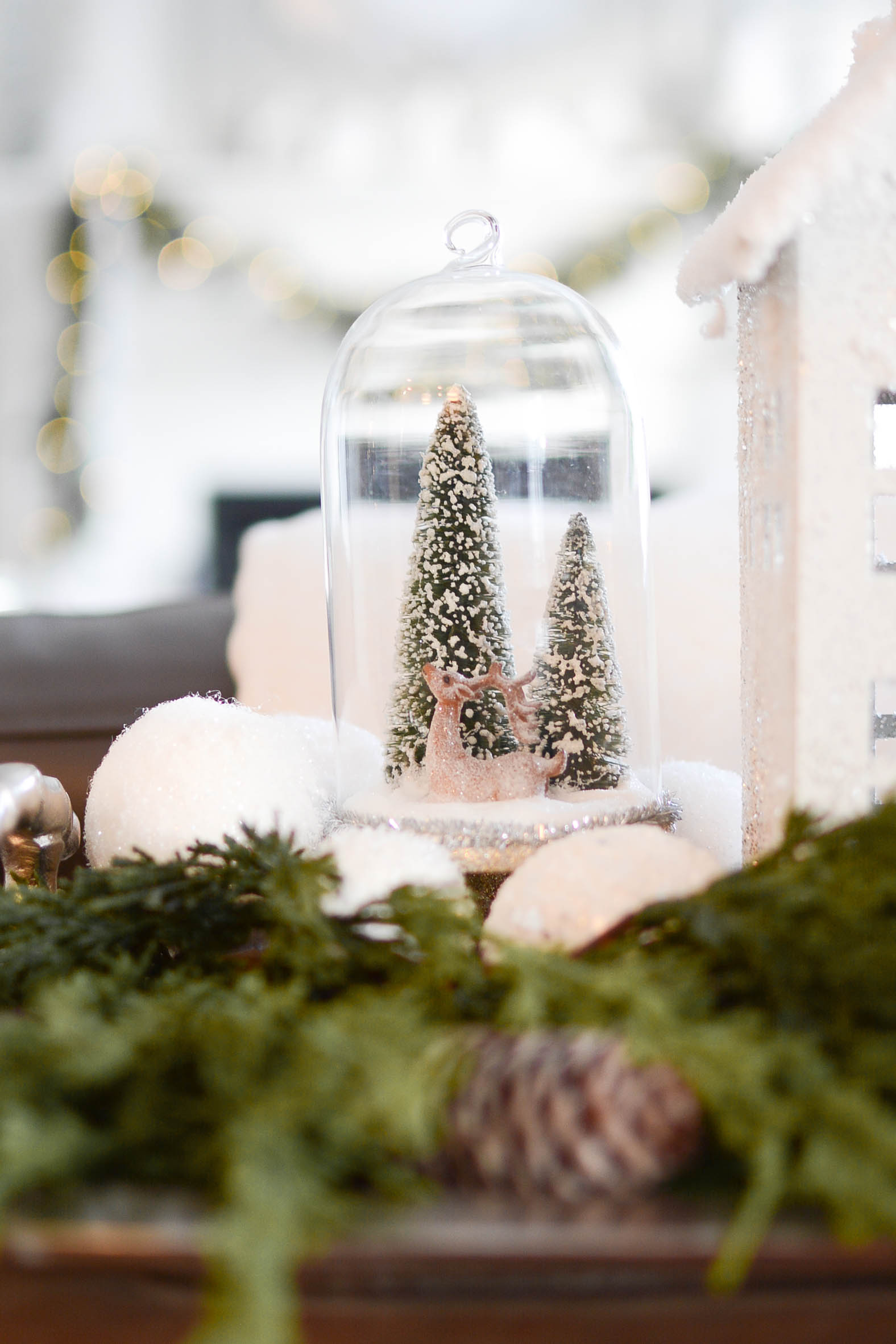 White Christmas Theme: My Inspiration
Every year, something inspires my Christmas decorating. This year I was inspired by simplicity. That's because I've been on a mission to simplify our home. And, I've been trying to create more breathing room, both literally and figuratively.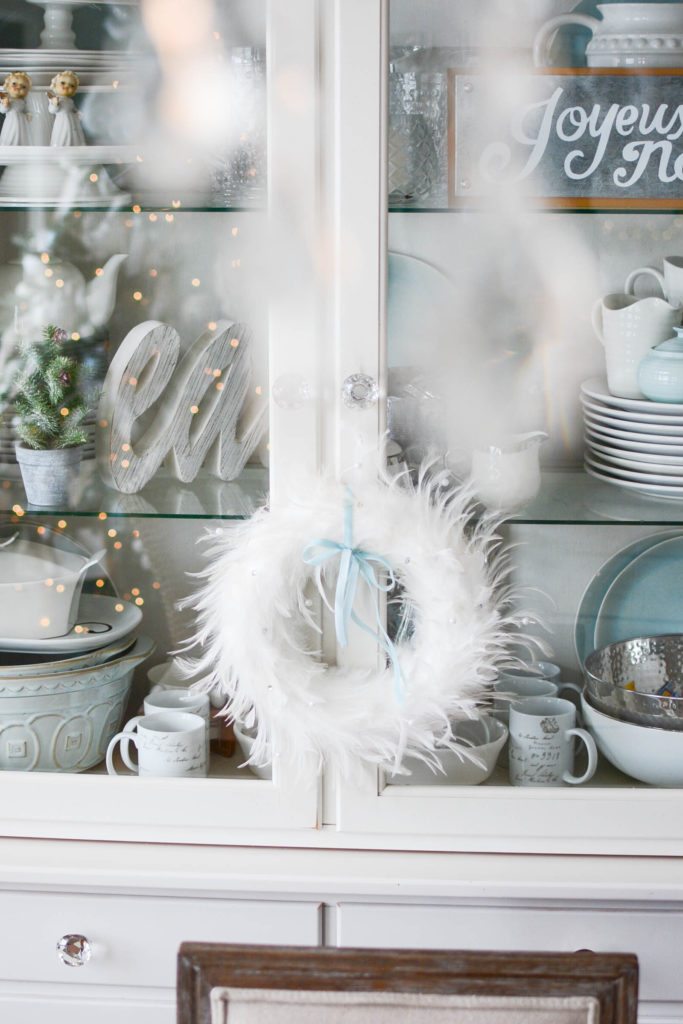 So, it's probably not surprising that I ended up with a nearly all white Christmas theme! While I normally love to use colour in my Christmas decorating, I was craving a calmer feeling in our home. To create this simpler vibe, I ended up using white Christmas decorations with a little sparkle for good measure.
My Nordic Inspired White Christmas Theme
I started out thinking that I could pull off a Nordic-inspired minimalist look with this year's Christmas decor. You know that look, right? Intentionally sparse, but still magically cozy? Yah. That goal lasted an entire hour before I admitted to myself that I will never be a minimalist when it comes to Christmas decorating!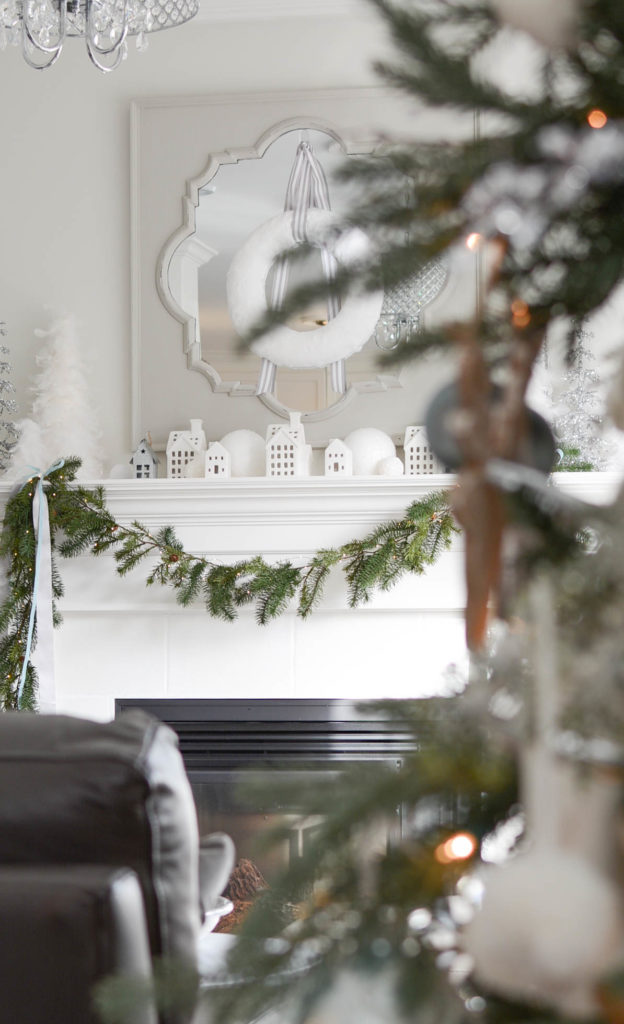 Despite my desire for a simplicity, I quickly realized that minimalism is HARD, you guys! My first clue? The fact that I kept adding things instead of taking them away, haha. Plus, if I'm being honest, I love my Christmas decorations way too much to keep 90% of them in storage.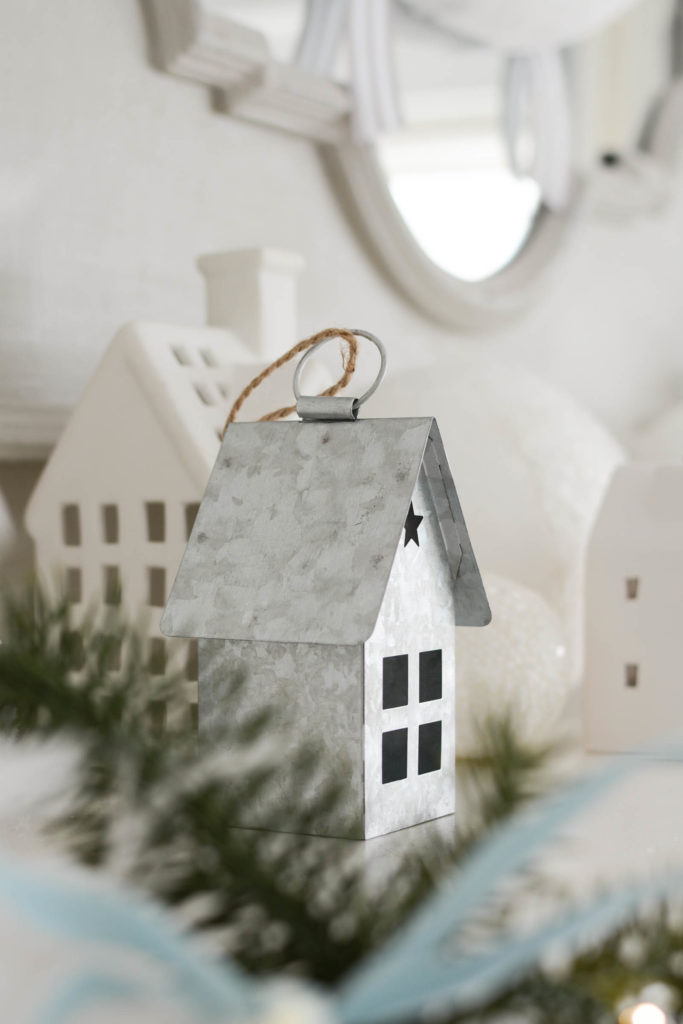 But, do you know what else I realized? I discovered that when you decorate almost entirely in white, it feels simple even if you use too much Christmas decor. Yay, white Christmas theme, you rock!
I also realized that Nordic style Christmas decorations help to achieve a simple and streamlined look. For example, I decorated our fireplace mantel almost entirely in a Nordic inspired village, and some simple greenery. The look is very calm and serene.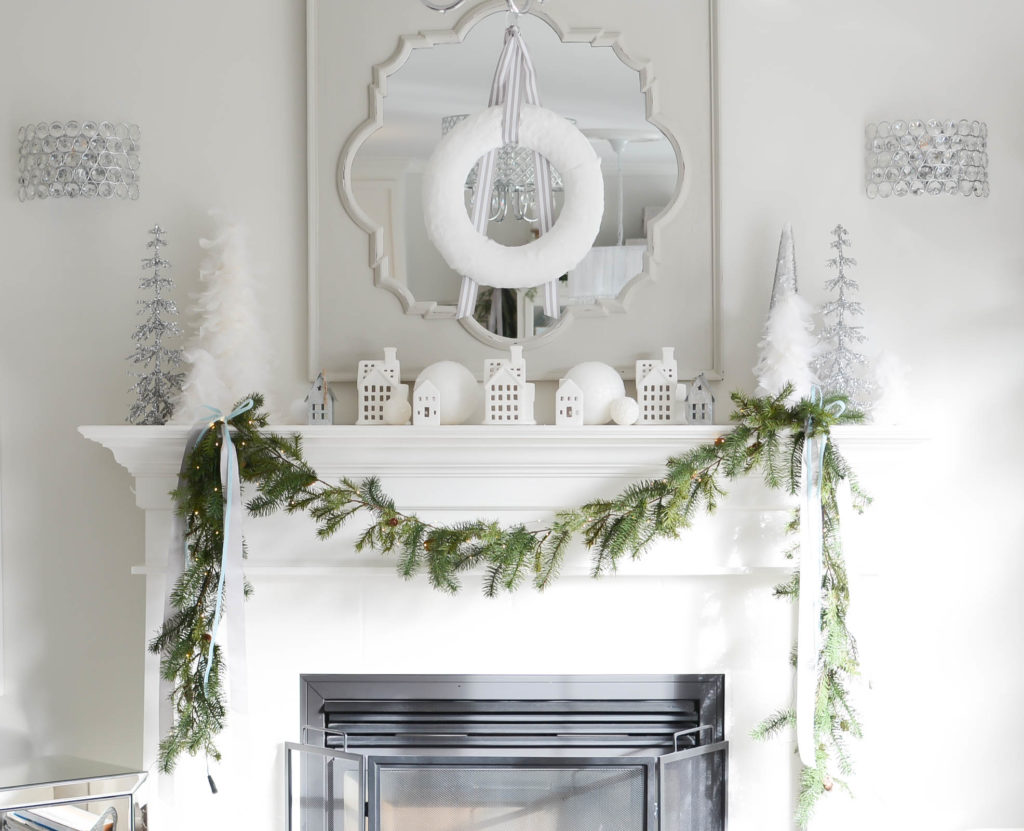 White Christmas Decorations: What I Mean by 'White'
So when I say I used a white Christmas theme, you know what I mean, right? I actually mean white plus a few other shades in the white family. In my case, I used some pale blue and grey too, lol. Basically, I was aiming for a white, frosty colour scheme that would blend in with the surroundings.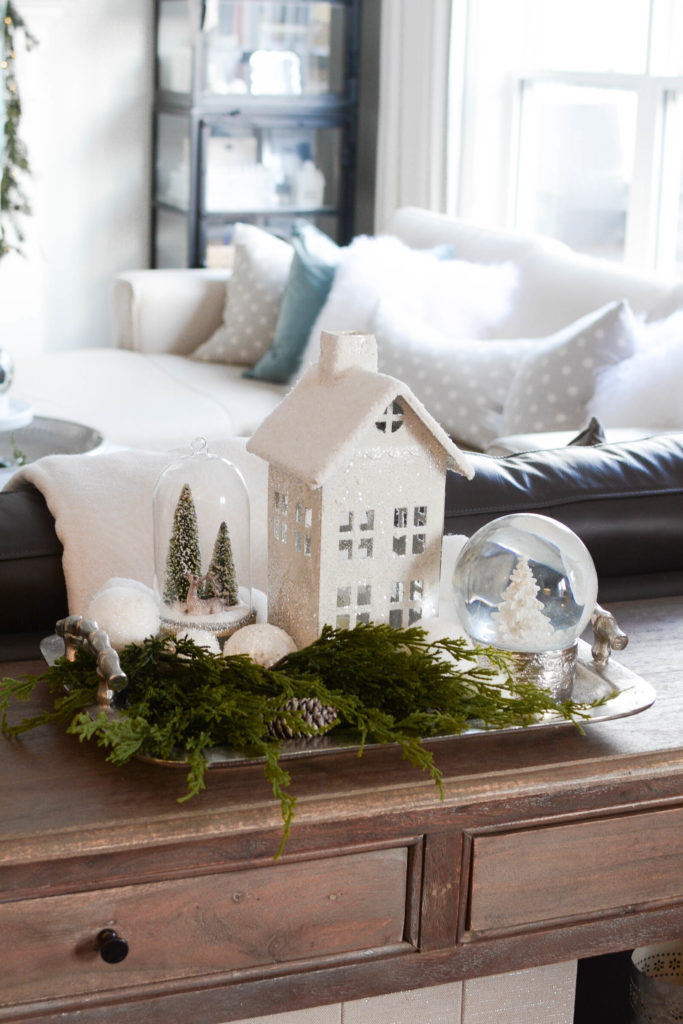 My 3 Decorating Tips for a White Christmas Theme
White Christmas Decorating Tip #1: Use a Range of Whites
Now that we've defined what I mean by a WHITE, my first tip for pulling off a white Christmas theme look well: use a range of white hues! In other words, don't just stick to standard white and call it a day.
Instead, to create visual interest, use a range of whites in the same family. In my case, I chose 'whites' in the cool family. My main colour was basic white, but I also added layers of grey, pale blue, and silver. This is because I wanted the look to feel frosty, kind of like a Winter Wonderland of sorts.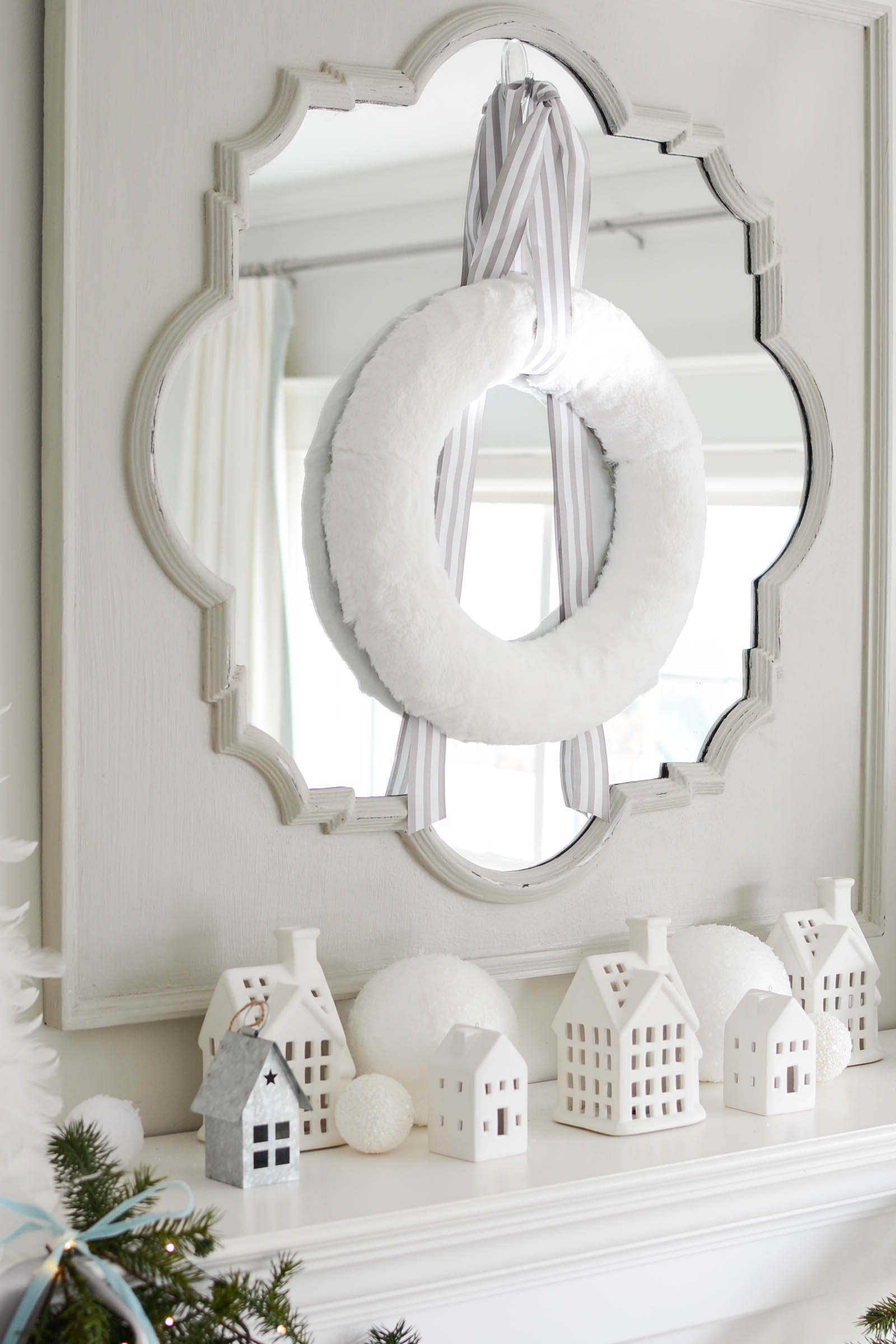 However, if you want to use a white Christmas theme but prefer a cozier look, you could use a range of warm whites instead. For example, if you use a mix of white, cream, ivory and even taupe, you could create a beautiful, cozy white Christmas look.
White Christmas Decorating Tip #2: Use a Mix of Textures
Next, in addition to using layers of white, another tip for pulling off a white Christmas theme beautifully is to use a mix of textures. Texture will help white Christmas decorations from feeling boring. Also, it helps create coziness.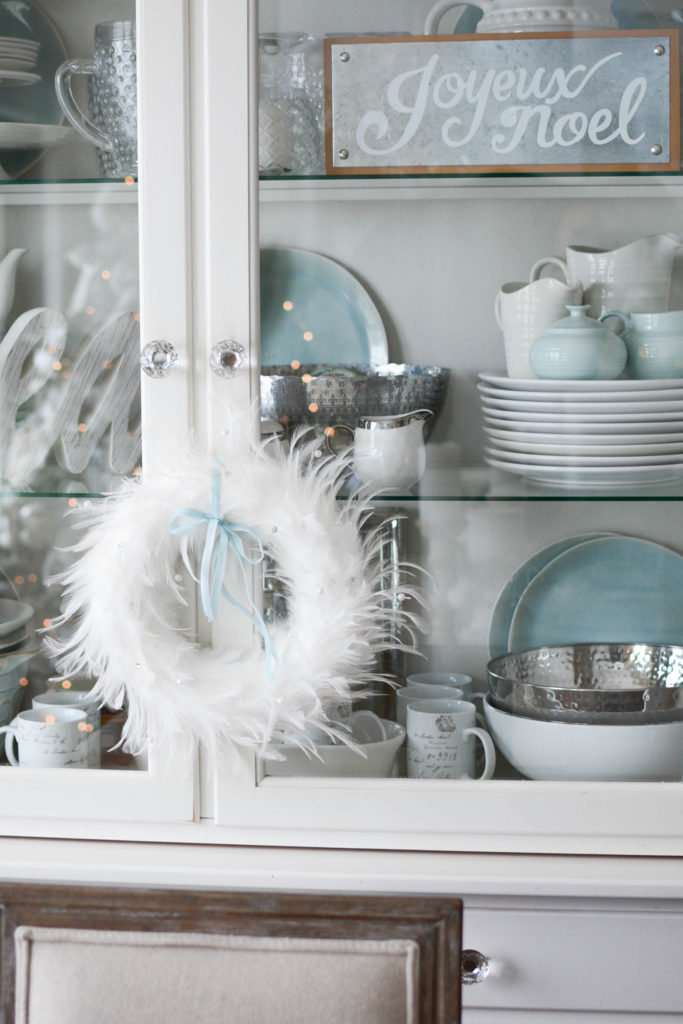 For example, I wanted to keep things light and airy, but also cozy, with this year's white Christmas decor. So you'll notice that I used a lot of furry textures like pom poms, furry and feather wreaths, and faux fur garlands. For instance, the simple little feather wreath on my cabinet doors adds lots of texture without being overbearing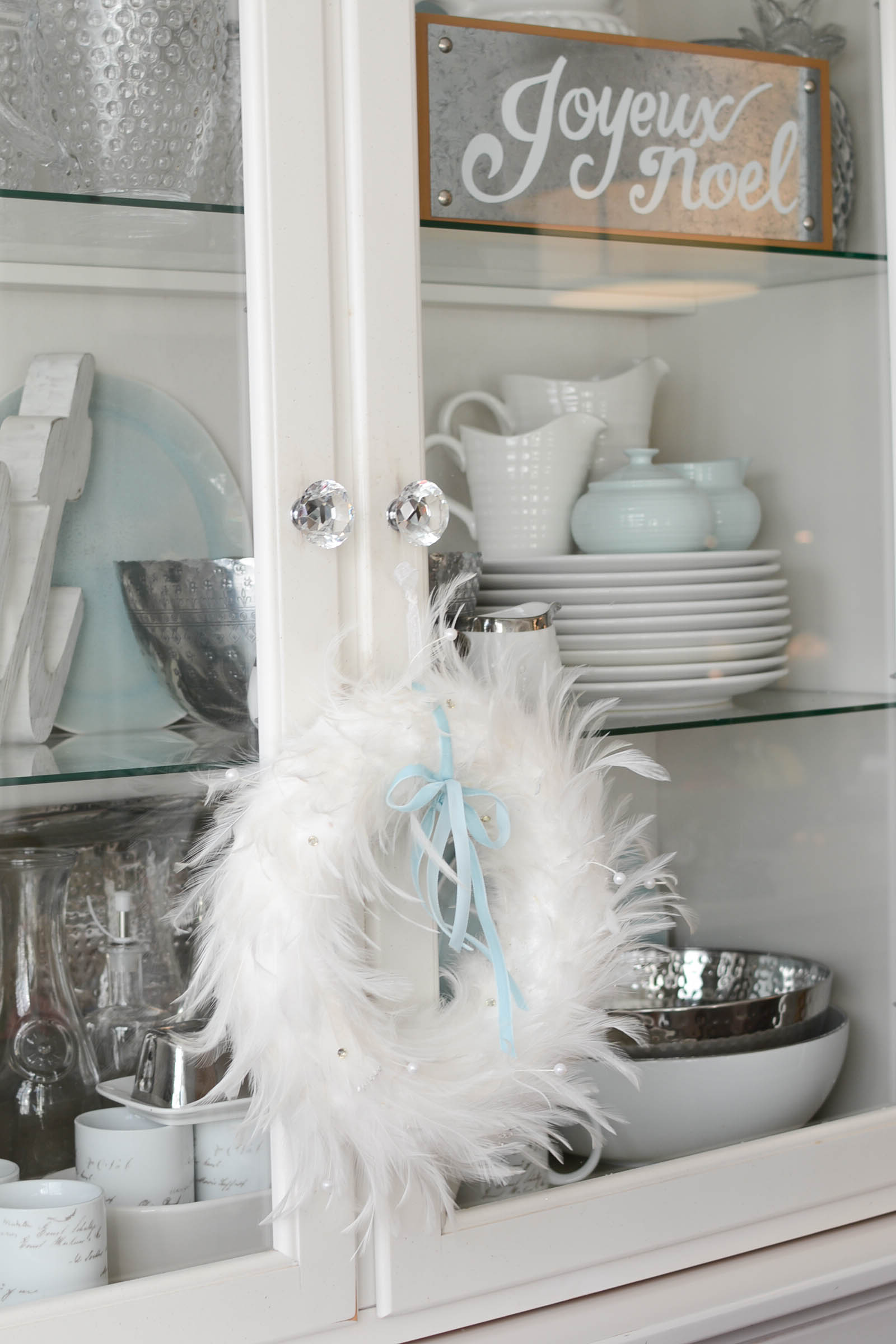 White Christmas Decorating Tip #3: Use Greenery
My third tip for decorating for Christmas with white decorations is to use lots of greenery! Greenery contrasts so nicely with all the white, and really makes everything feel Christmas-y. It also helps to add texture and visual interest to all white Christmas decor.
You can easily add a swag of greenery to your mantel as I've done, but there are other creative ways to incorporate greenery into your white Christmas theme too. For example, you could use a cedar wreath as a table centrepiece.
I also added a little pop of greenery above the buffet cabinet with some twinkle lights. This sweet reindeer overlooks the kitchen.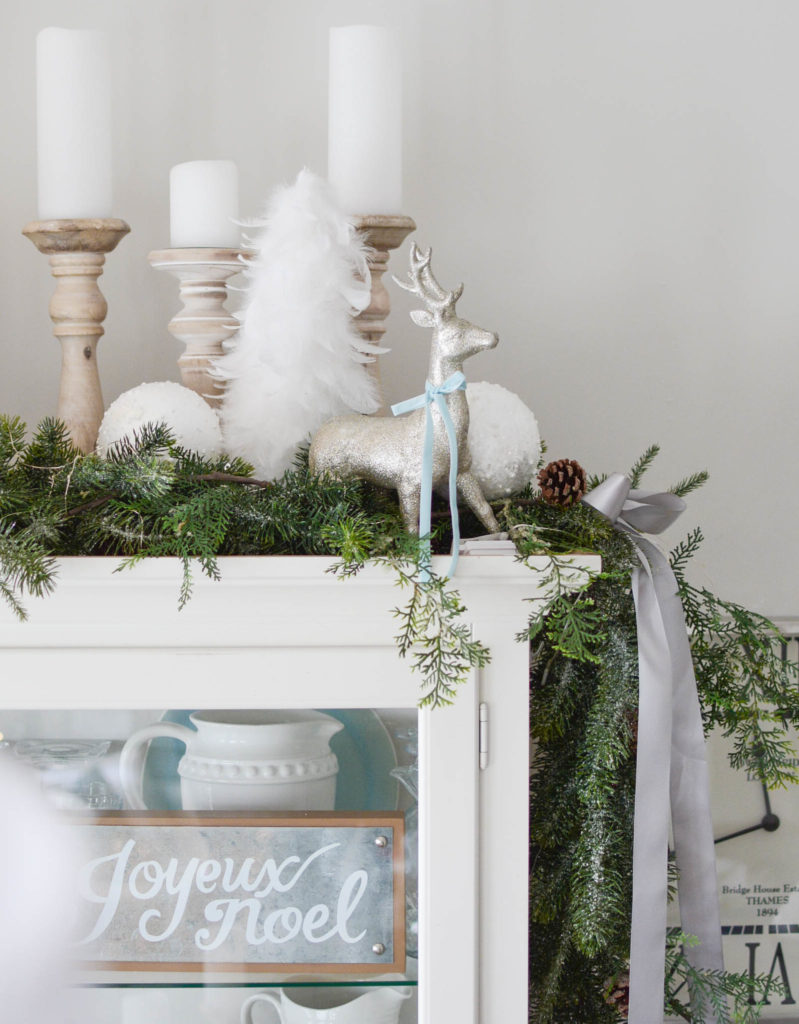 Our kitchen rooster is also decorated with some greenery. After all, it's just not Christmas until your kitchen rooster is wearing a wreath and pom poms, right? LOL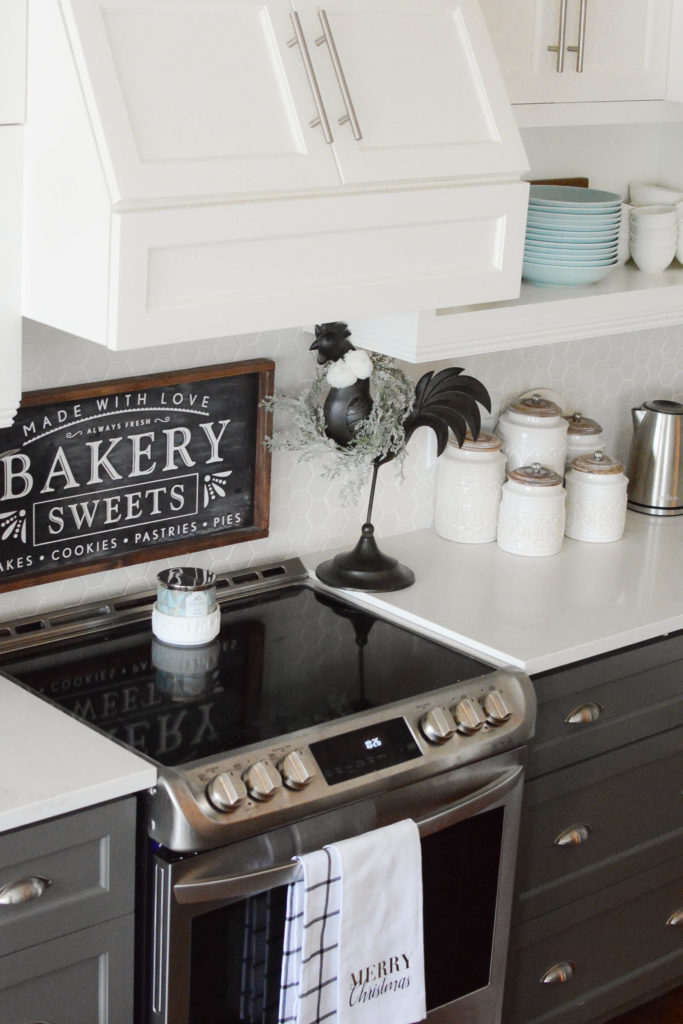 My White Christmas Theme Home Tour
Nordic Inspired Fireplace Mantel
My fireplace mantel is consistent with my white Christmas theme, and feels a little Nordic. It is lined with a simple row of white and galvanized metal houses, snowballs and trees. On the mirror above the mantel, I hung a simple faux fur wreath on a striped ribbon.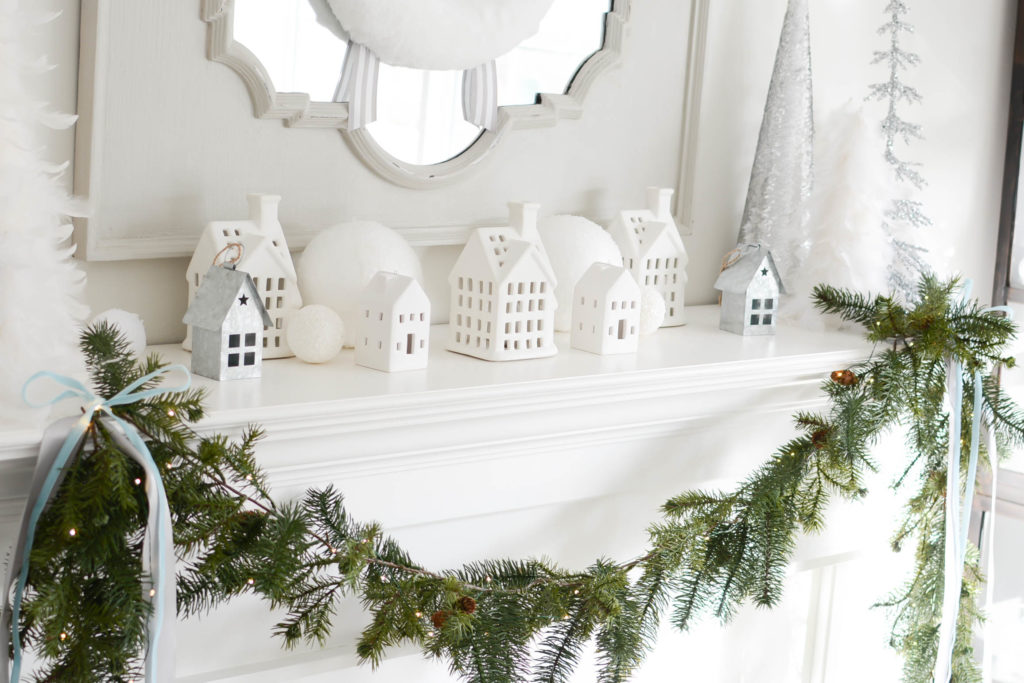 This was a real departure for me! My Christmas mantel is normally decked out with layers upon layers of greenery, lights and ribbon. I'm not sure what took me so long to change things up. This feels so much better. The simplicity is so much more proportionate to the space.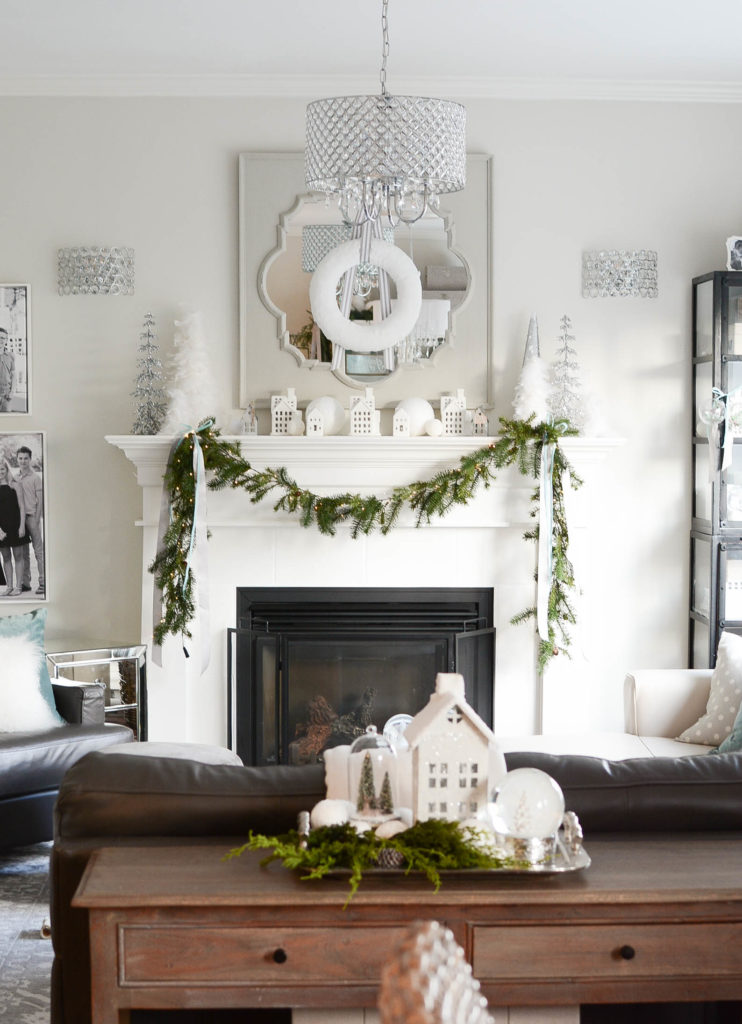 I used one simple greenery swag, tied with with long ribbon on each end. And, instead of using bulky mini lights, I used a strand of tiny twinkle lights. I find these are so much easier to work with, and they give off a much more magical light.
My White Christmas Theme Tree
On our Christmas tree, I also kept the look simpler than previous years. I used both of the white Christmas decorating tips I shared earlier. For example, I used a range of whites, and mixed up a lot of textures.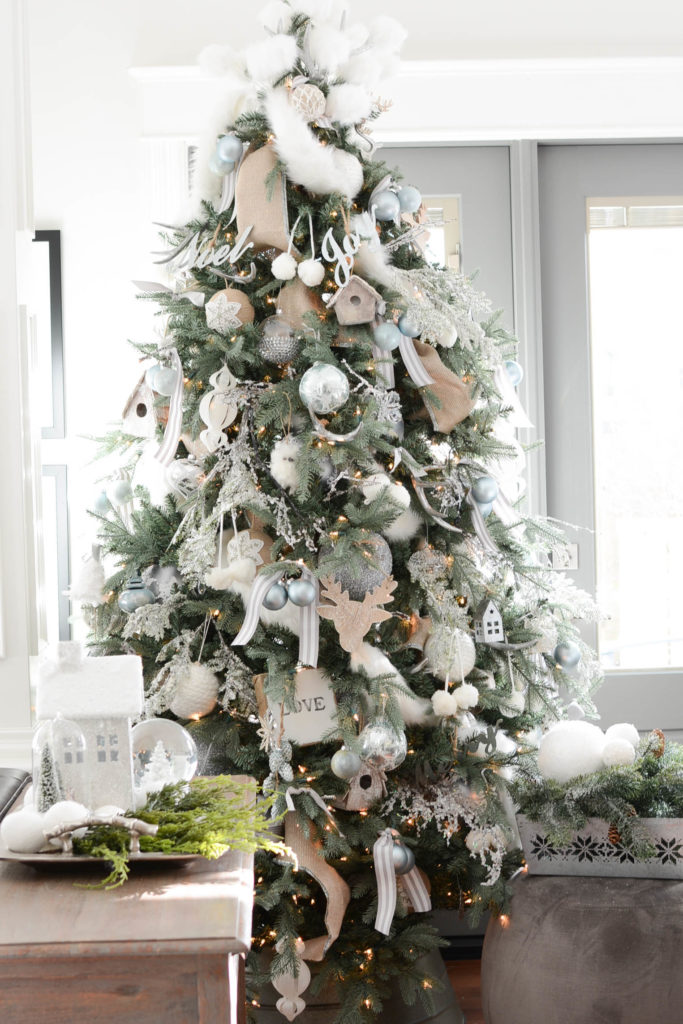 Burlap & Faux Fur Garland
And, hello? Where is all the ribbon, right? If you've seen my tutorial for how to put ribbon on a Christmas tree, you'll know that I normally add LOTS of ribbon to my trees. If you want to see the tutorial once you've finished here, I'll add another link to this popular tutorial that the end of the blog post!
This year, though, I only used burlap and some furry garland. The only true ribbon to be found anywhere on this white Christmas themed tree is on the ends of some branches. There, I tied pale blue ornaments in twos with some simple grosgrain striped ribbon. This is a really beautiful ribbon technique that looks simple and effortless.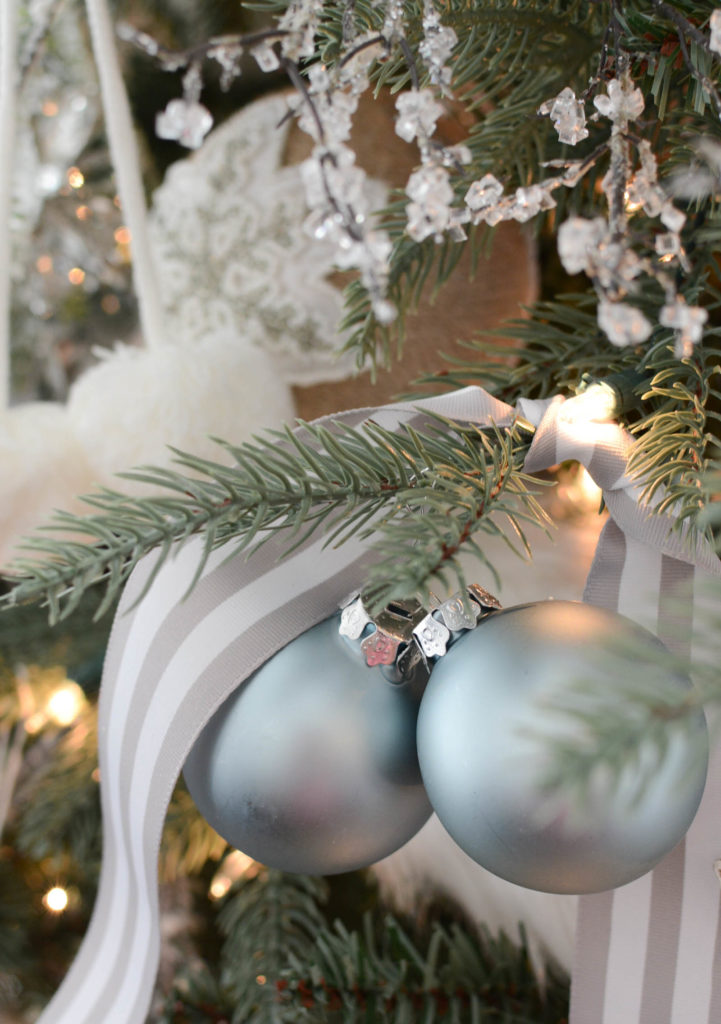 White Christmas Tree Decorations: Glam & Rustic Ornaments
On the tree, I used all of my white, pale blue and glass ornaments. But to keep the look simple and informal, I mixed them up with some rustic elements like galvanized metal, wood and burlap.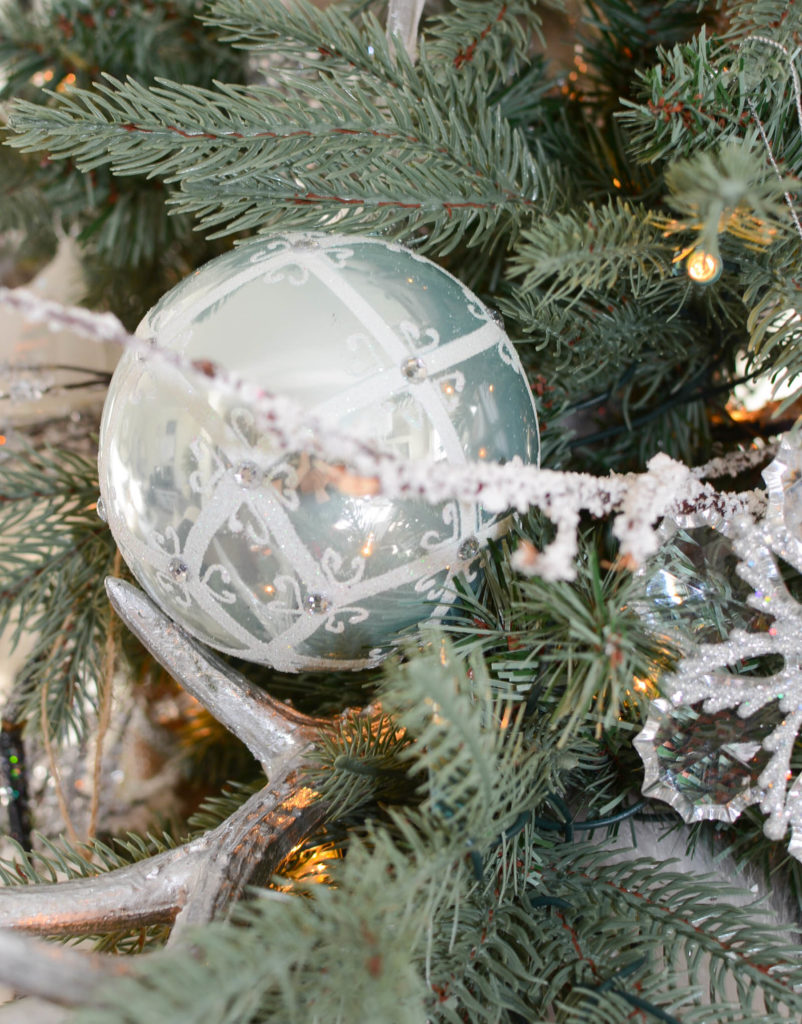 I absolutely LOVE to mix up styles within one Christmas tree. I think this is one of the biggest secrets to decorating a beautiful, professional looking Christmas tree. There is just something magical that happens when you put contrasting textures together.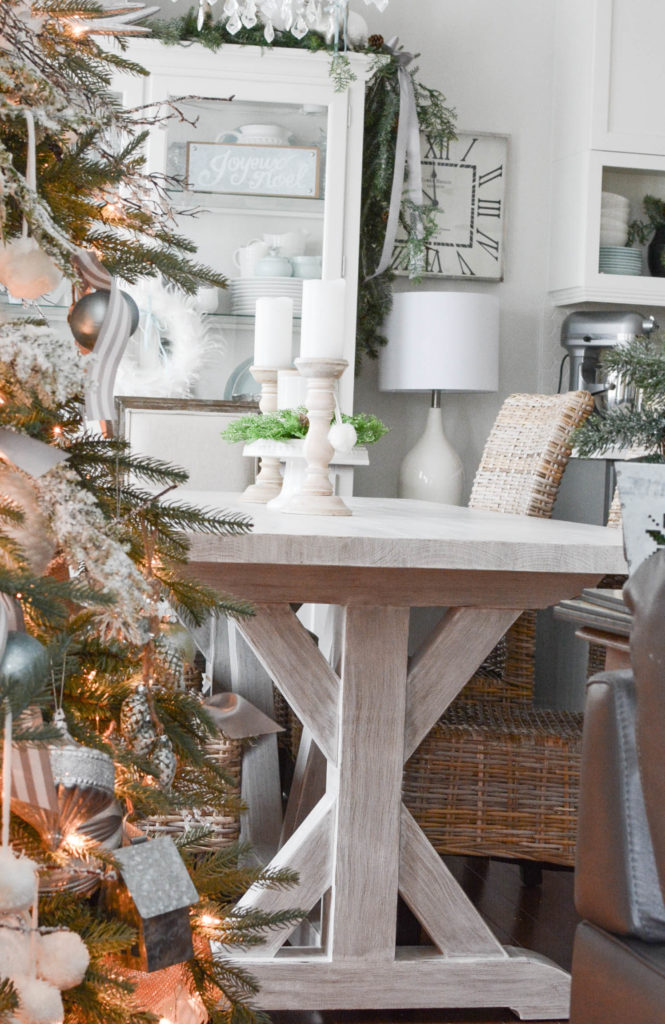 So don't be afraid to experiment with this technique. For example, try mixing up glass ornaments with wood, knit or metal ones. It will take your Christmas tree to a new level.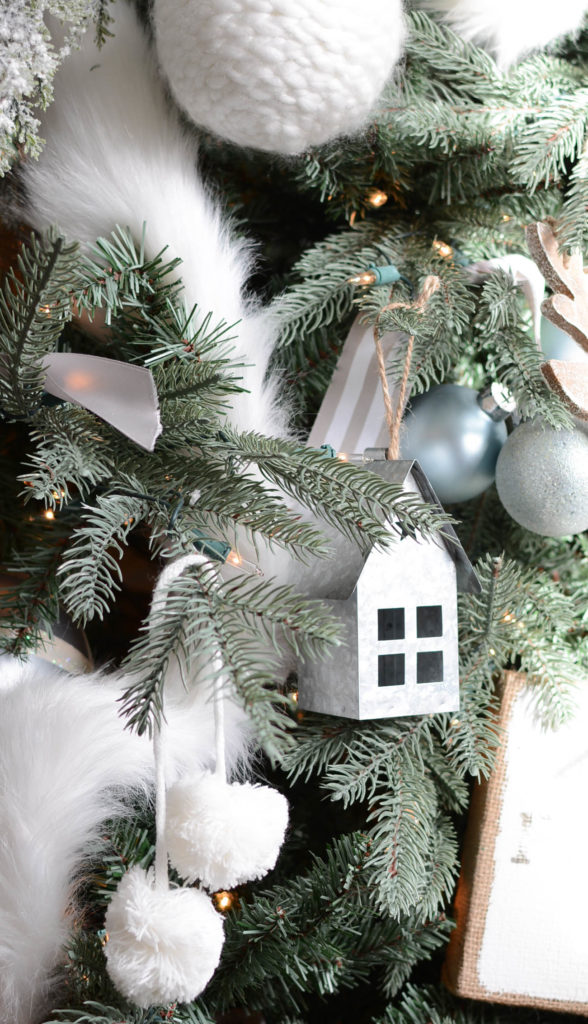 Christmas Tree Topper: Furry Pom Poms & Antlers
One of my favourite parts of the tree is the top! The furry pom poms and silver antlers create a woodsy, Nordic feeling. To achieve this look, it's best to use sprigs with the pom poms attached to the ends. That way, you can simply poke them into the top of your white themed Christmas tree.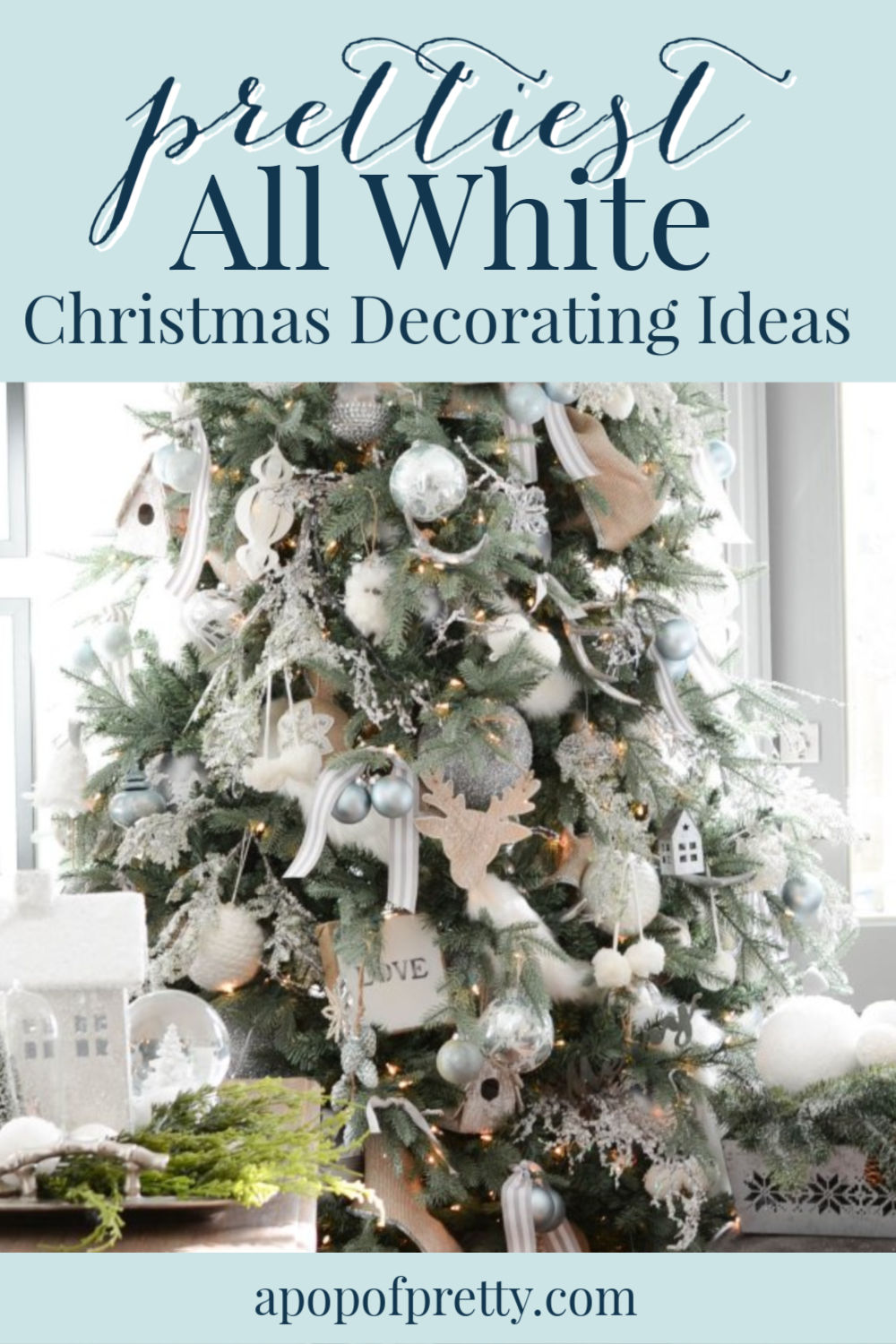 White Christmas Staircase Railing
Another area where I really pared down this year was the stair railings. Instead of using lots of greenery, ribbon and lights, I kept it simple.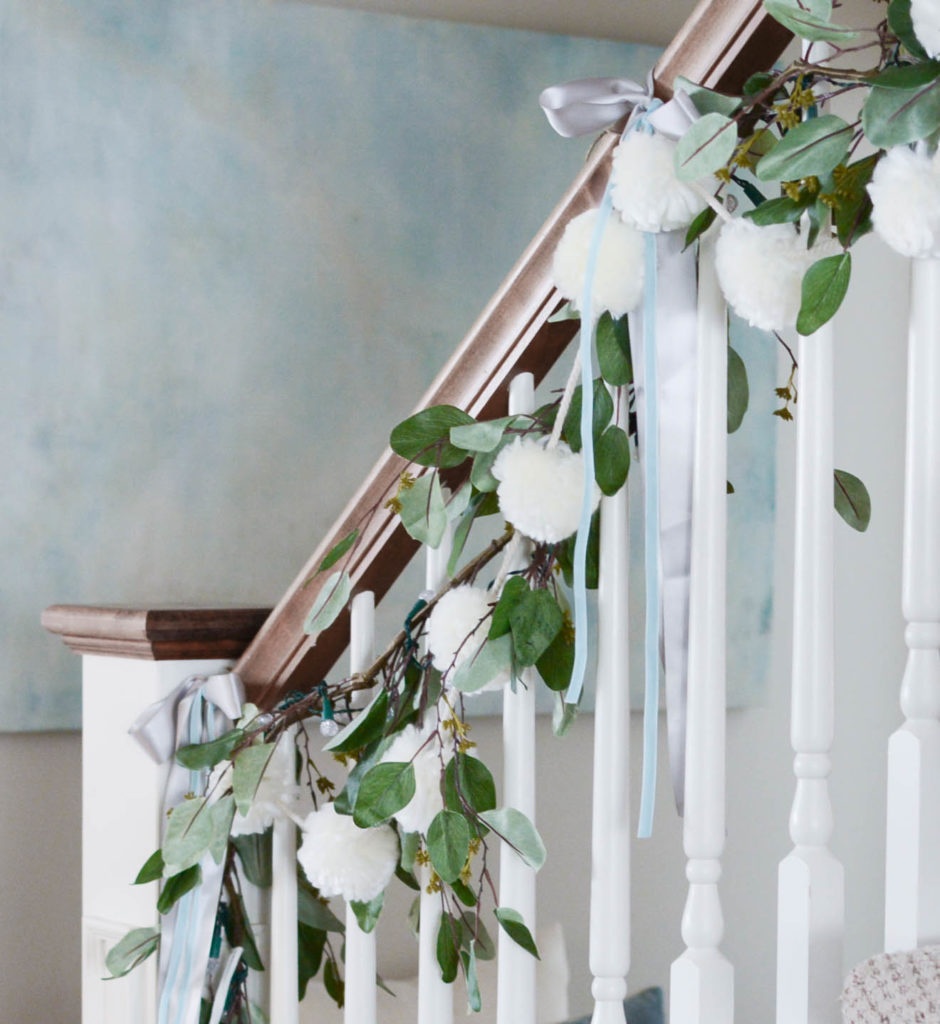 I draped a pom pom garland and simple eucalyptus strand along the railing and tied it with pretty ribbon.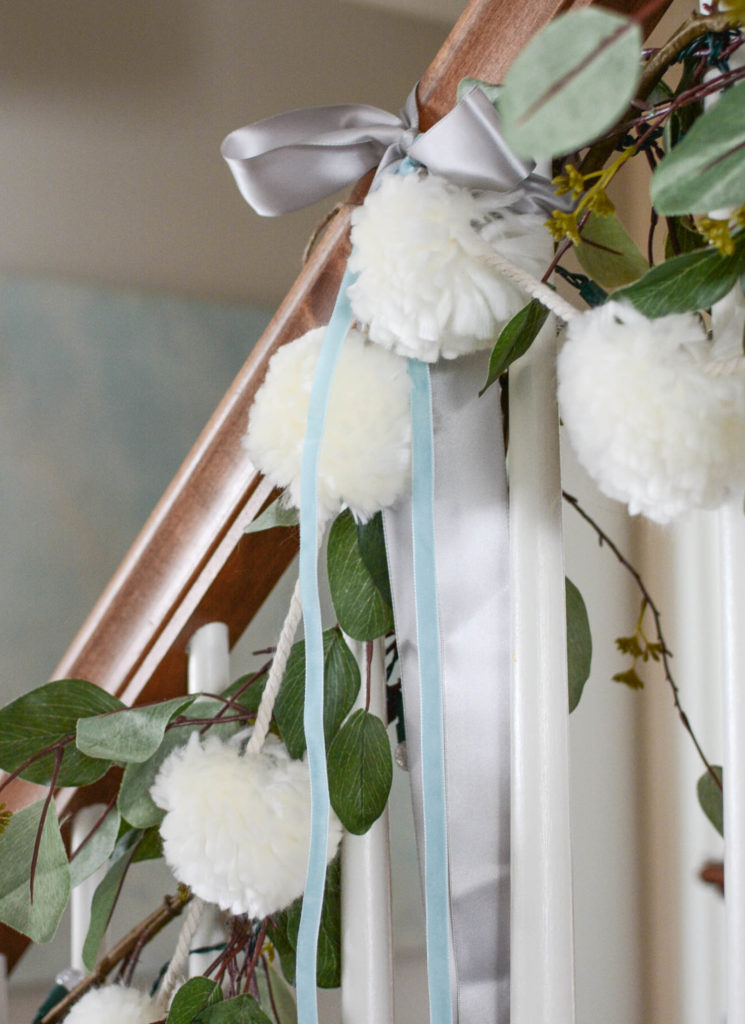 More White Christmas Decorating Ideas
In our living room, I also simplified things this year. There's a sparkly wreath hung on a canvas, and lots of furry texture.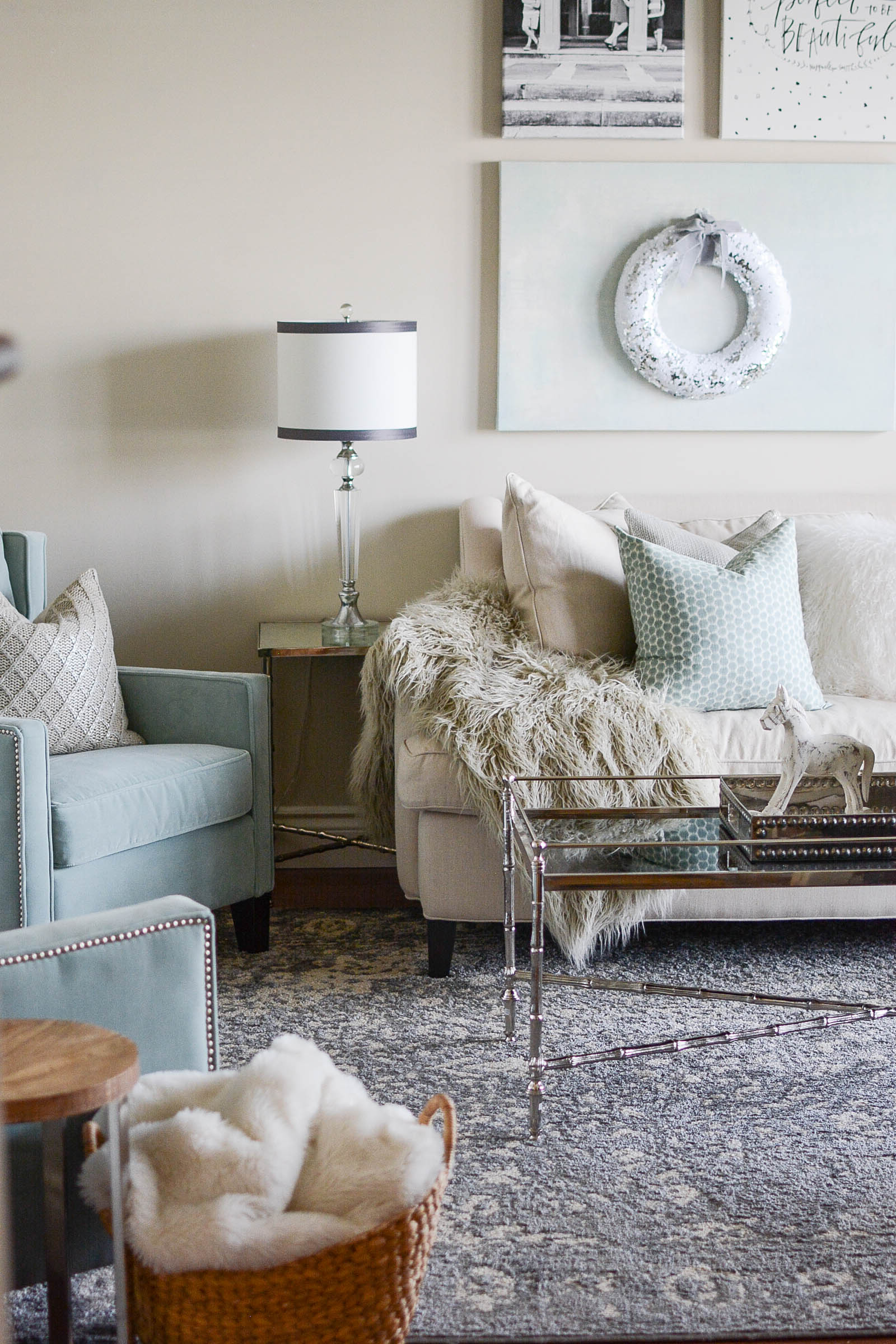 I've had this rocking horse for years, and he might just be one of my favourite Christmas things.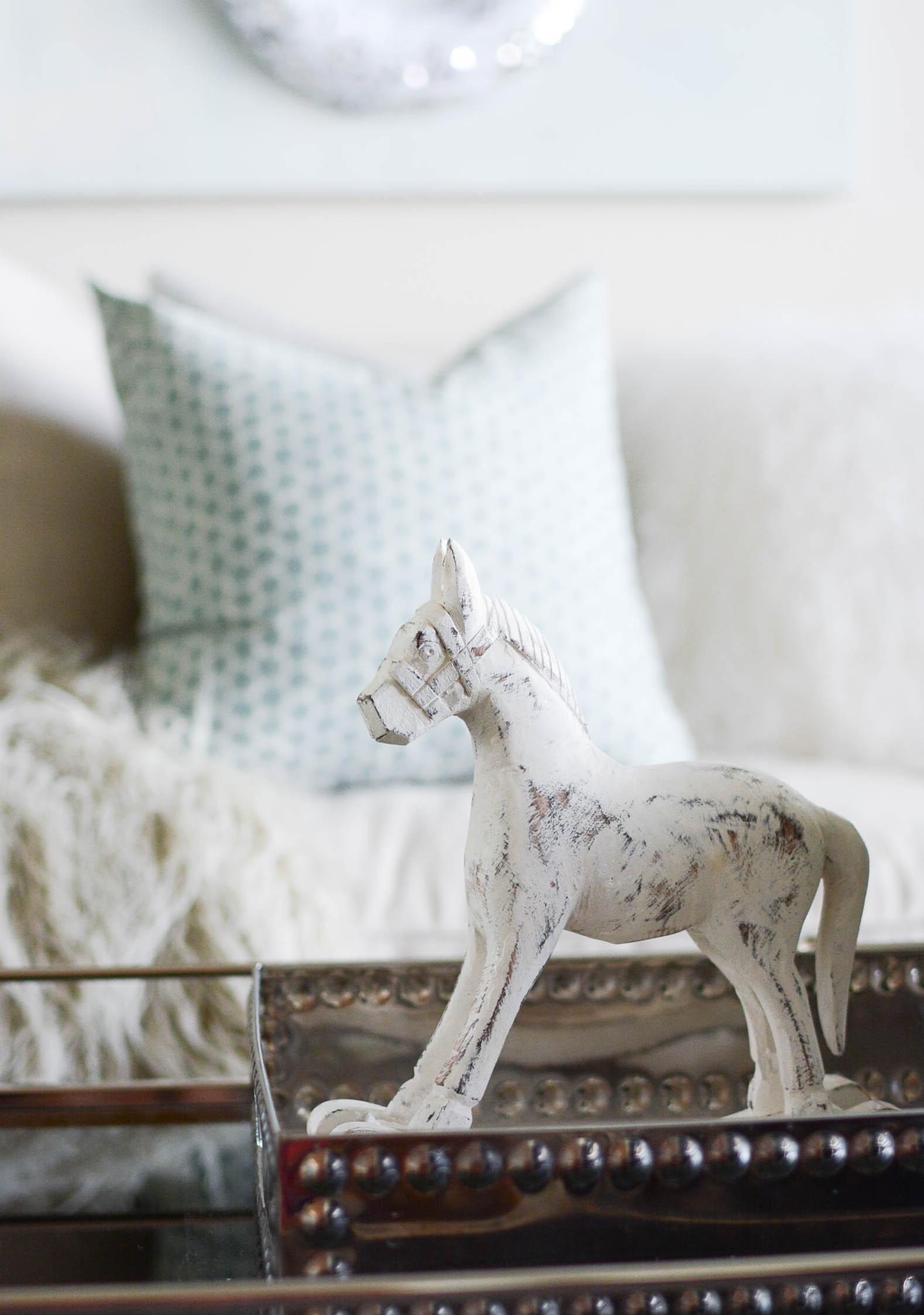 This room sometimes has a Christmas tree decorated with lots of glass ornaments. But this year, I decided to go a much simpler route. I love the statement that this understated, scraggly little tree makes without even trying.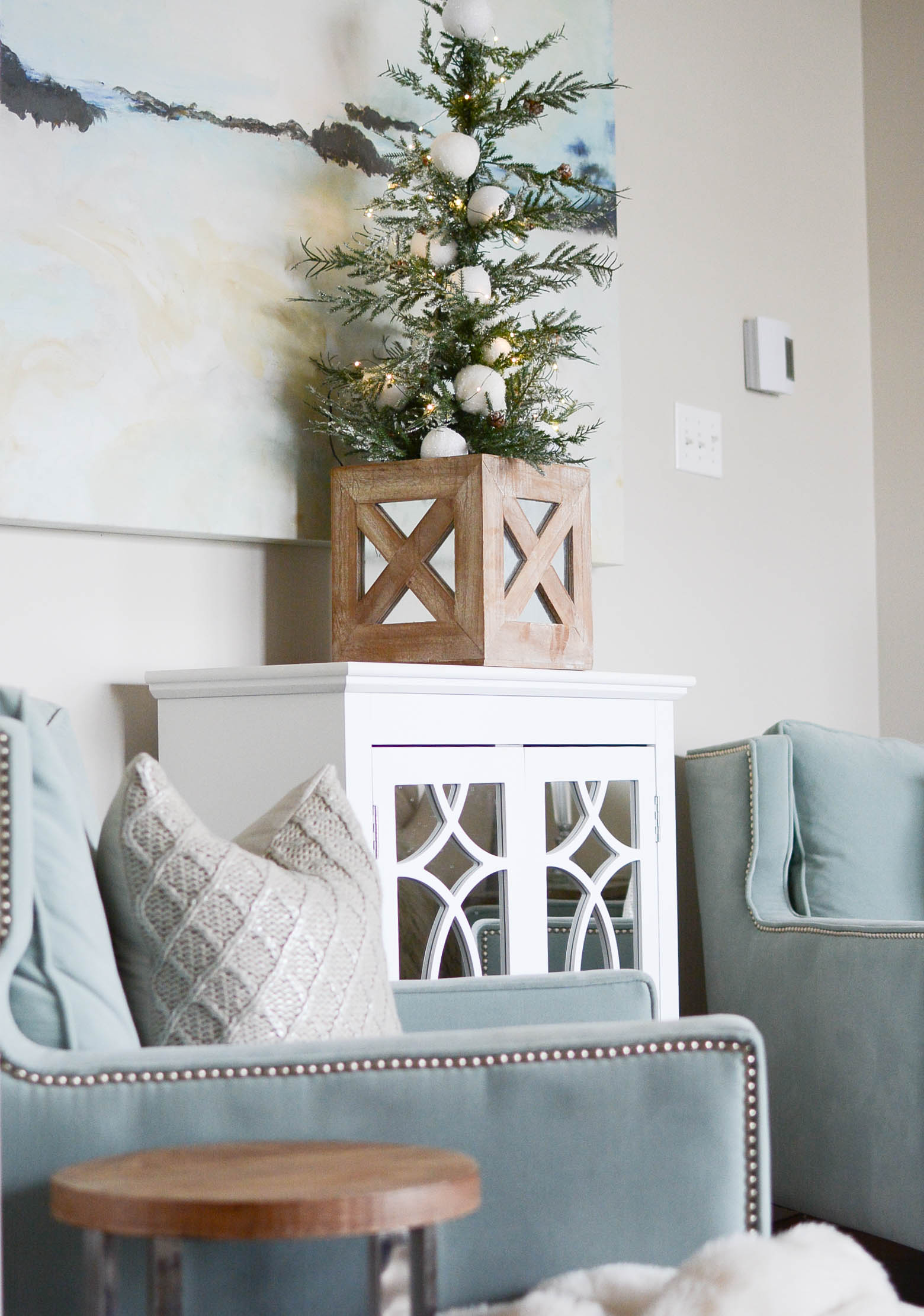 If you are looking for more white Christmas decorating ideas, here are a couple of other articles I love: 8 ways to decorate your home with white this Christmas and 10 Ways to Have a White Christmas without the Snow.
Learn How to Decorate a Christmas Tree
Ever wondered how to decorate a Christmas tree to achieve a gorgeous, professional look? I've got two great tutorials!
If you want to learn how to put ribbon on a Christmas tree, here's my easy, and very popular, tutorial to achieve a gorgeous look!
If you've ever wondered what order to decorate a Christmas tree, here's my tutorial on what to put on first, in the middle, and last!
Share the Love
If you liked this home tour, please consider sharing the love by pinning this to Pinterest for others to find: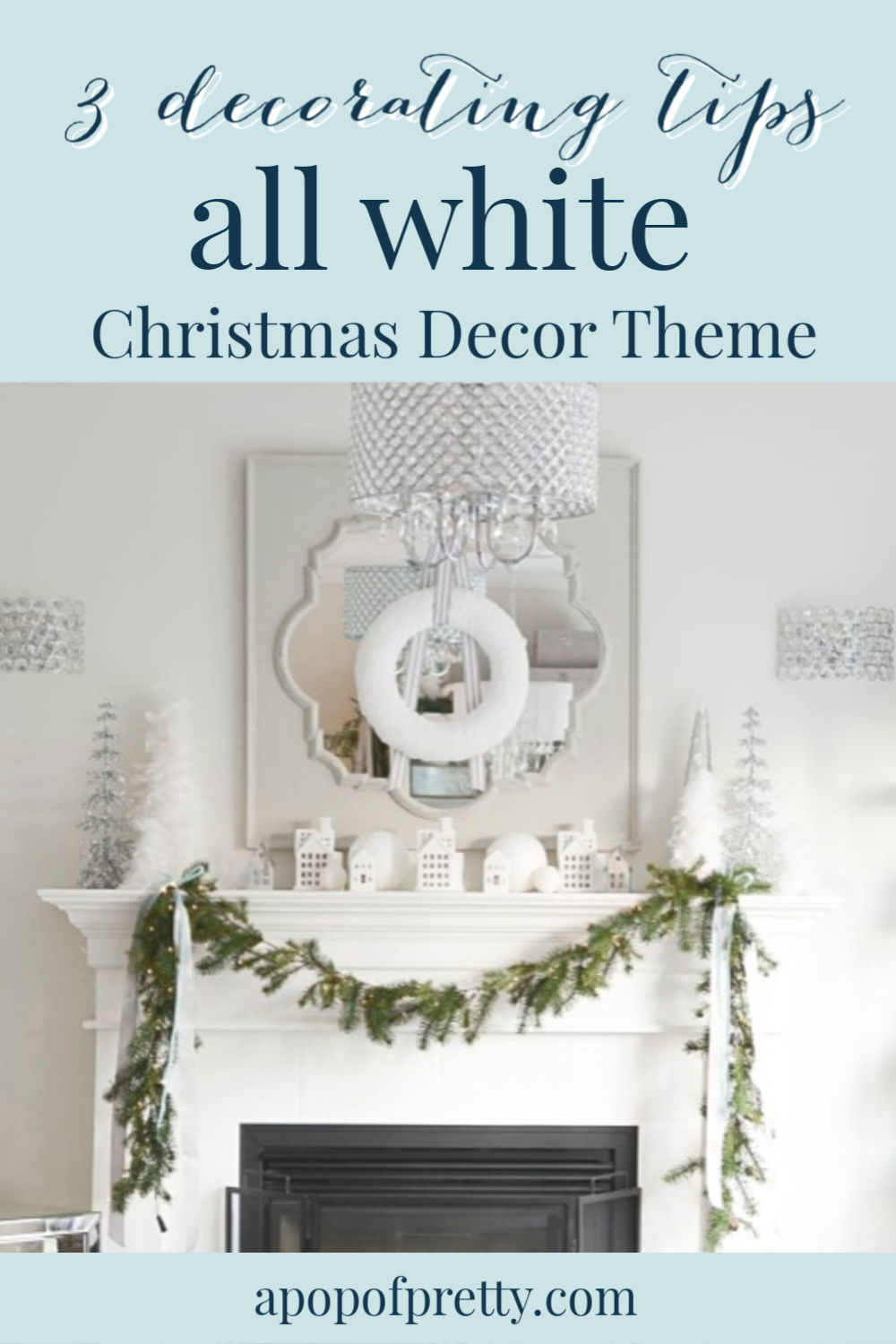 Shop the Look
Looking to buy white Christmas decorations to get the same look as my white Christmas home tour? I've curated some of my favourite white Christmas decor in my Christmas decor shop. Check it out!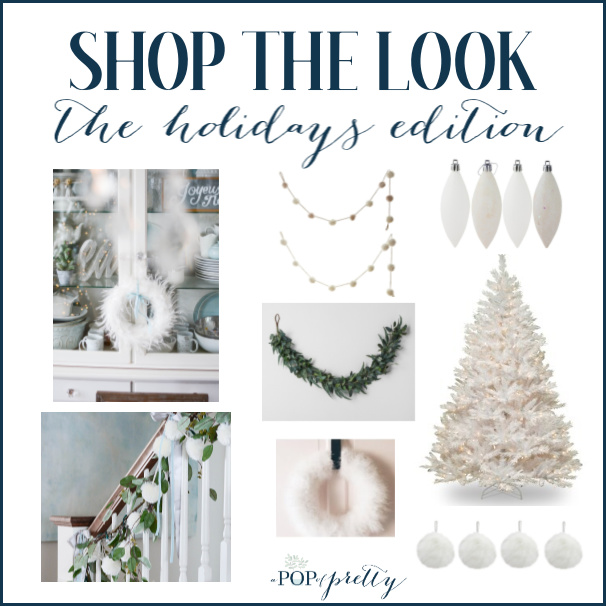 More Christmas Theme Decorating Ideas!
In addition to my white Christmas decor found in this post, here are some of my all time favourite past Christmas decorating posts.
Navy Blue and Silver Christmas Tour (featured in Women's Day)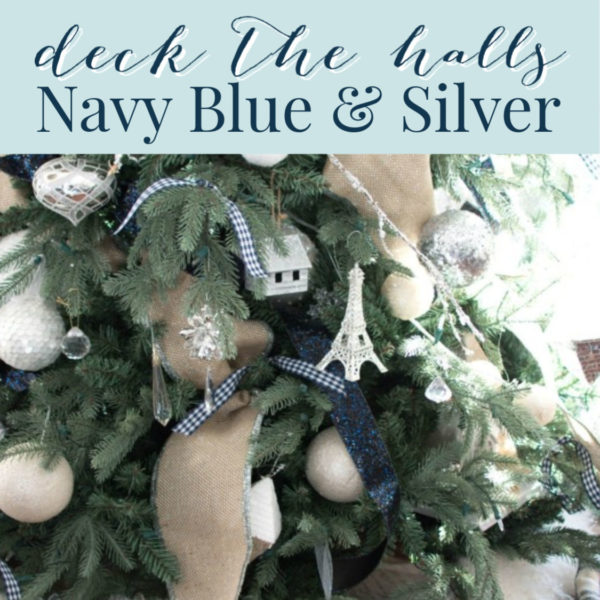 Red Plaid Christmas Home Tour (featured in Women's Day)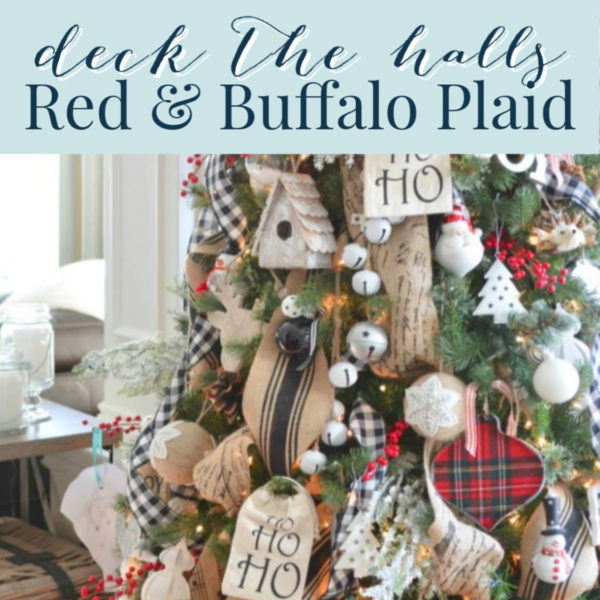 Winter Wonderland Christmas Tour (featured in Women's Day)
DIY Disney Frozen Christmas Tree
Nutcracker Christmas Tree (Sugar Plum Fairy)
Oh, and don't forget to read:
My #1 Christmas Decorating Tip
Canadian Bloggers Christmas Home Tour
Now you need to spend some time visiting these other lovely Christmas tours by my talented Canadian blogger friends. So grab an eggnog latte and get cozy. There's lots to see!
Click on the links below from Monday – Friday this week to get beautiful Christmas decor inspiration from other talented Canadian bloggers.
Monday
Home Made Lovely | The Creek Line House | Lemon Thistle | Love Create Celebrate | So Much Better With Age
Tuesday
Woman in Real Life | Clean and Scentsible | A Pop of Pretty | Making it in the Mountains | The Learner Observer
Wednesday
PMQ for Two | Joy in Our Home | Amidst the Chaos | One House 2 Barns | The Dreamhouse Project
Thursday
The DIY Mommy | Life is a Party | Satori Design for Living | Rambling Renovators | This Mamas Dance
Friday
Fynes Designs | A Pretty Life | Emmett's ABCs | Harlow & Thistle | Northern Style Exposure
Until next time, my friends, happy Christmas decorating!
Kerri