This post was most recently updated on September 23rd, 2019
DISCLOSURE: SPONSORED CONTENT. 
I WAS PROVIDED WITH PRODUCT BY MASONITE FOR THIS BLOG POST, BUT MASONITE DID NOT ASK TO INFLUENCE THE CONTENT OF THIS POST. THE THOUGHTS AND OPINIONS EXPRESSED HERE ARE MY OWN. FOR MORE ON MY BLOG DISCLOSURE POLICY, GO TO THE END OF THIS POST, OR, CLICK HERE.
Its hard to believe, but Spring is right around the corner. And, that means pretty tulips, rain boots and front doors! Spring is a busy time for building and renovating.  So you might be wondering how to pick a front door style that suits your home.  If so, you're in luck!  I'm rounding up some of the best front doors by Masonite for any home style.
You might remember that, last Fall, we made some upgrades to our home's exterior.  My favourite part was this new Craftsman front door from Masonite.  If you didn't catch that blog post, you can find it here: New Craftsman Front Door from Masonite.  I love our new front door so much that my only regret is not installing this door when we first built our home decade ago!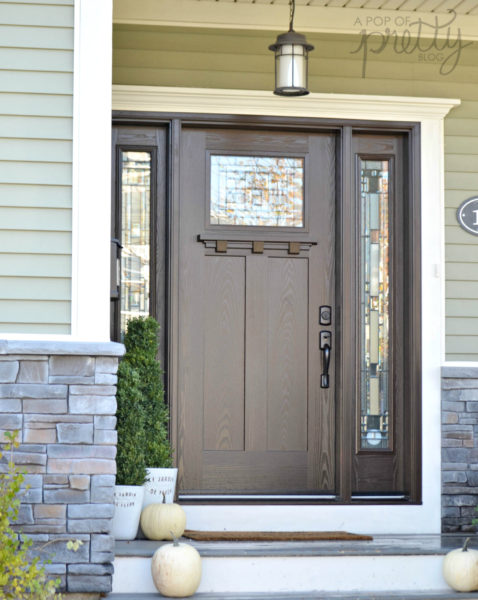 There are so many choices in front doors that deciding on one can be a little overwhelming. But it's worth investing the time to find one you love. A beautiful front door is like the crown jewel on your home.  It's something that gives your home a unique style, and adds curb appeal.
If you are wondering how to pick a front door style for your home, first, consider the overall style of your home.  Is it formal, classic or traditional?  Minimalistic and modern?  Does it have craftsman or artisan appeal? Is it full  of cottage charm?  Or, maybe your home is simply a builder-grade house without any particular architectural features (like ours was). If so, think about the kinds of homes that make you stop in your tracks.  Take a walk through a new neighbourhood or a more historic one in your city or town. Pick out a few homes you'd like to emulate. Choosing the right front door can help evoke that particular style.
Once you've landed on the style you love, it will be easier to narrow down your choices for a new front door. To help you out, I've rounded up some of the best front doors from Masonite by home style. I love all these beauties!
Best Front Doors: Classic / Traditional Style

 
If your home is classic or traditional, you can choose a front door with lots of detail that mimics the architectural charm of your home. Or, you can do the opposite, and select a simpler door that allows those features to stand out. Either works, it just depends on your personal taste. For example, these following three doors would look fabulous on classic or traditional homes.
This black door with full glass and matching sidelights and transom looks stunning on a classic white home. The detailed glass creates a sophisticated look against home features like shutters, corbels, and detailed moulding.
But, even a simpler door without sidelights can make a statement on a classic home. This steely gray door with a simpler glass kit streamlines the look of this blue clapboarded home.
When it comes to choosing a front door for a traditional home, less can definitely be more. I love the big impact this simple turquoise door makes against the more ornate porch features.  The front door makes a bold statement without competing with the home's beautiful architectural appeal.
Best Front Doors: Transitional Style
Do you like modern style, but are afraid to go that route because your home has traditional features? Picking a transitional style door can help bridge the gap.  You can easily punch up a classic, timeless home exterior with a front door that has a contemporary twist. By choosing a door with a transitional style, you'll get the best of both worlds.
For instance, these deep blue double doors have clean, minimalistic lines. But the detailed caning in the full glass has more classic, traditional overtones. For this reason, they would look gorgeous on either a traditional or a modern home.
The geometric glazed glass in these transitional doors feels modern. Yet the rounded overhead transom softens the look. The clean lines provide a nice contrast to the more rustic, cottage-y stone on this home.
In the same way, this black door with glazed glass has a modern feel that that helps to ground the warmer, rustic tones in the stone.
Best Front Doors: Modern Style
If your home is full-on modern, you might want to skip any traditional overtones and go straight to one of these fun, retro vibe doors!  A modern door has clean, minimalistic lines and exudes mid-century design. A modern door can be anything from neutral (wood texture, black or gray) to bright and punchy (lime, cobalt or even orange).
One thing is for sure. A modern door certainly makes a bold personality statement.  The centred, horizontal glass in these two doors is such an arresting feature.
Best Front Doors: Craftsman / Artisan Style
If you love artisan or craftsman appeal as much as I do, one of these doors might be more up your alley. A craftsman or artisan door is the perfect crowning touch for any home that has some classic craftsman lines and texture – like peaks, shakes, or a covered front veranda.
One of my favourite features of a Craftsman door is what's called a 'dentil shelf'.  Its the shelf that sits below the glass and above the recessed panels, giving the door gorgeous dimension.  The Barrington Craftsman door with Marco glass (the "Barrington Marco") is one of Masonite's most popular doors.
But you don't have to choose a recessed panel door to get the artisan look. These warmly stained, wood grain artisan doors have a more streamlined feel. They blend in with the home's simple and stunning artchitecture.
If you aren't a fan of wood grain door, a smooth, painted finish can be just as beautiful on a craftsman style home.  This home already has so much detailed workmanship (shakes, trim, stone, etc.) that a simpler door is a great choice.  The door has a simple profile with lots of glass.  This creates a cohesive look against the home's other gorgeous features.
Gorgeous, right? Are you feeling inspired?  There are so many front doors to choose from. These are a few of my favourites.  If you are still wondering what you 'door style' is, Masonite has a fun quiz with a few simple style questions that might help you pinpoint your dream door.  Click here to take the quiz!
If you're currently building or renovating, best wishes on a successful and happy project!
Until next time,
K.