In this article: I'm sharing some photos of our new Windsor chair, along with where we bought them. I've been looking for an affordable, high quality modern Windsor chair to pair with our farmhouse table for awhile now. And, I'm happy to say that I finally found them. I'm super pleased with these dining chairs. They add a modern vibe to tour kitchen, are very sturdy, and they didn't break the bank.
Are you searching for new dining chairs? I've been looking to buy a modern Windsor chair for our (city) home's kitchen for awhile now. (We have metal bistro chairs in our summer home). And, hooray, I finally found some that I love. Because some of you spotted them in my holiday decor posts over on my Instagram and asked where they came from, I thought I'd share some details.
Why I Wanted a Low Back Windsor Chair
The style of our home is modern cottage with a bit of a french farmhouse vibe. We have a large, trestle farmhouse table ( see Trestle Dining Table Recommendation) in a fairly small space, so I wanted to find a Windsor chair that had a low profile. I really needed low back chairs because our large farmhouse table makes the dining space pretty tight.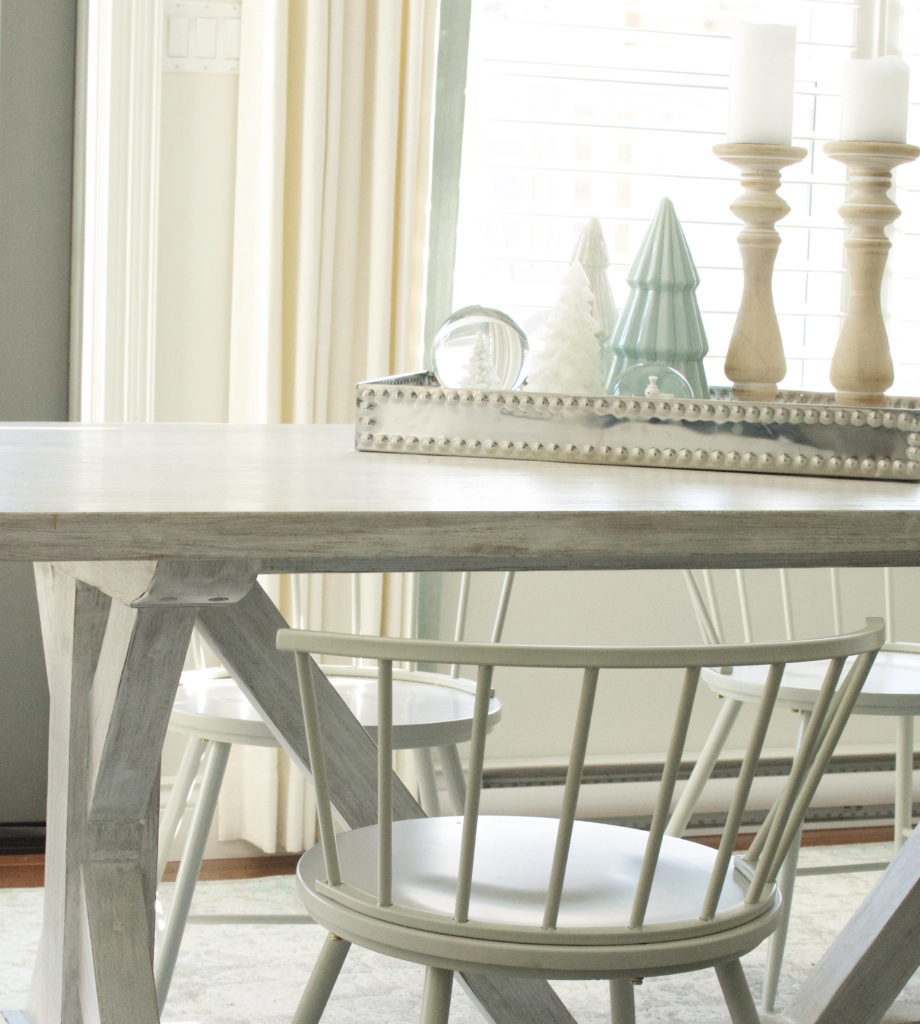 Over the years, I've tried every kind of dining chair here – leather, wicker, you name it – and the space always felt cramped. I figured that a low back Windsor chair might feel airier, and also allow me to push them under the table a little when they're not in use. You can see in the photo below that the height of the chair is a little shorter than the table.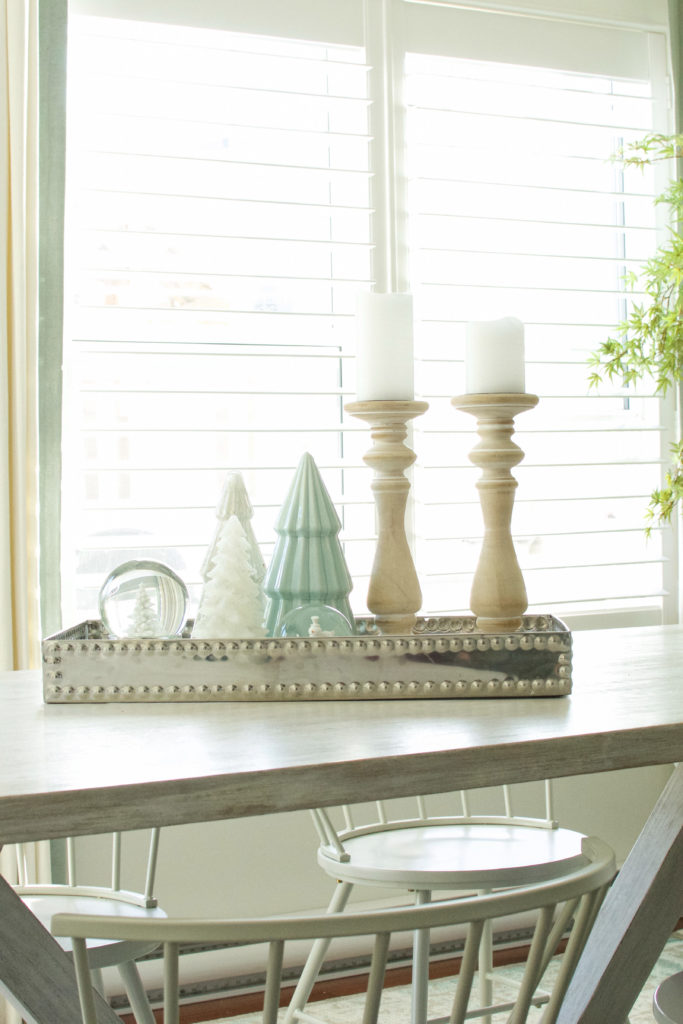 Low back or high back: These dining chairs actually come in two versions: a low back and a high back. So, if you like them, but would prefer a high back, check out the source for those further down below. I ended up buying the short back ones for the sides of the table, and bought two high back chairs (same style) for the ends of our farmhouse table where I have a bit more space. Also, I really like when the end chairs at a dining table have a bit more presence. Because the low back Windsor chairs have a small profile, I could easily fit three on each side of our table.
Colour: White, Grey or Black?
This modern Windsor chair comes in a few nice colours, including white, black, green, and blue. I really debated choosing the white or black Windsor chair, but I was afraid the look would be too stark with my decor. In the end, I chose this pretty shade of grey. I love how they blend with the table and rug in an understated way. But, the blue or green ones would be such a fun look for another space.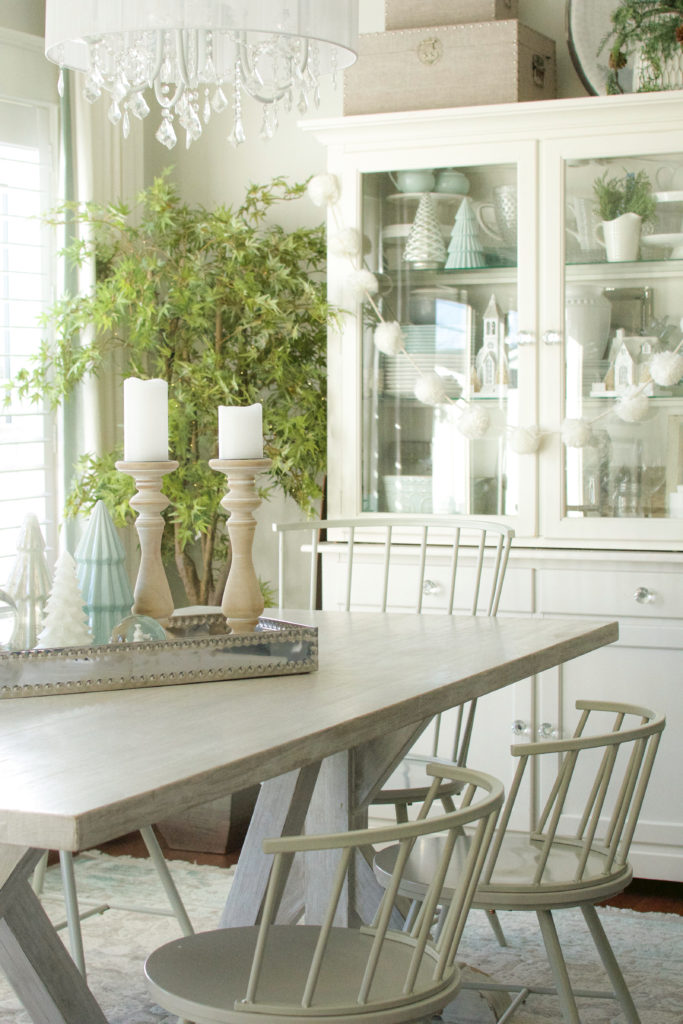 Quality, Comfort + Assembly
Quality: We've only had these dining chairs for a couple of months, but they seem like they are great quality. The seats are made of wood, but the spindles and legs are actually metal which will make them super durable.
Comfort: I'm not gonna lie, I worried about how uncomfortable they'd be with the low back, along with the fact that the spindles are made of metal. I knew I could sacrifice comfort for beauty lol, but I was certain my husband and kids couldn't! I think we were all pleasantly surprised by the fact that they weren't uncomfortable, even for a longer meal. I think it's because the wood seat is slightly moulded. But, let's face it, a dining chair like this (not upholstered, etc.) isn't something you'll want to sit on for hours on end.
Assembly: They arrive 'assembly required', but they're not difficult to put together. You just need to attach the full back and legs to the seat. Given that I am the furniture assembler in our house, assembly never scares me off lol. (See Easy IKEA Assembly: Best Tips). I actually think that assembling them yourself is ideal because you are in control of how well they are put together. And, if anything loosens up, you have the tool (allen key) and ability to fix it.
Modern Windsor Chair Source
If you want to find out more, here's the source for these chairs. (Note: This is an affiliate link which means I may earn a small commission if you choose to buy, but it does not impact the price you pay in any way):
Here's where you can find the low back Windsor dining chair
And, here's the high back Windsor dining chair.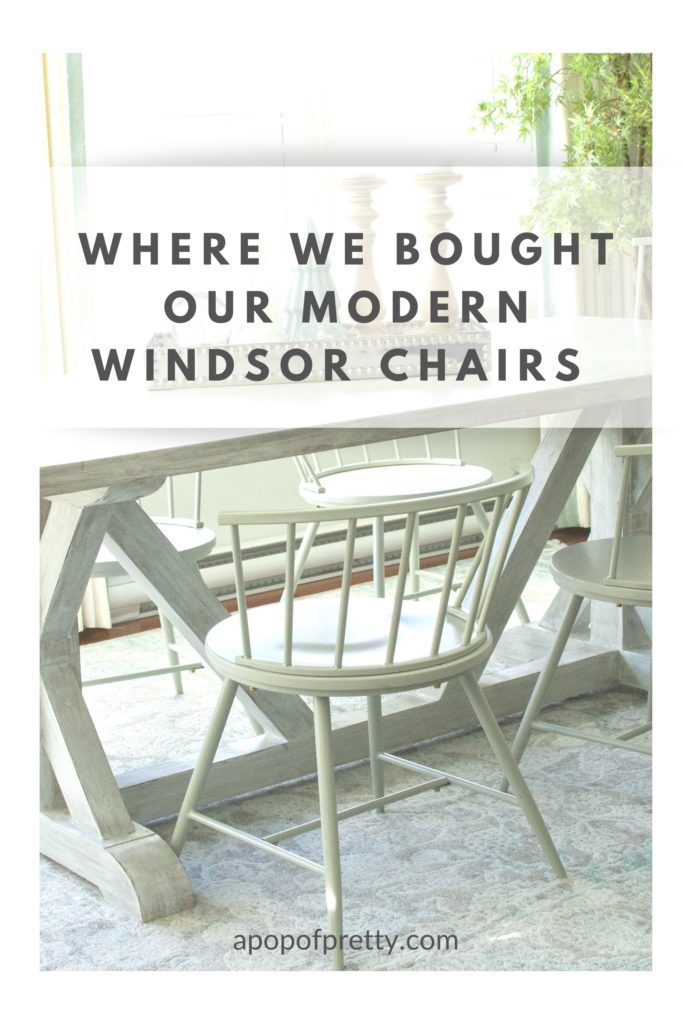 A word of advice: Always read the reviews!
I hope this helpful. But, don't take my word for it. Always read through the reviews first before purchasing furniture online. Written reviews and real customer photos are my main source of insight whenever I buy a rug or a piece of furniture without being able to touch it.
This might seem obvious, right? Yet, I'm always amazed at how some customers will post comments about a product feature that disappointed or surprised them when at least 20 other reviewers said the exact same thing before this person purchased it! LOL. Anyway, these Windsor chairs are rate a 4.5/5. The majority of customers had positive things to say, but definitely read through them before committing.
Until next time,
K.