This post was most recently updated on November 11th, 2021
IN THIS ARTICLE: Wondering what goes on a Christmas tree first? Or, which order to decorate a Christmas tree? How about how to decorate a tree with ribbon? In this article, you'll learn my tied and true method for decorating a professional looking Christmas tree in just a few easy steps!
What goes on a Christmas tree first – the ribbon or the ornaments? Have you ever wondered? Well, it's one of the top questions I get asked this time of year about decorating a professional looking Christmas tree.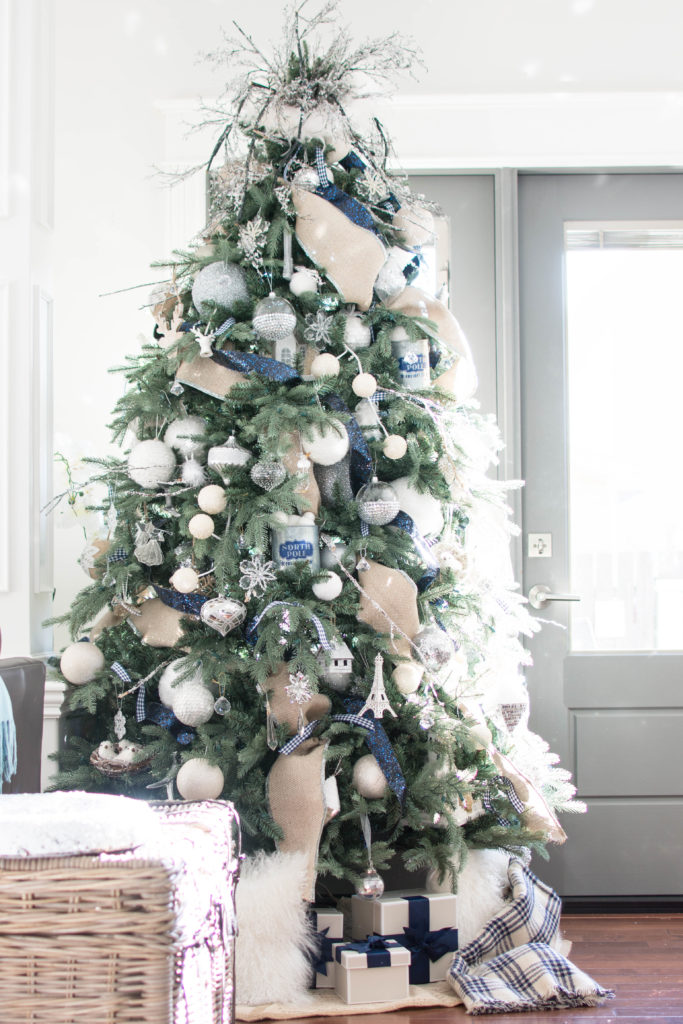 There really is no hard and fast rule on this.  Even professional tree decorators seem to have differing viewpoints.  But I know what always works for me. So, friends, here is my fool-proof method. I use it each and every Christmas when decorating Christmas trees that look like this one!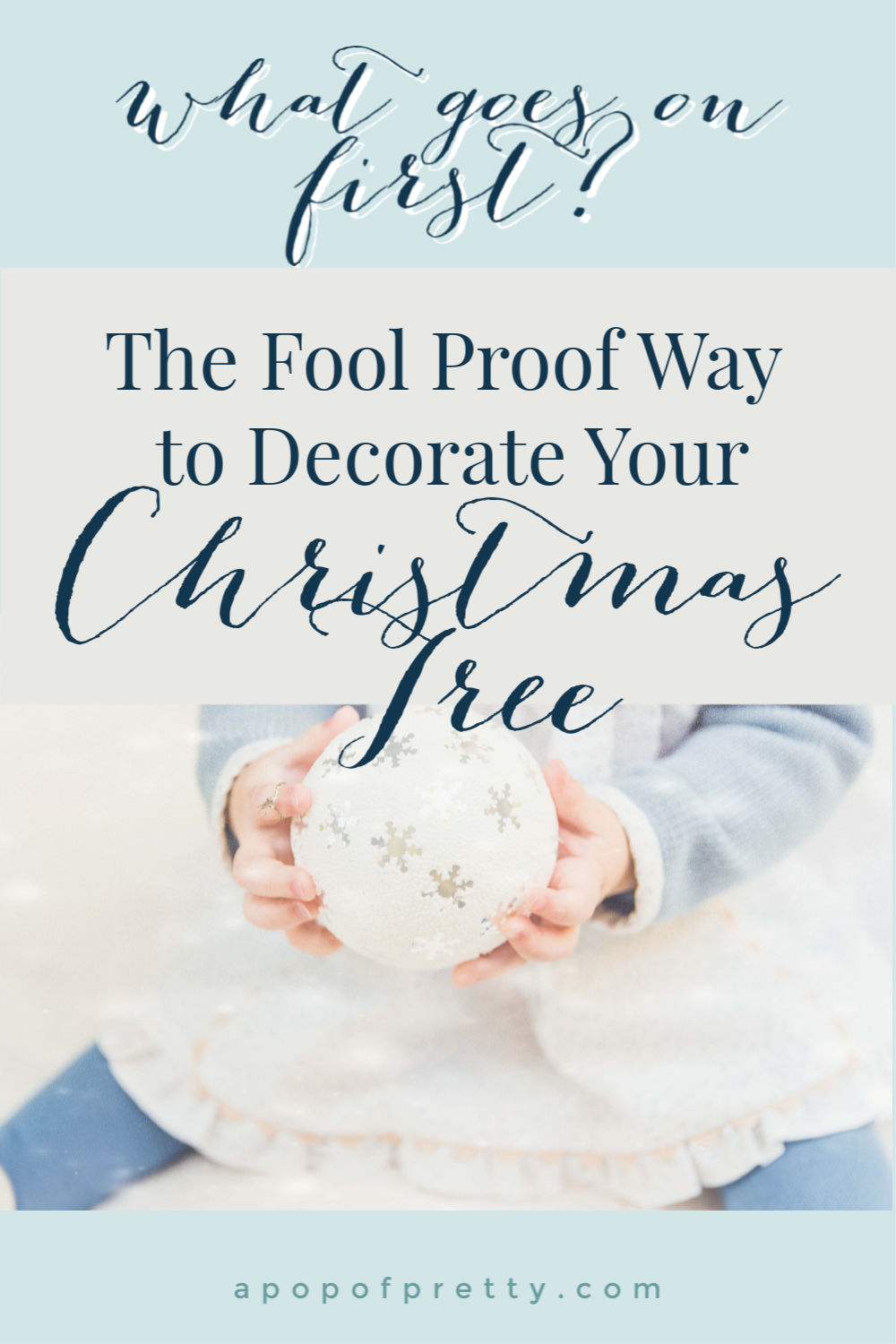 Always start with the lights!
My Christmas tree is pre-lit. But, obviously, if you have a real tree, you already know you need to put the lights on first! In both cases, check that all the lights are working before you proceed with the decorations. There is nothing worse than decorating your Christmas tree, only to discover that half the lights don't work. OK, well maybe having your fully decorated tree fall over is worse. (Been there, done that, got the t-shirt lol.) And, if you are looking for lights, there's a good article over at Better Homes & Gardens on How to Decorate which explains the differences in the types of lights you can choose from.
What Goes on a Christmas First: Ribbon or Ornaments?
My Fool-Proof Method!
Here's the order that I always do things in:
1. What Goes on First? The Ribbon!
When deciding what goes on a Christmas tree first, I always start with the ribbon. Sometimes people are surprised at this!
Why Ribbon Goes on Christmas Tree First
The reason why I put the ribbon on a Christmas tree first is because I like to get the ribbon deep into the tree. If the ornaments were already on the tree, they'd be in the way of getting the ribbon in the right spots. Or worse, I'd break a few. If I am using an extra wide ribbon, like a burlap, I'll start with the widest and work my way down. Then, I'll add any narrower ribbon before moving on.
How to Put Ribbon on Christmas Tree
I have a super easy tutorial here on the blog for how to put ribbon on a Christmas tree if you are curious. Click the below photo to take you there. Or, if you want to keep reading here about which order to decorate a Christmas tree, don't worry. I'll post the link to this tutorial again at the end of this blog post!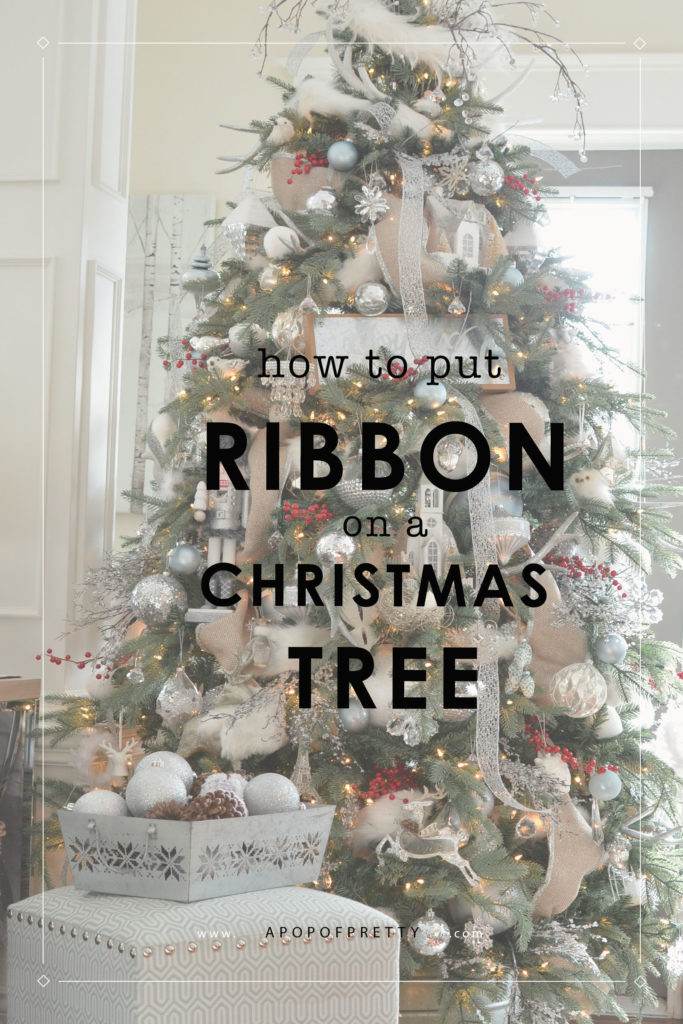 2. Sprigs or Branches
If I'm using any long sprigs or branches, I'll add them to the Christmas tree next. By sprigs and branches, I mean any kind of long stick-like decoration.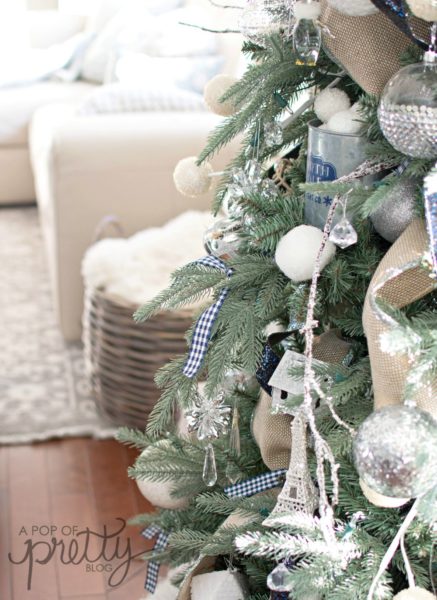 Why I Use Sprigs & Branches
I always like adding natural branches to an artificial tree because it gives the illusion of a real tree. It also adds gorgeous, imperfect texture.
Where to Put Them
I add the branches at this step because they need to be poked deep into the tree so that they don't fall out. Also, the further down they are in the tree, the more natural they will look. You want them to look like they are part of the tree, not just an afterthought.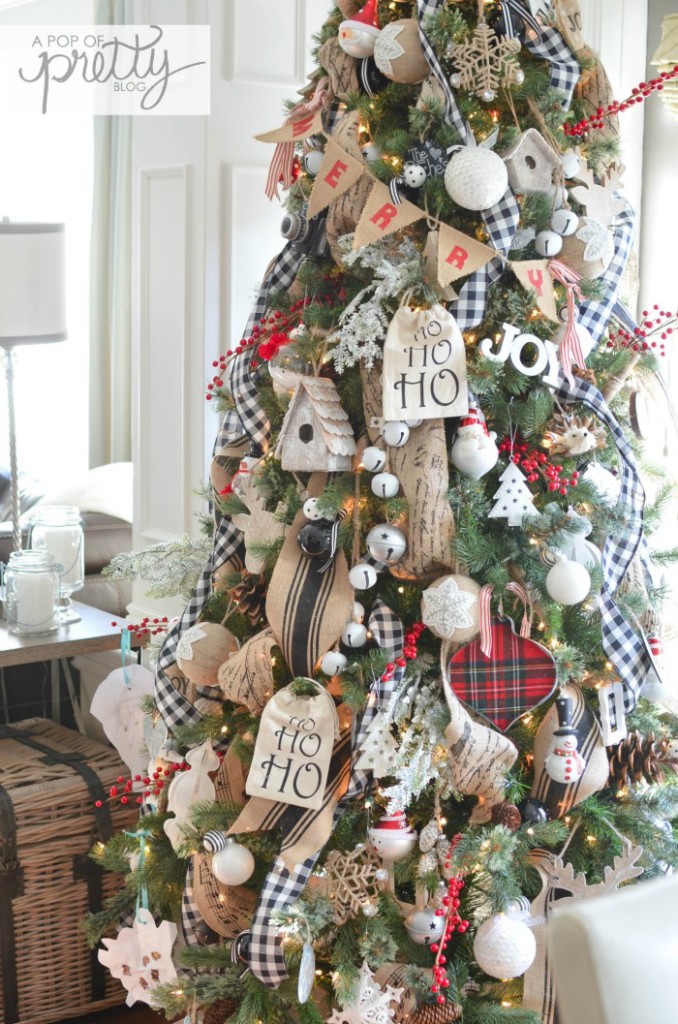 3. Large Items (Heavy or Long)
I always like to get creative with my trees, which means might add large or unusual items to a Christmas tree. They are the things that really stand out and create a themed look.
What Do I Mean By Large Items?
Large and unusual items are the things that make a tree special, and give it some personality. (Did you know a Christmas tree could have personality, lol?) For example, depending on the theme of my Christmas tree, I have used lighted houses, metal buckets of snowballs, and more!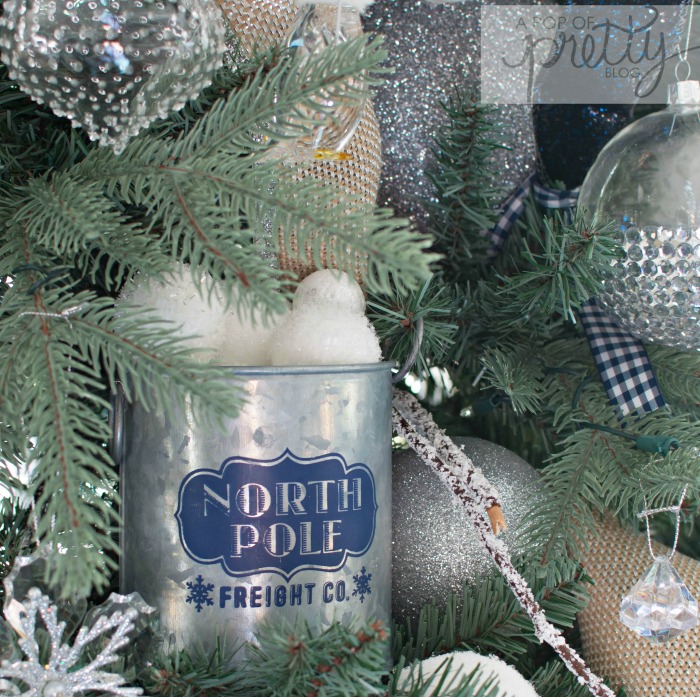 Why Do Large Items Go on Early?
Quite often, these kind of items aren't designed for a Christmas tree, so they don't hang well. Instead, they just need to be positioned on a sturdy branch. I usually add these next so that I can secure them in the best spots. And, if I have any super long hanging decorations, I'll add them now so that I can find just the branch.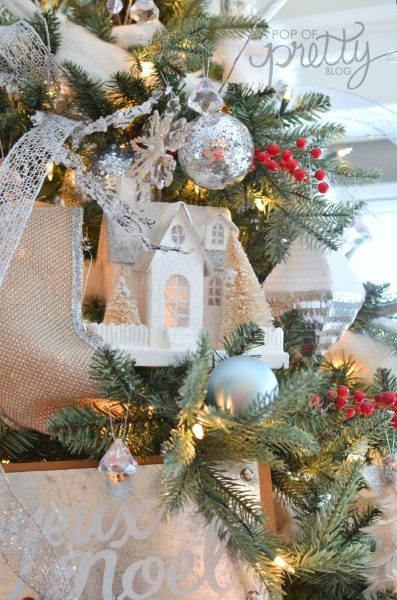 4. Ball Ornaments
I like to add Christmas ball ornaments next. Unlike your treasured ornaments, these are the tree decorations that are usually used to add a particular colour scheme to a tree. Often, they aren't breakable, and are less expensive and less cherished than other decorations.
I realize this isn't always the case!  So if you have Grandma's treasured collection of vintage glass Christmas ball ornaments, please leave them for the next step!
Why I Add Ball Ornaments Next
Coloured ball ornaments tend to be visually dominant on a Christmas tree, so adding them before the other decorations ensures you can place them evenly throughout the tree.
How to Organize & Position Them
Before beginning to add Christmas ball ornaments, I like to organize them by colour and size. That way, I can spread them out throughout the tree so no particular area has too much of any colour or size.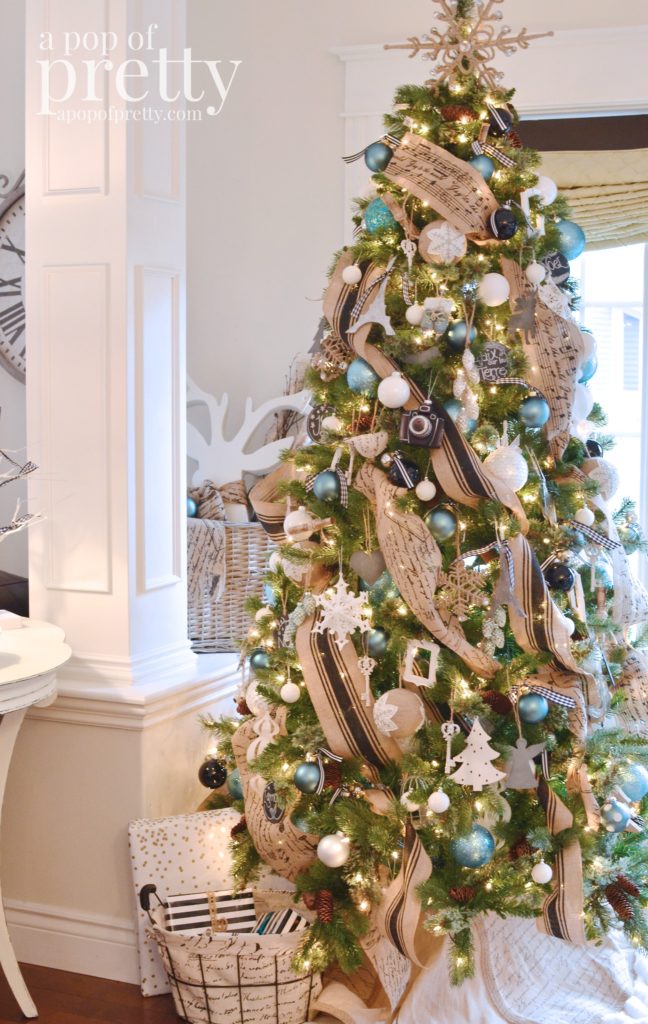 5. Treasured Ornaments
Finally, when deciding what goes on a Christmas tree first, I ALWAYS leave my most treasured ornaments for last.
Why Treasured Ornaments Go on Last
There are two reasons that treasured ornaments go on last in the best order to decorate a Christmas tree.
First, they are much less likely to get broken if everything else is completed first. Can you imagine trying to stuff ribbon into a section of the tree with a blown glass family heirloom? It makes my heart palpitate lol.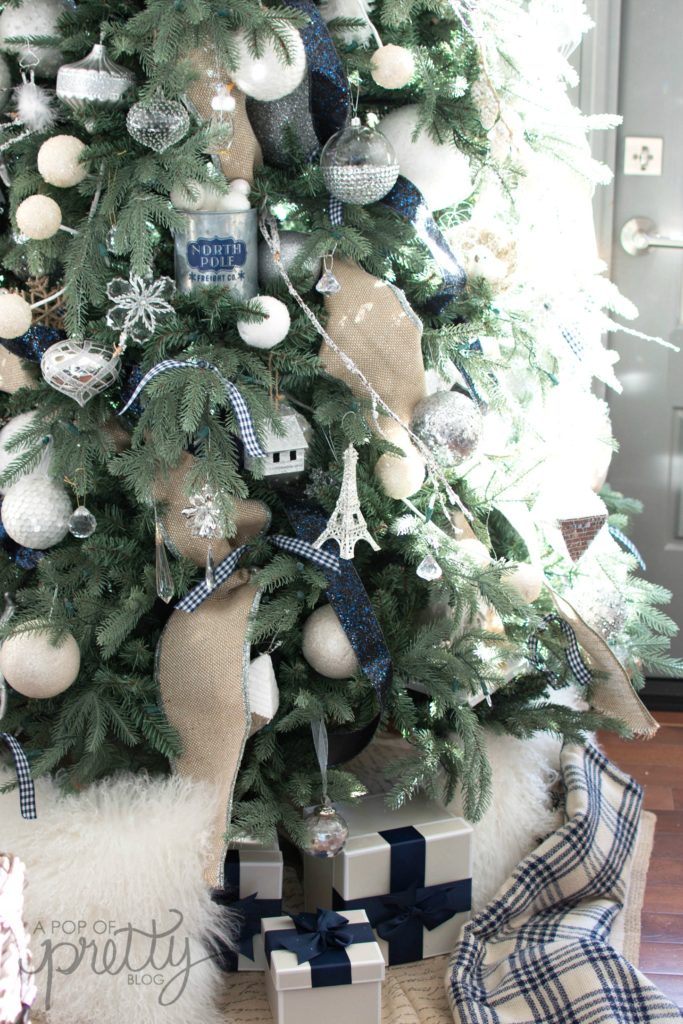 Secondly, your treasured ornaments are most visible when they hang at the end of a branch rather than deep in the tree. That means you can see them when you walk by, evoking memories of loved ones or Christmases gone by. And, isn't that what Christmas is all about?
Best Order to Decorate a Christmas Tree: Now You Know!
So there you go! This is my tried and true, fool-proof method for what goes on a Christmas tree first, in the middle and last. Obviously, there are no rules to decorating a Christmas tree. Just do whatever works best for your own decorations. The most important thing is to have fun with it, and to create a tree that makes you happy!
How to Decorate a Tree with Ribbon
In case you want to see my easy, step by step tutorial on how to put ribbon on a Christmas tree to achieve a beautiful, professional look, just click here:
More Christmas Decorating Ideas
Are you looking for Christmas tree decorating ideas? Here are some of my favourite Christmas decorating posts: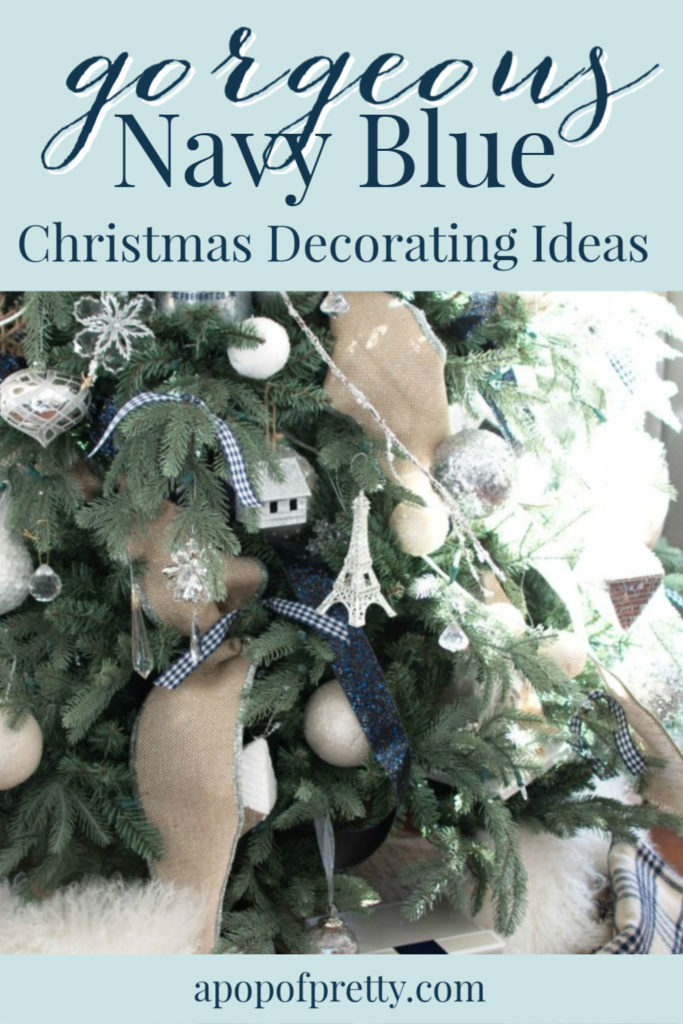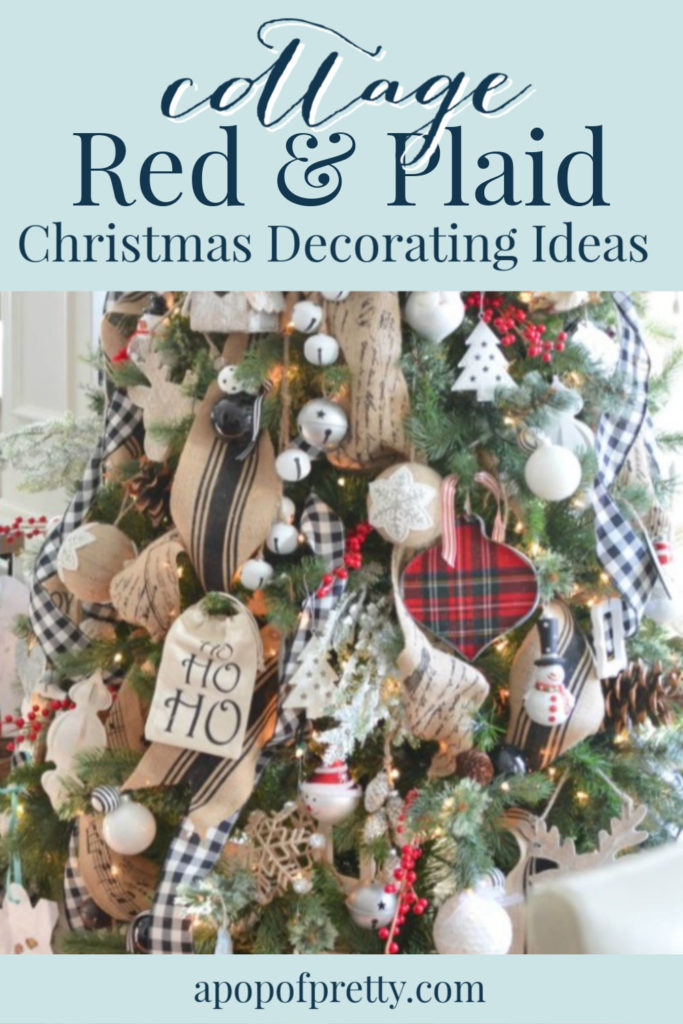 Shopping Tips: What Goes on a Christmas Tree First
Wondering where to buy items similar to the gorgeous things I've used on my Christmas trees in this post? I've curated a collection of products and shopping sources over on my Christmas Decor Shop: Get the Look page. Click below to take you there!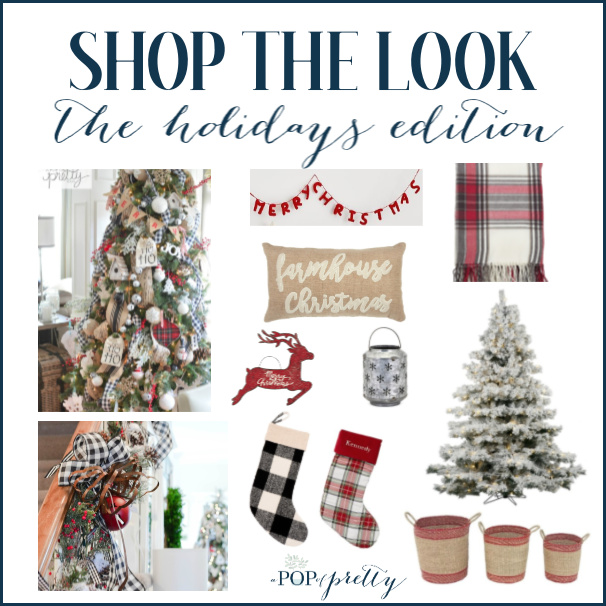 Or, to find more, you can pop over to A Pop of Pretty's Amazon Storefront to find the Christmas home decor I'm loving this year!
Here's a little sneak peek, organized by colour:
Reds
Neutrals
Blues
Share the Love
Finally, if you found this article helpful, I'd be ever so grateful if you would share it on Pinterest so others can find it too!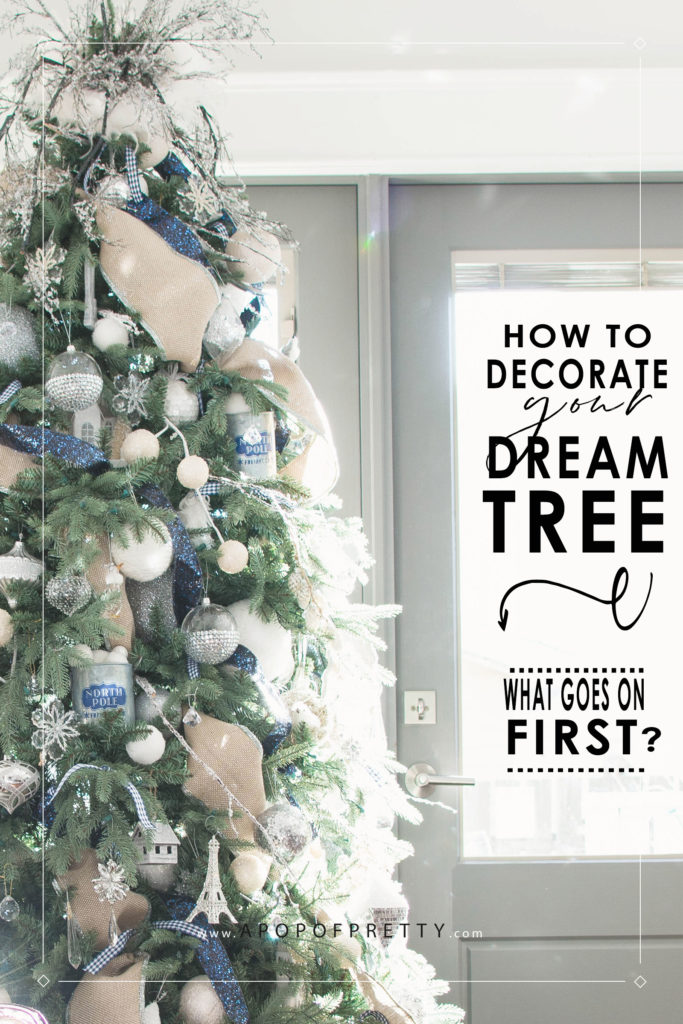 Have the happiest weekend, friends.
Kerri 🙂