This post was most recently updated on January 1st, 2020
I'm not big on New Year's resolutions, but I did start 2014 with some home organization goals, the biggest one being more kitchen storage space!  If I had to take a wild guess, I'd say we were operating at 50% capacity of what started out as perfectly adequate kitchen 5 years ago. Half of it: poof, gone!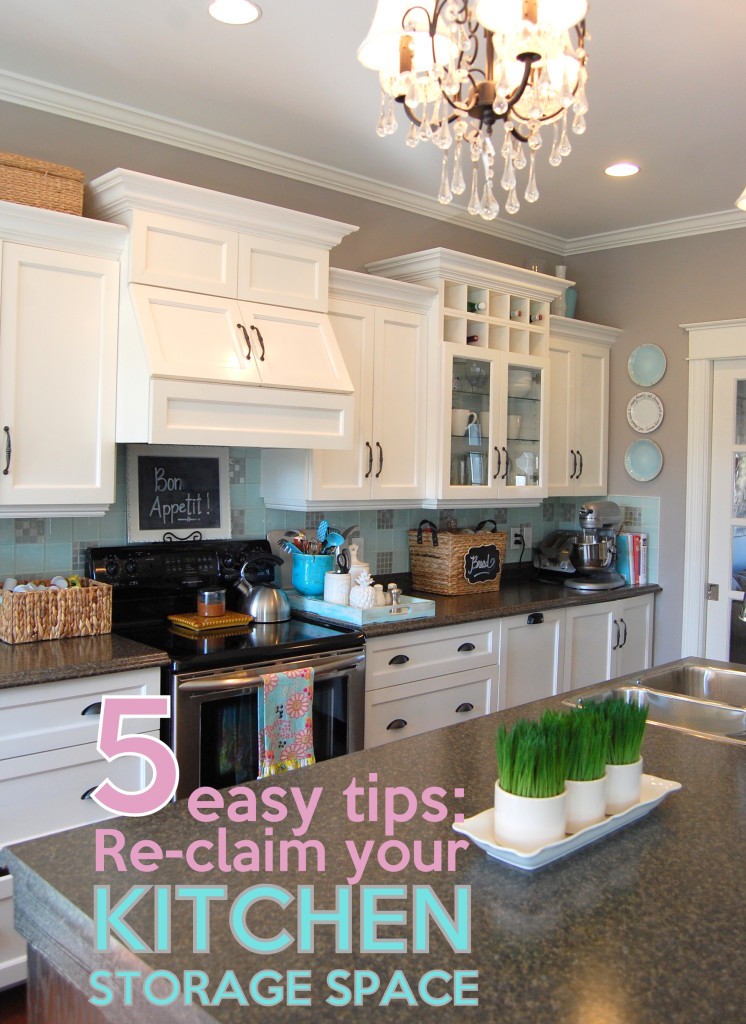 Funny how that happens, isn't it? It creeps up on you. You don't really notice it until, one morning, when you reach for a ziploc bag while making school lunch, you're greeted by an avalanche of Born-Free baby bottles, tupperware lids, and more plastic divided plates than a hospital cafeteria. (The Pottery Barn Kids' ones are my fave, just sayin'.)  For awhile, you manage to stuff it all back in and shut the doors, hoping the kitchen organizer fairy will visit some night. But she doesn't come (booo), and pretty soon, even the idea of unloading the dishwasher or unpacking the groceries is exhausting.
Now I'm not one to place blame, but coincidentally, our kitchen chaos seemed to begin with the arrival of these two munchkins 4 years ago…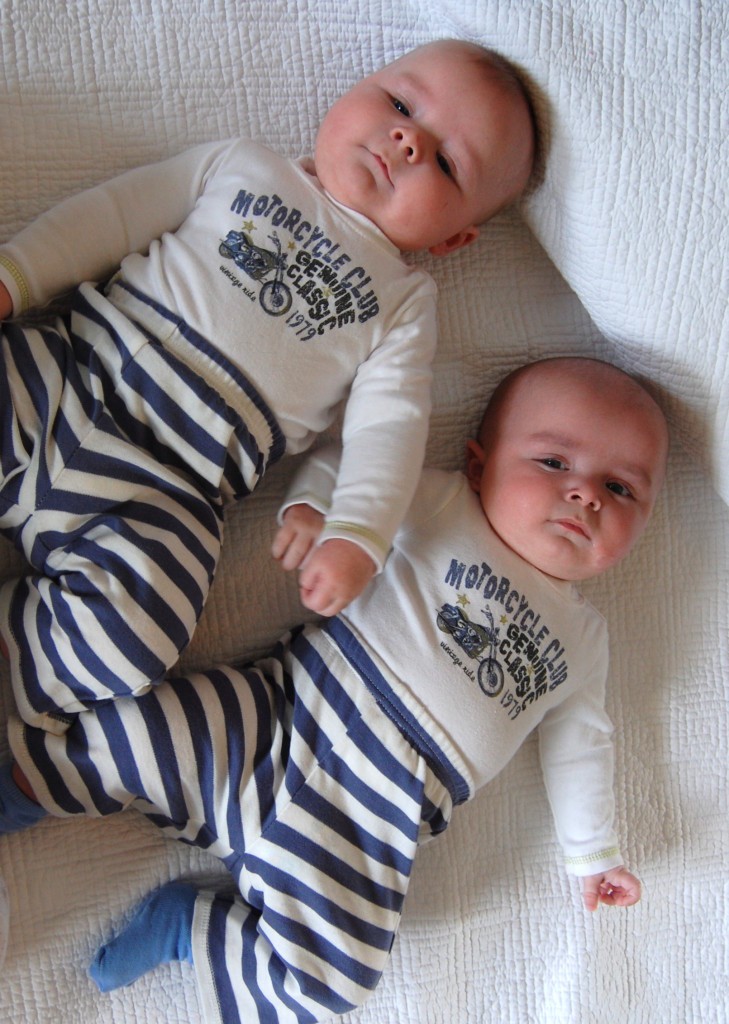 I know. They're cute. (And, sweet too!) But don't let them fool you.  They took over our house, especially our kitchen! But considering they are now in preschool, I decided it was time to finally attack Operation "More Kitchen Storage" head on.  Over the course of a few days, I reorganized the entire kitchen. Besides getting rid of the baby bottles (it was time, lol), I did some super simple, totally-not-rocket-science, things to reclaim more kitchen storage from the space we have.
More Kitchen Storage: 5 Easy Tips
1. Nix the 'junk drawer.
The legendary kitchen 'junk drawer'. Seems innocent enough – but it's evil! In our case, an entire kitchen drawer right next to the stove was taken up with useless gadgets I hadn't looked for in years, while I had to stand on my tippy toes across the kitchen just to reach the spices.  So, I nixed our junk drawer completely by throwing out/recycling most of its contents. (I mean, how many egg slicers and apple corers does one girl need?!?) This freed up a full drawer for spices and baking supplies that had been barely accessible before. I invested in some glass jars from the dollar store so all the spices would fit the height of the drawer.  Now everything's all pretty and organized, and our food is tasting a whole lot spicier!
2. Lose the packaging.
There's nothing more frustrating when putting groceries away than negotiating with clunky boxes that won't fit in a cabinet. Now, when I'm unpacking my groceries, I get rid of the boxes right away.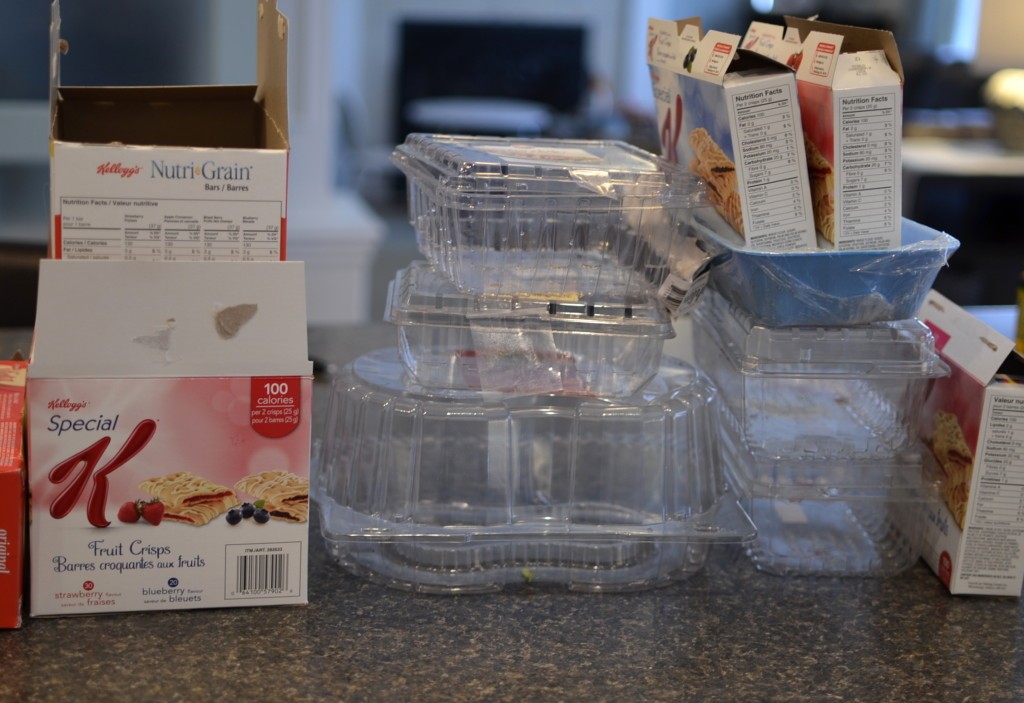 The loose food (like rice, pasta, goldfish crackers, raisins, etc) goes in glass jars which fit better in my cabinets than the original packaging.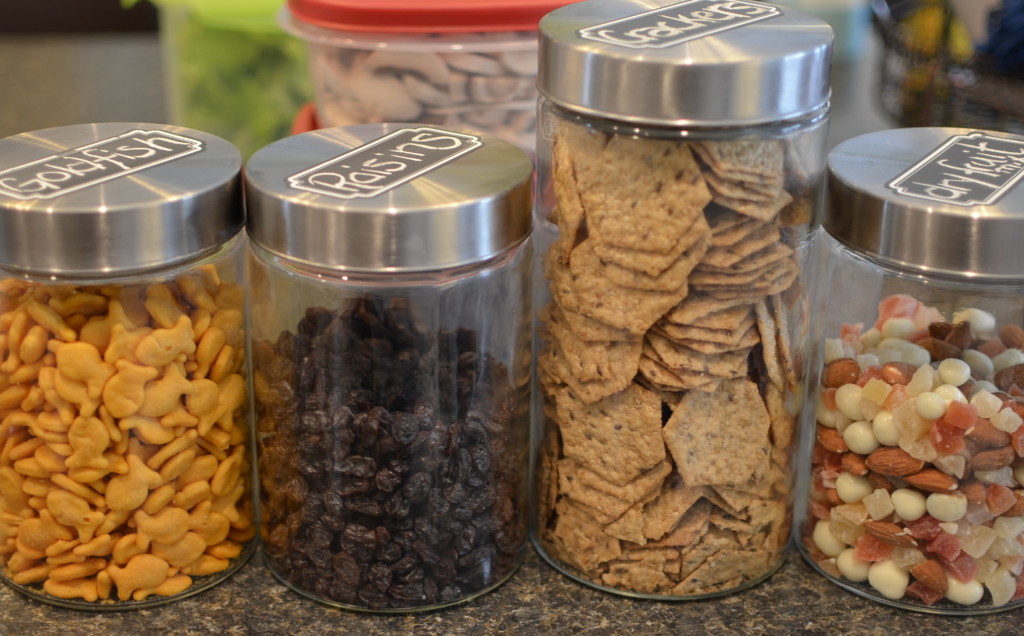 Removing all the packaging from fresh foods right away also saves storage space in the fridge, and it motivates me to eat healthier (um, most days!).  On grocery day, I wash and chop the fruits and vegetables which makes them (a) easier to store and (b) easier to eat!  It only takes a half an hour, and then it's all done for the whole week – woot, woot.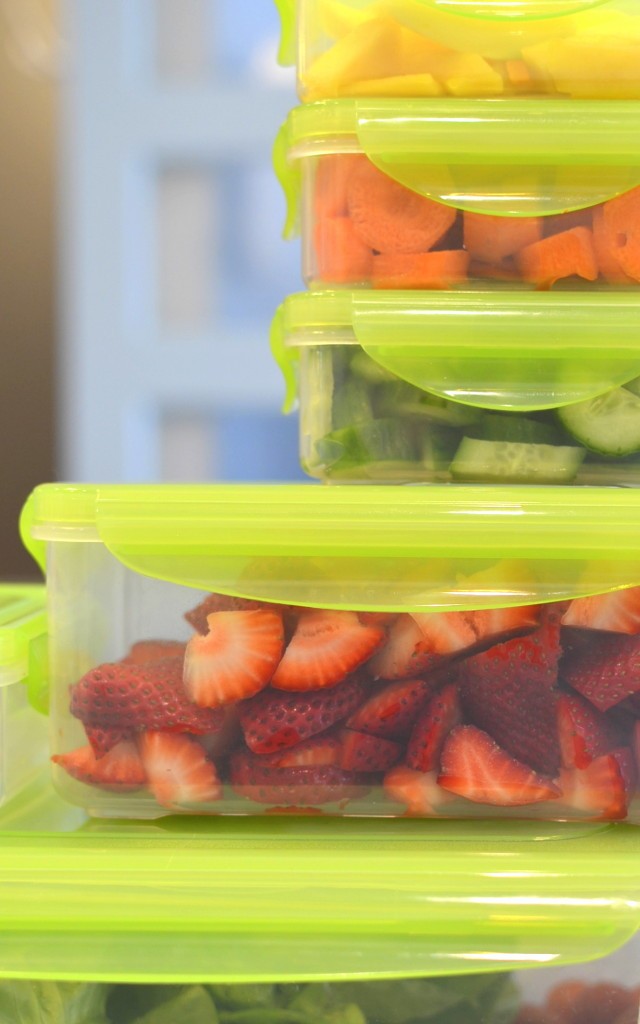 3. Create a snack basket / snack drawer.
For the kids' packaged snacks – like granola bars, fruit cups, etc. – I recycle the outer boxes and throw all of the loose snacks down in one big basket. I can't tell you how much storage space this saves! The snack basket fits perfectly inside one of my deep kitchen 'pot drawers', along with juice boxes and more.  I find that this is a great way to store the kids' snacks without wasting valuable cabinet space.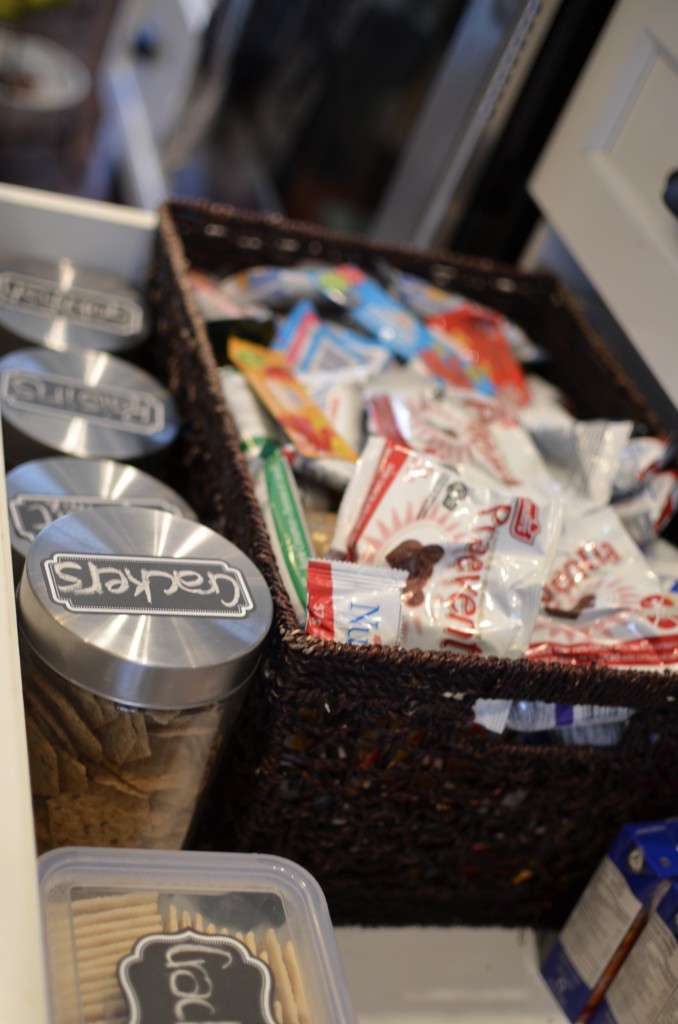 4.  Think outside the box: or, in this case, the pantry cupboard.
If you've ever designed a kitchen, you know that there's all kinds of labels for cabinets – there's the 'pot drawer', the 'pantry cupboard', and more.  In my experience, these labels have been useless.  I could never understand how piling up your pots in a drawer could be convenient. Eventually chose to hang our pots instead. (I now use the 'pot drawer' for snacks, as mentioned.)  And, helloooo: how is a pantry cupboard that's 2-feet deep an easy way to store food?  When I recently found a package of instant noodles that expired in 2008 (in case, you're counting, it's now 2014), I decided it could be put to a better use.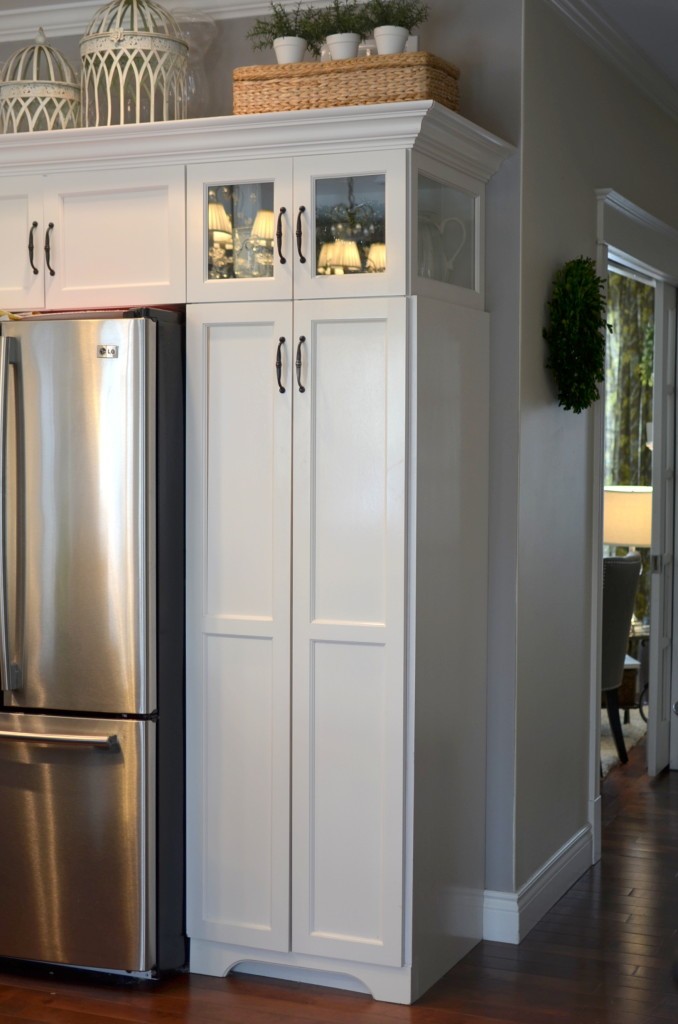 Instead of using it to store food, I moved all my casserole dishes, nesting bowls, and mini appliances over there.The deep and high shelves are perfect for stacking them.  I purchased some of these awesome things (not sure what you'd call them?) to give  double storage space on each shelf.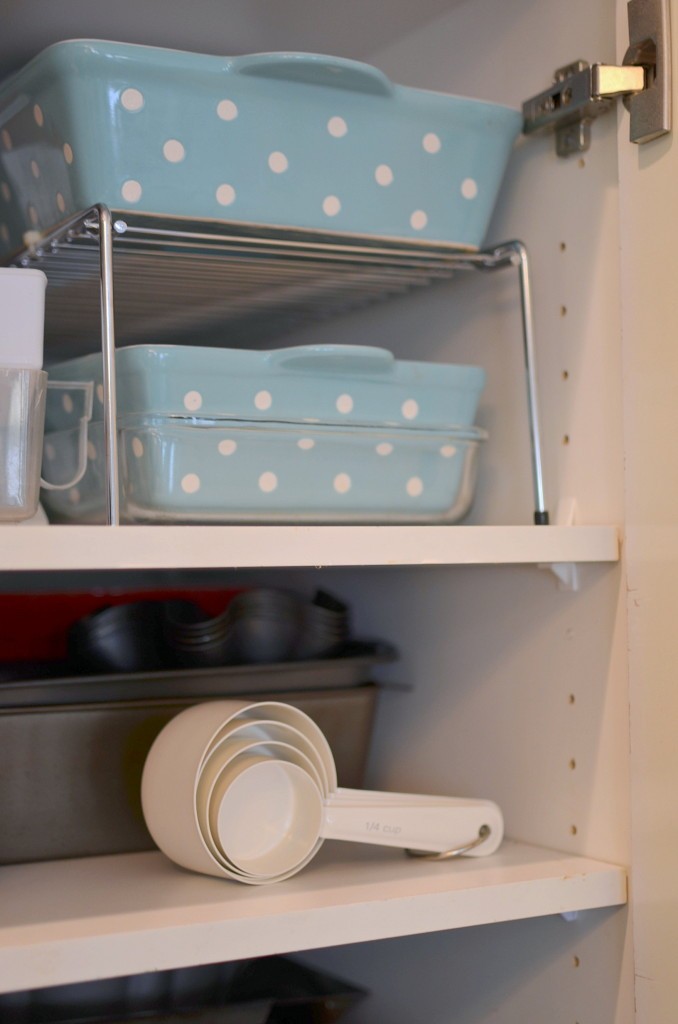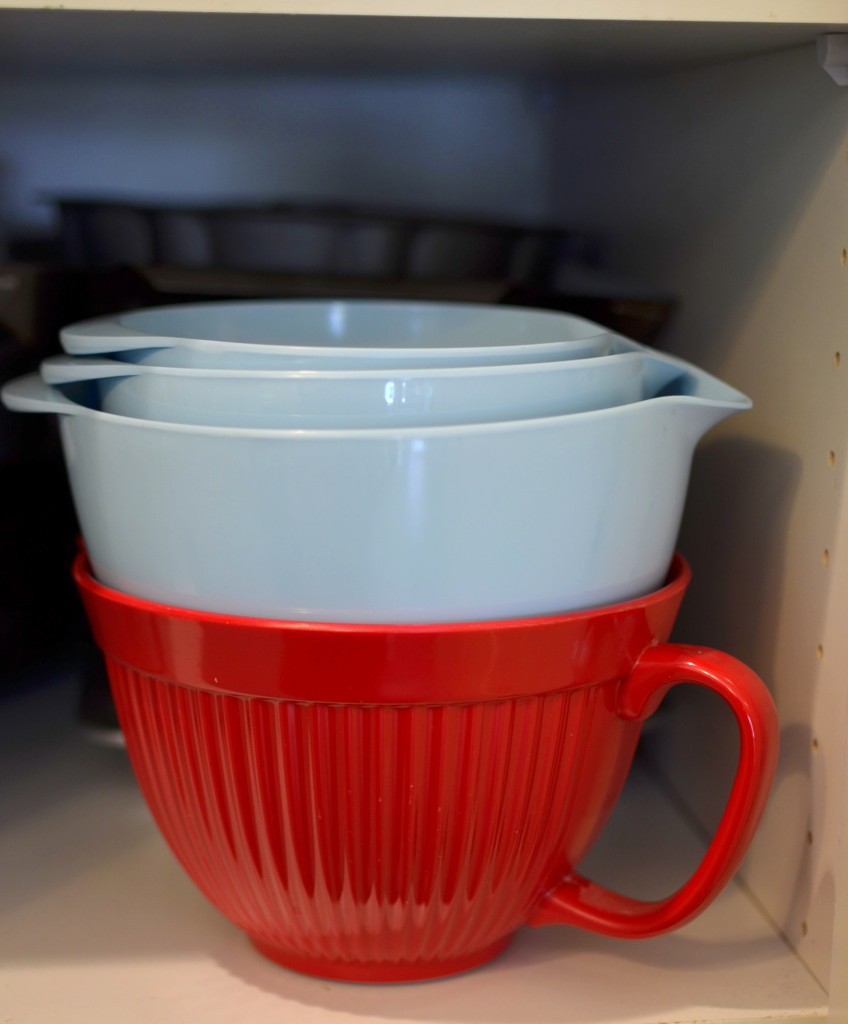 5. Baskets, baskets, baskets.
I love baskets.  Not only do they look pretty by adding texture to a kitchen, but they're a great way to get things out of your kitchen cabinets, saving much needed space in there.  I now store my table linens in a basket under a console table in the kitchen.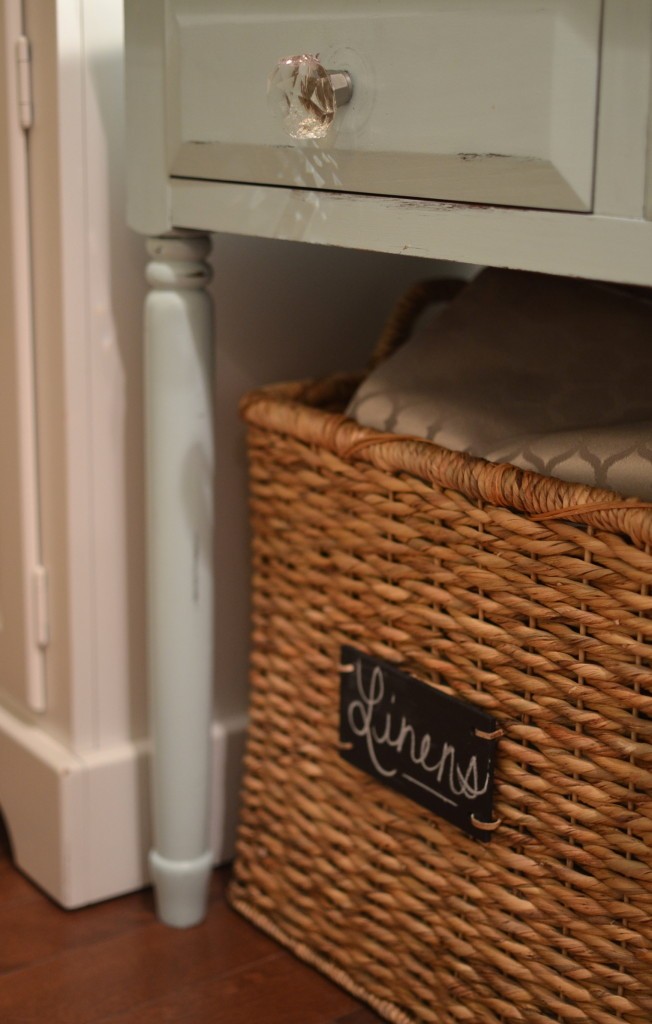 I've also used baskets on my counter for bread, Keurig cups, and on top of my cabinets to store things like party supplies.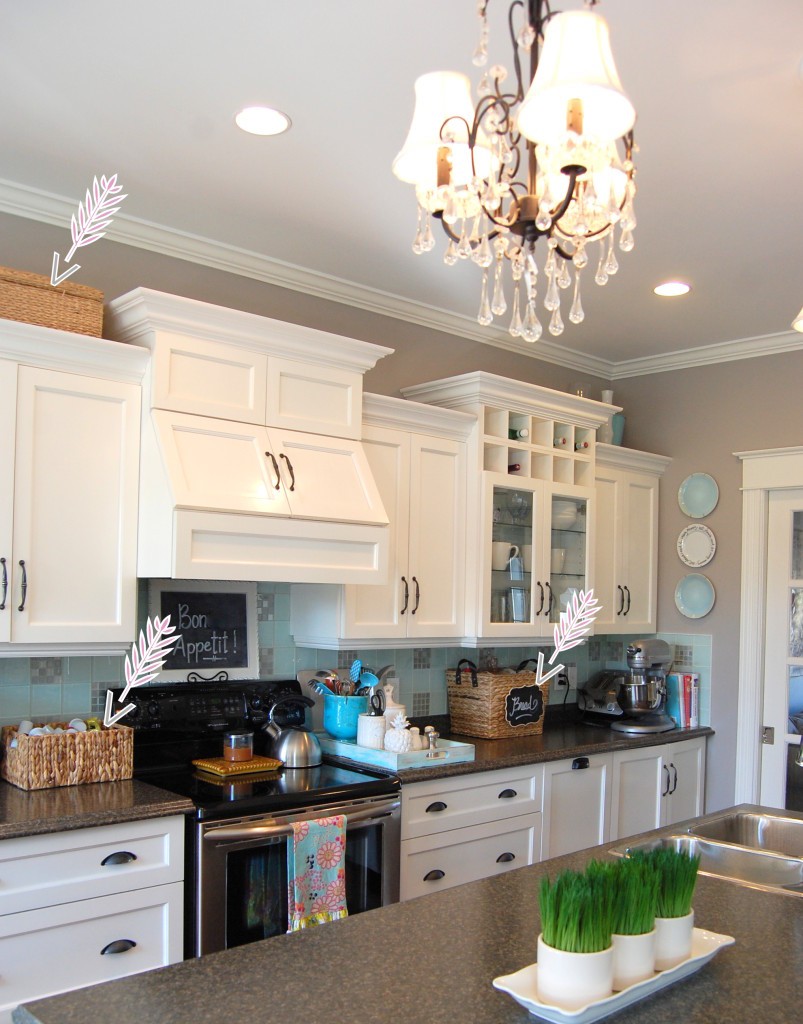 These are such easy ways to create more kitchen storage that I wish I'd thought of them before! Just being more organized in the kitchen makes me feel so much calmer. Plus, unloading the dishwasher and putting away the groceries are now at least tolerable.
So, do you have any tips for creating more kitchen storage from the space you have?  I'd love to hear them!
Enjoy your weekend, peeps!
K.